---
(v12.14.14)
Art, Architecture and Design in Columbus, Indiana
This article spotlights a particular building or some other aspect of Columbus design. I welcome your comments, corrections and additions. Please share your experience and perceptions of these uniquely Columbus projects.

Irwin-Union Bank (former State and Mapleton Branch)
Built: 1974
Address: 2033 State Street (corner of State & Mapleton)
Design Architect: Paul Kennon (Caudill Rowlett Scott – Houston, Texas)
Project Architect: Jay Bauer (Caudill Rowlett Scott – Houston, Texas)
Landscape Architect: Dan Kiley (Charlotte, Vermont)
---
This is another Columbus building with an uncertain future. Although it's not a major landmark of architecture, it is important in the overall context of Columbus development and a nice example of a number of works designed here by Paul Kennon. As a bank, it was downgraded to a drive-in center after Irwin-Union built the Creekview branch in the Kohls/Walmart plaza. With the demise of Irwin-Union Bank, the building was acquired by First Financial Bank who then sold it to a local trucking company. They did some cleanup and refurbishment of the building but they currently have it up for sale.
---
This bank was a replacement for an earlier Irwin-Union branch right across the street built in 1961. The 4,000 square foot building provided more room for increased customer traffic, expanding banking services as well as providing a better traffic flow for the drive-up facilities. The site of this new branch was formerly home to the East Side Equipment Company, the East Columbus Independent Fire Department and the Garrison open-air fruit market.
---
Paul Kennon designed a narrow two-story brick and masonry building featuring an enclosed lobby with glass on three sides. Kennon's intent was to provide a dramatic, modern and functional building that would be an asset to what has sometimes been considered an impoverished and underdeveloped part of Columbus. His tall open glass lobby was meant to reflect the openness in banking that had been a tradition of Irwin-Union Bank ever since their groundbreaking 1954 Saarinen building. His tall elongated brick and glass design resembles the Kevin Roche addition to the downtown bank. It establishes a strong visual reference along State Street, contributing to the urban landscape of the area.
---
Brick was chosen for the building to complement the former State Street School (now a county government annex ) and the former Irwin-Union Bank and shopping center across the street. The building is built around two very tall parallel brick walls approximately 12 feet apart. A glass superstructure with a greenhouse effect emerges from the north wall for the lobby area with a 5-lane pneumatic drive-up banking system coming out of the south wall. Central offices and banking services are sandwiched between the walls.
---
Bright colors, brick, glass and natural wood make up the sleek interior design with furniture by Herman Miller. The 6 glass and steel teller units inside were designed by Kennon especially for the building. They were meant to minimize the visual separation between customer and and teller yet still provide the required security. The stainless steel and glass cabinetry and the high dividers between each teller stations provided physical and acoustic privacy for bank customers. In the central portion of the building between the the lobby and the drive-in service areas are spaces for safe deposit boxes, the vault, office areas and a terrace. The upper level of the building was used for storage, an employee lounge and mechanical equipment.
---
The drive-up lanes were provided underneath a steel Unistrut space frame with bronze plexiglass skylights over the customer service areas. The bubble dome skylights reflecting back (as did skylight domes on the the Weese Bank across the street) to the domes over the Saarinen building downtown. Parking was provided for 35 cars. The site was nicely landscaped by Dan Kiley with a tree-lined parking area and a mini-park. A dramatic lighting system made the bank a part of the Columbus "nightscape" whereby many buildings can be seen from a different perspective in the evening. The building served its first customers in early 1975.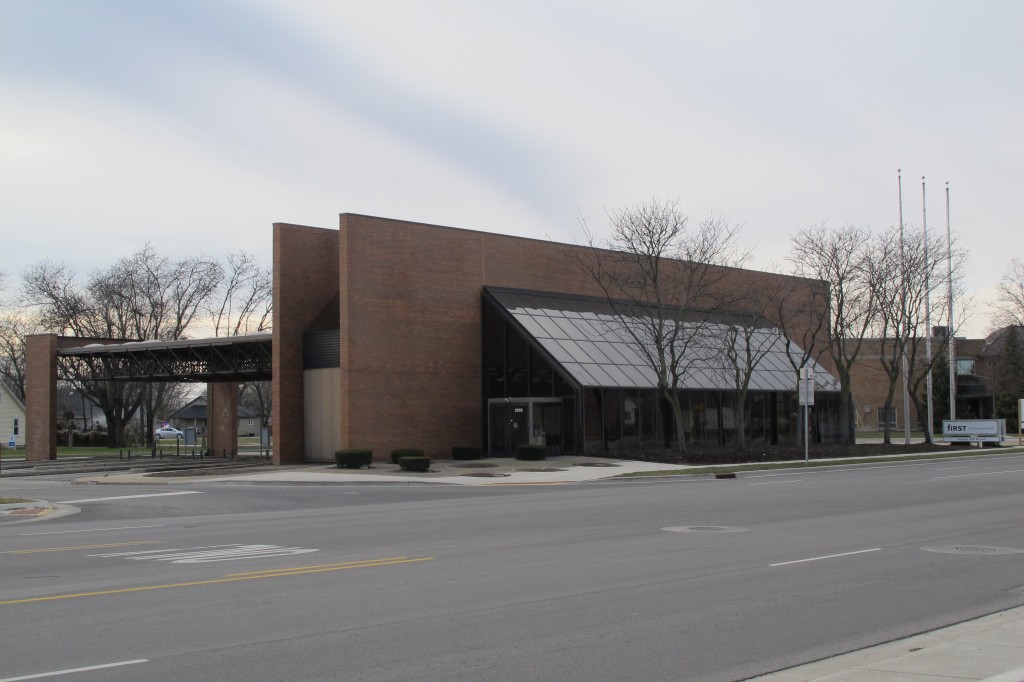 Front view from across State Street
(photo by Ricky Berkey)
---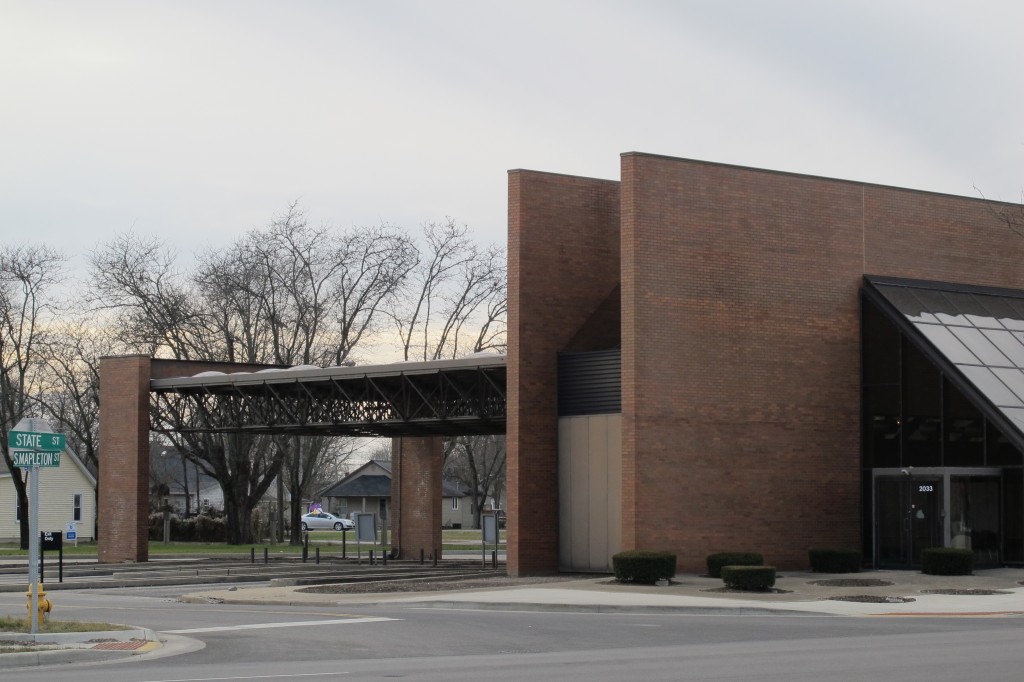 Front view from the left
(photo by Ricky Berkey)
---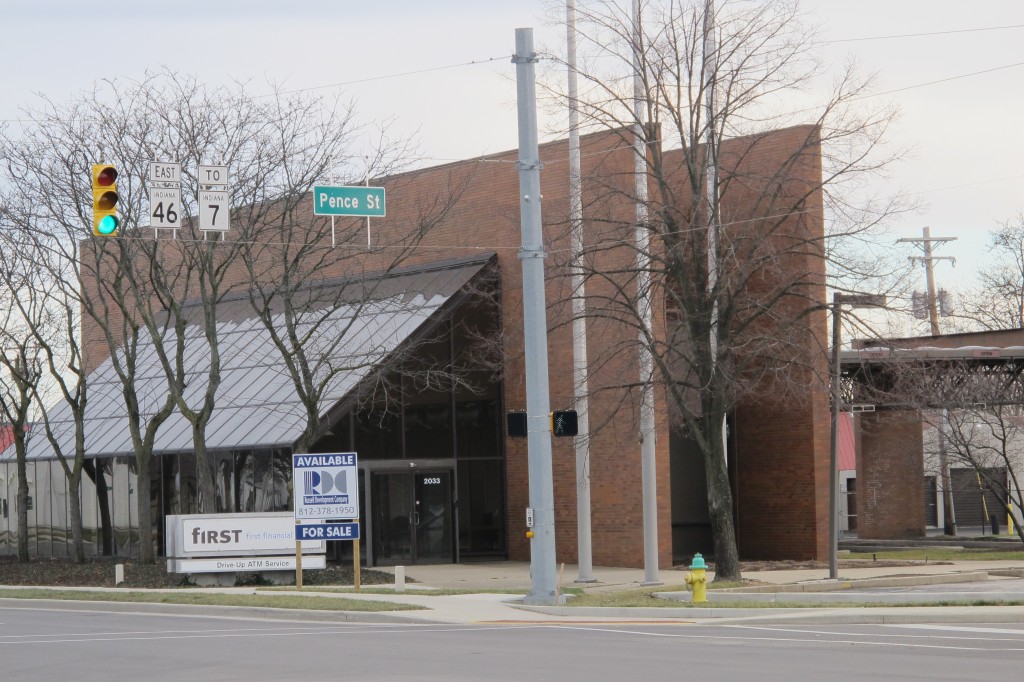 Front view from the right
(photo by Ricky Berkey)
---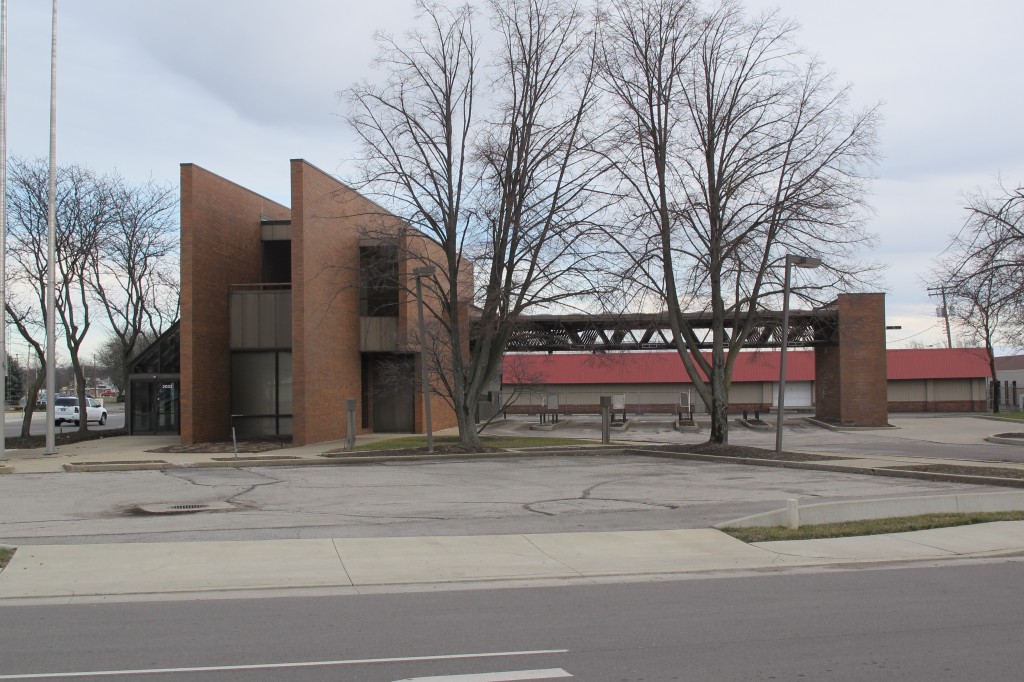 Rear view from the right
(photo by Ricky Berkey)
---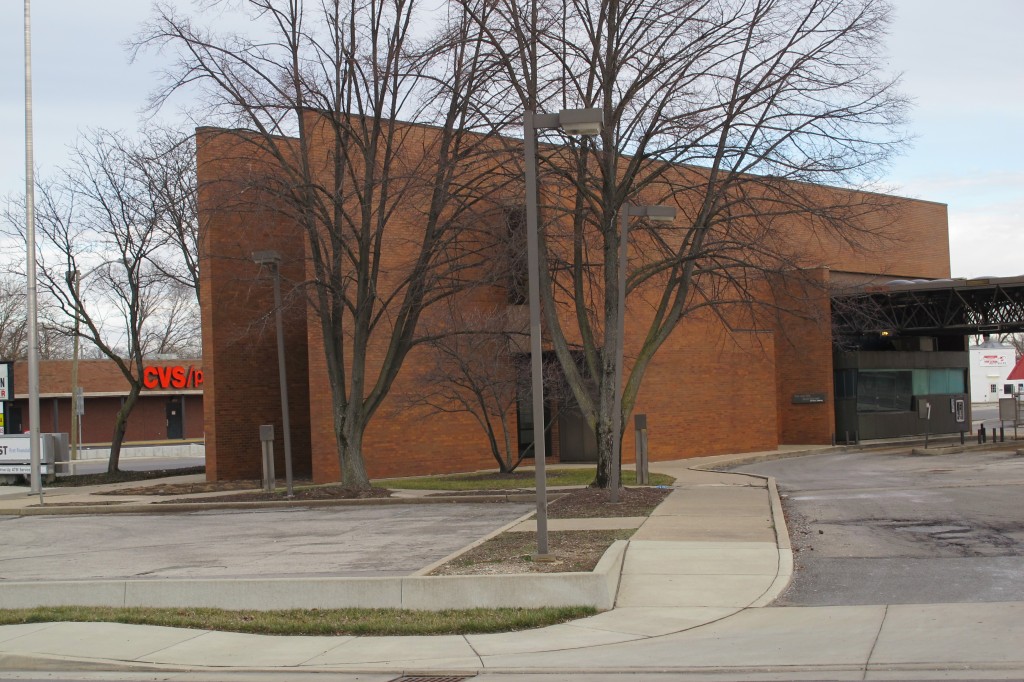 Rear view
(photo by Ricky Berkey)
---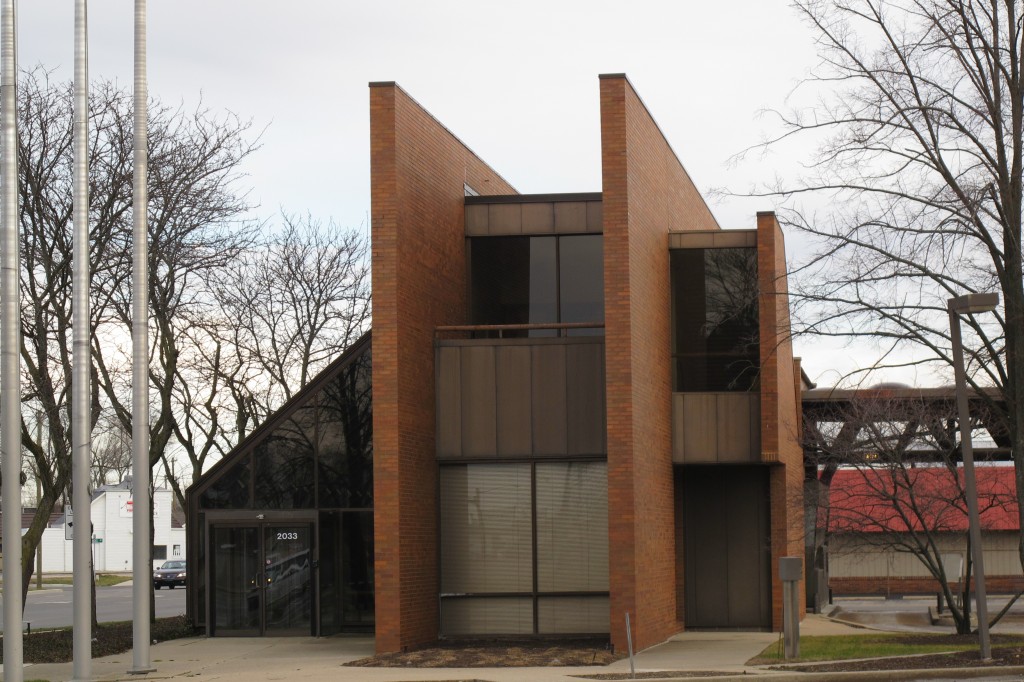 Side view from the right side
(photo by Ricky Berkey)
---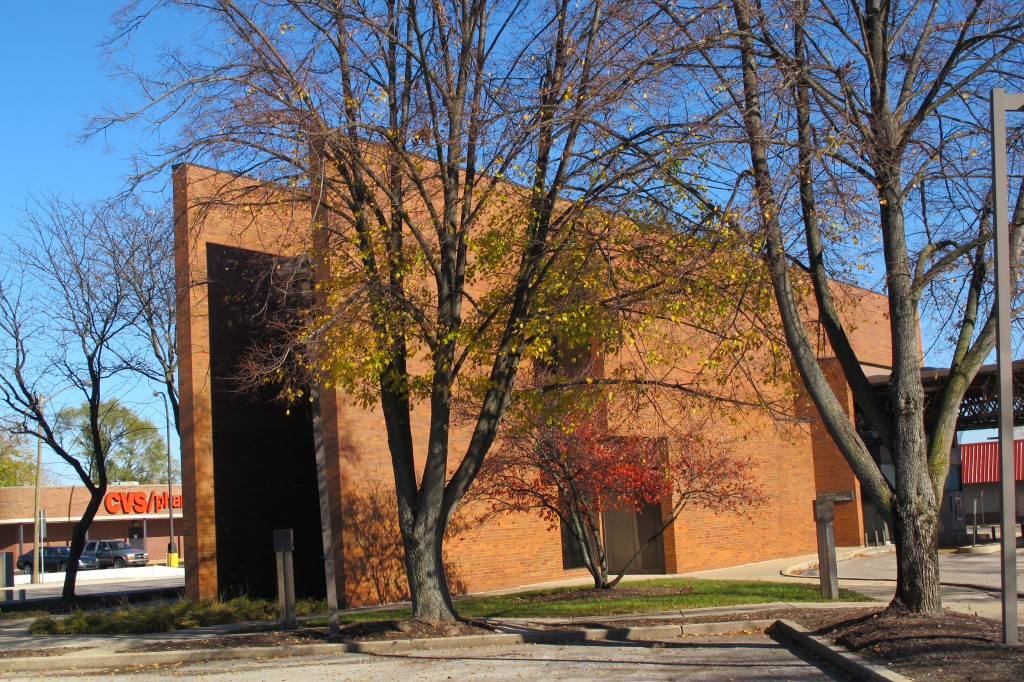 Rear view
(photo by Ricky Berkey)
---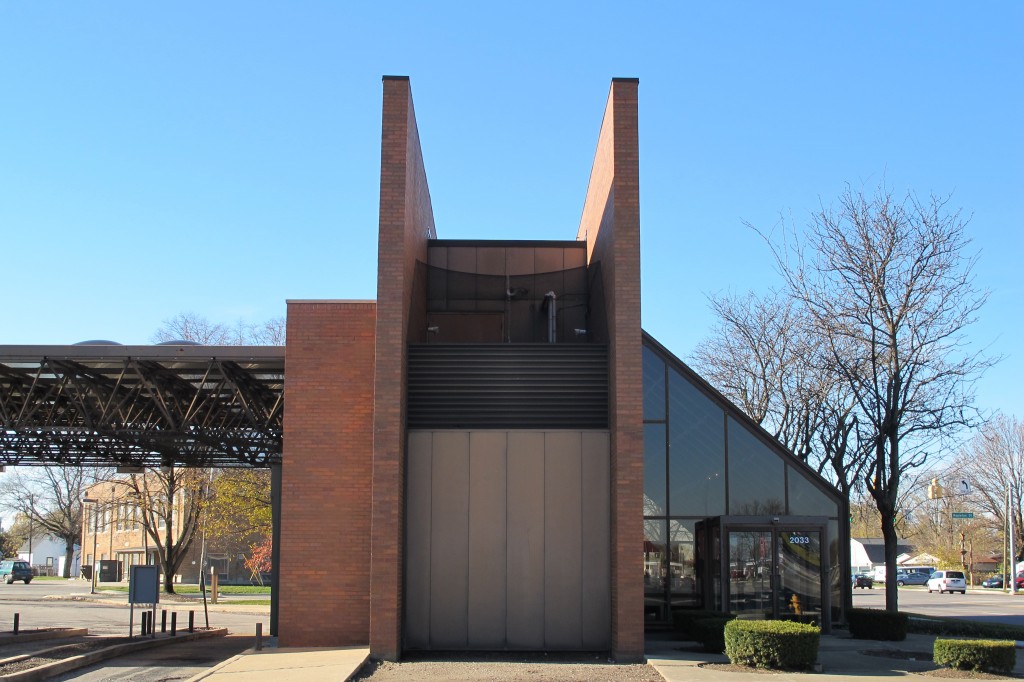 Side view from left
(photo by Ricky Berkey)
---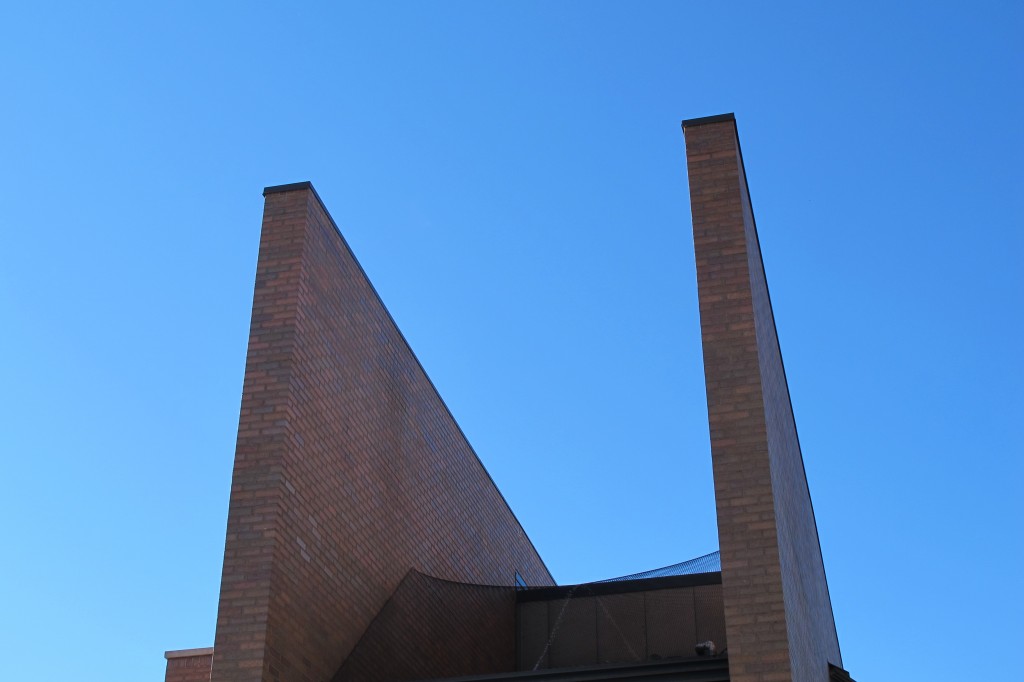 Upper view of the parallel walls
(photo by Ricky Berkey)
---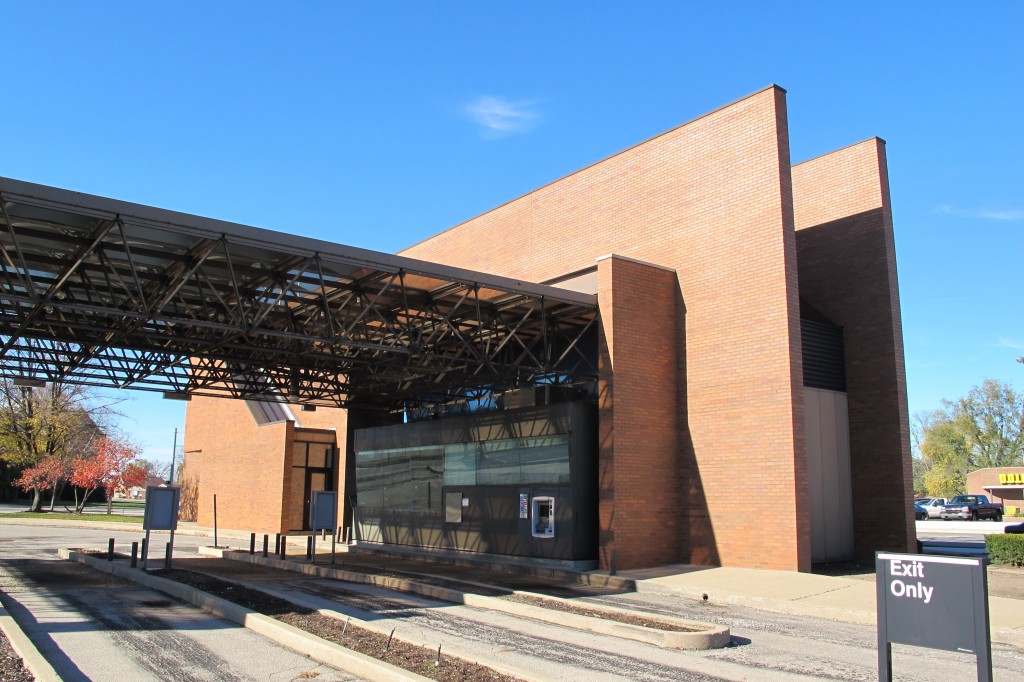 Rear view showing space frame over the drive-up
(photo by Ricky Berkey)
---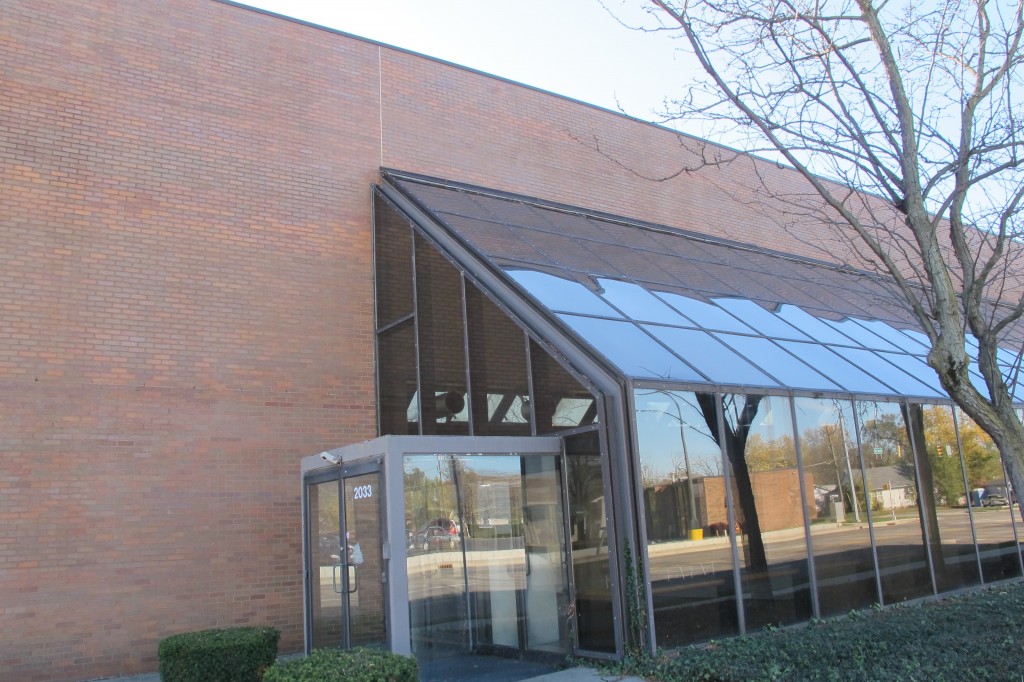 Lobby – left side
(photo by Ricky Berkey)
---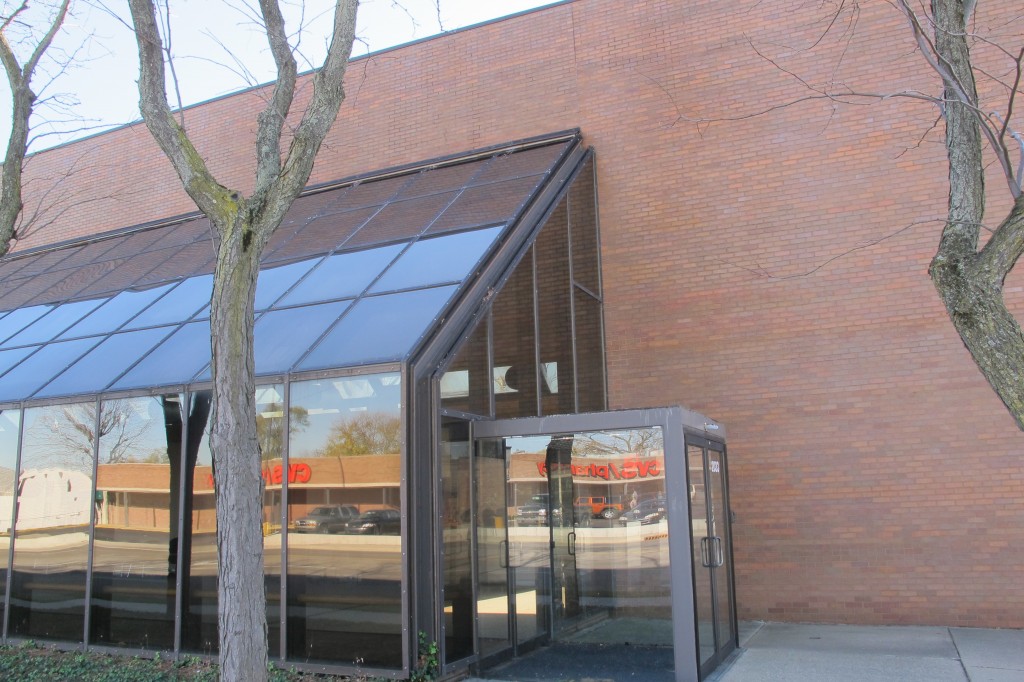 Lobby – right side
(photo by Ricky Berkey)
---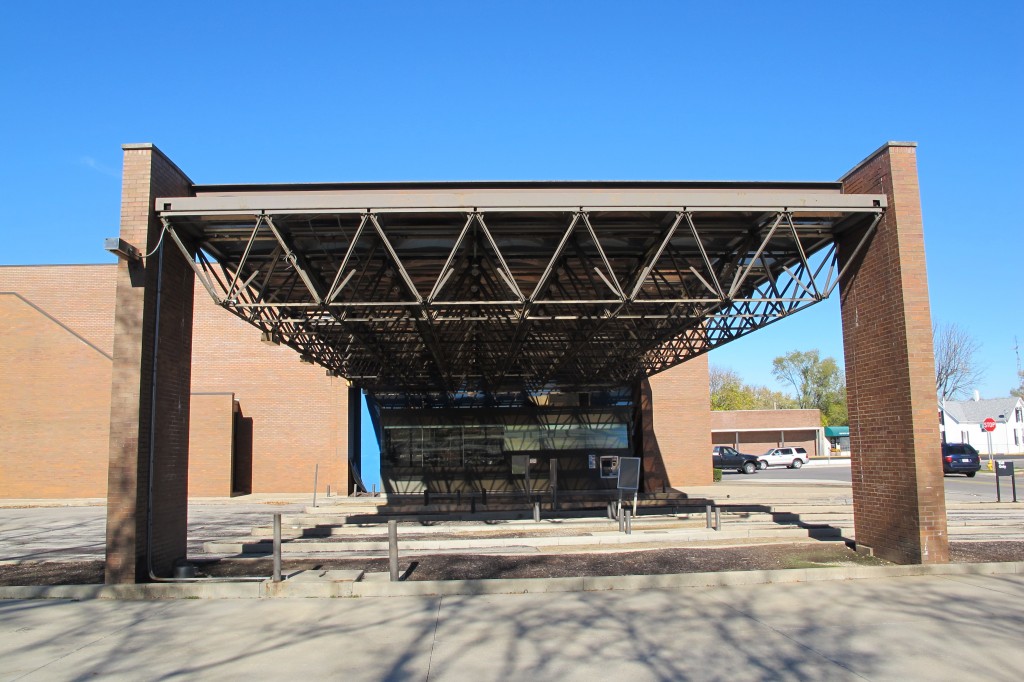 Drive-up area
(photo by Ricky Berkey)
---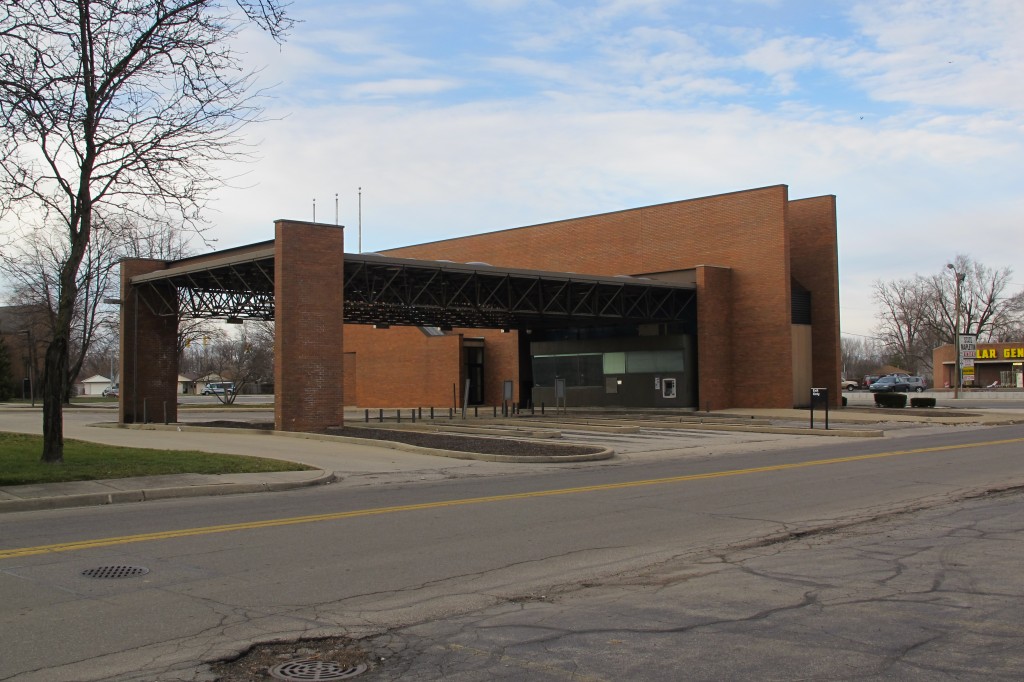 Rear view
(photo by Ricky Berkey)
---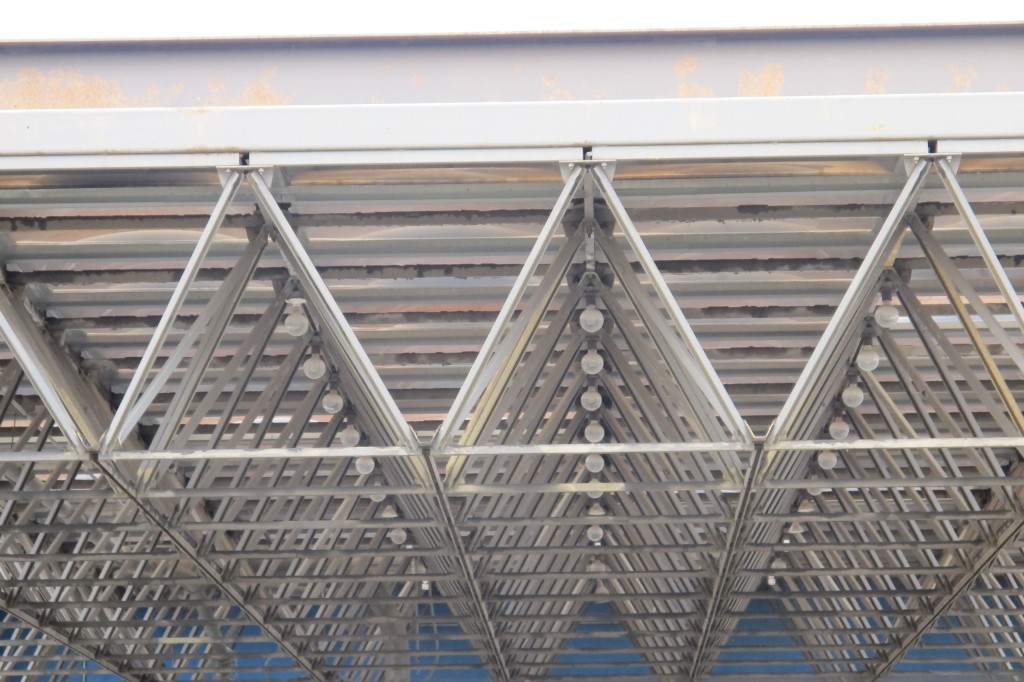 Closeup of the spaceframe
(photo by Ricky Berkey)
---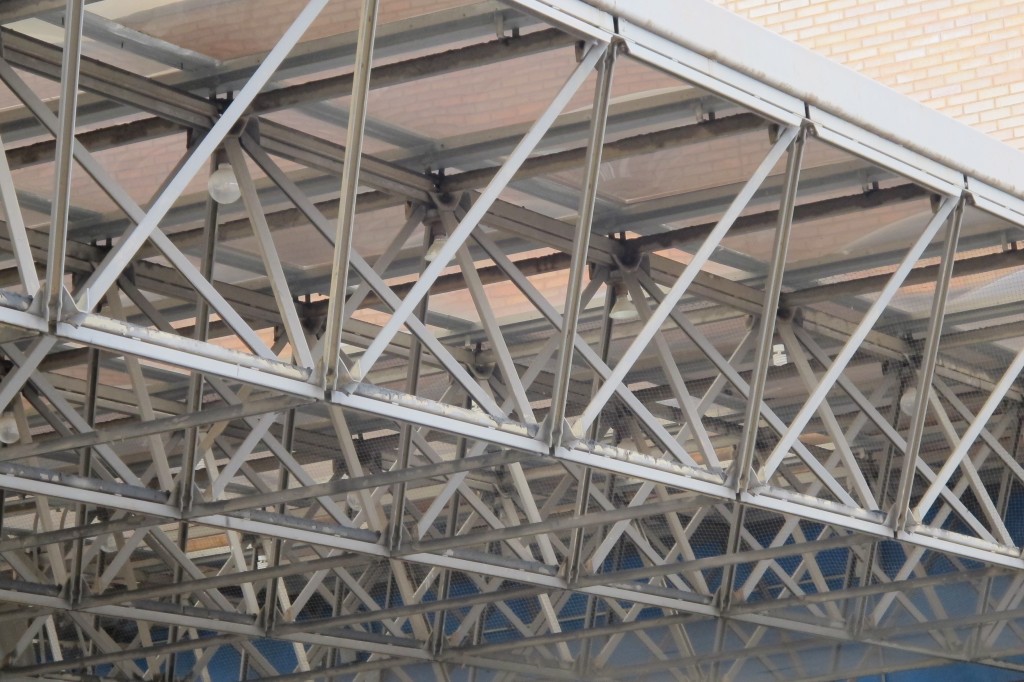 Closeup of the space frame
(photo by Ricky Berkey)
---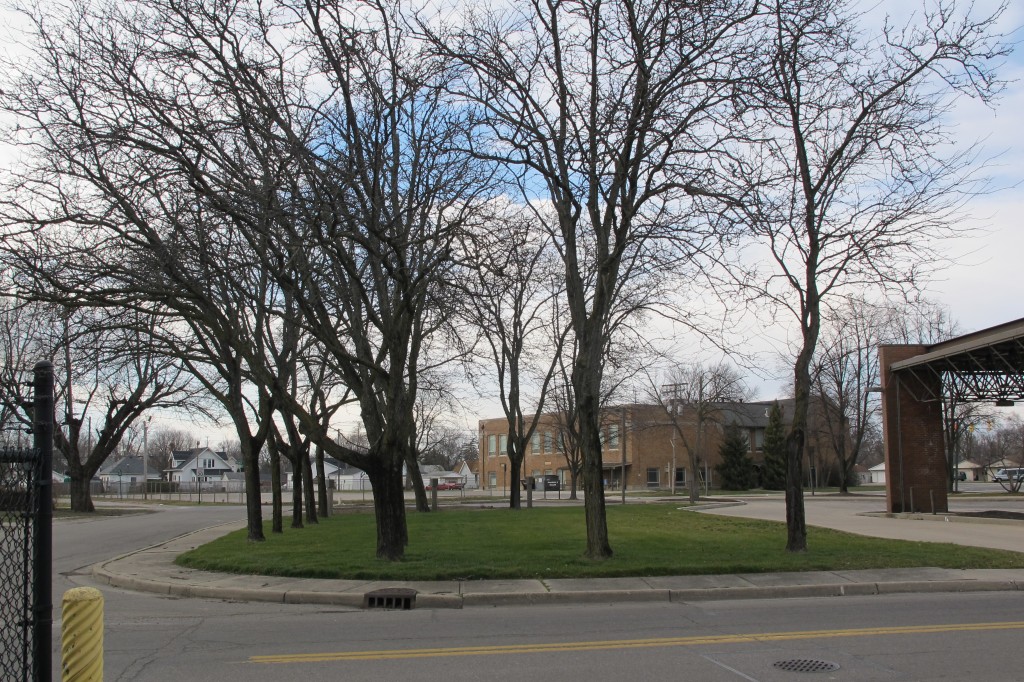 Landscaping in the rear
(photo by Ricky Berkey)
---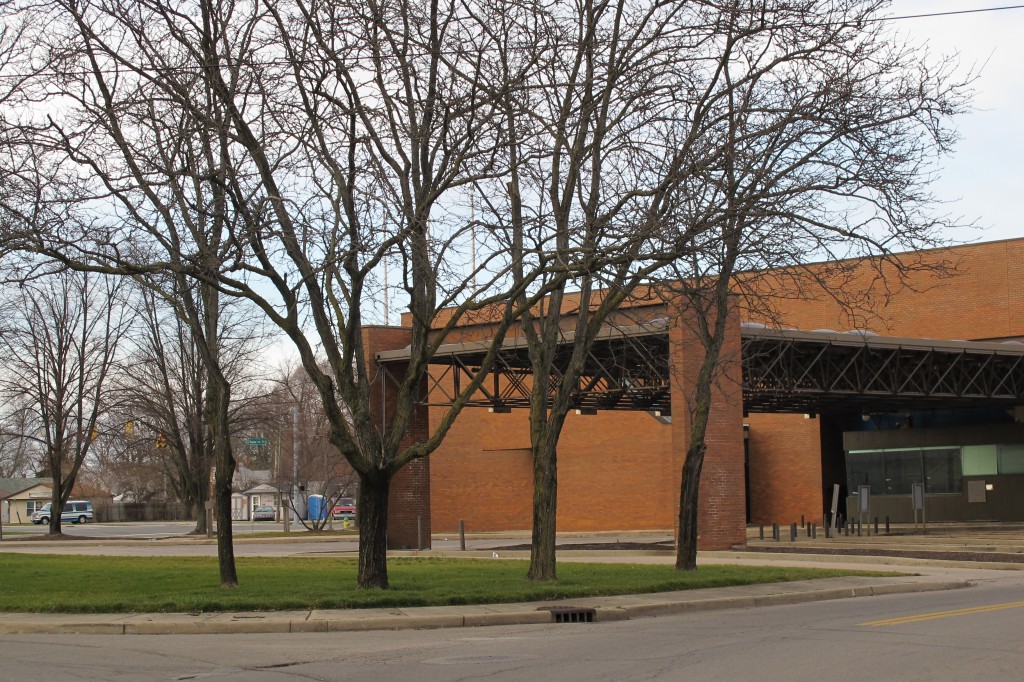 Rear view
(photo by Ricky Berkey)
---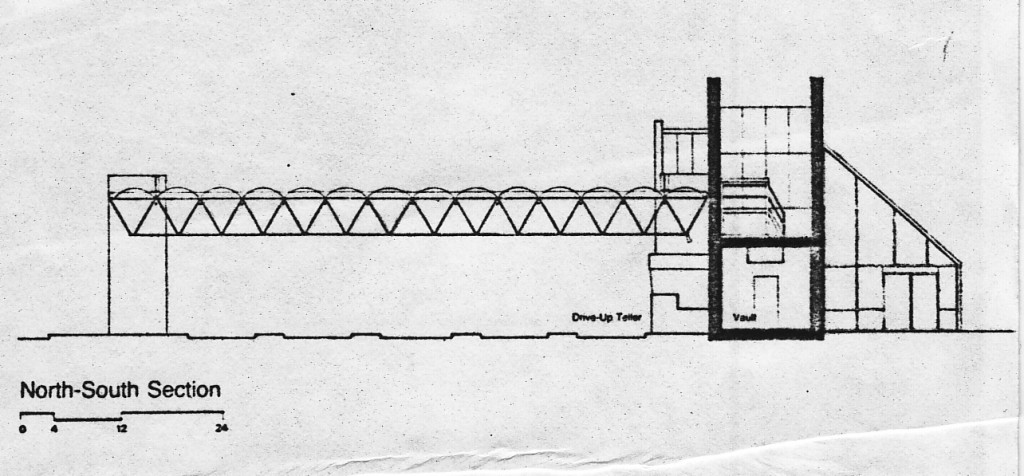 Cross section
(photo by Ricky Berkey)
---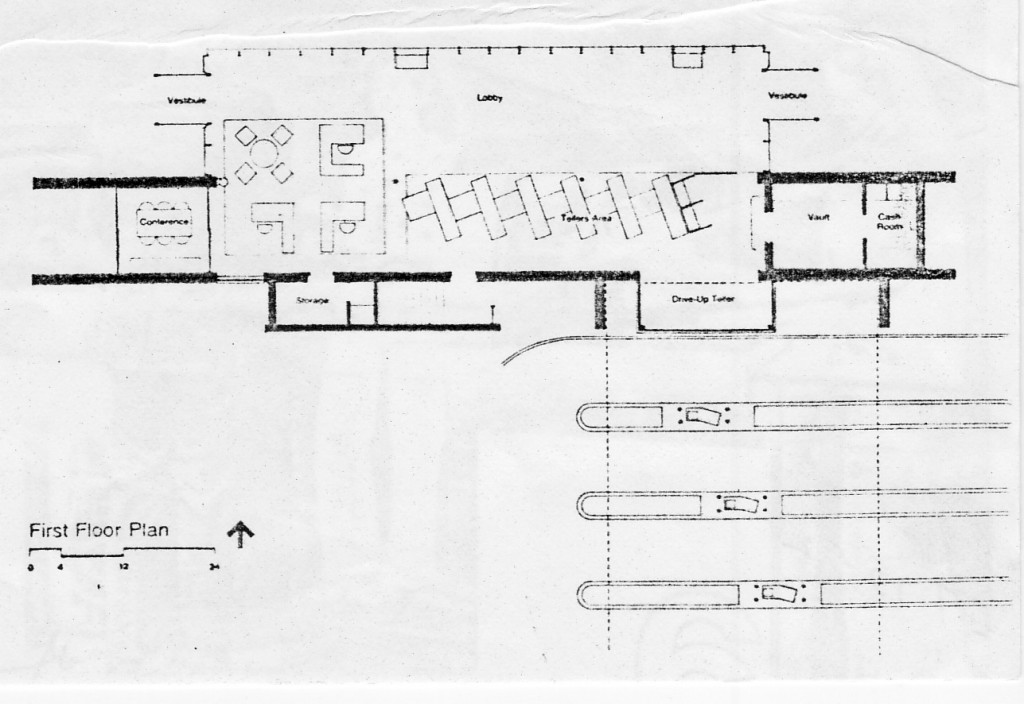 Floorplan
(photo by Ricky Berkey)
---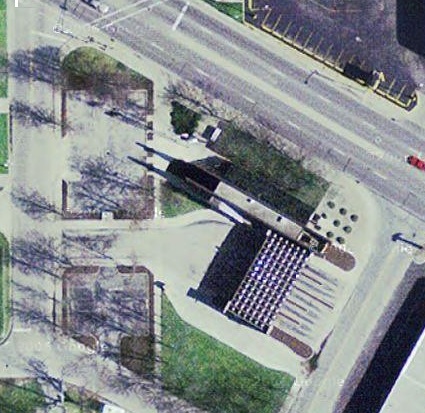 Aerial view
(photo by Ricky Berkey)
---
The Architects
---

Paul Kennon

Born in Shreveport, Louisiana, on January 27, 1934
Died January 8, 1990
Texas A&M (1956)
Cranbrook Academy – Bloomfield Hills, Michigan (1957)
---
Paul Atherton Kennon designed projects around the world including 4 here in Columbus, Indiana. He will long be remembered here for his efforts to gather input from as many people as possible before formulating his designs. In Columbus, Paul Kennon is especially remembered for his "Squatter's Sessions" – a participative process where he gathered input and ideas from the community. He said: "if people just talk about their dreams, anything can happen". His son Kevin followed in his fathers footsteps and has proudly designed a building in Columbus as well.
---
Kennon had a desire to become an architect from an early age and graduated from Texas A&M in 1956. While at Texas A&M he worked a summer job with Caudill, Rowlett and Scott developing a close relationship with William W. Caudill. After completing his graduate work at the Cranbrook Academy he was hired as a designer by Eero Saarinen from 1957-1964. With Saarinen he helped develop the plans for the Dulles International Airport in Washington D.C. Kennon worked with the Saarinen team to complete work on the North Christian Church project in Columbus after Eero Saarinen died.
---
His mentor, William W. Caudill (who was Director of the Rice University School of Architecture) persuaded Kennon to come back to Texas in 1964 to become an Associate Director at Rice. In 1967 he resumed practicing architecture in 1967 with Caudill, Rowlett, Scott (CRS) where he became design principal in 1970 and president in 1976. His approach to teaching which he attributed to Caudill and Saarinen was to teach by example rather than theory. His design process involved a team process seeking the best solution utilizing the ideas of many participants to patiently seek the best solution to each project.
---
He continued his academic career by lecturing and teaching at many universities, including Rice University, Texas A&M, the University of Texas, Texas Tech, the University of Houston, Yale, Harvard, Pratt, Amherst, the University of Pennsylvania, and the Institute for Architecture and Urban Studies. In 1989 Kennon was selected to be the new Dean of the School of Architecture at Rice University.
---
He died of a heart attack in 1990 at the age of 55. Besides his new position at Rice University, he was still an active architect for CRSS. At the time of his death Kennon was actively working on a number of Columbus, Indiana projects: the revitalization of Mill Race Park, a never built golf course west of downtown, the Front Door project and the downtown Streetscape plan.
---
Paul Kennon recieved more than 100 awards for his designs, including honors from the American Institute of Architects and others. 12 of his awards were for projects in Columbus, Indiana.
---
Selected Paul Kennon Projects
1973: Fodrea Community School – Columbus, Indiana)
1974: Irwin Union Bank (State Street Branch) – Columbus, Indiana
1978: Indiana Bell/SBC/AT&T/ Switching Center – Columbus, Indiana
1983: University of Iowa Arena
1985: 3M/Austin Center (3M Regional HQ) – Austin, Texas
1990: Streetscape Downtown Beautification Plan – Columbus, Indiana
1991: Chrysler Technology Center – Auburn Hills, Michigan
---

Jay Bauer

Washington University – St. Louis, Missouri (1972)
Jay Bauer was an architect with the firm Caudill Rowlett Scott from 1972-1992. While with CRS he worked with Paul Kennon on several Columbus, Indiana projects including the ATT Switching station and the Irwin-Union Bank: State Street Branch. He now heads his own firm, Bauer Architects (formerly Bauer and Wiley Architects).
---

Caudill Rowlett Scott (CRS)

Caudill Rowlett Scott (popularly known as CRS) was an architecture firm in Houston, Texas that was started in 1946 by William Caudill and John Rowlett who were professors at the Texas A&M School of Architecture. Wallie Scott, who was a student of Caudill joined the firm in 1948 and Tom Bullock was added as a partner in 1948.
---
They were initially involved in the building of many schools around the world addressing the shortage of classrooms brought on by the post-WW2 babyboom. As educators as well as architects. Caudill and Scott brought about many innovations in school design.
---
Over the following decades CRS diversified it's portfolio grew into one of the largest architectural firms in the country with projects around the world. This greatly diversified the company with CRSS able to provide architectural, engineering, construction management, environmental and financial services to governmental and private sector clients around the world. They also became one of the largest private producers of power in the United States. CRS Capital was a part of the firm focusing on other businesses related to architecture and industrial engineering. In 1983 CRS joined forced with J.E. Sirrine, an industrial engineering firm and became CRS-Sirrine. By 1985, CRS Sirrine (CRSS) had grown to become one of the biggest U.S. architectural design firms, the biggest U.S. construction management company, and the biggest interior architecture designer.
---
CRS was awarded The AIA (American Institute of Architects) Firm Award in 1972. In 2005, CRSS was named named "Firm of the Century" by Texas A&M University College of Architecture (which is housed in the CRS Center).
---
In 1994, the company was split with the engineering component acquired by Jacobs Engineering while the architecture group merged into Hellmuth, Obata and Kassabaum (HOK).
---
Historic Columbus
These buildings were previously on the site of State and Mapleton Branch of Irwin-Union Bank along State Street. The two buildings on the left were the East Side Process Company next to the East Side Independent Fire station on the right.
(photo used pending permission)
---
Links/References
CRS – "CRS: a Firm and it's Legacy"
City of Columbus: official City of Columbus website
Columbus Indiana Architectural Archives
Columbus Indiana Architecture Digital Archives: A small portion of the Columbus Indiana Architectural Archives available online from the IUPUI digital library
3D Models of Columbus Architecture Executed in Google SketchUp:
The Republic Newspaper – Columbus, Indiana newspaper
Bartholomew County Public Library
Historic Columbus Website – David Sechrest's tribute to Columbus History
Historic Columbus Message Board – a companion interactive forum to the David Sechrest historical website
Bartholomew County Historical Society
---

Click HERE for a Calendar of Upcoming Events in the Columbus Area.
Click HERE for information about Tours of Columbus Architecture and Design including the Miller House.
---

Ricky Berkey
Email me: rickyberkey@gmail.com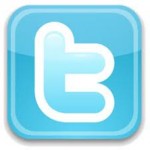 Follow me on Twitter:
---