---
(v12.14.14)
Art, Architecture and Design of Columbus, Indiana
This article spotlights a particular building or some other aspect of Columbus design. I welcome your comments, corrections and additions. Please share your experience and perceptions of these uniquely Columbus projects.

Irwin-Union Bank (original State Street Branch and Shopping Center)

Built: 1961
151 S. Mapleton (se corner of State and Mapleton)
Design Architect: Harry Weese (Harry Weese & Associates – Chicago)
General Contractor: Repp and Mundt (Columbus, Indiana)
Landscaping design: Harry Weese & Associates – Chicago
---
This is one of a number of Columbus buildings designed by notable architects that has been almost forgotten. Harry Weese, architect of the National Historic Landmark First Baptist church was so prolific in his early days in Columbus that many of his buildings have been modified, re-purposed or just plain unappreciated. Most people are unaware that this former bank branch and accompanying shopping center was one of his many commercial projects in Columbus. It is a simple yet still elegant example of his modernist design work.
---
In the late 50's and early 60's in Columbus and elsewhere, shopping patterns were changing. New shopping centers were opening up in neighborhoods set away from the traditional downtown areas. Shoppers were drawn to the sleek, modern designs of the new centers as well as the acres of adjacent free parking. Merchants from downtown areas began to move or open second stores in the new shopping plaza's eager to embrace the trend. Banks as well were opening branch banking centers in the new centers, usually small free-standing buildings in a conspicuous part of the parking lot. Irwin-Union Bank already well-known for their innovative downtown building designed by Eero Saarinen, began using prominent architects to design small yet unique free-standing bank branches in the new centers.
---
In 1961, Irwin-Union Bank opened two new bank branches, one in the Eastbrook Plaza Shopping Center and the one described here, both designed by Chicago architect Harry Weese. This location on the corner of State Street and Mapleton was in the part of town formerly known as East Columbus, annexed by the city of Columbus in 1950. Accompanying this bank branch was a small shopping center also designed by Weese. Landscaping on the small property was designed by Weese and his firm, Harry Weese & Associates. The space where the bank and shopping center now stands had been the site of the former Columbus Process Company whose plant had been destroyed in a fire.
---
The brick banking building contains 1,800 square feet of floor space and originally had 2 drive-up windows along the east side of the building and a night depository. Bricks were maroon black mortar and the interior floors were brown quarry tile with black mortar joints. The original interior ceiling was an exposed plank roof. Perhaps echoing the Saarinen building downtown, the roof contains a number of white bubble domes used as skylights. The curved-line exterior and interior brick walls can be seen in a more refined and more dramatic effect in the gently curving walls of First Baptist Church which Weese designed several years later. Interior furniture in the bank included Steelcase desks with white formica tops. The bank opened for business on Dec 6th, 1961.
---
The shopping center which opened a few months later in 1962 had space set aside for a grocery, a drug store and perhaps 3 smaller shops. Developers hoped that it would help to revitalize the commercial district on the east side of Columbus. Like the bank building, it features gently curving brick walls and an 8 foot overhang over the sidewalk giving it an arcade effect. Trees were planted along State Street with plantings in and around the parking areas. When the center opened it contained a Jay C Supermarket and a Hook's Drug Store. Hook's was a longtime Indiana drugstore chain which was later taken over by Revco and then CVS which still maintains a store in the center. Space was set aside on the lot between the bank and the shopping center for 100 cars with another small parcel behind the buildings for employee parking.
---
Over time the bank branch proved to be too small and a new bank (designed by Paul Kennon) opened across the street in 1974. The original building became a flower shop in the mid-70's called "Flowers from the Woods." Woods referred to the Wood's family who were the original owners. The business is now owned by Naomi Fleetwood-Pyle. The interior still retains the basic character of its life as a bank. The vault has been re-purposed as a walk-in cooler for plants.
---
The shopping center is still occupied and filling a role described by original contractor Harry Mundt as a "neighborhood convenience center" with drug store and dollar store in the stripmall building. It gets a lot of pedestrian traffic from the nearby neighborhood as well as automotive customers. I find it especially attractive because it retains the clean lines of its original modernist look, unlike most strip centers of the era that have been given false post-modern facades.
---
Unfortunately the relocated branch bank across the street is standing empty and is currently for sale. It is hoped that one of the newer banks that have flourished with the demise of Irwin-Union Bank will take interest and open an east side branch along State Street. First Financial currently owns the Paul Kennon designed building but considers the Creekview branch in the Kohls/Walmart shopping area to be its east side location. Irwin-Union was only using this as a drive-through location when they were still in business after they built the Creekview Branch. State Street is the traditional heart of the east Columbus business district and is sorely in need of economic revitalization.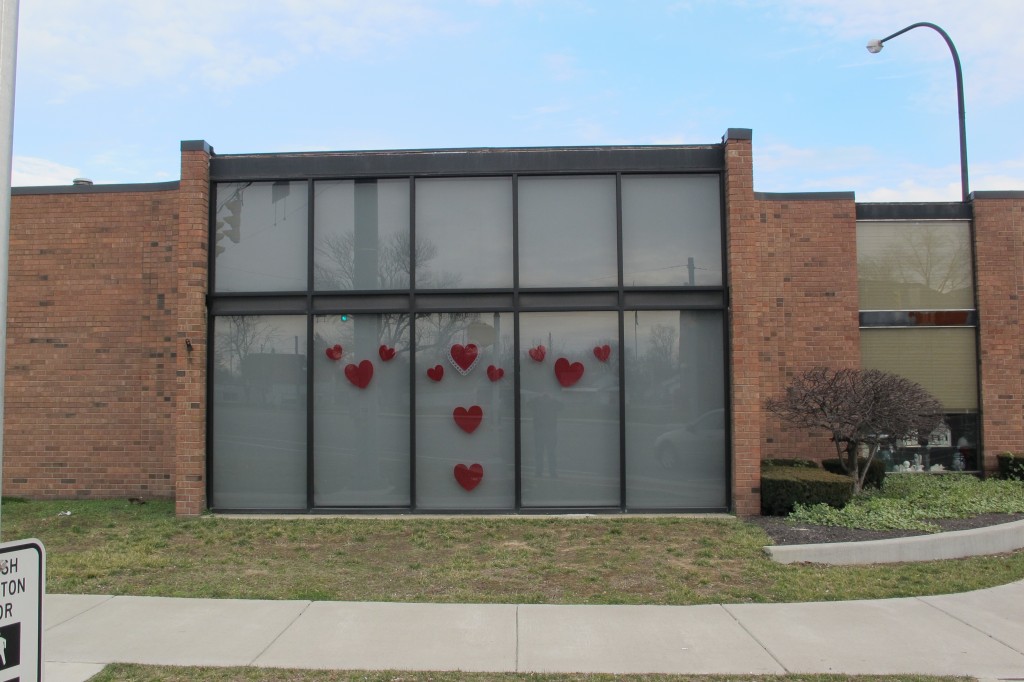 Original front entrance, building modified due to street widening
(photo by Ricky Berkey)
---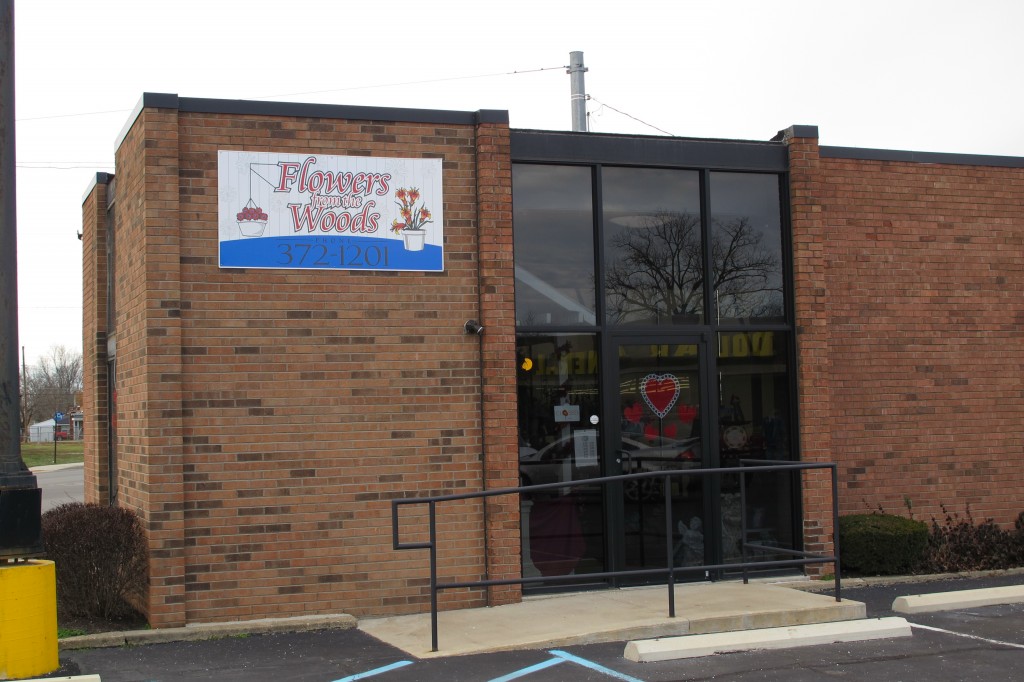 Current main entrance, "Flowers from the Woods" flower shop
(photo by Ricky Berkey)
---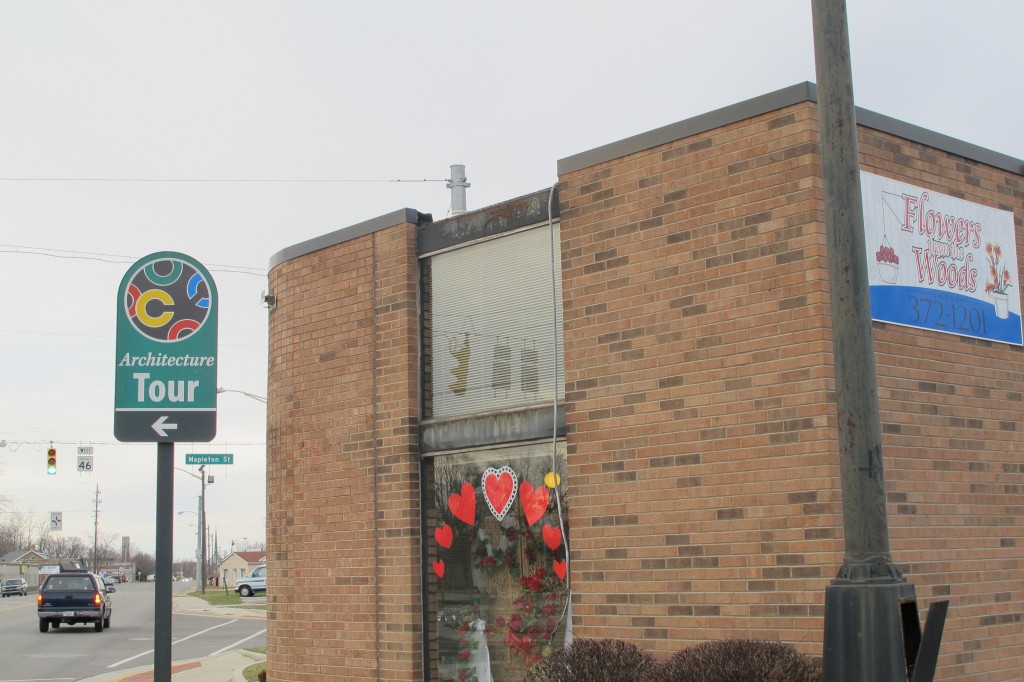 Architecture tour signs actually referring to the Paul Kennon building across the street
(photo by Ricky Berkey)
---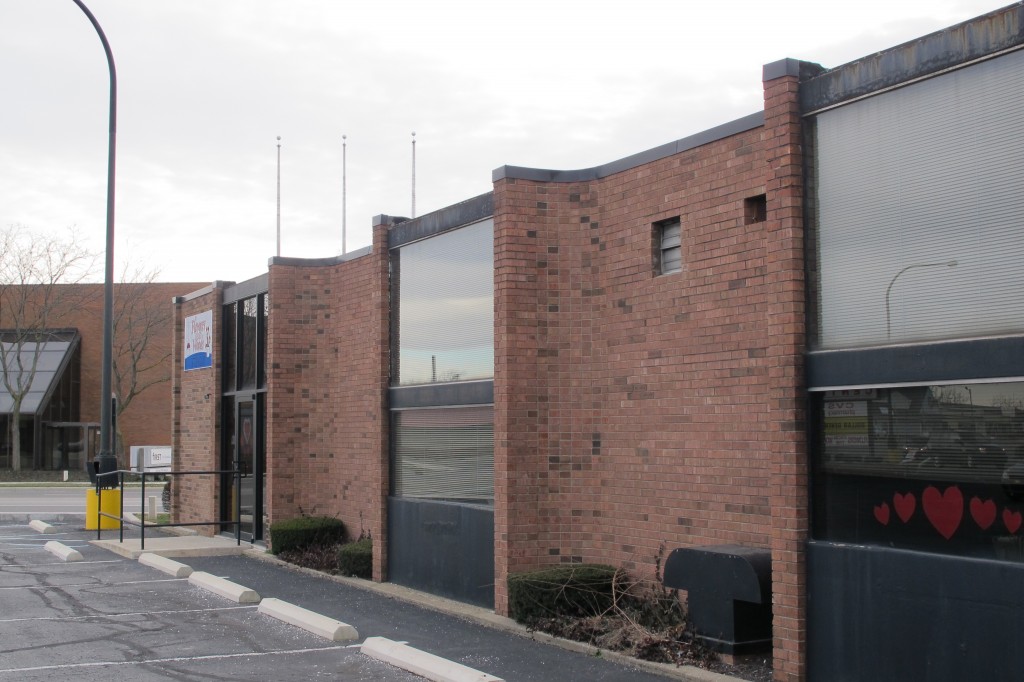 Side view
(photo by Ricky Berkey)
---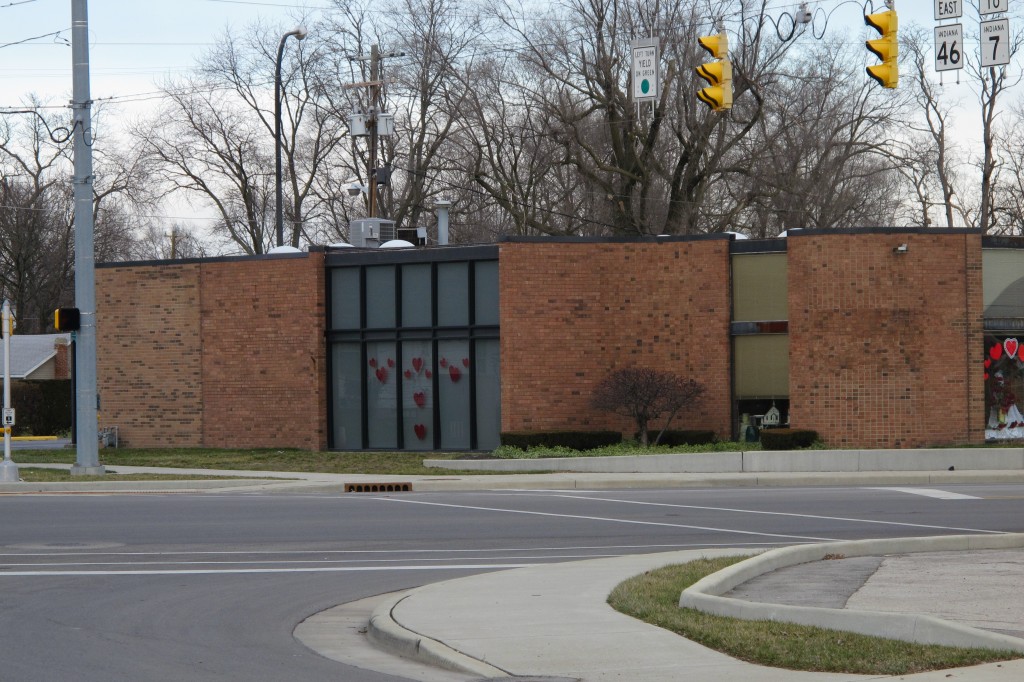 Note the skylight domes on top of building
(photo by Ricky Berkey)
---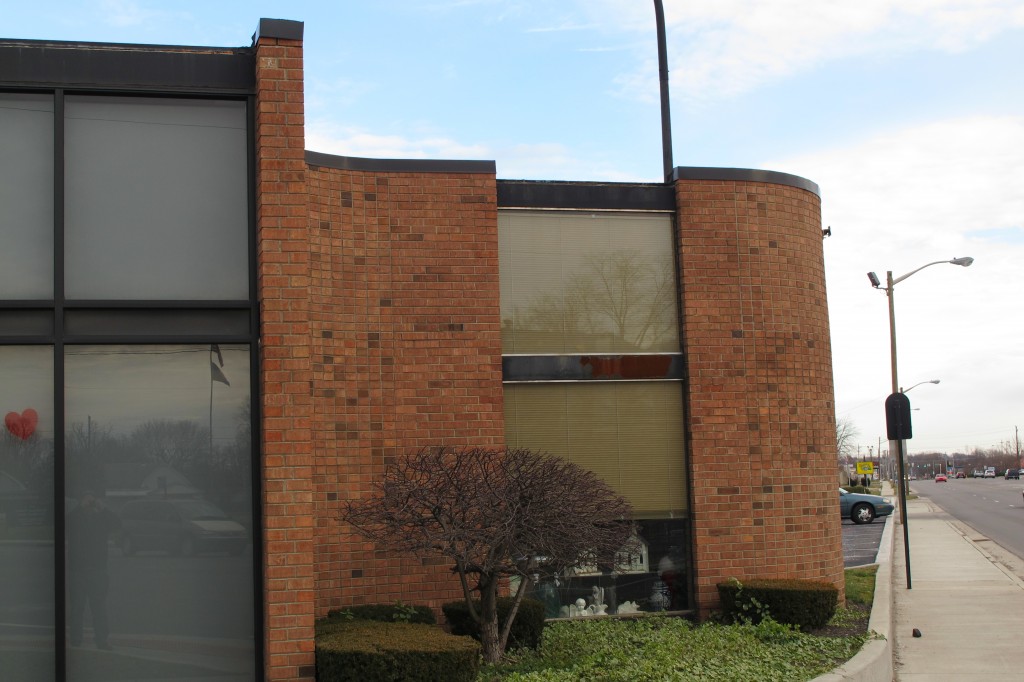 Front of building
(photo by Ricky Berkey)
---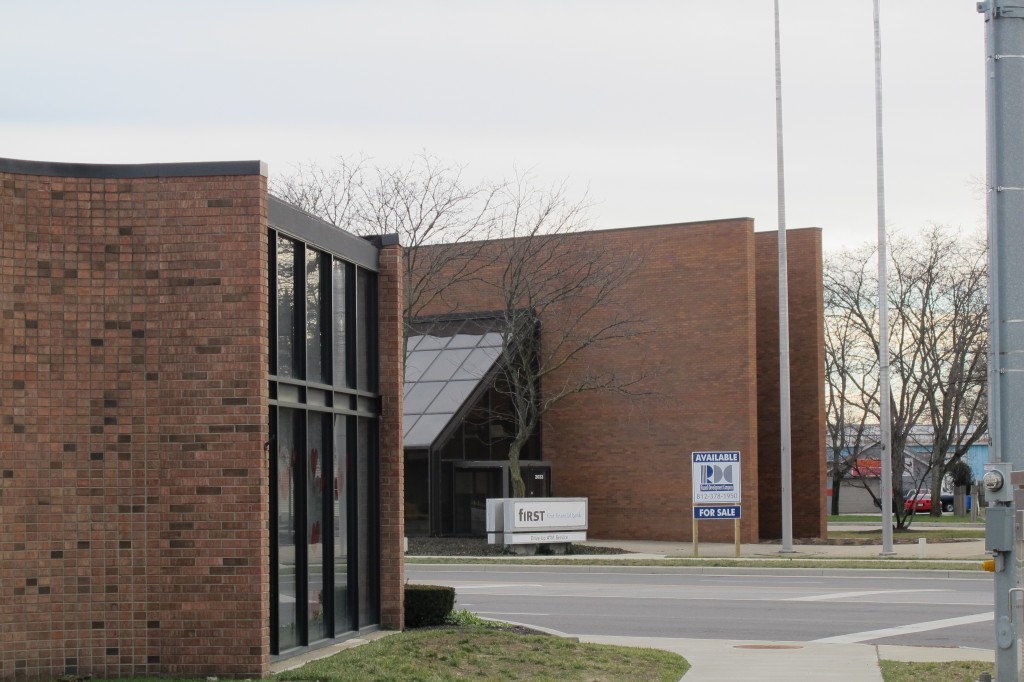 Original Harry Weese bank building to the left, replacement building by Paul Kennon on the right
(photo by Ricky Berkey)
---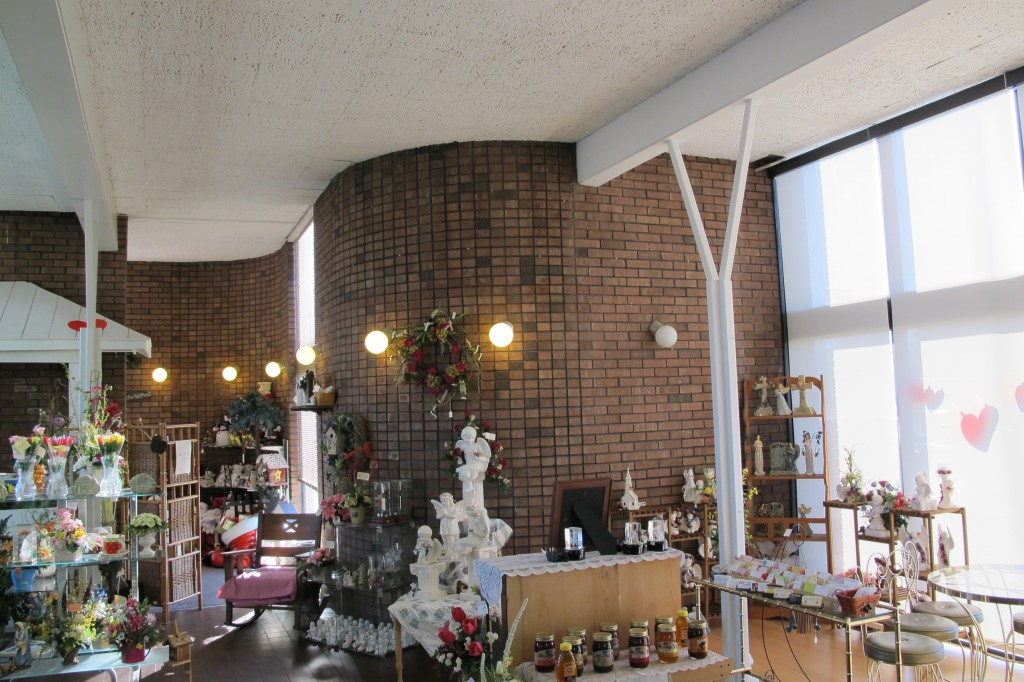 Interior of flower shop
(photo by Ricky Berkey)
---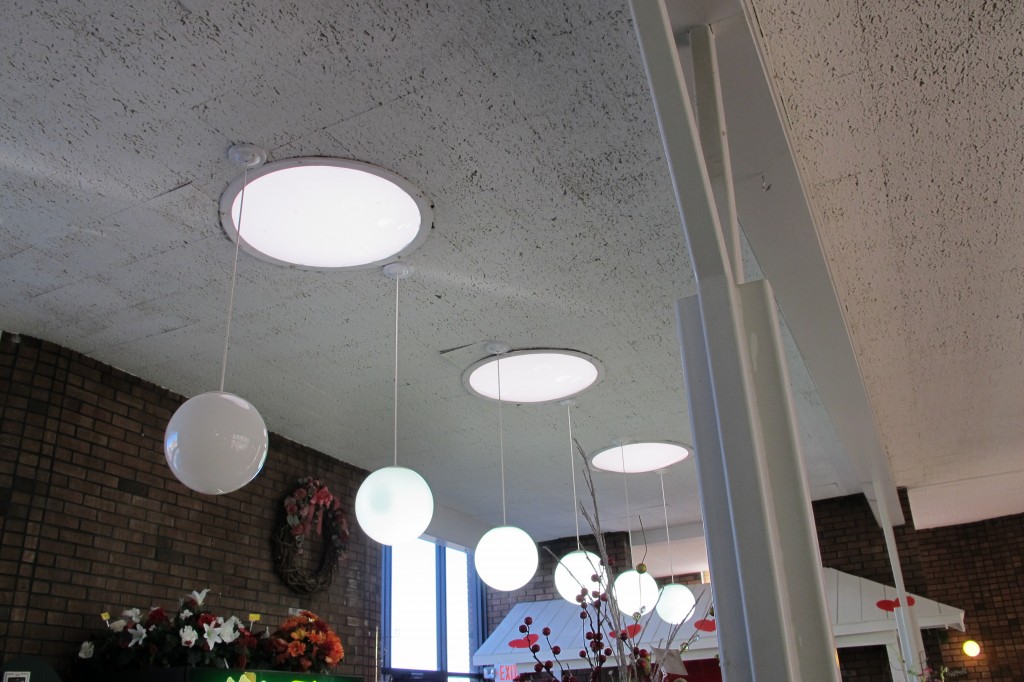 Flower shop interior showing original dome skylights and lighting fixtures
(photo by Ricky Berkey)
---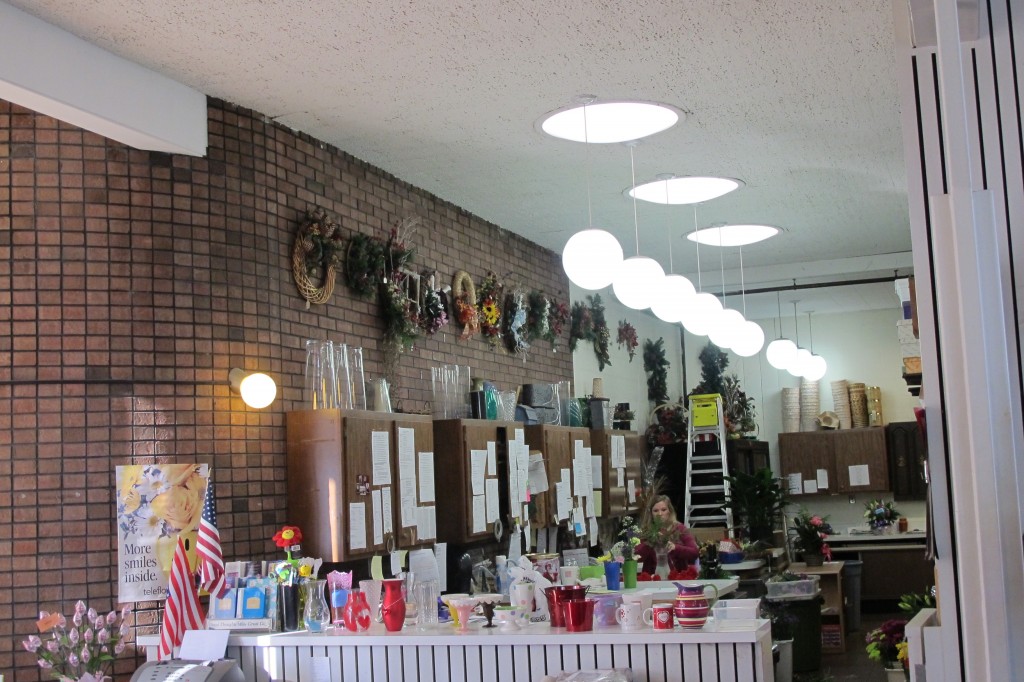 Interior
(photo by Ricky Berkey)
---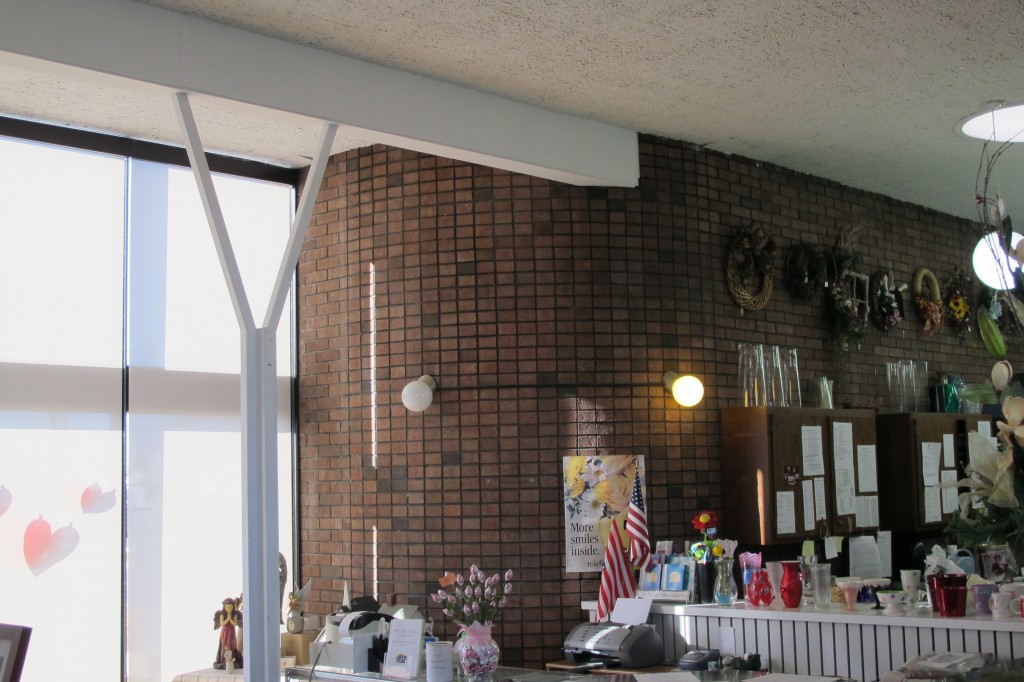 Interior
(photo by Ricky Berkey)
---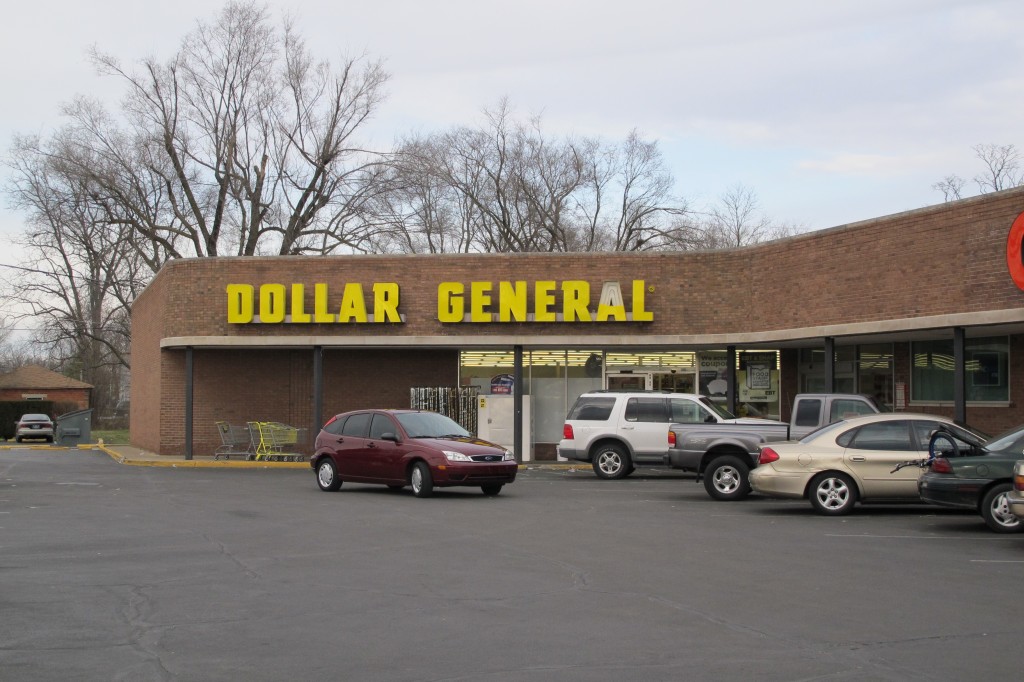 Shopping center
(photo by Ricky Berkey)
---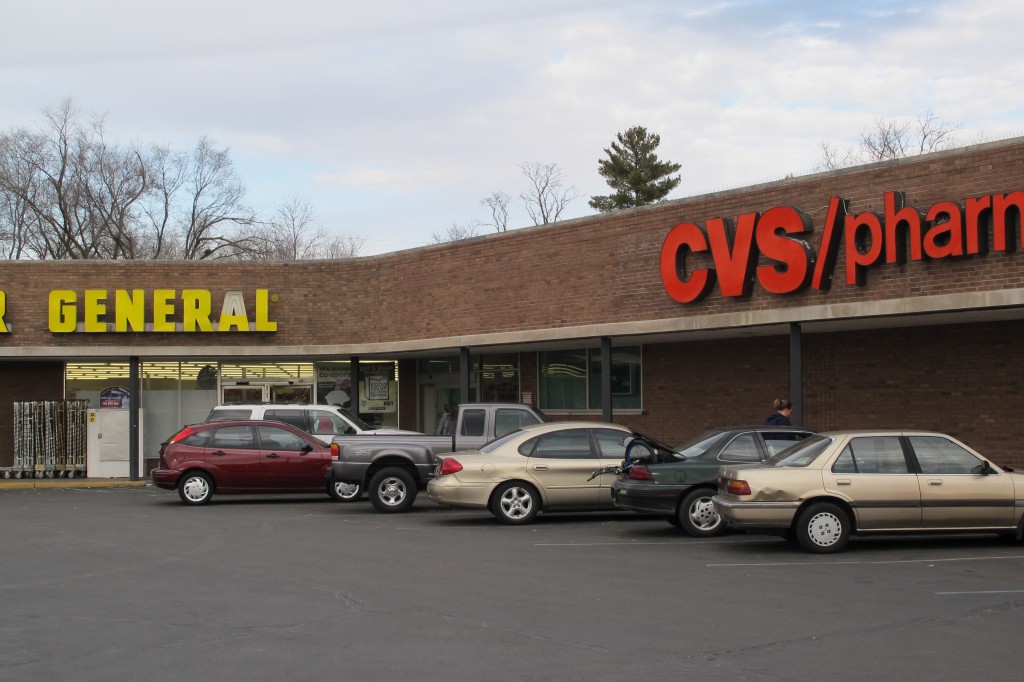 Shopping center
(photo by Ricky Berkey)
---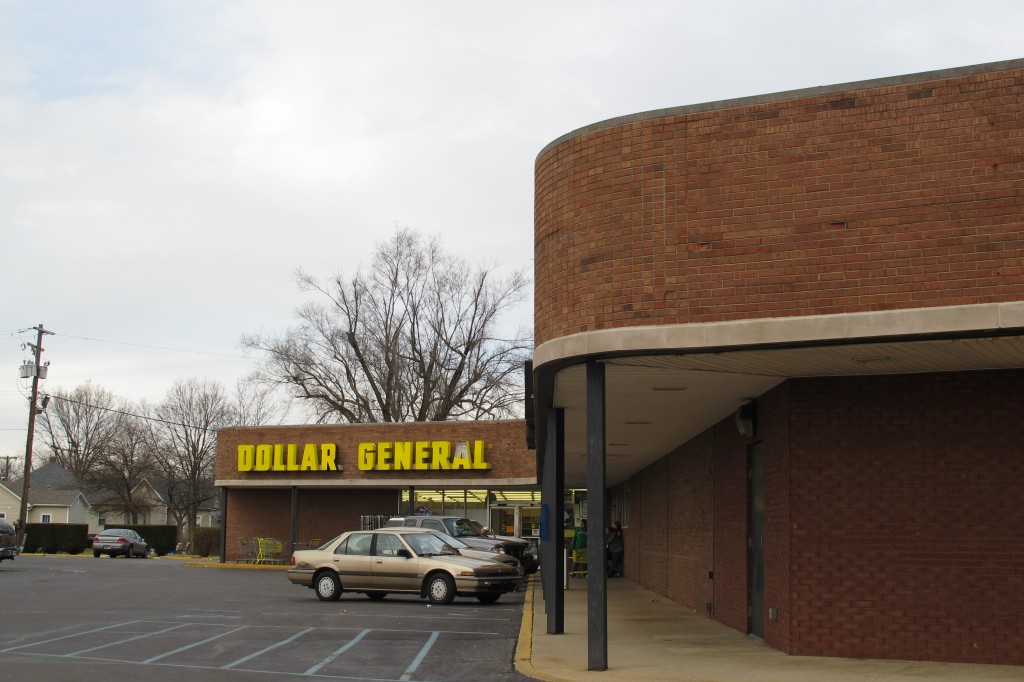 Shopping center
(photo by Ricky Berkey)
---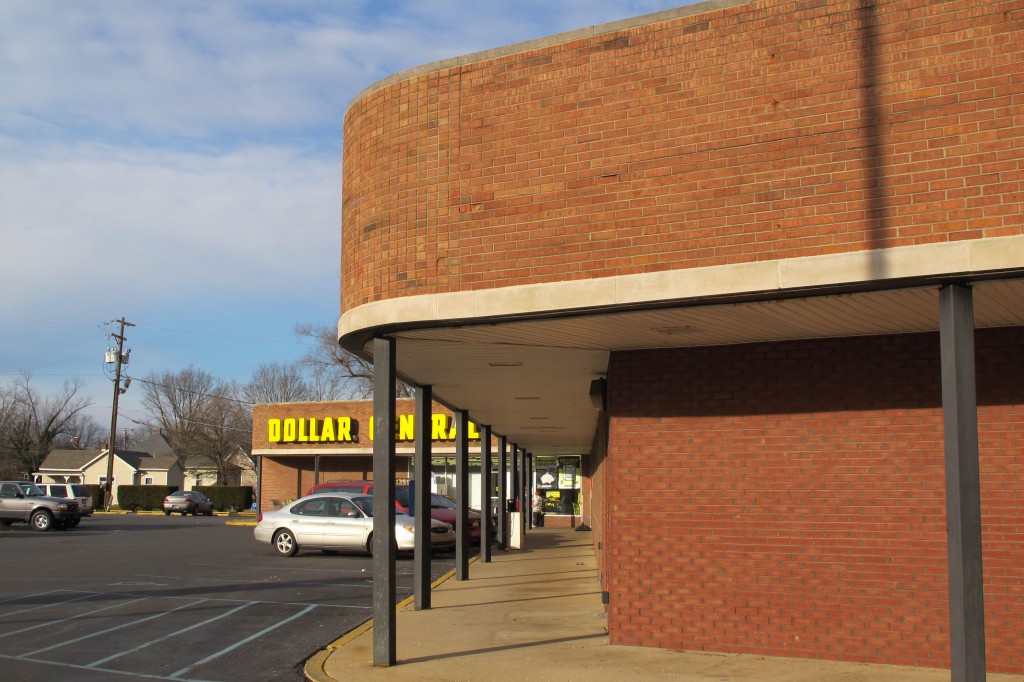 Shopping center
(photo by Ricky Berkey)
---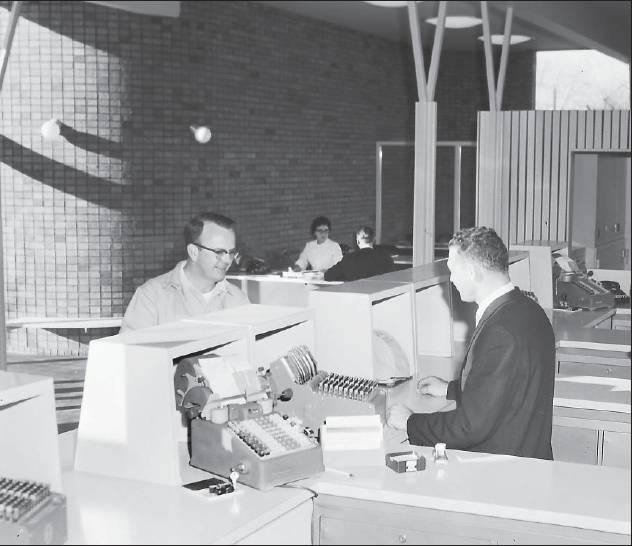 Opening day of this branch in December 1961
(photo from the Republic newspaper…used pending permission)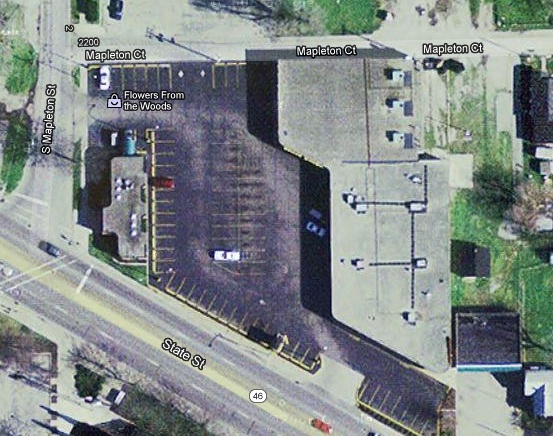 Aerial view of site
(image from Google Maps…used pending permission)
---
The Architect
---

Harry Weese
Born June 30, 1915 in Evanston, Illinois
Died October 29, 1998
Yale University (1936-1937)
Massachusetts Institute of Technology (MIT) (1934-1938)
Cranbrook Academy (1939-1940)
Harry Weese was born in the Chicago suburbs and went on to become one of the most influential of the Chicago architects. His work predominated in Chicago, in little Columbus, Indiana and around the world. His many projects ranging from high-rises and giant urban complexes to intimate residential designs remain as a testament to his genius.
---
Harry was a student of renowned Finnish architect Alvar Aalto at MIT. He also studied city planning at the Cranbrook Academy in Bloomfield Hills, Michigan where he met and became close friends of Charles Eames and Eero Saarinen. His life was greatly influenced by his brief time at Cranbrook and his later interior design work can be seen as a result. His association with Eero Saarinen led to many projects as Saarinen referred projects to Weese that he simply didn't have time to take on. He also became a close friend of J. Irwin Miller which led to over a dozen small projects in Columbus, Indiana.
---
He was primarily considered a modernist but his work was always shaped by the needs and vision of his clients. As a result his designs were almost always unique without an identifying personal style. Weese's approach to design was problem solving – each work intended to meet a specific need and to fulfill a particular function.
---
Early on he worked for Skidmore, Owings and Merrill (SOM) but felt stifled in the world of corporate architecture and started his own much smaller firm in 1947. He also became a fierce advocate of historic preservation and city planning. He had a lifelong interest in sailing and boat-building which was often reflected in his designs especially in some of his residential projects. Harry Weese & Associates won the coveted Firm of the Year Award in 1978. In 45 years they completed over 300 commissions with perhaps an equal number of unbuilt designs.
---
His luster was tarnished in later years as his drinking and personal problems put a sad footnote on what should have been a celebrated life. After numerous stints in rehab clinics and several strokes his wife Kitty and family had him committed to the Illinois Veterans Home where he died quietly in 1998. Recently his work has come back into focus as a number of articles and a new book has been released on his life and works. Much like the recent surge of interest in Eero Saarinen, the work of Harry Weese is finally getting the critical respect and admiration that it always deserved.
---
Selected Harry Weese Projects
1957: Lillian C. Schmitt Elementary School – Columbus, Indiana
1958: United States Embassy Building – Accra, Ghana
1961: Northside Middle School – Columbus, Indiana
1963: Sterling Morton Library at the Morton Arboretum
1965: First Baptist Church – Columbus, Indiana
1966: Orchestra Hall Restoration – Chicago, Illinois
1966: IBM Building – Milwaukee, Wisconsin
1966: Tangeman House – Muskoka Lakes, Ontario, Canada
1967: Auditorium Theatre Restoration – Chicago, Illinois
1968: Seventeenth Church of Christ, Scientist – Chicago, Illinois
1969: Marcus Center for the Performing Arts – Milwaukee, Wisconsin
1969: Shadowcliff House – Ellison Bay, Wisconsin
1970: Time-Life Building: Chicago, Illinois
1970: Formica Building – Cincinnati, Ohio
1972: Arena Stage – Washington, D.C.
1973: Crown Center Hotel – Kansas City, Missouri
1975: Mercantile Bank – Kansas City, Missouri
1975: Oak Park Village Hall – Oak Park, Illinois
1975: Metropolitan Correctional Center – Chicago, Illinois
1976: Willow Street Townhouses – Chicago, Illinois
1976: Metro System – Washington D.C.
1981: Fulton House Condominium Conversion – Chicago, Illinois
1982: United States Embassy Housing – Tokyo, Japan
1984: Miami-Dade County Transit System – Dade County, Florida
1988: River Cottages – Chicago, Illinois
1988: Union Station Restoration – Washington, DC
---
Links/References
"Reconstructing Harry Weese": fascinating recent article about his life and career
"Harry Weese: A Man of Many Words and Works (1915-1998)" – a career retrospective from Inland Architect magazine.
The Architecture of Harry Weese: Robert Bruegmann and Kathleen Murphy Skolnik (recently published career retrospective)
Harry Weese Interview: part of the Chicago Architects Oral History Project
Harry Weese Houses: Kitty Baldwin Weese (This book was written by Harry's wife as a tribute for his 70th birthday – it illustrates 38 of his 82 residential designs).
City of Columbus: official City of Columbus website
Columbus Indiana Architectural Archives
Columbus Indiana Architecture Digital Archives: A small portion of the Columbus Indiana Architectural Archives available online from the IUPUI digital library
3D Models of Columbus Architecture Executed in Google SketchUp:
The Republic Newspaper – Columbus, Indiana newspaper
Bartholomew County Public Library
Historic Columbus Website – David Sechrest's tribute to Columbus History
Historic Columbus Message Board – a companion interactive forum to the David Sechrest historical website
Bartholomew County Historical Society
---

Click HERE for a Calendar of Upcoming Events in the Columbus Area.
Click HERE for information about Tours of Columbus Architecture and Design including the Miller House.
---

Ricky Berkey
Email me: rickyberkey@gmail.com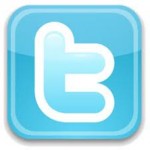 Follow me on Twitter:
---