---
(v12.13.14)

Pence Place Apartments

Built: 1984
Address: Pence Street
Design Architect: Charles Gwathmey (Gwathmey Siegel & Associates – NYC)
Design Associate: Jacob Alspector (Gwathmey Siegel & Associates – NYC)
Design Team: Margaret Fitzpatrick, Lynn Bensel, Jose Coriano, William Garbus, Dirk Kramer, Dean Marchetto, Joseph Ruocco, Irene Torroella (Gwathmey Siegel & Associates – NYC)
---
Pence Place was the 2nd HUD-subsidized public housing project in Columbus, this one built for families. Sycamore Place was built a year earlier and was designed for the elderly. Remarkably these public housing complexes were both designed by the noted architectural firm Gwathmey Siegel & Associates. HUD normally would have insisted on a no frills design but the fact that the design fees were paid by the Cummins Foundation Architecture Program resulted in a still simple, cost-efficient project but allowed for additional features and a level of privacy not found in typical public housing units. HUD restrictions do not normally allow funding for housing to be designed to meet particular local needs which results in a cookie cutter approach. It is not known if there are any other public housing projects around the country designed by notable architects. The intention of the Columbus projects was to show that a public housing project can be an asset to the community if it is well-designed, well-maintained and well-managed. The hope was that it would transform the image of public housing. While that probably hasn't happened we have seen a nationwide shift from large high rise housing to smaller more tenant friendly construction.
---
Pence Place consists of 40 3-bedroom units for families with 2 units being handicapped accessible. It is located on a 3 acre triangular site sandwiched between a railroad tracks, an industrial area and a residential tract. Although they resemble traditional 2-story townhouses, the arrangement of the units are such that each unit shares 3 walls resulting in a cost savings. For public housing, there is an unparalleled amount of privacy for each unit. Residents are given a sense of individual territory within HUD guidlenes and budgets and regulations. Each townhouse has a fenced front yard, a storage structure and a private entry gate facing into a pedestrian mew. The living rooms open directly to the front yard. The stairways in each unit have a operable clerestory window providing natural light and stack-effect ventilation.
---
Although the buildings fill the majority of the site, there is landscaping in place around the pedestrian circulation systems with benches integrated into the fence-walls around the complex. Several small playground areas are integrated into the site and the apartment complex is adjacent to a small city park. The 80 car parking lot and driveway separates the residential units from the train tracks. A separate 2-story community building with a small balcony contains a common day room, management office and a maintenance garage. The community room opens into a paved terrace. All buildings are of wood frame construction with exterior walls clad in gray cedar clapboards. Roofing is asphalt shingles with gypsum board interior walls and carpet and slate flooring. Heating and cooling is provided by separate heat pumps in each unit. Costs were held down by using prefabricated framing and standardized off-the-shelf building components. Doors, gates, fences and window trim are painted white.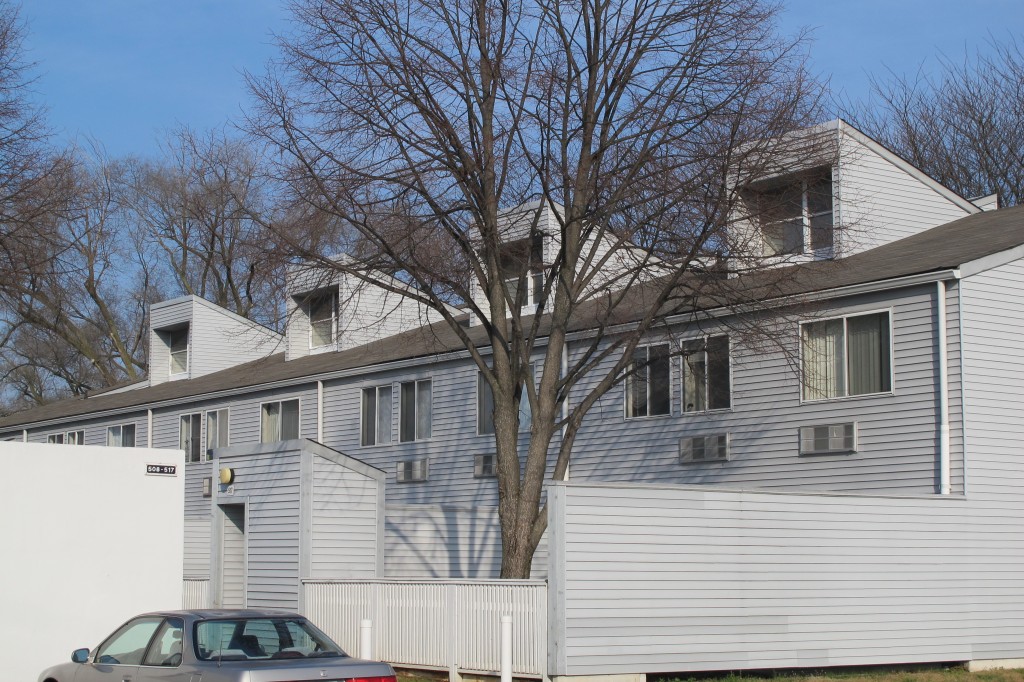 Each apartment has a small yard with a private entrance (there is a storage shed within the entryway structure)
(photo by Ricky Berkey)
---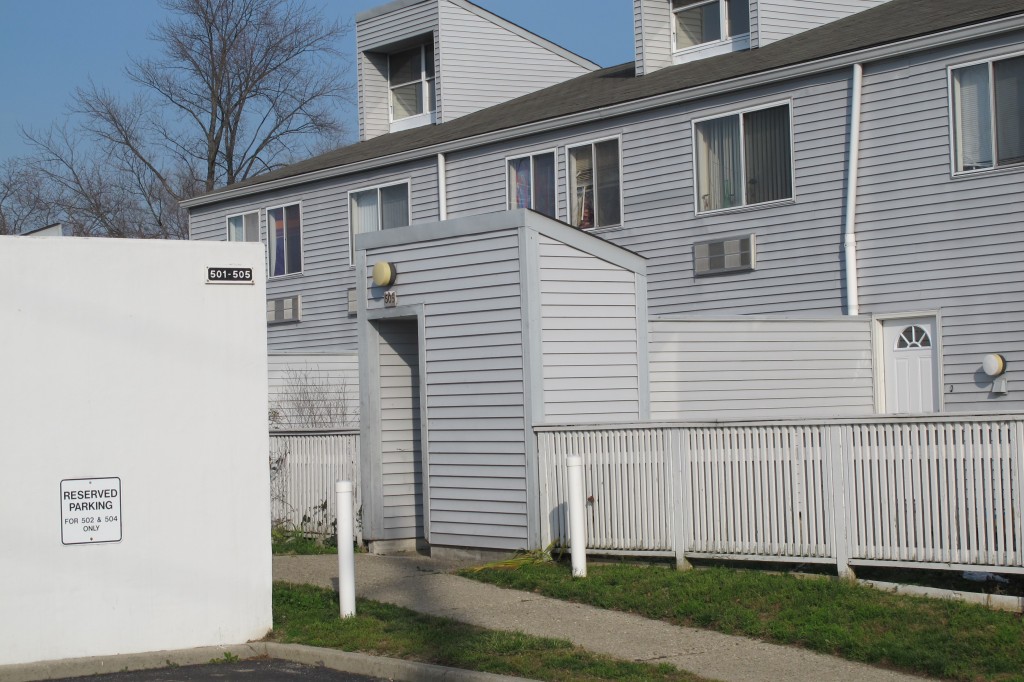 Each apartment has it's own entrance
(photo by Ricky Berkey)
---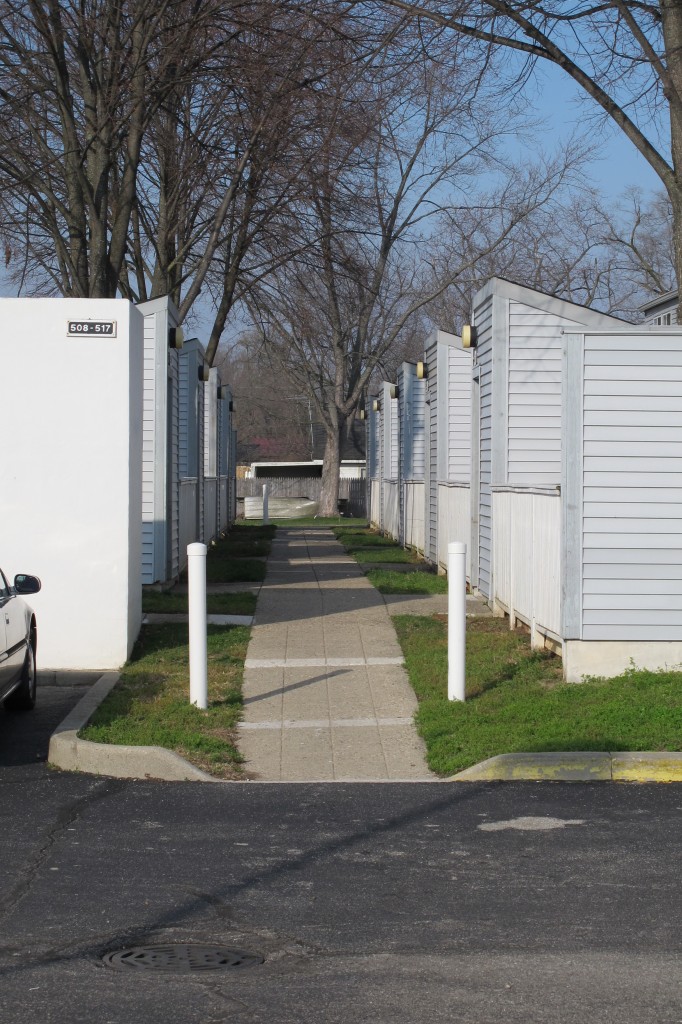 Walkway between housing units
(photo by Ricky Berkey)
---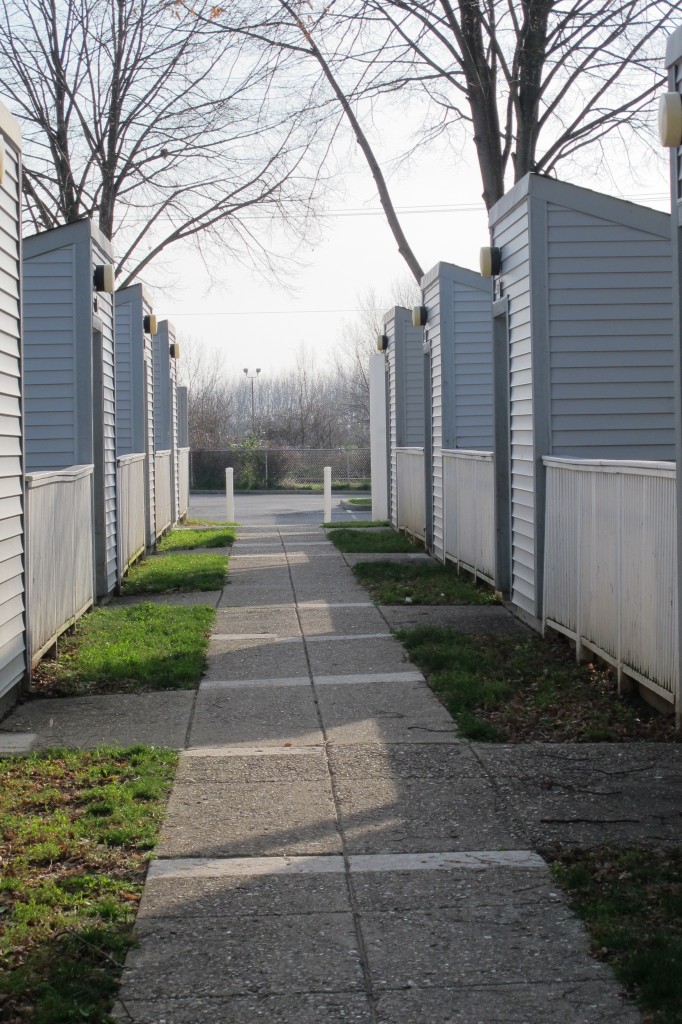 Walkway between apartments
(photo by Ricky Berkey)
---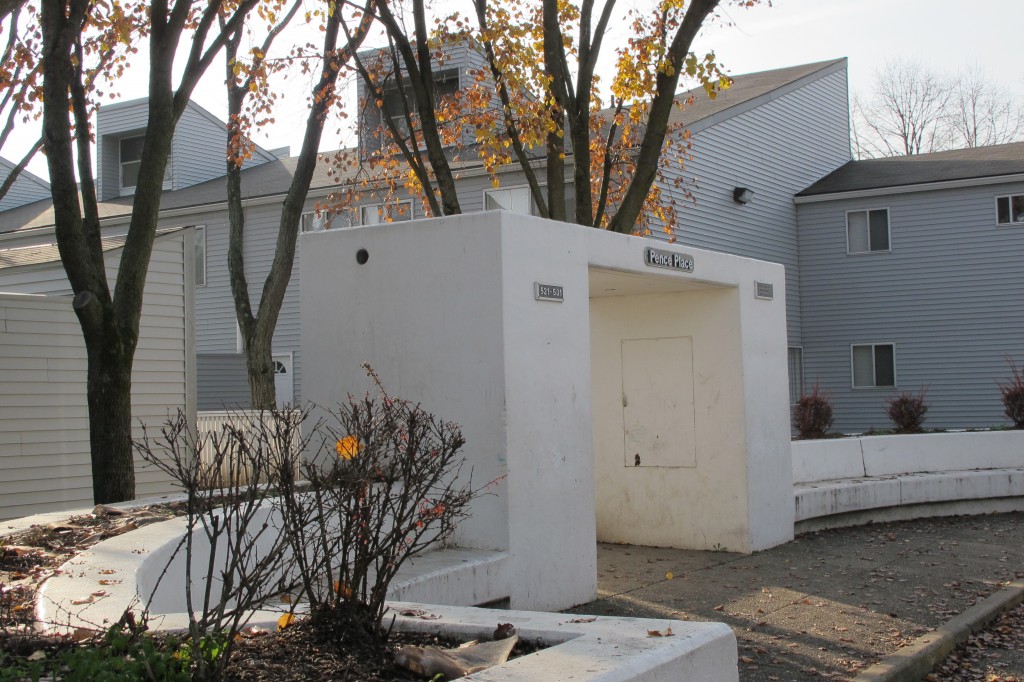 Main entrance from Pence Street
(photo by Ricky Berkey)
---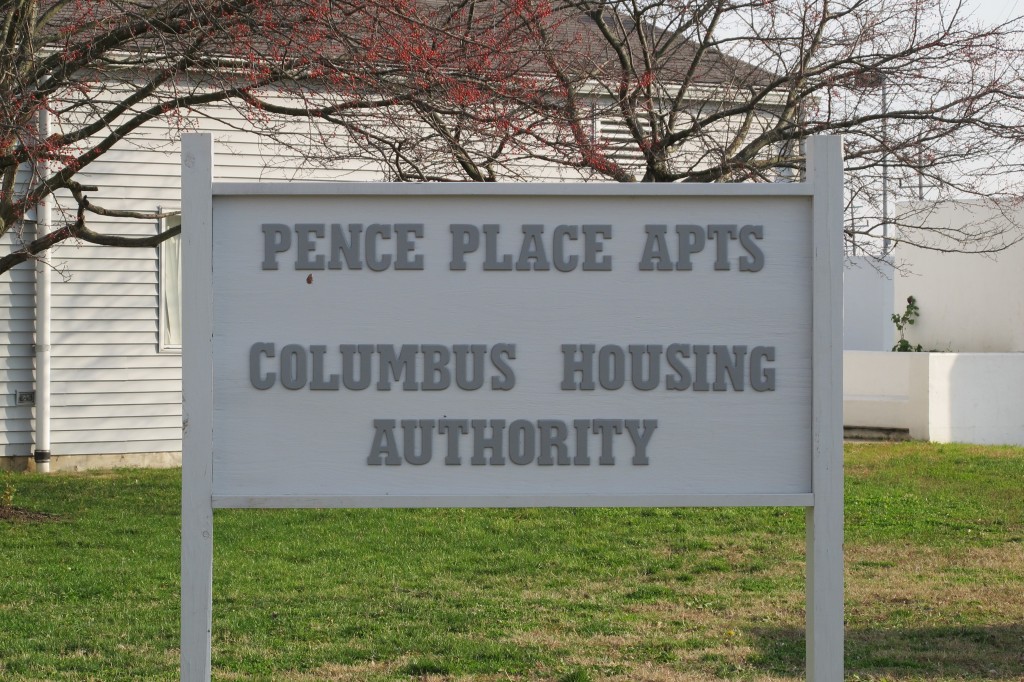 Pence Place Apartments
(photo by Ricky Berkey)
---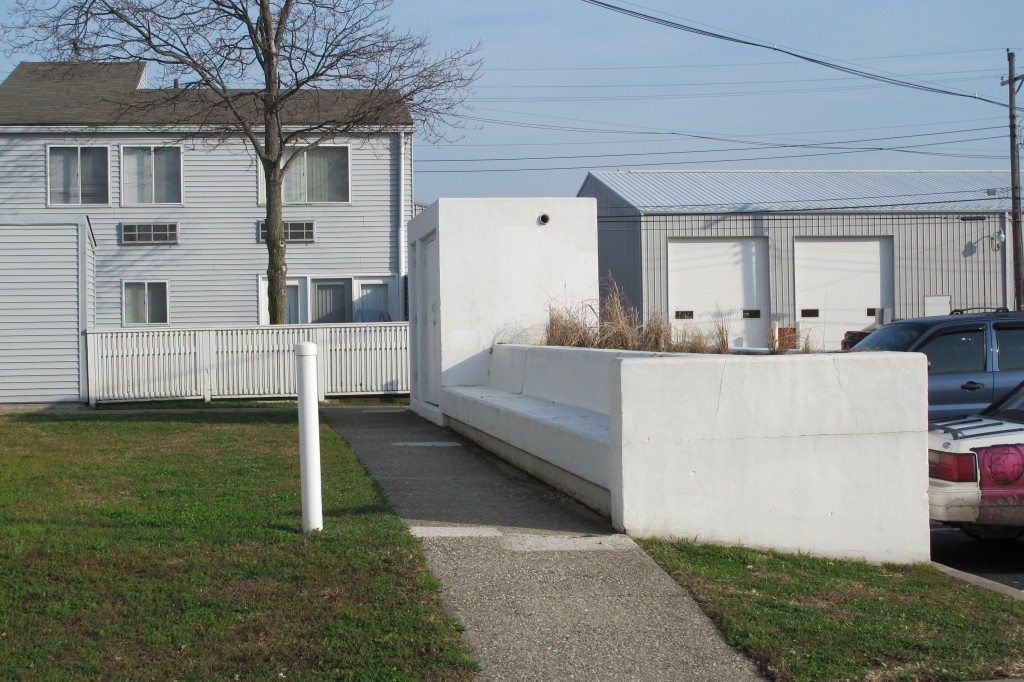 Concrete structures act as enclosures around the perimeter with seating on the inside
(photo by Ricky Berkey)
---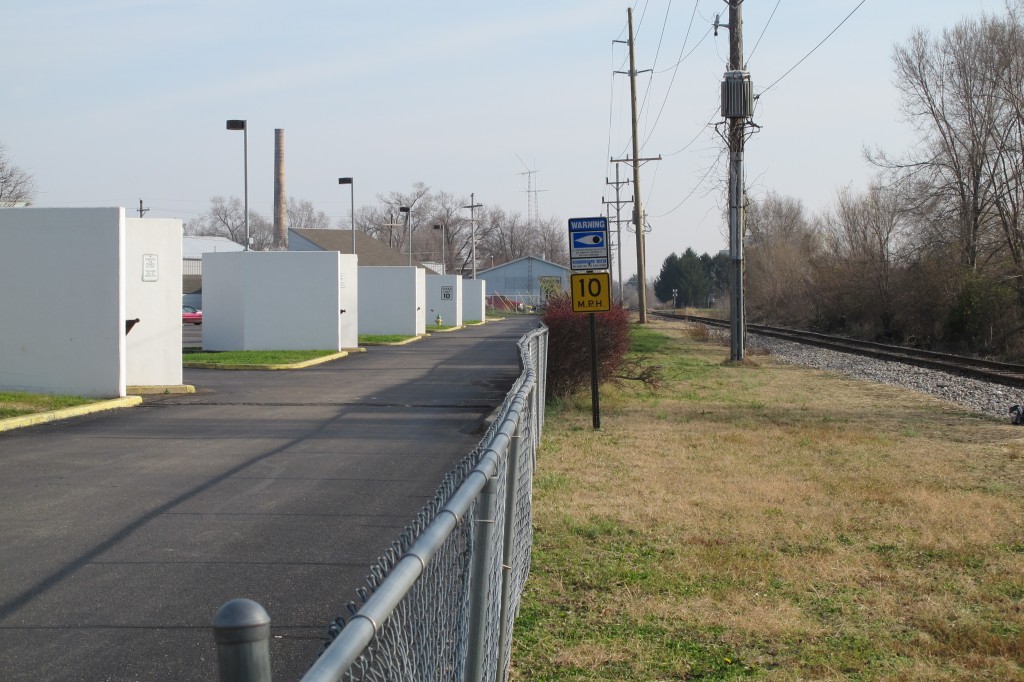 Housing units isolated from the railroad by the driveway, trash enclosures and parking lot
(photo by Ricky Berkey)
---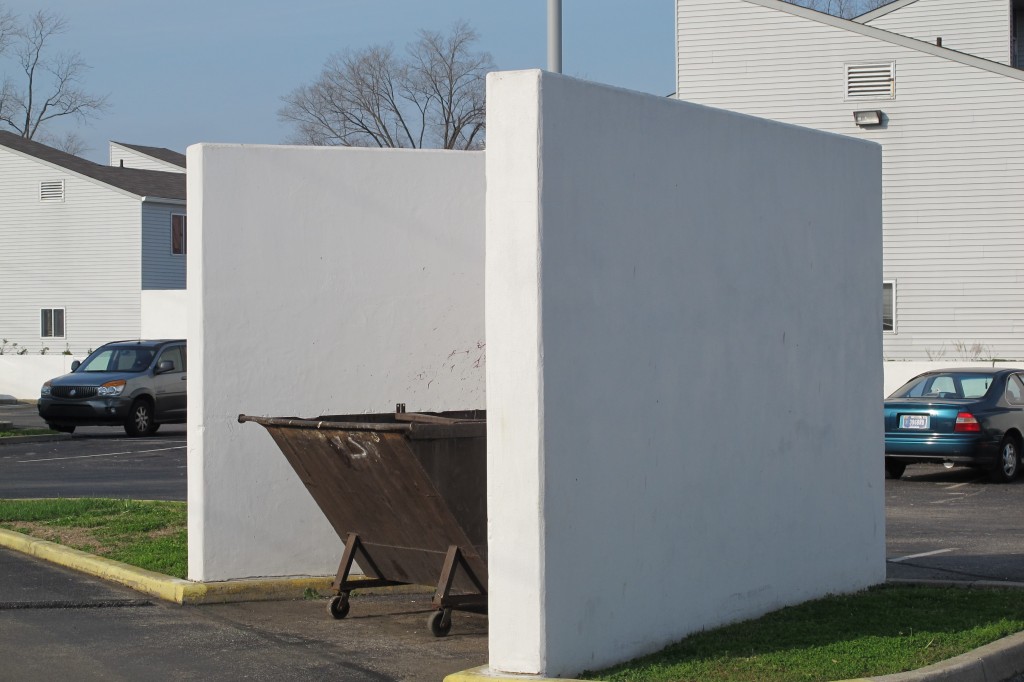 Trash dumpsters nicely isolated from housing units
(photo by Ricky Berkey)
---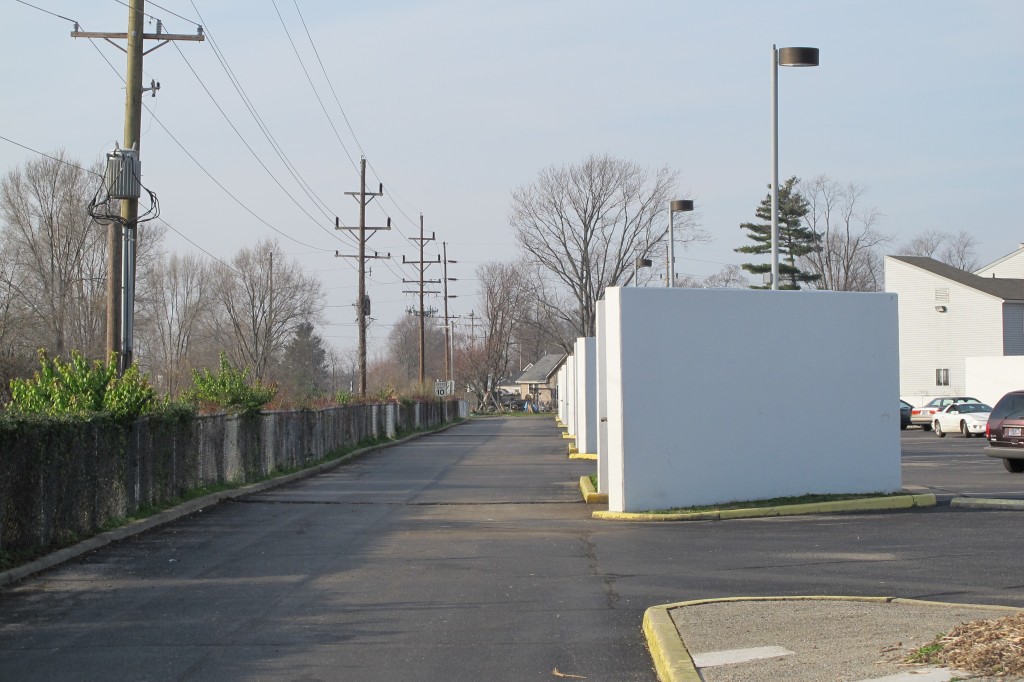 Concrete trash enclosures acting as a buffer between the railroad tracks on the left and the housing units on the right
(photo by Ricky Berkey)
---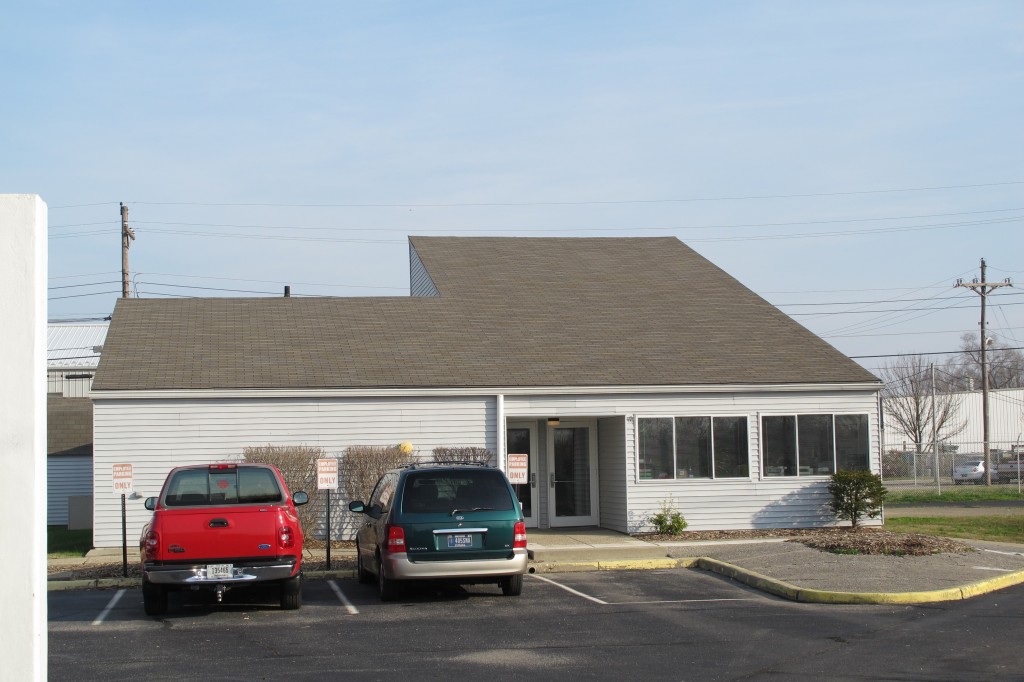 Community and service building
(photo by Ricky Berkey)
---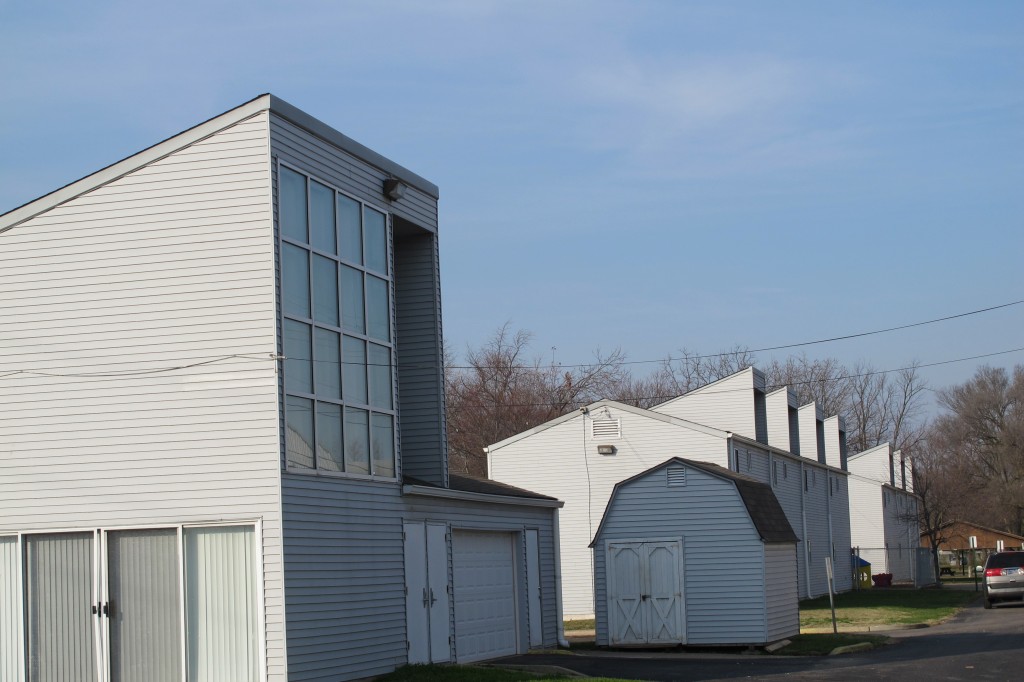 Community and service building on the left
(photo by Ricky Berkey)
---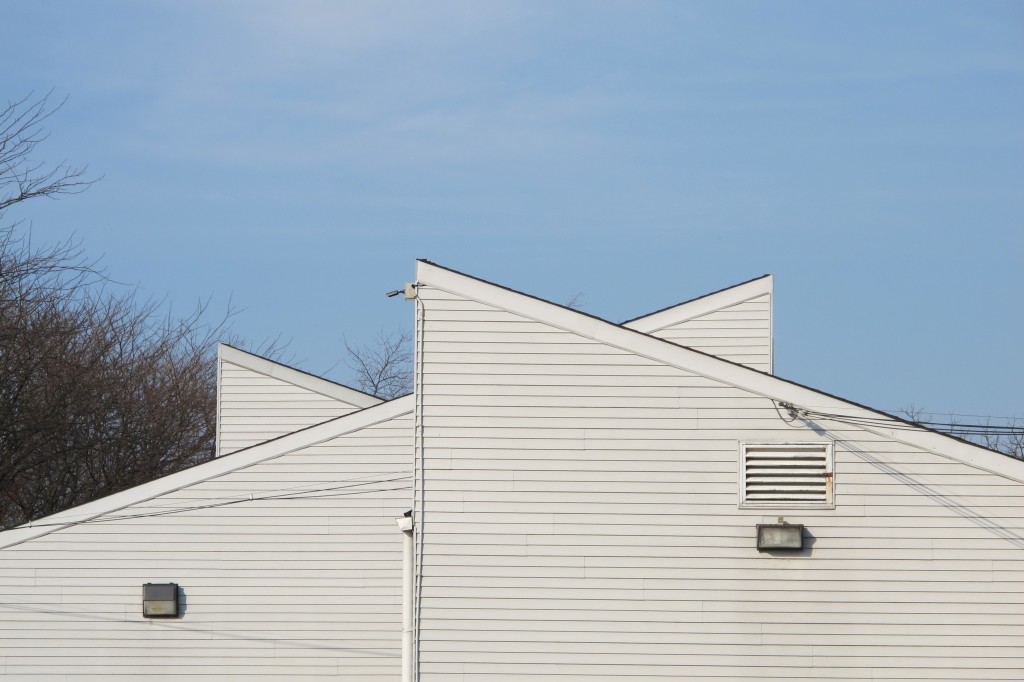 Simple construction but interesting juxtaposition of rooflines
(photo by Ricky Berkey)
---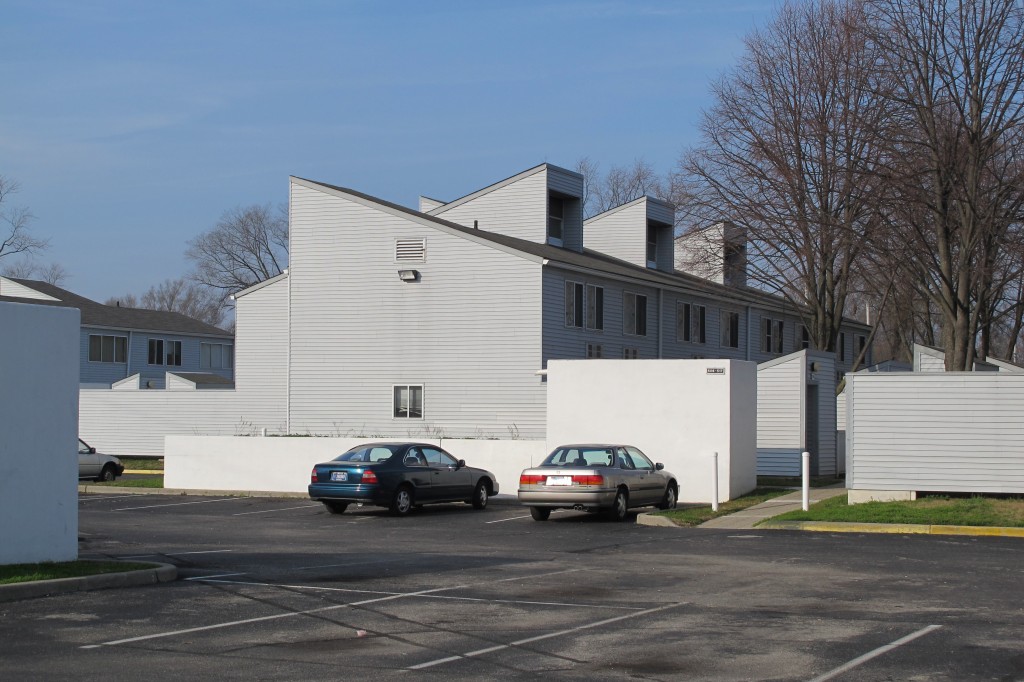 Slanted roofs and clerestory windows provide an interesting roofline
(photo by Ricky Berkey)
---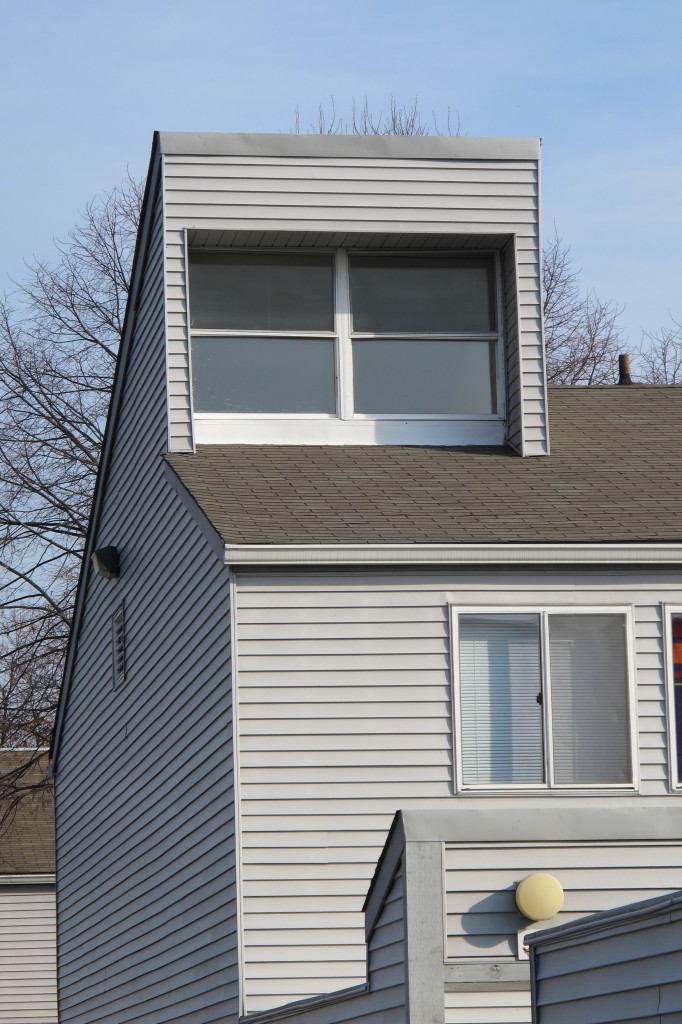 Clerestory window provides natural light into the stairway of each unit
(photo by Ricky Berkey)
---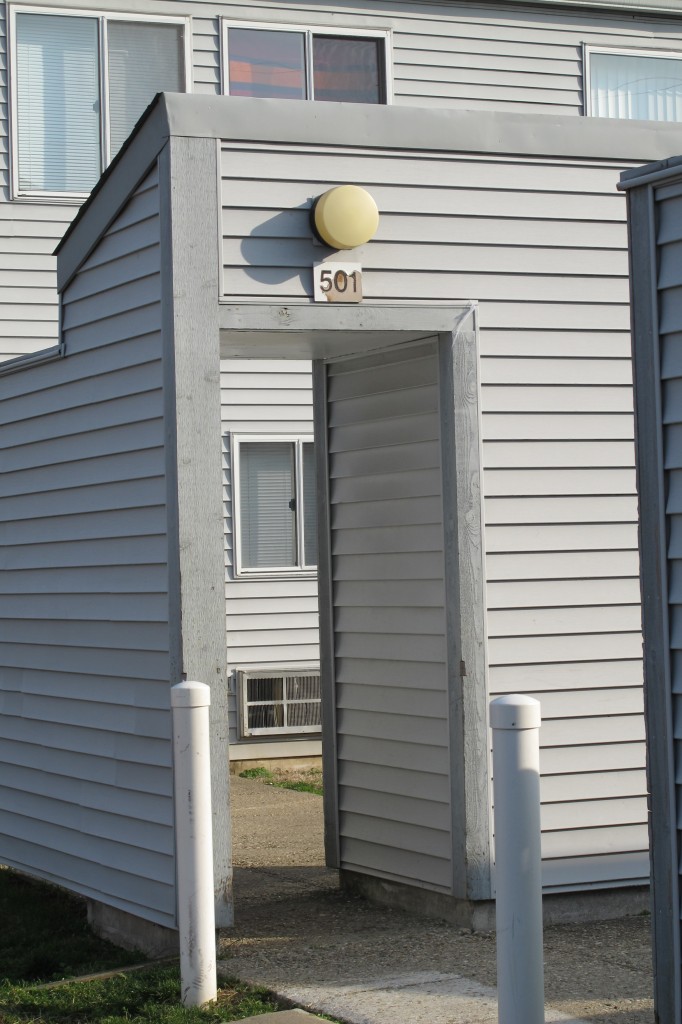 Entryway into an individual apartment
(photo by Ricky Berkey)
---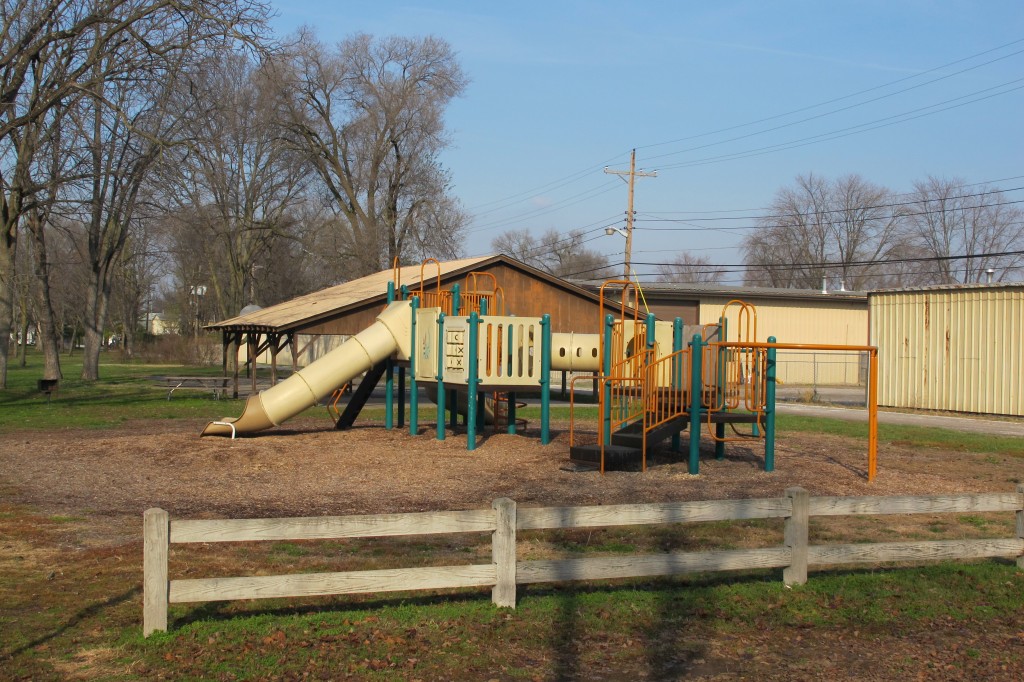 Small adjacent city park
(photo by Ricky Berkey)
---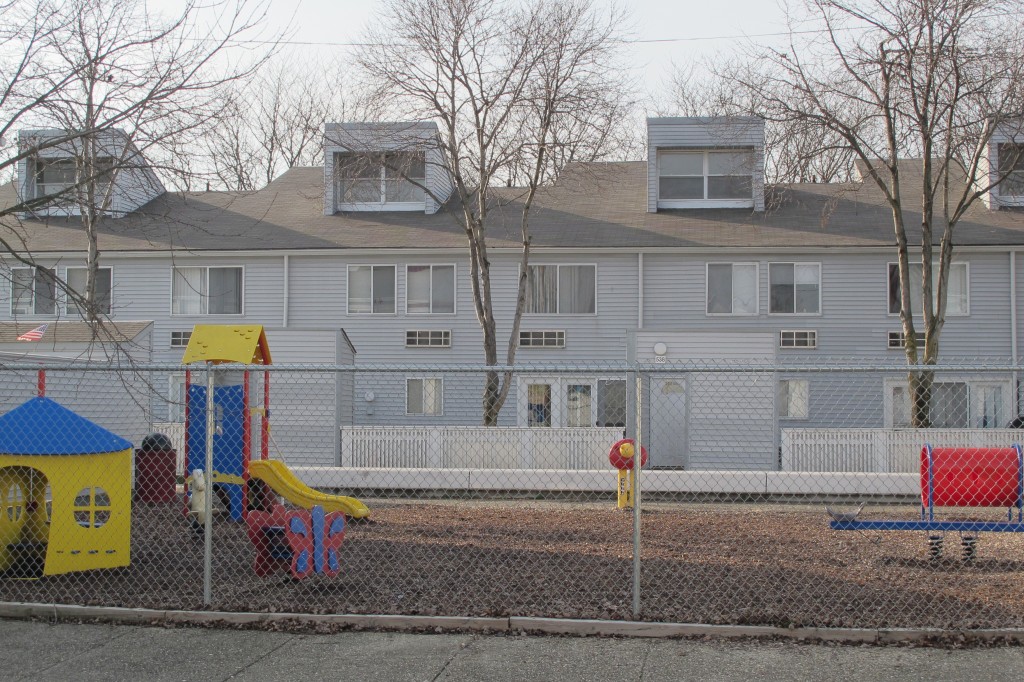 Several small playgrounds within the apartment community
(photo by Ricky Berkey)
---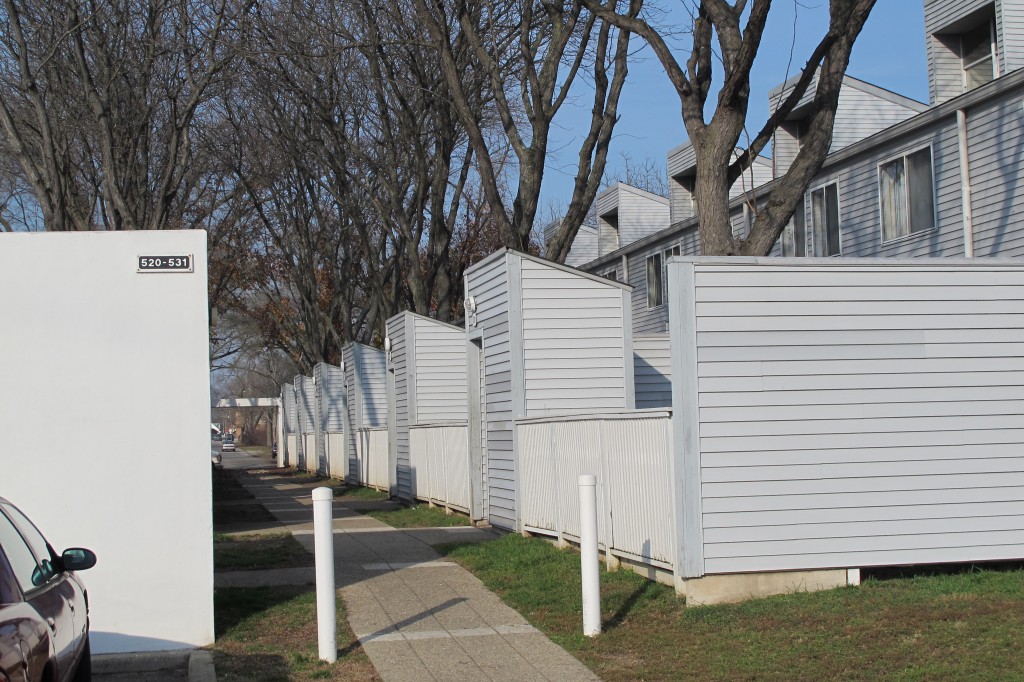 Pedestrian mew between buildings
(photo by Ricky Berkey)
---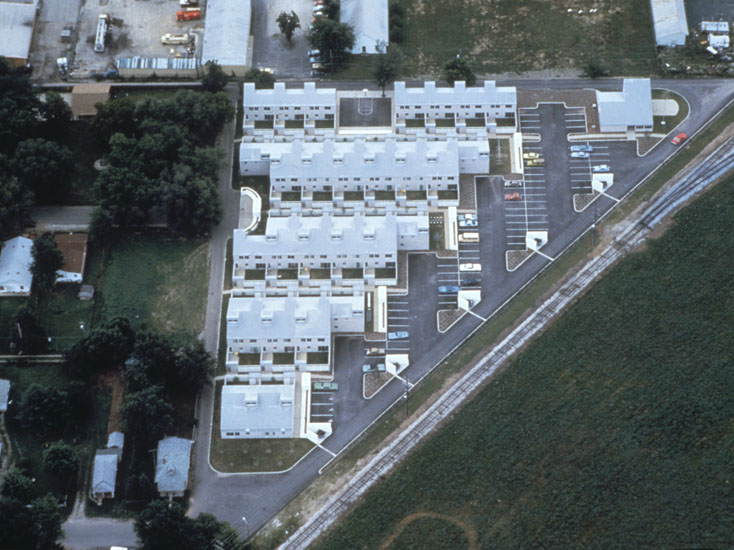 Aerial view
(used pending permission)
---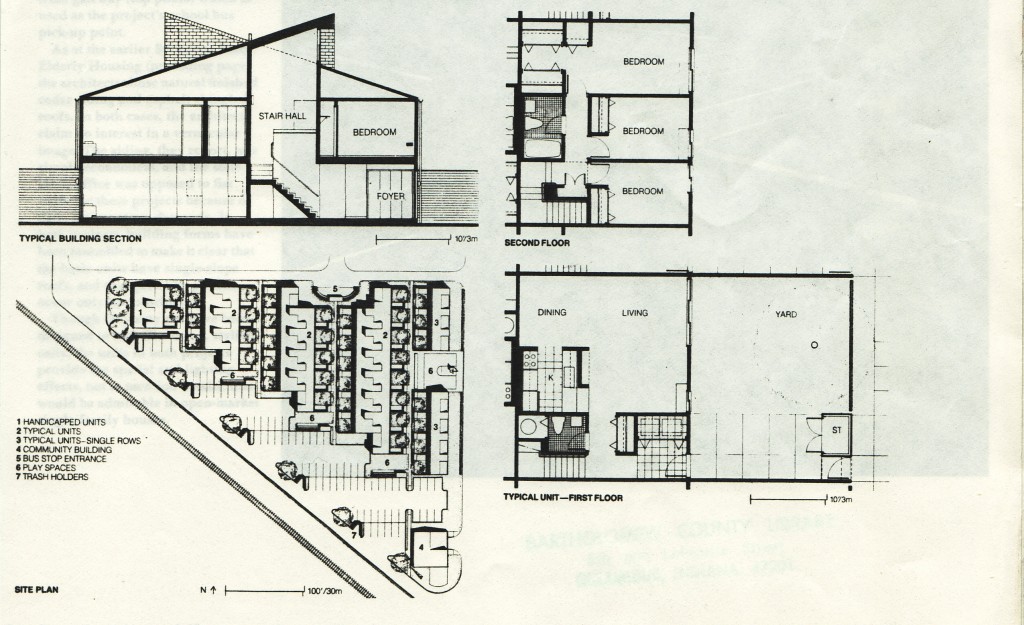 Site plan
(used pending permission)
---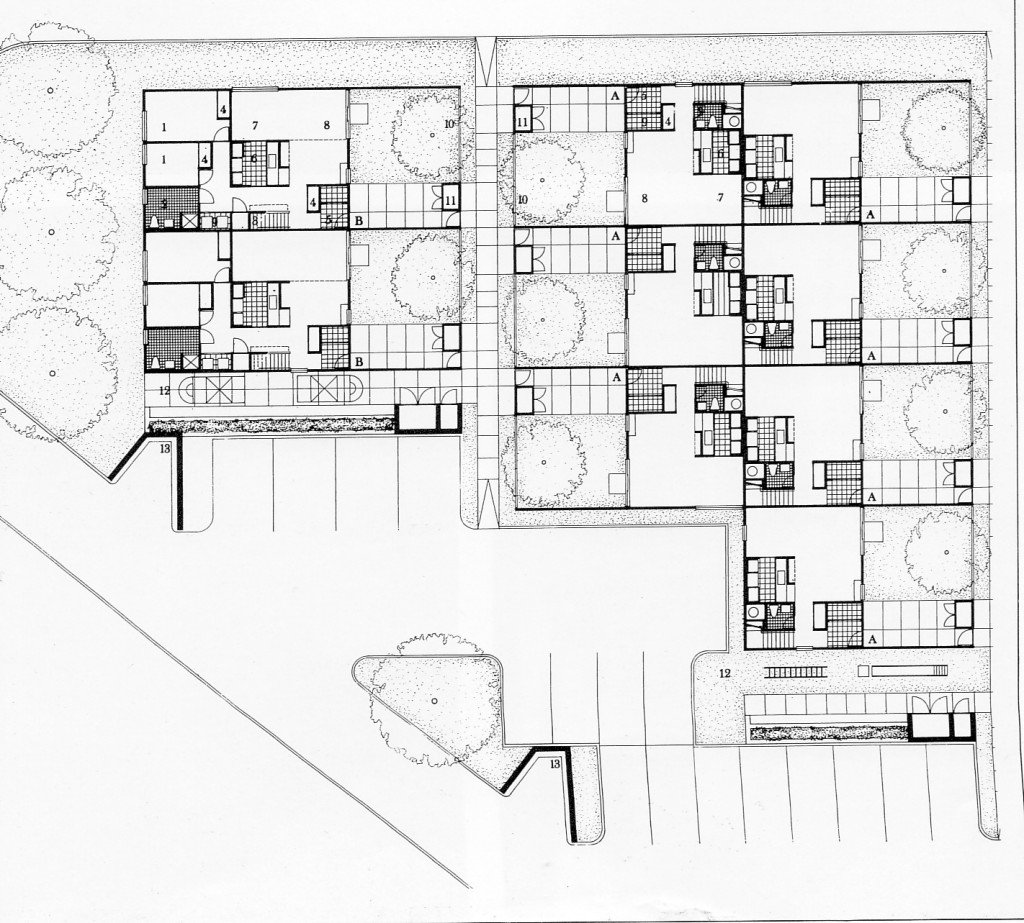 Floorplan: Ground floor
(used pending permission)
---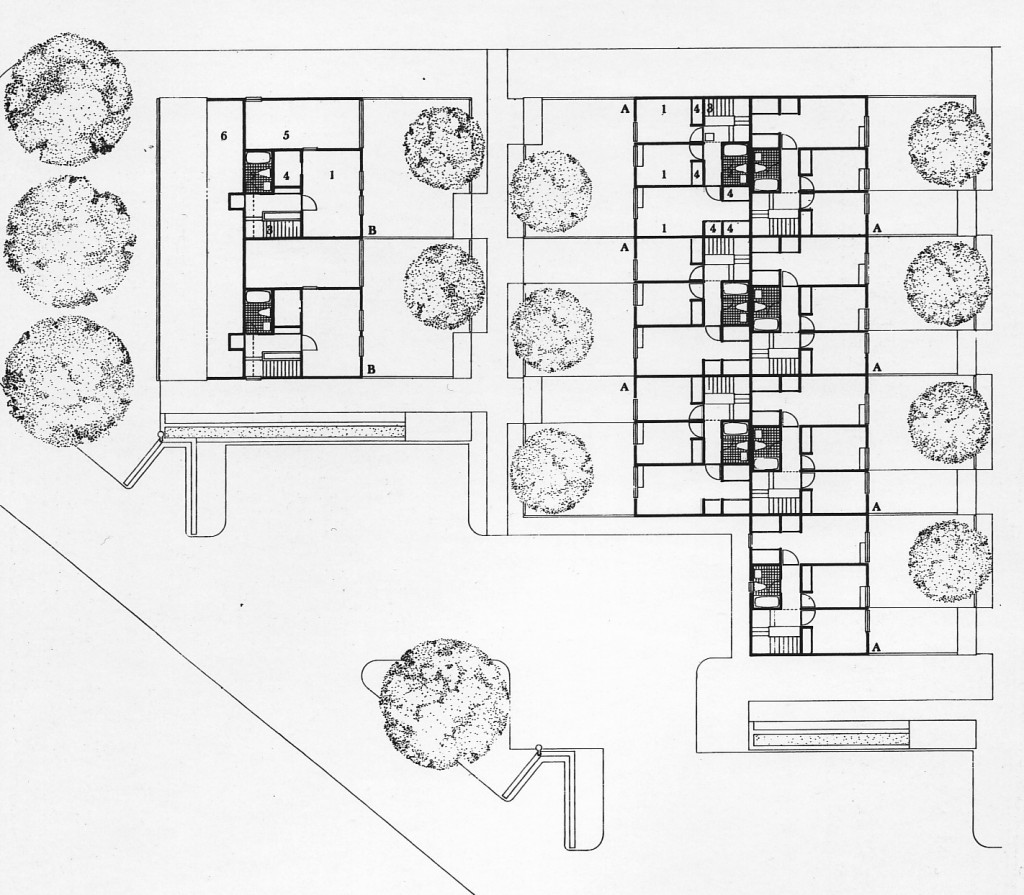 Floorplan: 2nd floor
(used pending permission)
---
The Architects
---

Charles Gwathmey – Gwathmey Siegel & Associates

Born on June 19th, 1938 in Charlotte, North Carolina
Died on August 3rd, 2009 in NYC
University of Pennsylvania
Yale University School of Architecture (1962)
---
Charles Gwathmey was born in Charlotte, North Carolina in 1938. His parents were painter Robert Gwathmey and photographer Rosalie Gwathmey. He was educated at the University of Pennsylvania and received his masters degree in architecture at Yale. While at Yale he won the William Wirt Winchester Fellowship and a Fulbright Grant.
---
Gwathmey was part of a generation of architects who were proponents of the "high Modernist" style developed in the early 20th century by Le Corbusier and others. He was one of the five architects identified as the "New York Five" in 1969. He is probably best known for high end residential projects for a series of wealthy and often famous clients such as Faye Dunaway and Steven Spielberg. It was ironic then that he created two public housing projects in architecture rich Columbus, Indiana. As his contemporaries were shifting to historicism or post-modernist stylings, Gwathmey remained loyal to the tenets of modernism.
---
He formed his first partnership with Richard Henderson in 1966. He developed a reputation while still in his twenties for a house designed for his parents on Long Island. Completed at a cost of only $35,000, the Gwathmey house attracted throngs of visitors and was consistently named one of the most influential buildings of the modern era.
---
Gwathmey Siegel & Associates was founded with partner Robert Siegel in 1968. They had first met as students at the High School of Music & Art in Manhattan. The firm maintained a thriving residential practice while also designing large scale projects for museums, schools and private developers. One of their most famous (as well as most controversial) designs was the renovation and addition to Frank Lloyd Wright's Guggenheim museum in NYC.
---
From 1965 through 1991, Gwathmey taught at the Pratt Institute, Cooper Union for the Advancement of Science and Art, Princeton University, Columbia University, the University of Texas, and the University of California at Los Angeles. He also briefly was a visiting professor at Yale and Harvard.
---
Gwathmey won the Brunner Prize from the American Academy of Arts and Letters in 1970 and in 1976 was elected to the Academy. In 1983, he won the Medal of Honor from the New York Chapter of the American Institute of Architects and in 1985, he received the first Yale Alumni Arts Award from the Yale School of Architecture. In 1988 the Guild Hall Academy of Arts awarded Gwathmey its Lifetime Achievement Medal in Visual Arts followed in 1990 by a Lifetime Achievement Award from the New York State Society of Architects. Gwathmey Siegel & Associates received the American Institute of Architects highest honor: the Firm of the Year Award in 1982 for "approaching every project with a fresh eye, a meticulous attention to detail, a keen appreciation for environmental and economic concerns and a strong belief in collaborative effort."
---
Gwathmey was known as a dashing figure, wearing tailored suits and shoes. He had a preference for black sports cars stripped of extraneous details. He lived in a Manhattan apartment in which he designed the interior. Charles Gwathmey passed away in 2009 after battling cancer for several years. He was 71. Gwathmey Siegel & Associates continues as an active firm with Robert Siegel still playing an major role.
---
Selected Charles Gwathmey Projects
Gwathmey House – Long Island, New York (1966)
Whig Hall Student Center at Princeton University – Princeton, New Jersey (1975)
Sycamore Place Elderly Housing – Columbus, Indiana (1982)
Pence Place Family Housing – Columbus, Indiana (1984)
Westport Library – Westport, Connecticut (1986)
Contemporary Resort (Convention Center addition) at Disney World – Orlando, Florida (1991)
Guggenheim Museum (renovation and addition) – NYC (1992)
Museum Of Contemporary Art – North Miami, Florida (1995)
Basketball Hall of Fame – Springfield, Massachusetts (2002)
Astor Place Tower Condominiums – NYC (2005)
---

Jacob Alspector

Brooklyn Technical High School – Brooklyn, New York (1966)
Cooper Union for the Advancement of Science and Art (1972)
Institute for Architecture and Urban Studies
---
Growing up in NYC, Jacob Alspector became enchanted with architecture at the age of 11 when he discovered a library book on the recently deceased Frank Lloyd Wright and visited Wright's NYC masterpiece, the Guggenheim Museum. Later attending Brooklyn Technical High School, he began an architectural program which continued at the Cooper Union for the Advancement of Science and Art. While at Cooper Union he studied under notable architects John Hejduk, Peter Eisenman, Charles Gwathmey, Richard Meier and others. He also attended the Institute for Architecture and Urban Studies taking Colin Rowe's lectures in Renaissance and Modern Architecture.
---
He began his career as an intern with Giorgio Cavaglieri in 1971 moving to The Ehrenkrantz Group in 1973. He was an associate partner with Gwathmey Siegel & Associates from 1977-2002 when he started his own firm, Alspector Architecture. He has taught at City College of New York and Carnegie Mellon University. With Gwathmey Siegel & Associates, he was involved with the two public housing projects built in Columbus, Indiana during the 80's.
---
Links/References
Gwathmey Siegel & Associates: the firm's current website
Alspector Architecture: Jacob Alspector was the senior design associate on the Columbus Gwathmey Siegel projects:
City of Columbus: official City of Columbus website
Columbus Indiana Architectural Archives
Columbus Indiana Architecture Digital Archives: A small portion of the Columbus Indiana Architectural Archives available online from the IUPUI digital library
3D Models of Columbus Architecture Executed in Google SketchUp:
The Republic Newspaper – Columbus, Indiana newspaper
Bartholomew County Public Library
Historic Columbus Website – David Sechrest's tribute to Columbus History
Historic Columbus Message Board – a companion interactive forum to the David Sechrest historical website
Bartholomew County Historical Society
---

Click HERE for a Calendar of Upcoming Events in the Columbus Area.
Click HERE for information about Tours of Columbus Architecture and Design including the Miller House.
---

Ricky Berkey
Email me: rickyberkey@gmail.com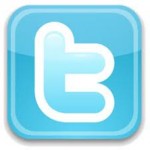 Follow me on Twitter:
---