---
(v12.08.14)
Art, Architecture and Design
This article spotlights a particular building or some other aspect of Columbus design. I welcome your comments, corrections and additions. Please share your experience and perceptions of these uniquely Columbus projects.

Advanced Manufacturing Center of Excellence (AMCE)

Built: 2011
Design Architect: Cesar Pelli (Pelli-Clarke-Pelli – New Haven, Connecticut)
Senior Design Associate: Darin C. Cook (Pelli-Clarke-Pelli – New Haven, Connecticut)
Architect of Record: RATIO Architects (Indianapolis)
General Contractor: Taylor Brothers Construction
---
Columbus, Indiana and the surrounding area are lucky to still have a diverse local economy which includes many manufacturing facilities. Many communities very similar to our own have seen their factories shuttered and job prospects dwindle to little more than a service-based economy such as food service and retail. Columbus has many more people commuting into our area than leaving the area for work. Gone are the days however when a young person can leave high school and expect to land a long-term, good paying job with a retirement plan. Most entry-level factory jobs today are lower paying and often are filled through temporary agencies. Those expecting career positions often find that they need to improve their work skills through higher education.
---
Columbus has been very proactive over the years in ensuring that higher education has been available in the community. We currently have the following schools available to local students: Indiana University – Purdue University at Columbus (IUPUC), IVY Tech Community College, Purdue School of Technology, Harrison College and Indiana Wesleyan. In 2005, we opened the Columbus Learning Center, a collaborative effort with space shared by IUPUC, Purdue School of Technology, Ivy Tech Community College. The Columbus Learning Center is also used by the State of Indiana for the Workforce One Center (unemployment office) and by the local community for programs and events.
---
The Advanced Manufacturing Center of Excellence (AMCE) is a similar collaborative venture which was originally intended to be part of the Columbus Learning Center project but eliminated for budgetary reasons. It a shared use, state-of the-art education and workforce training center intended to teach modern manufacturing techniques needed by our modern industrial plants. It will offer classes as part of degree and certificate programs as well as specialized training needed by our industrial partners. Their mission is to prepare students and employees for advanced manufacturing careers in the Southeastern Indiana region and also to strengthen the competitiveness and appeal of our local workforce to local and global companies.
---
AMCE was funded by a grant from the Lilly Endowment with architectural design fees paid for by the Cummins Foundation. Coordinating the program for the building was the Community Education Coalition (CEC) and The Heritage Fund (the community foundation of Bartholomew County). This is a piece of an overall educational puzzle being set in place called EcO15 whose vision is to raise the training, educational level or job placement of everyone in the community by one level by 2015.
---
Cesar Pelli was chosen as the architect and given the task of designing a building that was simple, functional and flexible as well as making a visual statement within the modest budget to exemplify the community's spirit of excellence. The building is an excellent example of form and function melded together. After turning down a previous offer to design a new Columbus building, Pelli accepted the commission and at the groundbreaking seem delighted to be in Columbus once again (he was the architect of the original Commons project). Darrin C. Cooke from the Pelli office worked closely with RATIO Architects (Bill Browne) of Indianapolis to coordinate the project with Cesar Pelli.
---
The building is a 43,00 square foot building containing 4 technology-integrated classrooms and 13 laboratories designed to teach a curriculum based around science, technology, engineering and math (STEM). The building also includes 34 professional offices, 2 conference rooms and student/faculty common areas around two central courtyards. Pelli situated the building on it's site to form an academic quadrangle with the Ivy Tech, IUPUC and Learning Center buildings.
---
The building is a simple pavilion supported by the steel columns. The white structural columns are exposed and the white articulated roof framing overhangs out over the grey metallic outer walls. The walls are non-structural allowing large sections to be removed in case there is a need to move large pieces of equipment in or out. The building was designed to be easily configurable as needs and technologies change. The building is clad in insulated metal panels. Inside walls are movable for future reconfiguration and the ceilings are 17 feet.
---
The building is filled with natural light. The labs and classrooms have very high windows above working level to allow maximum wall space for equipment and displays. The interior spaces have windows that open into the courtyards. All window glazing has ceramic frits applied in a dot pattern to control heat gain and glare.
---
AMCE was officially dedicated on June 10th, 1911 with Cesar Pelli as a featured speaker. Owing to the collaborative nature of the project speakers at the dedication included the distinguished heads of participating state institutions of higher education; Michael McRobbie (president of Indiana University), Tom Snyder (president of Ivy Tech Community College) and France Córdova (president of Purdue University). Also speaking as representatives of the Community Education Coalition were CEO John Burnett and founding board member Will Miller. The dedication drew a crowd of more than 200 educators, community leaders and concerned citizens. After the dedication, the building was opened to the public for tours with exhibits set up by IUPUC, Ivy Tech and the Purdue School of Technology. Participating corporations included Cummins, NTN Driveshaft and Enkei America. Fulltime classes will be held in the building with the start of the fall semester.
---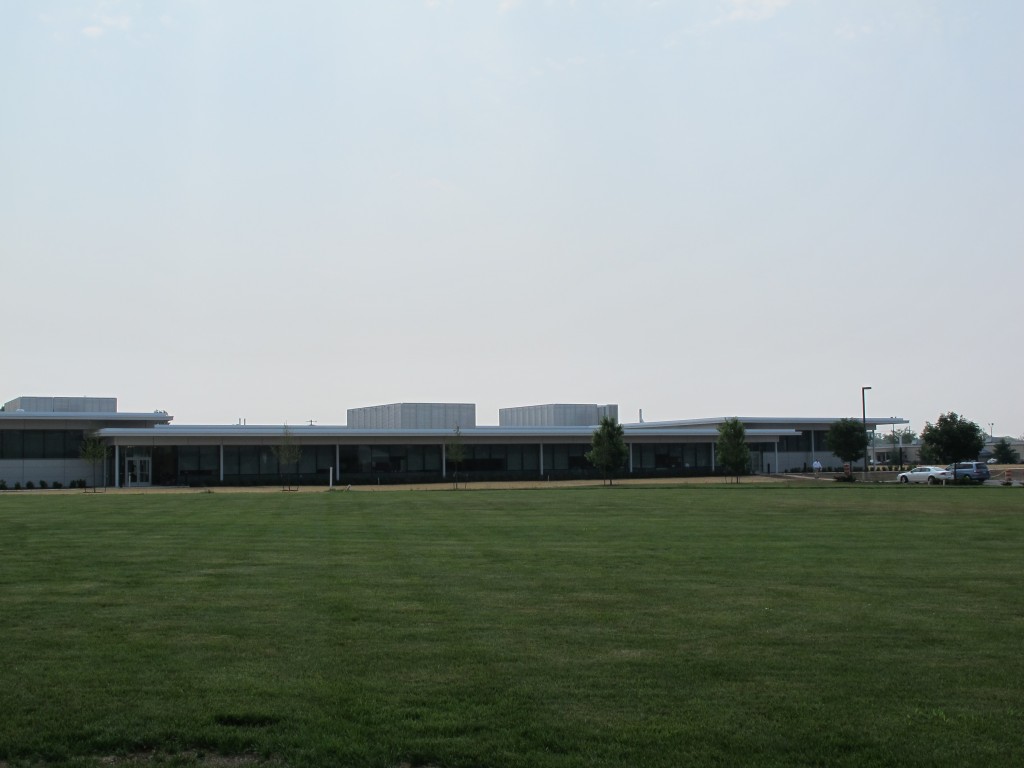 AMCE building (photo by Ricky Berkey)
---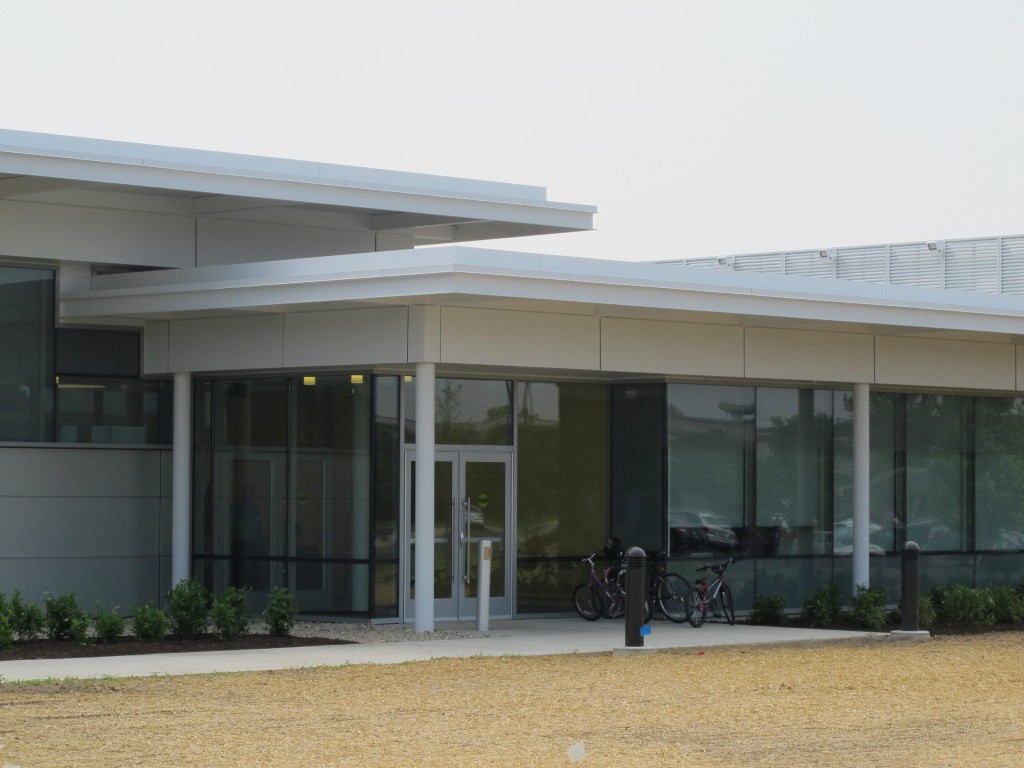 AMCE building entryway (photo by Ricky Berkey)
---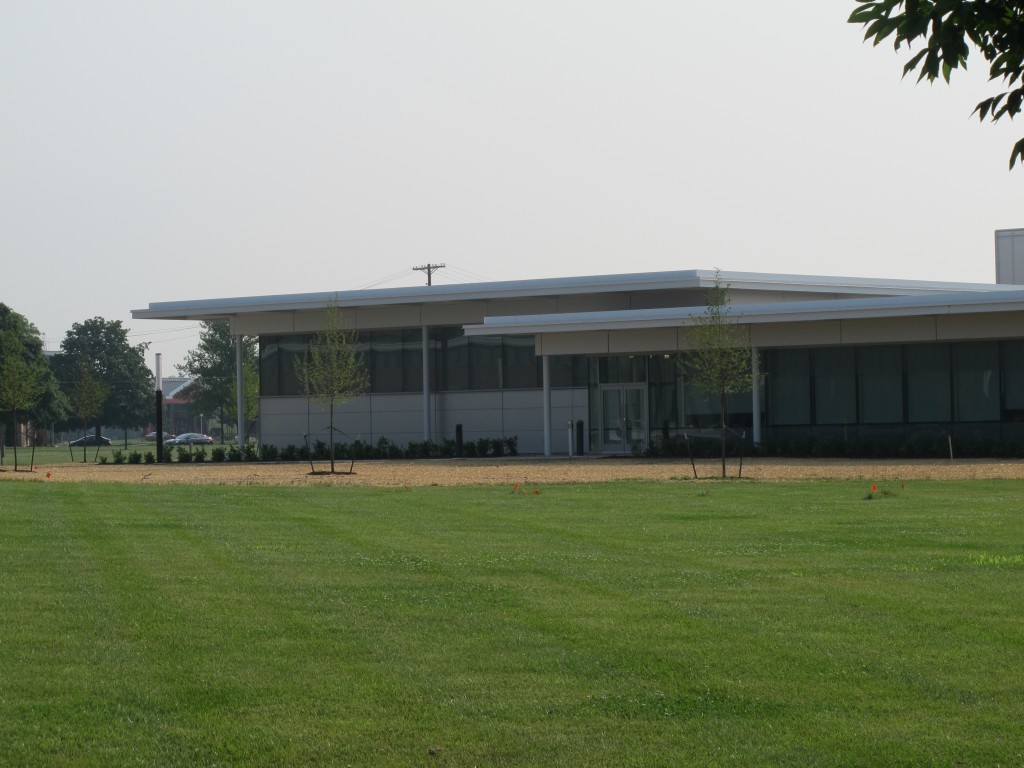 Corner view (photo by Ricky Berkey)
---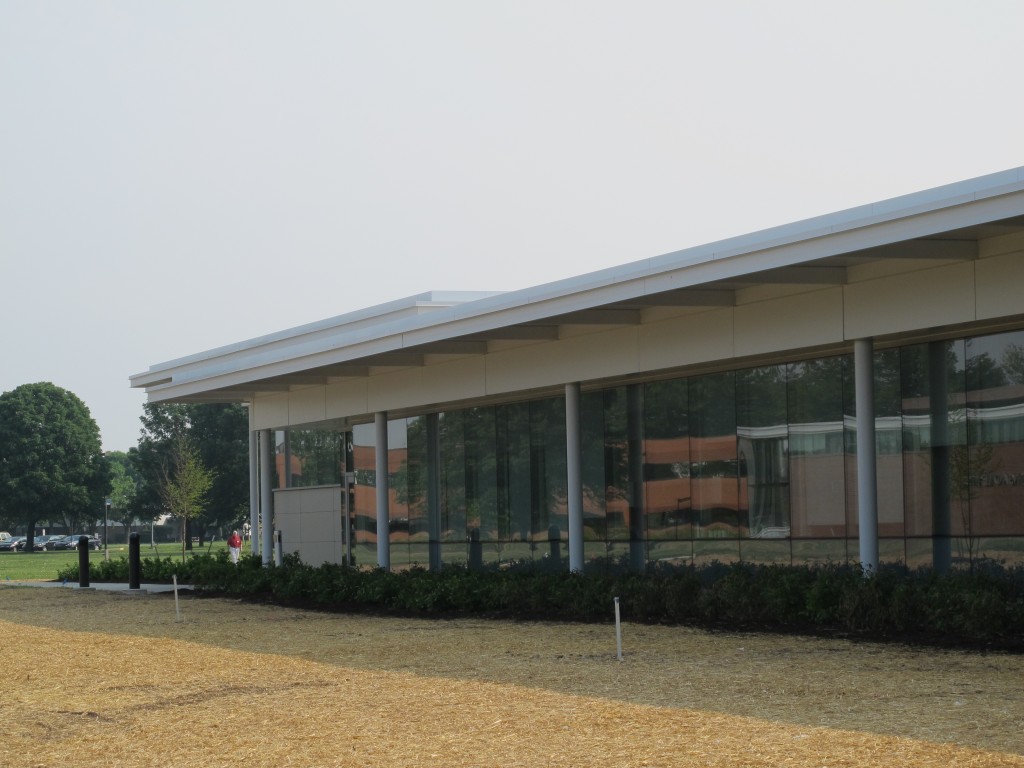 Corner view, note the interesting reflections from the adjacent IUPUC and Learning Center buildings (photo by Ricky Berkey)
---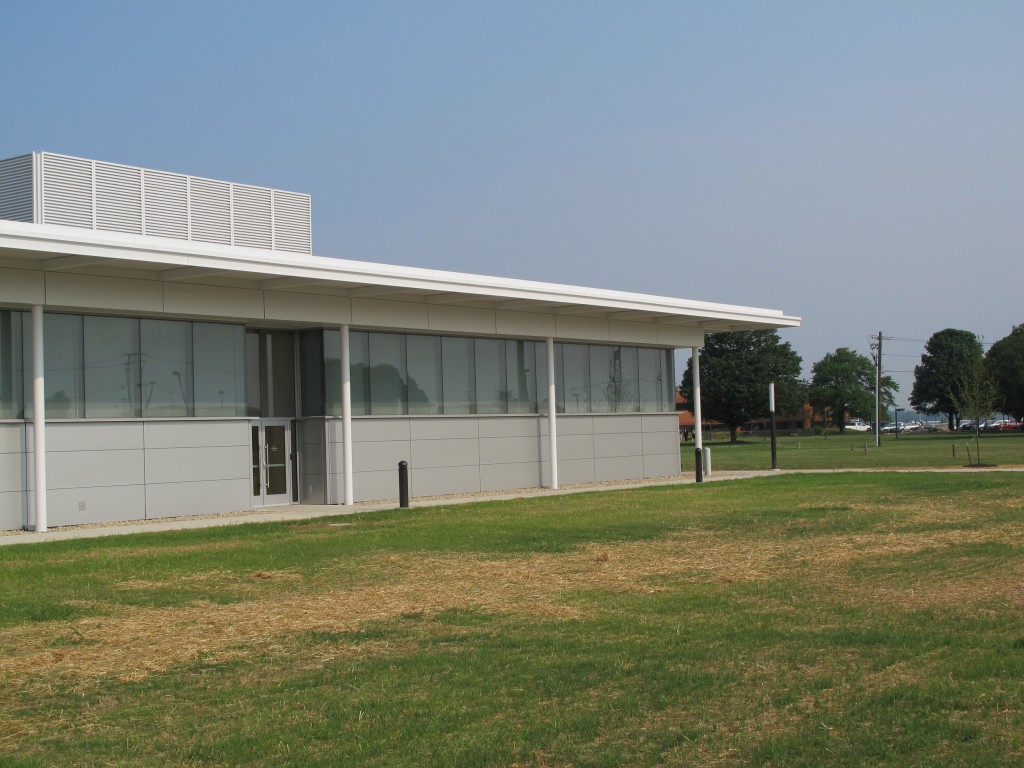 Side view (photo by Ricky Berkey)
---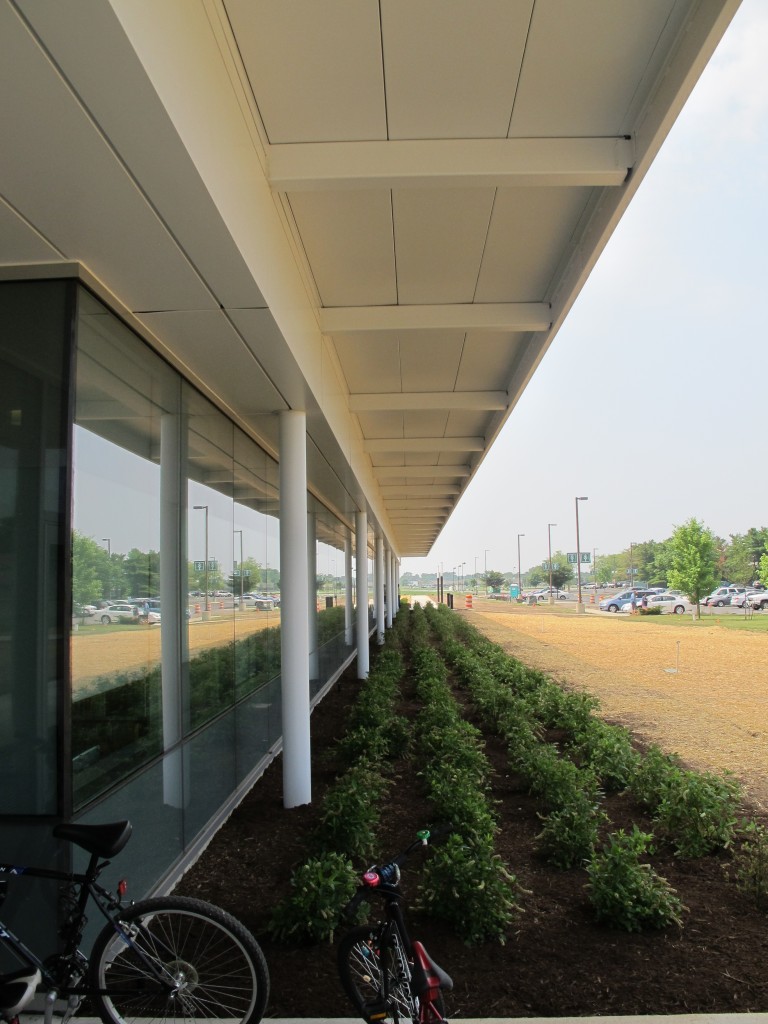 Looking down along side of building (photo by Ricky Berkey)
---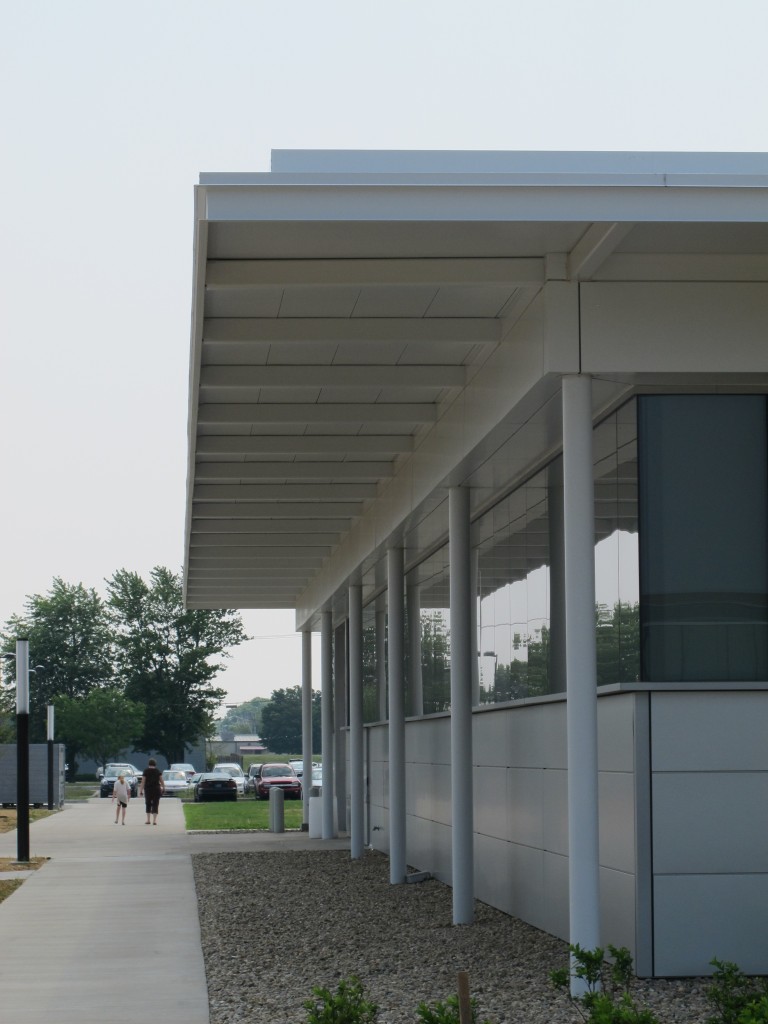 Side view, note the structural support columns holding up the roof system (photo by Ricky Berkey)
---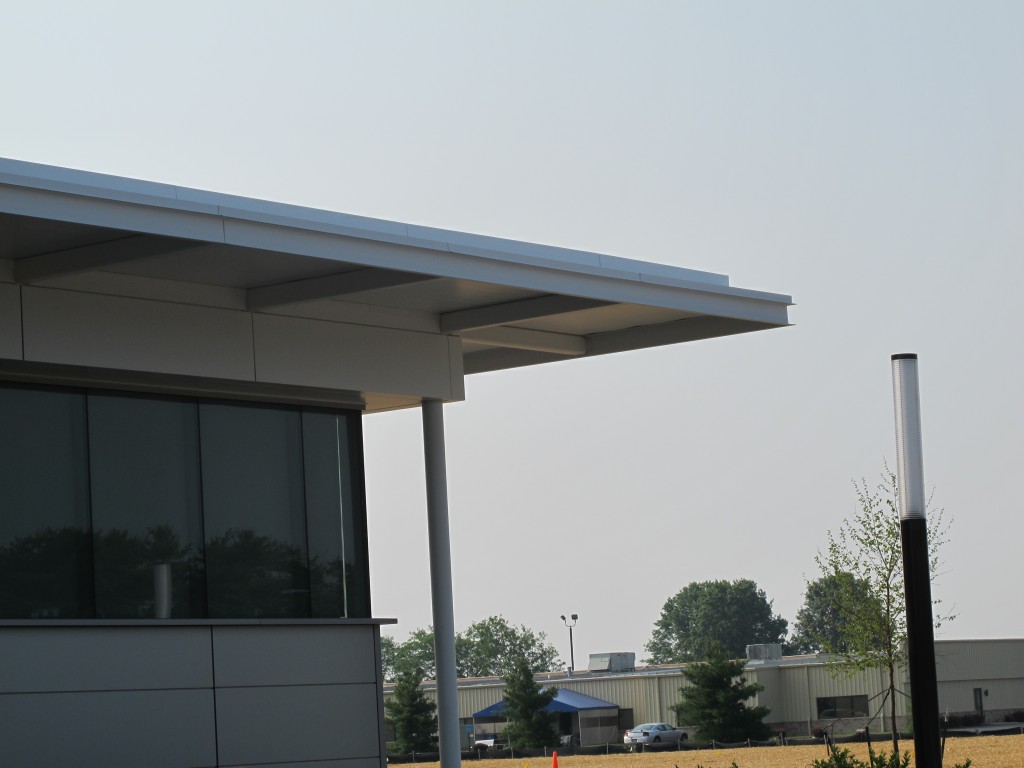 Closeup of roof system structure (photo by Ricky Berkey)
---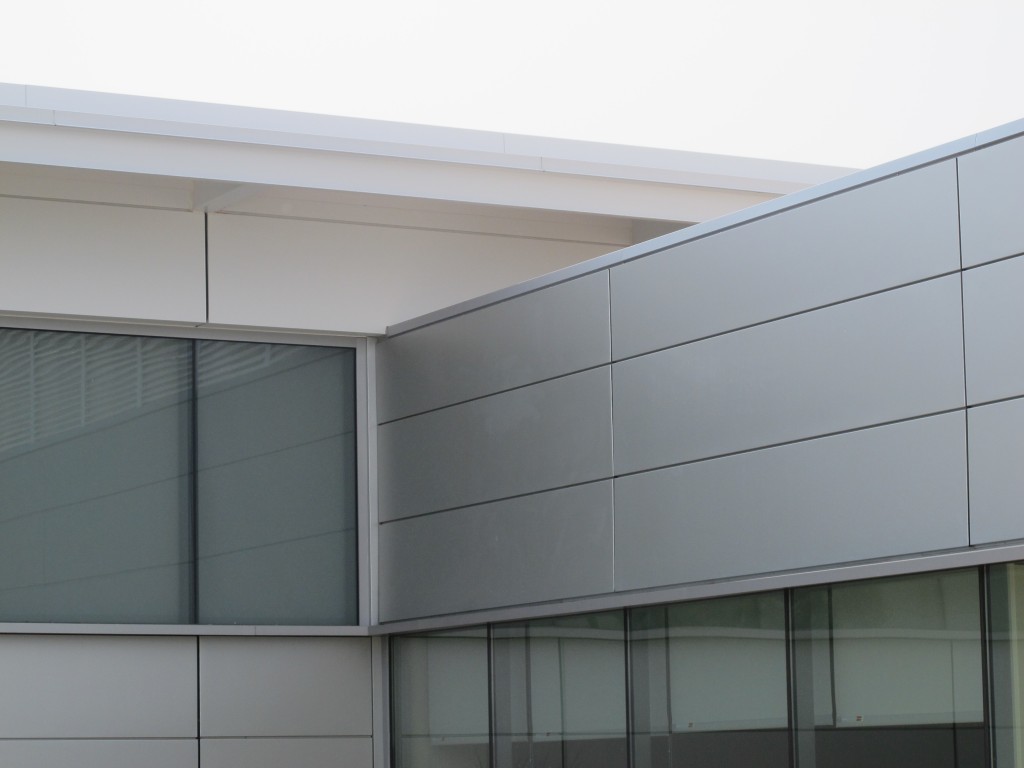 Metallic cladding covering the building gives it a high-tech industrial look (photo by Ricky Berkey)
---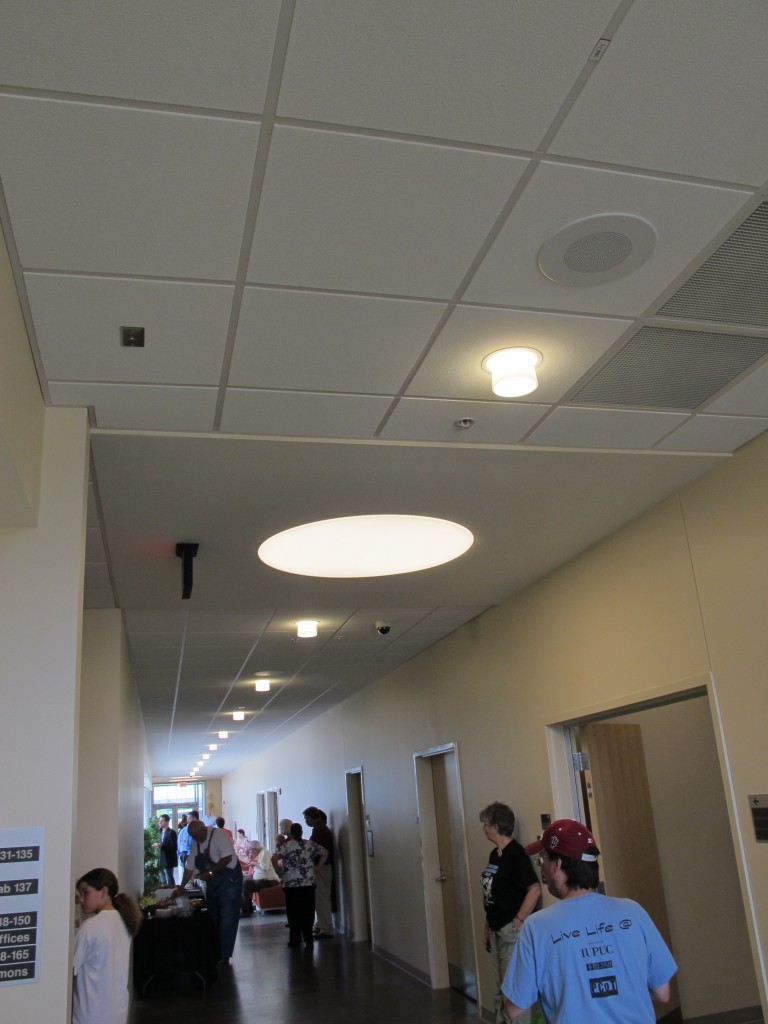 Inner corridor (photo by Ricky Berkey)
---
Laboratory space, note the windows above the work area to maximize wall space but still admit abundant natural light (photo by Ricky Berkey)
---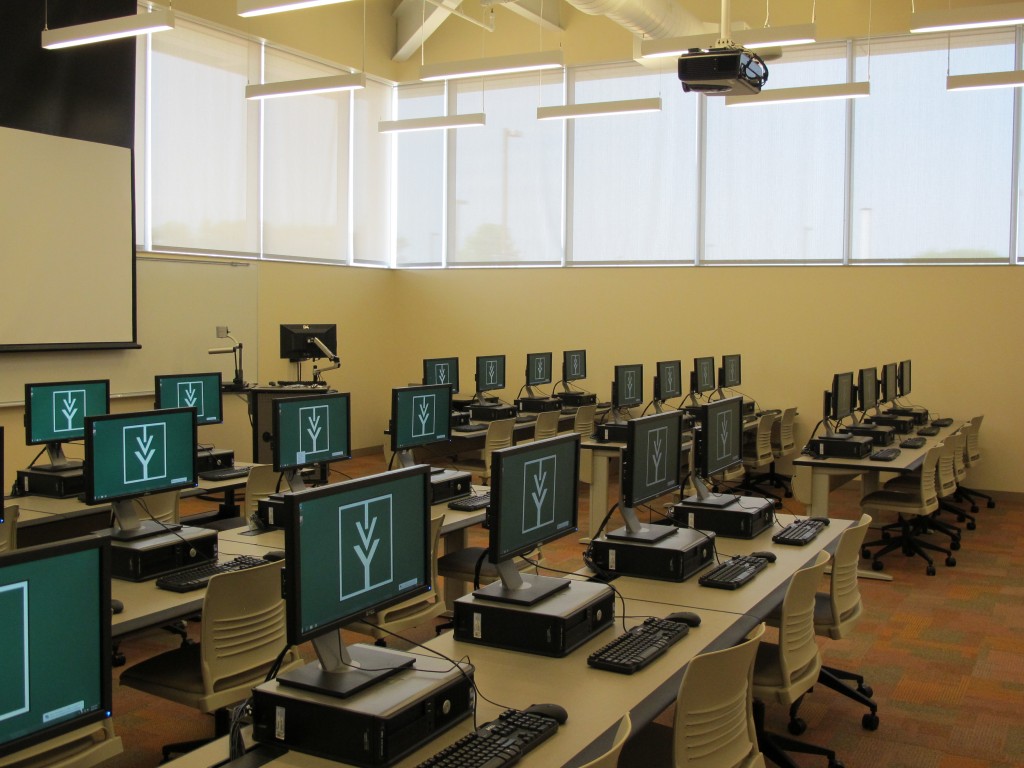 Classroom, computer lab (photo by Ricky Berkey)
---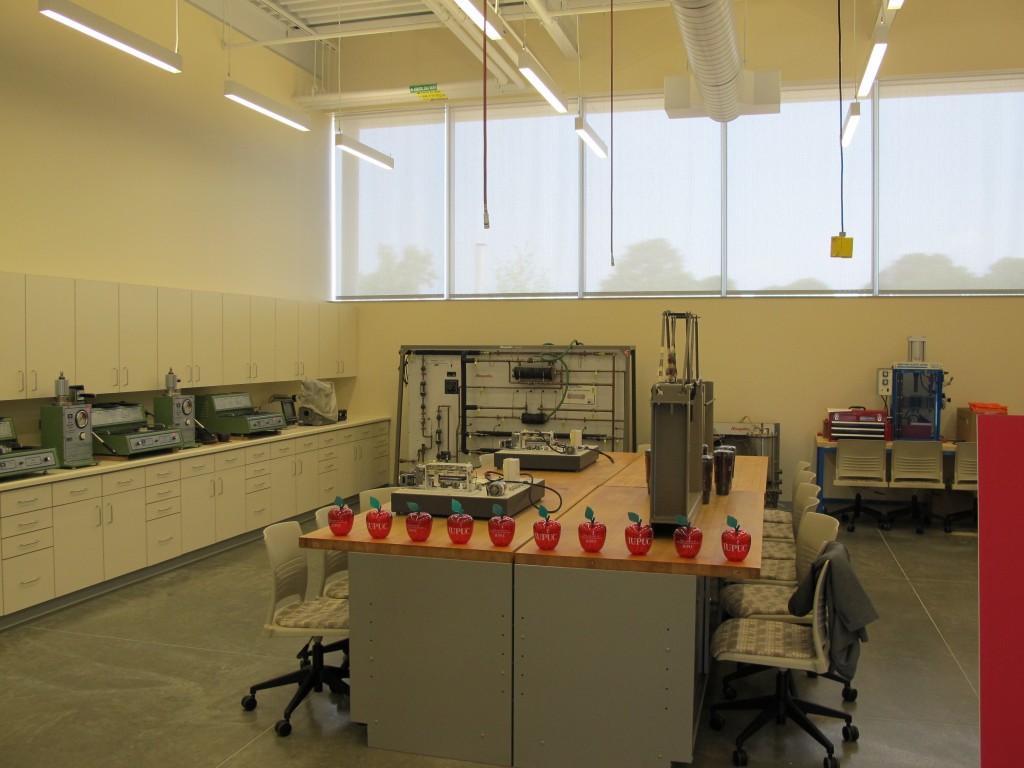 Laboratory space (photo by Ricky Berkey)
---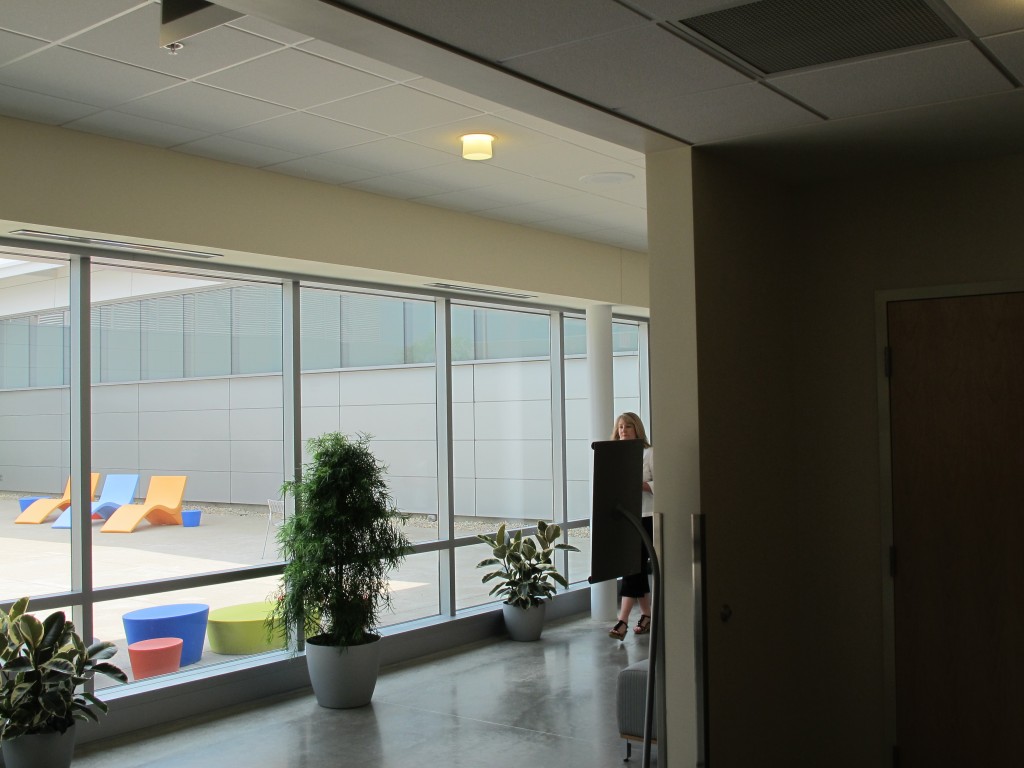 View into the coutyard (photo by Ricky Berkey)
---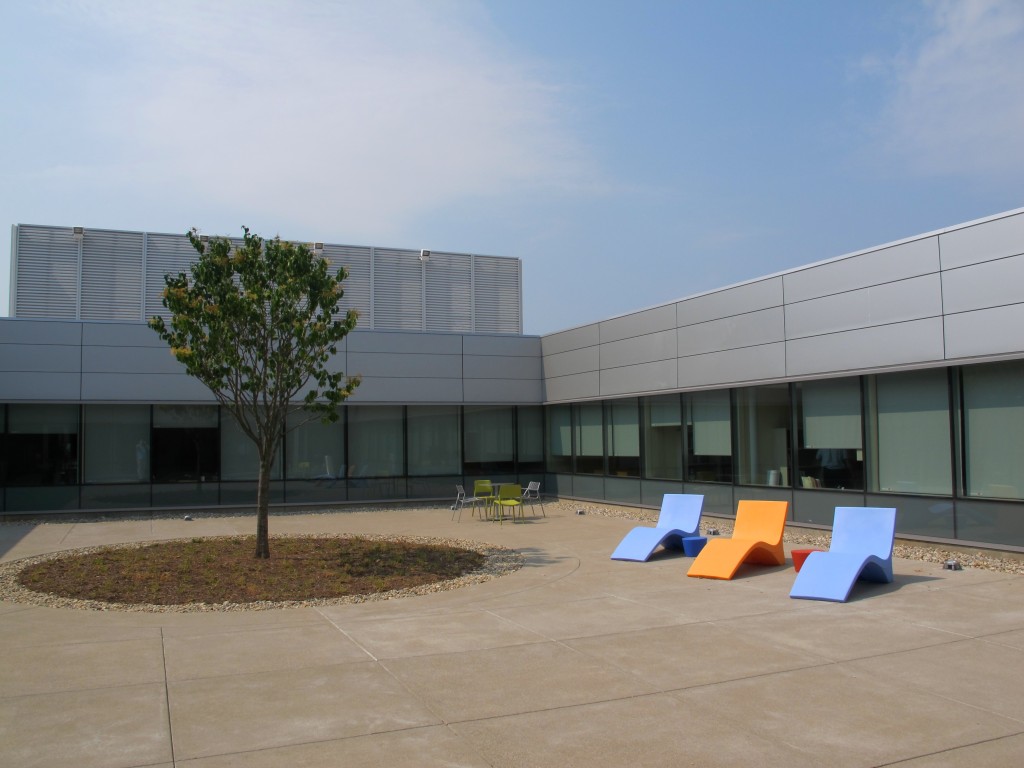 Inner courtyard (photo by Ricky Berkey)
---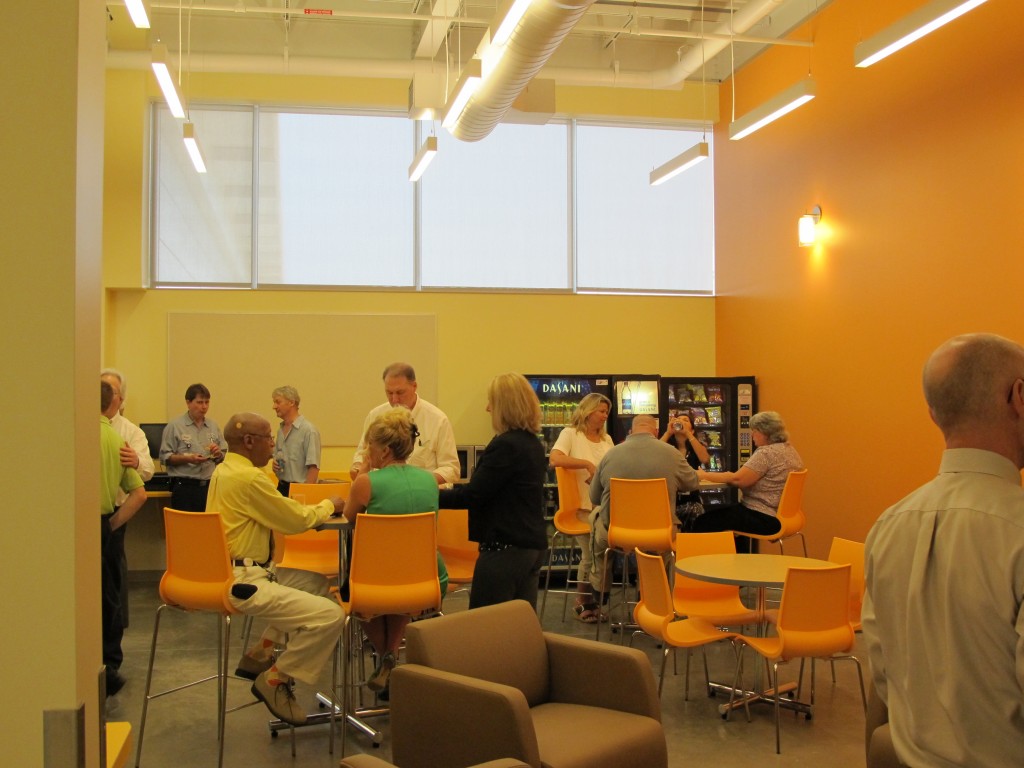 Lounge/break area (photo by Ricky Berkey)
---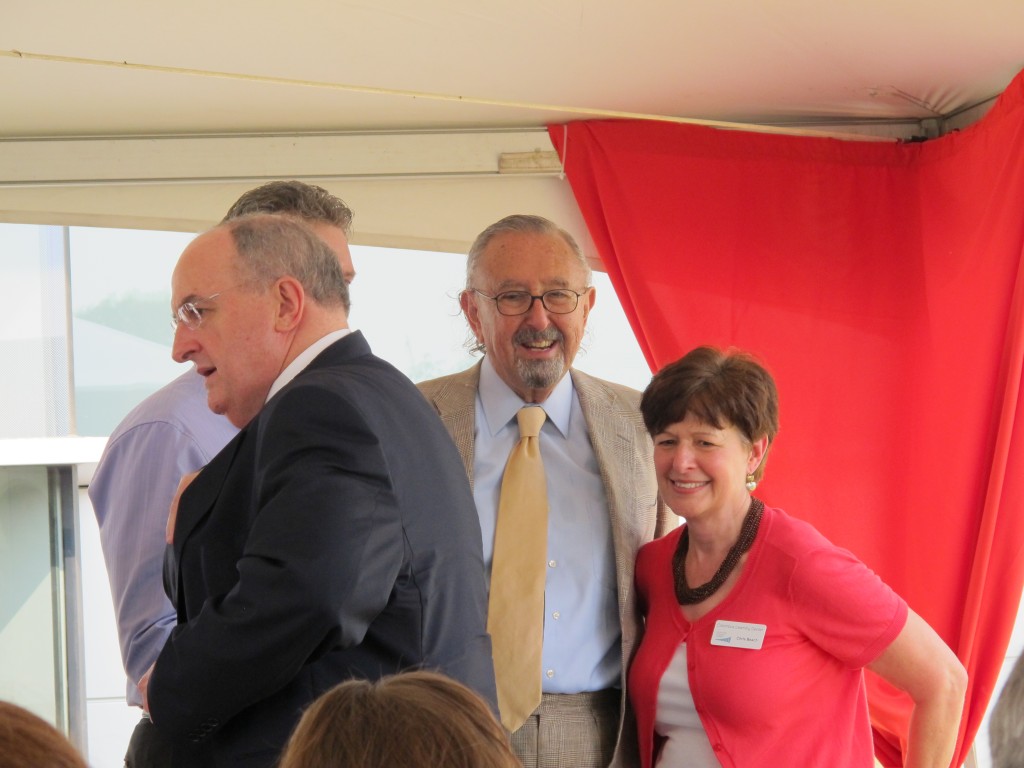 Architect Cesar Pelli at the dedication (in yellow tie) (photo by Ricky Berkey)
---
The Architects
---

Cesar Pelli

Born in Tucuman, Argentina on October 12th, 1926
University of Tucuman – Argentina
University of Illinois
AIA (American Institute of Architects) Gold Medal Award (1995)
---
Cesar Pelli has been praised for using a wide variety of materials and designs, seeking new solutions for each location rather than duplicating a certain trademark look. Believing that buildings should be "responsible citizens", Cesar Pelli strives to design buildings that work within the surrounding city. Pelli has said: "It is a great honor for an architect to be given a piece of a city in which to design, however small it may be…The city is more important than the building and the building is more important than the architect".
---
Born in Argentina in 1926, he emigrated to the United States and chose to become a citizen in 1964. He was an associate architect with Eero Saarinen from 1952-1964 (another "Cranbrook Connection in Columbus). While with Saarinen, he served as project designer for the TWA Terminal Building at JFK Airport in NYC. In 1968 he became a design partner with Gruen & Associates where he remained until 1977 when he started his own firm, Cesar Pelli & Associates (now Pelli-Clarke-Pelli). His son Rafael is now a partner in the firm. Cesar Pelli has cited Eero Saarinen and Le Corbusier as among his greatest career influences.
---
Cesar Pelli taught for many years and served as Dean of the Yale University School of Architecture from 1977 to 1984. He has received over a hundred awards for architecture including the AIA (American Institute of Architects) Gold Medal in 1995 which recognizes a lifetime of distinguished achievement. In 1991, the AIA listed Pelli among the ten most influential living American architects. He has designed buildings large and small around the world including some of the world's tallest skyscrapers.
---
Selected Cesar Pelli Projects
1966: Worldway Postal Center – Los Angeles, California
1967: COMSAT Laboratories – Clarksburg, Maryland
1967: Kukui Gardens Housing – Honolulu, Hawaii
1969: San Bernardino City Hall – San Bernardino, California
1972: US Embassy – Tokyo, Japan
1973: The Commons and Courthouse Mall – Columbus, Indiana
1975: Pacific Design Center – Los Angeles, California
1984: Herring Hall (Rice University) – Houston, Texas
1984: MOMA Residential Tower – NYC
1984: Mattatuck Museum – Waterbury, Connecticut
1986: Canary Wharf Tower – London, England
1987: World Financial Center and Winter Garden – NYC
1987: Charlotte Performing Arts Center – Charlotte, North Carolina
1990: Carnegie Hall Tower – NYC
1990: NTT Headquarters – Tokyo, Japan
1991: Ohio Center for Performing Arts – Cincinnati, Ohio
1995: Aronoff Center for Performing Arts – Cincinnati, Ohio
1996: Cinema – Celebration, Florida
1998: Petronas Towers – Kuala Lumpur, Malaysia
2000: Kurayoshi Park Square – Kurayoshi, Japan
2000: KABC-TV – Los Angeles, California
2002: JP MorganChase Building – San Francisco
2002: Weber Music Hall at University of Minnesota – Duluth, Minnesota
2002: Enron Headquarters – Houston, Texas
2003: Two International Finance Centre – Hong Kong
2003: Benjamin & Mariam Schuster Performing Arts Center – Dayton, Ohio
2004: Goldman Sachs Tower – Jersey City, New Jersey
2005: Cira Centre – Philadelphia, Pennsylvania
2005: Malone Engineering Center at Yale University – New Haven, Connecticut
2006: Adrienne Arsht Center for the Performing Arts – Miami, Florida
2006: Minneapolis Central Library – Minneapolis, Minnesota
2008: BOK Center – Tulsa, Oklahoma
2008: One Park West – Liverpool, England
2009: Connecticut Science Center – Hartford, Connecticut
2011: Advanced Manufacturing Center of Excellence (AMCE) – Columbus, Indiana
---

RATIO Architects

---
RATIO architects is an award winning architectural design and planning firm with offices in Indianapolis and Champaign, Ill. Their many services include architecture, historic preservation, interior design, landscape architecture, urban planning and graphic design. They were founded in 1982 in Indianapolis by architect Bill Browne. Their original focus was on historic preservation and the adaptive reuse of old buildings. Their work in Columbus has included the former Arvin Headquarters Building, St Bartholomew Roman Catholic Church, Mill Race Center, the Columbus Learning Center and the Advanced Center for Manufacturing Excellence (AMCE).
---
Links/References
Pelli-Clarke-Pelli: Cesar Pelli's official website
Pelli-Clarke-Pelli's description of the AMCE:
City of Columbus: official City of Columbus website
Columbus Indiana Architectural Archives
Columbus Indiana Architecture Digital Archives: A small portion of the Columbus Indiana Architectural Archives available online from the IUPUI digital library
3D Models of Columbus Architecture Executed in Google SketchUp:
The Republic Newspaper – Columbus, Indiana newspaper
Bartholomew County Public Library
Historic Columbus Website – David Sechrest's tribute to Columbus History
Historic Columbus Message Board – a companion interactive forum to the David Sechrest historical website
Bartholomew County Historical Society
---

Click HERE for a Calendar of Upcoming Events in the Columbus Area.
Click HERE for information about Tours of Columbus Architecture and Design including the Miller House.
---

Ricky Berkey
Email me: rickyberkey@gmail.com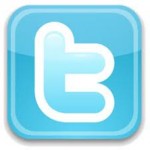 Follow me on Twitter:
---