---
v12.07.14
Art, Architecture and Design
This article spotlights a particular building or some other aspect of Columbus design. I welcome your comments, corrections and additions. Please share your experience and perceptions of these uniquely Columbus projects.

AT&T Switching Center (formerly Indiana Bell/Ameritech/SBC)
Built: 1978
Principal Design Architect: Paul Kennon (Caudill Rowlett Scott (CRS) – Houston, Texas)
Assistant Design Architect: Jay Bauer (CRS)
Associated Architects: Boots-Smith & Associates – Indianapolis
General Contractor: Bruns and Gutzwiller – Batesville, Indiana
AIA Honor Award (1980)
---
Many works of architecture in Columbus have been partially subsidized by the Cummins Foundation architecture program. Cummins Foundation funds paid the design fees for many of the schools, fire stations and other public buildings in Columbus. Many of these public buildings and other projects were also helped by generous donations from the Irwin-Sweeney-Miller family foundation. This has influenced other individuals, churches and business organizations to get into the act as well by utilizing good design and prominent architects in their own private projects.
---
This building contains electronic equipment, generally unoccupied by people (the modern version of the old fashioned operator sitting in front of a switchboard). I discovered that fact when I first moved to Columbus and thought this would be the place to find a copy of the local phone book. After walking completely around the building looking for a non-existent customer service door I realized that this was merely a service building, although an unusually attractive one.
---
Indiana Bell needed to expand and reconfigure to convert from mechanical to electrical switching equipment. This was in anticipation of new services on the horizon at that time such as call-waiting, call-forwarding, 3-way calling and other new call-handling services coming online. Indiana Bell's official name for the new project was the "37X ESS" building. The architects challenge was to take a rather mundane yellow-brick, three-story 1936 building, add necessary expansion space and give it all a cohesive look that would be a better fit into the surrounding neighborhood which is on a transitional corner between an older residential area and the downtown business district. Kennon took the original building, added a one story adjoining structure and wrapped the whole thing in a silver reflective material which mirrors the surrounding streets and buildings, trees and sky as well as the people walking by. Conceivably one could peel away the outer glass and find that old yellow building hiding inside. The glass is actually glued onto an stainless-steel framework using what were for that time period very high tech adhesives. It was anticipated that individual panels of the the mirrored glass could be easily replaced if necessary. In addition to its decorative effect, the reflective glass surface was meant to improve energy efficiency in heating and cooling the building. Anticipating future expansion, the two stair-wells in the addition are full-height to match the scale of the original. At night, the stairwells (which have a different kind of glass) reverse their reflecting nature and the colorful lighted interiors open up visually to the street.
---
A freestanding space-frame trellis wraps the building on the two street sides. Meant to be covered with wisteria and several other species of climbing greenery forming a vertical garden, these trellises were intended to provide a green front to soften and minimize the large mass of this building. It also shades the building from the heat of the sun on the eastern and southern exposures. Kennon considered this free-standing green trellis system to be a key part of his overall design plan. The intricate grid system used in the trellis brings about interesting and abstract images as seen in the reflecting walls next to it. A tiny brick plaza around the building helps to blend the building back to the more traditional buildings surrounding it and gives it a park-like appearance on its very small pedestrian level streetscape. There is about 10 feet of space between the building and the trellis system. A row of Bradford pear trees were planted at the street alongside the trellis wall.
---
The HVAC (heating, ventilation, and air conditioning) equipment relies on outside air. The heat of the electronic telephone equipment inside is utilized in the winter as a heat source to treat the incoming air flow. The air intake and exhaust system utilizes full height color-coded stacks on the exterior of the building: blue for intake, red for exhaust, orange for diesel intake and yellow for diesel exhaust. They add a colorful and surprising touch to the alley running along one side of the structure and can be seen for a fleeting moment as you pass by on nearby Washington Street. These colorful "crayons" or "organ pipes" add a playful touch to an otherwise modernist glass curtain-wall building. They have become almost an icon of Columbus and have been utilized numerous times in photographs, brochures and advertising. This is just another example of how many alleys, backs of buildings and service entrances in Columbus are given attention to appearance as well. There doesn't have to be a bad side of a building.
---
The building was given an AIA (American Institute of Architects) Honor award in 1980. This is a significant recognition given to only a few buildings annually. The AIA described the center as: "a delightfully whimsical solution to the use of mirrored glass". They especially liked the how a urban plaza was formed in the narrow space between the facade of the building and the trellis system.
---
Unfortunately the building hasn't aged as gracefully as we hoped, either from lack of maintenance, building materials used or just lack of continuity in passing along the importance of the design and how best to preserve it. In this case, the corporate managers in the 70's who were eager to make an extra statement with a building that fit into the Columbus architectural heritage are long gone. Over the years, management has been perhaps less aware or were unconcerned with the architectural credentials of the building. Deferred maintenance has only intensified the decline.
---
The trellis was invaded by nesting birds whose droppings along the sidewalk made them very unwelcome. The ivy was removed and at some point the trellis was covered with a rather unsightly mesh screen meant to keep out the birds. The pear trees by this time had almost reached the full height of the trellis but of course the lush trees kept the birds coming back.
---
The colorful "organ pipes" have long been a target of graffiti, at least as tall as the rascals could reach. Attempts to scrub it clean left a faded discolored look. Bricks in the plaza around the building had came loose or were crumbling and the glass had become streaked and discolored in many places.
---
Finally after many years of minimal maintenance to the exterior, the AT&T managers began to show some concern. Their concerns were more about safety and general aesthetics, but paid little attention to the original architectural plan. Workers suddenly showed up and began dismantling the trellis system. Local architect Lous Joyner who has an office across the street enlisted a few other preservationists and appealed to corporate officials. Even Kevin Kennon, son of architect Paul Kennon stressed how important the space-form trellis system was to the integrity of the award-winning building. "I'm actually shocked and saddened," said Kevin Kennon, also an architect. "For my father, (the trellis) was an integral part of the building," Kevin Kennon said, "the idea was central to the heart and soul of the building ". Their success was measured as the new plan used remaining materials to rebuild only a strip of the trellis at the very top.
---
In other work, the glass exterior was cleaned and the "organ pipes" were completely repainted and are again bright and vivid colors. Steps and entryways have been repaired and broken brick pavers were replaced. The mature trees alongside the trellis were also removed (in another attempt to discourage birds from making a home there). A different type of landscaping has taken it's place. All in all, the building has been improved cosmetically from it's previously neglected state but it's architectural heritage has been compromised.
---
Photos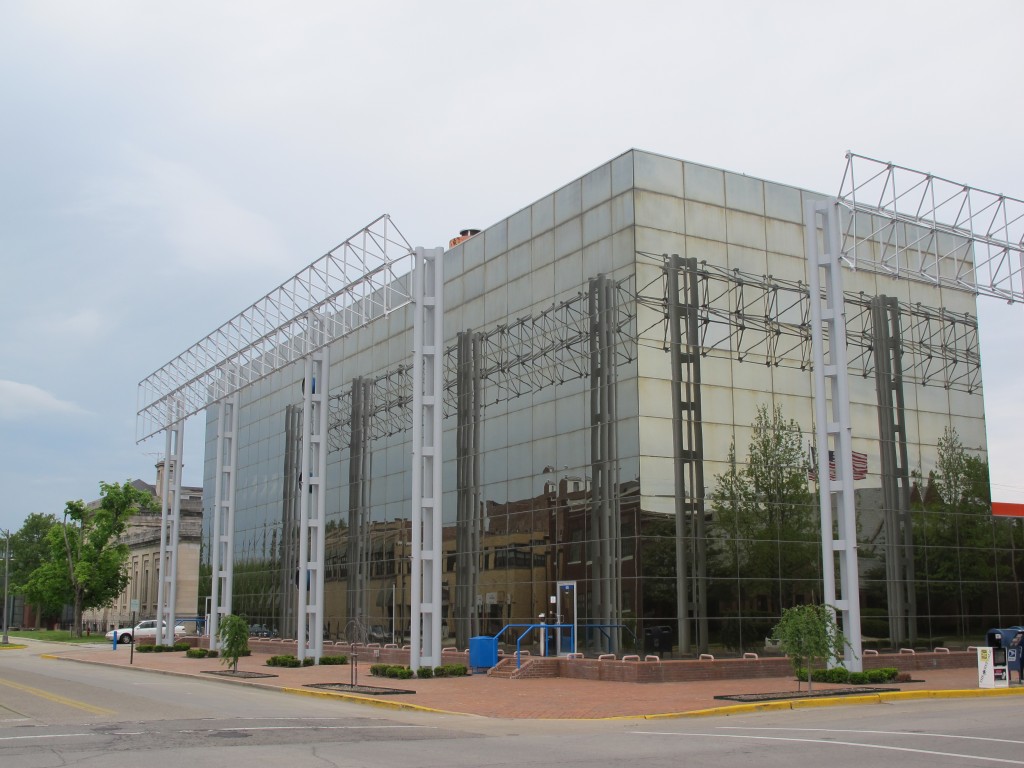 Showing modified trellis top (photo by Ricky Berkey)
---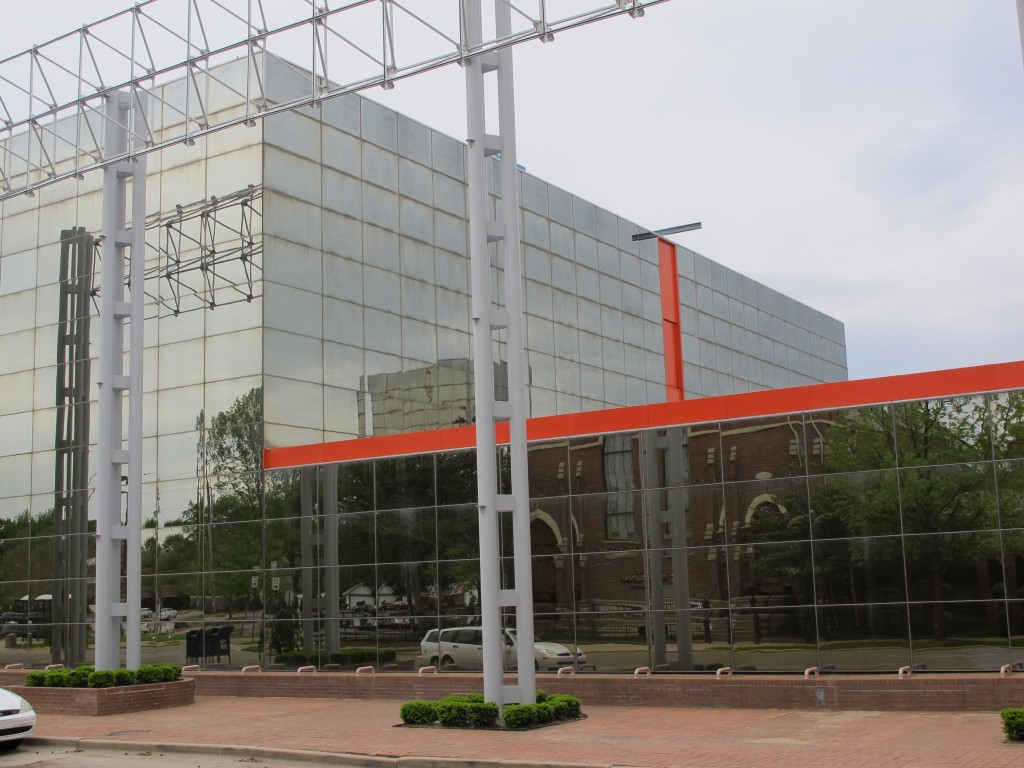 Original 1936 building in encased in glass on the left, one story addition on the right (photo by Ricky Berkey)
---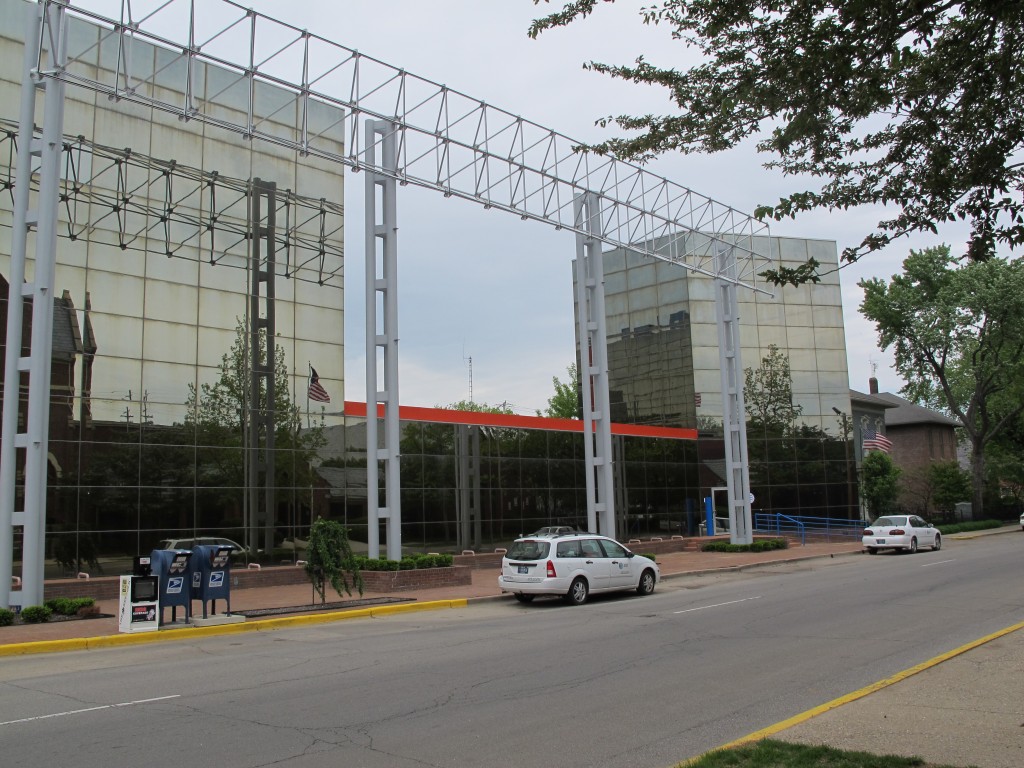 Original building on left, addition in the middle, structure on the right is mainly a stairwell meant to provide a framework for future expansion as well as to balance the design (photo by Ricky Berkey)
---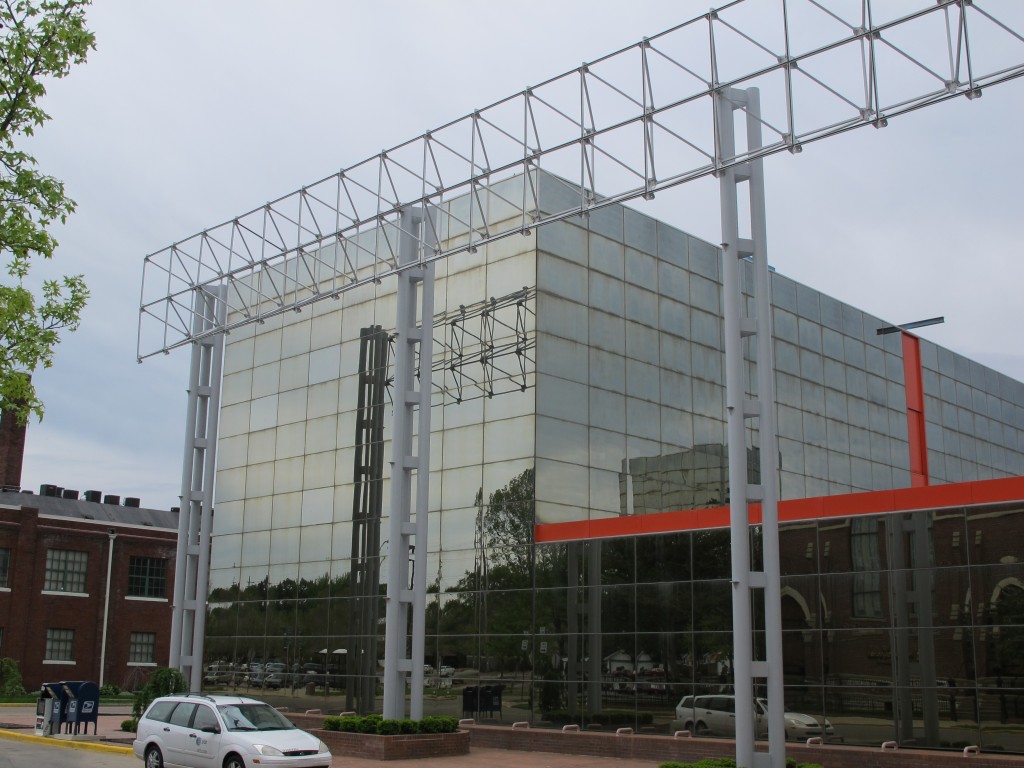 (photo by Ricky Berkey)
---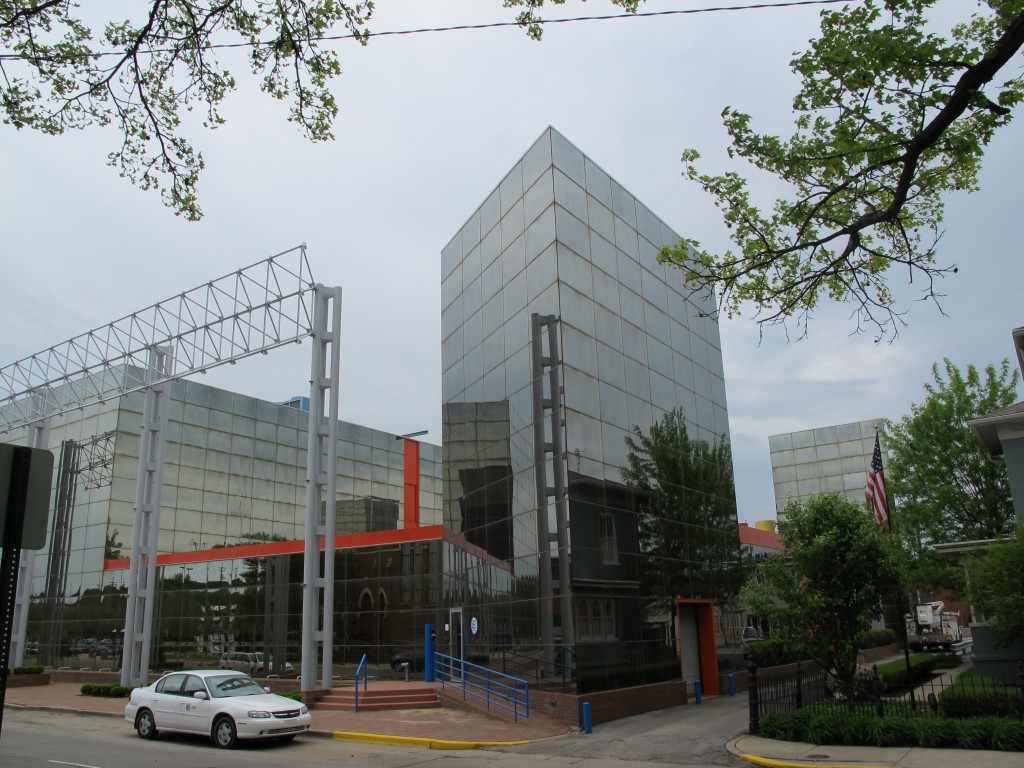 (photo by Ricky Berkey)
---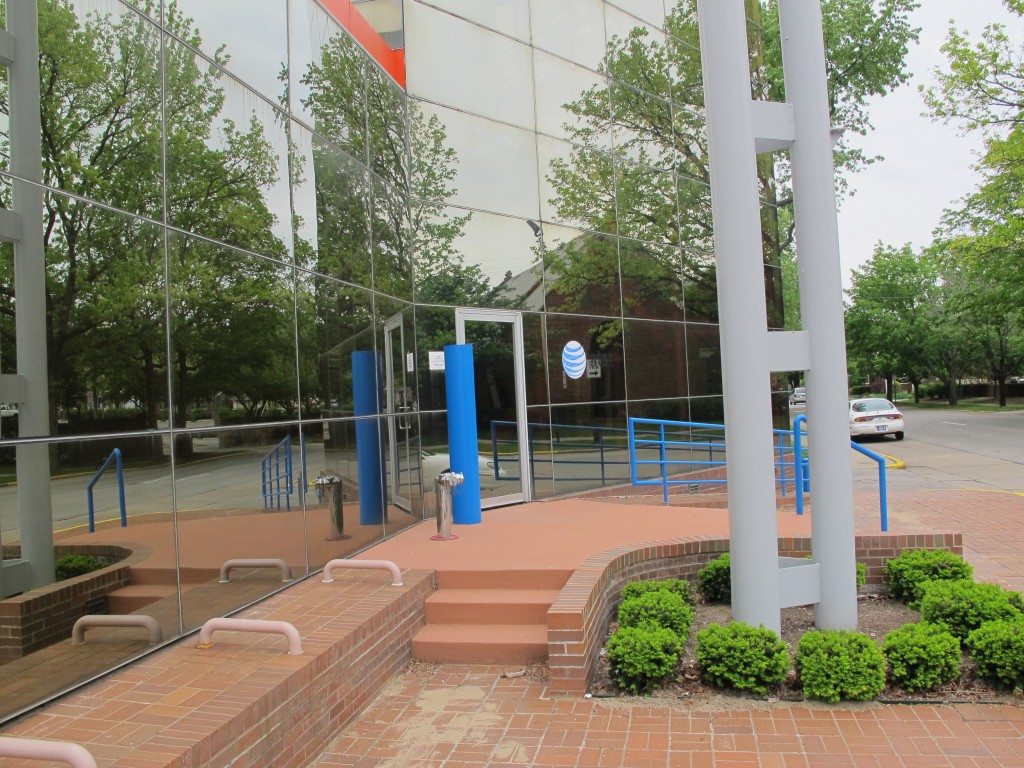 One of the entryways, note how the glass reflects the surrounding area (photo by Ricky Berkey)
---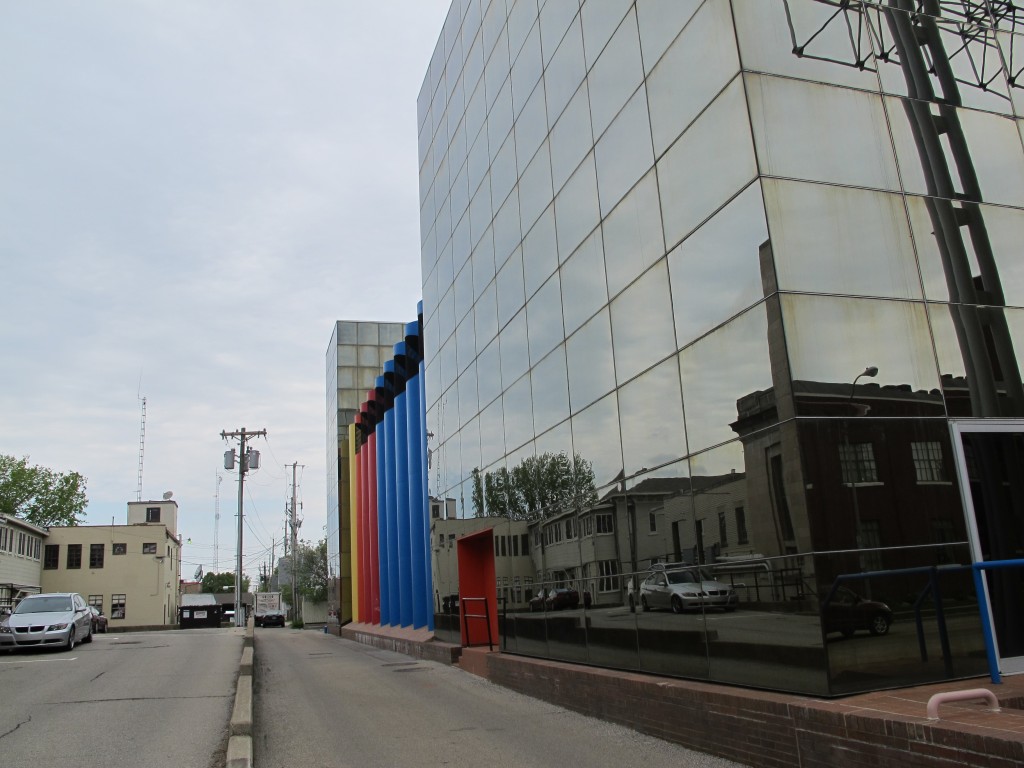 Looking down the alley toward the "organ pipes" (photo by Ricky Berkey)
---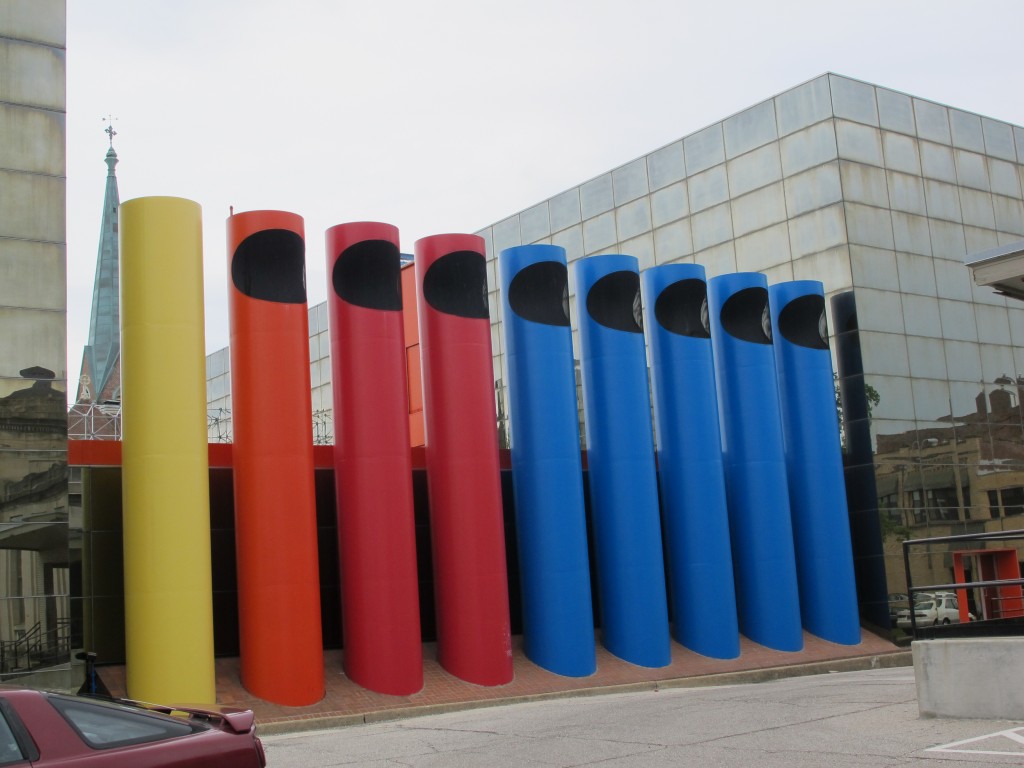 "Organ pipes" seen on many pictures of Columbus (photo by Ricky Berkey)
---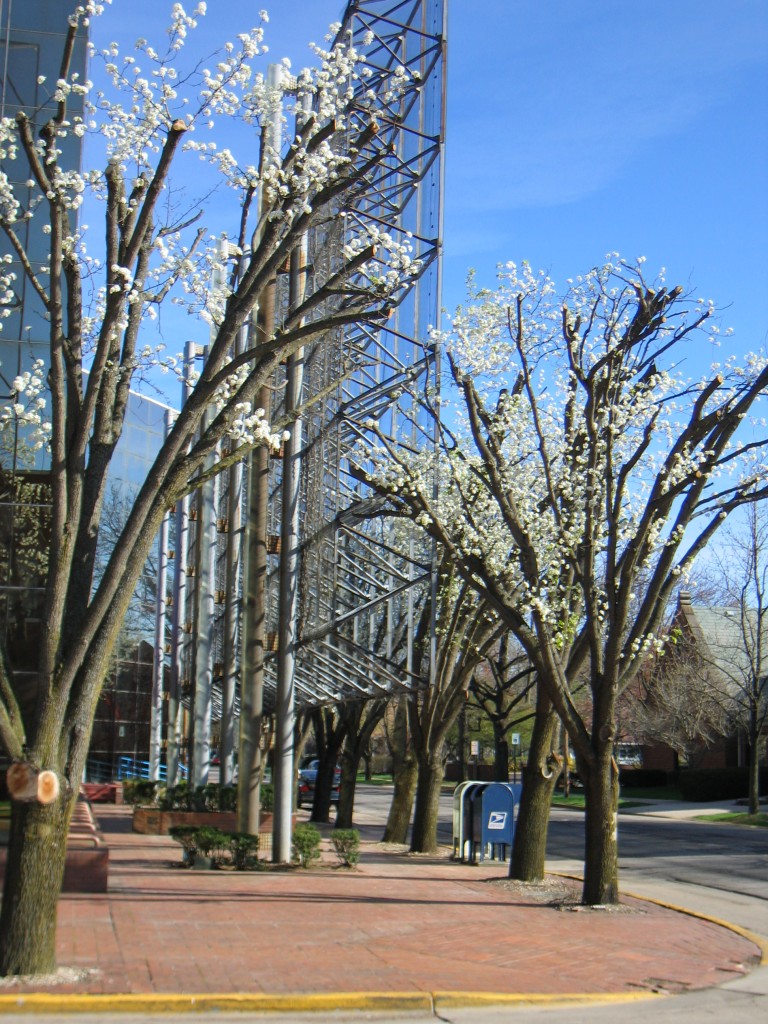 Shows original trellis and trees before most of it was removed (photo by Ricky Berkey)
---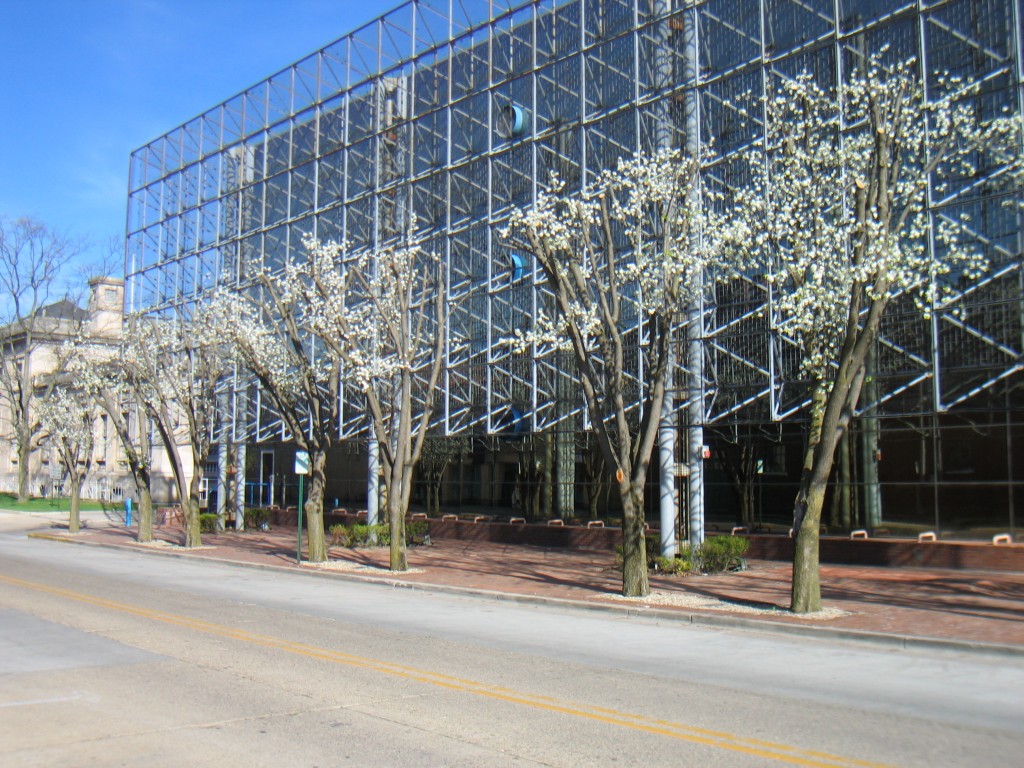 Shows original trellis and trees before most of it was removed (photo by Ricky Berkey)
---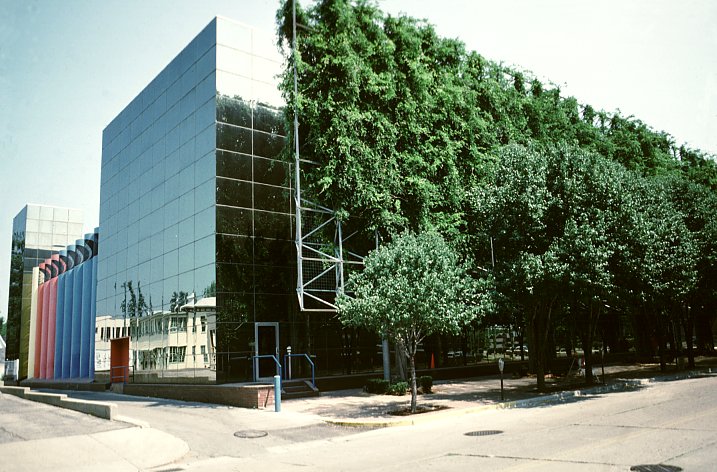 Older picture showing the vines on the trellis (photo by Mary Ann Sullivan – Do not use without proper permission)
---
The Architects
---

Paul Kennon

Born in Shreveport, Louisiana, on January 27, 1934
Died January 8, 1990
Texas A&M (1956)
Cranbrook Academy – Bloomfield Hills, Michigan (1957)
Paul Atherton Kennon designed projects around the world including 4 here in Columbus, Indiana. He will long be remembered here for his efforts to gather input from as many people as possible before formulating his designs. In Columbus, Paul Kennon is especially remembered for his "Squatter's Sessions" – a participative process where he gathered input and ideas from the community. He said: "if people just talk about their dreams, anything can happen". His son Kevin followed in his fathers footsteps and has proudly designed a building in Columbus as well.
---
Kennon had a desire to become an architect from an early age and graduated from Texas A&M in 1956. While at Texas A&M he worked a summer job with Caudill, Rowlett and Scott developing a close relationship with William W. Caudill. After completing his graduate work at the Cranbrook Academy he was hired as a designer by Eero Saarinen from 1957-1964. With Saarinen he helped develop the plans for the Dulles International Airport in Washington D.C. Kennon worked with the Saarinen team to complete work on the North Christian Church project in Columbus after Eero Saarinen died.
---
His mentor, William W. Caudill (who was Director of the Rice University School of Architecture) persuaded Kennon to come back to Texas in 1964 to become an Associate Director at Rice. In 1967 he resumed practicing architecture in 1967 with Caudill, Rowlett, Scott (CRS) where he became design principal in 1970 and president in 1976. His approach to teaching which he attributed to Caudill and Saarinen was to teach by example rather than theory. His design process involved a team process seeking the best solution utilizing the ideas of many participants to patiently seek the best solution to each project.
---
He continued his academic career by lecturing and teaching at many universities, including Rice University, Texas A&M, the University of Texas, Texas Tech, the University of Houston, Yale, Harvard, Pratt, Amherst, the University of Pennsylvania, and the Institute for Architecture and Urban Studies. In 1989 Kennon was selected to be the new Dean of the School of Architecture at Rice University.
---
He died of a heart attack in 1990 at the age of 55. Besides his new position at Rice University, he was still an active architect for CRSS. He was survived by his wife Helen and sons Keith and Kevin. At the time of his death Kennon was actively working on a number of Columbus, Indiana projects: the revitalization of Mill Race Park, a never built golf course west of downtown, the Front Door project and the downtown Streetscape plan. A memorial service at Rice University was attended by a number of Columbus officials and residents who had worked with him over the years.
---
Paul Kennon recieved more than 100 awards for his designs, including honors from the American Institute of Architects and others. 12 of his awards were for projects in Columbus, Indiana.
---
Selected Paul Kennon Projects
1973: Fodrea Community School – Columbus, Indiana)
1974: Irwin Union Bank (State and Mapleton Street Branch) – Columbus, Indiana
1978: Indiana Bell/SBC/AT&T/ Switching Center – Columbus, Indiana
1983: University of Iowa Arena
1985: 3M/Austin Center (3M Regional HQ) – Austin, Texas
1990: Streetscape Downtown Beautification Plan – Columbus, Indiana
1991: Chrysler Technology Center – Auburn Hills, Michigan
---

Caudill Rowlett Scott (CRS)

---
Caudill Rowlett Scott (popularly known as CRS) was an architecture firm in Houston, Texas that was started in 1946 by William Caudill and John Rowlett who were professors at the Texas A&M School of Architecture. Wallie Scott, who was a student of Caudill joined the firm in 1948 and Tom Bullock was added as a partner in 1948.
---
They were initially involved in the building of many schools around the world addressing the shortage of classrooms brought on by the post-WW2 babyboom. As educators as well as architects. Caudill and Scott brought about many innovations in school design.
---
Over the following decades CRS diversified it's portfolio grew into one of the largest architectural firms in the country with projects around the world. This greatly diversified the company with CRSS able to provide architectural, engineering, construction management, environmental and financial services to governmental and private sector clients around the world. They also became one of the largest private producers of power in the United States. CRS Capital was a part of the firm focusing on other businesses related to architecture and industrial engineering. In 1983 CRS joined forced with J.E. Sirrine, an industrial engineering firm and became CRS-Sirrine. By 1985, CRS Sirrine (CRSS) had grown to become one of the biggest U.S. architectural design firms, the biggest U.S. construction management company, and the biggest interior architecture designer.
---
CRS was awarded The AIA (American Institute of Architects) Firm Award in 1972. In 2005, CRSS was named named "Firm of the Century" by Texas A&M University College of Architecture (which is housed in the CRS Center).
---
In 1994, the company was split with the engineering component acquired by Jacobs Engineering while the architecture group merged into Hellmuth, Obata and Kassabaum (HOK).
---
Links/References
CRS – "CRS: a Firm and it's Legacy"
City of Columbus: official City of Columbus website
Columbus Indiana Architectural Archives
Columbus Indiana Architecture Digital Archives: A small portion of the Columbus Indiana Architectural Archives available online from the IUPUI digital library
3D Models of Columbus Architecture Executed in Google SketchUp:
The Republic Newspaper – Columbus, Indiana newspaper
Bartholomew County Public Library
Historic Columbus Website – David Sechrest's tribute to Columbus History
Historic Columbus Message Board – a companion interactive forum to the David Sechrest historical website
Bartholomew County Historical Society
---

Click HERE for a Calendar of Upcoming Events in the Columbus Area.
Click HERE for information about Tours of Columbus Architecture and Design including the Miller House.
---

Ricky Berkey
Email me: rickyberkey@gmail.com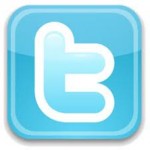 Follow me on Twitter:
---