---
v12.07.14
Art, Architecture and Design
This article spotlights a particular building or some other aspect of Columbus design. I welcome your comments, corrections and additions. Please share your experience and perceptions of these uniquely Columbus projects.

Lincoln Signature Academy (originally Lincoln Elementary)

Built: 1967
Architect: Gunnar Birkerts(Gunnar Birkerts & Associates – Birmingham, Michigan)
Associate Design Architect: Harold Van Dine
Supervising Architects: SIECO Inc.
General Contractors: Dunlap Construction
Landscape Architect: Johnson, Johnson and Roy




Honors:
Honor Award from the Detroit Chapter of the AIA (American Institute of Architects)(1968)
Honor Award from the National AIA (1970)
Bartlett Award from the Presidents Committee on Employment of the Handicapped and the AIA (1970)
AIA (Michigan Region) 25 Year Award (2000)
---
Architects seldom are working in a vacumn and indulging their own architectural visions: they have to tailor their concepts to meet the specific and unique needs of each client. Designing Lincoln gave Birkerts the challenge of building a school for elementary children that was very close to downtown along a busy traffic street. The school board wanted a building with a playground area protected from traffic along with green space all on a rather small single square block site. They also expressed the desire to keep the scale small out of respect to the mostly residential area that was there at the time. It was also important to be a good neighbor to the adjacent Irwin House and Gardens.
---
Birkerts solution was what he termed as a "introverted schoolhouse with a simple brick facade". He designed it to fit into its surroundings without drawing undue attention to itself. The building is actually lowered half a level underground with a sunken court around the exterior. From the street it visually appears a a one story building with direct access to both levels. Birkerts always liked to design with concepts of opposites and of geometry. An aerial view of Lincoln shows it as a square within a circle within a square. The square building is surrounded by a circular concrete retaining wall and a circular ring of little leaf linden trees to give it a park-like quality. It is surrounded again by the square of the city block on which it sits. Some say a "birds eye" view of the building shows it as a "square peg in a round hole".
---
The area between the school walls and the retaining ring were reserved as a protected area for the youngest students. Beyond the ring of trees are larger play spaces for the bigger kids. The playground area is enclosed within a 3-foot earth berm.
---
Lincoln was designed as a building within a building. The multi-purpose room (which was used as a cafeteria/auditorium/gymnasium) sits as a separate structure surrounded by the hallways and classrooms of the outer 2-story building brick and concrete building. It is differentiated and defined by the use of naturally finished wood in contrast with the brick and concrete of the surrounding building. The inner structure is constructed using tongue-and-groove birch walls with laminated wood beams and columns. The second story hallways have an overhead view thru the windows into the center space. The outer building has a structural system of ribbed concrete slabs, supported on the inner and outer walls of the classrooms and cantilevered over the corridors. The wide concrete steps leading to the second floor main entrance provide a shelter for the bicycle racks underneath. The area at the top of the steps can also serve as a rudimentary outdoor stage.
---
Natural lighting is abundant throughout the building. The two roof systems on the center structure and the outer building are joined by a 3-foot high ring of clerestory windows. Daylight streams through the vertical windows in the free-standing multi-purpose room illuminating it as well as the corridors on both levels. Through reflection and deflection, the light is pulled down and across the core of the building. The outer walls have a unique design whereby two adjoining classrooms share one exterior window to minimize exterior wall openings. Corners of adjoining rooms are diagonal and their windows make up a triangular space with the single exterior window. The inner windows are hinged for cleaning as well as allowing the space to be used for classroom displays. This triangle area also acts as an insulator to the outside temperature variations.
---
The unique look of the school is largely due to the repeated use of rectangular forms: from the rectangular windows throughout and rectangular lighting fixtures to the rectangles in the outside pavement which double in size with each row that leads away from the school. The reddish brick exterior with dark mortar joints is very similar to the material used in the Cleo Rogers Memorial Library (I. M. Pei) in the next block and at the Northside Junior High (Harry Weese).
---
The original landscaping plan called for the ring of trees surrounding the building to be pleached and trimmed into a rectilinear shape to pay respect to the formality of the neighboring Irwin Gardens. That was abandoned due to cost and the probability of poor maintenance of the design. Maintaining the integrity of the landscaping architecture has been a recurring problem with many of our public buildings either through budgetary problems or often just lack of awareness of how critical the landscaping was to a buildings overall design. The landscaping plan that was adopted for Lincoln has held up very well and the circular ring of trees surrounding the building is still a signature of the school. The trimmed and nearly interlacing trees are now as tall as the building and form a visual facade for the school and provides a quiet serene space . The area surrounding the building site has changed drastically over the years as Sycamore Street was closed and nearly all of the residences surrounding the building have disappeared with the expansion of St. Peters Lutheran and the rebuilding of Central Middle School.
---
This 38,363 square foot building contains 12 classrooms with 10 of them having their own toilets, drinking fountains and coat closets. It also includes a separate kindergarten room, art/music room, library and kitchen as well as the large multi-purpose room used as gymnasium/cafeteria and auditorium. Lincoln was the first Columbus school to be carpeted and air-conditioned. This was very controversial locally and thought to be extravagant. Over the years this school has proven to be one of the most energy efficient buildings in our local school system due to its thick skin and minimal exterior glass area.
This was the first school building in the entire country to provide handicapped access to both levels via ramps and elevator. Years before ADA requirements, this building featured extra wide doors, an elevator and self-contained classrooms. This building won the Bartlett Award in 1970 which recognizes buildings designed for full-time use by the physically challenged.
---
This building saw it's first students on April 17th, 1967. First Lady, Mrs. Lyndon Johnson ("Ladybird") dedicated a plaque at the entrance to the school during her "Crossroads U.S.A." tour on April 21st, 1967 honoring the school and Columbus for our efforts in beautifying America which was a central theme of her years in the White House. Among officials present were Governor Roger Branigan, Mayor Eret Kline and the school system superintendent Clarence Robbins. In her speech:
"It is said that architecture is Frozen Music but seldom in history has such a group of devoted artists produced such a Symphony in Stone as presents itself to the eye in Columbus, Indiana".
Formal dedication of the school took place on May 28th, 1967 with Gunnar Birkerts present.
---
In the 80's when St Peters Lutheran decided to build a new sanctuary building across the street they chose Birkerts to design their church. The concentric rings of the Lincoln School building and site plan were used as an influence on the concept for his church design. In 2001 Birkerts was tasked by the school board with coming up with an expansion plan for Lincoln. In a further play on his circle and square geometry, he came up with a glass-walled triangular addition to the building. Unfortunately the design which was part of a huge multi-site school renovation/expansion plan was voted down in a taxpayer referendum. Birkerts was featured in the PBS documentary about Columbus architecture entitled "Different by Design" in a fascinating segment showing his design process for this unbuilt addition and his delight at working in Columbus again.
---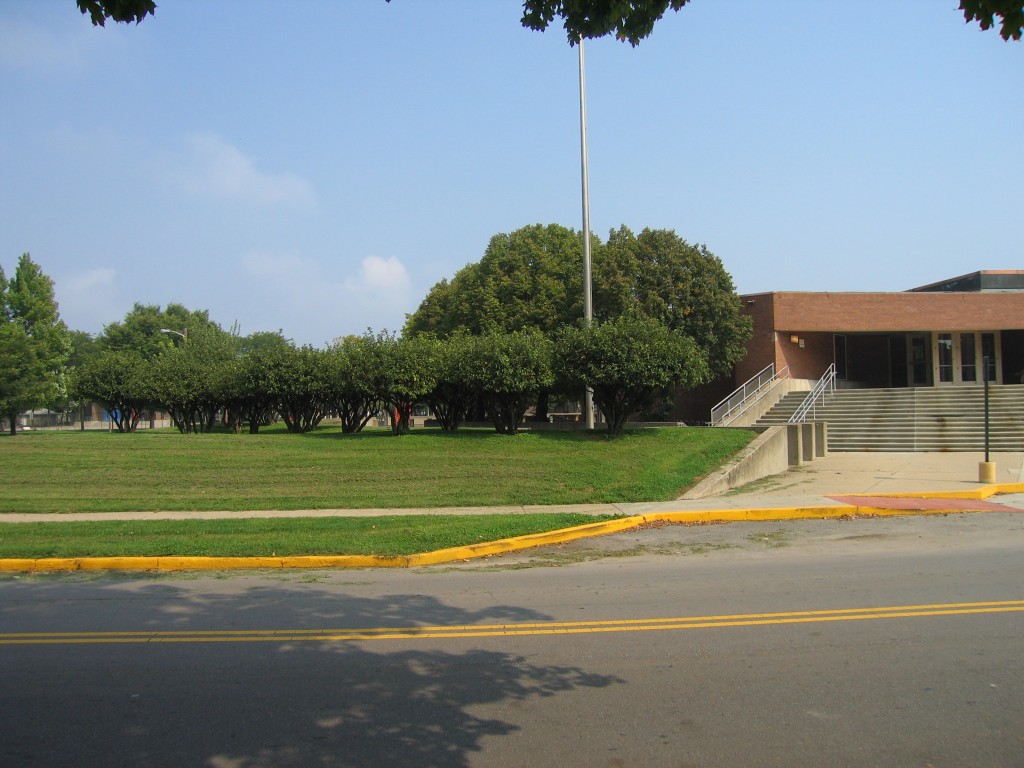 Front entrance showing landscaping around building…..(photo by Ricky Berkey)
---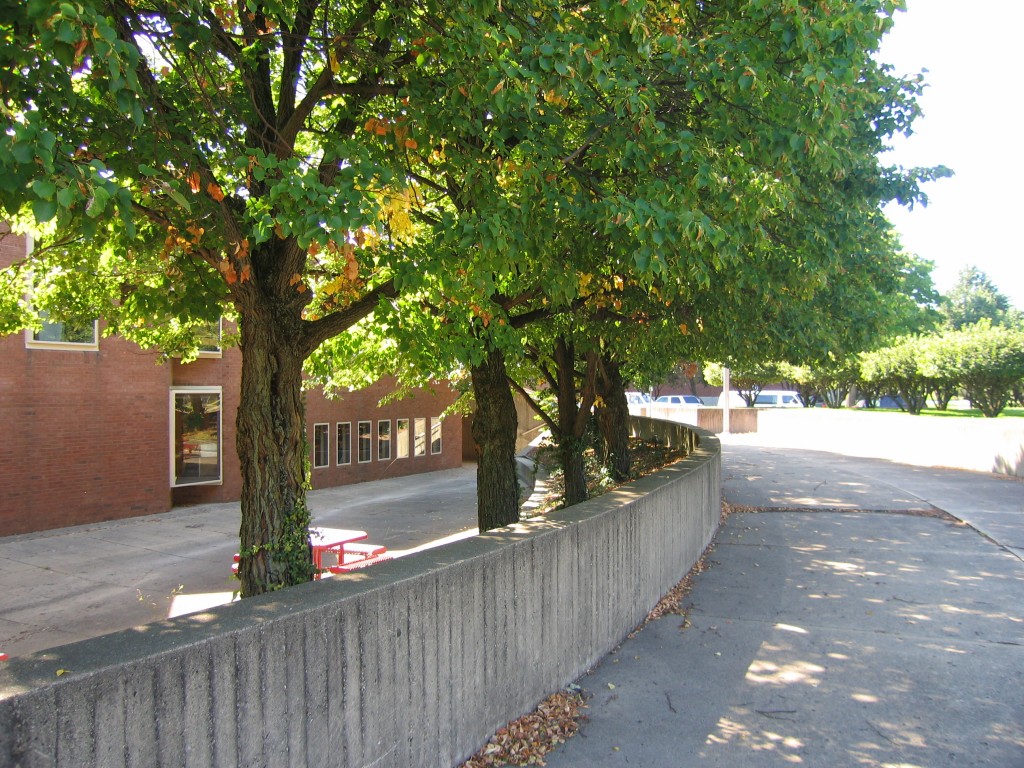 Outer retaining wall and ring of trees surrounding building…..(photo by Ricky Berkey)
---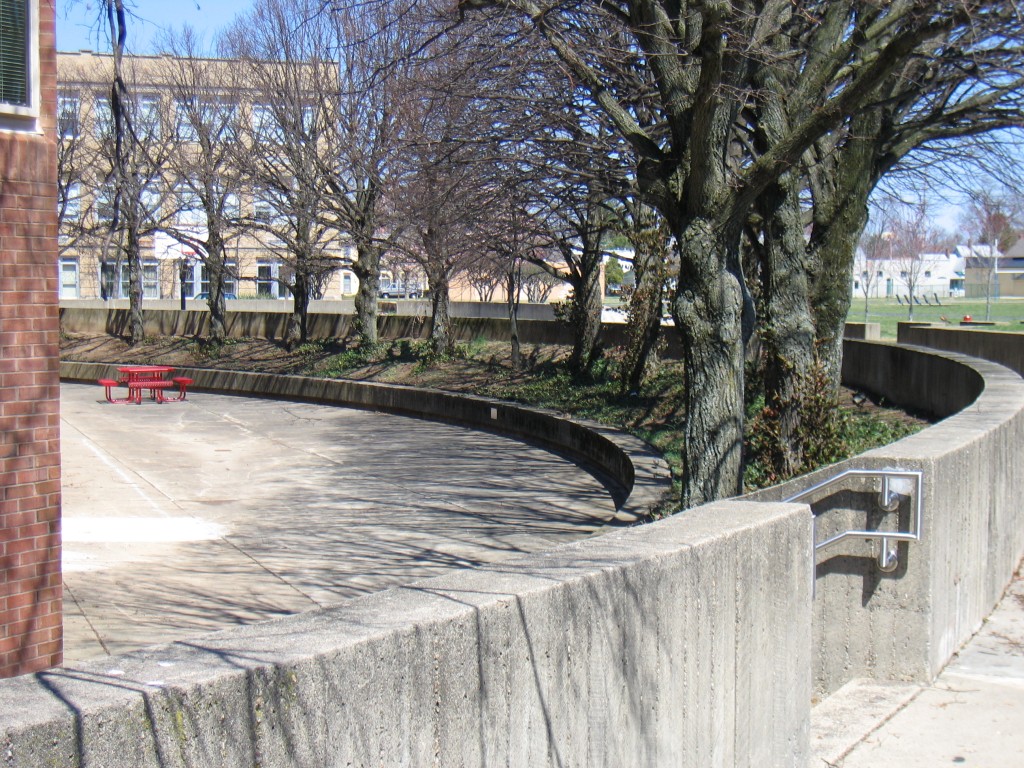 View into lower level inside retaining wall…..(photo by Ricky Berkey)
---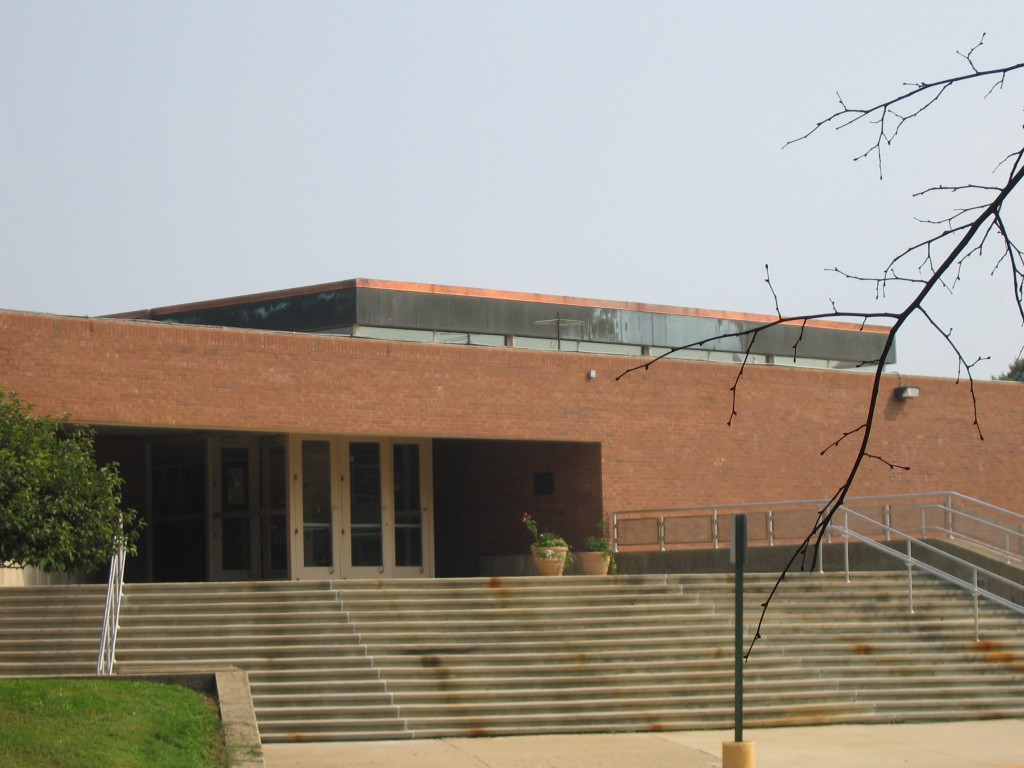 Front of building, note structure on top containing clerestory windows…..(photo by Ricky Berkey)
---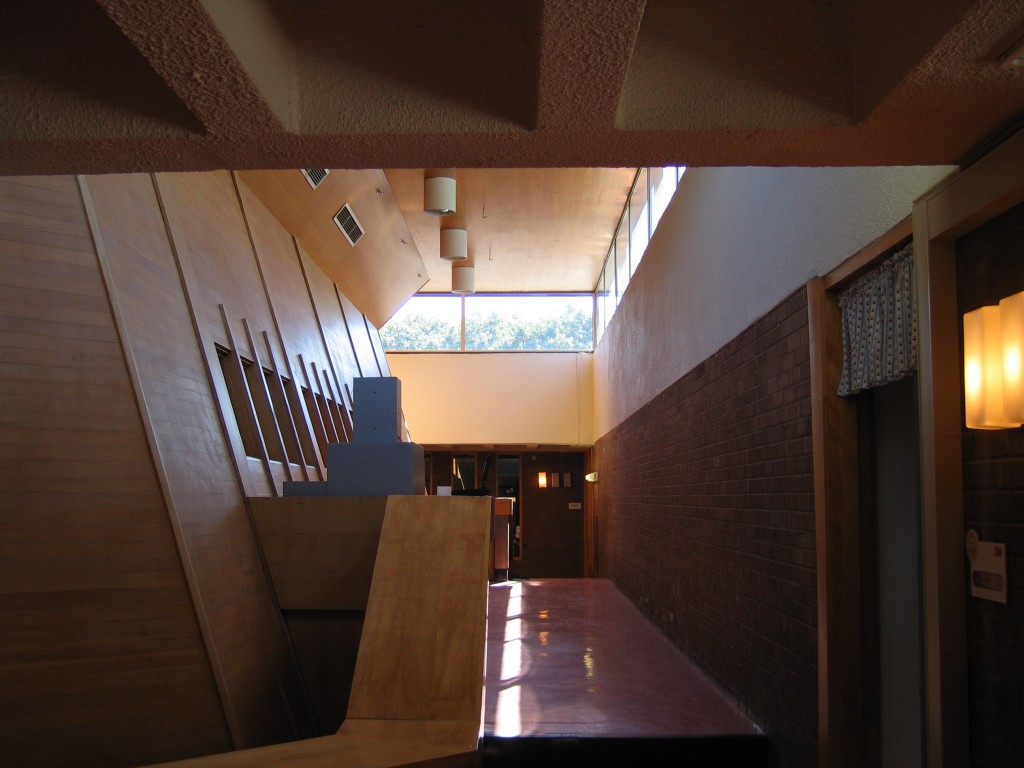 Multi-purpose room on left, note clerestory windows above…..(photo by Ricky Berkey)
---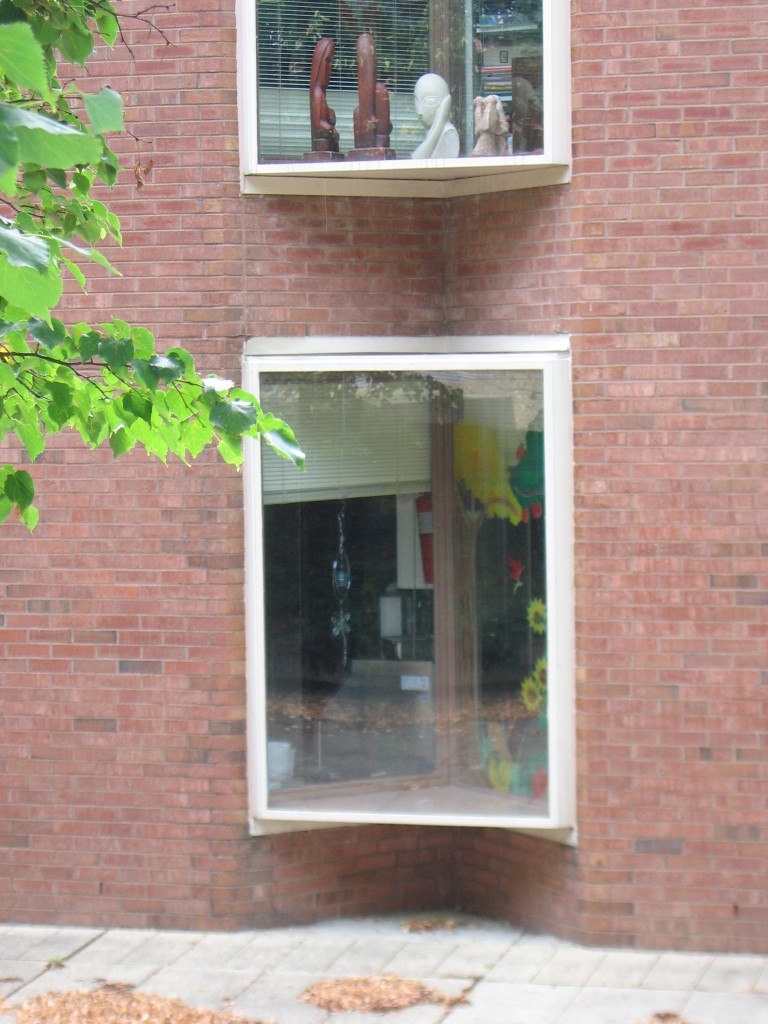 Exterior window, note how it opens into two separate classrooms…..(photo by Ricky Berkey)
---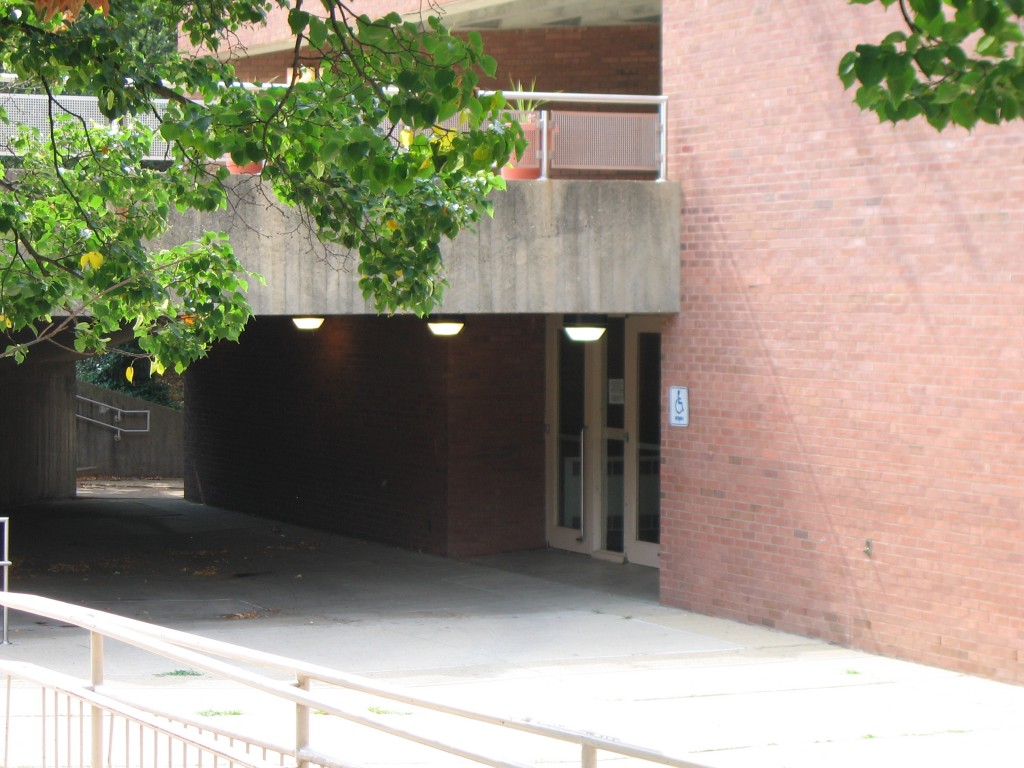 Lower level entrance under stairs…..(photo by Ricky Berkey)
---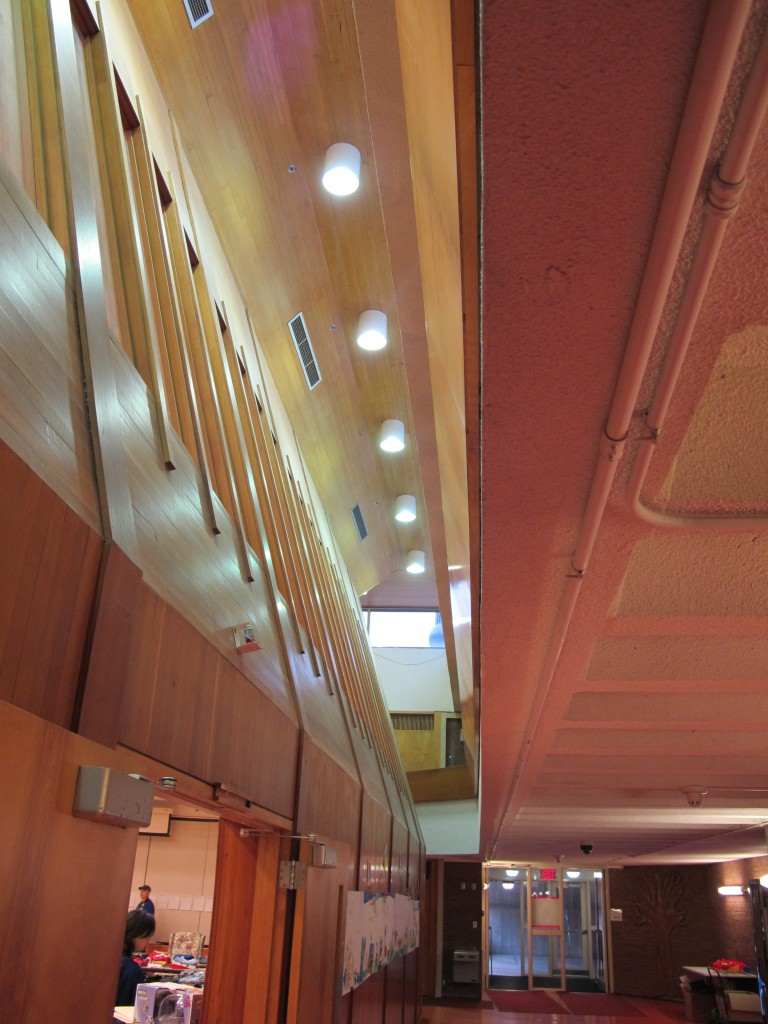 View from lower corridor, entrance into multi-purpose room…..(photo by Ricky Berkey)
---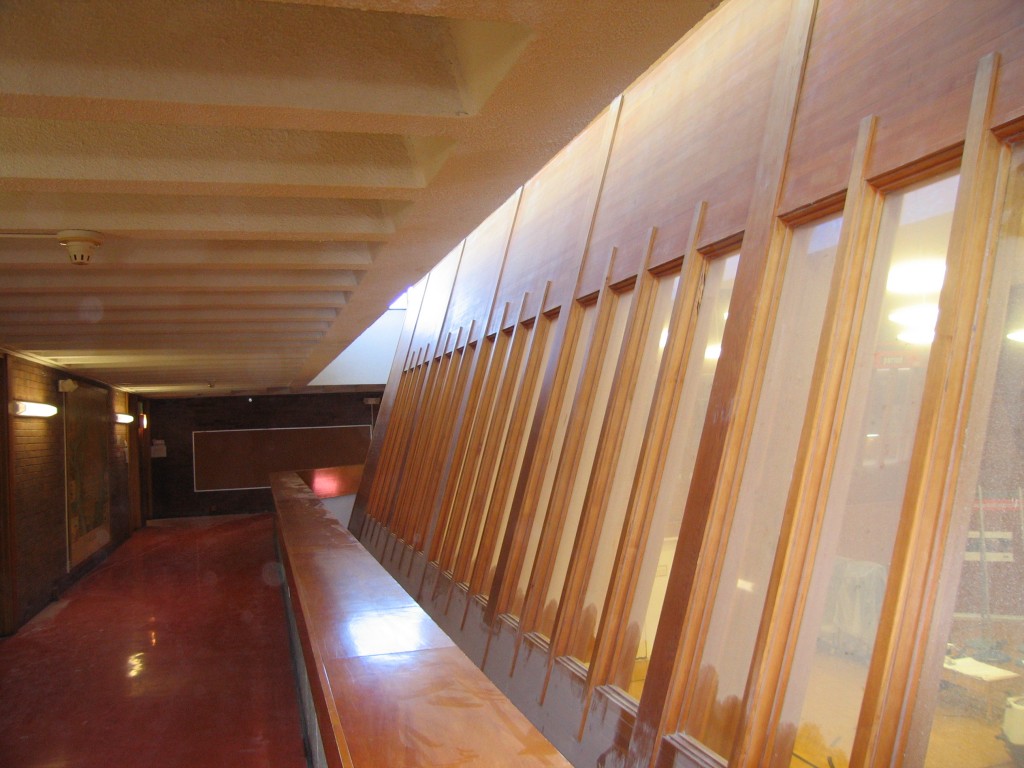 Upper level corridor, multi-purpose room on the right…..(photo by Ricky Berkey)
---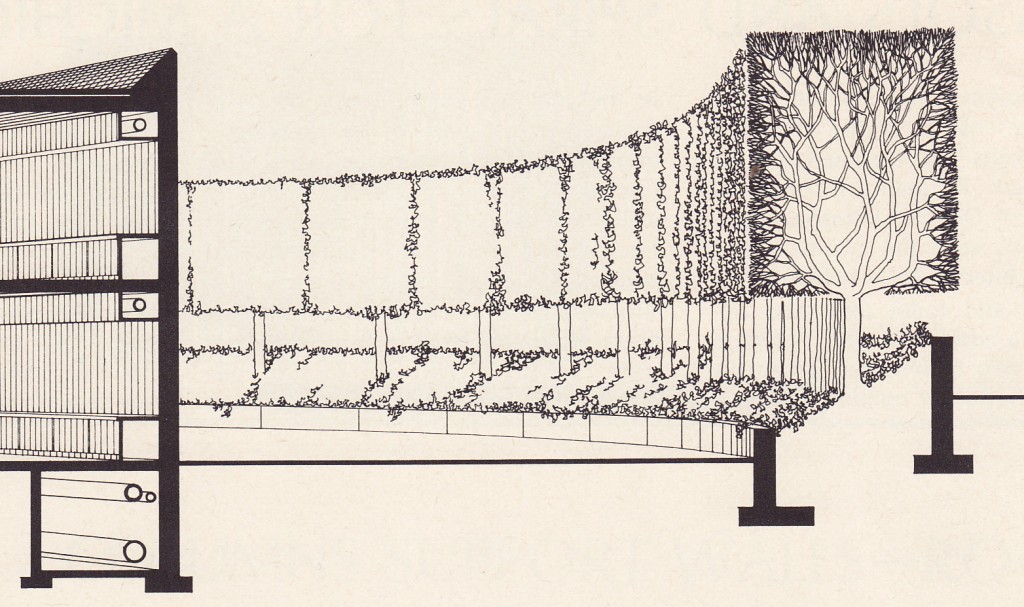 An original concept showing the ring of trees pleached and trimmed in a continuous rectangular form, was vetoed as too costly and not maintainable…..(graphic used pending permission, do not copy)
---
The Architect
---
Gunnar Birkerts

Born January 17th, 1925 in Riga, Latvia
Technische Hochschule (Stuttgart, Germany), 1949
---
Gunnar Birkerts was born and raised in Latvia but fled ahead of the advancing Russian army toward the end of WW2. He graduated from the Technische Hochschule in Stuttgart, Germany in 1949 with a degree in architecture and engineering before coming to the United States.
---
Birkerts worked for Perkins and Will in Chicago from 1950-51 before joining Eero Saarinen in Bloomfield, Hills Michigan. He became lead designer for Minoru Yamasaki in 1955 before opening his own office in the Detroit suburbs as Birkerts and Staub in 1959 which became Gunnar Birkerts & Associates in 1963. Upon opening his own practice he said: "my apprenticeship was over. Now it was my turn to speak". Over the years he developed a reputation as one of our foremost modernist architects. His many projects include museums, corporate headquarters and government buildings for clients in the United States, Europe, and South America. He is noted for his expressive forms emphasizing dynamic flow and illumination of space. He often used lighting as a design element:
"reflected, diffused or directionally washed over an enclosing plane…can give enormous richness to an otherwise simple, uninteresting space".
Gunnar Birkerts & Associates received Honor Awards for its projects from the American Institute of Architects (AIA) in 1962, 1970, 1973, as well as numerous awards from the Michigan Society of Architects and the local chapter of the AIA. The 1970 award was for our Lincoln Elementary School which was built in 1967. Gunnar Birkerts was selected as a Fellow of the American Institute of Architects in 1970 and a Fellow of the Latvian Architect Association in 1971. He has received numerous other individual awards in Michigan, the United States and his native Latvia.
---
Birkerts joined the faculty at the University of Michigan College of Architecture in 1959 and taught until 1990. He has also taught at the University of Illinois and the University of Oklahoma.
---
Birkerts is still active as an architect and now maintains an architectural office in Wellesley, Massachusetts.
---
Selected Birkerts Projects
1966: Detroit Institute of Art, South Wing – Detroit, Michigan
1967: Lincoln Elementary School – Columbus, Indiana
1971: Detroit Institute of Art, North Wing – Detroit, Michigan
1972: Contemporary Arts Museum – Houston, Texas
1973: Marquette Plaza (formerly Federal Reserve Bank) – Minneapolis, Minnesota
1980: Corning Museum of Glass – Corning, New York
1986: Dominos World HQ – Ann Arbor, Michigan
1988: St. Peters Lutheran Church – Columbus, Indiana
1989: U.S. Embassy – Caracas, Venezuela
1994: Kemper Museum of Contemporary Art – Kansas City, Missouri
---
Historic Columbus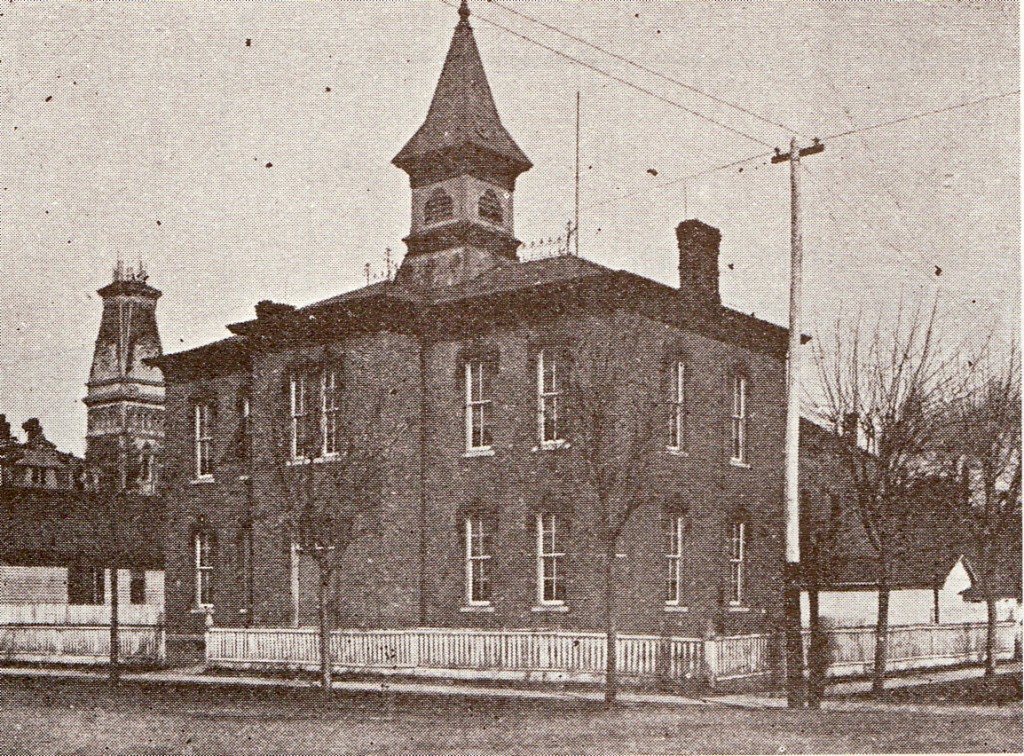 This is the original Lincoln Elementary School at 2nd and Franklin and dates back to 1878. It is the oldest school building in the county that is still standing. It was renovated as office space in 1987.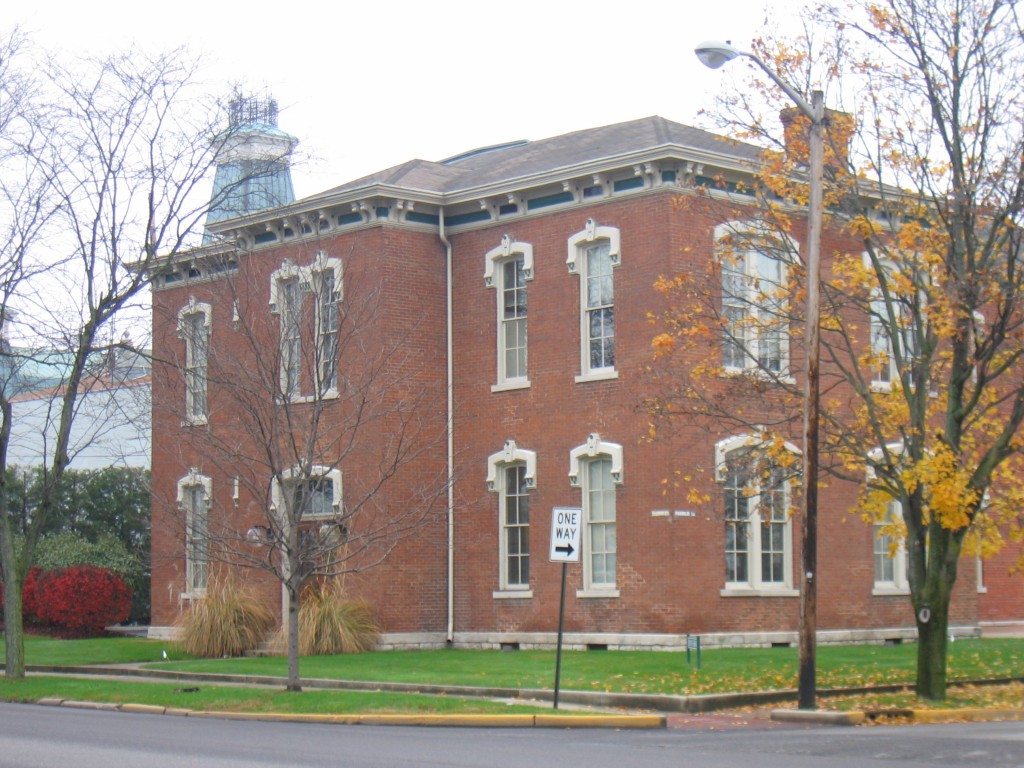 Lincoln Square as it looks today (photo by Ricky Berkey)
---
Links/References
Gunnar Birkerts Architect Website
Gunnar Birkerts Archives (Bentley Historical Library)
Gunnar Birkerts Archives (Bentley Historical Library)
"The Architecture of Gunnar Birkerts" – book covering his career and projects from 1957-1989
"Gunnar Birkerts – – Metaphoric Modernist" – more recent (2009) book covering his career and projects
"Gunnar Birkerts: Buildings, Projects and Thoughts (1960-1985)" – book by Birkerts on his projects and design process (features a lot of his own drawings and models)
City of Columbus: official City of Columbus website
Columbus Indiana Architectural Archives
Columbus Indiana Architecture Digital Archives: A small portion of the Columbus Indiana Architectural Archives available online from the IUPUI digital library
3D Models of Columbus Architecture Executed in Google SketchUp:
The Republic Newspaper – Columbus, Indiana newspaper
Bartholomew County Public Library
Historic Columbus Website – David Sechrest's tribute to Columbus History
Historic Columbus Message Board – a companion interactive forum to the David Sechrest historical website
Bartholomew County Historical Society
---

Click HERE for a Calendar of Upcoming Events in the Columbus Area.
Click HERE for information about Tours of Columbus Architecture and Design including the Miller House.
---

Ricky Berkey
Email me: rickyberkey@gmail.com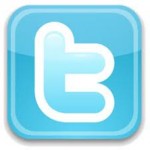 Follow me on Twitter:
---