(v11.22.16)


---
L. Frances Smith Elementary School
Built: 1969
Architect: John M. Johansen (New Caanan, Connecticut)
Associate Architect: Ashok Bhavnani




Contractors:
Repp and Mundt
Dunlap Mechanical
Otto Electric Co.




Addition & Renovation: 1997
Architect: Christen Johansen
---
Smith Elementary was one of the most controversial buildings in Columbus history because it was so unorthodox and at first glance seemed confusing, even threatening to local residents. A flurry of angry letters to the editor of our newspaper finally stopped when the students of the school started sending their own letters with expressions of pride for their unique school building. One of the key ideas behind the Cummins Foundation Architecture program was that students could be proud of going to a school that was unique and unlike any other. This school certainly fit that criteria.
---
Although Columbus tends to be a fairly conservative town, our school system has always been on the forefront of new trends and ideas in teaching. They have been brave enough to try new things and not afraid to change back if those experiments failed within our own environment. Many of our seventies schools were designed for the open-format concept and then later modified back to more traditional classroom settings when it appeared that the students weren't thriving in those over-stimulating, sometimes noisy environments. In this case the architect was challenged to design a school with some amount of flexibility and re-configuration built-in. The school wished to pursue team teaching and be a "continuous progress" school where students would be able to progress at a rate best suited for them.
---
What Johansen came up with was a series of classroom wings of varying sizes that fan out from an elevated administration area and library in the center. Johansen described it as a "nodal organization: centrifugal or explosive in disposition of its parts". At the main level were the kindergarten, special ed, music and art rooms, cafeteria and multi-purpose room. From here three academic areas were located at progressively higher levels by grade. These academic "complexes" contained teaching areas for 6 teachers with a special section that controlled each area and also served as a place for special projects.
---
These modular sections on four levels were connected by a series of tubular ramps made of brightly painted corrugated steel which the students almost immediately started calling "gerbil tubes". The ramps had a concrete floor and were carpeted around the entire tubular interior. The walls and sometimes even the overhead of the tubes were often decorated with student artwork. Each modular section and it's connecting tube had a different and distinctive color scheme. In addition, the overhead heating ducts and water pipes were left exposed and labeled and painted in bright colors. After the architect visited the newly completed school he insisted on adding a short concrete connecting ramp to the lower level kindergarten section as he encountered the youngest students who felt left out due to being on ground level. There was one enclosed stairway leading directly to the administration area allowing them to bypass the tube system. Fire ramps lead directly outside from each of the modular complexes.
---
Building materials used were cor-ten steel and reinforced concrete. Exterior walls were covered in cor-ten steel. Foundations and all upper levels are of reinforced concrete. The concrete surfaces by design presented a rough almost unfinished look. The tubes connecting the modules were made of corrugated steel. The original 1969 building consisted of 22 classrooms, library, kitchen/cafeteria, multipurpose room and admin offices on an 11 acre site. Carpeting covered all hallways, classrooms and office areas.
---
As in most of our elementary schools this one was named for a local educator whose accomplishments were well known throughout the area. Miss L. Francis Smith (1901-1971) was the director and supervisor of elementary education from 1937 thru her retirement in 1961. Prior to that she had been an elementary teacher for 10 years at the Wayne and Jefferson Elementary Schools. Some may remember her fathers business, Smith Photographic Studio, that was at the corner of 5th and Washington for many years.
---
Smith Elementary was dedicated in 1969. Visitors and parents at the main courtyard entrance under the admin module encountered a dynamic (some would say confusing) series of colorful tubes taking off in every direction. Students took delight in assisting visitors in reaching their destination. Public opinion seemed soundly against the building, many agreeing with someone who called it "architectural anarchy". It was described as a "freaked-out soybean factory" and as a "cubist grain elevator". The fuss soon died down and the students and faculty alike were proud of their unique school.
---
Problems with the building included extensive rust stains on the concrete surfaces caused by the cor-ten steel. Cor-ten steel is a product designed to quickly oxidize and provide a maintenance free surface but it can sometimes cause other problems either due to faulty installation or simply limitations of the product. There were also many rainwater leaks into the tubes requiring constant re-caulking. Space limitations began to become a problem as well and an addition to the building became necessary. The original design was meant to be flexible and easily expanded.
---
Christen Johansen (son of John M. Johansen ) designed the expansion and renovation in 1997. The renovation added more classroom space and a new library. The cor-ten steel was removed and replaced with bronze-toned corrugated steel due to the staining problems. The addition was a faithful and nearly seamless addition to his father's original conception. A new gymnasium, cafeteria and art wings were added. The new gymnasium is halfway underground and serves as a tornado shelter. A special feature of the gymnasium is the 22 x 80 foot translucent insulated fiberglass wall. All facilities in the school were made accessible to all by means of ramps, lifts or elevators.
---
Smith Elementary seldom gets much notice these days as it's in a quiet neighborhood setting and mostly seen by neighbors, students and their families. It's worth a visit by visitors as well as residents to see this unique and fun little structure. Like the rest of our Columbus architecture it was never meant to be a showplace but intended as a functional solution to a community need.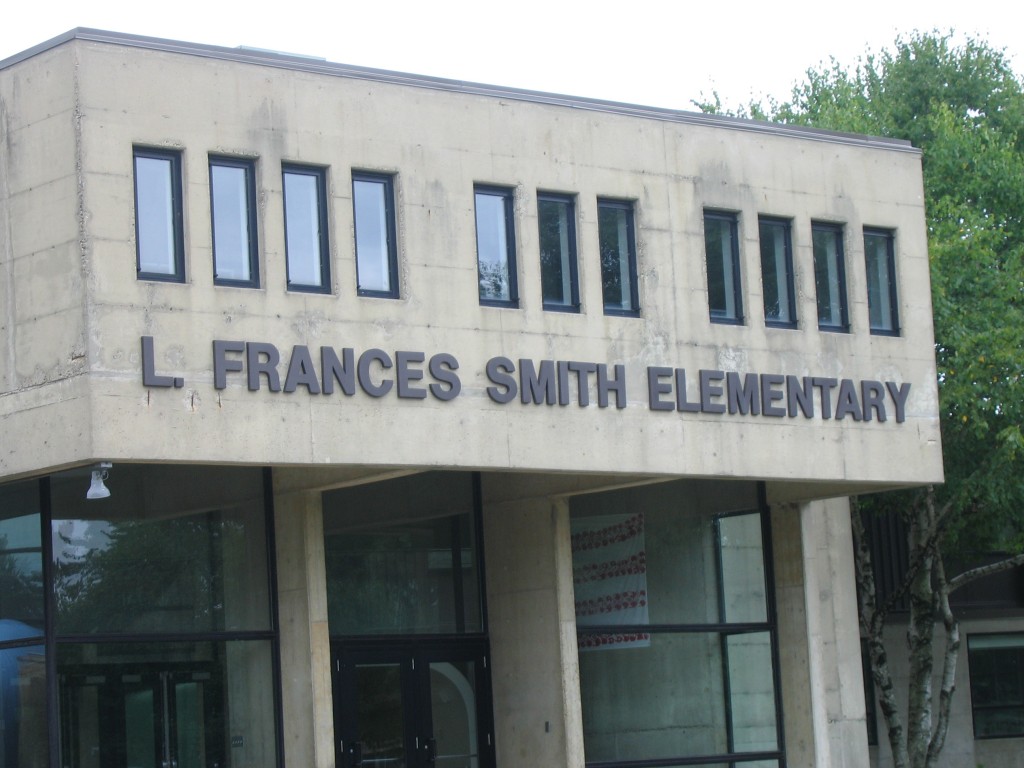 Front Entry (photo by Ricky Berkey)
---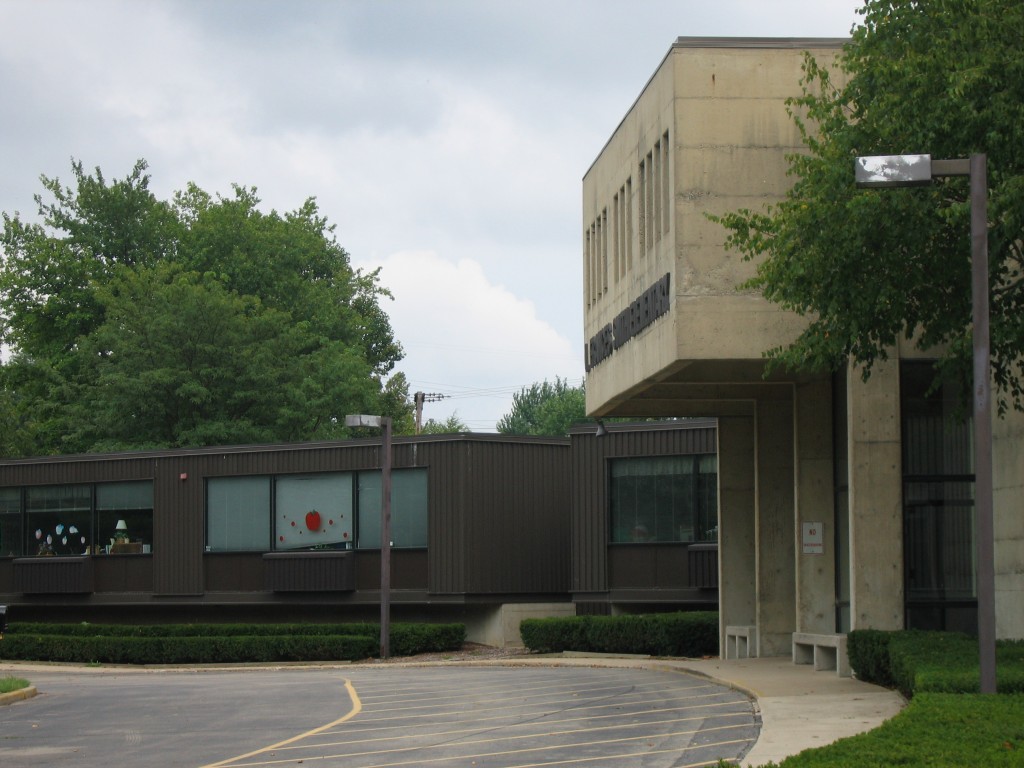 Front Entry and one of the lower level modules (photo by Ricky Berkey)
---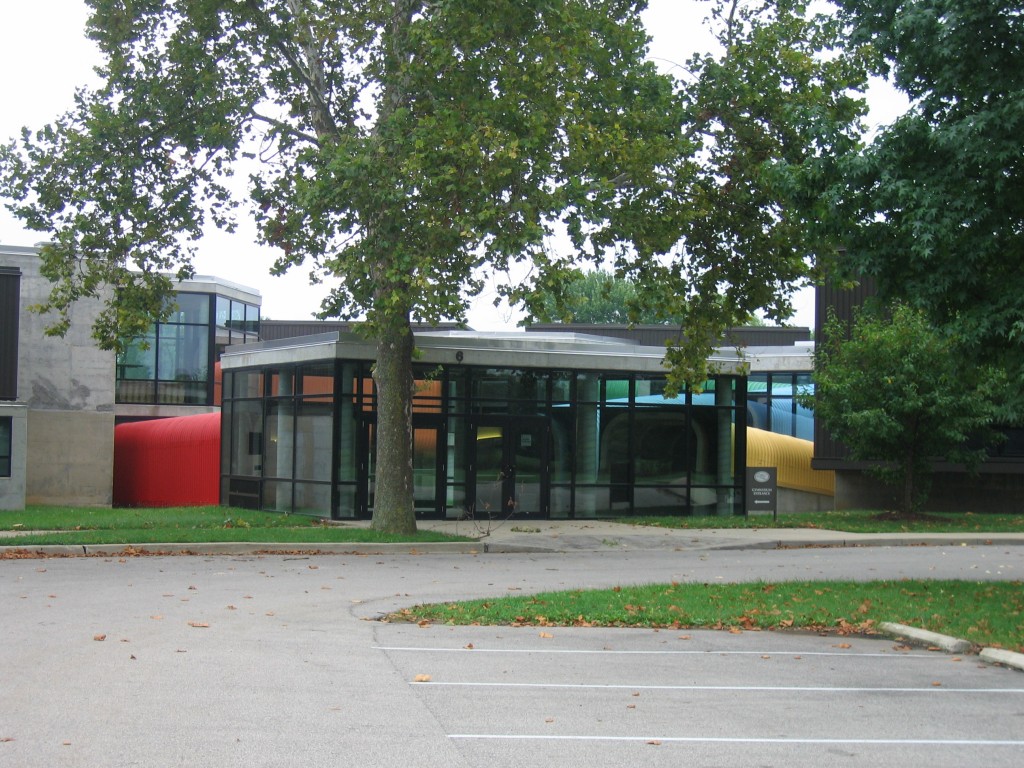 (photo by Ricky Berkey)
---
Connecting tubes between modules (photo by Ricky Berkey)
---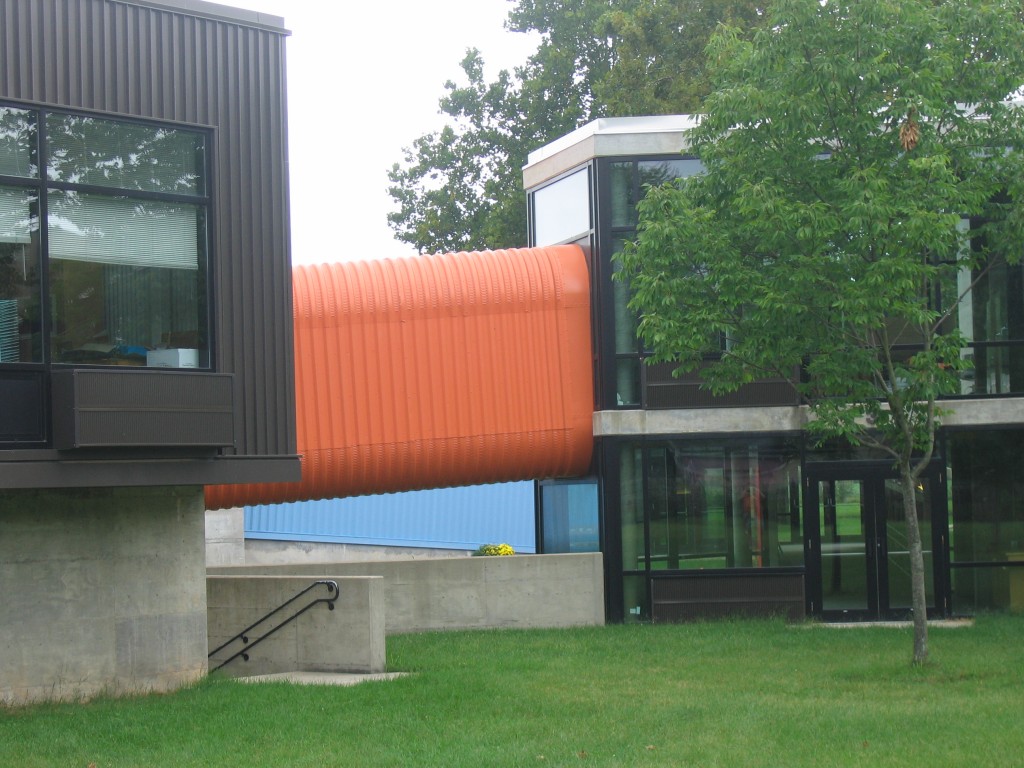 Connecting tubes (photo by Ricky Berkey)
---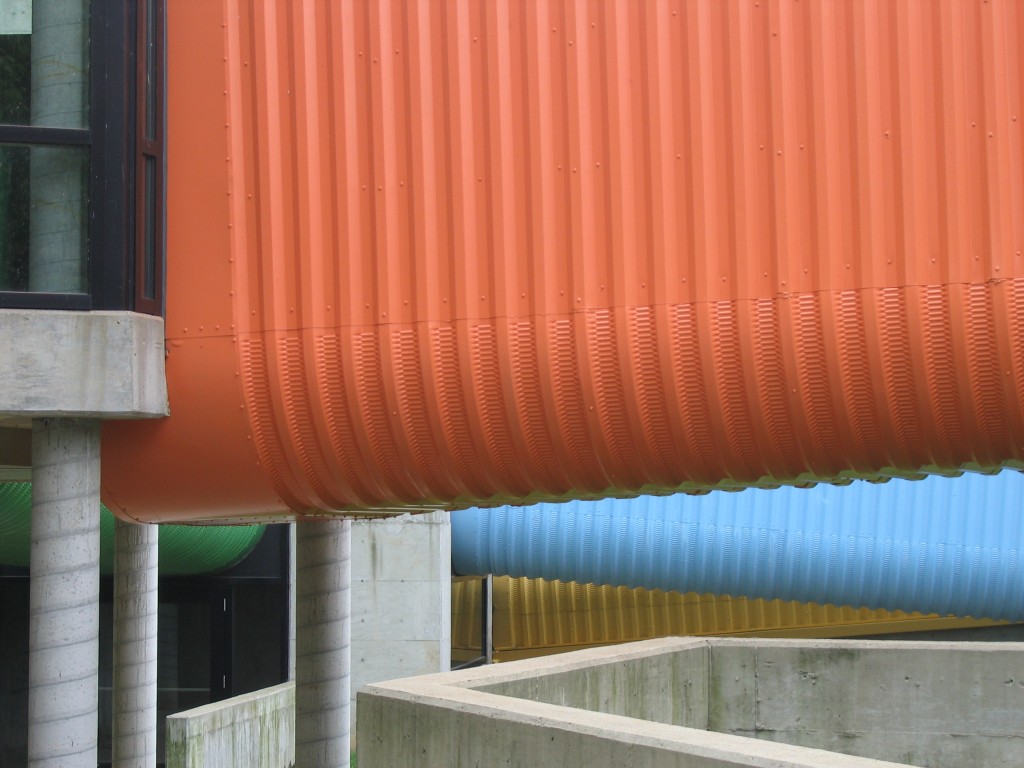 Connecting tubes (photo by Ricky Berkey)
---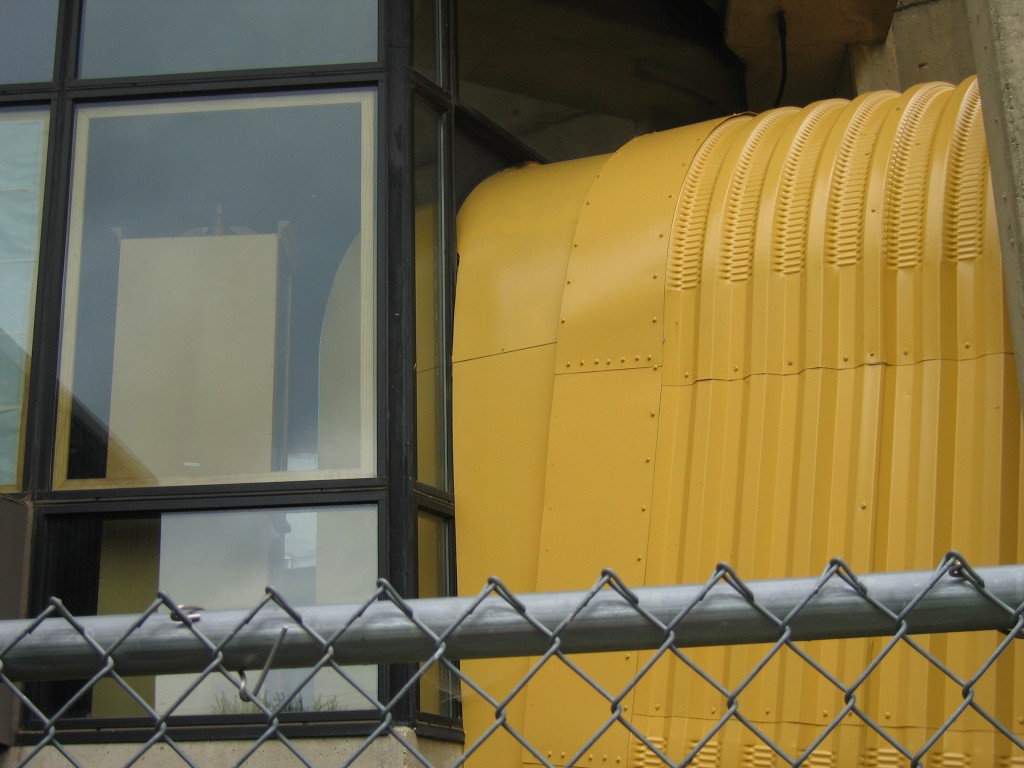 Tube entering module (photo by Ricky Berkey)
---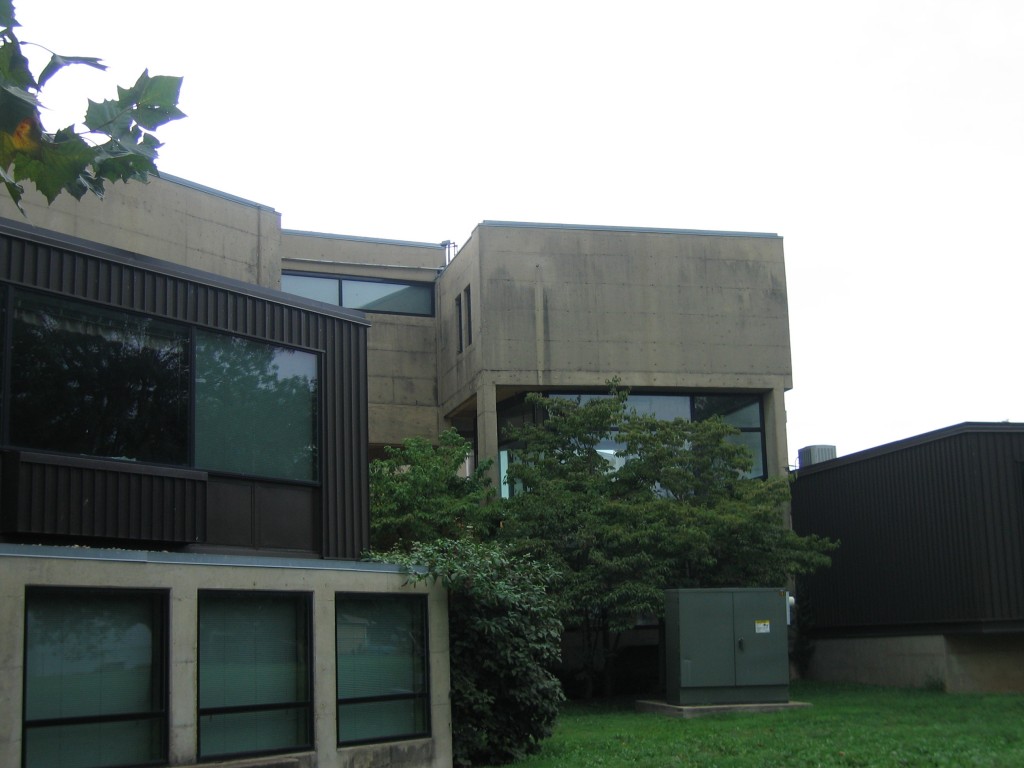 Shows concrete and corrugated steel construction (photo by Ricky Berkey)
---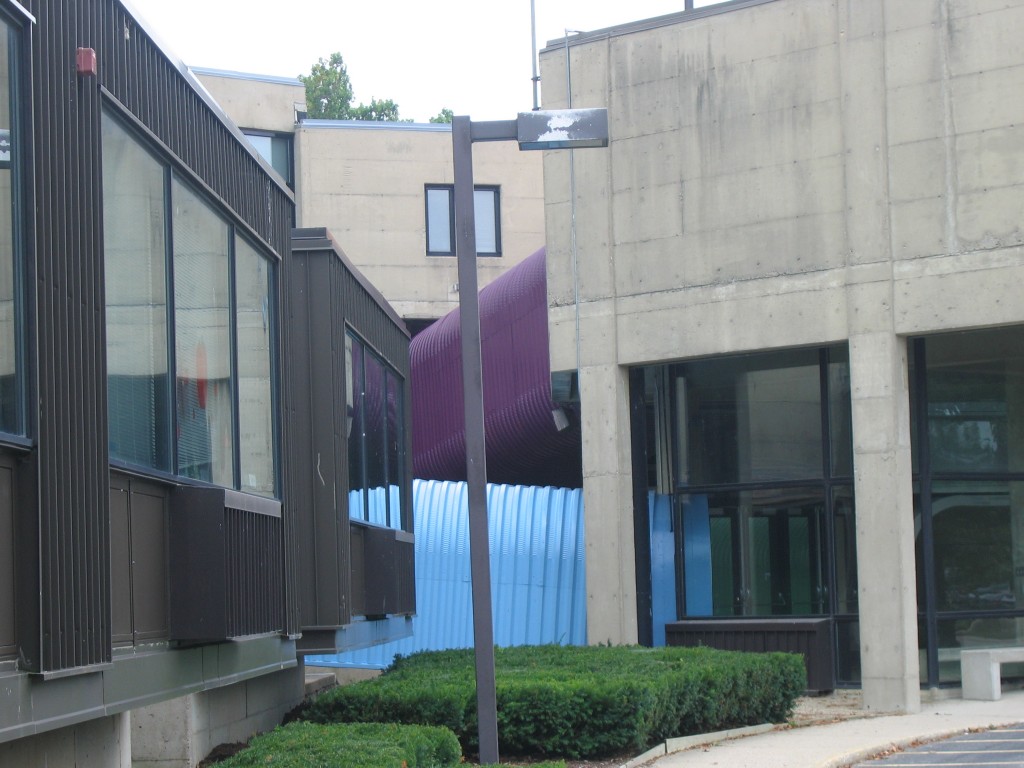 (photo by Ricky Berkey)
---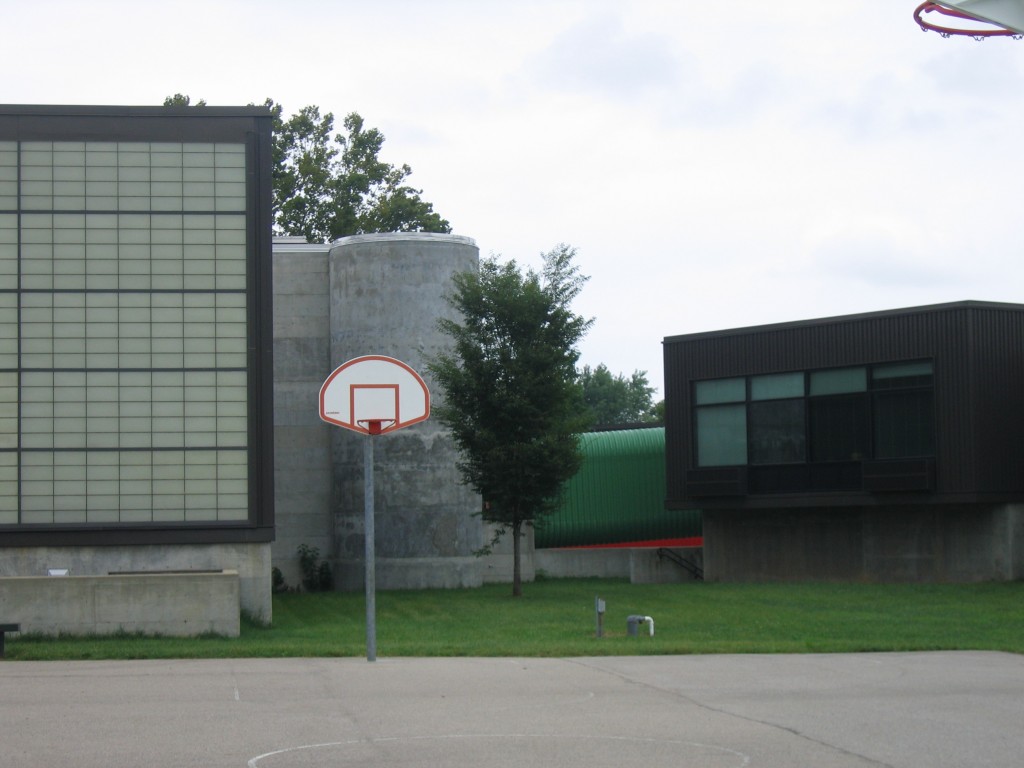 New gymnasium on the left (photo by Ricky Berkey)
---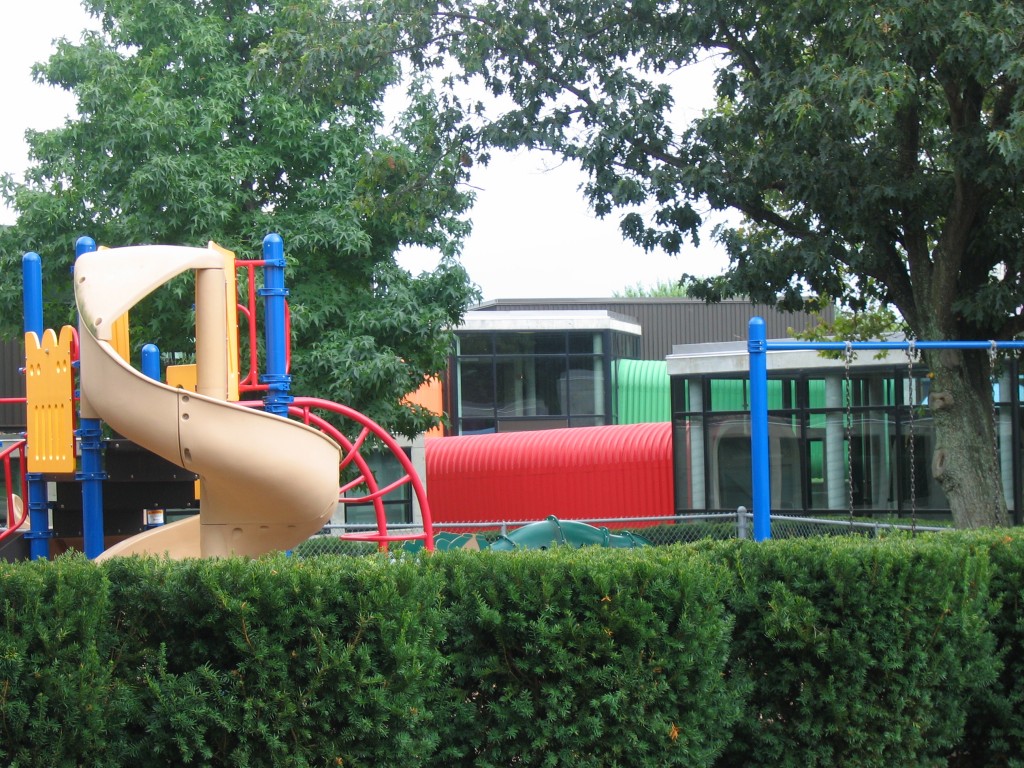 View from the play area (photo by Ricky Berkey)
---
---
The Architect
---

John M. Johansen
Born 1916 in New York City
Harvard University, 1939, 1942
---
John Maclane Johansen grew up in an artistic family (both his parents were painters). He remembers his childhood mind filled with special places, enclosures and fantastic ideas that he incorporated into many of his works.
---
He studied at Harvard under Walter Gropius, the founder of the Bahaus and one of the originators of the international/modernist style. He was immediately hired as a draftsman for Marcel Breuer, later working as a researcher for the National Housing Agency in Washington D.C. prior to joining the New York office of Skidmore, Owings and Merrill (SOM).
---
He established his own practice in New Caanan, Connecticut in 1948. Other architects living and practicing in New Caanan at the time were Phillip Johnson, Eliot Noyes, Marcel Breuer and Landis Gores. Together they became known as the "Harvard 5", representing Harvard graduates breaking away from the classic forms of architecture that were traditionally taught there.
---
Over the years he taught at Harvard, Columbia, Yale, MIT, the Carnegie Institute, the Rhode Island School of Design and the Pratt Institute. He has won many honors over his career including an Award of Merit from the American Institute of Architects (AIA).
---
Many early projects involved his explorations into one of the basic elements of modernist architecture, the "box". Simple geometric shapes were at the heart of the modernist movement. Later Jorgensen incorporated modernistic interpretations of Palladian and other neo-classical architectural elements into many of his works. His design projects include residential, educational, commercial, ecclesiastical and civic works. From 1973 to 1987 he entered into an architecture partnership with Ashok Bhavnani. In later years he has concentrated on writing and lecturing about architectural theory.
---
Selected Projects
Johansen House #1 – New Caanan, Conneticut (1950)
Warner House ("Bridge House") – New Caanan, Connecticut (1957)
Clowes Hall – Indianapolis (1963)
US Embassy – Dublin (1964)
Taylor House ("The Labyrinth House") – Westport, Connecticut (1966)
Morris A. Mechanic Theater – Baltimore (1967)
Telephone Pole House – Greenwich, Connecticut (1968)
Robert H. Goddard Library – Clark University (1969)
L. Frances Smith Elementary – Columbus, Indiana (1969)
Mummers Theatre – Oklahoma City (1970)
Plastic Tent House – Stanfordville, New York (1975)
---
Links/References
John M. Johansen: Official Website
John M. Johansen: A Life in the Continuum of Modern Architecture – book by Johansen on his career and philosophy
Architecture and Metaphor: the Career of John M. Johansen: Article
City of Columbus: official City of Columbus website
Columbus Indiana Architectural Archives
Columbus Indiana Architecture Digital Archives: A small portion of the Columbus Indiana Architectural Archives available online from the IUPUI digital library
3D Models of Columbus Architecture Executed in Google SketchUp:
The Republic Newspaper – Columbus, Indiana newspaper
Bartholomew County Public Library
Historic Columbus Website – David Sechrest's tribute to Columbus History
Historic Columbus Message Board – a companion interactive forum to the David Sechrest historical website
Bartholomew County Historical Society
---

Click HERE for a Calendar of Upcoming Events in the Columbus Area.
Click HERE for information about Tours of Columbus Architecture and Design including the Miller House.
---

Ricky Berkey
Email me: rickyberkey@gmail.com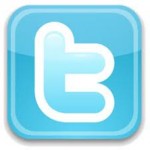 Follow me on Twitter:
---