---
(v12.08.14)
Art, Architecture and Design
This article spotlights a particular building or some other aspect of Columbus design. I welcome your comments, corrections and additions. Please share your experience and perceptions of these uniquely Columbus projects.

Harry Weese in Columbus
I am featuring projects in chronological order designed by Harry Weese in Columbus. Let me know what I missed. Harry Weese left behind a legacy of well-designed and well-used buildings in this community.
---
Columbus Village Apartments
1953
A housing project partially subsidized by Columbus with help from Cummins Engine Company meant to help alleviate the housing shortage. Construction took place in three phases through 1960. Although moderate to lower income housing today, these were high end apartments at the time. The graceful semi-circular buildings are still rather attractive and have apparently been fairly well maintained.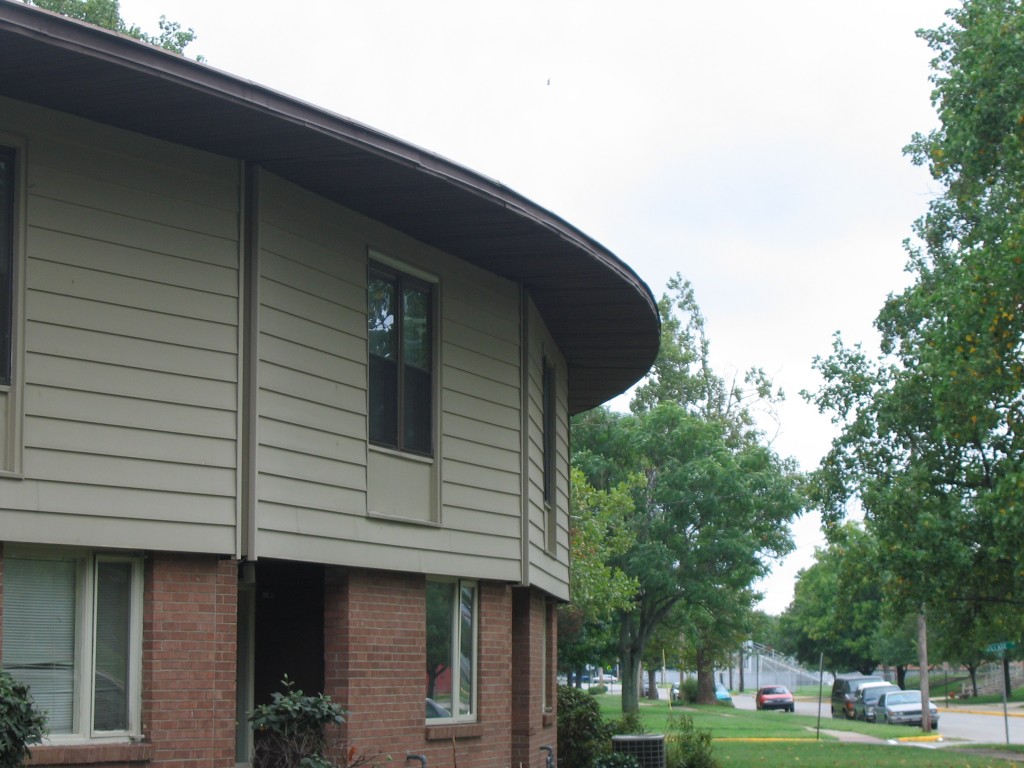 (photo by Ricky Berkey)
---
Bassett House
1953
House in on a hillside site overlooking two lakes. The house is a 1000 square foot structure with gray board and batten siding.
(photo used pending permission – do not copy)
---
Lauther House
1953
Modest house filled with natural light located in a residential neighborhood. One of the interior highlights is a pivoting kitchen section allowing residents to create different arrangements in the cooking and dining areas.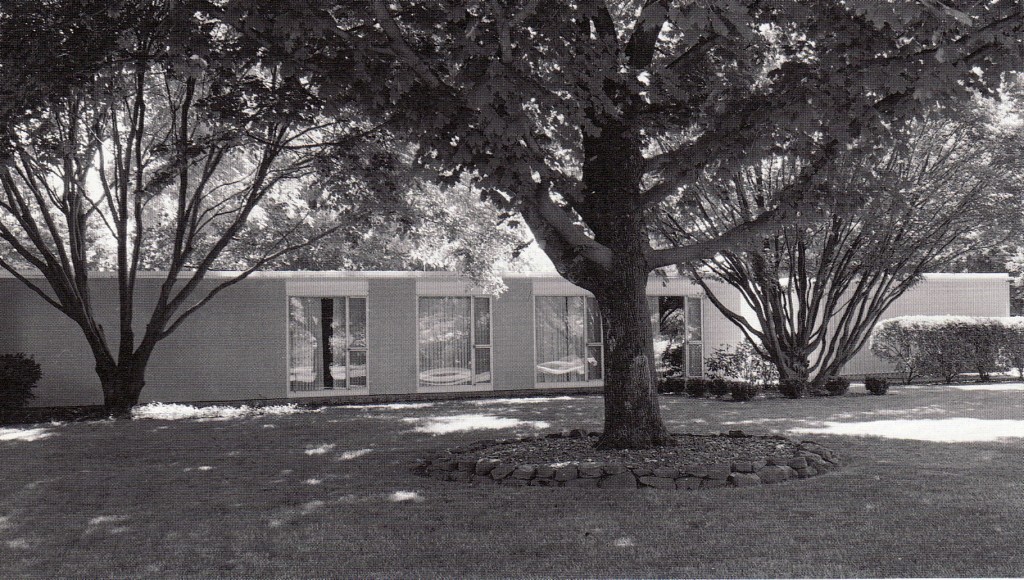 (photo used pending permission – do not copy)
---
Boys and Girls Club
1954
No longer standing but Weese designed a building here for the Boys and Girls club in 1954. When the Foundation for Youth expanded on this site in 1966, it was remodeled as the Girls Club facility. With a major addition to the FFY in 1998 the original Weese building was demolished.
---
Lillian C. Schmitt Elementary
1957
Original Harry Weese design consisted of 12 classrooms and a kindergarten in a natural blend of brick, glass and wood. Each classroom had a peaked roofline giving the building an interesting zigzag silhouette complementing the residential areas nearby.
---
This was the first Columbus building built under the Cummins Foundation Architectural program where the design fees were paid for by the foundation. In 1992 a radically different addition was built designed by Leers, Weinzapfel & Associates.
(photo by Ricky Berkey)
---
Irwin-Union Bank (Hope Branch)
1958
Building is built of rust-red brick designed to fit into the village square environment of Hope (a small town adjacent to Columbus). Features a glass clerestory over which the roof of multiple pyramidal domes appears to "float".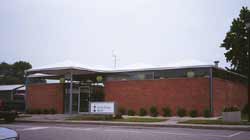 (photo used pending permission – do not copy)
---
Lincoln Center Ice Skating Rink (now called the Hamilton Center)
1958
Originally an outdoor ice skating rink with an Swiss chalet style building of rough-hewn granite and glass with an interior beamed triple peaked roof. The highlight of the interior was the circular fireplace surrounded by wooden benches to warm chilly skaters. It featured a skate resistant floor for ease of entry and exit for the skaters. Harry Weese described the building as a "Black Forest setting for exhilarating evenings under the stars".
---
The center was a gift to the community from the Hamilton Foundation as a memorial to B.F. Hamilton, founder of the Cosco, Inc. The outdoor skating rink was enclosed in 1975 in a style very complementary to the original Harry Weese design.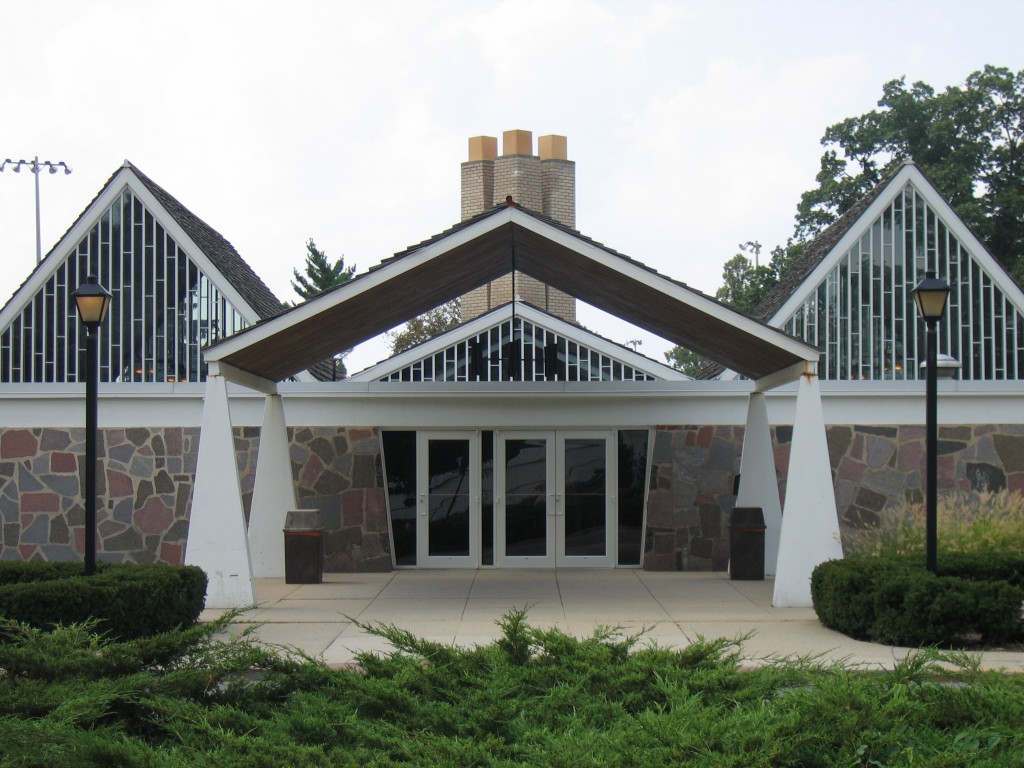 (photo by Ricky Berkey)
---
Bartholomew County Home for the Aged (now used by the Salvation Army)
1959
This was originally a county-owned residential facility for the indigent elderly. Constructed in two wings (one for men and the other for women) connected by a lounge and dining area. Materials used were brick and concrete block with wood accents.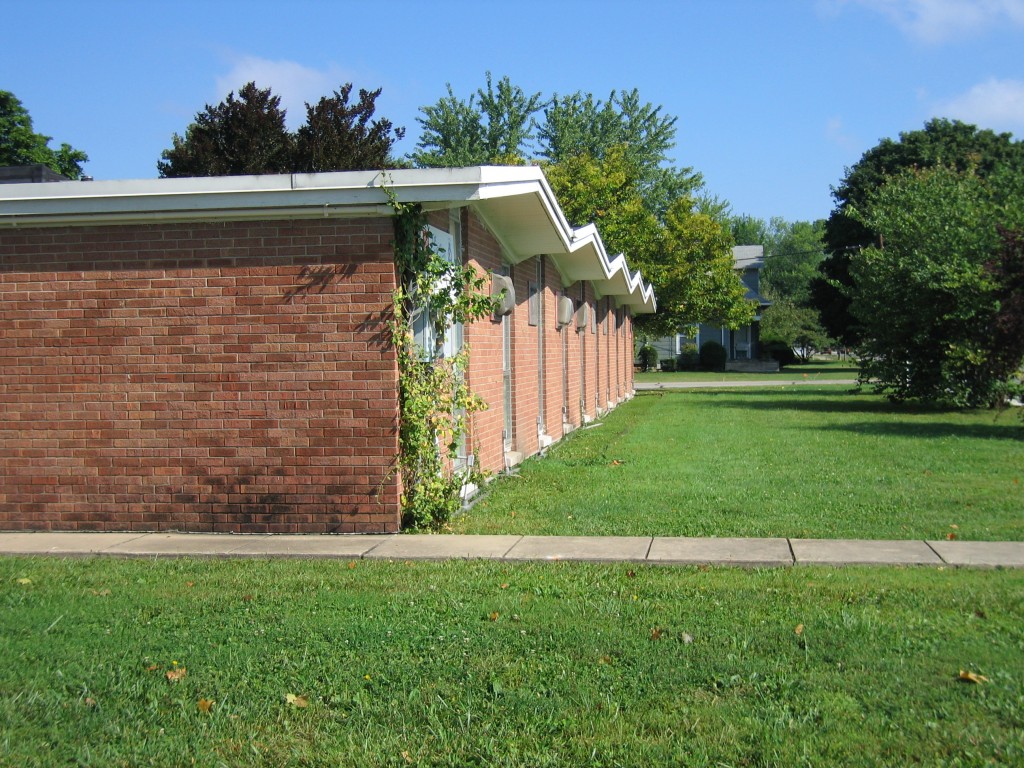 (photo by Ricky Berkey)
---
Irwin-Union Bank (original State Street Branch)
1961
Building is adjacent to a small shopping center which Weese also designed. The interior features a quarry tile floor and exposed plank roof. The building now houses a flower shop.
---
Irwin-Union Bank (Eastbrook Plaza Branch)
1961
Four towers which are a prominent feature of the design house the drive-up teller windows as well as the heating and air conditioning units. Built of gray-glazed brick, the building is alongside the Haw Creek. Weese said that the effect of its massive towers and reflecting pool was evocative of a child's vision of a castle. Locals have affectionately termed it as the "dead horse".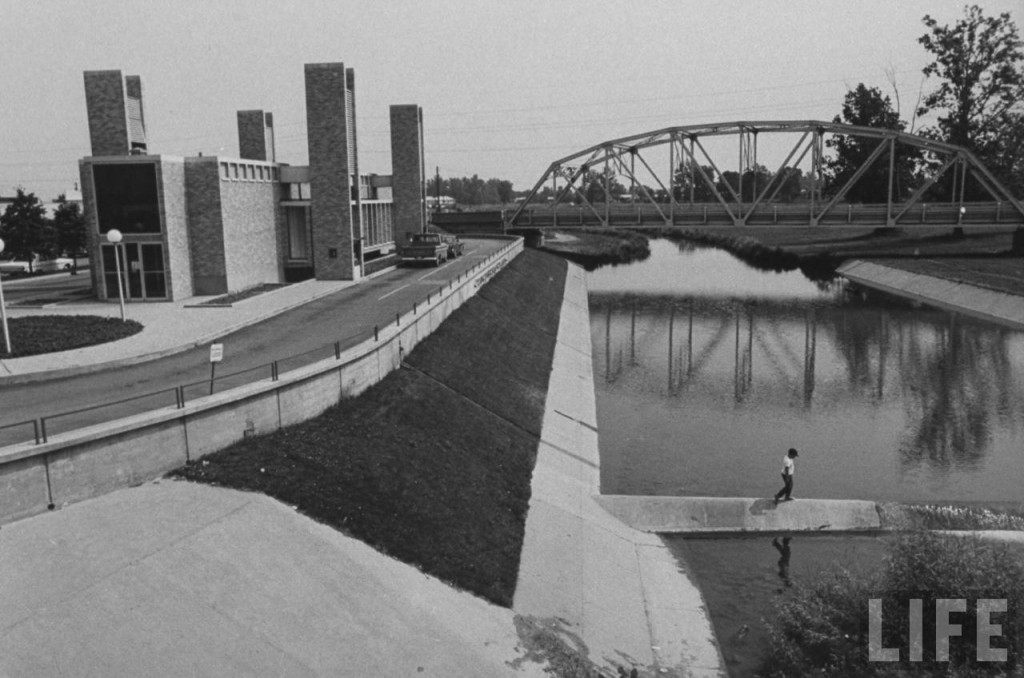 (used pending permission – Life magazine archive – do not copy)
---
Northside Junior High School (now Northside Middle School)
1961
Harry Weese described this school as a "firm statement of the dignity and prominence in the community that a school should possess." The building features repetitive brick arches mostly with inset windows. The hallways (lined with student lockers) are filled with natural light from glass-inset arches overhead which filters light into the halls from the classrooms. A landscaped interior courtyard was offset from the center of the building. In 1992 a radically different addition was built designed by Leers, Weinzapfel & Associates.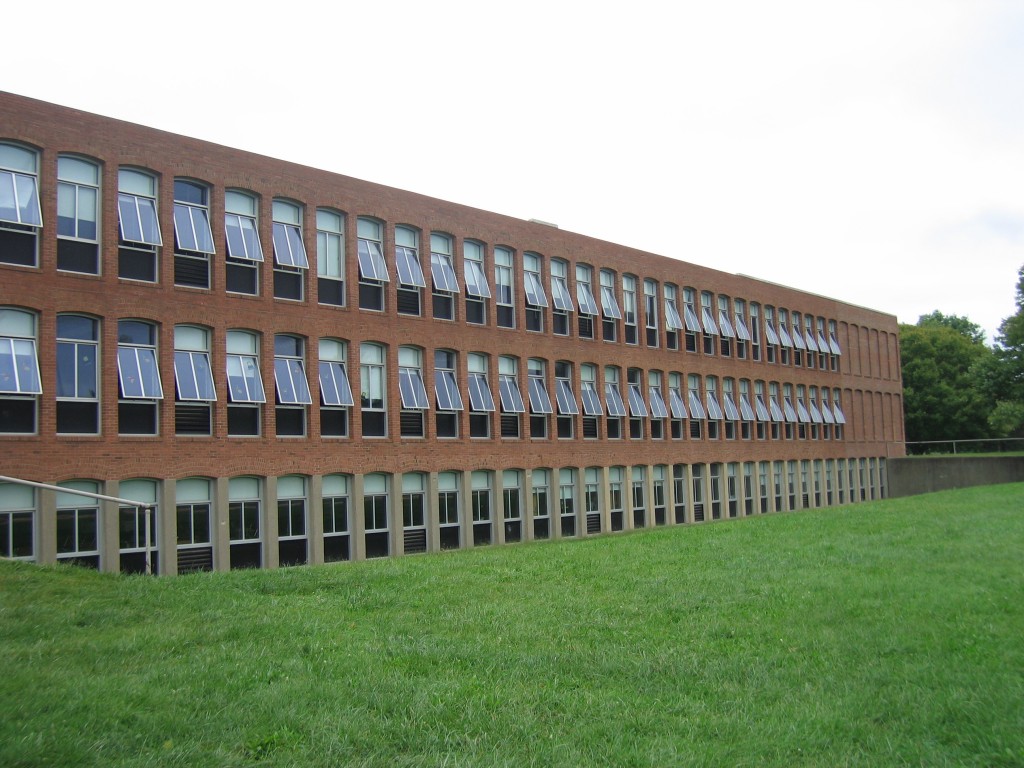 (photo by Ricky Berkey)
---
Cosco, Inc. Office Building
Landscaping: Dan Kiley
1962
Cosco was a growing Columbus manufacturing company needing more space. Their foundation had chosen Harry Weese a few years earlier to design the ice skating facility that they had gifted to the city. Harry Weese redesigned their manufacturing facility adding office space as well as a new research facility. One of his main intentions was to create a park-like setting around the building. His brick and glass design was enhanced by Dan Kiley's landscaping plan. Kiley used a variety of trees including ginkgo, river birch, hornbeam, oaks and yews with a groundcovering of euonymus. Now part of the Dorel Juvenile Group, the facility has been remodeled and expanded several times leaving only small but still significant portions of the Weese exterior and the Kiley grounds.
---
Otter Creek Golf Course Clubhouse
Golf Course Design: Robert Trent Jones
Landscaping: Dan Kiley
1964
Otter Creek Golf Course is still one of the most highly regarded public golf courses in the country. The course was developed by Cummins Engine company and donated to the community. The award winning course was designed by Robert Trent Jones to meet the needs of expert as well as casual golfers. Harry Weese designed the glass walled clubhouse building whose windows and porches overlook the course. He made extensive use of wooden materials and glass arranged in geometric patterns to give it a modern feel yet still fit into the natural surroundings and its rural setting the on the outskirts of Columbus. Dan Kiley had originally lined the driveway to the clubhouse area with double rows of willow trees which led to a circular pool and fountain at the entrance. These were later replaced with littleleaf linden trees.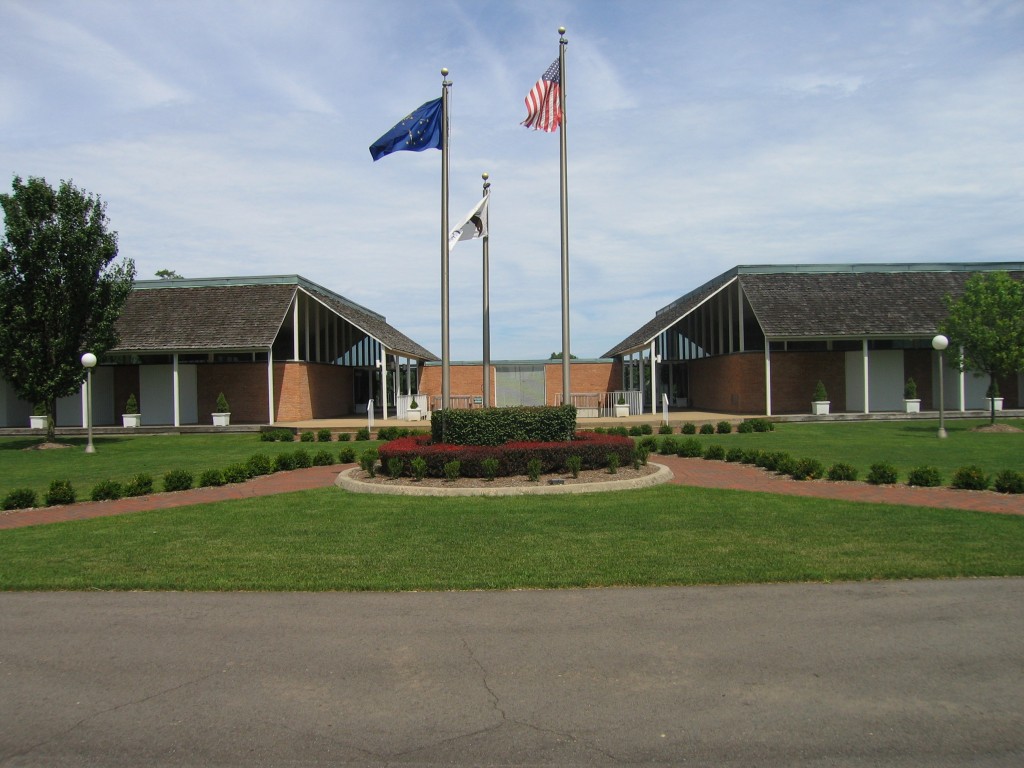 (photo by Ricky Berkey)
---
Newlin House
1964
This residence is characterized by the brick archways around the main entrance and carport with a copper-clad mansard roof. A glass roofed atrium covers a sunken brick garden inside which opens to the living and dining areas through brick archways.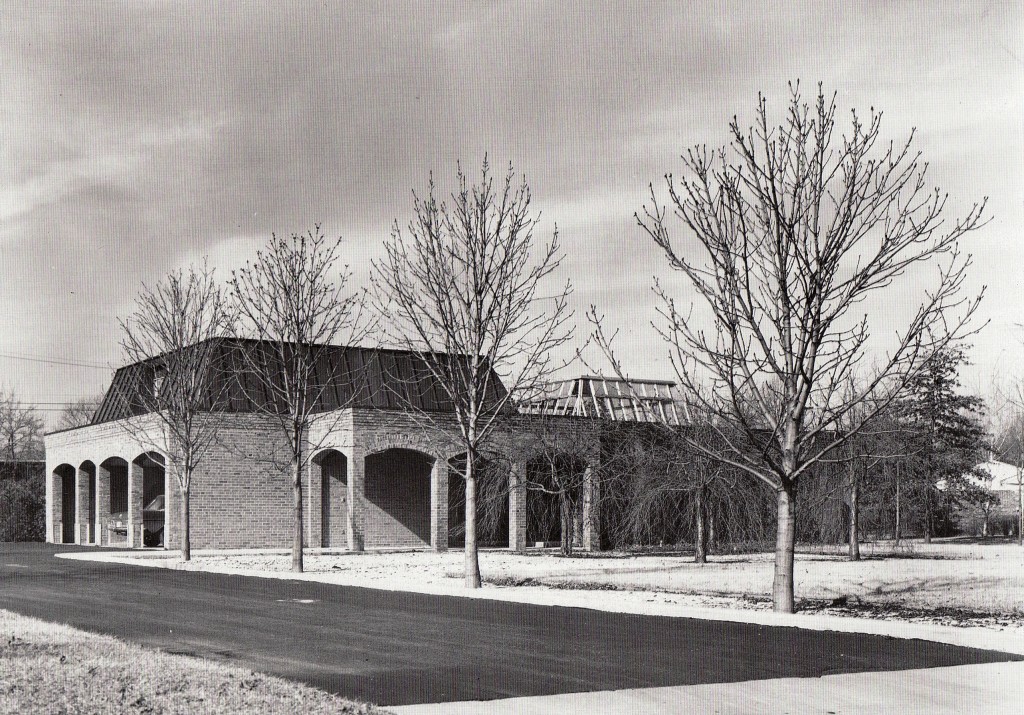 (photo used pending permission – do not copy)
---
First Baptist Church
Landscaping: Dan Kiley
1965
This National Historic Landmark church was built on the brow of a gently sloping knoll, on one of the very highest points of the flat landscape of Columbus. It has often been described as a modern abstraction of a Gothic European cathedral, executing traditional liturgical forms in very modernistic ways. The very steep slate roof is twice as high as the supporting brick walls encasing the high A-frame sanctuary. It is a two story building utilizing the natural topography so that the main entrance occurs at the second level with the sanctuary and chapel adjacent along with an open courtyard. One of the prominent interior features is the wall of pierced brick at the front of the sanctuary formed by the flat one-dimensional bell tower. This pierced brick wall is reminiscent of a rood, a fixture in many European churches. This wall partially shields the choir and organist from the congregation. All sancutary elements are off-center except the wooden cross which seems to float in mid-air above the pulpit area. The altar area is filled with natural light coming from the narrow strip of vertical windows rising the height of the roof along the bell tower wall. The chapel is a miniature version of the main sanctuary positioned at a contrasting angle.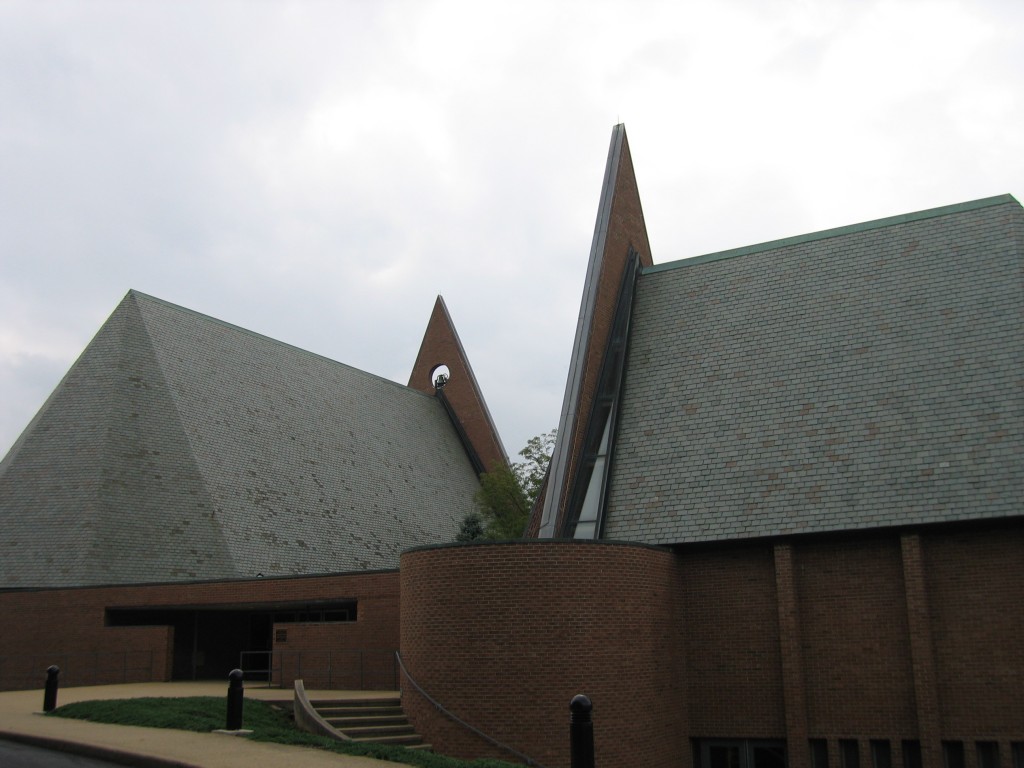 (photo by Ricky Berkey)
---
Cummins Engine Company Technical Center
Landscaping: Dan Kiley
1968
Consisting of two steel, concrete and glass buildings connected on the second level, the six-story office complex housing engineering offices and the two-level research/testing laboratory. The office building was constructed of concrete poured floor by floor with oblong pre-cast concrete sun shades attached to the extensive exterior windows. The ceilings in the building were made of pre-cast concrete incorporating the electrical and mechanical systems. The research lab used modular pre-cast concrete panels to form curtain walls which can be removed in sections to move large equipment in and out. Extensive landscaping around the project was executed by Dan Kiley.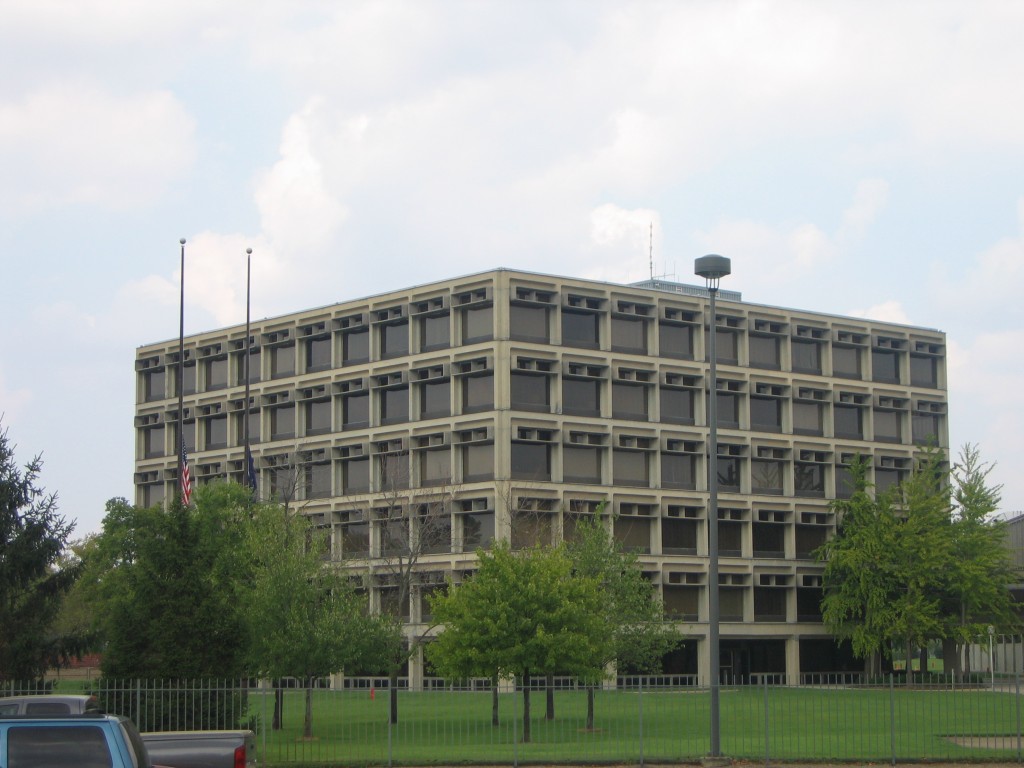 (photo by Ricky Berkey)
---
Harry Weese
Born June 30, 1915 in Evanston, Illinois
Died October 29, 1998
Yale University (1936-1937)
Massachusetts Institute of Technology (MIT) (1934-1938)
Cranbrook Academy (1939-1940)
---
Harry Weese was born in the Chicago suburbs and went on to become one of the most influential of the Chicago architects. His work predominated in Chicago, in little Columbus Indiana and around the world. His many projects ranging from high-rises and giant urban complexes to intimate residential designs remain as a testament to his genius.
---
Harry was a student of renowned Finnish architect Alvar Aalto at MIT. He also studied city planning at the Cranbrook Academy in Bloomfield Hills, Michigan where he met and became close friends of Charles Eames and Eero Saarinen. His life was greatly influenced by his brief time at Cranbrook and his later interior design work can be seen as a result. His association with Eero Saarinen led to many projects as Saarinen referred projects to Weese that he simply didn't have time to take on. He also became a close friend of J. Irwin Miller which led to over a dozen small projects in Columbus, Indiana.
---
He was primarily considered a modernist but his work was always shaped by the needs and vision of his clients. As a result his designs were almost always unique without an identifying personal style. Early on he worked for Skidmore, Owings and Merrill (SOM) but felt stifled in the world of corporate architecture and started his own much smaller firm in 1947. He also became a fierce advocate of historic preservation and city planning. He had a lifelong interest in sailing and boat-building which was often reflected in his designs especially in some of his residential projects.
---
His luster was tarnished in later years as his drinking and personal problems put a sad footnote on what should have been a celebrated life. After numerous stints in rehab clinics and several strokes his wife Kitty and family had him committed to the Illinois Veterans Home where he died quietly in 1998. Recently his work has come back into focus as a number of articles and a new book has been released on his life and works. Much like the recent surge of interest in Eero Saarinen, the work of Harry Weese is finally getting the critical respect and admiration that it always deserved.
---
Links/References
Harry Weese: fascinating recent article about his life and career
Harry Weese: recently published book, a career retrospective
Harry Weese Houses: (out of print book by Kitty Baldwin Weese)
Harry Weese Interview: part of the Chicago Architects Oral History Project
City of Columbus: official City of Columbus website
Columbus Indiana Architectural Archives
Columbus Indiana Architecture Digital Archives: A small portion of the Columbus Indiana Architectural Archives available online from the IUPUI digital library
3D Models of Columbus Architecture Executed in Google SketchUp:
The Republic Newspaper – Columbus, Indiana newspaper
Bartholomew County Public Library
Historic Columbus Website – David Sechrest's tribute to Columbus History
Historic Columbus Message Board – a companion interactive forum to the David Sechrest historical website
Bartholomew County Historical Society
---

Click HERE for a Calendar of Upcoming Events in the Columbus Area.
Click HERE for information about Tours of Columbus Architecture and Design including the Miller House.
---

Ricky Berkey
Email me: rickyberkey@gmail.com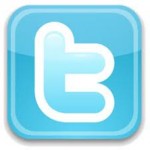 Follow me on Twitter:
---