---
(v12.08.14)
Art, Architecture and Design
This article spotlights a particular building or some other aspect of Columbus design. I welcome your comments, corrections and additions. Please feel free to share your experience and perceptions of these uniquely Columbus projects.

W.D. Richards Elementary School
Built: 1965
Principal Architect: Edward Larrabee Barnes
Design assistants: Jacquelin Robertson, Richard Moger and Thomas Dorste
Landscape Architect: Dan Kiley
Addition: 1997
Addition Architect: John M.Y. Lee / Michael Timchula Architects (Barnes was a design consultant on the 1997 addition)
---
Like most of our elementary schools, this was named for a beloved local educator. William Dalbert Richards (1884-1957) was a native of Bartholomew County and a teacher and principal in Columbus Elementary schools for 45 years. Design fees for the building were provided by the Cummins Foundation Architectural Program.
---
Richards features a distinctive roofline of bold slopes forming a saw-toothed silhouette meant to be reminiscent of the factories of our industrial heritage. Four 28 foot tall clerestories form a high spine over the multi-purpose area with lower clerestories over the classroom wings. Parallel corridors separate the center section from the classroom wings. The skylights provide maximum natural studio-style lighting as well as giving the classrooms more usable wall space since the most of the windows are overhead. Light enters the clerestories, bounce against the steep ceilings and indirectly diffuse throughout the open space. Adjacent to the multi-purpose area are centrally located art and music rooms. Wings flanking the entry area housed the kindergarten and office/library areas.
---
The building exterior is monochrome using dark brown brick with bright colors accenting the interior. The entire building is slightly elevated and seems to float upon a podium of earth. Together with nearby First Baptist Church which was constructed in the same time frame, the two imposing buildings add character to the otherwise undistinguished tract housing in the area. Roofing materials were originally intended to be copper but changed to asphalt shingles to bring down the project cost.
---
Classrooms in the original structure were in three room clusters separated by grade. Each room has it's own outside exit opening onto small plaza areas. Classrooms are brought down to child scale by porthole windows on the classroom doors graduated by grade levels at their height. Classroom fixtures and window sills are also at a child scale to balance the soaring ceilings.
---
The front entrance to the school facing west opened into a recessed terrace planted with magnolia trees. Original landscaping was done by Dan Kiley who had also done landscaping work on First Baptist Church across the street. This was one of the schools designated for the "park-school" concept allowing year round use of the facilities in conjunction with the parks department.
---
The original building had 18 classrooms as well as music and art rooms in a 52,220 square foot building with a 8,800 square foot basement. As the neighborhood grew the school began to experience severe overcrowding. The 1997 addition was a very seamless addition to the original using a similar style and materials. The 20,000 square foot addition included nine new classrooms as well as a new library, cafeteria and computer lab. Construction also included new loading facilities and a secondary courtyard with an entrance and bus area for kindergarden and first grade students. The new cafeteria has a curving glass wall on three sides overlooking the secondary entrance. The renovation also included rewiring the whole school for computer and media use, new lighting and ceilings throughout the building and improving accessibility for physically challenged children.
---
The playground area behind the school featured a sculpture entitled "Horses" by Constantino Nivola. The sculpture which was donated by Mr and Mrs J. Irwin Miller consisted of 12 stylized black, brown and white miniature fiberglass horses surrounding an ash tree like a merry-go-round. Unfortunately they did not hold up well and eventually had to be removed. At least one of the horses survived and is being held hostage in in the office of the school corporation superintendent!
---
The building was first occupied in September of 1965 with it's dedication on November 7th. Due to a construction strike and other delays the building was not quite finished when school began. Many of the high windows were not yet installed and birds had a tendency to fly into the building and swoop down over the dining area during lunch. The phone to the principals office was on a pole 50 feet from his open window. Playground equipment and even pencil sharpeners were still missing on the first day of school. Barnes flew back personally from New York just to assist in placing the pencil sharpeners in his precisely prepared locations.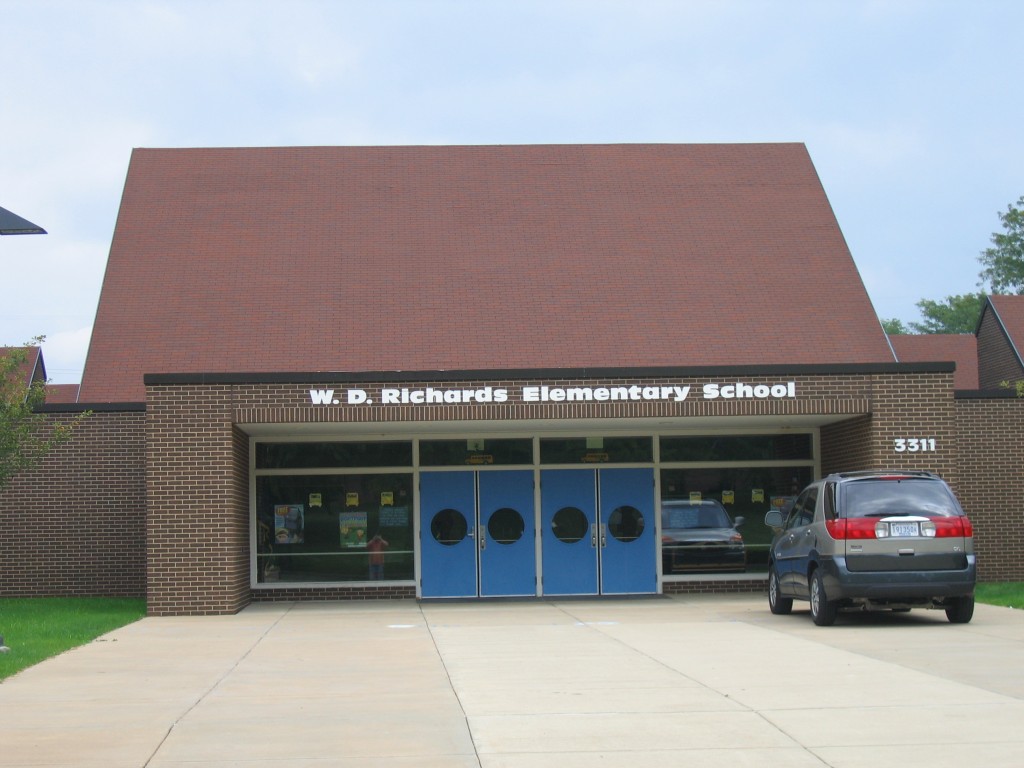 Front of school (photo by Ricky Berkey)
---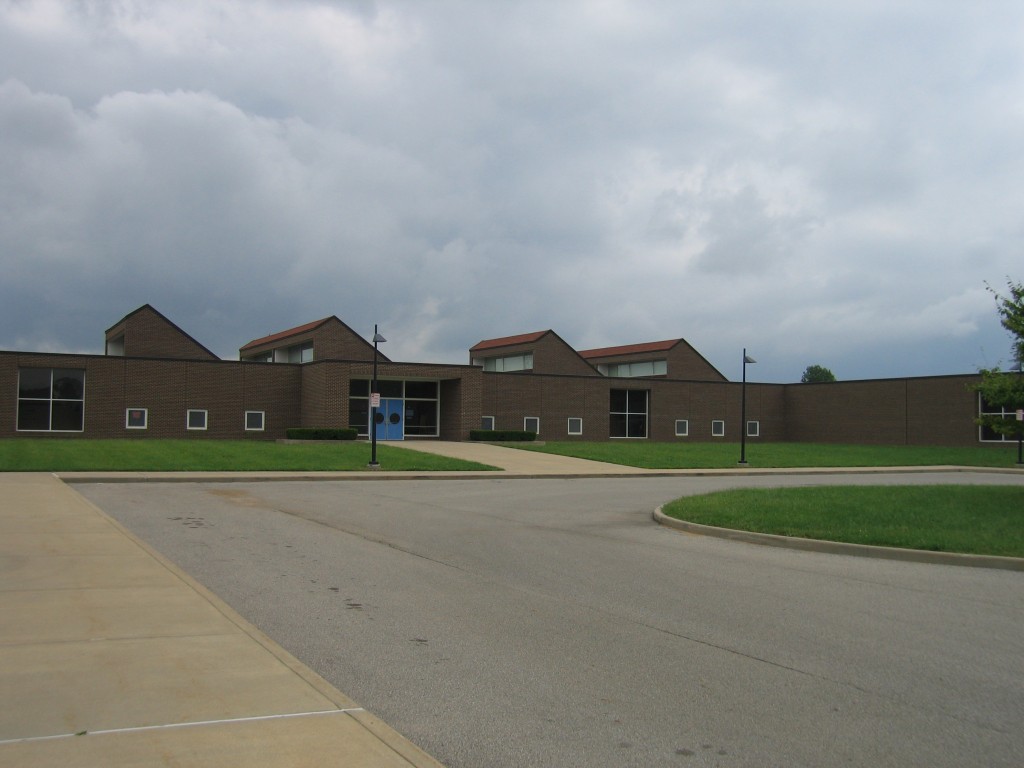 1997 Addition (photo by Ricky Berkey)
---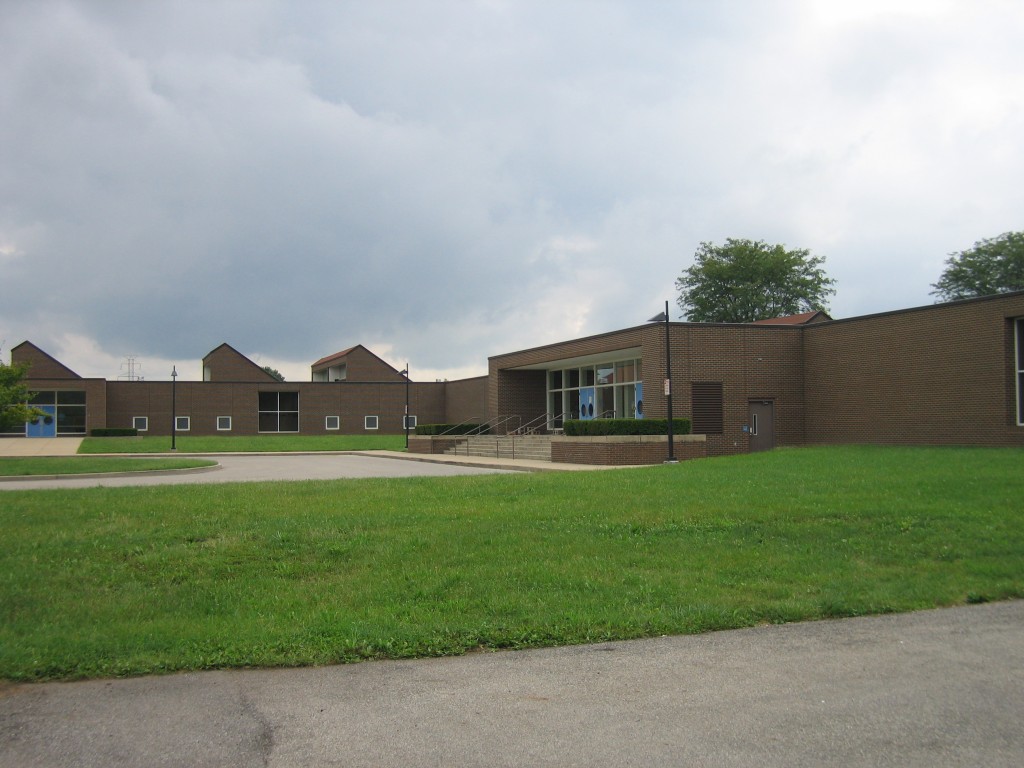 Rear entrance with new addition to the left (photo by Ricky Berkey)
---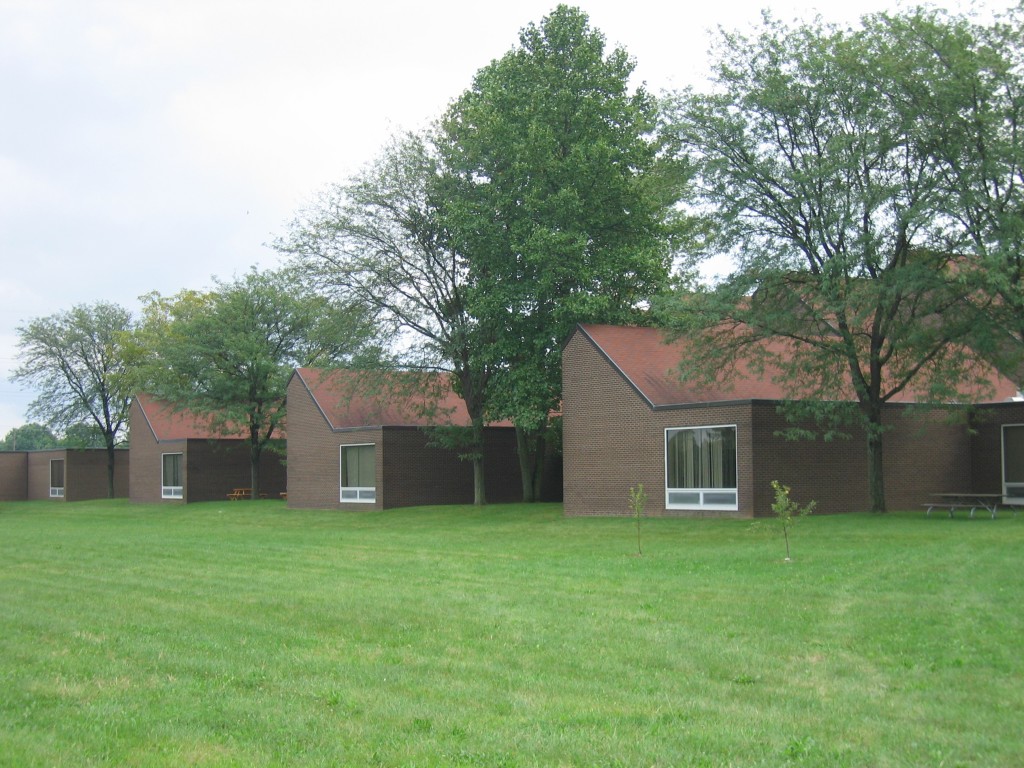 Left side of school showing classroom modules (photo by Ricky Berkey)
---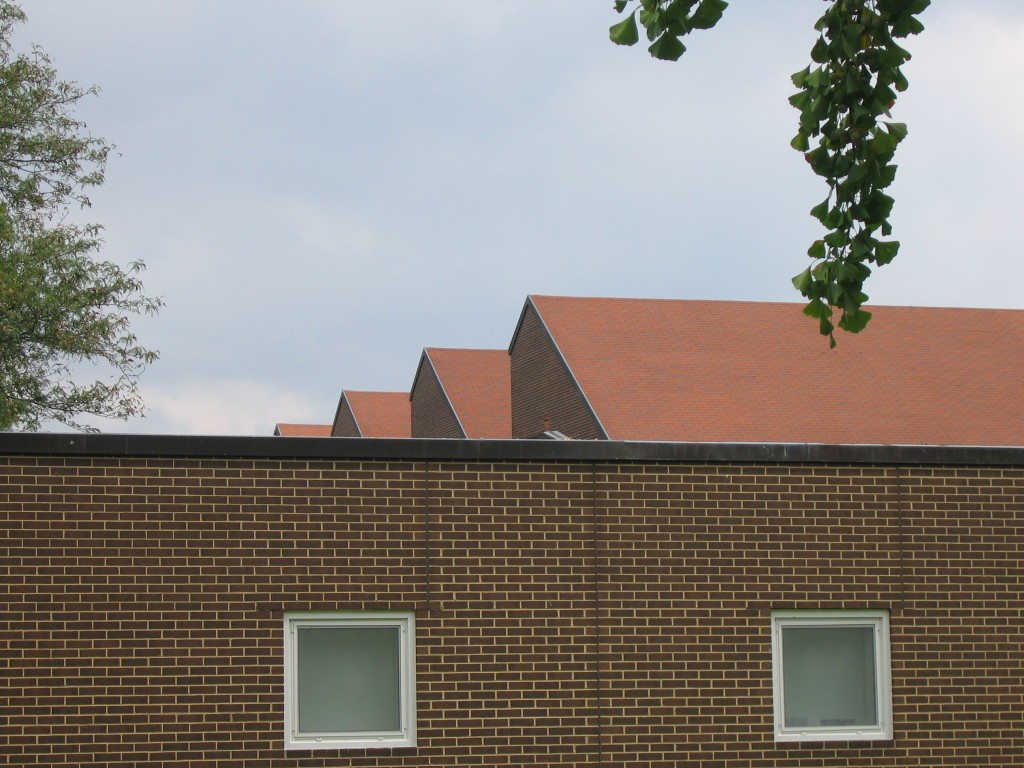 (photo by Ricky Berkey)
---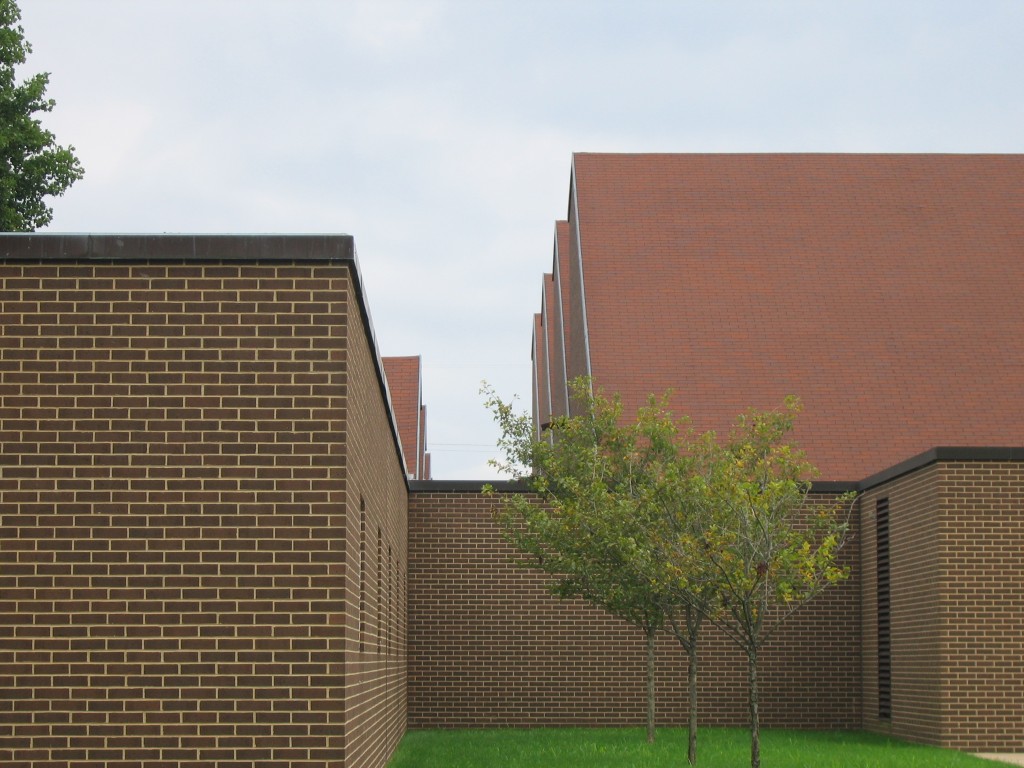 (photo by Ricky Berkey)
---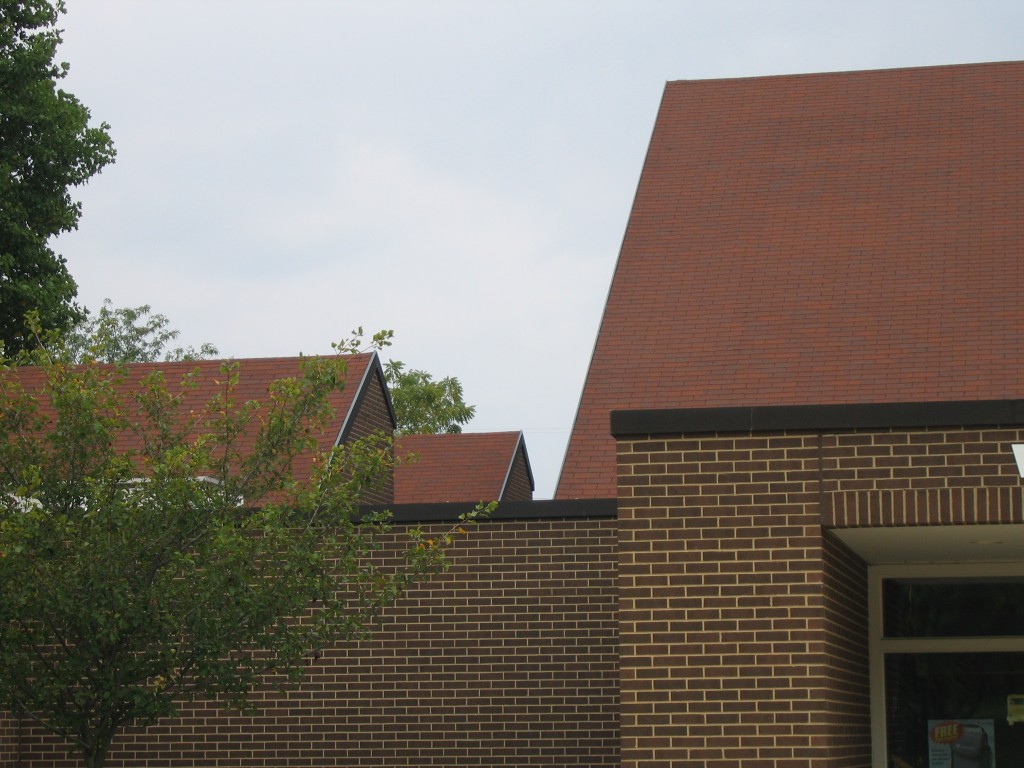 (photo by Ricky Berkey)
---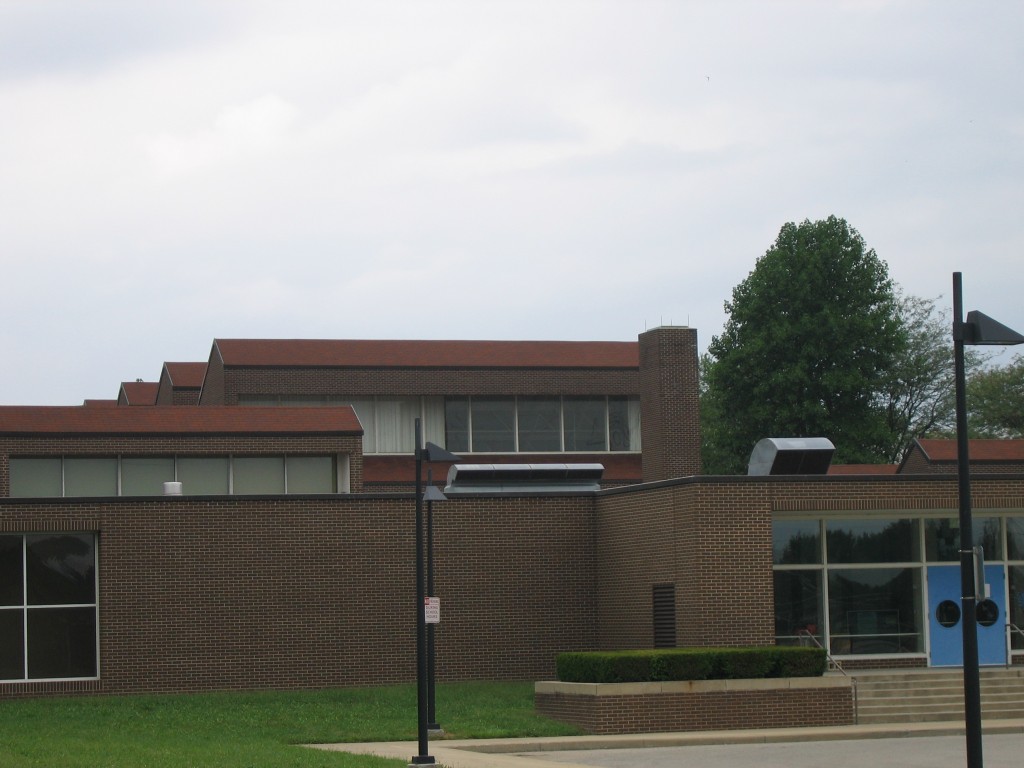 Rear entrance showing clerestory windows (photo by Ricky Berkey)
---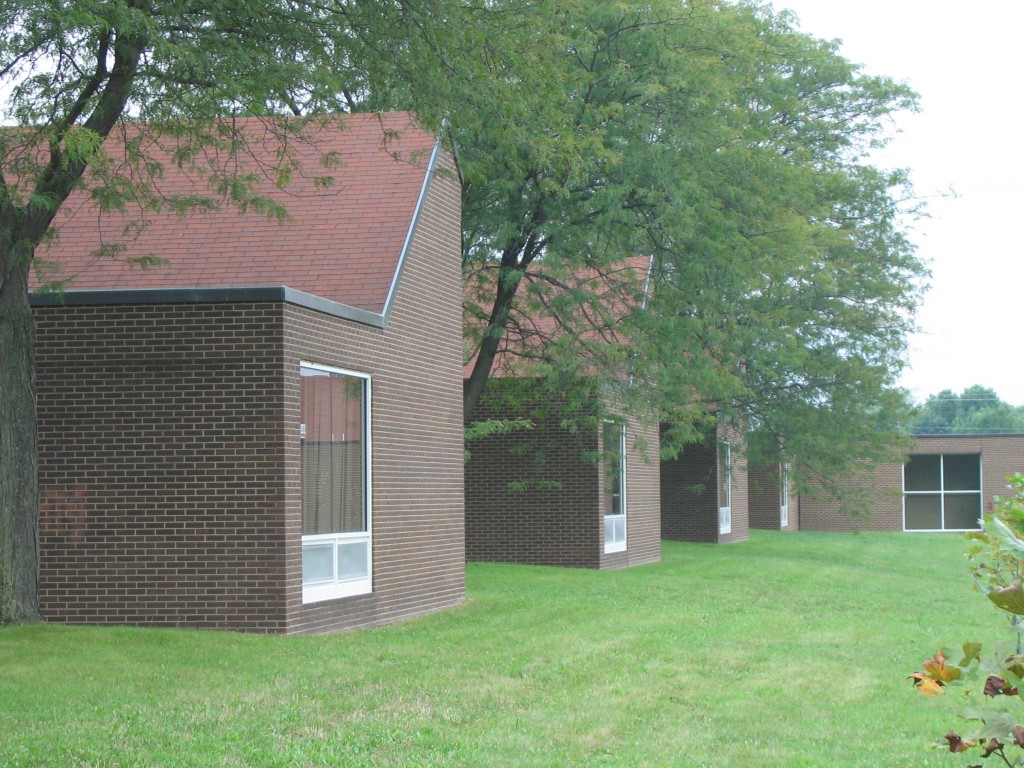 (photo by Ricky Berkey)
---
The Architect
---
Edward Larrabee Barnes
Born on April 22, 1915 in Chicago, Illinois
Died September 22, 2004
Harvard University (1938)
Harvard Graduate School of Design (1942)
---
Barnes graduated from Harvard in 1938 and later returned to study with Walter Gropius and Marcel Breuer completing Graduate School in 1942. After serving in the Navy during WW2 he worked with industrial designer Henry Dreyfus designing prototypes for mass produced housing. His design for a innovative prefabricated house was done in conjunction with Consolidated Vultee Aircraft. Unfortunately funding for the program was pulled back and only a few models were produced.
---
He founded his own firm, Edward Larrabee Barnes Associates in New York City in 1949. He designed many different types of buildings: residences, museums, educational projects and skyscrapers. His buildings were renowned for their clean-lined simplicity: geometric modules precisely arranged in the modernist tradition using a limited palette of materials. His art museums were intentionally simple and meant to not compete with the art itself. In 1994, he gave up his architectural practice office but continued to act as a design consultant until his death in 2004.
---
Selected Barnes Designs
1947 – Prefab house concept
1952 – Barnes Nouse (Mount Kisco, NY)
1961 – Christian Theological Seminary (Indianapolis, IN)
1962 – Haystack Mountain School of Crafts (Deer Isle, Maine)
1965 – W.D. Richards Elementary (Columbus, IN)
1971 – Walker Art Center (Minneapolis, Minnesota)
1976 – IUPUI Master Plan and some of the buildings (Indianapolis, IN)
1976 – Chicago Botanic Garden
1978 – Dallas Museum of Art (Dallas, TX)
1983 – former IBM HQ building (NYC)
---
Links/References
City of Columbus: official City of Columbus website
Columbus Indiana Architectural Archives
Columbus Indiana Architecture Digital Archives: A small portion of the Columbus Indiana Architectural Archives available online from the IUPUI digital library
3D Models of Columbus Architecture Executed in Google SketchUp:
The Republic Newspaper – Columbus, Indiana newspaper
Bartholomew County Public Library
Historic Columbus Website – David Sechrest's tribute to Columbus History
Historic Columbus Message Board – a companion interactive forum to the David Sechrest historical website
Bartholomew County Historical Society
---

Click HERE for a Calendar of Upcoming Events in the Columbus Area.
Click HERE for information about Tours of Columbus Architecture and Design including the Miller House.
---

Ricky Berkey
Email me: rickyberkey@gmail.com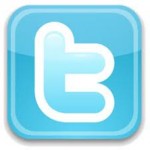 Follow me on Twitter:
---