---
(v12.15.14)
Art, Architecture and Design
This article spotlights a particular building or some other aspect of Columbus design. I welcome your comments, corrections and additions. Please share your experience and perceptions of these uniquely Columbus projects.

Public Art in Columbus (part 3)
Columbus is a fairly small town of approximately 44,000 people. In addition to an unexpected amount of quality architecture and its accompanying landscaping we have a truly amazing amount of public art and sculpture. There is simply no other town the size of Columbus with such an rich urban landscape. We are going to explore the public art of Columbus. This is the third of at least three parts.
---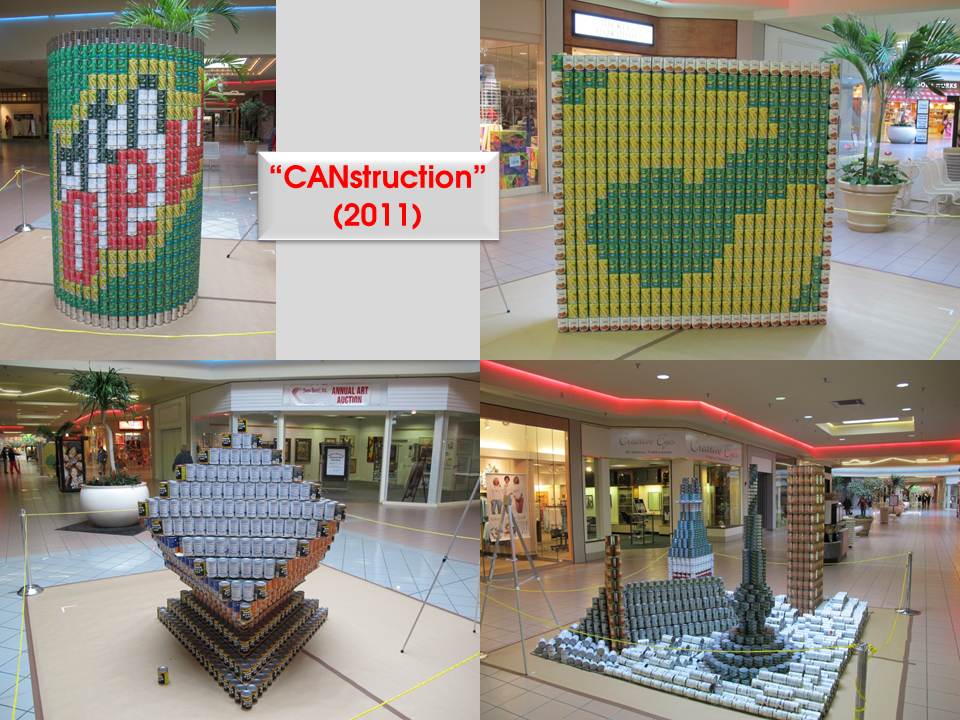 (photo by Ricky Berkey)
Title: CANstruction
Artist: Various teams from around Columbus
Location: Fair Oaks Mall
Installation Date: An annual exhibition usually held in February
CANstruction is an annual team-based design and construct project utilizing canned food. Structures are voted on by the public who contribute more canned foods as votes. All the canned food and other donations are then given to local food banks.
---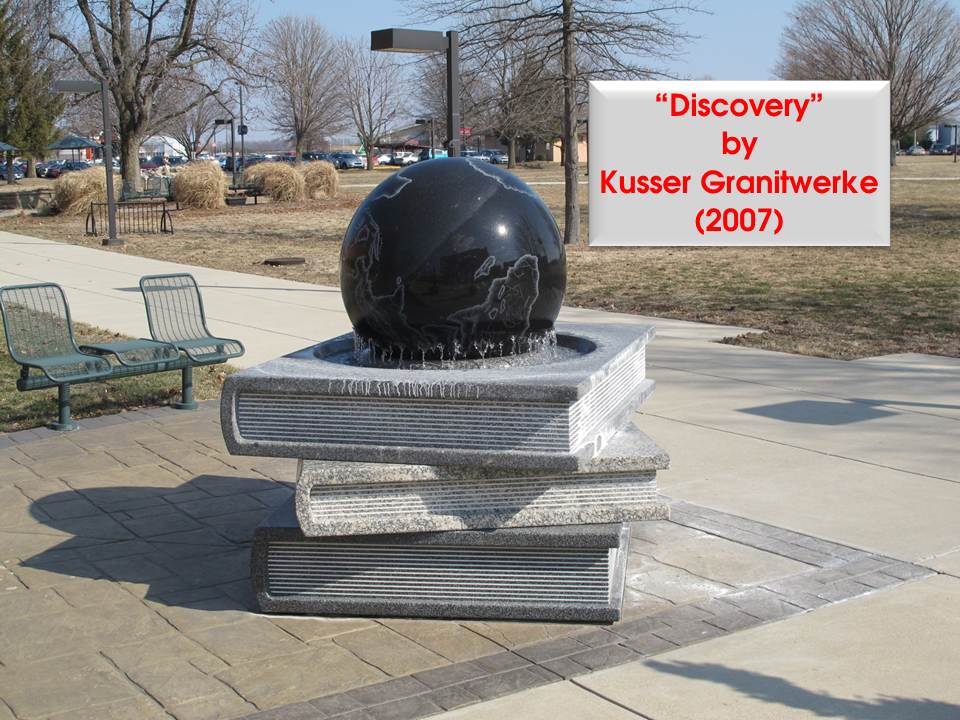 (photo by Ricky Berkey)
Title: Discovery
Artist: Kusser Granitwerke
Location: IUPUC
Installation Date: 2007
Discovery is a Kugel (German for ball) that combines sculpture with a water feature. The ball is three feet in diameter carved from New Belfast black granite. The ball weighs over 2000 lbs but is kept spinning by 12 psi of water pressure. The entire sculpture weighs nearly 12,000 pounds. Each of the books is made from a different kind of granite.
---
Donated by Mike and Phyllis Ryan.
---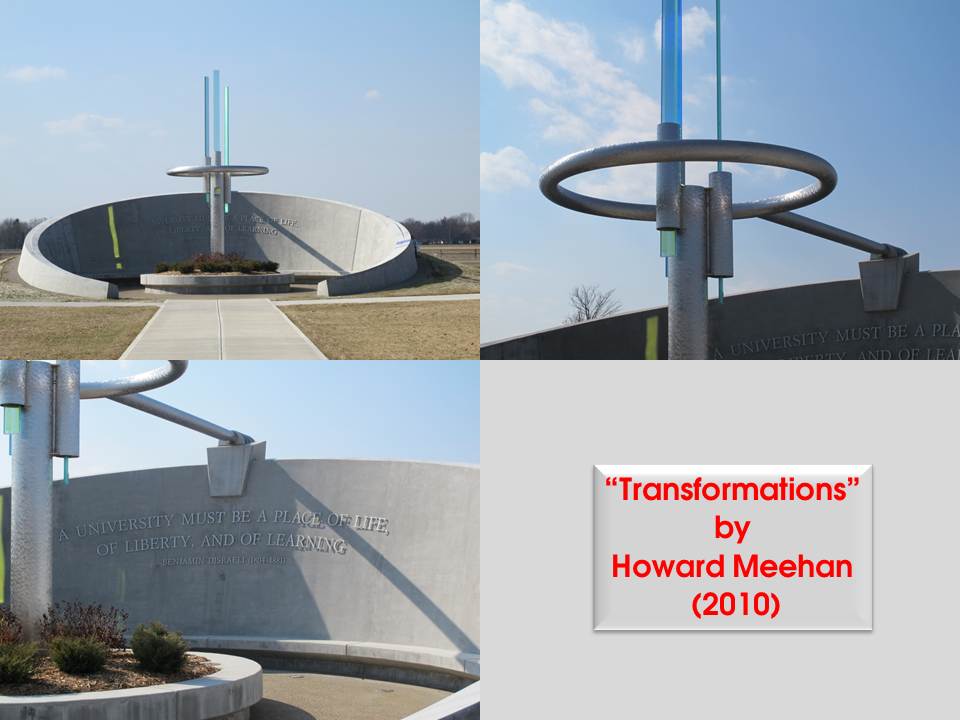 (photo by Ricky Berkey)
Title: Transformations
Artist: Howard Meehan
Location: IUPUC
Installation Date: 2010
The sculpture is nearly 30 feet tall and consists of a polished stainless steel ring and 3 pillars of lighted dichroic glass with interesting reflection patterns in the daylight. The ring which oscillates with the wind was designed in close collaboration with a structural engineer. The surrounding concrete wall with seating features a quote by Benjamin Disraeli.
---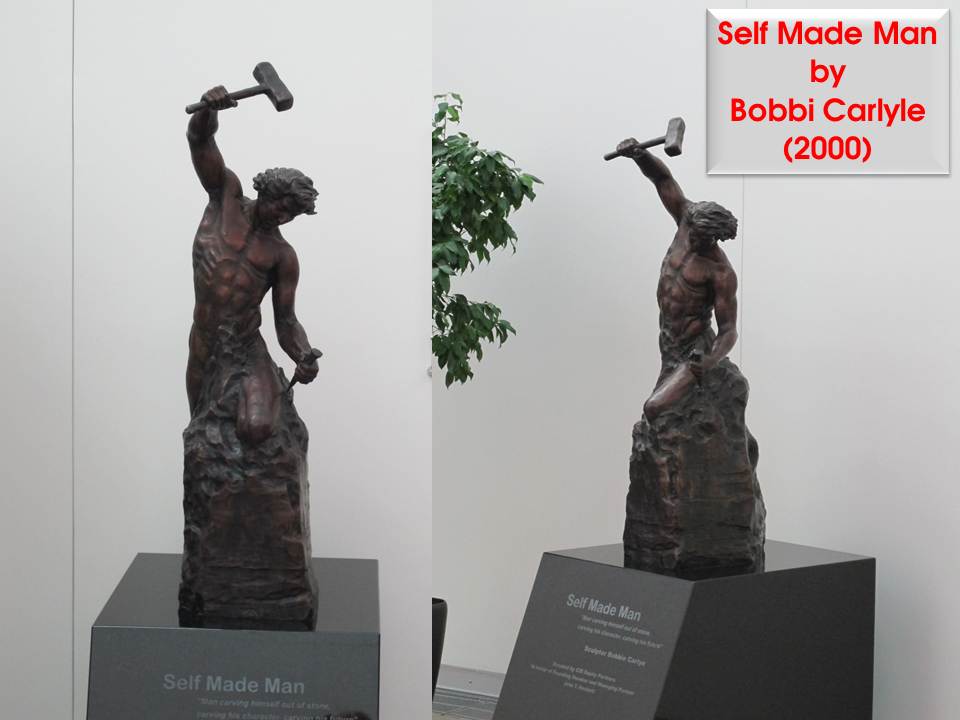 (photo by Ricky Berkey)
Title: Self Made Man
Artist: Bobbi Carlyle
Location: Columbus Learning Center
Fabrication Date: 2000
Installation Date: 2007
This is a bronze sculpture by Colorado artist Bobbi Carlyle showing a man chiseling himself out of stone. Bobbi Caryle does similar sculptures like this one in different variations and sizes. She describes the statue as a man "carving his character, carving his future."
---
Donated to the Columbus Learning Center in honor of John T. Hackett.
---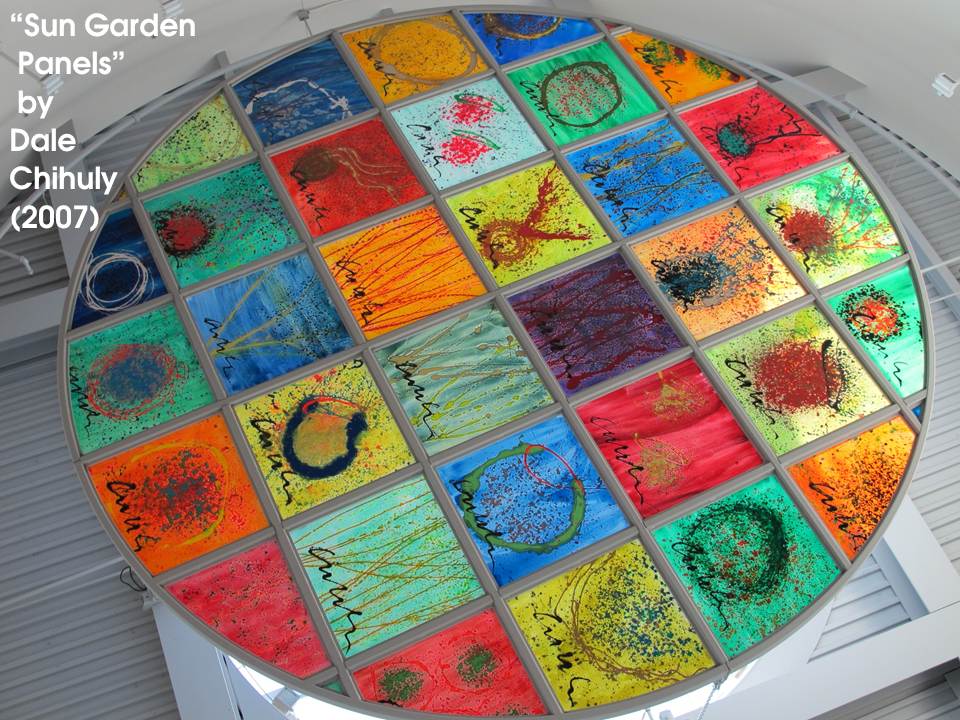 (photo by Ricky Berkey)
Title: Sun Garden Panels in Suspended Circle
Artist: Dale Chihuly
Location: Columbus Learning Center
Date: 2007
Dale Chihuly personally painted and signed the 32 panels of translucent white Plexiglas that are positioned inside a round form which faces the circular skylight in the roof . Each panel represents one of Chihuly's signature blown glass forms. He often does his paintings like these on the floor using a mop and squirt bottles of paint. He does children's workshops demonstrating his techniques and allowing the kids to create their own works of art.
---
Dale Chihuly is an internationally known glass artist from Seattle. Ironically, he lost his sight in one eye when glass came through the car window during a traffic accident in 1976. As a result he rarely blows glass himself but acts as a conductor of his extremely collaborative team.
---
This work was commissioned and donated by the late Richard Johnson and his family. Dick Johnson was a major contributor to the arts in the Columbus community as well as Brown County.
---
Besides this and several other permanent works in the Columbus Learning Center, there are 6 exhibition galleries scattered throughout the building.
---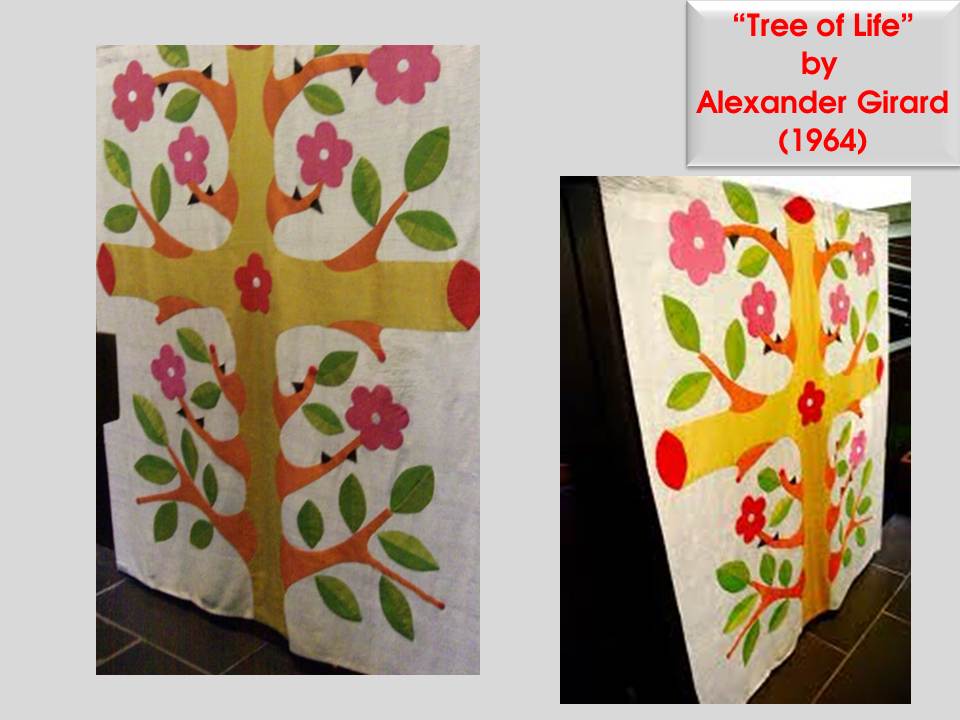 (photo used pending permission)
Title: Tree of Life
Artist: Alexander Girard
Location: North Christian Church
Date: 1964
Alexander Girard was an internationally known textile and graphic artist known especially for his interior design work. Besides this and other work at North Christian Church he designed the interior of the Miller House in Columbus, both buildings designed by Eero Saarinen. Girard's style is boldly colorful providing a rich extra dimension to the modernist architecture it inhabits.
---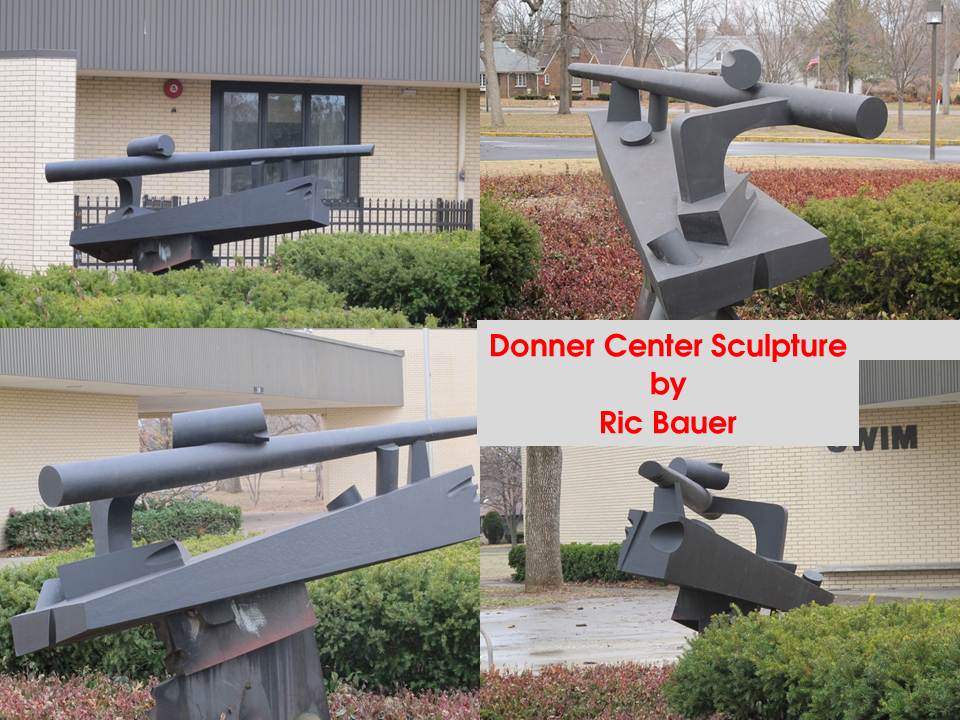 (photo by Ricky Berkey)
Title: Memorial Artillery
Artist: Ric Bauer
Location: in front of the Donner Center
Date: 1980
I believe the artist meant this sculpture of black painted steel to be an abstract version of a cannon which used to be a common fixture in city parks like this one.
---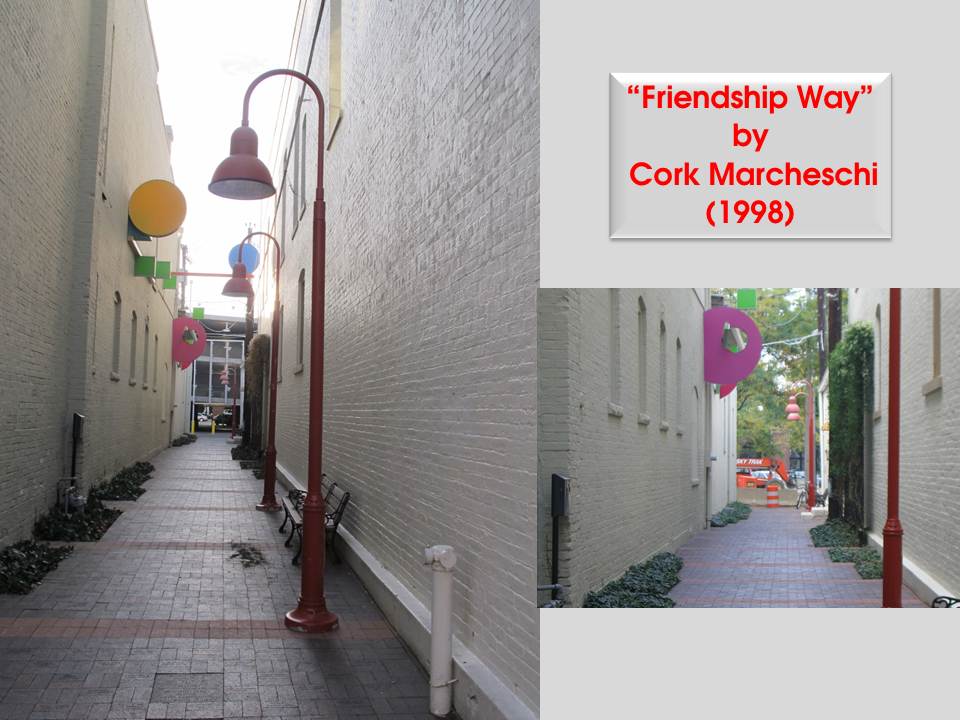 (photo by Ricky Berkey)
Title: Friendship Way
Artist: Cork Marcheschi
Location: downtown alley
Date: 1998
Cork Marcheschi, an artist from San Francisco designed the colorful neon sculpture with changing patterns in this downtown alley next to Dell Brothers. Residents of our sister city in Miyoshi, Japan raised $28K for the sculpture. 900 personalized bricks from our Japanese friends were incorporated into the alley.
---
This is part of our alley improvement program in conjunction with the Streetscape plan. The landscaping architecture plan for this alley was developed by William Johnson and Storrow & Kinsella.
---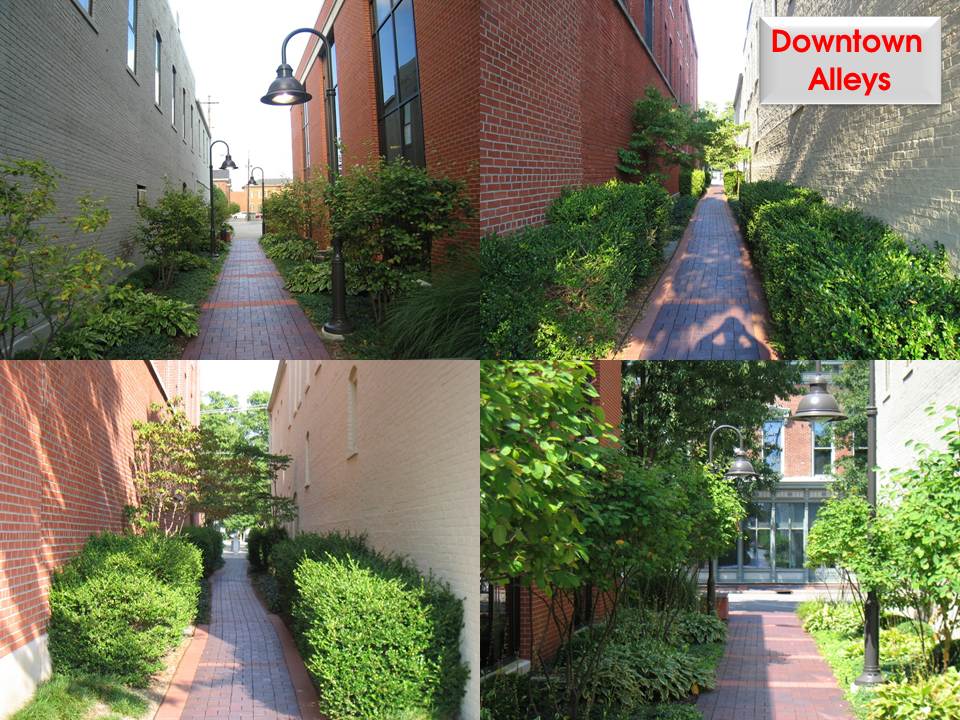 (photo by Ricky Berkey)
Title: Downtown Alleys
Location: Several downtown alleys off Washington Street
A number of our downtown alleys have been designed and landscaped in conjunction with the Streetscape plan providing pleasant access to parking areas. They are surprising pockets of green throughout the downtown area connecting Washington Street to the parking lots on adjacent streets.
---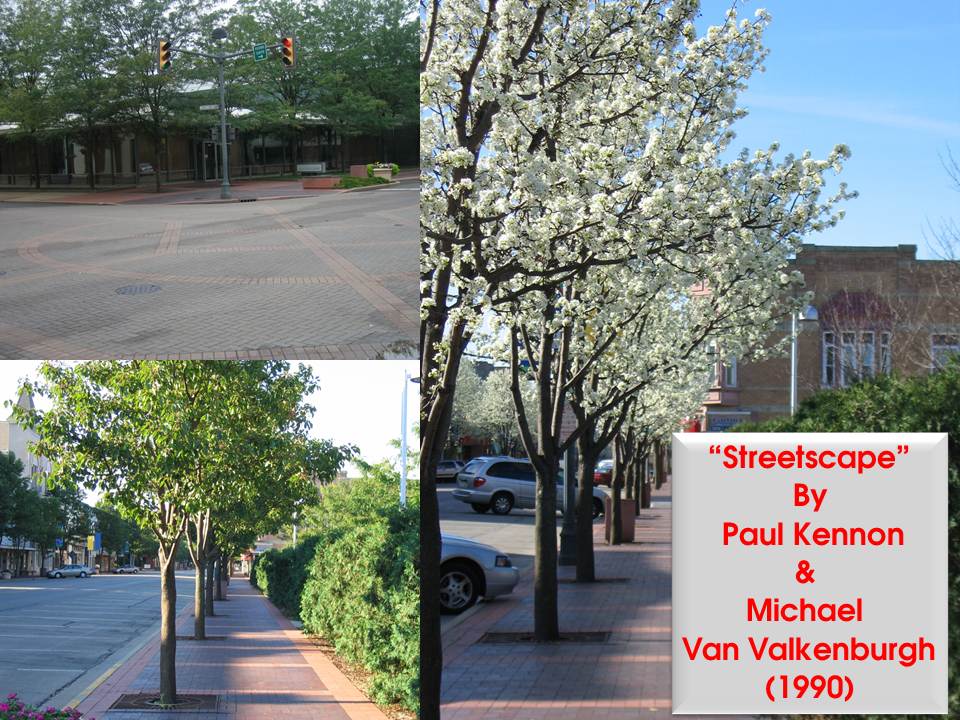 (photo by Ricky Berkey)
Title: Streetscape
Artist: Paul Kennon and Michael Van Valkenburgh
Location: Downtown Columbus
Date: 1990
"Streetscape" was a plan to beautify downtown Columbus and change the character of our urban landscape. It followed earlier design plans by Alexander Girard and others over the years. Streetscape was meant to create an inviting space to unify the downtown and to welcome visitors and residents alike. .
---
Parking meters were removed, flowering trees were planted and new lighting fixtures with banners were installed. Concrete sidewalks were replaced with personalized bricks. Planters were installed for seasonal plantings of flowers. The intention was to make a very pleasant, pedestrian friendly experience. Each intersection along Washington Street from 2nd to 7th was replaced with bricks in different geometric patterns at every block. Washington Street was returned to two-way traffic with a one-way traffic loop surrounding the central business district.
---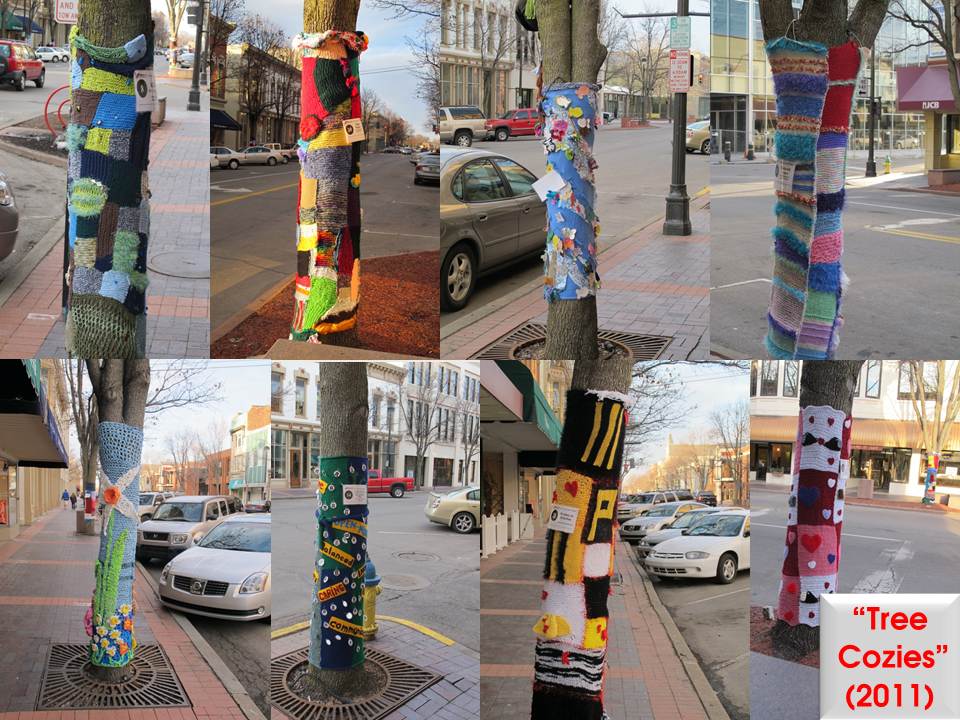 (photo by Ricky Berkey)
Title: "Tree Cozies"
Artist: Various Artisans
Location: Downtown Columbus
Installation Date: An annual event during the winter weeks after the New Year
This had been an annual project meant to beautify the downtown area for a few chilly weeks during February and March. Knitters design whimsical surrounds for the downtown trees. Many are hoping it will return again.
---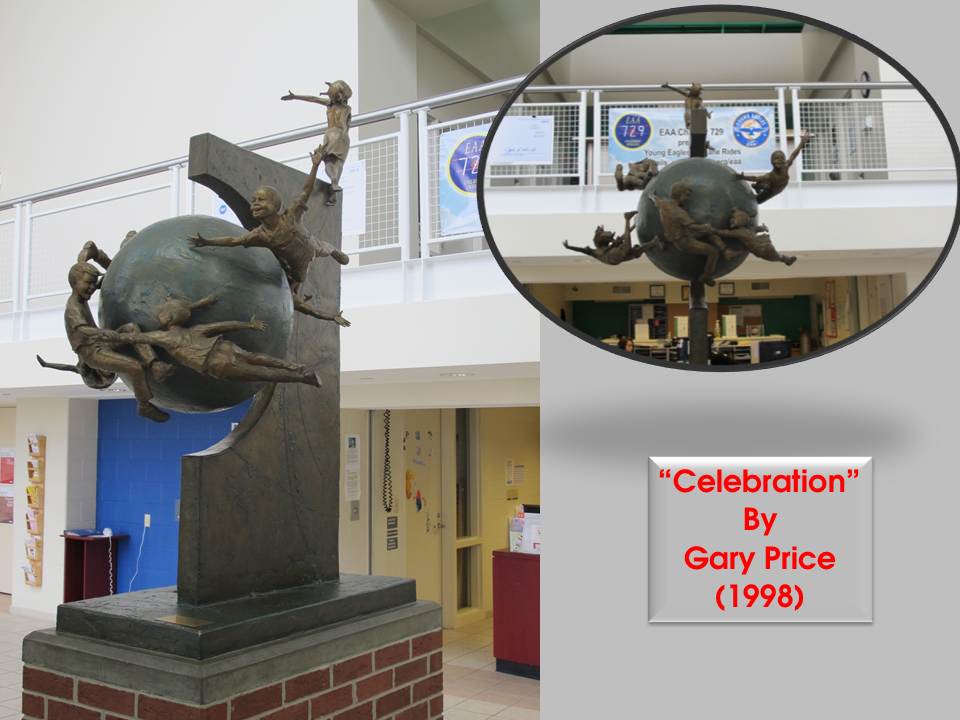 (photo by Ricky Berkey)
Title: Celebration
Artist: Gary Price
Location: Foundation for Youth
Date: 1998
Child oriented sculpture showing children in flight.
---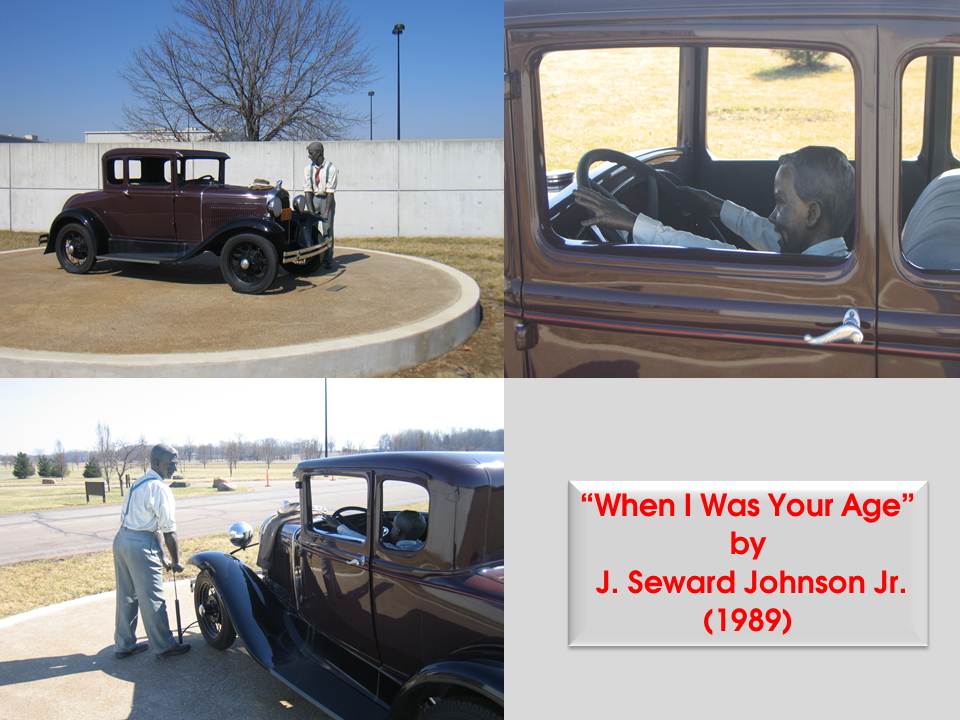 (photo by Ricky Berkey)
Title: When I Was Your Age
Artist: J. Seward Johnson Jr.
Location: Faurecia – 950 West 450 South (Walesboro)
Date: 1989
Cast in bronze using a real car. Commissioned by Arvin for display at their new corporate HQ in remembrance of their very first product: a tire pump.
---
The clothing on the human figures is real preserved using a patina and lacquer process that Johnson developed. When this statue was moved from the traffic circle at the old Arvin HQ, it was completely restored.
---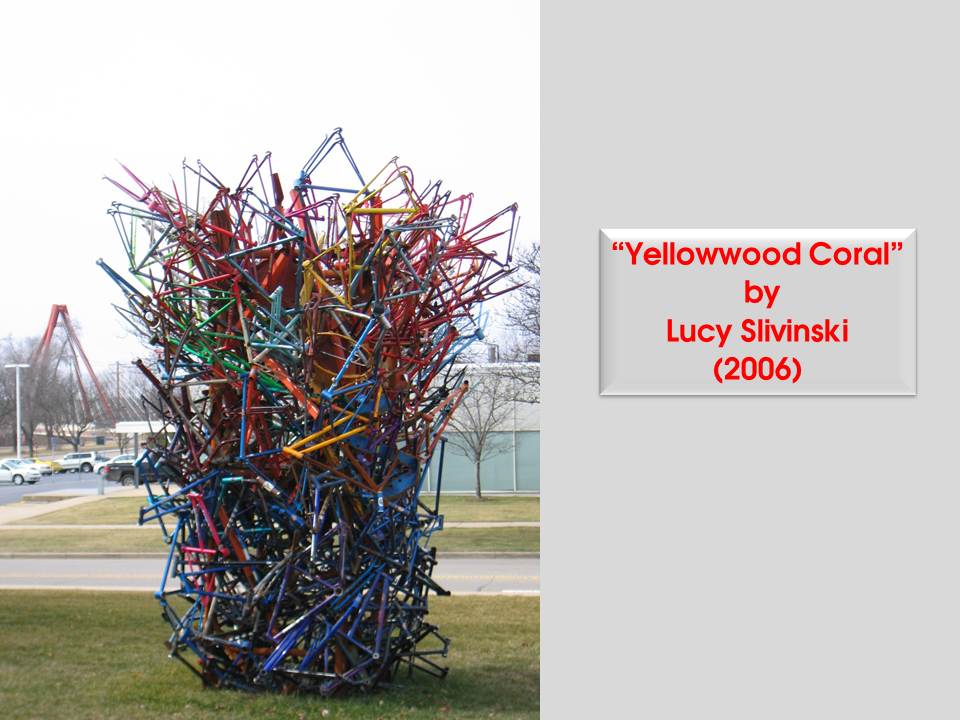 (photo by Ricky Berkey)
Title: Yellowwood Coral
Artist: Lucy Slivinski
Location: Bartholomew County Recycling Center
Date: 2006
Chicago artist Lucy Slivinski assembled this creation on the City Hall lawn using scrap metal found locally and many bicycle frames. The work was inspired by fungal formations she encountered while hiking in the Yellowwood Forest near Columbus. Lucy was educated at North Illinois University and the Cranbrook Academy. The sculpture caused much heated discussion locally and was eventually banished to a permanent location at the County Recycling facility.
---
This was part of the Columbus Sculptural Invitational in 2006 and was donated to the city by the artist.
---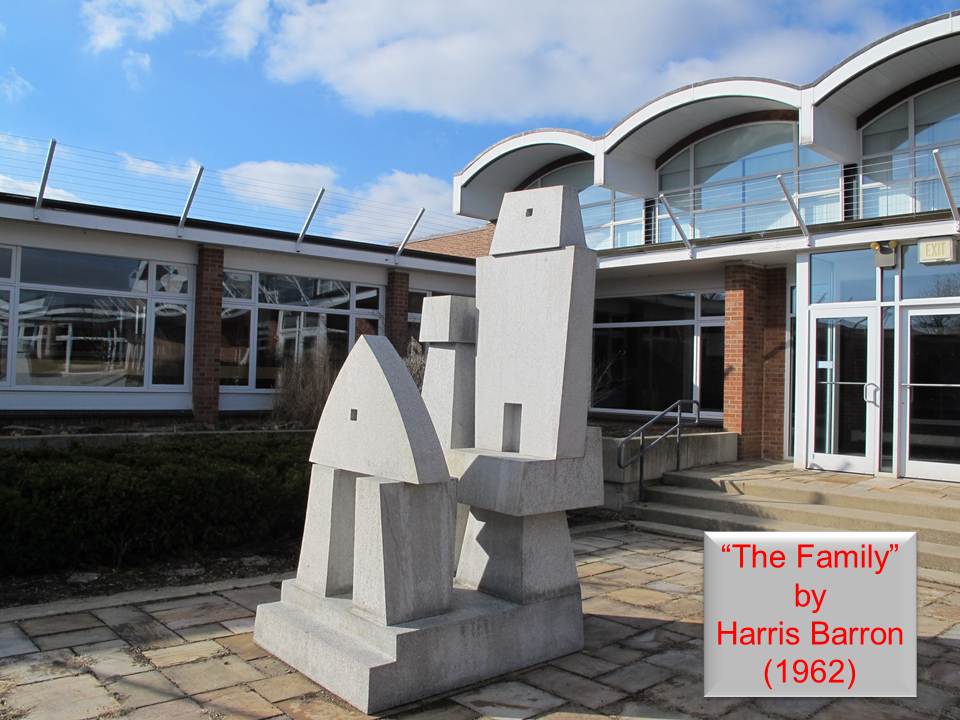 (photo by Ricky Berkey)
Title: The Family
Artist: Harris Barron
Location: Parkside Elementary (inner courtyard)
Date: 1962
This sculpture consists of three angular abstract figures representing a Father, Mother and Child.
---
Links/References
City of Columbus: official City of Columbus website
Columbus Indiana Architectural Archives
Columbus Indiana Architecture Digital Archives: A small portion of the Columbus Indiana Architectural Archives available online from the IUPUI digital library
3D Models of Columbus Architecture Executed in Google SketchUp:
The Republic Newspaper – Columbus, Indiana newspaper
Bartholomew County Public Library
Historic Columbus Website – David Sechrest's tribute to Columbus History
Historic Columbus Message Board – a companion interactive forum to the David Sechrest historical website
Bartholomew County Historical Society
---

Click HERE for a Calendar of Upcoming Events in the Columbus Area.
Click HERE for information about Tours of Columbus Architecture and Design including the Miller House.
---

Ricky Berkey
Email me: rickyberkey@gmail.com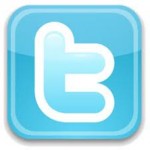 Follow me on Twitter:
---