---
(v12.08.14)
Art, Architecture and Design
This article spotlights a particular building or some other aspect of Columbus design. I welcome your comments, corrections and additions. Please share your experience and perceptions of these uniquely Columbus projects.

Breeden Real Estate Building
Built: 1995
Architects: Thomas H. Beeby and Gary M. Ainge (Hamilton Beeby and Babka Inc.), Chicago
---
Breeden is one of the largest and most respected Real Estate companies in Columbus. Long an independent firm, they are now part of the Century 21 organization. Before their affiliation with Century 21, the ladybug logo was in all their advertising and signage. Although its downplayed these days, it still playfully pops up occasionally in their marketing materials. Breeden is a good example of how other business in Columbus has been influenced by J. Irwin Miller and the Cummins Architecture program and has embraced and continued the architectural heritage of the community.
---
When Breeden decided to build a new building in the 90's, they chose a very prominent corner site on Washington Street, at the end of the traditional downtown shopping district. Like the County Courthouse 5 blocks away, the building is positioned to take maximum advantage of their corner location. At its core is simple, functional office space but they used a few elements of design on the exterior and in the entryway to mark it as something special and it remains as a very nice addition to downtown Columbus.
---
While much of the interesting architecture in Columbus is considered Modernism, this building can definitely be considered in the Post-Modern realm. Modernism is usually expressed in simple geometric forms with minimal ornamentation. Architect Mies Van der Rohe was one of its most prominent adherents and is often identified with the descriptive phrase "less is more". Mies van der Rohe felt that he had perfected architecture by reducing buildings to their most pure form. Critics of modernism felt that modernism created cold, sterile environments stripped of humanity. Admittedly I am an unabashed lover of modernism but the wave of copycat architects diminished the art form and everything began to look the same.
---
Robert Venturi, like many architects started out as a modernist but later responded to the Mies van der Rohe expression by changing it to "less is a bore". Post-Modernism became a reaction to the rigidity of modernism by incorporating elements of other genres and historical periods. Ornamentation has returned often incorporating historical traditions and contexts but reinterpreted using very modern techniques and materials.
---
Prominent architects working in this genre have been Robert Venturi, Michael Graves and Thomas Beeby. Beeby, who was the lead designer for the Breeden building can be blamed for one of the most extreme examples of post-modernist excess, the Harold Washington Library in Chicago. Thankfully our Columbus example is a little more restrained.
---
The building was designed by Chicago architects Thomas Beeby and Gary Ainge in 1995. The two-story building consists of two brick wings arranged for maximum street presence flanking a central entry rotunda. The scale of the project was meant to be harmonious with the character of the downtown area. Materials and landscaping matching the existing downtown Streetscape plan were utilized to further blend in.
---
The glazed glass rotunda is covered by a copper dome with full height cast aluminum columns on both sides of the entry way giving a rather grand entrance to what is basically a simple, functional building. The columns feature capitals and bases, all made of cast aluminum. The entry lobby under the glazed glass rotunda features a terrazzo floor with inset bronze Breeden logo.
---
Exterior walls are mottled brick with limestone window sills and capitals to give definition and depth to the simple rectangular side sections. An aluminum curtain wall window system with Vermont green marble spandrel panels defines the fact that it is a two story building although they are not at the level of the actual floors.
---
I like the building and the way it gracefully occupies its site. The classical grand entrance is just restrained enough to keep it from calling too much attention to itself. Besides the main entrance to the Breeden section, there is a rear entry giving access to leased office space on the second floor as well as another entry to the real estate offices on the first floor. The side wings provide adequate space between them in the rear to provide parking for the building. The rear entry is not as elaborate but is still a nicely finished space.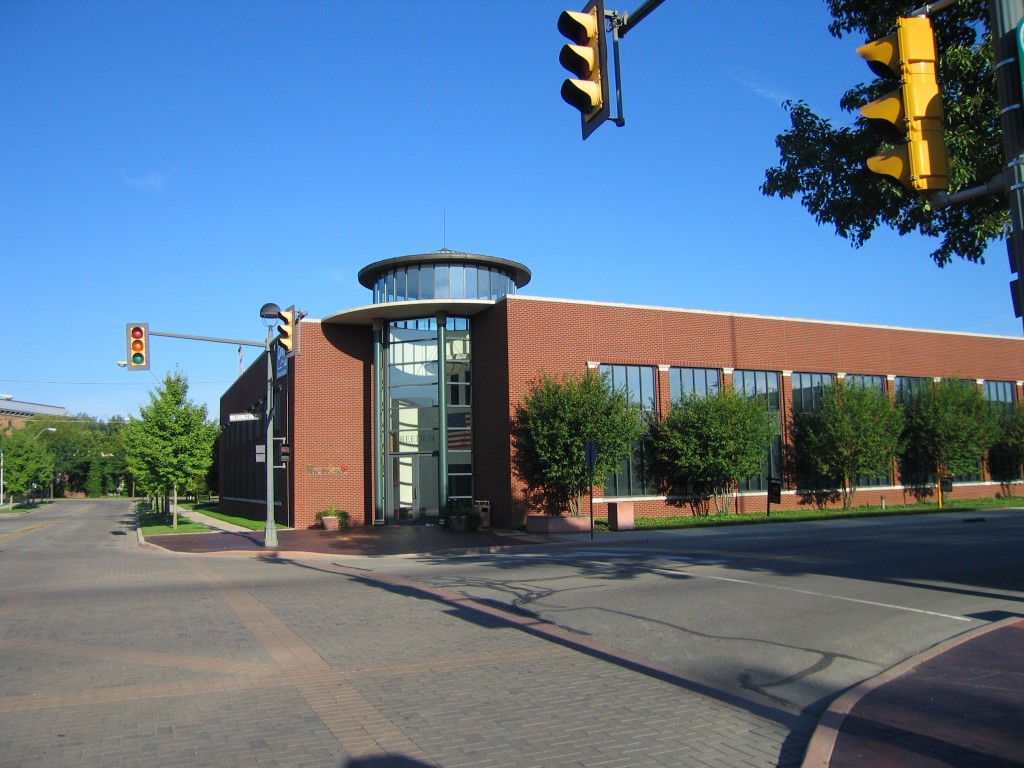 (photo by Ricky Berkey)
---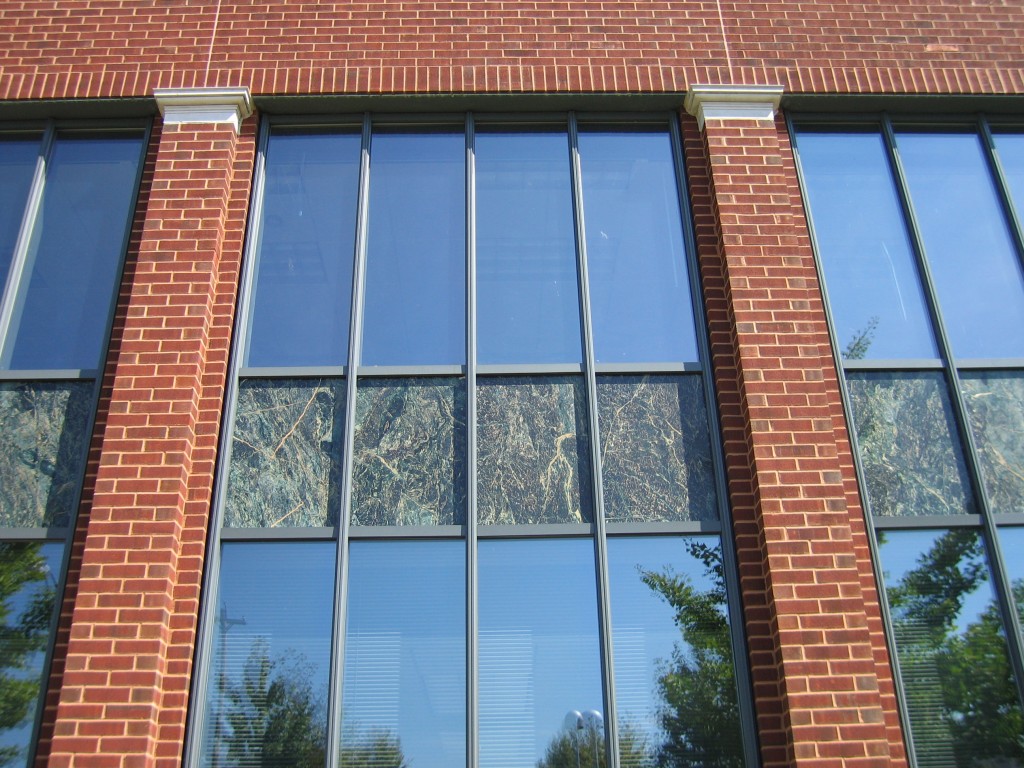 Side view showing curtain wall system and Vermont green marble spandrels (photo by Ricky Berkey)
---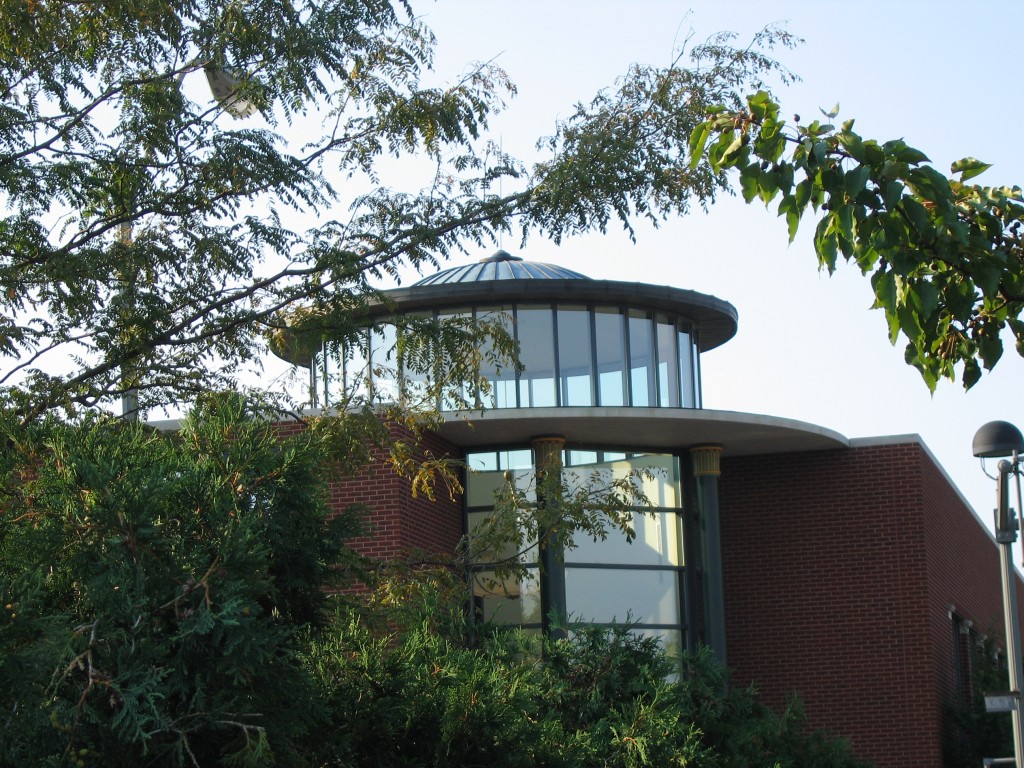 (photo by Ricky Berkey)
---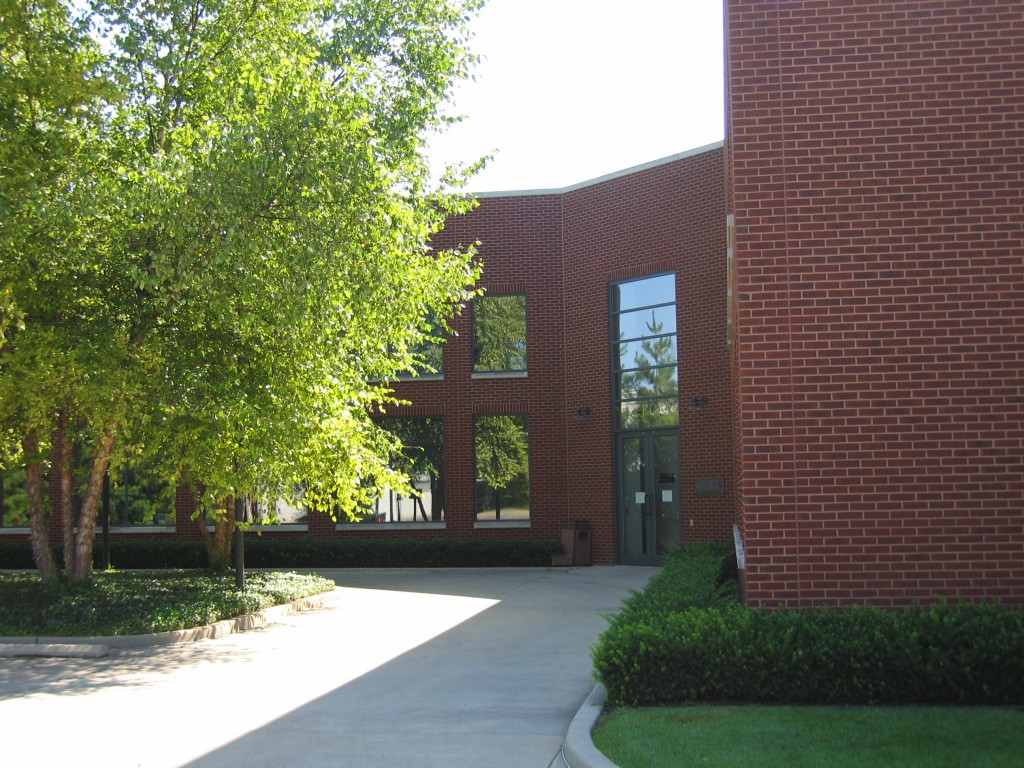 Rear Entrance (photo by Ricky Berkey)
---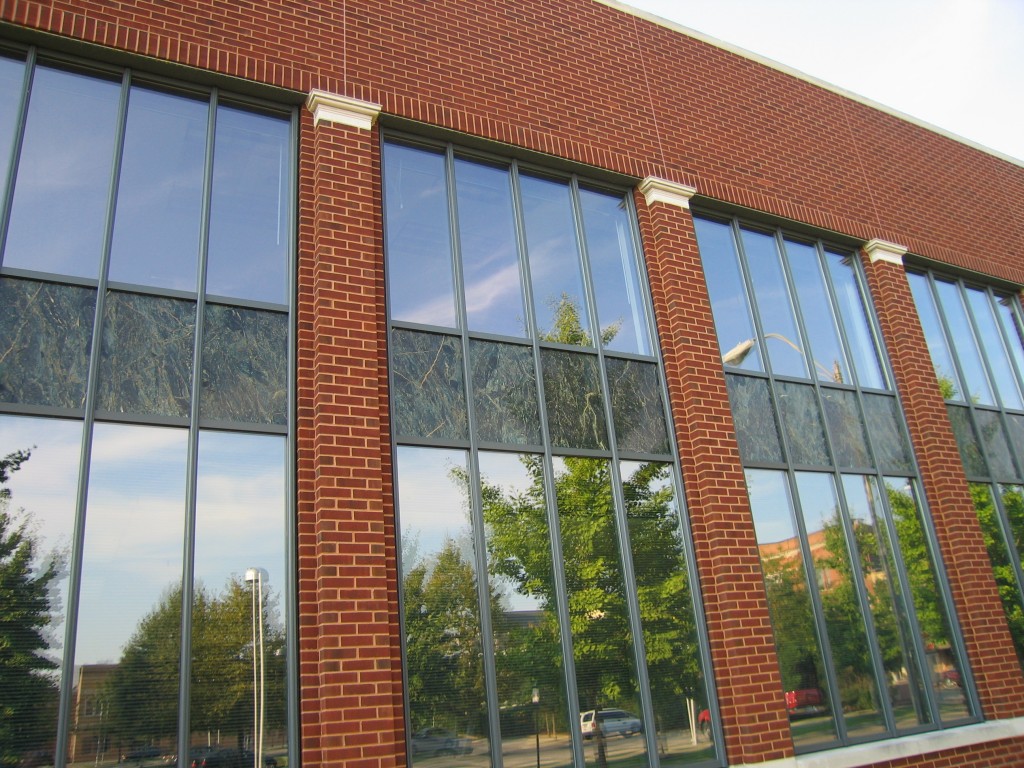 Side view (photo by Ricky Berkey)
---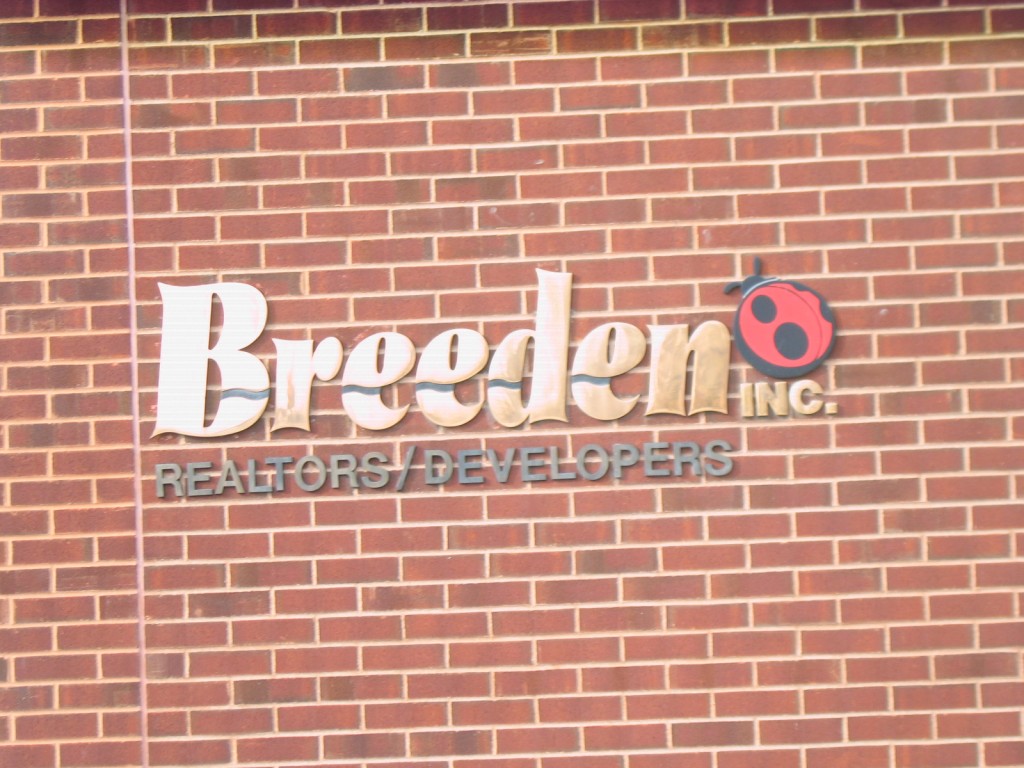 Note the Ladybug logo (photo by Ricky Berkey)
---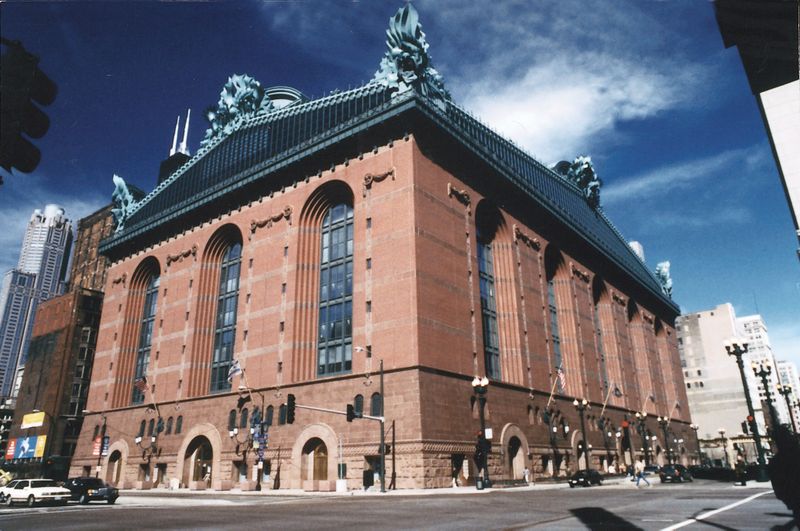 Another Thomas Beeby building (the Harold Washington Library in Chicago)
---
The Architects
---
Thomas Beeby
Born October 12, 1941 in Oak Park, Illinois
Cornell University, 1964
Yale University, 1965
---
Thomas H. Beeby has been the Director of Design and lead designer for HBRA, a Chicago based architectural firm (formerly Hammond, Beeby and Babka, Inc) since it's founding. He was recently named as chairmen emeritus at HBRA.
---
After studying architecture at Cornell and Yale, Beeby took his first job with C. F. Murphy & Associates from 1965-1971. He was a founding member of Hammond Beeby & Associates in 1971. Beeby was a member of the "Chicago 7", a collection of Chicago architects who participated in a number of Chicago exhibitions and symposiums in the 70's and 80's meant to encourage creative thought and dialogue amongst architects.
---
Mr. Beeby was an Associate Professor at the Illinois Institute of Technology (IIT) from 1978 to 1980. He was the director of the Architecture school at the University of Illinois from 1980-1985. He was dean of the Yale University School of Architecture from 1985-1992 and remains as an Adjunct Professor of Architecture there. He continues to lecture on architecture at many schools of architecture around the country.
---
He has also served on many boards and commissions related to architecture in the Chicago area and around the country. He has won many awards for his design work.
---
His projects have included museums and libraries, university projects, theatres and performing arts centers, office and retail buildings, religious buildings and residential work. In Columbus he was also involved with the 1996 renovation of the Eastbrook branch of the Irwin-Union Bank and the 2001 renovation/addition of St Paul's Episcopal Church.
---
Gary Ainge
---
Originally at the architecture firm of Tigerman Fugman McCurry, Ainge joined HBRA in 1984. He has assisted on many HBRA projects as well as being principal design architect on others. He has been a partner in the firm since 1988. He has lectured and participated in symposiums and juries at a number of institutions.
---
In Columbus he was a partner with Thomas Beeby in the design of the Breeden building as well as the 1996 renovation of the Eastbrook branch of Irwin-Union Bank.
---
HBRA
The firm was founded in 1961 by James Wright Hammond, who conceived the practice as an opportunity to collaborate closely with his clients through all phases of the design and construction process. Thomas Beeby joined the firm in 1971, later joined by partners Dennis Rupert and Gary Ainge. Originally known as Hammond Beeby Rupert Ainge, they now are simply HBRA. The company is now led by Aric Lasher who joined the firm in 1985. HBRA has maintained their offices in Chicago since their founding.
---
Links/References
Interview with Thomas Beeby: Chicago Architects Oral History Project
City of Columbus: official City of Columbus website
Columbus Indiana Architectural Archives
Columbus Indiana Architecture Digital Archives: A small portion of the Columbus Indiana Architectural Archives available online from the IUPUI digital library
3D Models of Columbus Architecture Executed in Google SketchUp:
The Republic Newspaper – Columbus, Indiana newspaper
Bartholomew County Public Library
Historic Columbus Website – David Sechrest's tribute to Columbus History
Historic Columbus Message Board – a companion interactive forum to the David Sechrest historical website
Bartholomew County Historical Society
---

Click HERE for a Calendar of Upcoming Events in the Columbus Area.
Click HERE for information about Tours of Columbus Architecture and Design including the Miller House.
---

Ricky Berkey
Email me: rickyberkey@gmail.com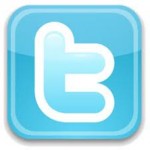 Follow me on Twitter:
---