---
(v12.14.14)
Art, Architecture and Design in Columbus, Indiana
This article spotlights a particular building or some other aspect of Columbus design. I welcome your comments, corrections and additions. Please share your experience and perceptions of these uniquely Columbus projects.

Irwin-Union Bank: Eastbrook Branch (now First Financial Bank)

Built: 1961
Address: 2531 Eastbrook Plaza (corner of 25th Street and National Road/US 31)
Design Architects: Harry Weese (Harry Weese and Associates – Chicago)
Contractor: Repp & Mundt – Columbus, Indiana
Landscaping: Maschmeyers Nursery – Indianapolis, Indiana
Plumbing, Heating and AC: Dunlap's – Columbus, Indiana
Electrical: Otto Electric – Columbus, Indiana
Addition/Renovation (1996) – Thomas Beeby and Gary Ainge (Hammond Beeby and Babka – Chicago)
---
This was the first branch bank that Irwin-Union opened in Columbus outside of the downtown area in 1961. Located in a newly opened shopping center, everything about this branch was automobile scale, oriented around the drive-up windows located on the 4 original towers of the building. At ground level, the towers held the 3 drive-up banking windows and the night depository. The upper part of the towers were utilized to contain the HVAC units.
---
The site plan made this building a vary prominent detached part of the shopping plaza, facing the Haw Creek on one side and the shopping center on the other. Located parallel to Haw Creek it was the 3rd element in a triangle formed by the 2 bridges over 25th street and US 31 (National Road in Columbus). The arrangement was much more striking when the original steel truss bridges were in place. The site plan was meant to establish the "essence of drive-up banking in 3 dimensions." Similar to what Robert Venturi started calling "billboard architecture", these are structures which have a unique visual impact to the busy traffic flow passing by. The building appears massive from a side view but is actually very narrow when viewed from the ends. The gray-glazed brick coloration of the building reflected the concrete of the bridge structures and the towers recalled the piers of the original bridges. The site is completely surrounded by driveways from the parking lot so the bank can be approached from either end. A small dam was constructed in the adjacent creek to create a reflecting pool.
---
The 5,000 square foot split-level building was designed by Chicago architect Harry Weese who said the massive crenulated towers and reflecting pool were reminiscent of a childs vision of a castle. Others have said it resembles a steamship as it sits in parallel with the Haw Creek. As with a number of other Columbus buildings, a nickname emerged and is still widely used by many: the "Dead Horse"! Locals will often give out traffic directions in terms of turning left or right when you reach the "Dead Horse", which is a prominent landmark on this busy corner. The building is constructed of reinforced concrete slabs, combined with brick bearing walls.
---
The building was designed to have a strong night presence with floodlighting on the building and a red-lighted sign on the bank of the creek which reflected off the creek and was visible from the bridge driving by. It appears that First Financial does not plan to continue this unique creekside signage.
---
The interior main banking floor was raised above the "sea of cars" in the parking lot upon a podium for better outlooks, visibility to the exterior and a sense of separation from the parking lot. This arrangement stepping up the the main bank level from the parking lot level caused problems later when retrofitting the building for improved handicap access. Interior walls used the same brick as the exterior with slate flooring
---
The bank opened for business on Sept 11, 1961 approximately a year after the first phase of the Eastbrook Shopping Center opened. It has continued to operate as a bank.
---
Thomas Beeby and Gary Ainge designed a seamless addition in 1996, upgrading the drive-up service to a more modern system needing less tellers. They used a similar brick and additional smaller towers to support an canopy over the new drive-up lanes and over the main entrance. Improvements were made in accessibility to meet modern ADA standards.
---
Historic flooding in 2008 submerged this bank as well as the entire shopping center across the parking lot. Irwin-Union immediately cleaned up and restored the building to service. With the demise of Irwin-Union Bank in 2009 the assets were acquired by First Financial Bank who continue to operate this branch.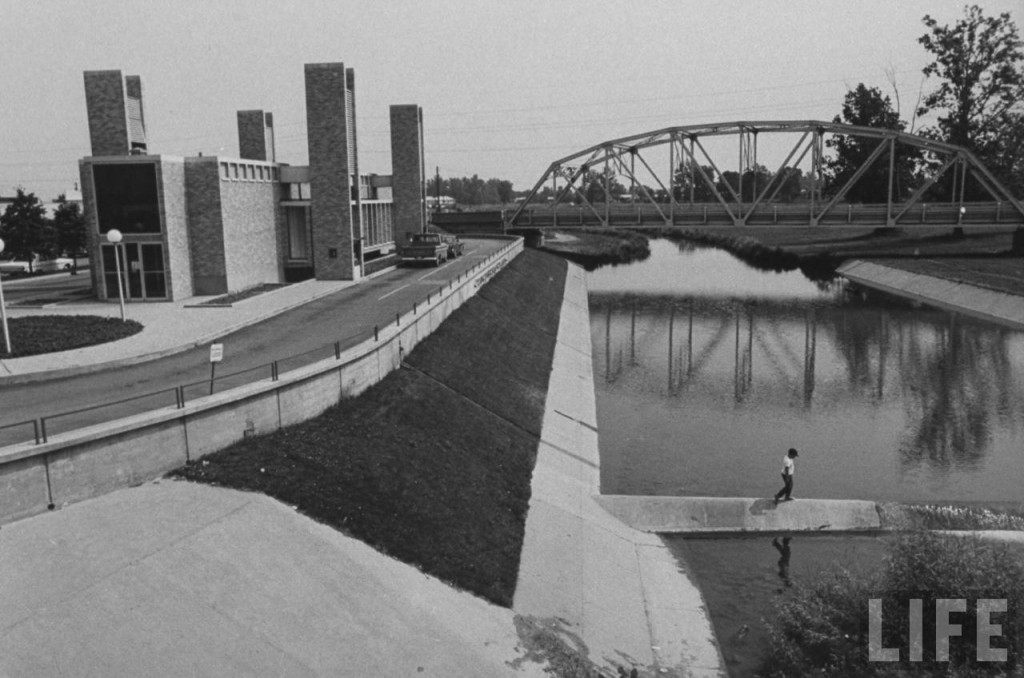 1961 view of the bank showing one of the adjacent original bridges – notice that the original building only contained 4 towers, the smaller ones were added in the 1996 addition
(photo by Frank Scherschel from the Life photo archive – used pending permission)
---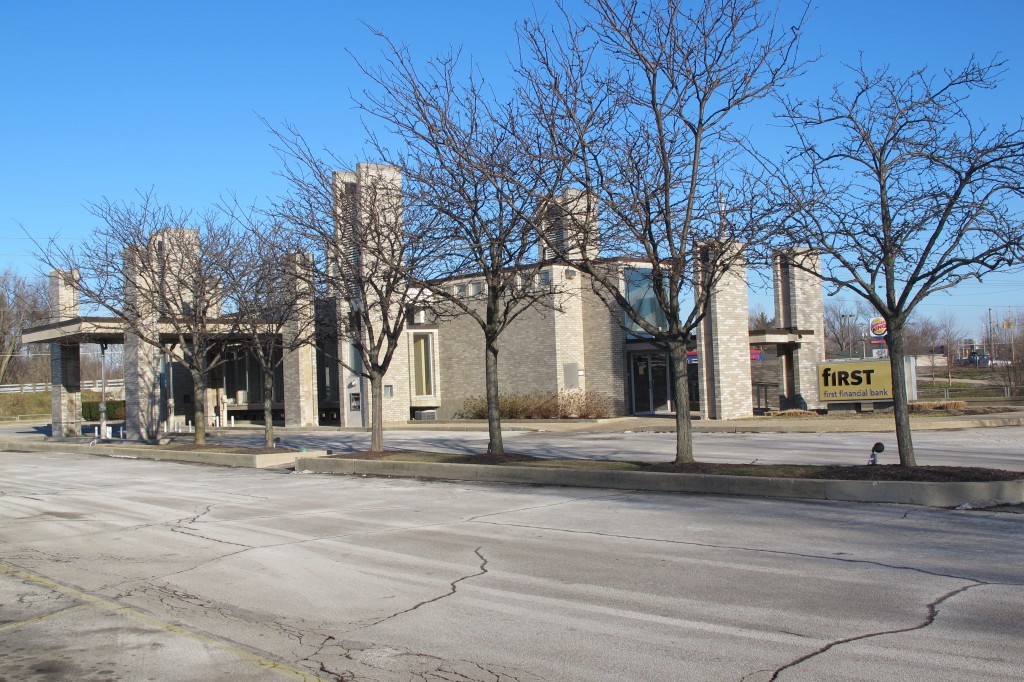 View from the parking lot
(photo by Ricky Berkey)
---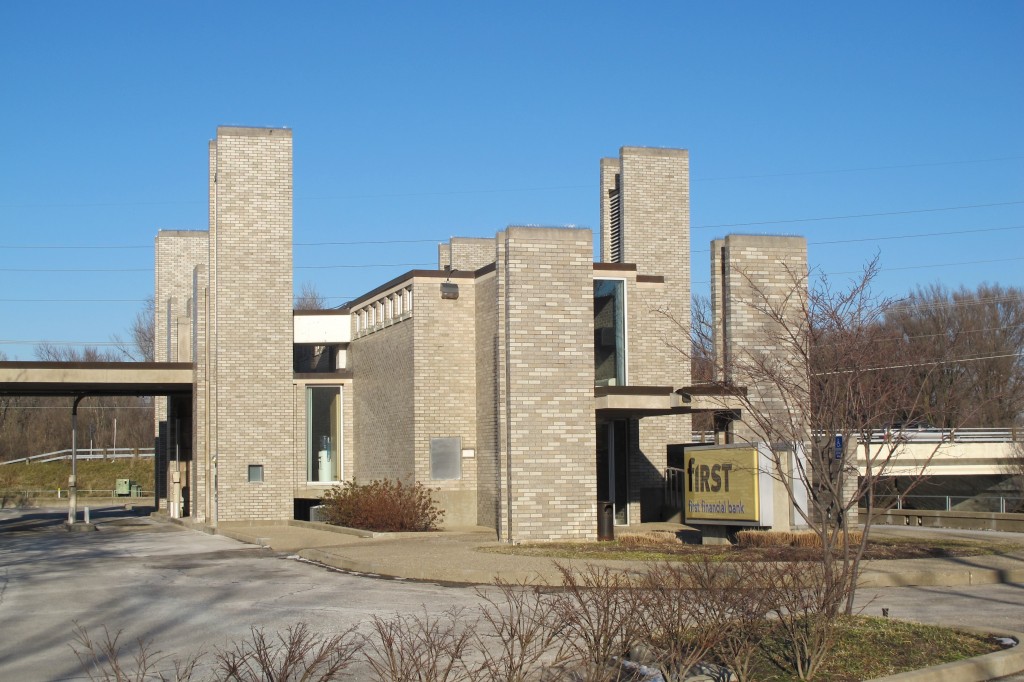 Main entrance
(photo by Ricky Berkey)
---
Main entrance
(photo by Ricky Berkey)
---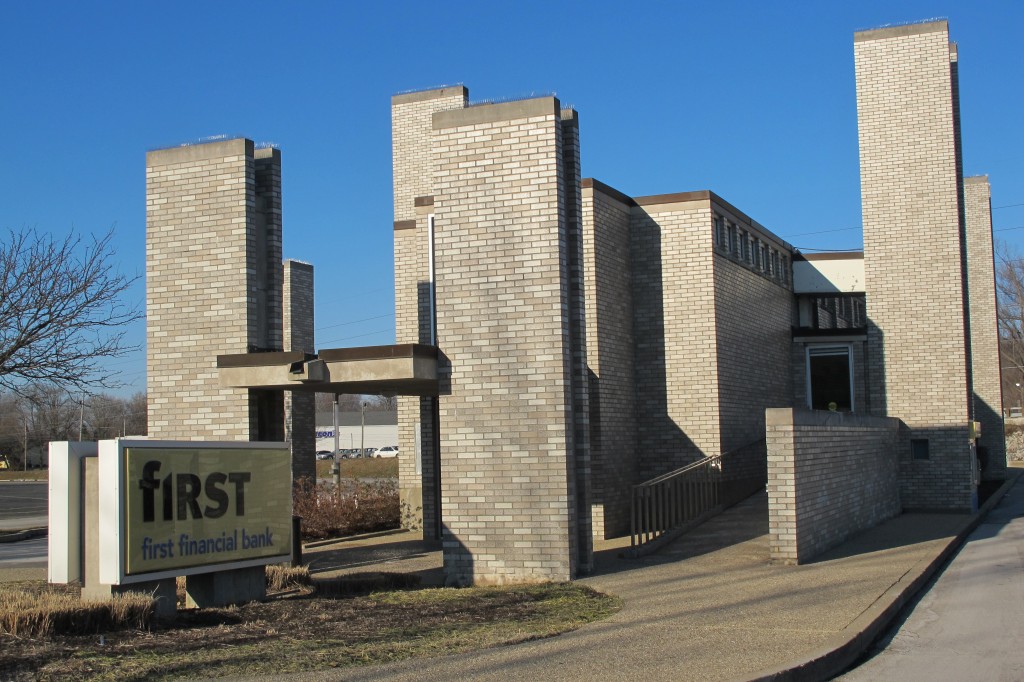 Main entrance, accessibility ramp on the right was added in the 1996 addition
(photo by Ricky Berkey)
---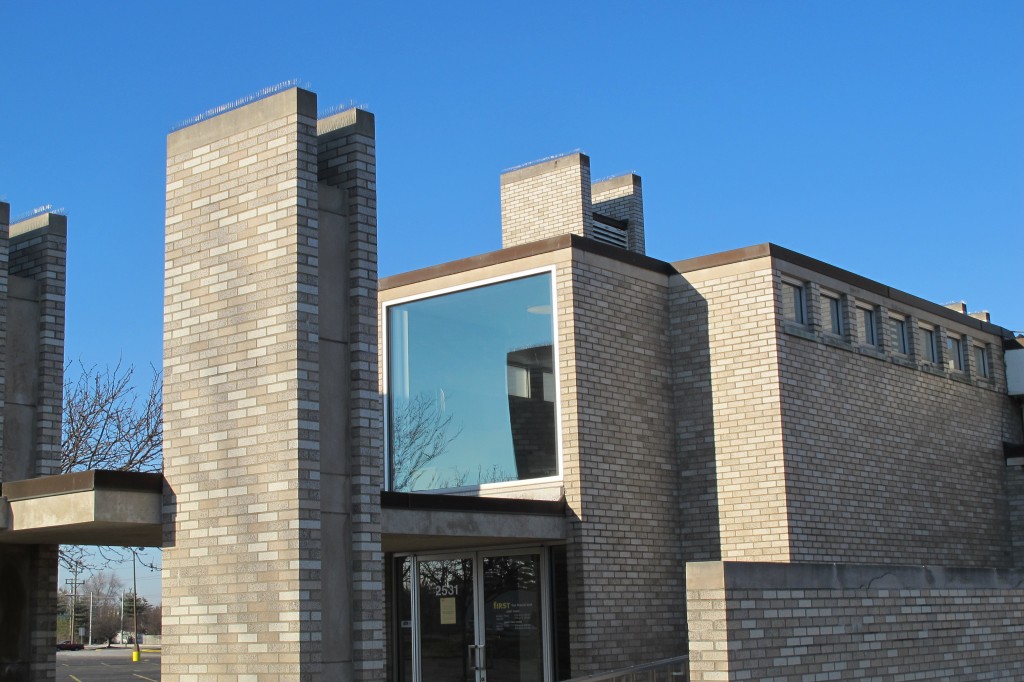 Main entrance
(photo by Ricky Berkey)
---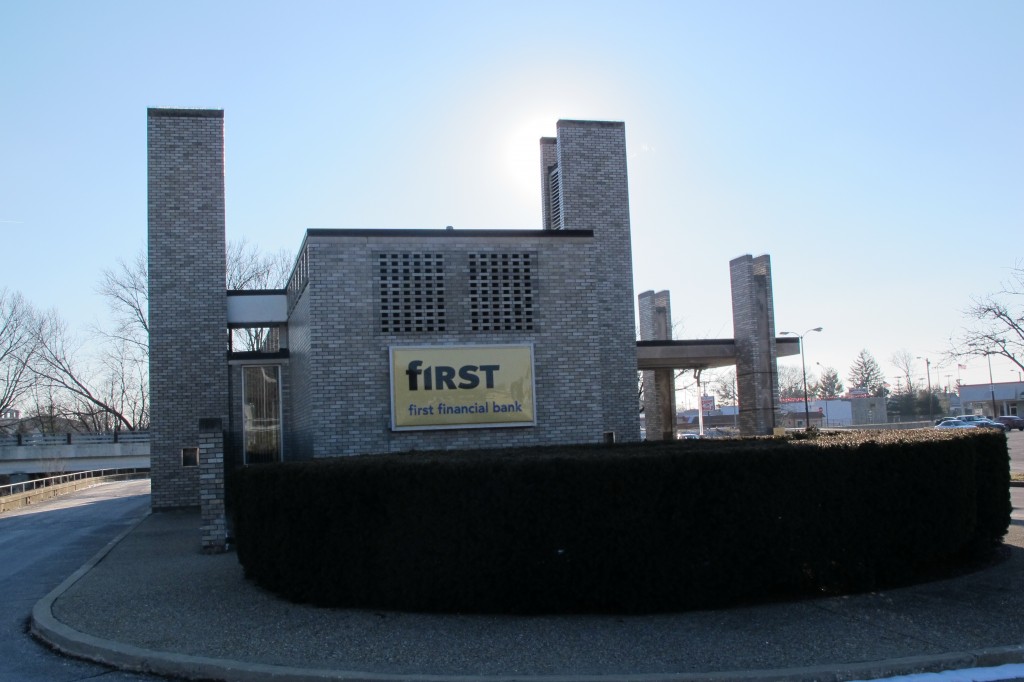 End of the building facing National Road/US 31
(photo by Ricky Berkey)
---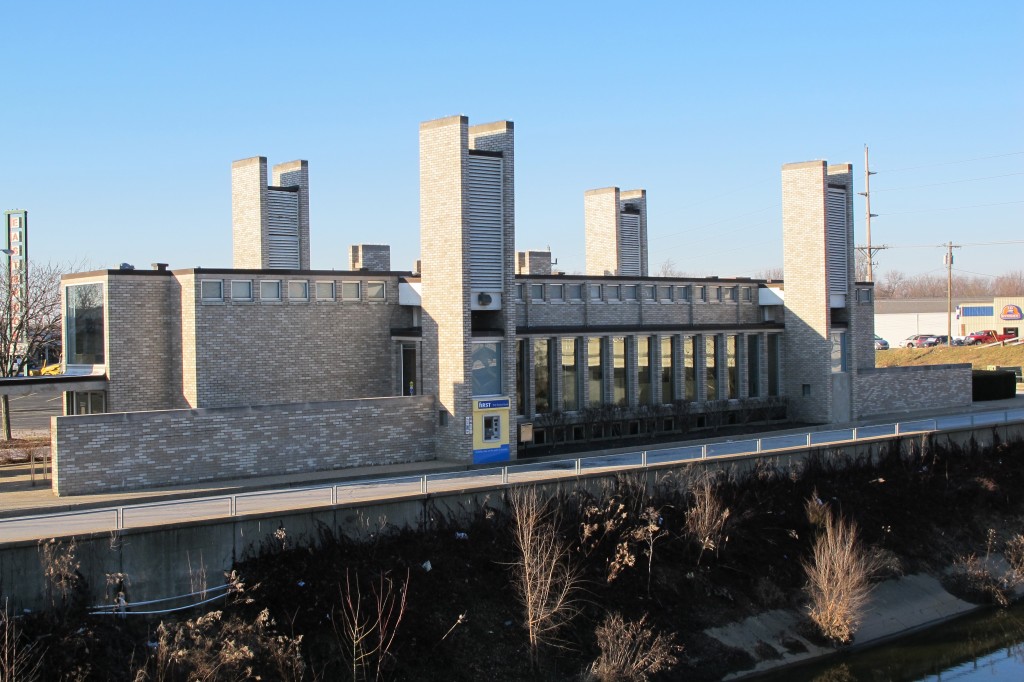 Side of building as seen from across the Haw Creek
(photo by Ricky Berkey)
---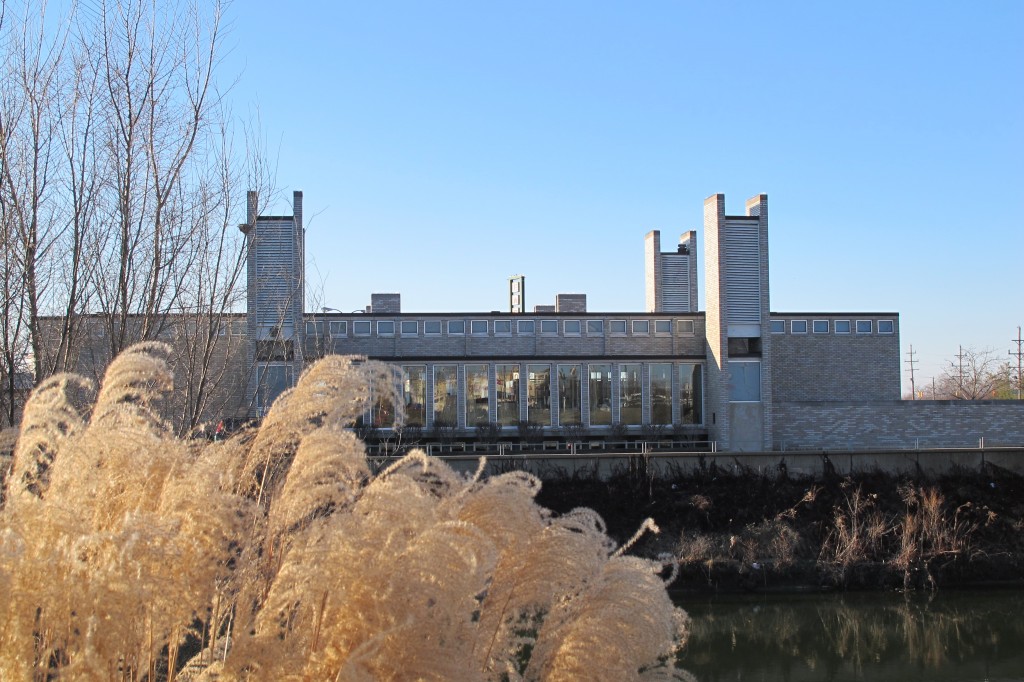 Side of building as seen from across the Haw Creek
(photo by Ricky Berkey)
---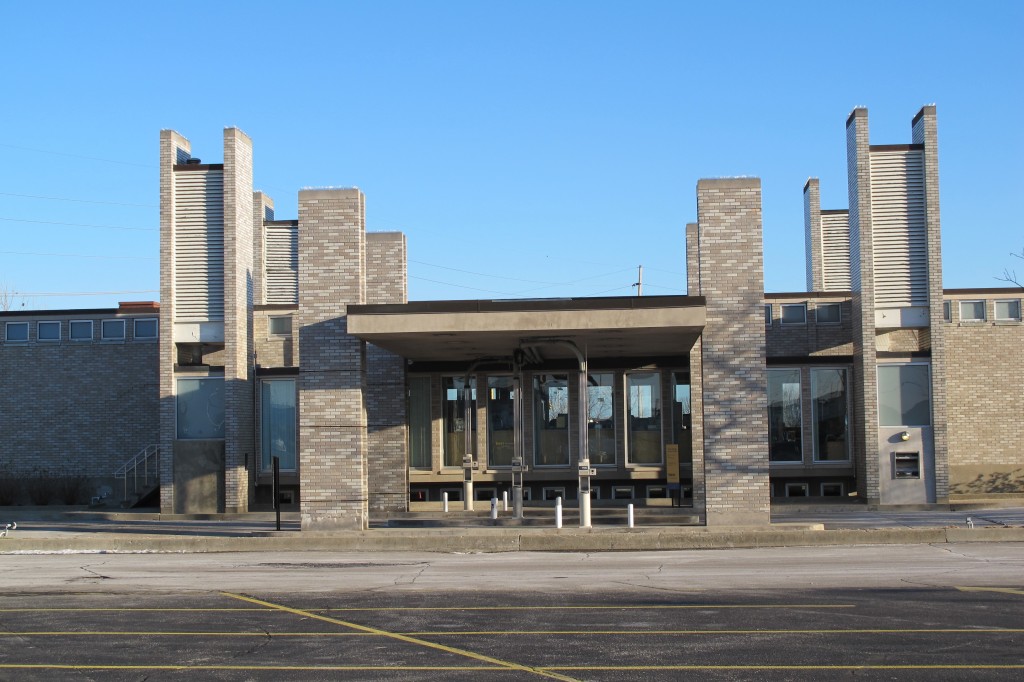 Side view from the parking lot
(photo by Ricky Berkey)
---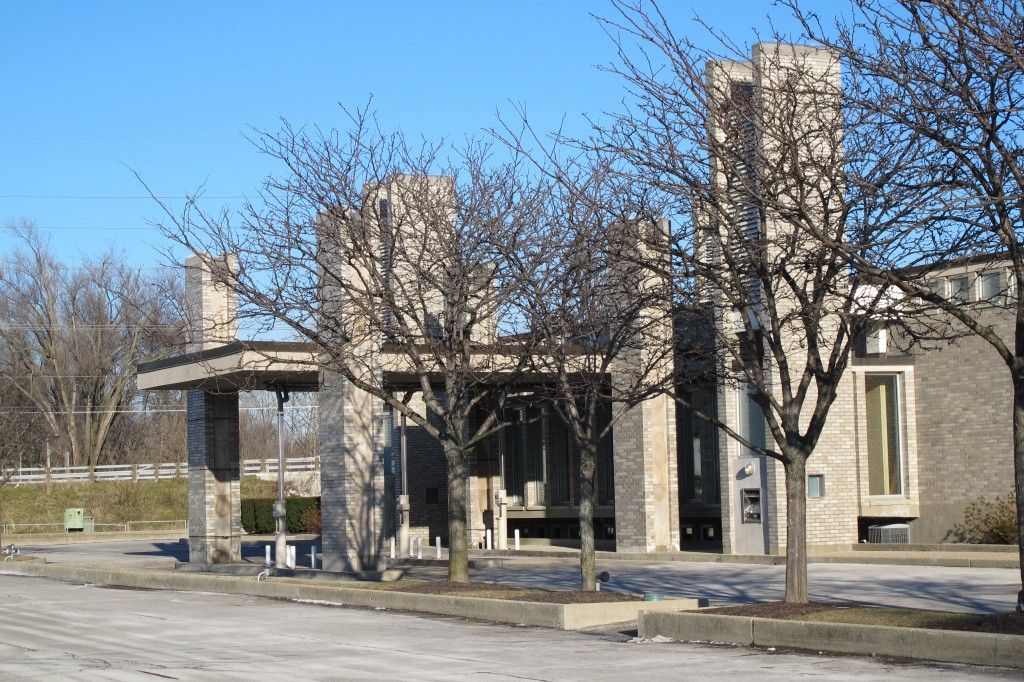 Side view from the parking lot, new drive-up lanes under canopy added in the 1996 addition
(photo by Ricky Berkey)
---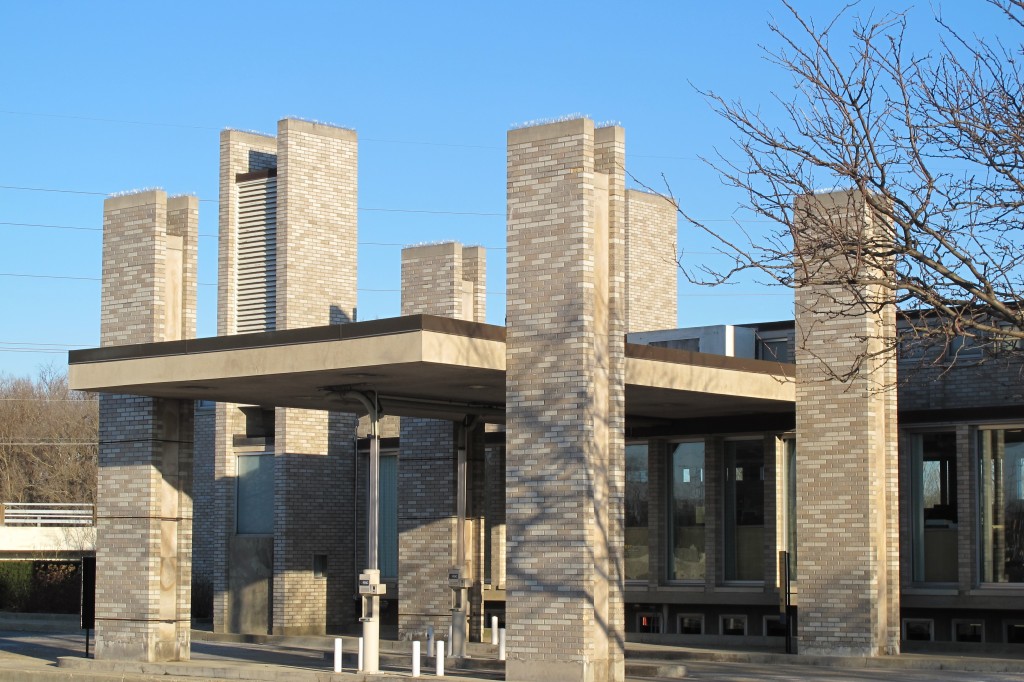 Drive-up lanes under the canopy added in the 1996 addition
(photo by Ricky Berkey)
---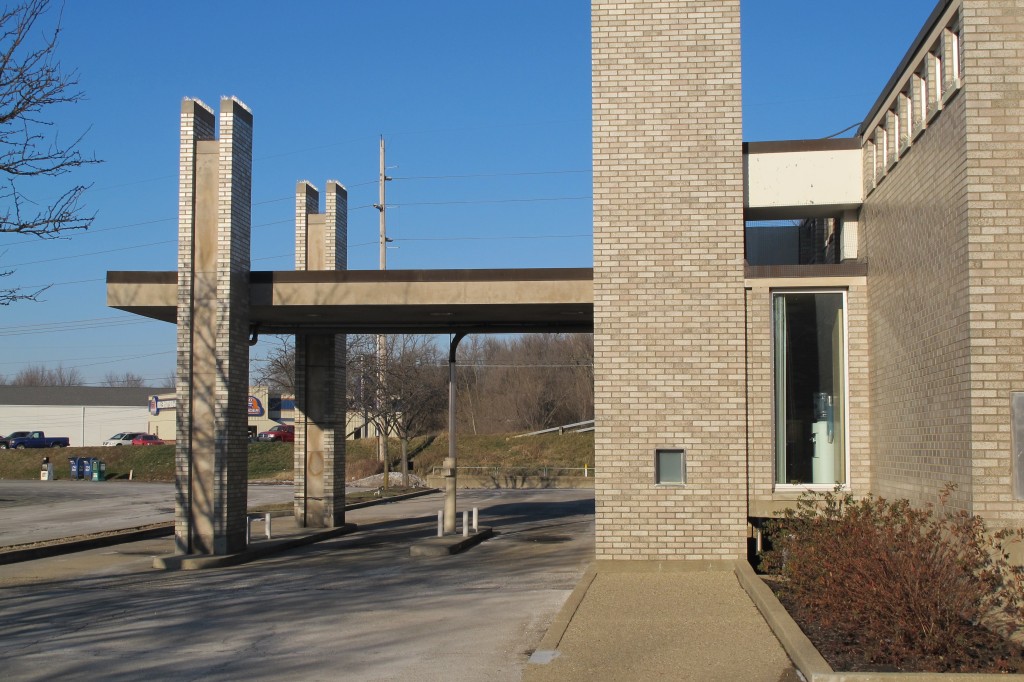 Drive-up lanes on left added in the 1996 addition
(photo by Ricky Berkey)
---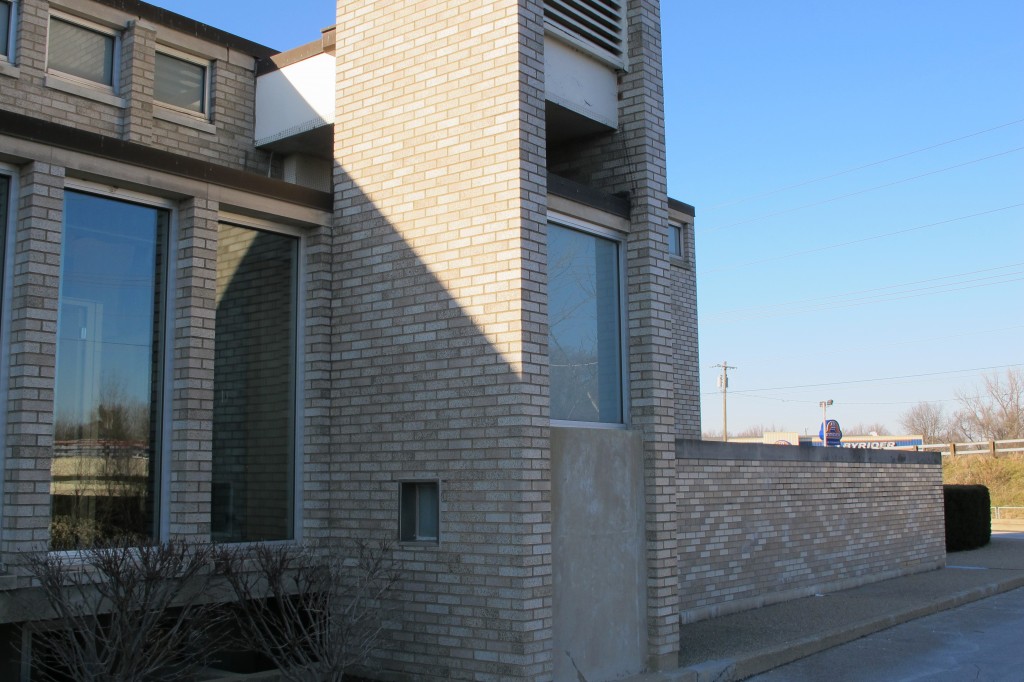 Original towers no longer used as drive-up windows
(photo by Ricky Berkey)
---
One of the original towers now used for the ATM, unheard of technology in 1961
(photo by Ricky Berkey)
---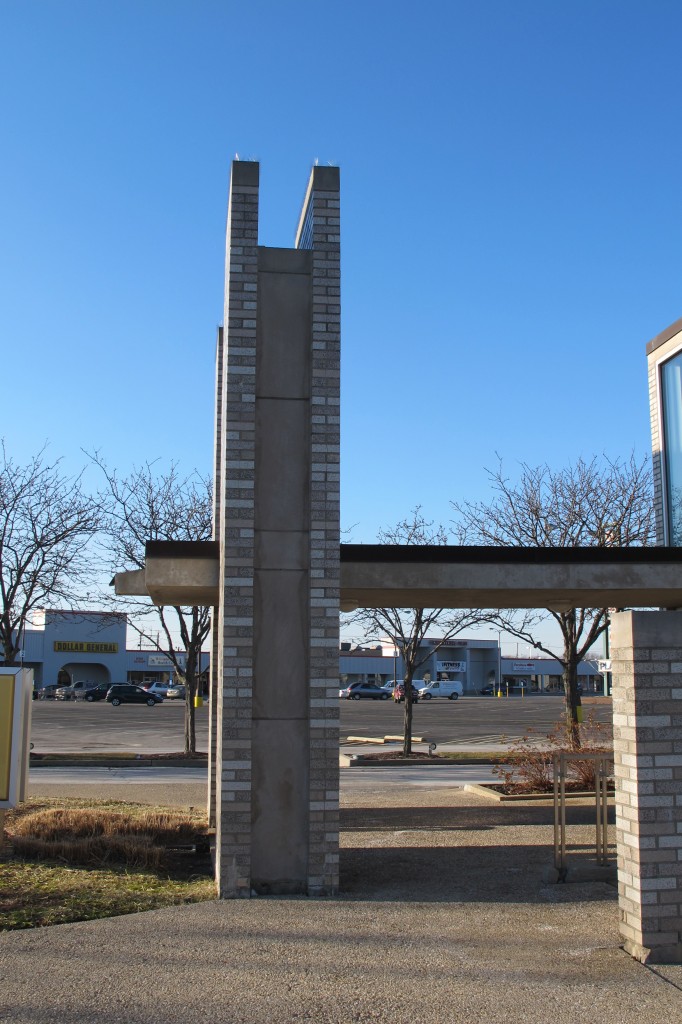 One of the shorter towers added in the 1996 addition
(photo by Ricky Berkey)
---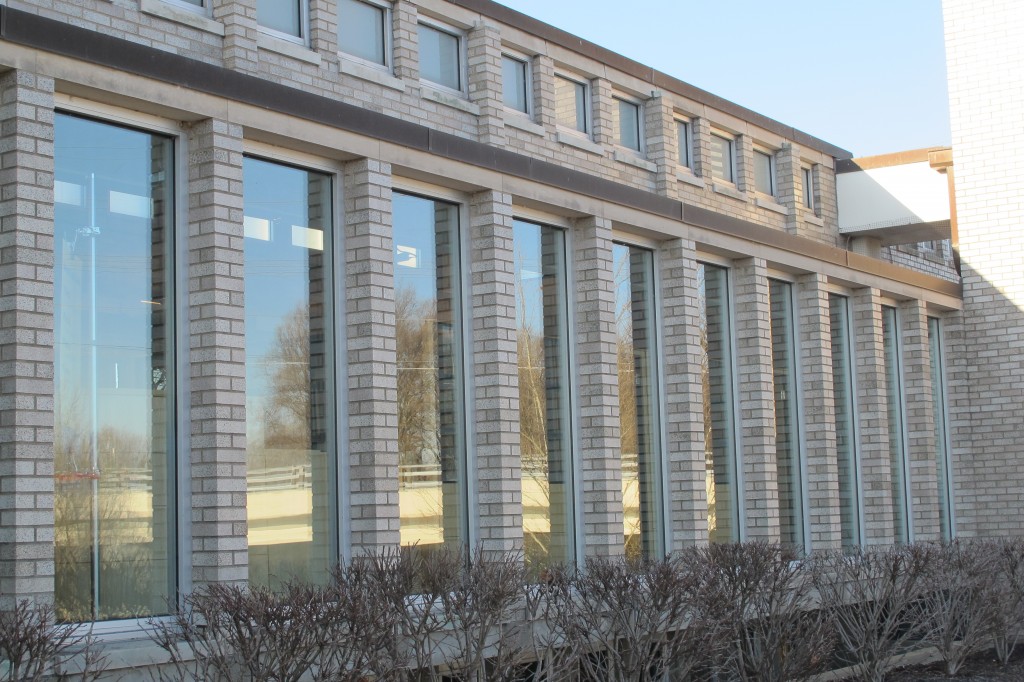 Windows on the creek side
(photo by Ricky Berkey)
---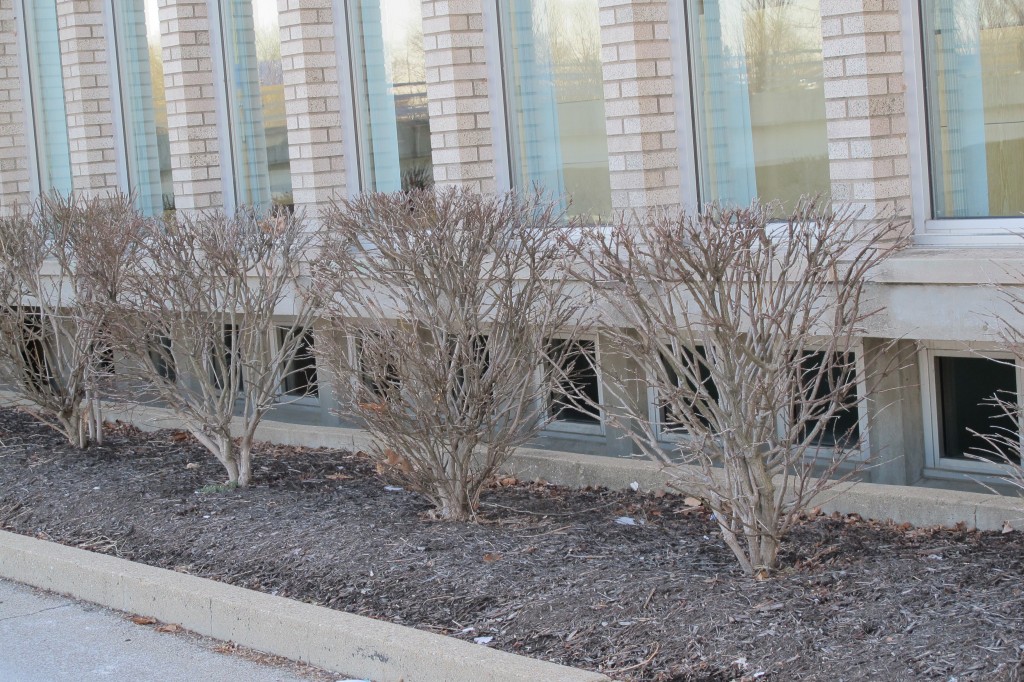 Windows on the creek side
(photo by Ricky Berkey)
---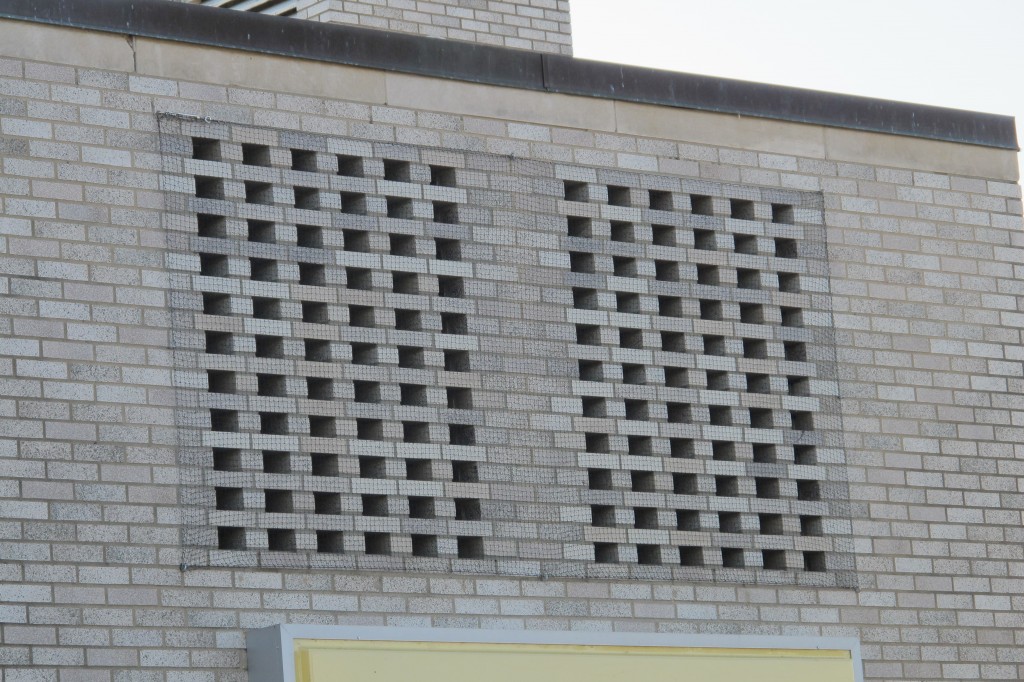 Perforated brick patterns seen in other Harry Weese projects and especially in Eliel Saarinen buildings such as First Christian Church
(photo by Ricky Berkey)
---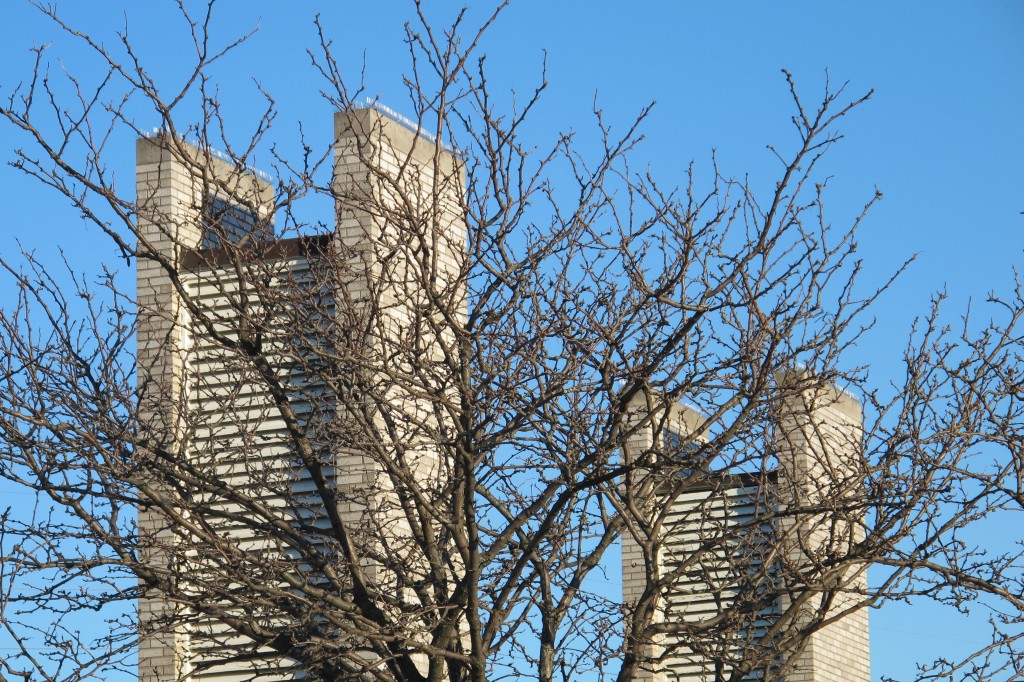 Closeup of the original towers
(photo by Ricky Berkey)
---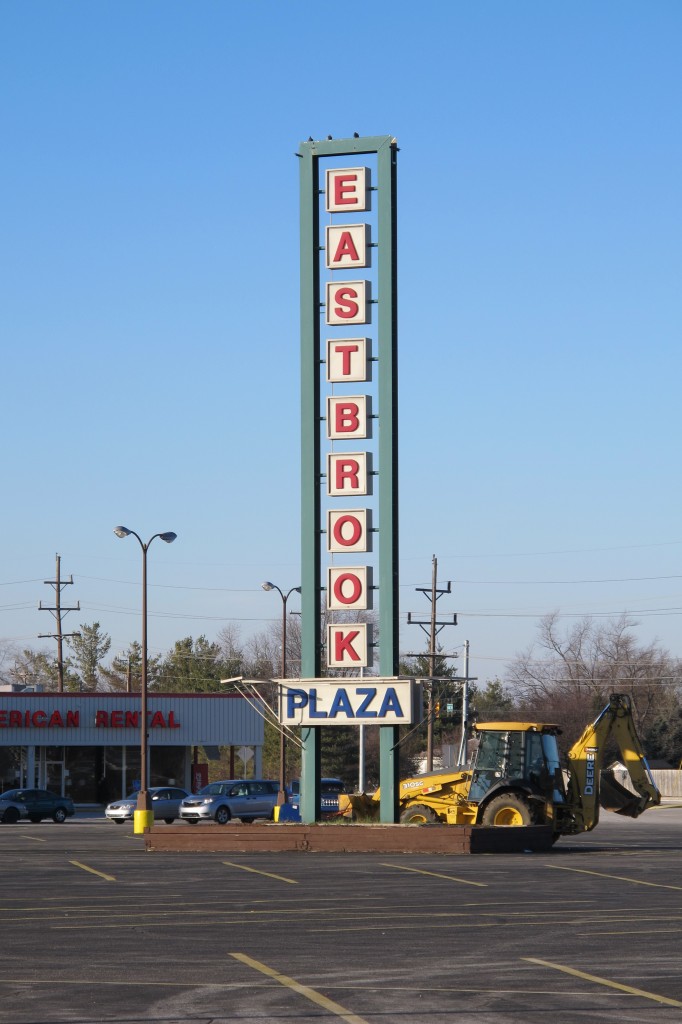 Shopping center has been upgraded with new facades but this is the great original sign
(photo by Ricky Berkey)
---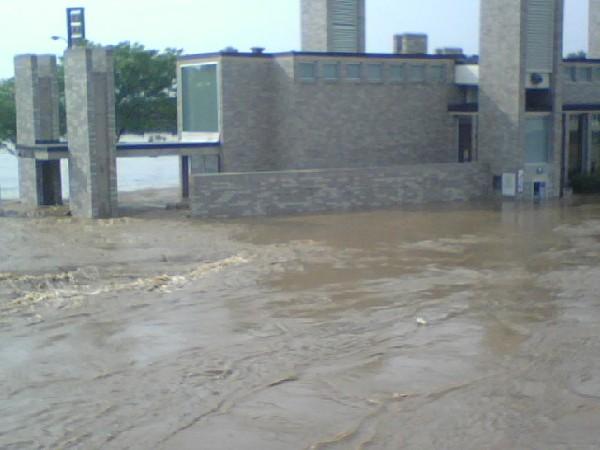 2008 flooding around bank
(photo by Rick Drake used pending permission)
---
Flooding in 2008 of the adjacent Eastwood Plaza Shopping Center
(photo by Rick Drake used pending permission)
---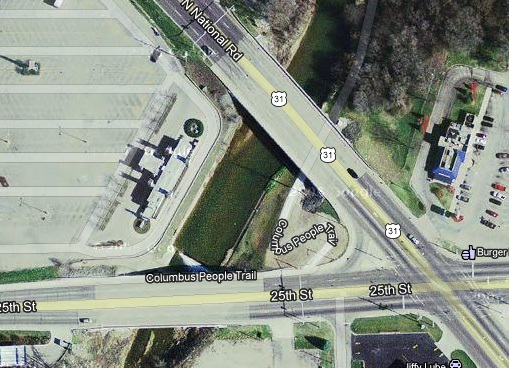 Aerial view of site plan
(Google Maps image used pending permission)
---

Floor plan
(image used pending permission)
---
The Architects
---

Harry Weese
Born June 30, 1915 in Evanston, Illinois
Died October 29, 1998
Yale University (1936-1937)
Massachusetts Institute of Technology (MIT) (1934-1938)
Cranbrook Academy (1939-1940)
---
Harry Weese was born in the Chicago suburbs and went on to become one of the most influential of the Chicago architects. His work predominated in Chicago, in little Columbus, Indiana and around the world. His many projects ranging from high-rises and giant urban complexes to intimate residential designs remain as a testament to his genius.
---
Harry was a student of renowned Finnish architect Alvar Aalto at MIT. He also studied city planning at the Cranbrook Academy in Bloomfield Hills, Michigan where he met and became close friends of Charles Eames and Eero Saarinen. His life was greatly influenced by his brief time at Cranbrook and his later interior design work can be seen as a result. His association with Eero Saarinen led to many projects as Saarinen referred projects to Weese that he simply didn't have time to take on. He also became a close friend of J. Irwin Miller which led to over a dozen small projects in Columbus, Indiana.
---
He was primarily considered a modernist but his work was always shaped by the needs and vision of his clients. As a result his designs were almost always unique without an identifying personal style. Weese's approach to design was problem solving – each work intended to meet a specific need and to fulfill a particular function.
---
Early on he worked for Skidmore, Owings and Merrill (SOM) but felt stifled in the world of corporate architecture and started his own much smaller firm in 1947. He also became a fierce advocate of historic preservation and city planning. He had a lifelong interest in sailing and boat-building which was often reflected in his designs especially in some of his residential projects. Harry Weese & Associates won the coveted Firm of the Year Award in 1978. In 45 years they completed over 300 commissions with perhaps an equal number of unbuilt designs.
---
His luster was tarnished in later years as his drinking and personal problems put a sad footnote on what should have been a celebrated life. After numerous stints in rehab clinics and several strokes his wife Kitty and family had him committed to the Illinois Veterans Home where he died quietly in 1998. Recently his work has come back into focus as a number of articles and a new book has been released on his life and works. Much like the recent surge of interest in Eero Saarinen, the work of Harry Weese is finally getting the critical respect and admiration that it always deserved.
---
Selected Harry Weese Projects
1957: Lillian C. Schmitt Elementary School – Columbus, Indiana
1958: United States Embassy Building – Accra, Ghana
1961: Northside Middle School – Columbus, Indiana
1963: Sterling Morton Library at the Morton Arboretum
1965: First Baptist Church – Columbus, Indiana
1966: Orchestra Hall Restoration – Chicago, Illinois
1966: IBM Building – Milwaukee, Wisconsin
1966: Tangeman House – Muskoka Lakes, Ontario, Canada
1967: Auditorium Theatre Restoration – Chicago, Illinois
1968: Seventeenth Church of Christ, Scientist – Chicago, Illinois
1969: Marcus Center for the Performing Arts – Milwaukee, Wisconsin
1969: Shadowcliff House – Ellison Bay, Wisconsin
1970: Time-Life Building: Chicago, Illinois
1970: Formica Building – Cincinnati, Ohio
1972: Arena Stage – Washington, D.C.
1973: Crown Center Hotel – Kansas City, Missouri
1975: Mercantile Bank – Kansas City, Missouri
1975: Oak Park Village Hall – Oak Park, Illinois
1975: Metropolitan Correctional Center – Chicago, Illinois
1976: Willow Street Townhouses – Chicago, Illinois
1976: Metro System – Washington D.C.
1981: Fulton House Condominium Conversion – Chicago, Illinois
1982: United States Embassy Housing – Tokyo, Japan
1984: Miami-Dade County Transit System – Dade County, Florida
1988: River Cottages – Chicago, Illinois
1988: Union Station Restoration – Washington, DC
---

Thomas Beeby
Born October 12, 1941 in Oak Park, Illinois
Cornell University, 1964
Yale University, 1965
---
Thomas H. Beeby has been the Director of Design and lead designer for HBRA, a Chicago based architectural firm (formerly Hammond, Beeby and Babka, Inc) since it's founding. He was recently named as chairmen emeritus at HBRA.
---
After studying architecture at Cornell and Yale, Beeby took his first job with C. F. Murphy & Associates from 1965-1971. He was a founding member of Hammond Beeby & Associates in 1971. Beeby was a member of the "Chicago 7", a collection of Chicago architects who participated in a number of Chicago exhibitions and symposiums in the 70's and 80's meant to encourage creative thought and dialogue amongst architects.
---
Mr. Beeby was an Associate Professor at the Illinois Institute of Technology (IIT) from 1978 to 1980. He was the director of the Architecture school at the University of Illinois from 1980-1985. He was dean of the Yale University School of Architecture from 1985-1992 and remains as an Adjunct Professor of Architecture there. He continues to lecture on architecture at many schools of architecture around the country.
---
He has also served on many boards and commissions related to architecture in the Chicago area and around the country. He has won many awards for his design work. His projects have included museums and libraries, university projects, theatres and performing arts centers, office and retail buildings, religious buildings and residential work. In Columbus he was also involved with the 1996 renovation of the Eastbrook branch of the Irwin-Union Bank and the 2001 renovation/addition of St Paul's Episcopal Church.
---
Gary Ainge
---
Originally at the architecture firm of Tigerman Fugman McCurry, Ainge joined HBRA in 1984. He has assisted on many HBRA projects as well as being principal design architect on others. He has been a partner in the firm since 1988. He has lectured and participated in symposiums and juries at a number of institutions.
---
In Columbus he was a partner with Thomas Beeby in the design of the Breeden Real Estate building as well as the 1996 renovation of the Eastbrook branch of Irwin-Union Bank.
---
HBRA (formerly Hammond Beeby and Babka)
The firm was founded in 1961 by James Wright Hammond, who conceived the practice as an opportunity to collaborate closely with his clients through all phases of the design and construction process. Thomas Beeby joined the firm in 1971, later joined by partners Dennis Rupert and Gary Ainge. Originally known as Hammond Beeby Babka and later Hammond Beeby Rupert Ainge , they are now simply HBRA. The company is currently led by Aric Lasher who joined the firm in 1985. HBRA has maintained their offices in Chicago since their founding.
---
Links/References
Irwin-Union Bank: Eastbrook Plaza Branch: 3D model executed in Goggle Sketchup
City of Columbus: official City of Columbus website
Columbus Indiana Architectural Archives
Columbus Indiana Architecture Digital Archives: A small portion of the Columbus Indiana Architectural Archives available online from the IUPUI digital library
3D Models of Columbus Architecture Executed in Google SketchUp:
The Republic Newspaper – Columbus, Indiana newspaper
Bartholomew County Public Library
Historic Columbus Website – David Sechrest's tribute to Columbus History
Historic Columbus Message Board – a companion interactive forum to the David Sechrest historical website
Bartholomew County Historical Society
---

Click HERE for a Calendar of Upcoming Events in the Columbus Area.
Click HERE for information about Tours of Columbus Architecture and Design including the Miller House.
---

Ricky Berkey
Email me: rickyberkey@gmail.com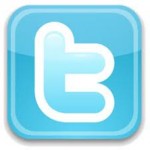 Follow me on Twitter:
---