---
(v12.13.14)
Art, Architecture and Design
This article spotlights a particular building or some other aspect of Columbus design. I welcome your comments, corrections and additions. Please share your experience and perceptions of these uniquely Columbus projects.

Fodrea Elementary School

Built: 1973
Address: 2775 Illinois Street
Design Architect: Paul Kennon (Caudill Rowlett Scott (CRS) – Houston, Texas)
Assistant Design Architect: Truitt Garrison (Caudill Rowlett Scott (CRS) – Houston, Texas)
Associate Architect: Dean Taylor – Columbus, Indiana
General Contractor: Repp and Mundt – Columbus, Indiana
Honors:
National Steel Award: American Institute of Steel Construction (1976)
Best Design, Low Rise Construction: American Iron and Steel Institute (1975)
Award of Merit: Southern California American Institute of Architects (1975)
Honor Award: Texas Society of Architects (1975)
HUD Award for Design Excellence (1971)
Outstanding Design Award: American Association of School Administrators (1971)
---
Fodrea School continued the early 70's trend as the 3rd school in the area to use an open-classroom concept. These schools were ushering in a whole new era of teaching. Large open spaces without walls were meant to be flexible and to allow group activities and team teaching but ultimately fell out of favor. This as well as several other Columbus schools were later modified to a somewhat more traditional format. The noise levels and sight lines to other groups of children with the completely open format were considered distracting.
---
As in other local elementary schools, it was named for respected educators in the school system. Fodrea was named to honor Hazel, Bessie and Mabel Fodrea, three sisters who taught in the city and county school system. Bessie Fodrea taught for 43 years and Hazel for 40. Both Bessie and Hazel taught for a number of years at the old State Street School which this new building replaced. Mabel Fodrea Jordan only taught for one year before she got married which in earlier days almost always resulted in an immediate retirement from teaching.
---
During the planning process Kennon, his design colleague Truitt Garrison and other CRS associates set up what they called "squatters sessions" at the school systems administration building working long days over a 5 day planning session collecting community input prior to presenting a preliminary plan to the school board. Architects design fees were paid by the Cummins Foundation. As he did on other projects in Columbus, Paul Kennon sought input from local residents, in this case children from the area who would be attending the school. Among the many requests were for bright colors, spiral slides, ramps, tunnels, color TV's, robots as teachers, push button desks, climbing ropes and firemans poles, a place for skits and performances, automatic supermarket doors, waterbeds for rest areas, sprinklers for hot days, pool tables, privacy nooks, air conditioning, carpeting, playground space protected from the elements and a babysitting area for family pets. There was even a request for a "tunnel of love" where one could go and kiss their special friend! Kennon praised the creativity of the children, many of whom were from impoverished neighborhoods near the new school site. A collection of drawings made by the children were bound in a book and later presented to the school as a keepsake. One of the sessions with the children was filmed by an Indianapolis television station and shown on the evening news. Instead of a traditional groundbreaking, the children and local residents were invited to a "staking out" ceremony where they laid out on the site where the actual elements of the building would be located
---
Some of the children's ideas actually implemented were the carpeting and air conditioning, a unique set of indoor slides adjacent to the stairwells, several tunnels and an open, welcoming building concept that the children would be proud to show off to their parents and the community. The slides that were included were half-level slides from the upper classroom level down to the library and from the library down to the lower classroom level. One of the tunnels connected a learning area to the dining area and another runs under a mound of earth leading to the playground. A special place created for the students was a storytelling kiva which consisted of carpeted steps inside a cozy circular walled alcove. Kiva is an Pueblo Indian word for a round ceremonial structure.
---
As initially conceived, Fodrea was going to function as a community center as well as a school designed around a community concourse inviting people to come in, interact, exchange ideas, to read and to play. This was one of the first schools in the country intended to function as a community center as well as a school. The "people-centered" school was meant to offer elementary education, adult education, recreation space for all ages and space for community and civic organizations. The open concept of the building was meant to maximum flexibility of the space. Kennon felt that his design facilitated active, reactive and interactive learning for people of all ages. In the initial configuration there was a community educational area above the back of the multi-purpose room and the art room. Adults could also have access to the gym and cafeteria when the children's instructional wing was closed.
---
The 57,600 square foot building was designed to serve over 500 students as well as allow space for the community center area and a "Head Start" program. The building has been described as an elegant but simple mass of drum shapes, sharp angled silhouettes and smooth white walls. Some have likened the exterior to a child's random arrangement of building blocks. The multiple levels, ramps and circular "silos" provide interior and exterior interest. The building construction was based on a "unistrut" space frame with a metal deck supported on concrete columns. The open frame contains exposed electrical and mechanical runs as well as providing space for lighting and audio-visual installations. From the vantage point of the free-floating 2nd floor, one can look out over the open classroom areas and the 3 level space containing the library. 2 skylight systems provide natural light to the art and classroom areas. The largely windowless exterior features white metallic walls made from prefabricated, foam-filled panels with a baked enamel finish. The building sits on 8.3 acres of land directly behind a supermarket on State Street but within in a very cozy residential neighborhood setting.
---
The school consists of three sections grouped around a courtyard with an outdoor mall or concourse cutting at a diagonal through the building. This concourse through the building was landscaped with grass and trees and intended as a way for the building to be a "short cut" for the community not an obstacle and could be used by residents walking to nearby shopping areas. The open courtyard at the center was intended for public use as well. The bell and cornerstone from the old State Street Elementary was incorporated into the courtyard design. One section of the building was for primary grades 1 and 2, an intermediate area for grades 3 and 4 and an upper elementary area for grades 5 and 6. Each section of the building was a large open space where classes can be divided into small to large groups or set up for individualized instruction. The classrooms form a square around the landscaped inner court with with floor to ceiling windows facing the courtyard. Three outside stairways provide easy access into the open center. Each section of the building was marked on the exterior with large colorful "supergraphic" numerals. There were also separate areas set up for kindergarten, special education, music and art as well as an instructional media center (IMC): the library. There is a cafeteria as well as a multi-purpose room that can be used as a gymnasium.
---
The building was dedicated on December 2nd, 1973 with Hazel Fodrea and Mabel Fodrea Jordan present. Fellow sister Grace Fodrea was there to represent Bessie Fodrea. With a number of state flags presented at the dedication, the school hoped to eventually complete a display of the flags from all 50 states. The educational concept as initially used in the school was called the IGE program designed to meet the needs of each child and allow individualized progress. It was designed around team teaching and planning with clusters of students grouped by ability to allow an easier flow through the curriculum.
---
Among the many changes made to the interior over the years was a return to a more traditional classroom format and many changes to the educational curriculum. Recently the school was reconfigured as one of our local "Signature Academies" and has become a magnet school rather than serving only the neighborhood. Although still called Fodrea Community School until recently, its usage as a community center was never fully developed. Their new name is "Columbus Sgnature Academy: Fodrea Campus. The carpeting has largely been replaced in the learning areas with a more durable surface with colorful patterns. Their famous slides paralleling the stairways were long ago declared "off limits" for safety reasons but survive as decorative elements. The building has won at least 6 design awards over the years and the exterior look has held up well.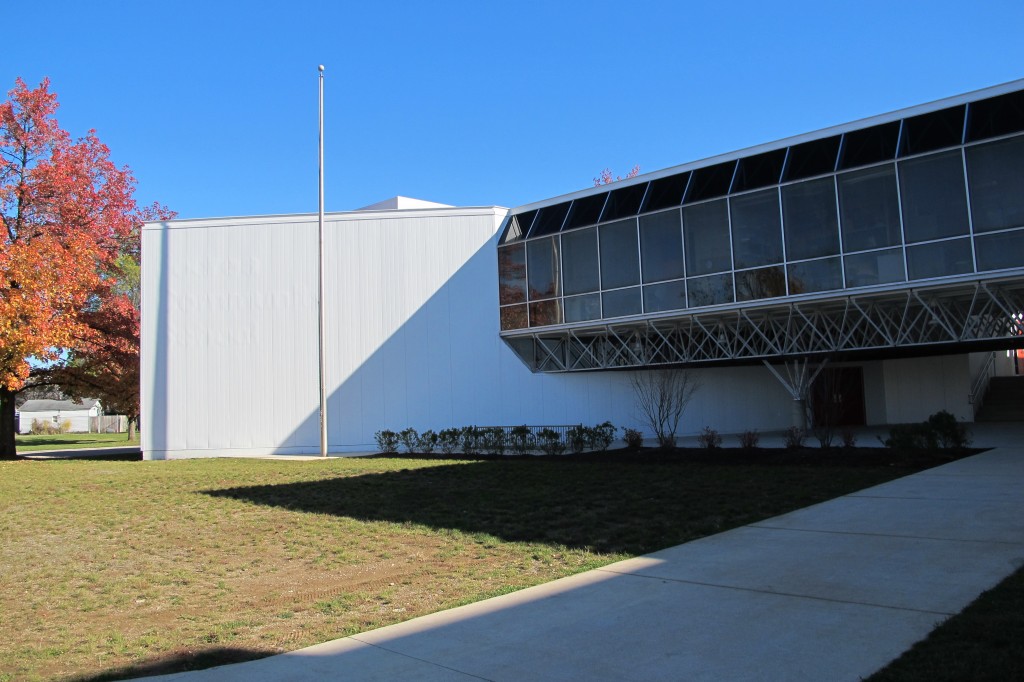 Front side of building
(photo by Ricky Berkey)
---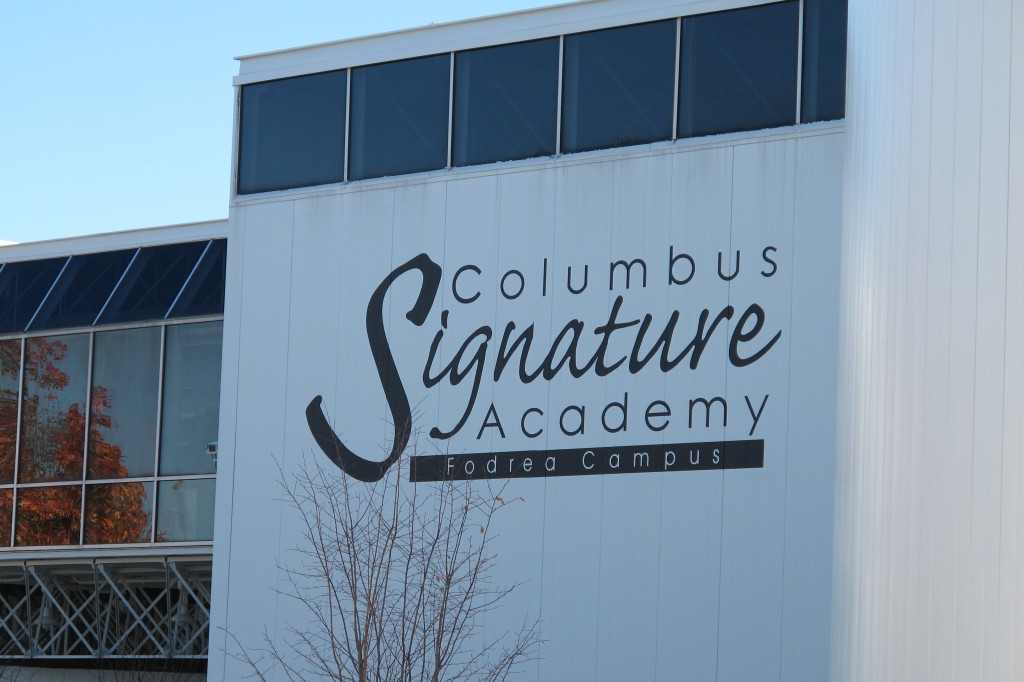 New name in 2010
(photo by Ricky Berkey)
---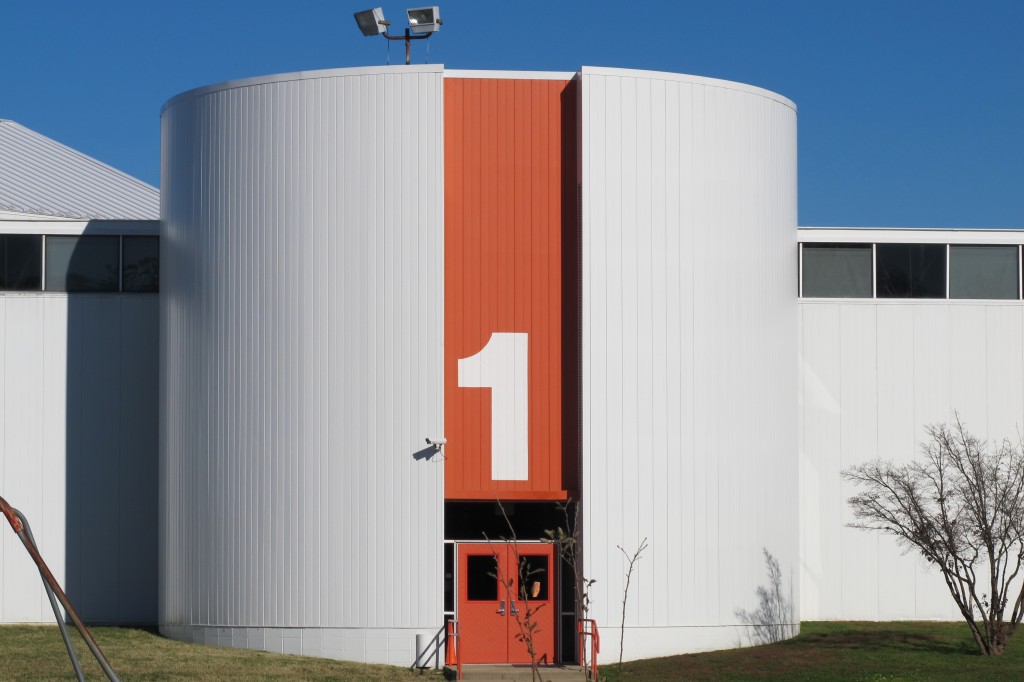 Entrance to Cluster 1
(photo by Ricky Berkey)
---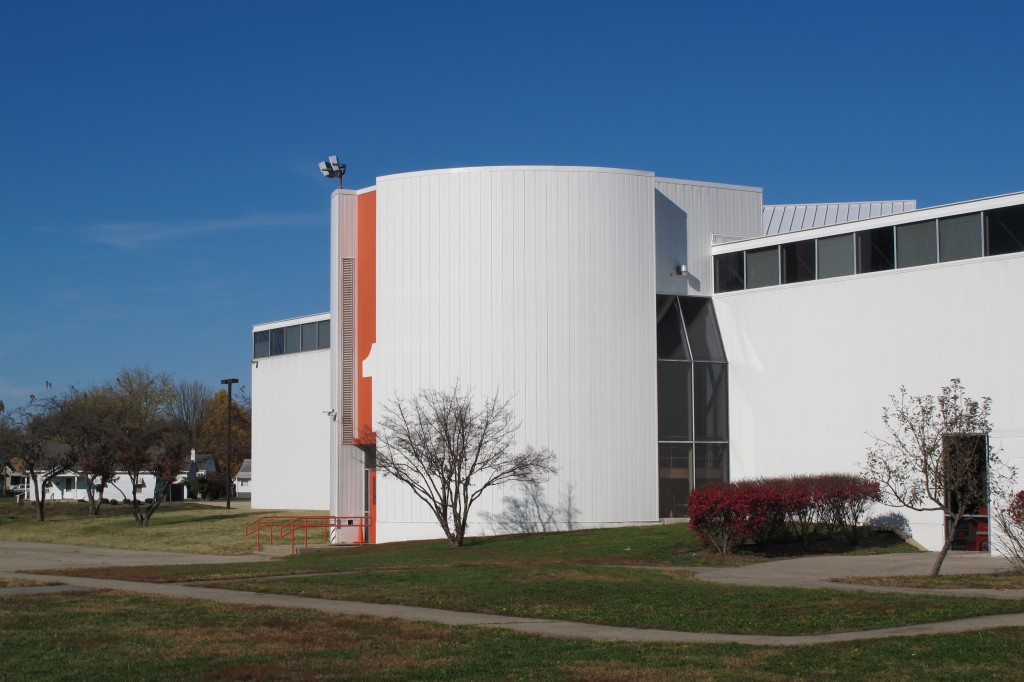 Side view of Cluster 1
(photo by Ricky Berkey)
---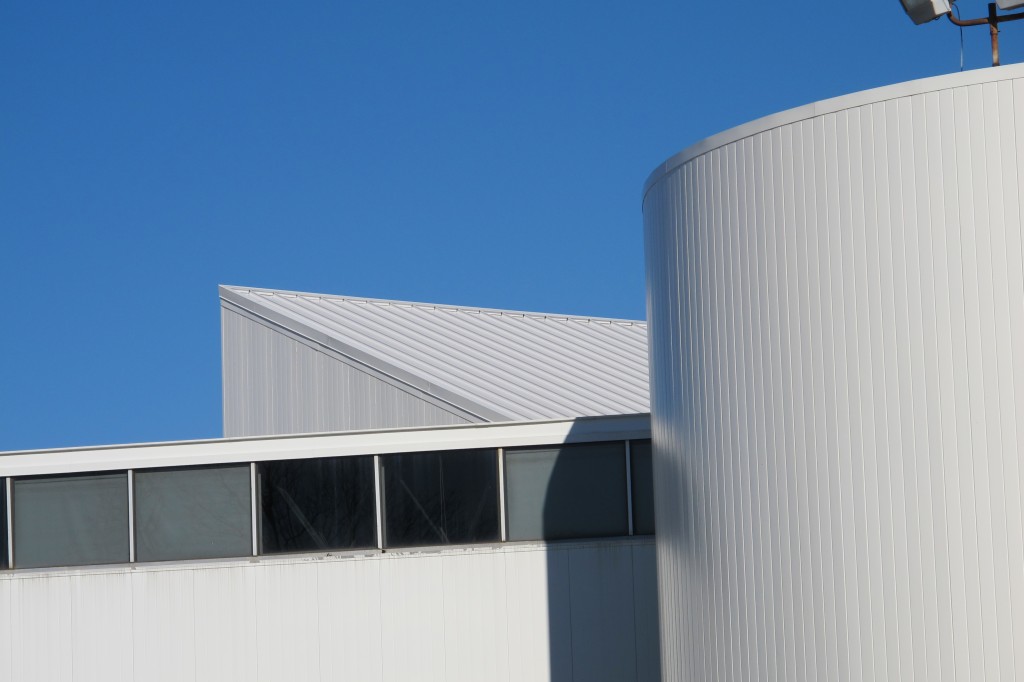 Juxtaposition of rooflines
(photo by Ricky Berkey)
---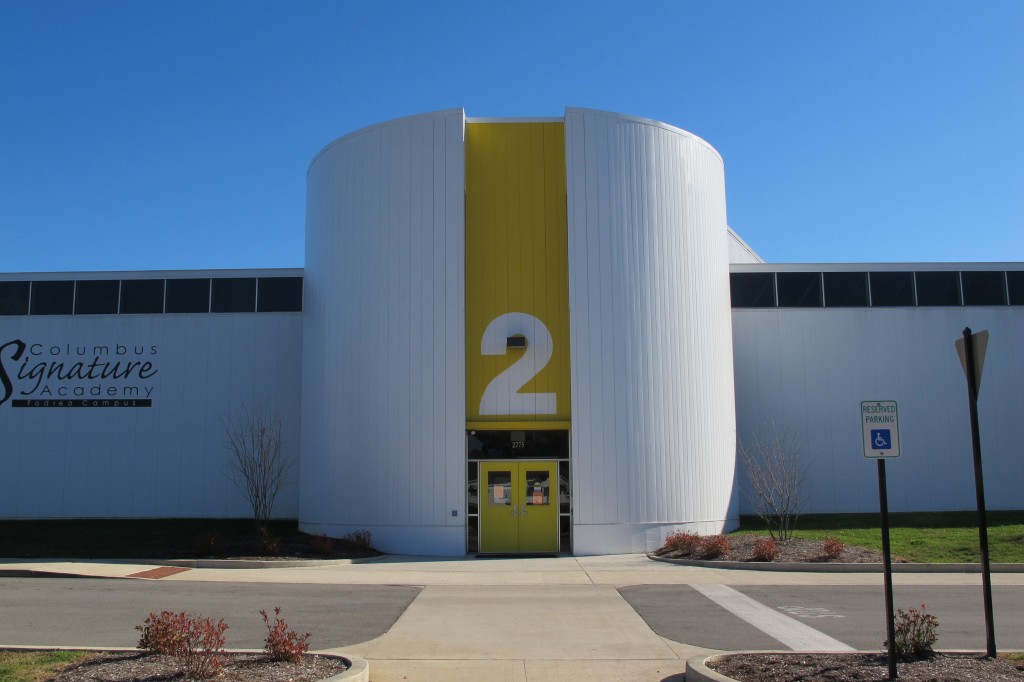 Entrance to Cluster 2
(photo by Ricky Berkey)
---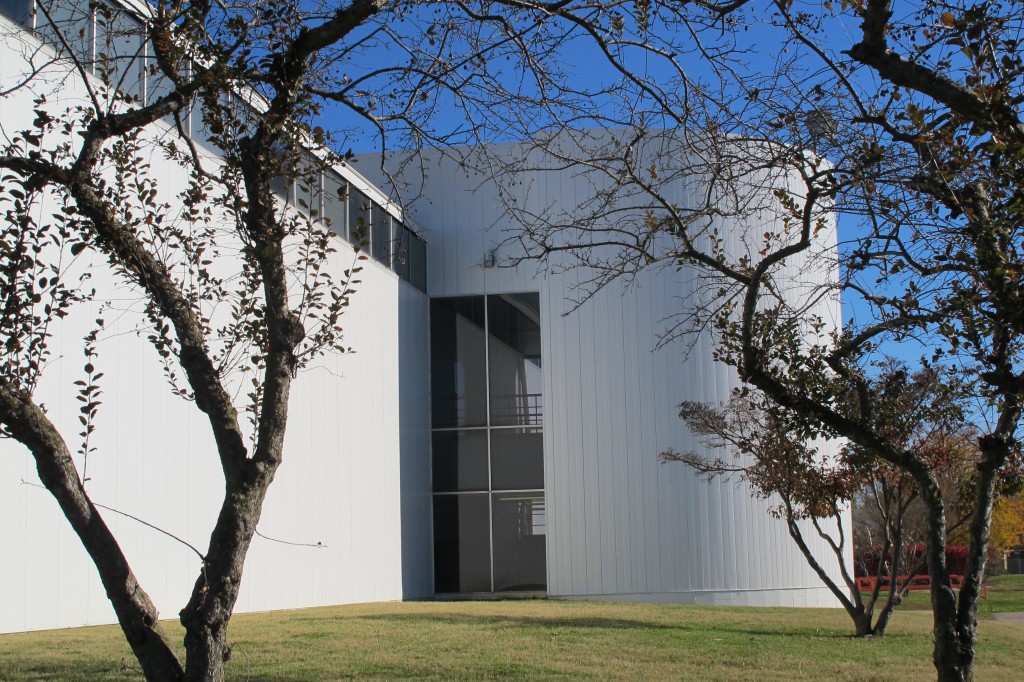 Side view
(photo by Ricky Berkey)
---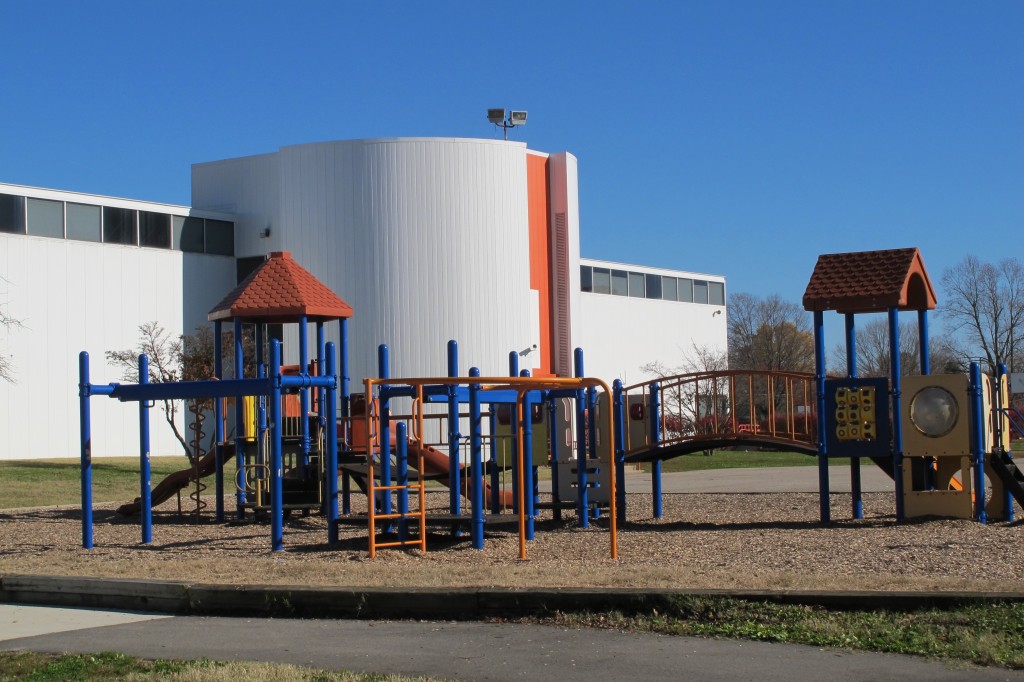 View from the playground
(photo by Ricky Berkey)
---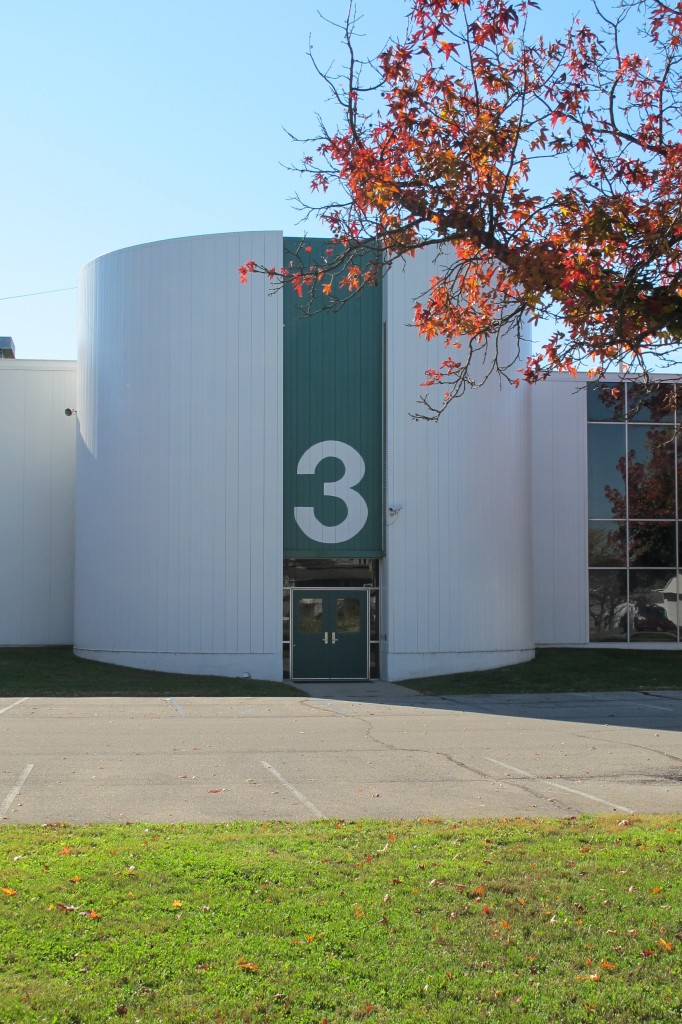 Entrance to Cluster 3
(photo by Ricky Berkey)
---
Rear entrance
(photo by Ricky Berkey)
---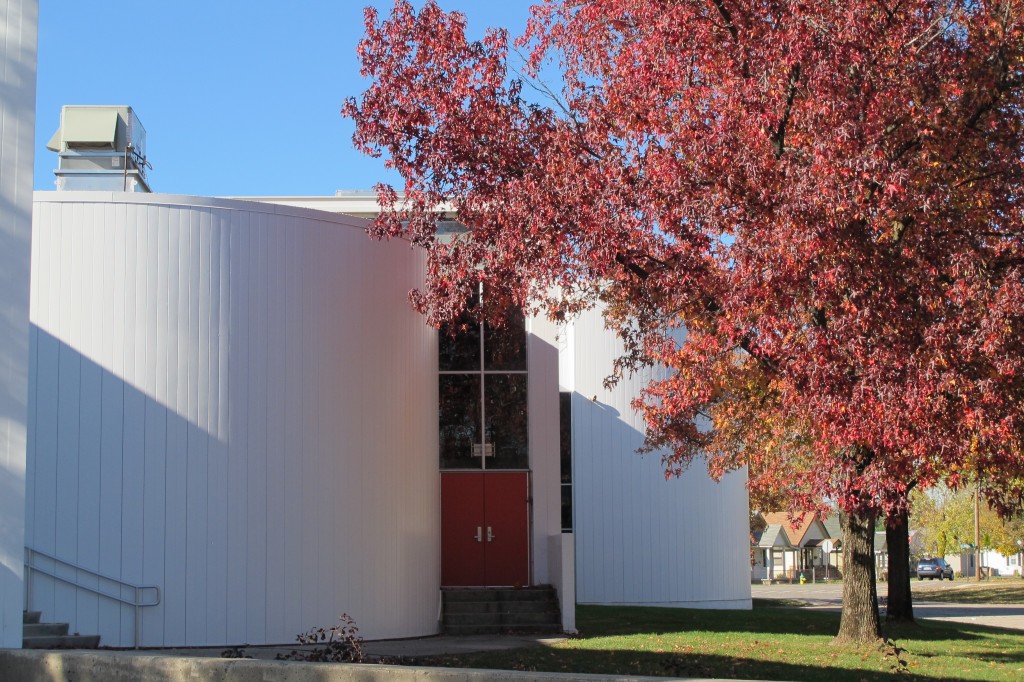 Side of the building from the rear
(photo by Ricky Berkey)
---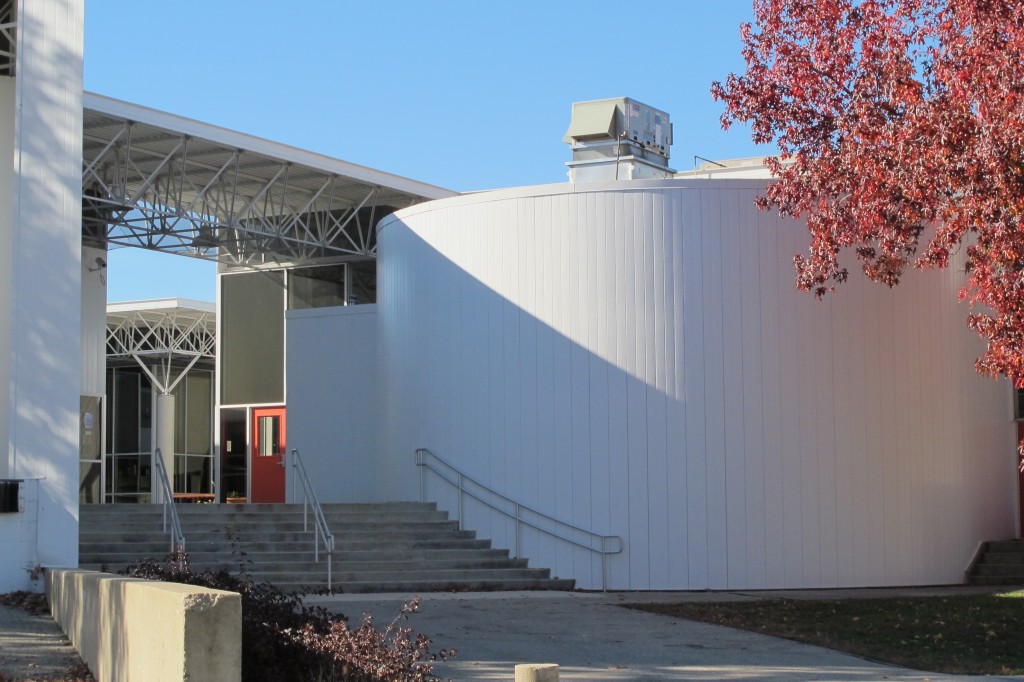 Side entrance
(photo by Ricky Berkey)
---
Roofline detail
(photo by Ricky Berkey)
---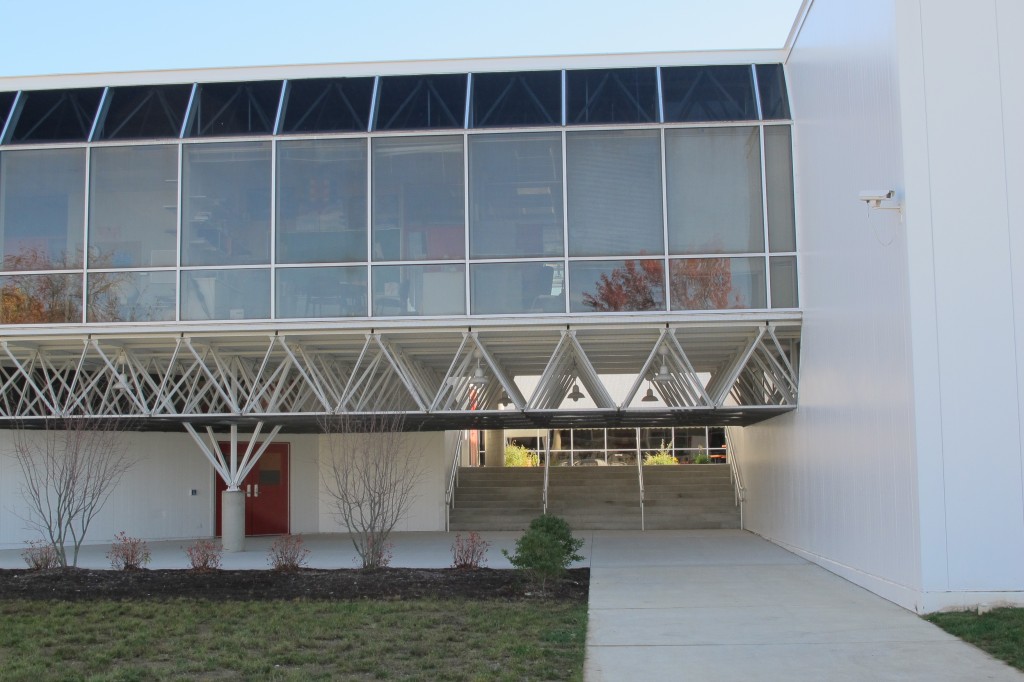 Entry to the courtyard from the front
(photo by Ricky Berkey)
---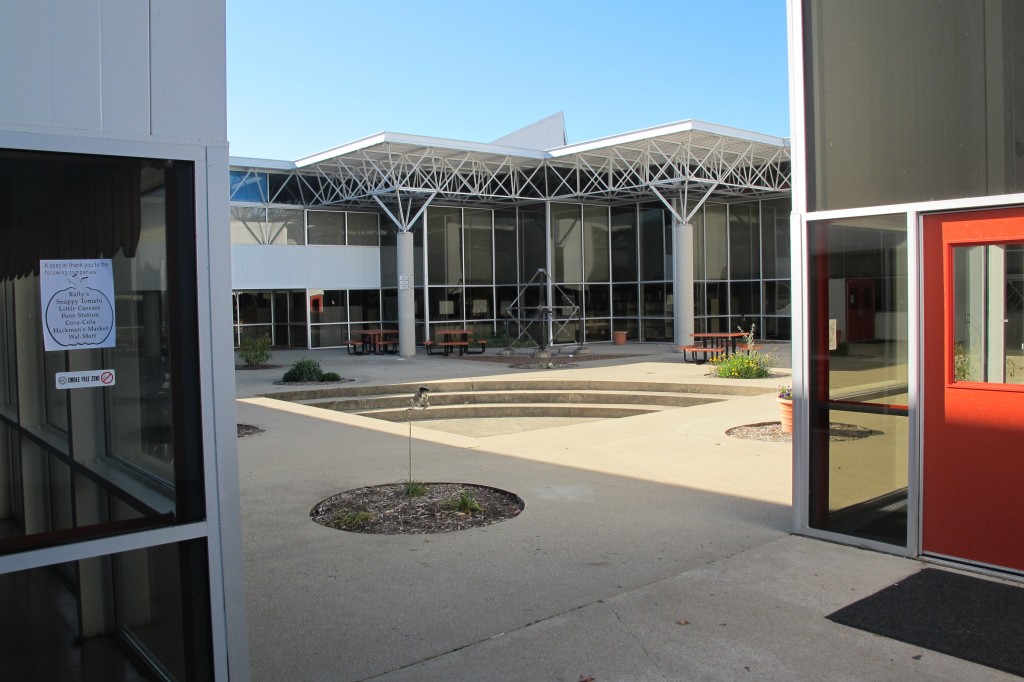 View into the courtyard
(photo by Ricky Berkey)
---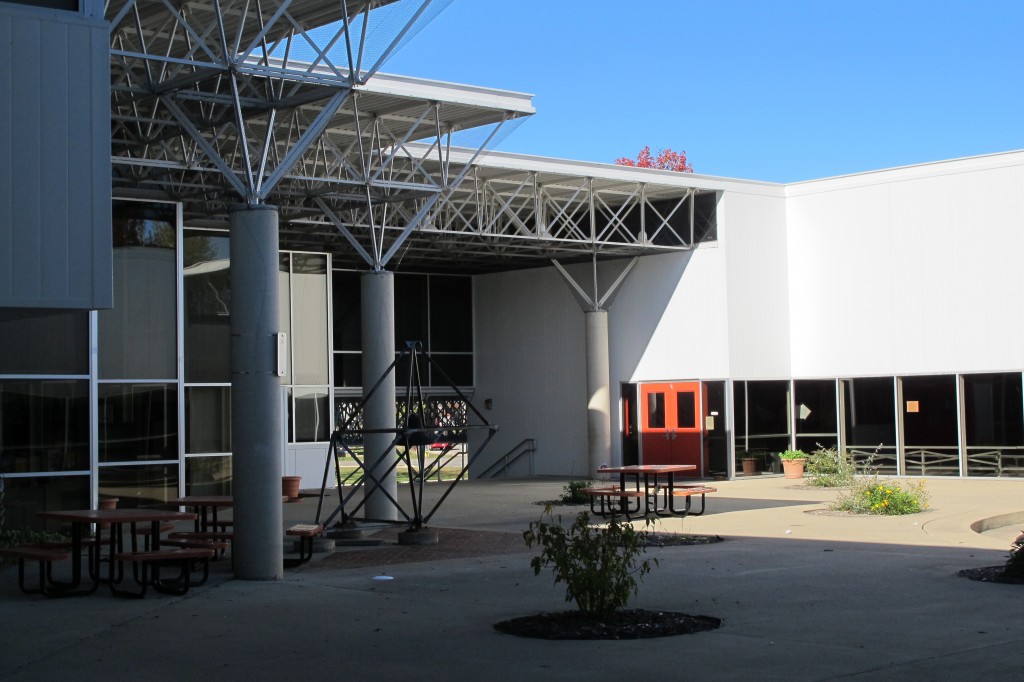 Courtyard
(photo by Ricky Berkey)
---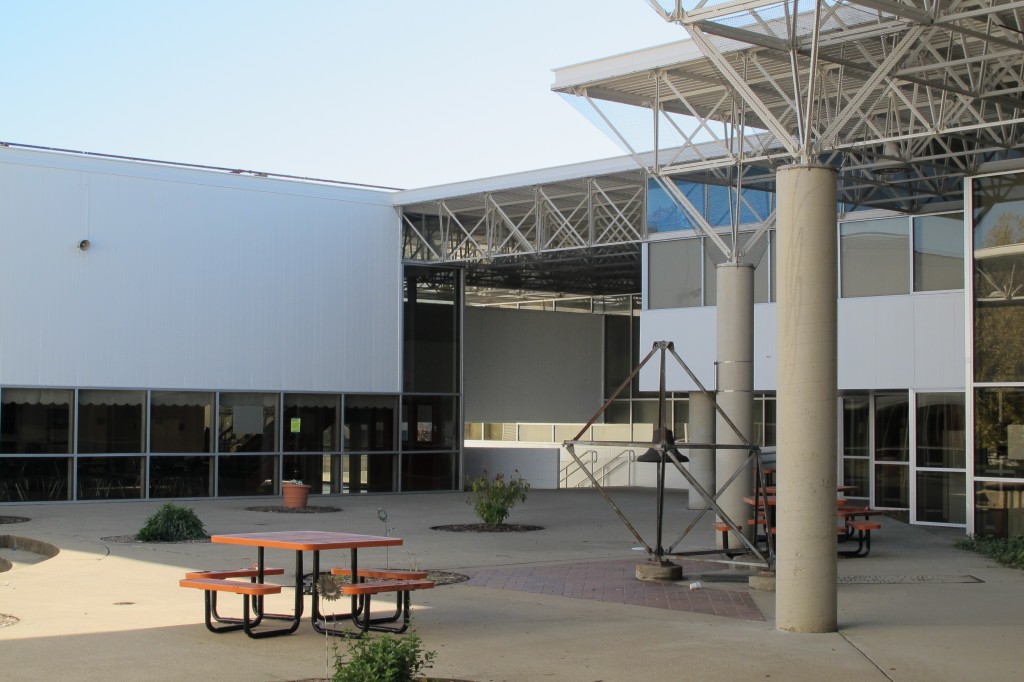 Courtyard
(photo by Ricky Berkey)
---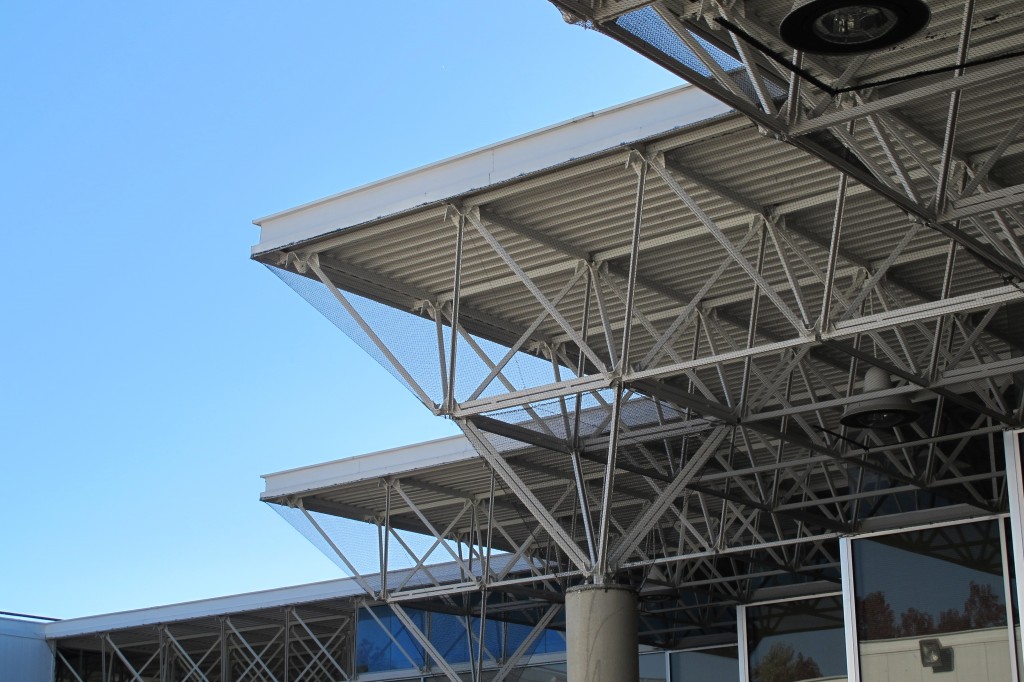 Closeup of rooflines in the courtyard
(photo by Ricky Berkey)
---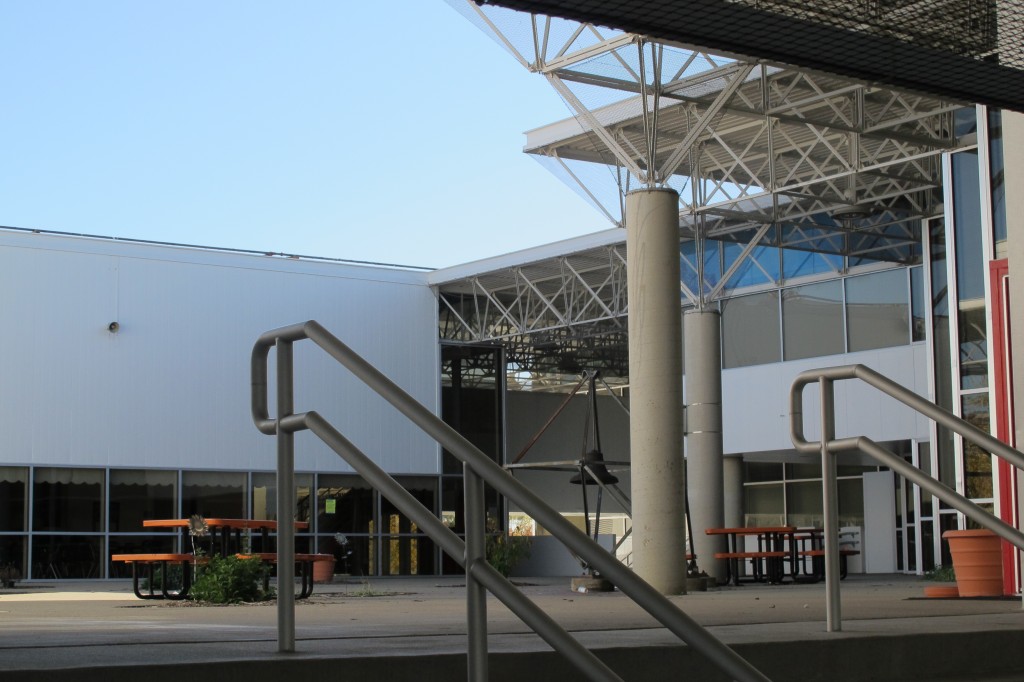 Courtyard
(photo by Ricky Berkey)
---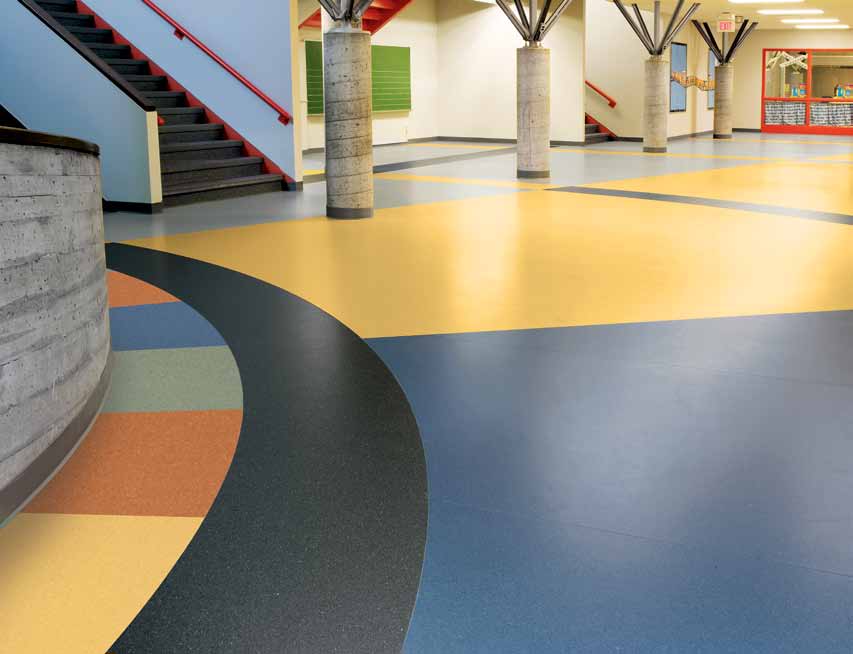 Interior after a recent remodeling
(photo from Armstrong Flooring…used pending permission)
---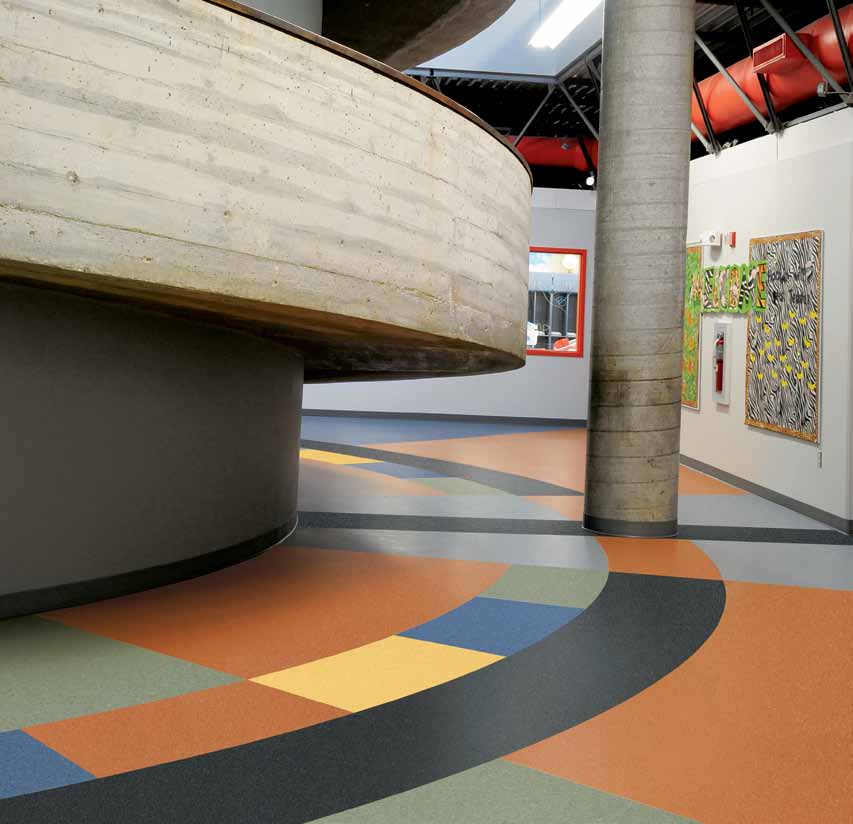 Interior after a recent remodeling
(photo from Armstrong Flooring…used pending permission)
---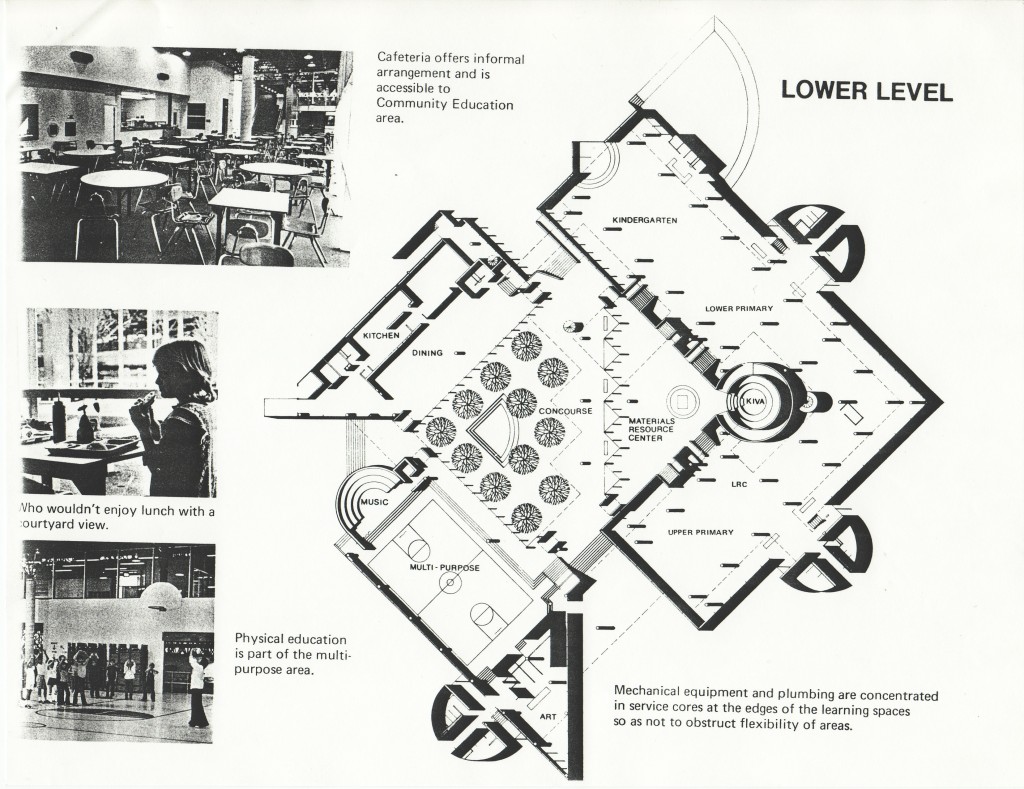 Lower level floorplan
(photo used pending permission)
---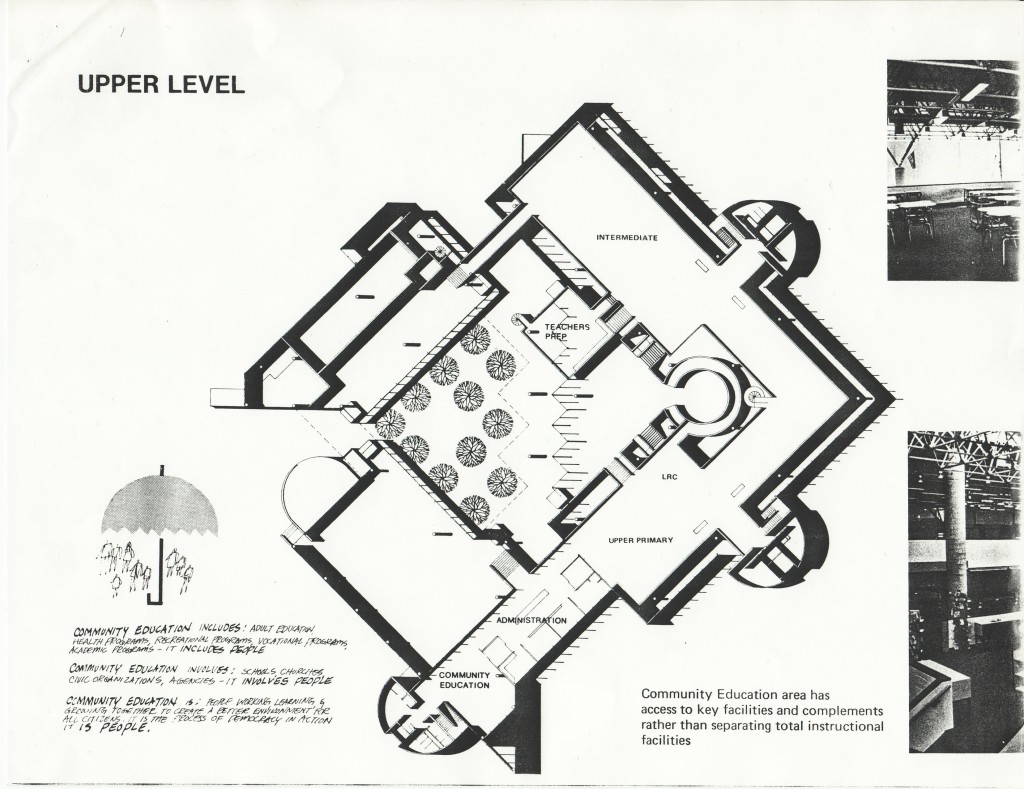 Upper level floorplan
(photo used pending permission)
---
The Architects
---

Paul Kennon

Born in Shreveport, Louisiana, on January 27, 1934
Died January 8, 1990
Texas A&M (1956)
Cranbrook Academy – Bloomfield Hills, Michigan (1957)
---
Paul Atherton Kennon designed projects around the world including 4 here in Columbus, Indiana. He will long be remembered here for his efforts to gather input from as many people as possible before formulating his designs. In Columbus, Paul Kennon is especially remembered for his "Squatter's Sessions" – a participative process where he gathered input and ideas from the community. He said: "if people just talk about their dreams, anything can happen". His son Kevin followed in his fathers footsteps and has proudly designed a building in Columbus as well.
---
Kennon had a desire to become an architect from an early age and graduated from Texas A&M in 1956. While at Texas A&M he worked a summer job with Caudill, Rowlett and Scott developing a close relationship with William W. Caudill. After completing his graduate work at the Cranbrook Academy he was hired as a designer by Eero Saarinen from 1957-1964. With Saarinen he helped develop the plans for the Dulles International Airport in Washington D.C. Kennon worked with the Saarinen team to complete work on the North Christian Church project in Columbus after Eero Saarinen died.
---
His mentor, William W. Caudill (who was Director of the Rice University School of Architecture) persuaded Kennon to come back to Texas in 1964 to become an Associate Director at Rice. In 1967 he resumed practicing architecture in 1967 with Caudill, Rowlett, Scott (CRS) where he became design principal in 1970 and president in 1976. His approach to teaching which he attributed to Caudill and Saarinen was to teach by example rather than theory. His design process involved a team process seeking the best solution utilizing the ideas of many participants to patiently seek the best solution to each project.
---
He continued his academic career by lecturing and teaching at many universities, including Rice University, Texas A&M, the University of Texas, Texas Tech, the University of Houston, Yale, Harvard, Pratt, Amherst, the University of Pennsylvania, and the Institute for Architecture and Urban Studies. In 1989 Kennon was selected to be the new Dean of the School of Architecture at Rice University.
---
He died of a heart attack in 1990 at the age of 55. Besides his new position at Rice University, he was still an active architect for CRSS. At the time of his death Kennon was actively working on a number of Columbus, Indiana projects: the revitalization of Mill Race Park, a never built golf course west of downtown, the Front Door project and the downtown Streetscape plan.
---
Paul Kennon recieved more than 100 awards for his designs, including honors from the American Institute of Architects and others. 12 of his awards were for projects in Columbus, Indiana.
---
Selected Paul Kennon Projects
1973: Fodrea Community School – Columbus, Indiana)
1974: Irwin Union Bank (State Street Branch) – Columbus, Indiana
1978: Indiana Bell/SBC/AT&T/ Switching Center – Columbus, Indiana
1983: University of Iowa Arena
1985: 3M/Austin Center (3M Regional HQ) – Austin, Texas
1990: Streetscape Downtown Beautification Plan – Columbus, Indiana
1991: Chrysler Technology Center – Auburn Hills, Michigan
---

Truitt Garrison

Born in Lubbock, Texas in 1936
Texas Technological College – Lubbock,Texas (1962)
Garrison was an associate and project manager in the firm of Caudill Rowlett Scott (CRS). He joined the firm in 1963 after receiving a BA in Architecture from Texas Technological College.
---

Caudill Rowlett Scott (CRS)

---
Caudill Rowlett Scott (popularly known as CRS) was an architecture firm in Houston, Texas that was started in 1946 by William Caudill and John Rowlett who were professors at the Texas A&M School of Architecture. Wallie Scott, who was a student of Caudill joined the firm in 1948 and Tom Bullock was added as a partner in 1948.
---
They were initially involved in the building of many schools around the world addressing the shortage of classrooms brought on by the post-WW2 babyboom. As educators as well as architects. Caudill and Scott brought about many innovations in school design.
---
Over the following decades CRS diversified it's portfolio grew into one of the largest architectural firms in the country with projects around the world. This greatly diversified the company with CRSS able to provide architectural, engineering, construction management, environmental and financial services to governmental and private sector clients around the world. They also became one of the largest private producers of power in the United States. CRS Capital was a part of the firm focusing on other businesses related to architecture and industrial engineering. In 1983 CRS joined forced with J.E. Sirrine, an industrial engineering firm and became CRS-Sirrine. By 1985, CRS Sirrine (CRSS) had grown to become one of the biggest U.S. architectural design firms, the biggest U.S. construction management company, and the biggest interior architecture designer.
---
CRS was awarded The AIA (American Institute of Architects) Firm Award in 1972. In 2005, CRSS was named named "Firm of the Century" by Texas A&M University College of Architecture (which is housed in the CRS Center).
---
In 1994, the company was split with the engineering component acquired by Jacobs Engineering while the architecture group merged into Hellmuth, Obata and Kassabaum (HOK).
---
Historic Columbus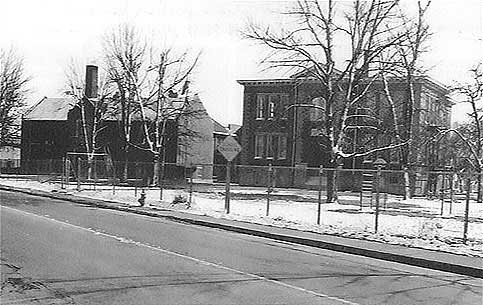 This is State Street School which was replaced by Fodrea. The building on the left is now a County Annex building, the building on the right has been demolished. When the older State Street School building was razed, the bell and cornerstone were saved and given a prominent place in the Fodrea courtyard.
(photo used pending permission)
---
Links/References
CRS – "CRS: a Firm and it's Legacy"
City of Columbus: official City of Columbus website
Columbus Indiana Architectural Archives
Columbus Indiana Architecture Digital Archives: A small portion of the Columbus Indiana Architectural Archives available online from the IUPUI digital library
3D Models of Columbus Architecture Executed in Google SketchUp:
The Republic Newspaper – Columbus, Indiana newspaper
Bartholomew County Public Library
Historic Columbus Website – David Sechrest's tribute to Columbus History
Historic Columbus Message Board – a companion interactive forum to the David Sechrest historical website
Bartholomew County Historical Society
---

Click HERE for a Calendar of Upcoming Events in the Columbus Area.
Click HERE for information about Tours of Columbus Architecture and Design including the Miller House.
---

Ricky Berkey
Email me: rickyberkey@gmail.com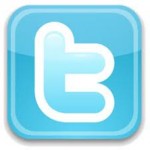 Follow me on Twitter:
---