(v02.09.15)


---

Columbus Regional Hospital

Phase 1 Built: 1992
Phase 2 Built: 1996
Address: 2400 East 17th Street (17th and Hawcreek Boulevard)
Principal Design Architect: Robert A.M. Stern (Robert A.M. Stern Architects – NYC) (NYC)
Partner-in-Charge: Graham S. Wyatt – (Robert A.M. Stern Architects – NYC)
Associated Architects: Falick/Klein Partnership (FKP Architects) – Houston, Texas
Interior Design Associate: Lisa Maurer – (Robert A.M. Stern Architects – NYC)/
Landscaping Associate: Robert Ermerins – (Robert A.M. Stern Architects – NYC)
Construction Manager: Barton Malow Company – Southfield, Michigan
General Contractor: Dunlap & Company – Columbus, Indiana
Design fees paid through the Cummins Foundation Architecture Program
---
Columbus Regional Hospital (formerly Bartholomew County Hospital) was a typical hospital that had evolved haphazardly over the years from the original 1917 Italianate Style building beside the Haw Creek to a conglomeration of up to 20 additions accompanied by a series of confusing hallways. The goal was to make a more cohesive facility, expand to serve a greater share of an 11 county southeastern Indiana area and to be able to quickly adapt to new technologies in medical care. They also aimed to better meet the emotional needs of their patients as well as their families by providing a more comfortable and appealing, non-institutional setting.
---
The hospital being a public not-for-profit organization applied to the Cummins Foundation for funding of the design fees. The Cummins Foundation has supported innovative architecture in Columbus, Indiana since the late 1950's by paying the design fees of high level architects for schools and other public buildings in Columbus. The foundation supplied a short list of architects to the hospital board and the hospital then selected Robert Stern from that selection list. Robert A.M. Stern was selected to establish a master plan that would meet current needs as well as plan for future expansion. They took the best of the existing buildings, added new construction as needed and merged old and new together in a very attractive exterior and interior package. His goal was to capture the hospitals traditional character in a structure capable of housing the newest medical technology. The planning process began in 1986 and construction started in 1990 with the majority of the new building completed in 1992. A 2nd phase was completed in 1996. Stern described the hospital organization that he worked with as "an imaginative client in a city that values architecture as few other cities do."
---
Stern was best known for his residential designs and had never designed a hospital previously. The hospital wanted a non-institutional design that conveyed a home-like, perhaps even a hotel-like atmosphere. Stern worked in collaboration with the Falick/Klein Partnership of Houston, Texas to program the medical spaces. Falick/Klein specializes in the planning and design of health care facilities. Stern took inspiration from local Columbus landmarks such as the First Christian Church and the Irwin mansion for the exterior designs. The warm beige brick color was considered a complement to the First Christian Church as well as many other brick landmarks in Columbus. Sterns design (both exterior and interior) also references Frank Lloyd Wright's Prairie style as well as Eliel Saarinen's designs at Cranbrook
---
The redesign established a new entrance lobby re-orienting the main hospital entrance to the west from its original 17th Street entry. The plan allows for orderly future expansion on the 35-acre site and takes advantage of the natural setting adjacent to the Haw Creek and Lincoln Park. The tree-lined gateway off HawCreek Boulevard features a new bridge over the Haw Creek. There were also two separate medical office buildings on opposite sides of the entrance drive near Hawcreek Boulevard built in a very similar style to the main facility.
---
The exterior is beige brick and limestone with a green-tile roof. The roof pays homage to the original 1917 hospital structure which had a red tile roof and was unfortunately demolished as part of the reconstruction. It was felt that the cost of bringing the original facility up to modern standards would be cost prohibitive. The 6-story patient tower built in the 60's was kept but greatly remodeled inside and out and two stories were added: a 7th floor for in-patient rehab and an 8th floor for the mechanical equipment.
---
The two new pavilion buildings with a courtyard in-between is an idea used in 18th and 19th century hospitals that allows maximum natural light into the buildings. The pavilion concept is a modular design that is easily adaptable to changing needs. The pavilions are concrete-frame structures organized into simple 24′ by 24′ modules that can accommodate a variety of interior layouts. An entire floor of the pavilion buildings can be shut down and reconfigured with minimal disruption to other operations. The buildings were built to house comprehensive cancer services and a birthing center with private birthing suites. Special areas on the ground floor are dedicated to outpatient services and surgery. A continuous double height gallery provides easy access to all parts of the hospital complex from the main lobby correcting circulation problems caused by the previous additions and remodeling.
---
The interior design, colors and furnishings were meant to maximize comfort and convenience while at the same time minimizing patient and family anxieties in what has been called a healing environment. The new main lobby consolidates patient admission, registration, visitor and public areas. The lobby was designed to create an open and welcoming space more like a hotel than a traditional healthcare facility. A connected glass-enclosed dining pavilion provides a pleasant atmosphere for relatives and visitors. Their unusually beautiful 180 seat cafeteria with outdoor seating also has developed a reputation for having very good food. Stern's interior design references the Arts & Crafts Style, Frank Lloyd Wright's Prairie Style and Eliel Saarinen's designs at Cranbrook. There is extensive use of warm cherry woodwork throughout the lobby areas. Stern also designed the interior lighting fixtures, fabrics and textiles used. The desk at the main entrance is staffed by volunteers and offers concierge-like information services to visitors. In later years the hospital also began offering free valet parking to eliminate the need for visitors to have long treks from the parking areas.
---
The lobby area, especially the upper concourse level is decorated by hundreds of framed 20th century photographs, mostly color landscapes as they were especially wanting to avoid potentially depressing black and white images. The artwork was intended to provide some degree of distraction and entertainment for those waiting for their relatives and loved ones. Modern trends in healthcare focus on the healing properties of the arts. Among the featured photographers were Eliot Porter, Joel Meyerowitz and Joel Sternfield. Another later addition to the lobby was a bird aviary with a variety of colorful small birds to provide a pleasant distraction. There are several large aquariums which face into the hallway with the opposite side visible through the wall into patient waiting rooms. A small interdenominational chapel on the second floor was designed by Stern but is very much a homage to Frank Lloyd Wright offering a comforting quiet space to visitors. It has also been the scene for several small, intimate wedding ceremonies.
---
The 1st phase of the project was completed in 1992 when the Cancer Center, Birthing Center, Rehabilitation and Outpatient Services areas were completed. The main hospital continued to operate during the construction phase. Opening of Phase 1 also coincided with the formal name change from Bartholomew County Hospital to Columbus Regional Hospital. The new Dining Pavilion and Emergency Department were completed the following year. Phase 2 was completed by 1996 when the new Link Building and Radiology area was finished.
---
Overall, the finished product did not have a lot more space but it was organized more efficiently and was much more functional. The result was a combination of new construction, renovation, recladding and demolition. 200,000 square feet of existing structure was renovated, 200,000 square feet was new construction and 200,000 square feet were demolished. What had been a conglomeration of expansions was now a beautiful health campus with a unified architectural expression. The hospital currently has 225 patient rooms.
---
Construction costs were approximately $40 million with the cost per square foot comparable to average costs throughout the hospital industry. No tax dollars were spent in the new building construction. Existing hospital reserves were used along with an issuance of bonds based on anticipated increased revenues due to the expansion of services. As the hospital is owned by Bartholomew County, the cost of building and maintaining the new bridge at the entrance across Haw Creek was done at county expense as is the case with other county owned bridges.
---
FLOOD! On June 7th, 2008, Columbus experienced the worst flooding in local recorded history. The hospital experienced unexpected flooding which quickly flooded the basement and began to fill the first floor areas. 157 patients had to be evacuated from the patient tower and due to the fact that both power and emergency generation systems were in the basement, the patients had to be evacuated by hand. The flood caused the hospital to close its doors for the first time in the 97 year history of this hospital. Damages totaled over $180 million and destroyed critical functions: mechanical and electrical systems, laboratory, pharmacy, information services and food services.
---
As the hospital began the nearly 6 month rebuilding period, the hospital kept all employees on the payroll. Some helped with the cleanup, some were loaned out to other area medical facilities and community agencies and those affected by the flood in their own homes were allowed to take care of matters at home. Their rationale was that they needed to ensure that their valuable and trained workforce would be available when the hospital reopened. The hospital reopened on October 27, 2008, a month under their projected schedule.
---
Later flood protection added after re-opening was the construction of an elaborate floodwall system around the entire building. Floodgates have been installed at each of its pedestrian and vehicle entrances aimed at protecting the hospital from water reaching 2 feet higher than what would be projected during what is called a "100-year flood." Much of the rebuilding costs came from insurance and FEMA funds but it also bit heavily into the hospital reserves that had been previously been allocated for an new expansion and remodeling plan. Those plans were delayed until resources could recover. Those expansion plans at the time included a new emergency department and a five-story pavilion with at least 60 new private patient rooms as part of a $108 million expansion. To commemorate the impact of the flood and their success in overcoming the devastation, a sculpture called "Halcyon" by Todd Frahm has been erected outside the dining pavilion. "Halycon" refers to a genus of birds in Greek mythology said to have the power to calm the waves. As an adjective, "Halycon" means peace. This Indiana limestone sculpture and fountain features a bird supported by a hand emerging from the water. The piece was dedicated to the staff, and volunteers who endured the devastating flood of 2008 and brought the hospital back to life.
---
Currently underway is a greatly changed version of that expansion plan. Changes were made due to the rapidly changing nature of the overall healthcare system. The new $30 million plan calls for an expansion of the emergency department and cancer center. The current emergency department was designed for a capacity of 25,000 patients a year, but it's currently serving nearly twice that. An industry wide shift to greater reliance on out-patient care has minimized the need for additional in-patient rooms. All money for the current expansion came from the hospital's cash reserves.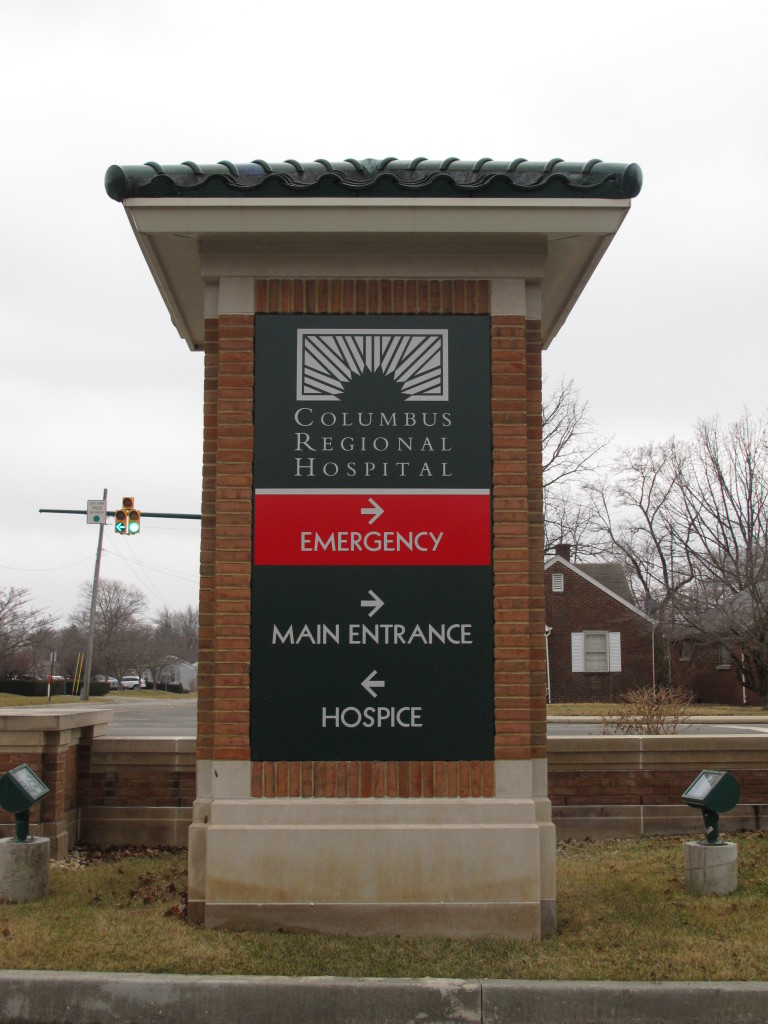 Entryway signpost
(photo by Ricky Berkey)
---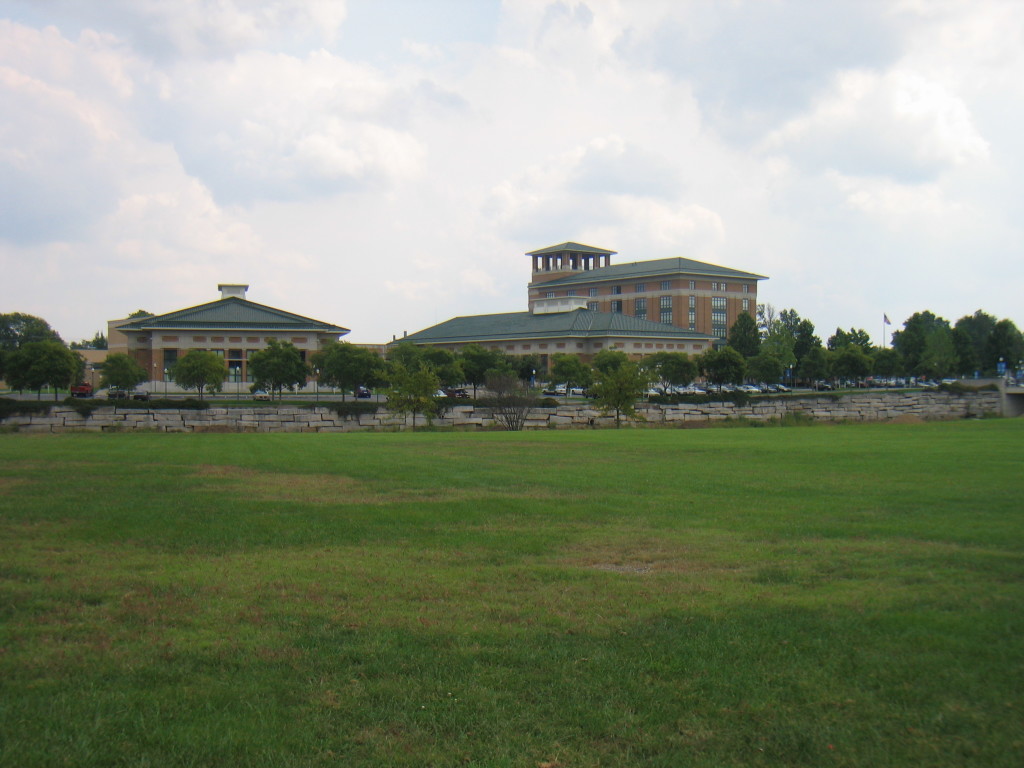 Hospital view across the Haw creek
(photo by Ricky Berkey)
---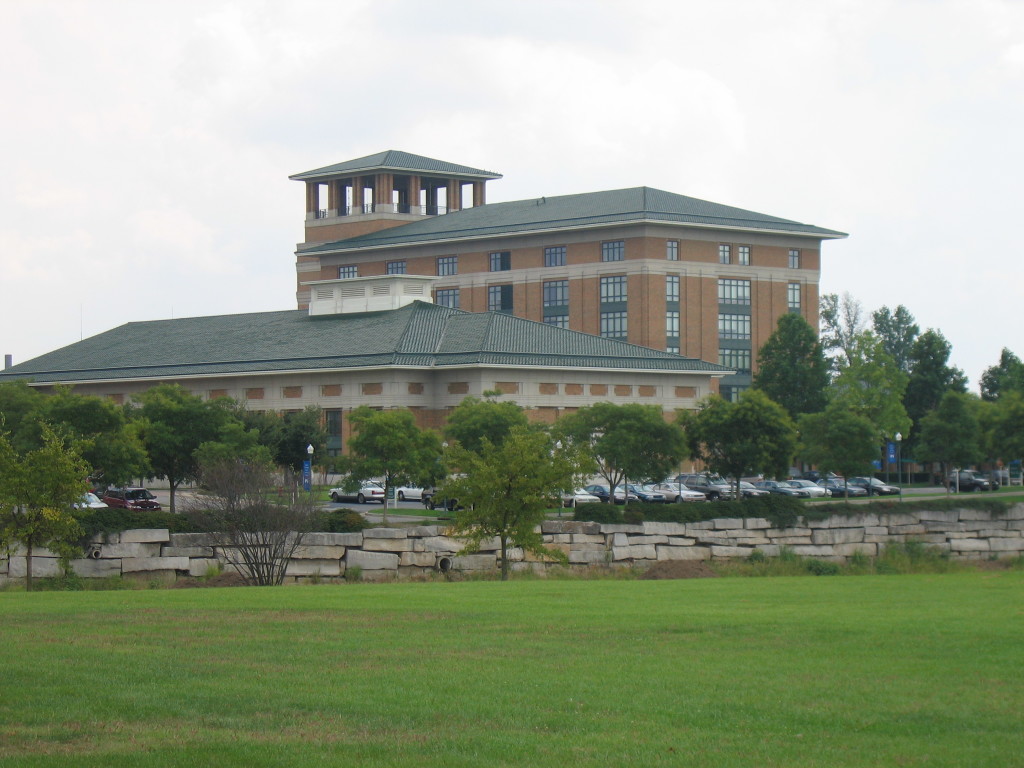 Hospital view across the Haw creek
(photo by Ricky Berkey)
---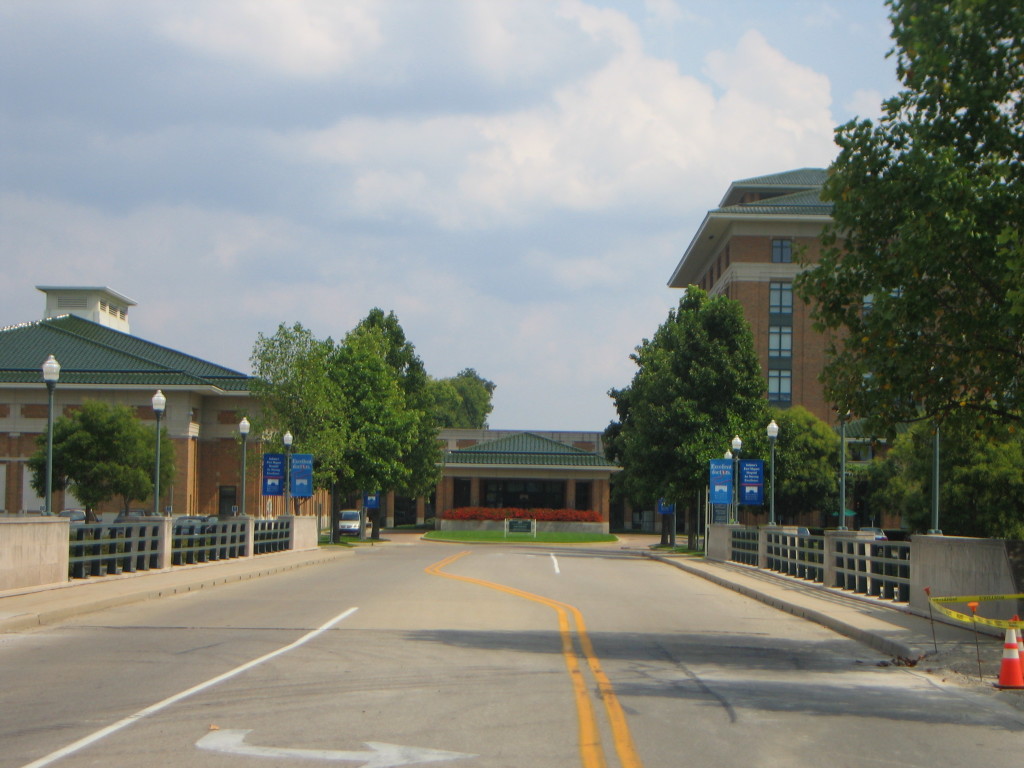 Hawcreek Drive entryway
(photo by Ricky Berkey)
---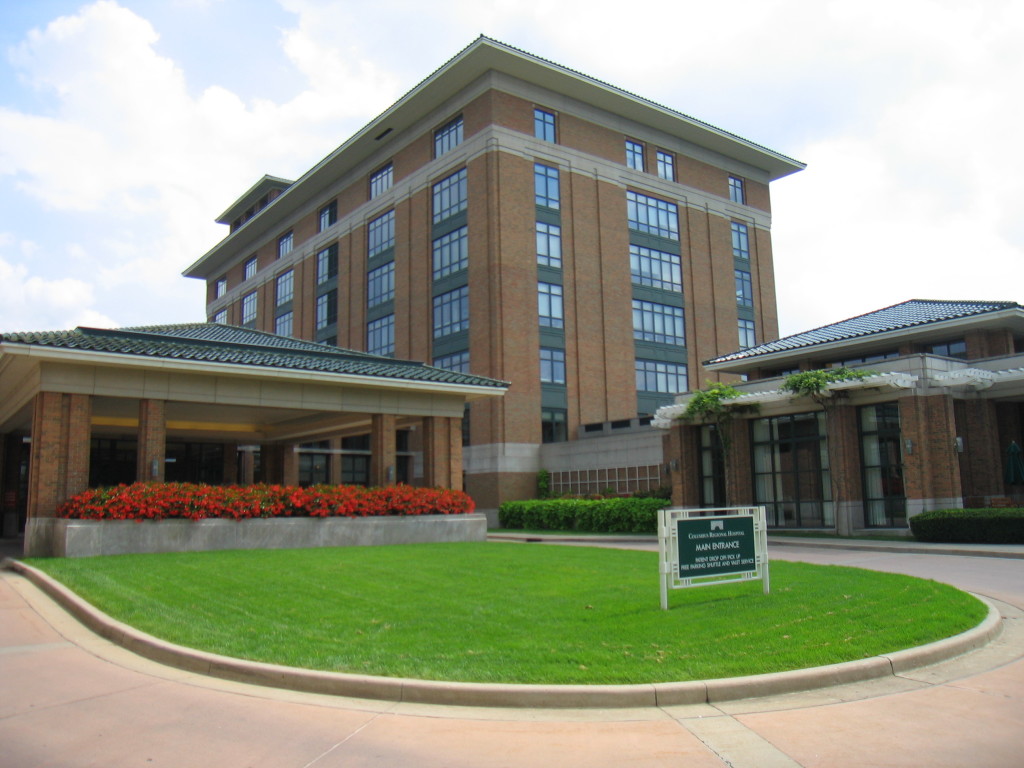 Hospital main entrance
(photo by Ricky Berkey)
---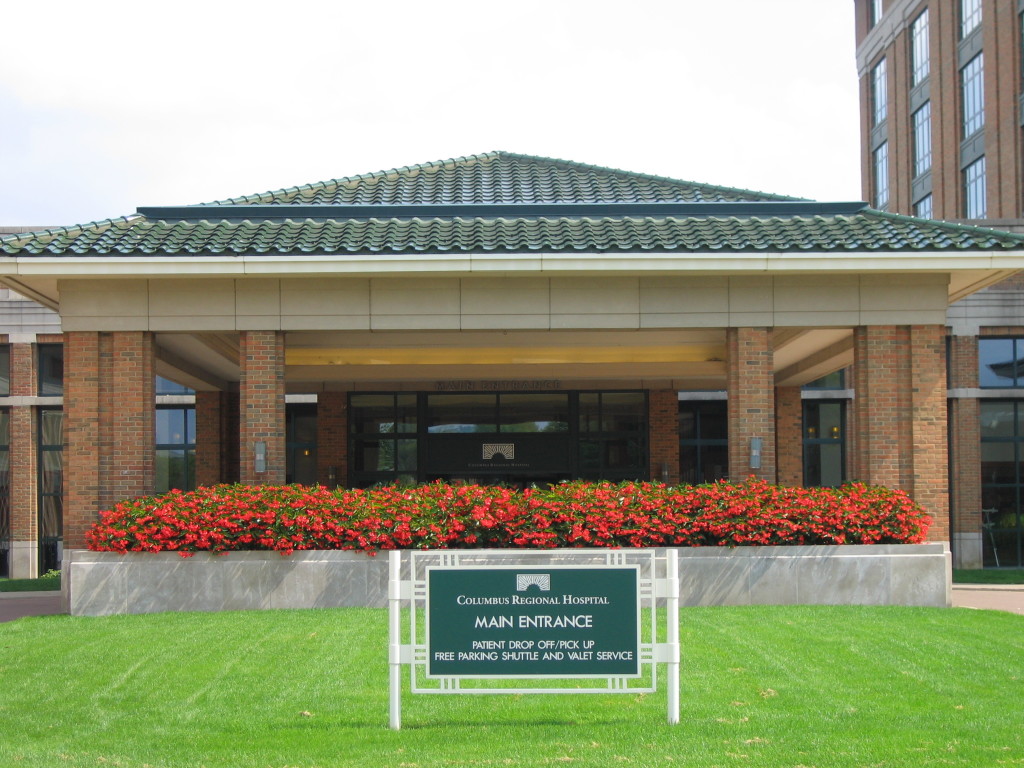 Main entrance
(photo by Ricky Berkey)
---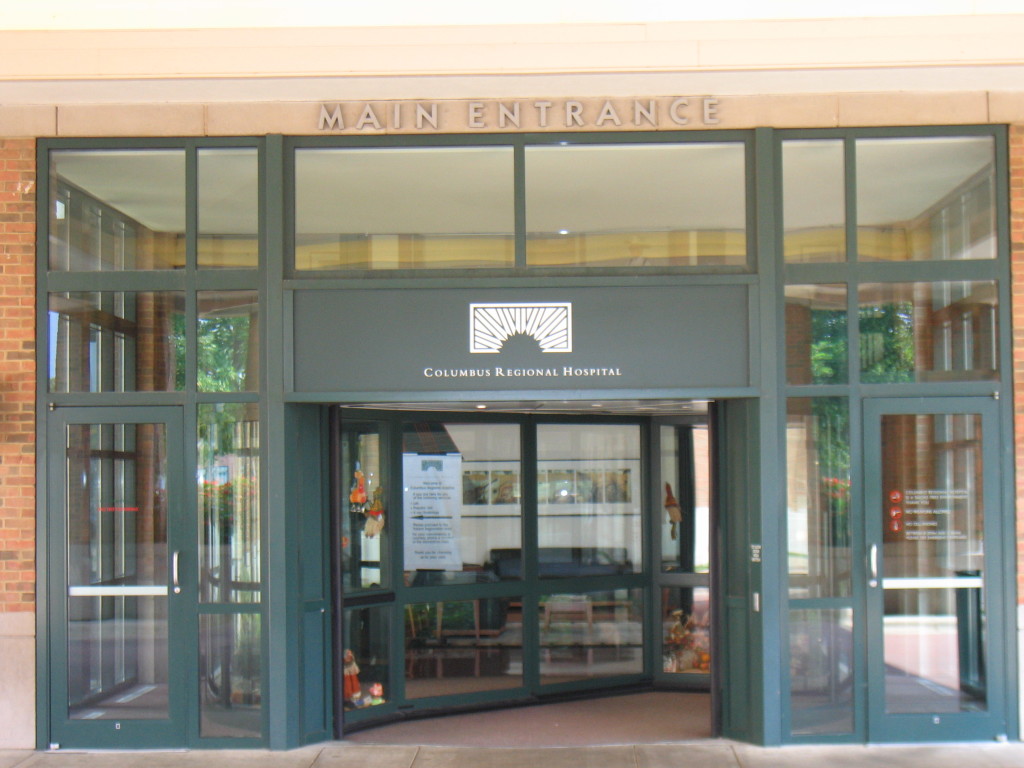 Main entrance and wide revolving door for wheelchairs and gurneys
(photo by Ricky Berkey)
---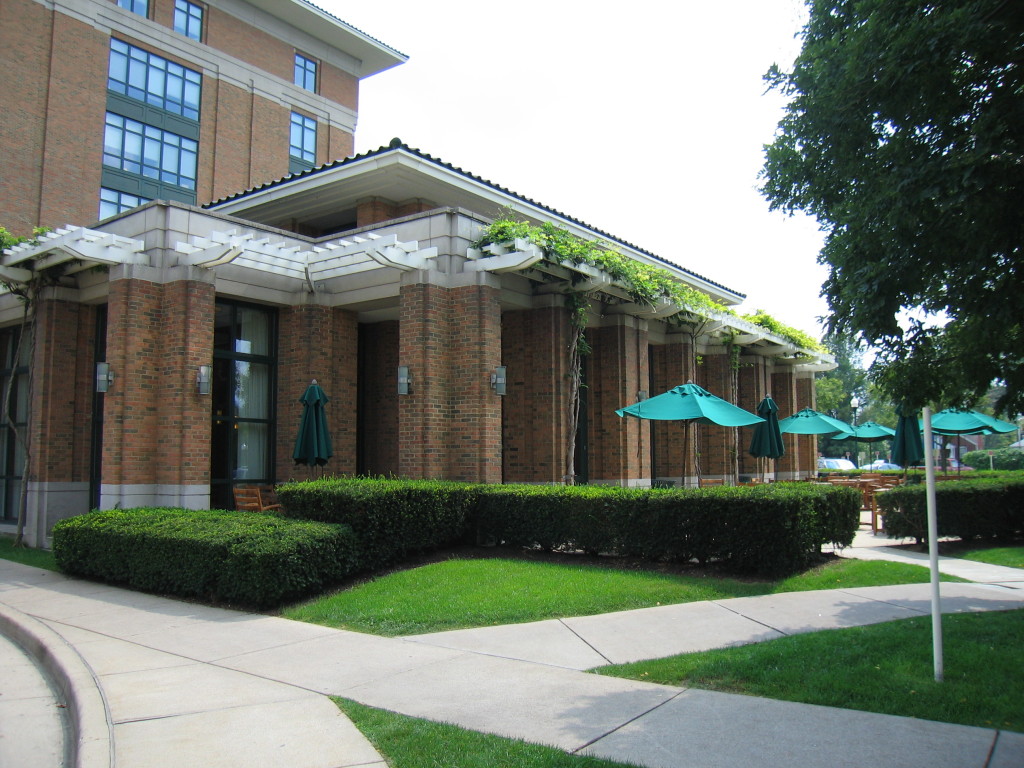 Dining pavilion
(photo by Ricky Berkey)
---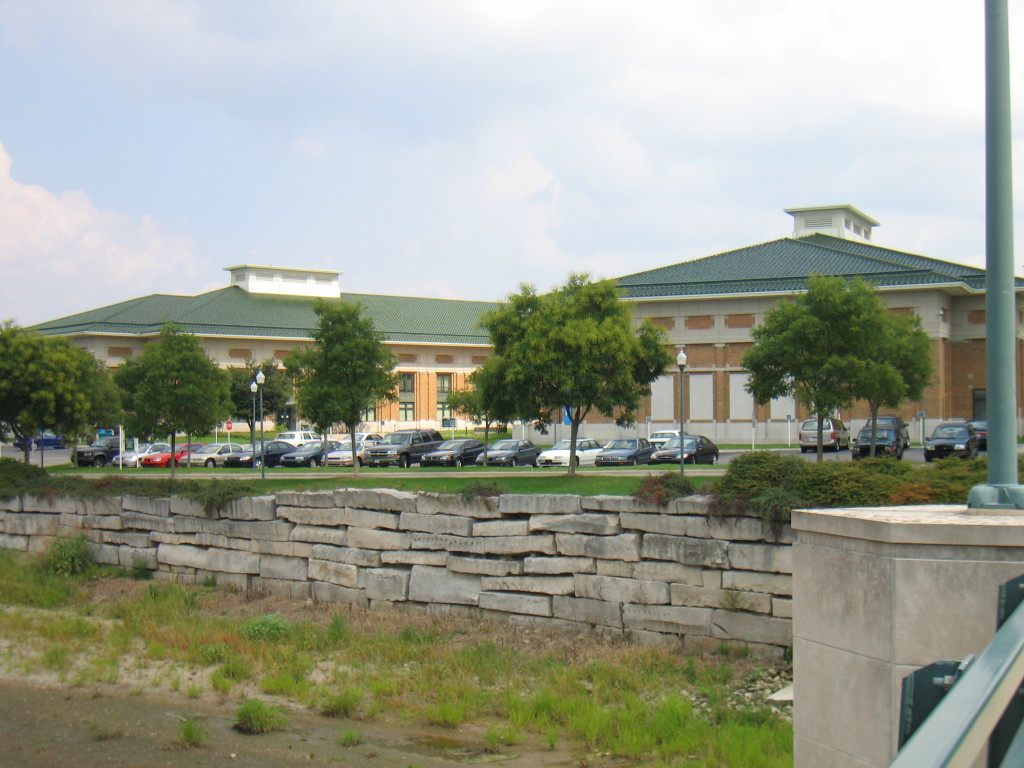 Patient care pavilions
(photo by Ricky Berkey)
---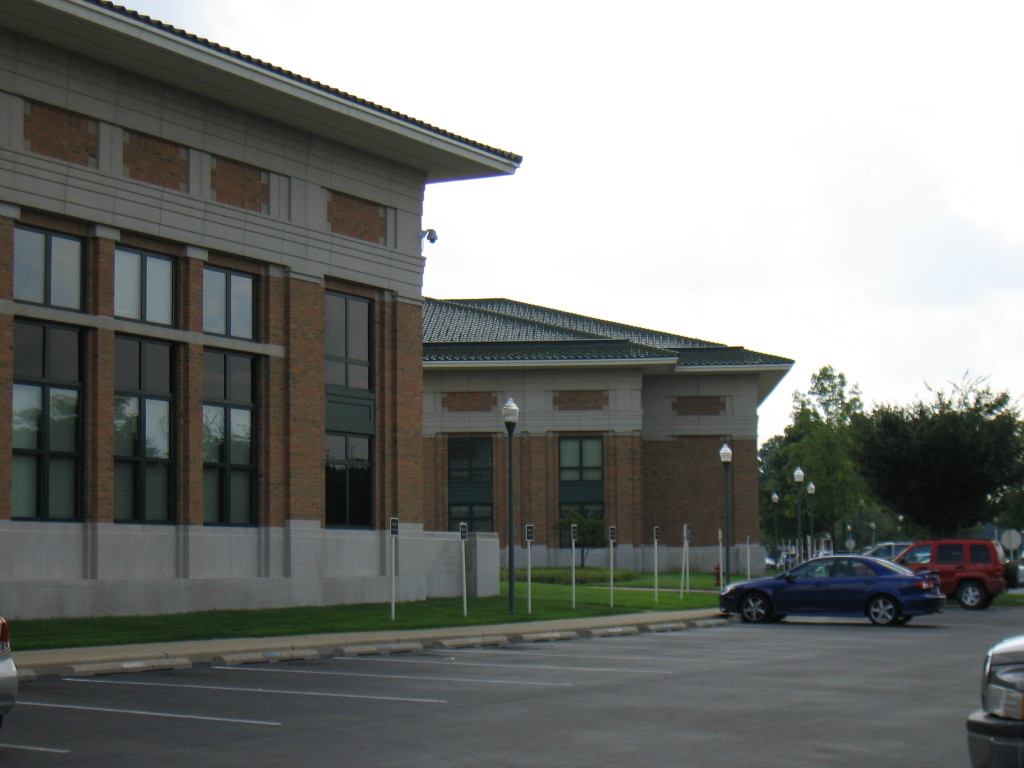 Patient care pavilions
(photo by Ricky Berkey)
---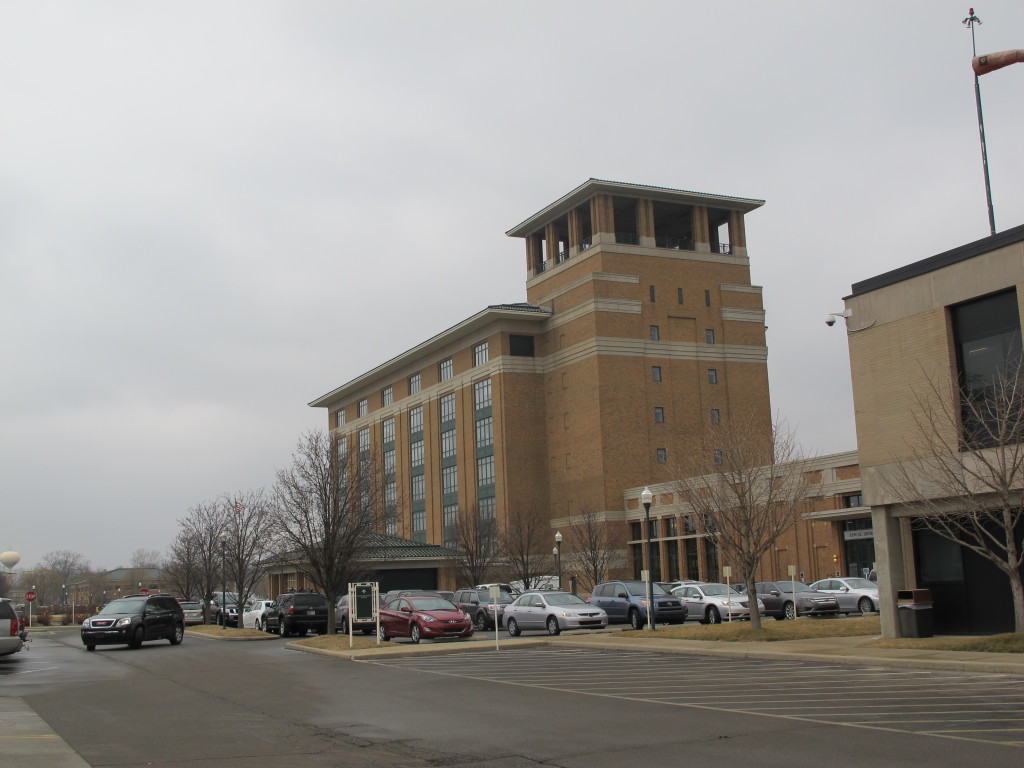 Facing 17th Street
(photo by Ricky Berkey)
---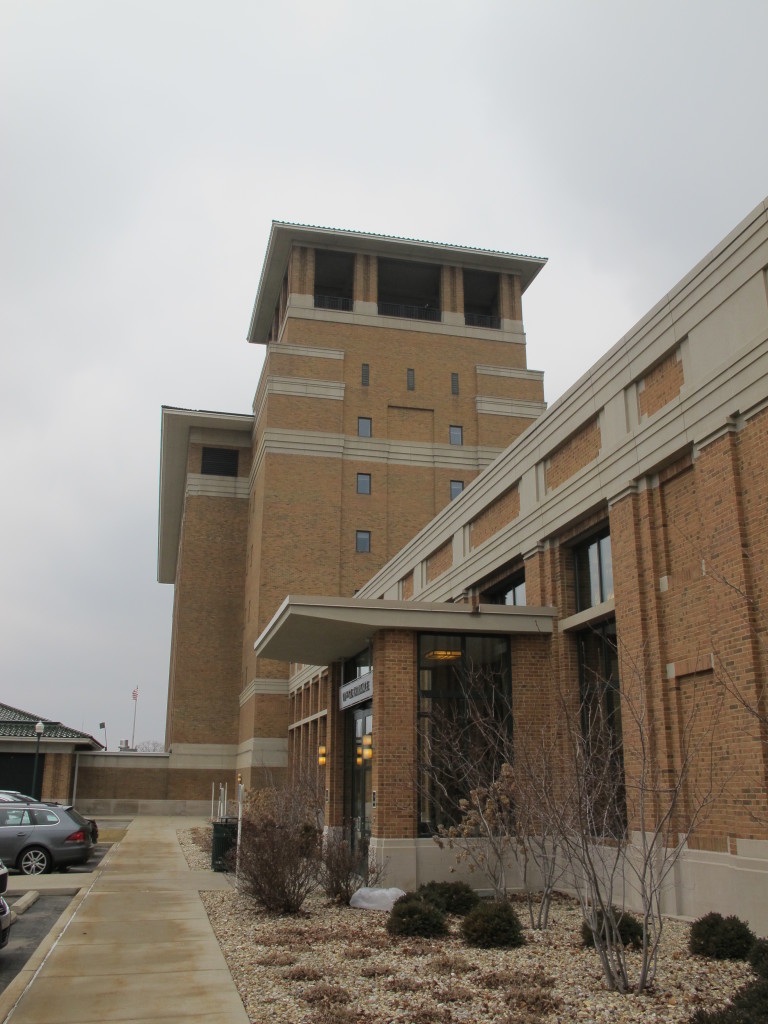 Facing 17th Street
(photo by Ricky Berkey)
---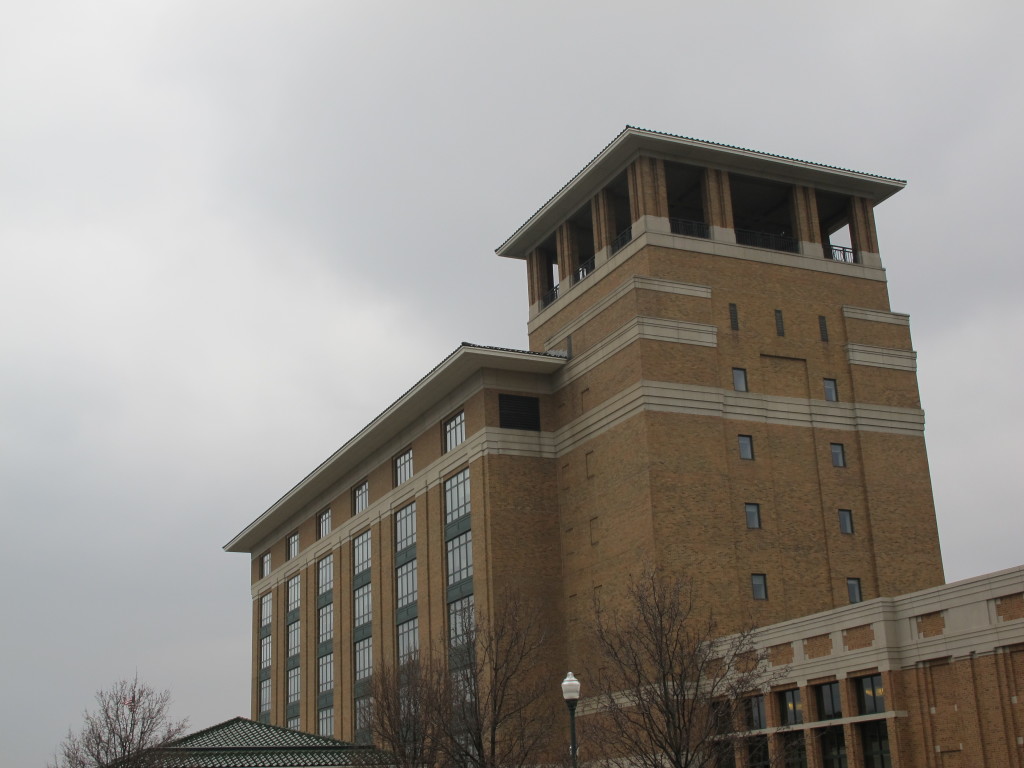 Patient tower
(photo by Ricky Berkey)
---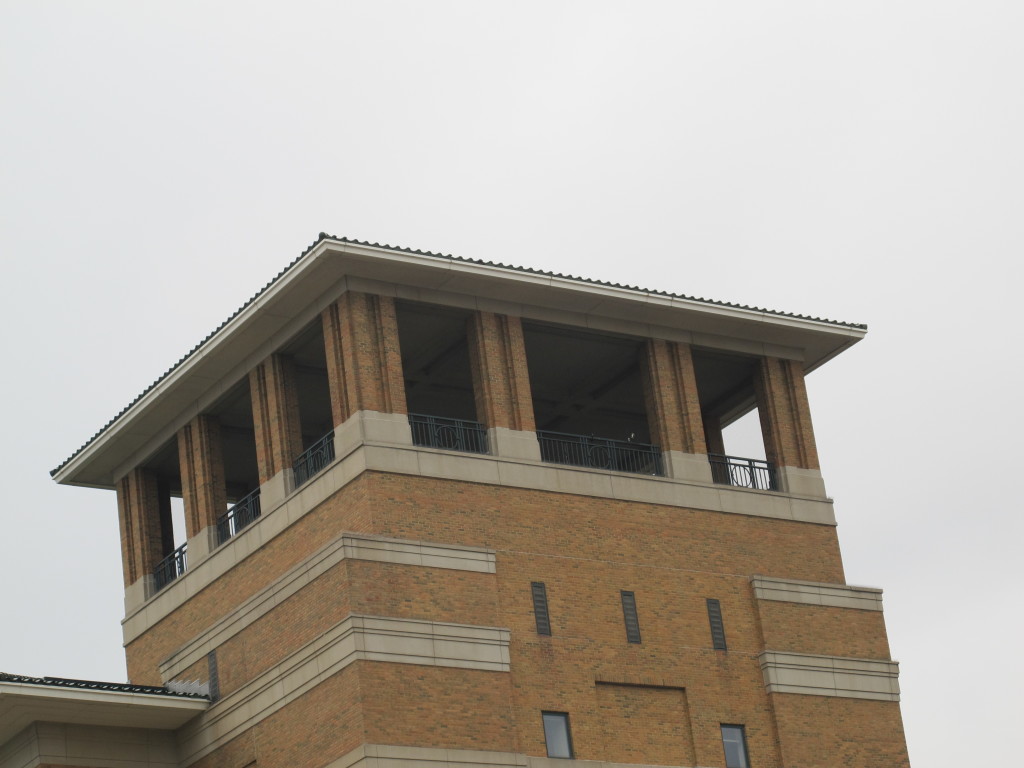 Top of the patient tower
(photo by Ricky Berkey)
---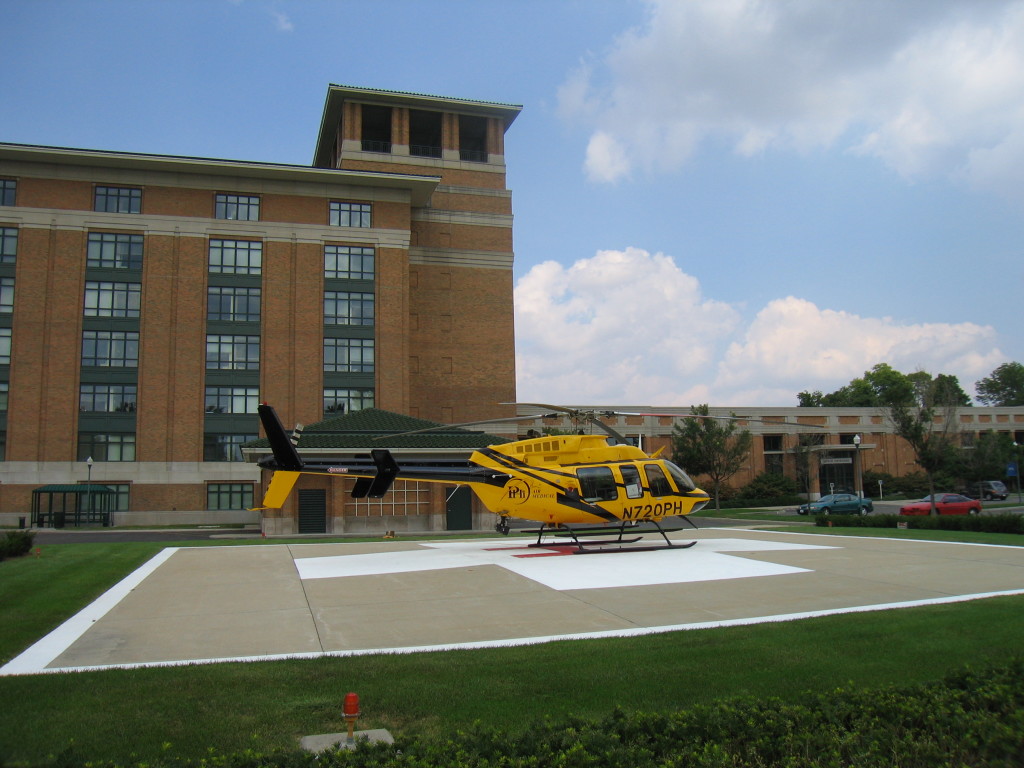 Emergency room entrance and lifeline helopad
(photo by Ricky Berkey)
---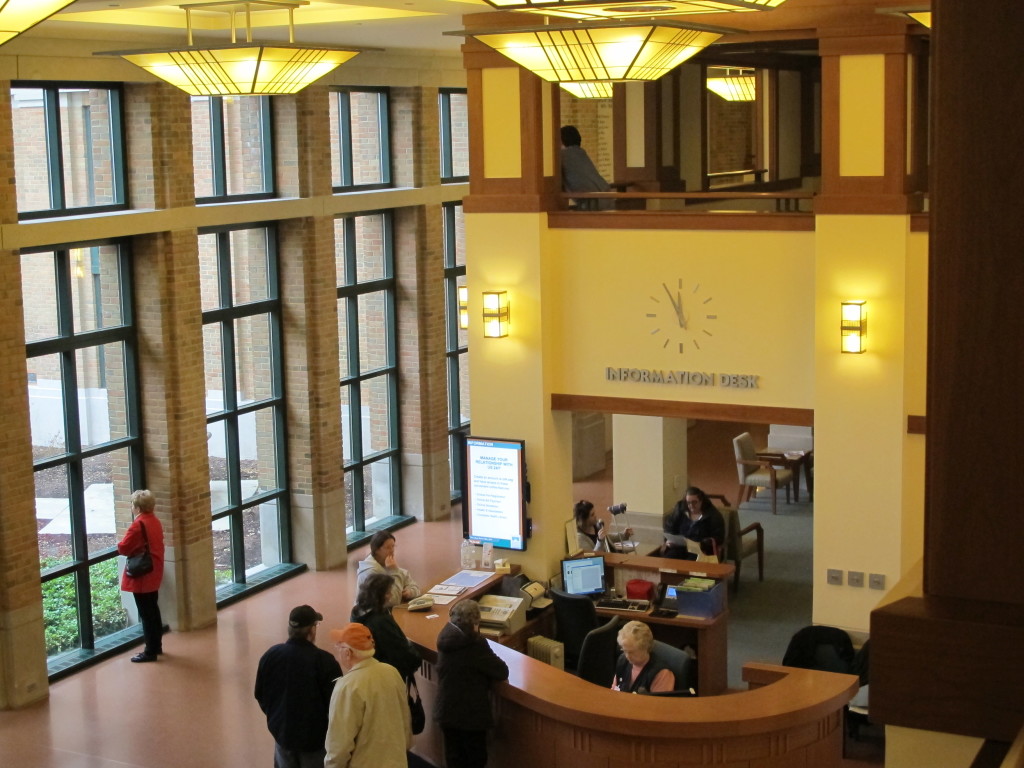 Incoming reception desk
(photo by Ricky Berkey)
---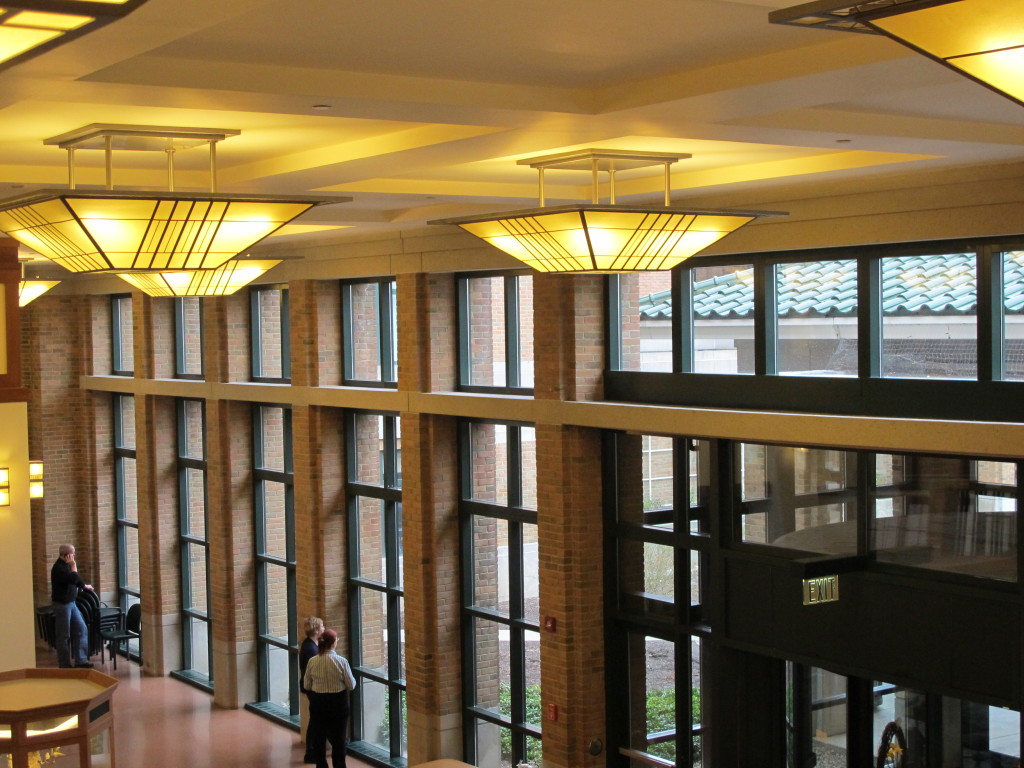 Main concourse
(photo by Ricky Berkey)
---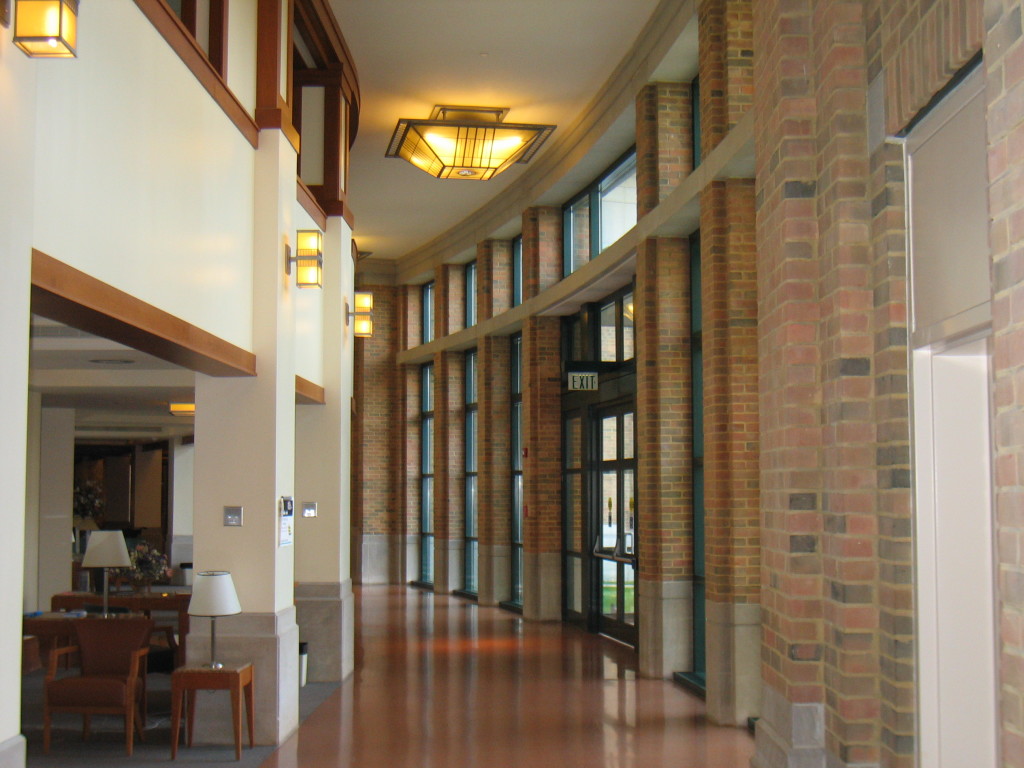 Main concourse
(photo by Ricky Berkey)
---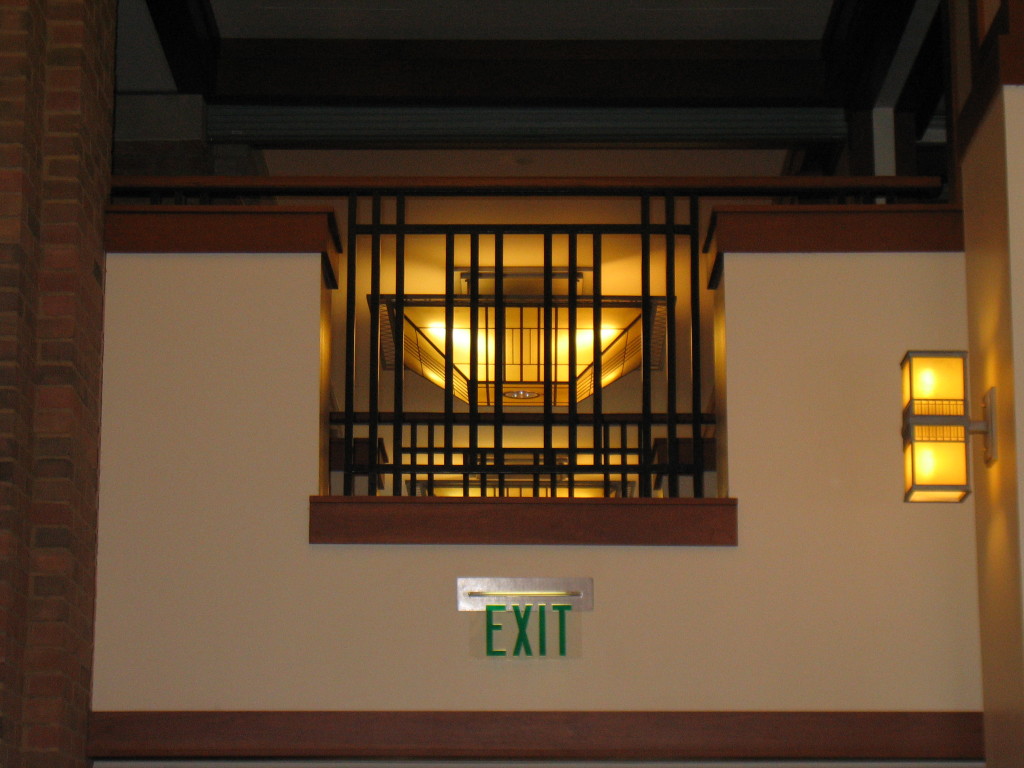 Lighting fixtures
(photo by Ricky Berkey)
---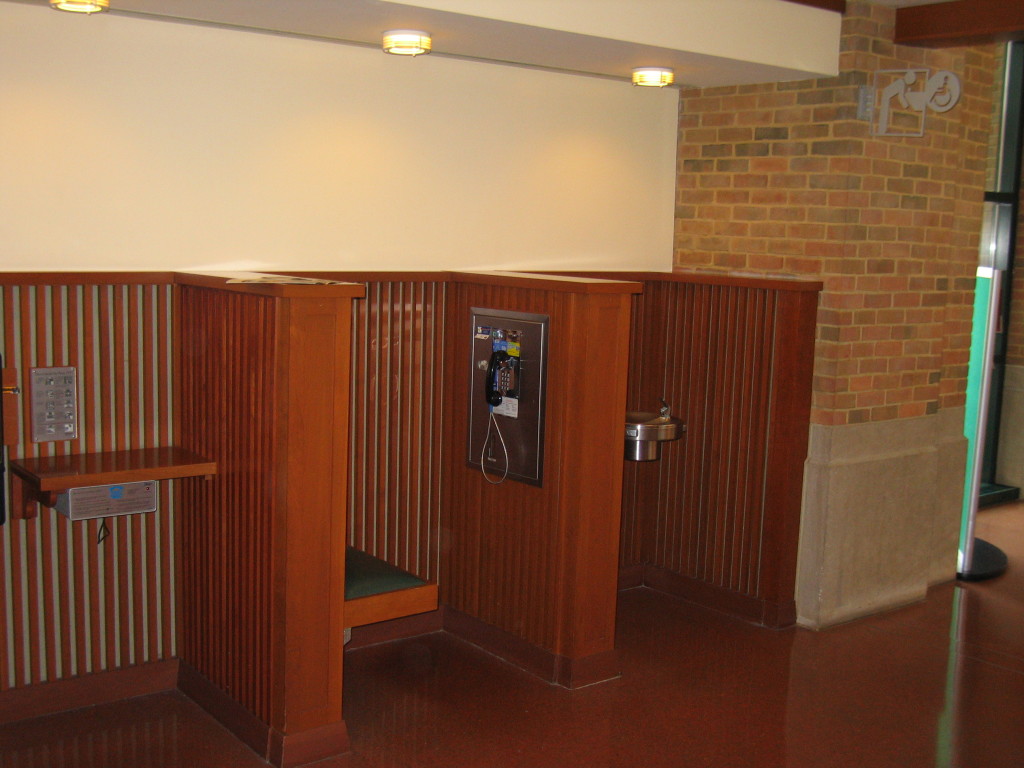 Former phonebooth area
(photo by Ricky Berkey)
---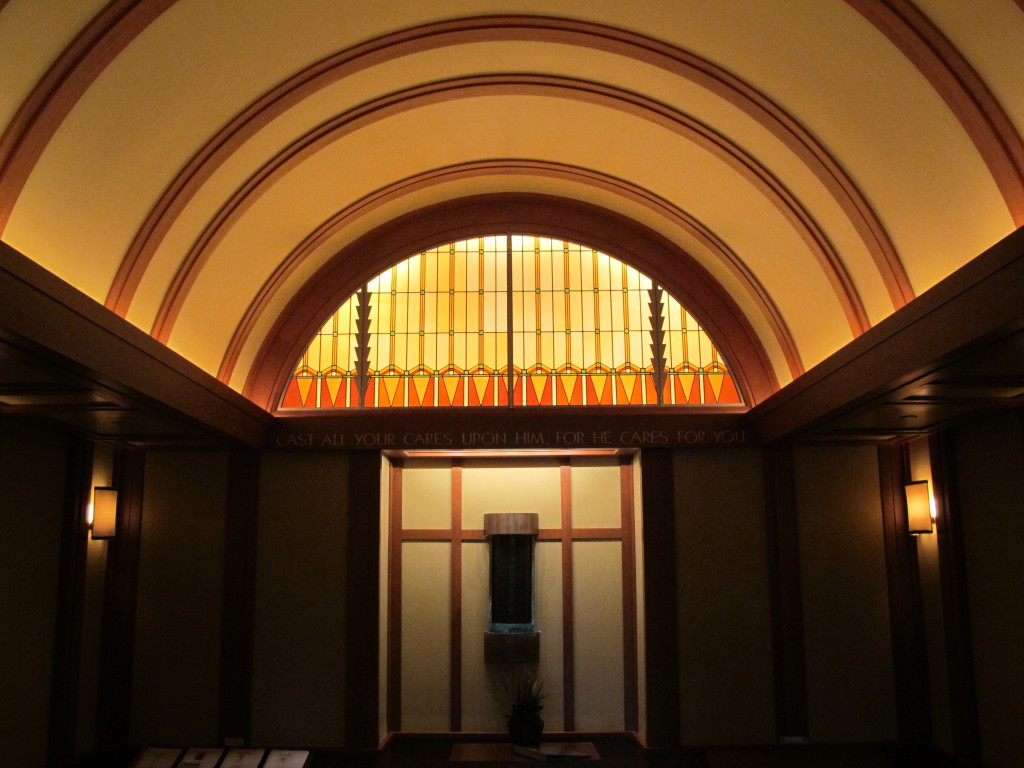 Chapel
(photo by Ricky Berkey)
---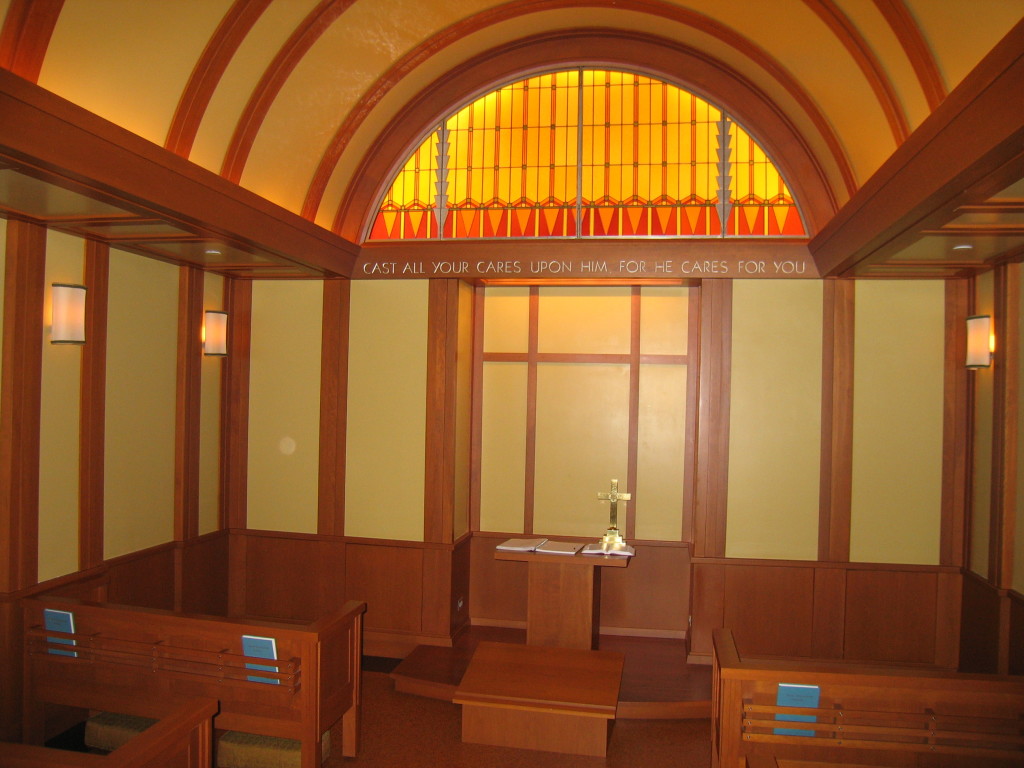 Chapel
(photo by Ricky Berkey)
---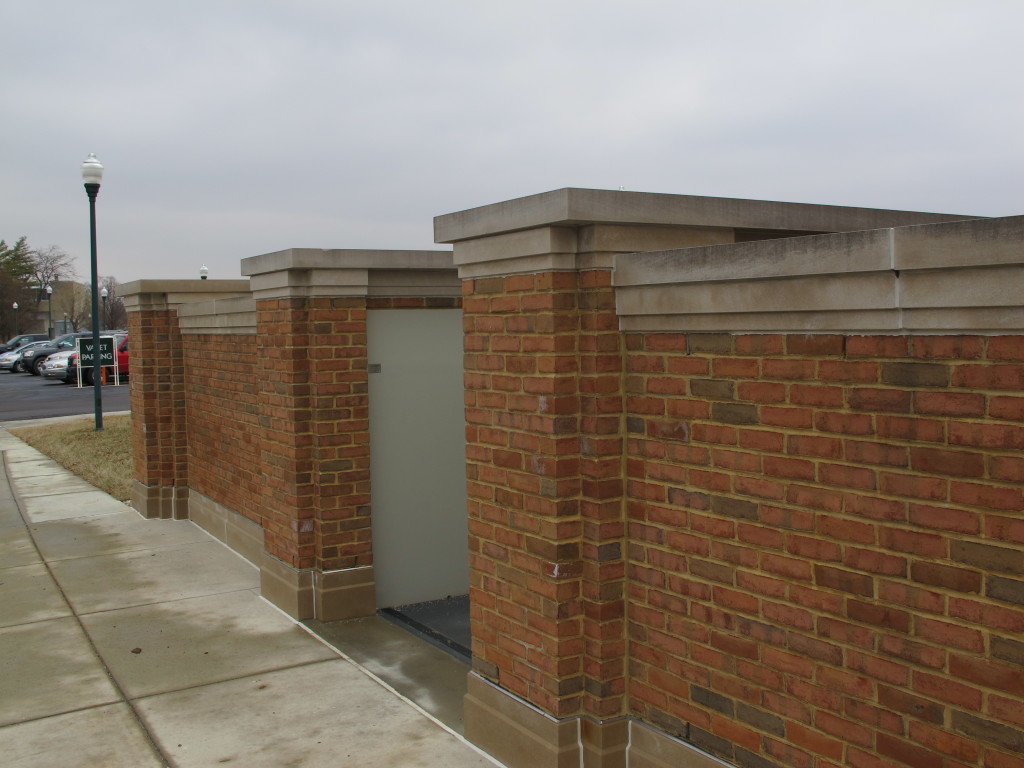 Floodwall system
(photo by Ricky Berkey)
---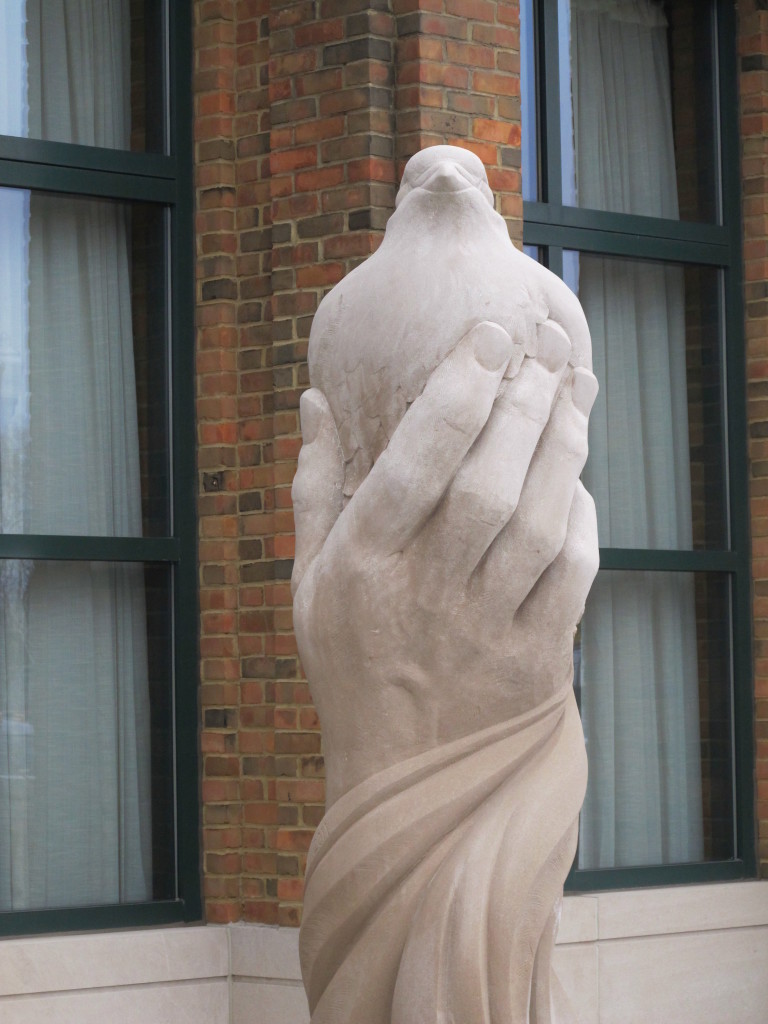 "Halcyon" by Todd Frahm
(photo by Ricky Berkey)
---
The Architect
---

Robert Stern

Born: May 23rd, 1939 (NYC)
Columbia University (NYC), B.A. (1960)
Yale University (New Haven, Connecticut), Masters in Architecture (1965)
Honors:
FAIA: Stern is a Fellow of the American Institute of Architects
Medal of Honor from the New York Chapter of the AIA (American Institute of Architects)(1984)
President's Award from the New York Chapter of the AIA (American Institute of Architects)(2001)
American Academy of Arts and Sciences (2007)
Vincent Scully Prize from the National Building Museum (2008)
Driehaus Architecture Prize for his achievements in contemporary classical architecture (2011)
---
Robert Stern was born in Brooklyn, New York as Robert Arthur Morton Stern on May 23rd, 1939. For most of his professional life he has been credited as Robert A.M. Stern. He received a bachelor degree from Columbia University in 1960 and a masters degree in architecture from Yale University in 1965. He has cited Vincent Scully and Phillip Johnson as early influences in his career.
---
Early in his career in 1964 while still a student, Stern worked a summer in the Washington, D.C. office of Perkins & Will. He was the program director for the Architectural League of New York from 1965-1966. He joined the office of architect Richard Meier as a designer in 1966. He established his own firm in 1969 as Robert A.M. Stern & John S. Hagmann, Architects with partner John Hagmann. Hagmann had been a fellow student with Stern at Yale. After Hagman left the partnership in 1976, the firm has been known as Robert A.M. Stern Architects.
---
In his early career he was considered a "Post-Modern" architect as he joined the trend of blending classical elements into modern buildings but he became increasingly eclectic as his career progressed. He may have been one of the first to use the term "post-modernism" to describe his work although he later described it as "Modern Traditionalism". Stern has always argued that his designs are based on vernacular context and local traditions.
---
Over the years, he developed a reputation as writer and has authored several books on architecture and design. He has also had a long career in academia. Beginning as a lecturer (1970) and professor (1982), he became the director (1984) of the Temple Hoyne Buell Center for the Study of American Architecture at Columbia University. He was a visiting professor at Yale in 1978 and later became the Dean of the Yale School Architecture (1998-present). He has lectured extensively in the United States and abroad on both historical and contemporary topics in architecture. He recently announced plans to retire from his position at Yale in 2016.
---
Stern has won many awards over the years including becoming a Fellow (FAIA) of the American Institute of Architects (AIA). He received the Medal of Honor Award (1984) and the Presidents Award (2001) from the New York Chapter of the AIA. He was inducted into the American Academy of Arts and Sciences in 2007. In 2008 he received the 10th Vincent Scully Prize from the National Building Museum. In 2011 he received the Driehaus Architecture Prize for his achievements in contemporary classical architecture.
---
Selected Robert Stern Projects
1984: Point West Place (Framingham, Massachusetts)
1991: 222 Berkeley Street (Boston)
1992: Wheaton Town Square Shopping Center (Wheaton, Illinois)
1992: Columbus Regional Hospital (Columbus, Indiana)
1993: Norman Rockwell Museum (Stockbridge, Massachusetts)
2001: Federal Reserve Bank (Atlanta, Georgia)
2001: Nashville Public Library (Nashville, Tennessee)
2002: Hobby Center for the Performing Arts (Houston, Texas)
2005: Jacksonville Public Library (Jacksonville, Florida)
2006: Gerald R. Ford School of Public Policy at the University of Michigan (Ann Arbor, Michigan)
2007: Columbus Public Library (Columbus, Georgia)
2008: Lakewood Public Library (Lakewood, Ohio)
2008: 15 Central Park West (NYC)
2008: Comcast Center (Philadelphia, Pennsylvania)
2009: Mason School of Business at the College of William and Mary (Williamsburg, Virginia)
2013: George W. Bush Presidential Library at Southern Methodist University (Dallas, Texas)
2015: New Africa Center (NYC)
---
Historic Columbus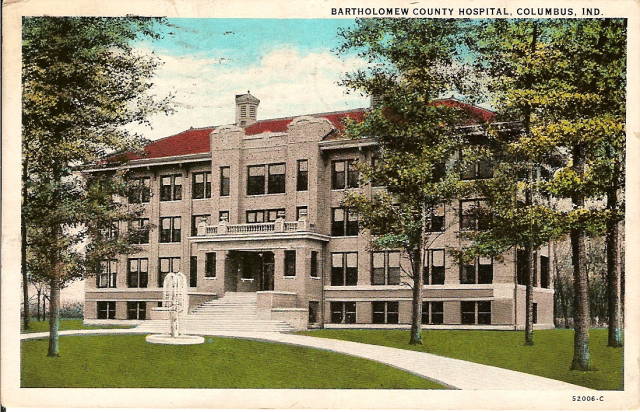 Original Bartholomew County Hospital built in 1917
(postcard image used pending permission)
---
Links/References
Columbus Regional Health: Columbus Regional Hospital website
Columbus Regional Hospital featured on Robert Stern's website
"Robert Stern Buildings": This book features Columbus Regional Hospital
City of Columbus: official City of Columbus website
Columbus Indiana Architectural Archives
Columbus Indiana Architecture Digital Archives: A small portion of the Columbus Indiana Architectural Archives available online from the IUPUI digital library
3D Models of Columbus Architecture Executed in Google SketchUp:
The Republic Newspaper – Columbus, Indiana newspaper
Bartholomew County Public Library
Historic Columbus Website – David Sechrest's tribute to Columbus History
Historic Columbus Message Board – a companion interactive forum to the David Sechrest historical website
Bartholomew County Historical Society
---

Click HERE for a Calendar of Upcoming Events in the Columbus Area.
Click HERE for information about Tours of Columbus Architecture and Design including the Miller House.
---

Ricky Berkey
Email me: rickyberkey@gmail.com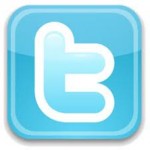 Follow me on Twitter:
---