---
(v12.13.14)
Art, Architecture and Design
This article spotlights a particular building or some other aspect of Columbus design. I welcome your comments, corrections and additions. Please share your experience and perceptions of these uniquely Columbus projects.

McDowell Adult Education Center (originally Mabel McDowell Elementary)

Built: 1960
Address: 2700 McKinley Avenue
Design Architect: John Carl Warnecke (John Carl Warnecke & Associates – San Franscisco, California)
Landscaping: John Carl Warnecke & Associates (San Francisco, California)
Contractor: Repp and Mundt (Columbus, Indiana)
Honor: National Historic Landmark (2000)
---
Mabel McDowell Elementary was opened in 1960 and was the 2nd school in Columbus to have its design fees paid for by the Cummins Foundation Architectural Program. The school was named to honor Mabel McDowell (1880-1961) who was an elementary school teacher in Columbus for 25 years. She had taught at both Wilson and the original Lincoln Elementary Schools. Designed by John Carl Warnecke, the award winning building was converted to an adult educational center in 1982. Despite the changes made to accommodate a different style of education, the building was designated as a National Historic Landmark in 2000.
---
The design is a cluster plan with four smaller buildings composed of three classrooms in each around a taller commons building linked by landscaped courtyards and covered and trellised walkways. Although not the first of its type, the building set trends for school construction, particularly in warmer climates. One of several reasons leading to its eventual change from an elementary school was the fact that the kids had to don their winter coats to move from the classroom to the cafeteria and gymnasium areas. I'm sure the kids didn't mind a bit but there were many parental complaints over the years. A similar concept had been tested in other more severe New England and upper Midwest climates.
---
Warnecke had taken notice of the flat terrain in the central-southern Indiana area with large expanses of geometric farm fields accented by tall 2-story homes, barns and silos with groves of trees around the buildings. His design was based on a similar massing of elements which focuses the school group into its own controlled environment yet extends outward to the community. He wanted the school to have a warm friendly atmosphere for small children, many of whom were making their first social contacts outside the home. The scale was meant to be smaller and more intimate than what he might design for a high school age grouping for example. He intended his building here to be a stimulating place where teaching and learning would be pleasurable while providing a space where a child could develop a sense of identity and importance. The building is in a very park-like setting that harmonizes well with the surrounding mostly residential area. Large open areas next to the school were reserved for development of future park, playspace or building additions.
---
Building construction consists of steel framed buildings encased in brick, steel trim and glass with shingled pyramidal roofs and shaded by wood trellis overhangs (brise-soleils). White porcelain enamel panels combined with window blinds provide an interesting pattern to the windows. Many think the buildings resemble little Asian pagodas. The outer classroom buildings are smaller in scale than the common center building and meant to resemble small houses, with each classroom in the corner clusters having its own peaked roof. Interiors are simple with concrete block walls, asphalt tile floors and exposed roof-plank ceilings. Each classroom cluster consists of 3 classrooms and a small storage room eliminating the need for storage cabinets in each room. Each classroom cluster has its own adjacent small courtyard area. The complex had a total of 36,200 square feet with space designed for 420 elementary pupils. An aerial view would show a grouping of glass and brick pavilions placed in a series of connected gardens. Warnecke stressed the economical nature of the design as the outside pathways meant there was a maximum amount of building space devoted to education rather than corridors. The central area consisted of a multipurpose auditorium/gymnasium, cafeteria/kitchen, kindergarten, a special-ed classroom, music and art rooms, clinic and administration area surrounding a central open courtyard. The south wall of the cafeteria has a glass wall facing into the inner courtyard. The multi-purpose room structure near the front entrance is square with a pyramidal roof capped with a skylight and a needle-like 6 foot steel finial. The space inside the multi-purpose room was later divided and altered with a suspended ceiling blocking any view of the skylight from the inside. The cafeteria section is similar in scale to the multipurpose room and is also capped by a 6 foot finial. A glassed in corridor connects the elements of the center building.
---
The 11 acre site was bordered at the time by residential on three sides and on the forth side by the open reserve area of the historic Gladstone Cemetery. The property was purchased from the Rembusch family, owners of several other local theaters, who had previously had plans to build a movie theater on the site. A number of well established trees on the building site were preserved. McDowell was built at a time when the population was growing rapidly and many new schools were being planned for the community to meet the need. It was the first school built in the east Columbus area since the 1920's which had formerly been the town of East Columbus prior to a controversial annexation about 10 years prior to this building. It was the first of many schools in Columbus using the "park-school" concept whereby play space was shared between the school system and the parks department resulting in maximum utilization of the open space. This school became a great source of pride to the east side community and inspired many to take better care of their own homes and lawns. Construction completed in September of 1960.
---
At the time of the building's planning many schools were having trouble attracting enough experienced teachers. The plan for the 4 small cluster groups was to have young teachers working together in small groups in each cluster with a senior teacher always present. The separation of the clusters by grade level also enabled separate play areas for the younger and older children.
---
When "Lady Bird" Johnson, First Lady during the LBJ administration, visited Columbus on September 21st, 1967, a reception was held at McDowell School. Earlier in the day she had presented an award to Columbus for our efforts in using architecture to beautify America which was a central theme of her time as First Lady. A formal dinner was served to hundreds of guests on linen-covered tables laid out on the McDowell patios. Post dining entertainment consisted of the Metropolitan National Opera Company performing "Falstaff" on a stage erected on the schools parking lot.
---
Mabel McDowell Elementary was converted to McDowell Adult Education Center in 1983. It serves several high school vocational programs as well as offering various programs to adults including GED preparation and testing. The building hosts culinary arts, cosmetology training and other vocational programs. Vary little has been altered especially on the exterior and there were no issues when the building was granted National Historic Landmark status in 2000. In fact it is rare among the schools in Columbus as it has never had an addition added. At the award ceremony for the initial group of 6 National Historic Landmarks in 2000, Warnecke was the only living architect and he was present at the event. His modernist design was cited as an outstanding example of his early work as well as an important early representation of the important design work in Columbus encouraged by the Cummins Foundation. They cited McDowell as one of the best examples of his "contextual" approach to design, which emphasized the distinctiveness of the building's environment.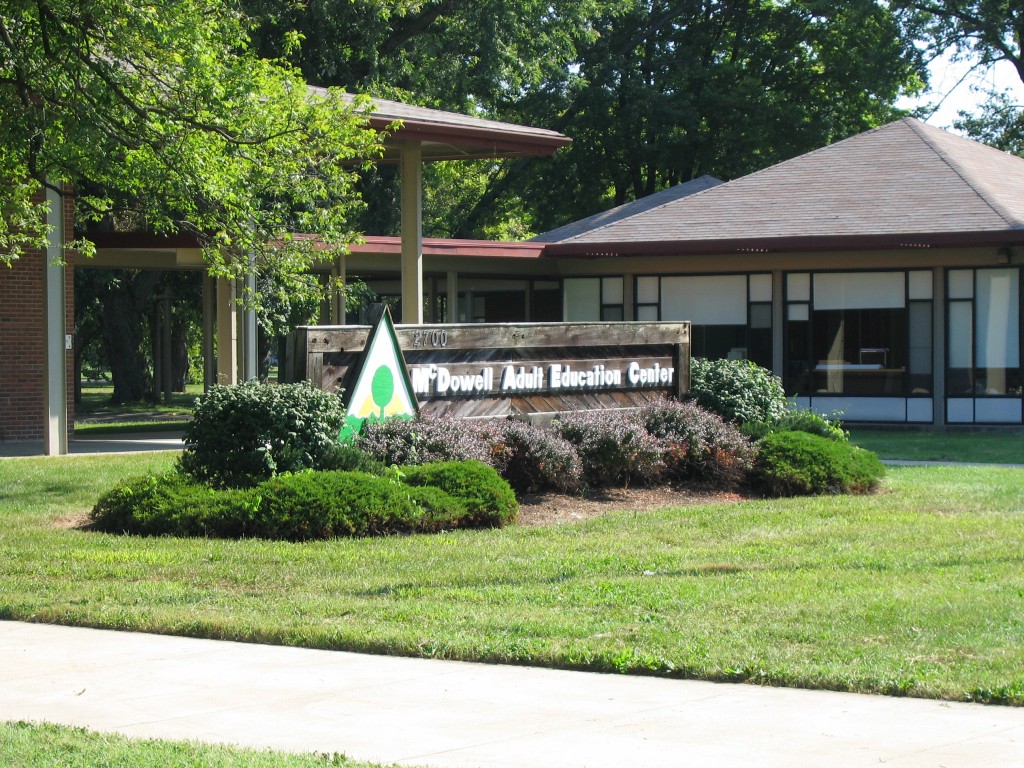 Front entrance
(photo by Ricky Berkey)
---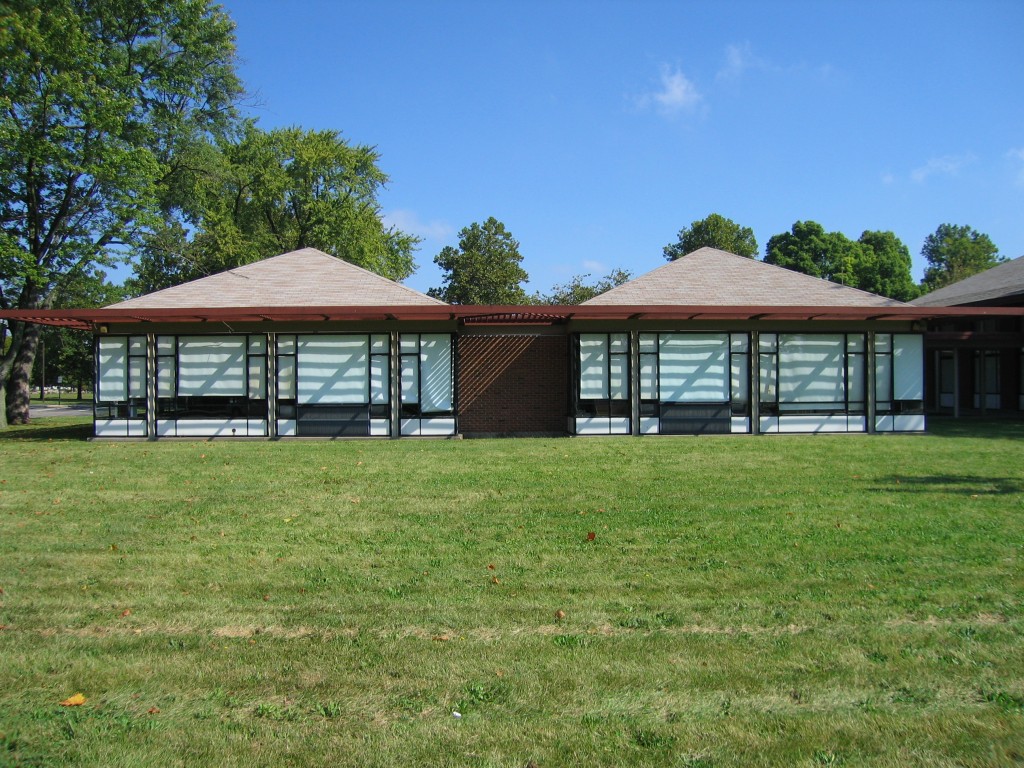 One of the corner classroom clusters, each of the three classrooms in each cluster has a separate peaked roof
(photo by Ricky Berkey)
---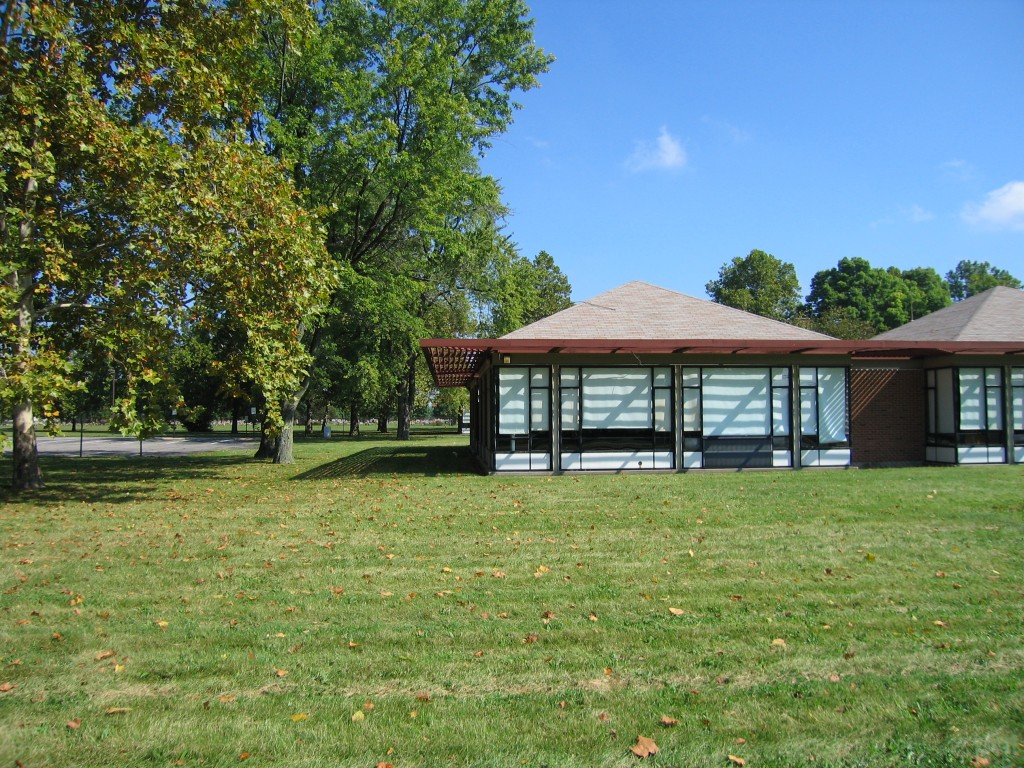 One of the corner classroom clusters
(photo by Ricky Berkey)
---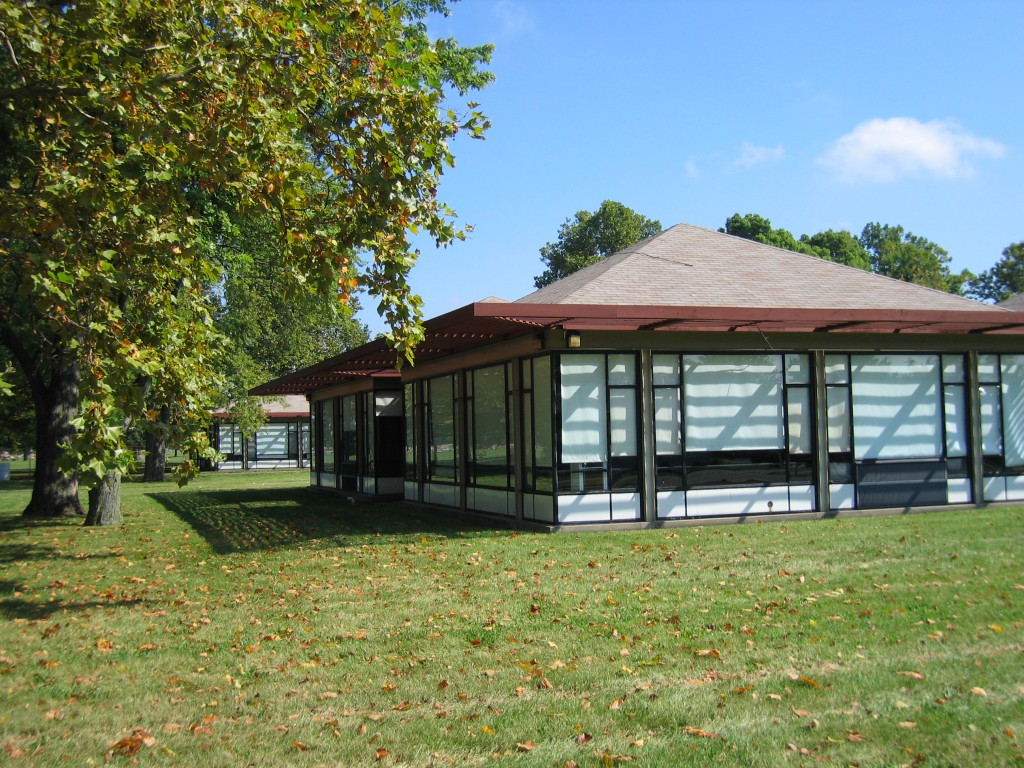 Closeup of one of the corner clusters
(photo by Ricky Berkey)
---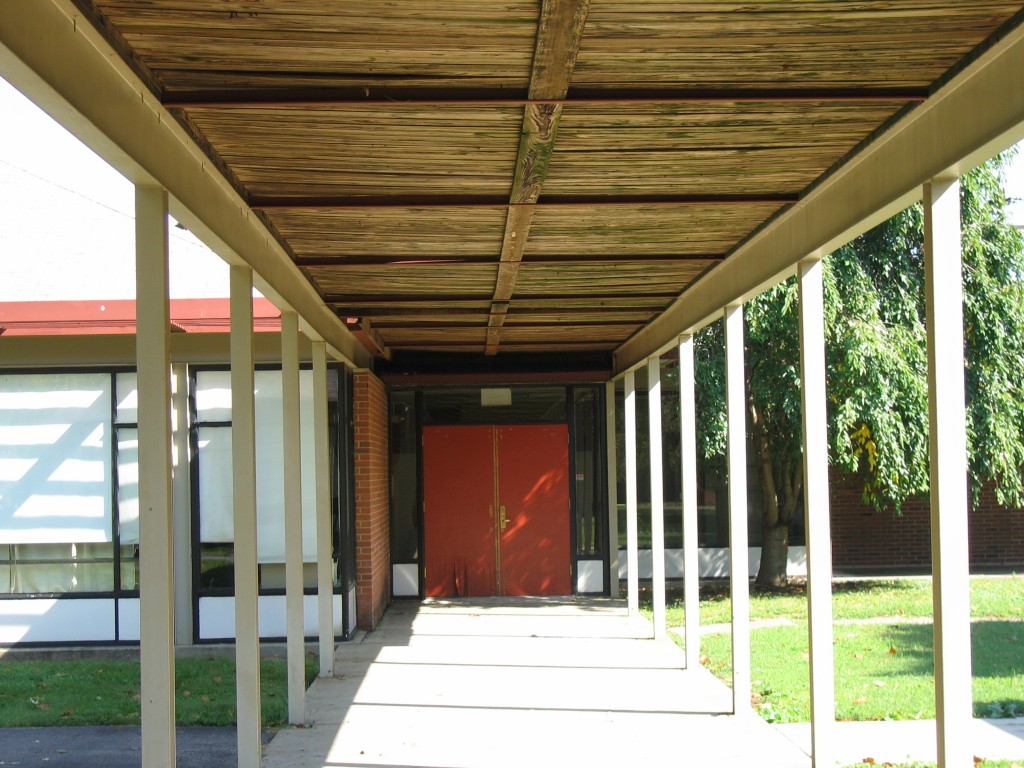 Covered walkway from classroom cluster to the central building, the walkways originally had a trellised covering
(photo by Ricky Berkey)
---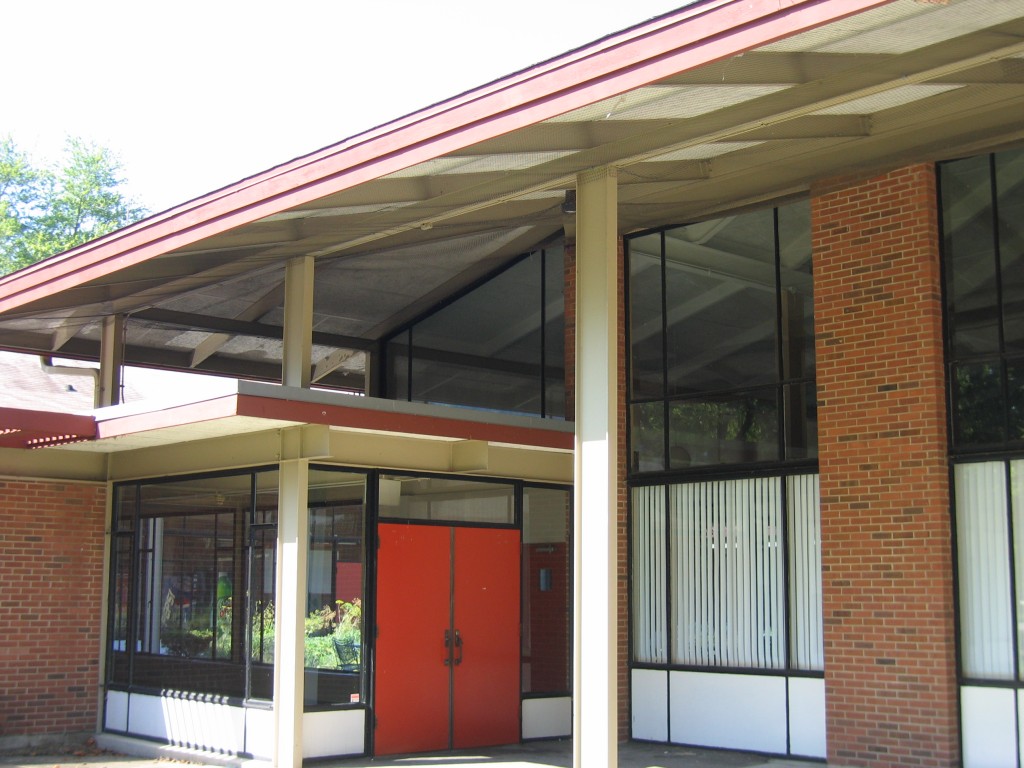 Entry way to the central building
(photo by Ricky Berkey)
---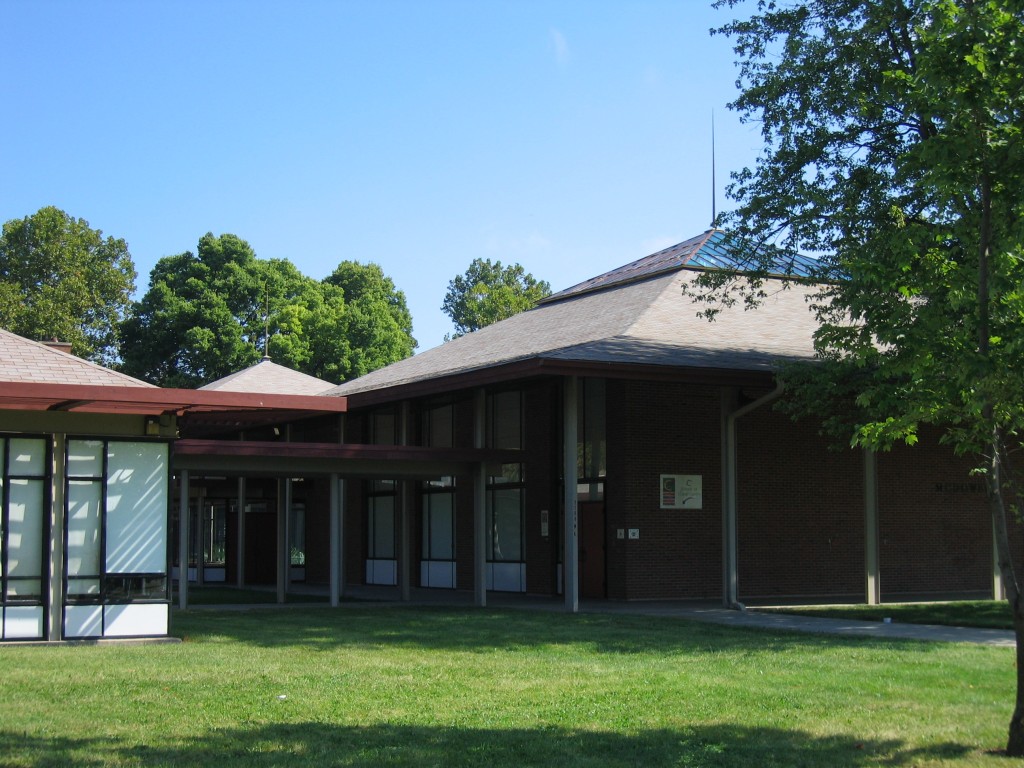 View from the front driveway, classroom cluster on the left, central structure to the right
(photo by Ricky Berkey)
---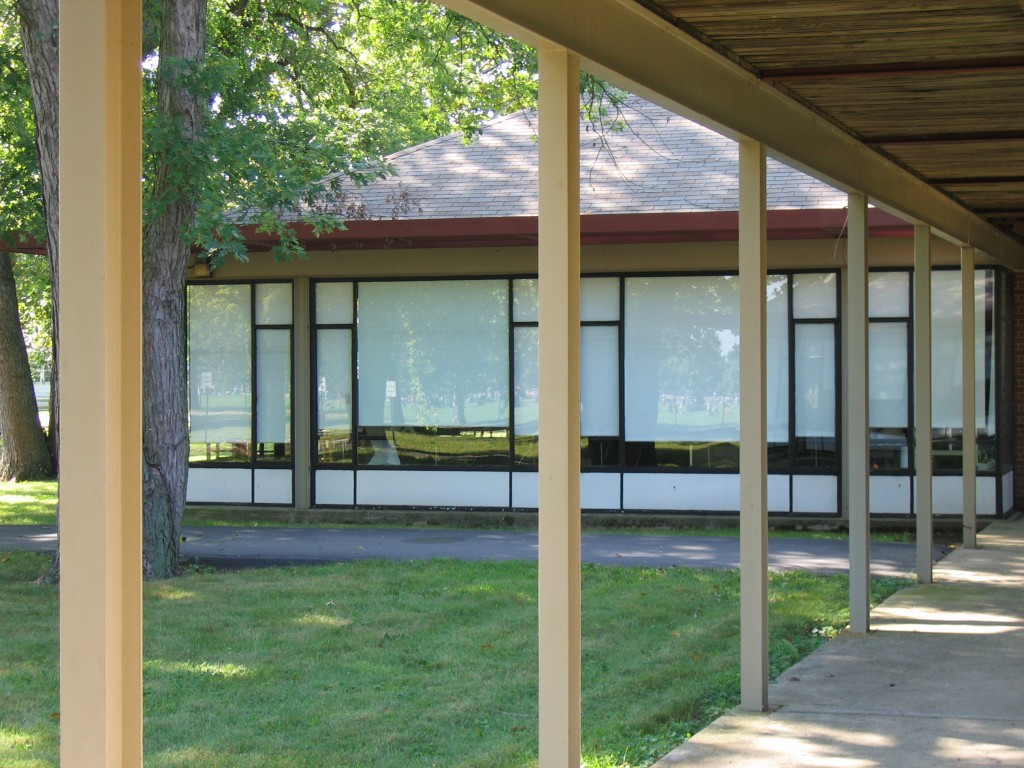 Walkway towards one of the classroom clusters
(photo by Ricky Berkey)
---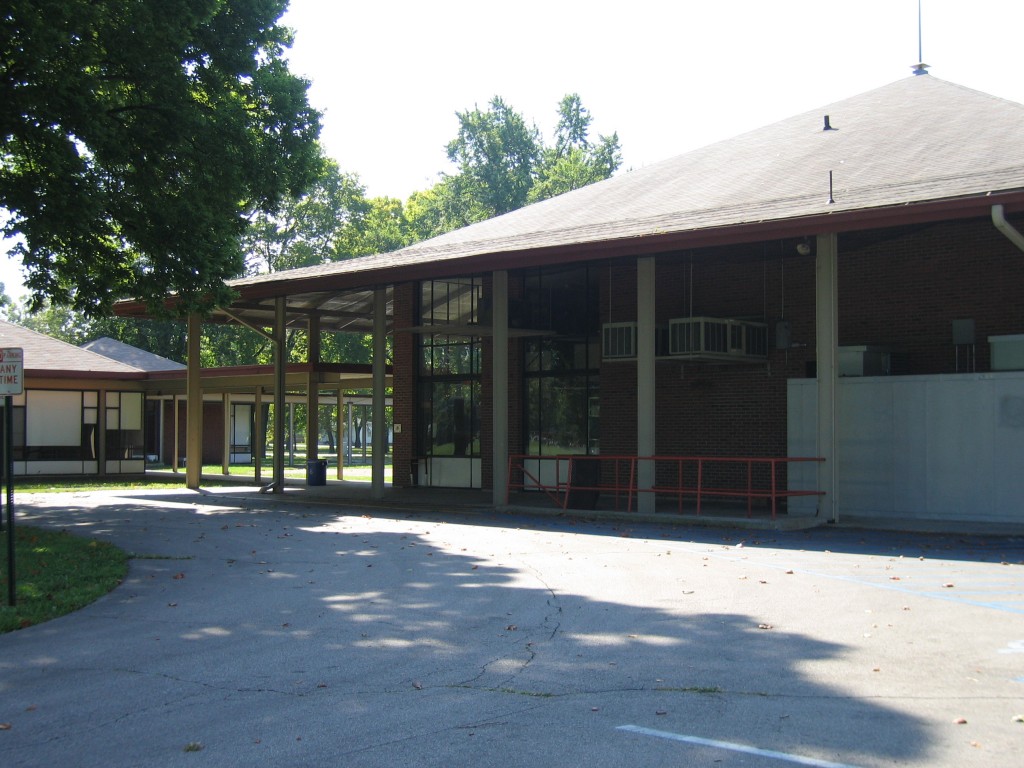 Rear of the building
(photo by Ricky Berkey)
---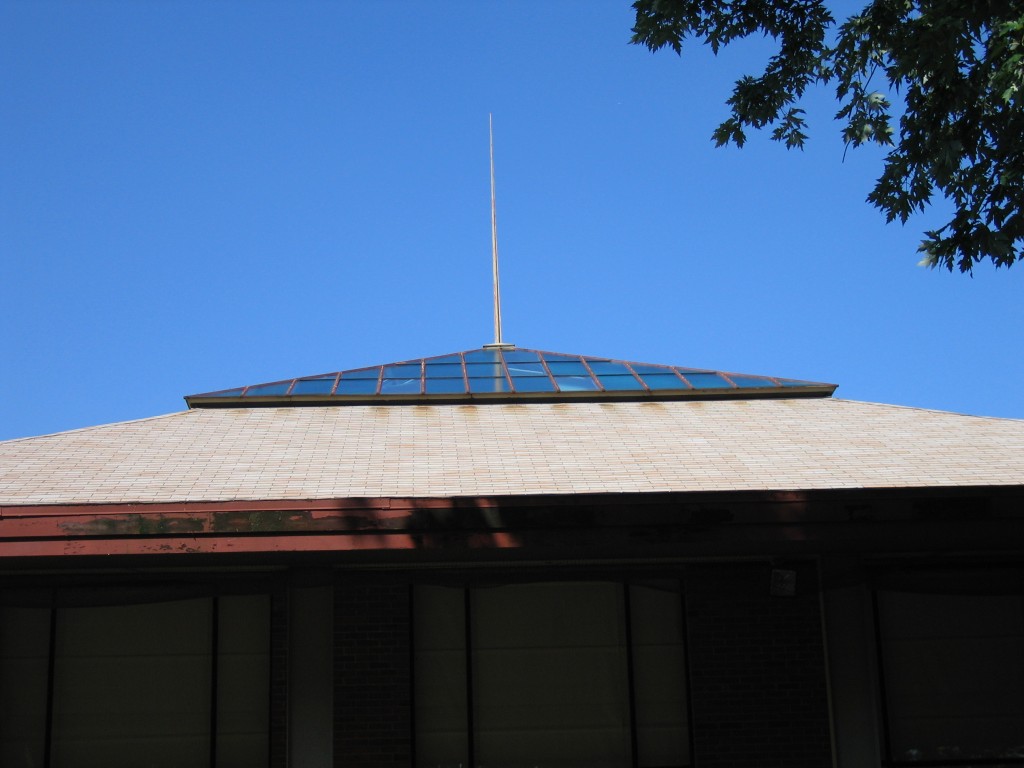 Former multipurpose room
(photo by Ricky Berkey)
---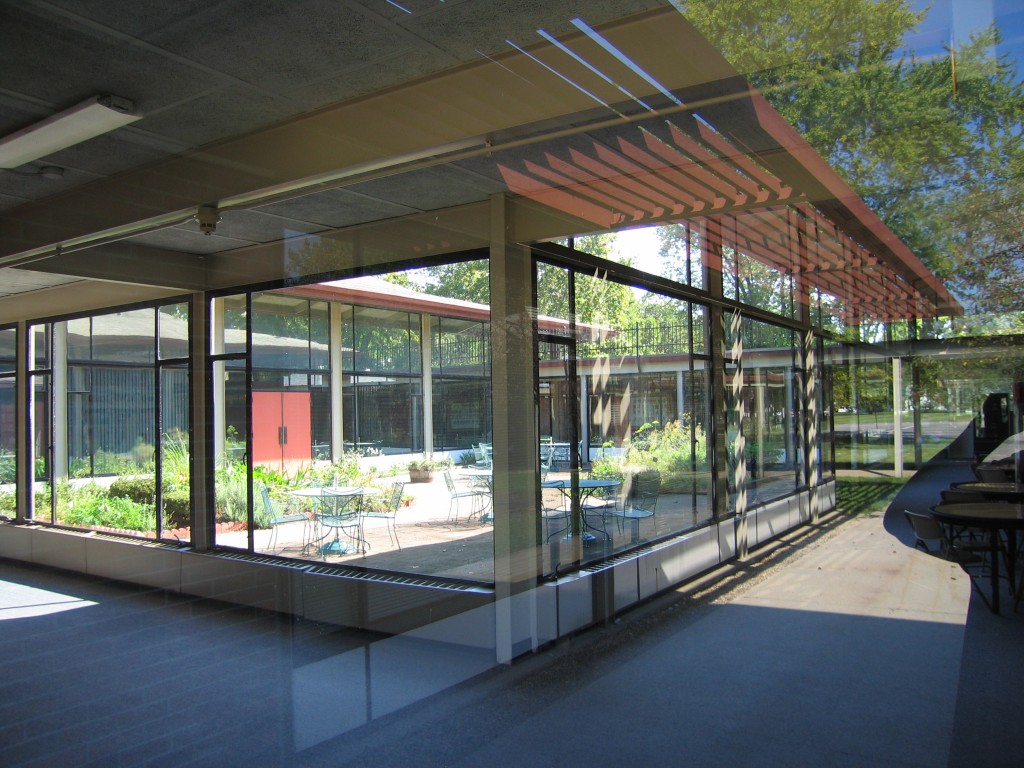 Looking into the courtyard of the center building
(photo by Ricky Berkey)
---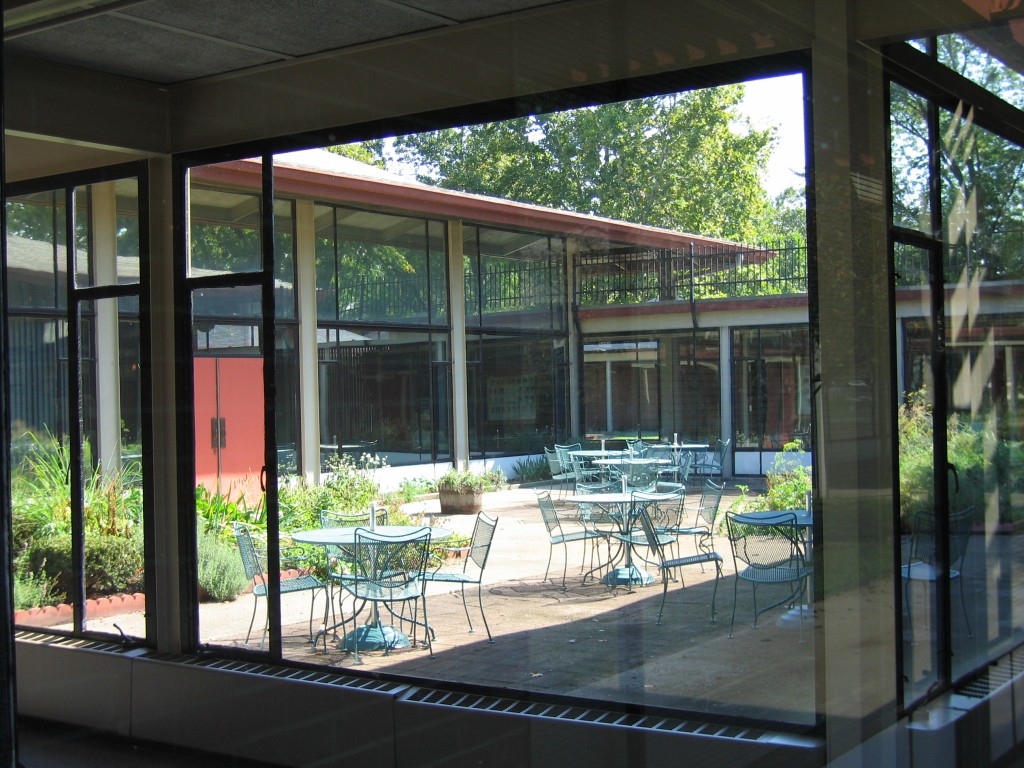 Looking into the courtyard of the center building
(photo by Ricky Berkey)
---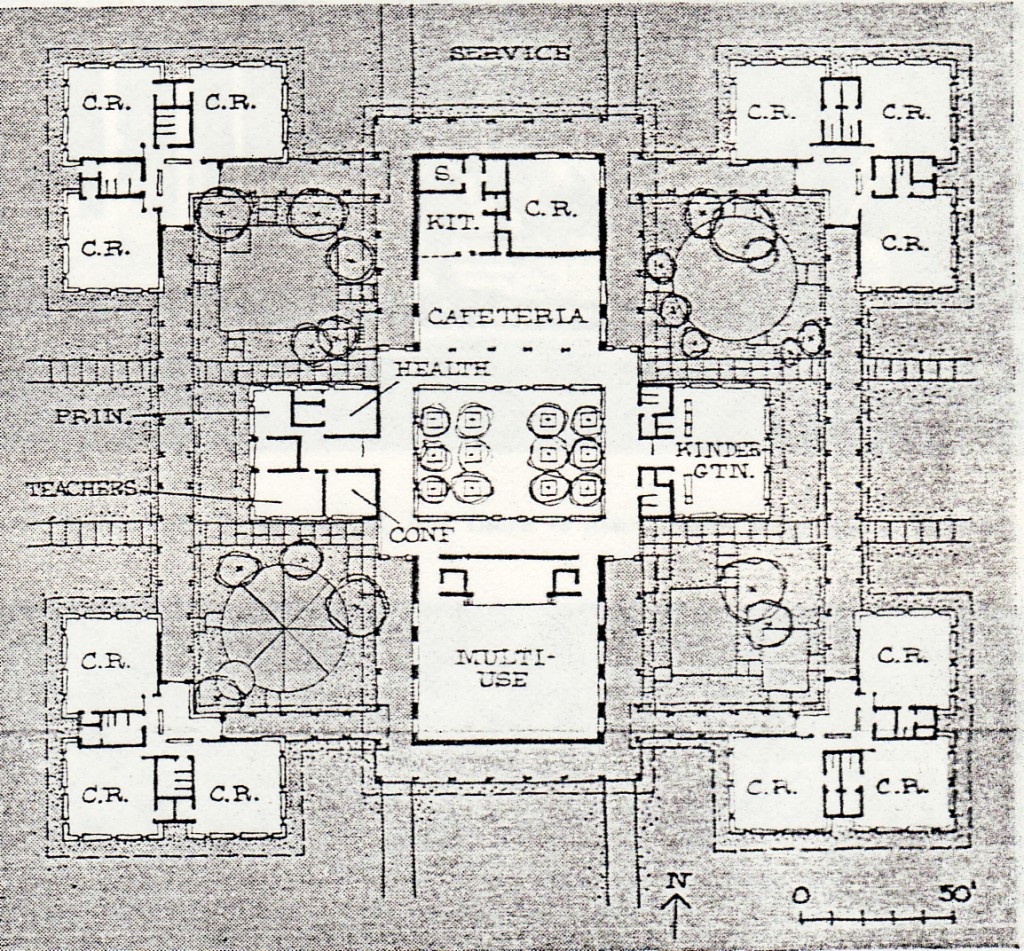 Floorplan of the original elementary school configuration
(photo used pending permission)
---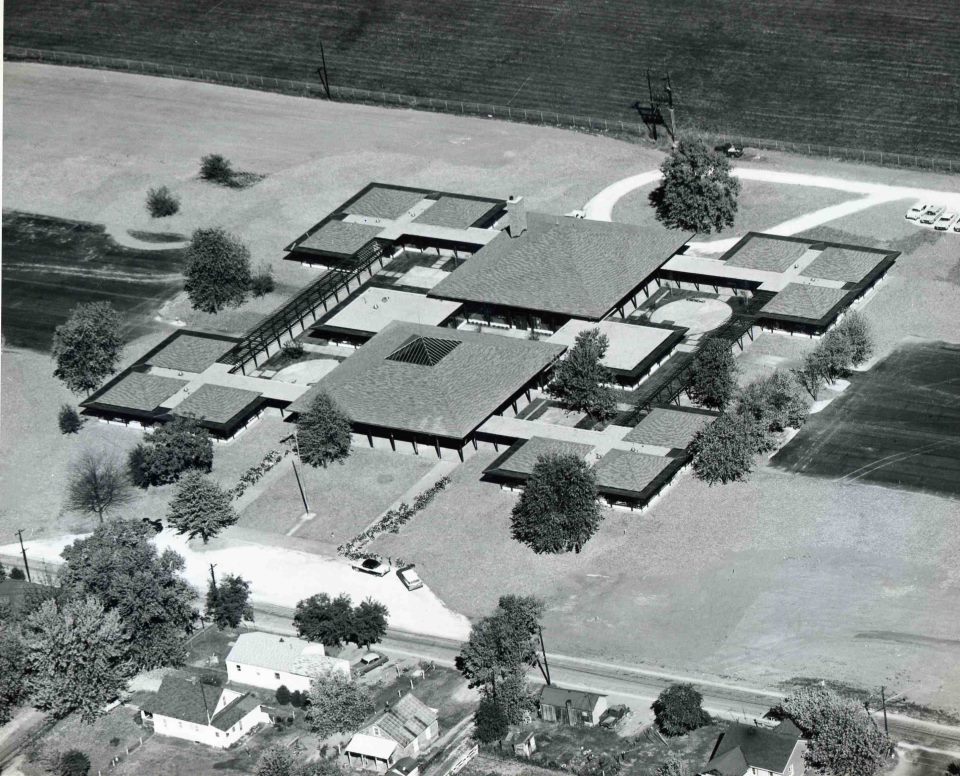 Aerial view from the early 60's
(photo used pending permission)
---
The Architect
---

John Carl Warnecke

Born in Oakland, California on February 24th, 1919
Died in Healdsburg, California on April 17, 2010
Stanford University – Palo Alto, California: BA in Architecture (1941)
Harvard University Graduate School of Design – Cambridge, Massachusetts, Masters in Architecture (1942)
---
John Carl Warnecke was the son of prominent San Francisco architect Carl I. Warnecke. His father had been brought up and trained in the Beaux Arts tradition. His mother, Margaret Esterling Warnecke, was a descendant of Dutch settlers who came to Sonoma County, California, in the 1870s. The younger Warnecke studied architecture at Stanford and Harvard Universities. He was a football star at Stanford and earned the nickname "Rose Bowl" because of his 1940 performance on their unbeaten and untied team. A injury suffered playing football kept him out of WW2. While at Stanford he served an apprenticeship with architect Arthur Brown. At Harvard he studied under the modernist master Walter Gropius who had once led the Bauhaus School of Design in Germany. He completed the 3 year graduate program at Harvard in only a year graduating in 1942.
---
Warnecke was also greatly influenced by the architectural tradition known as the 'Bay Area school" which was developed by SF architect Bernard Maybeck around the turn of the century and advanced by William Wurster. The idea was to create popular architecture guided by everyday use rather than intellectual form. Warnecke's designs are considered primarily functional but with more emphasis on style and harmony with their surroundings than the classic Bay Area style trends.
---
His first job after graduation was as an assistant technical director of the Richmond California housing authority. In 1944 he became an associate in his fathers firm (Miller and Warnecke) primarily working as a draftsman. In 1946 he established his own small practice as "John Carl Warnecke, AIA Architect" as he developed his "contextual" approach to architecture which emphasized the distinctiveness of a building's surrounding environment on the design. He believed that a democratic society needs buildings that are functional and at the same time symbolic of the society's hope and ideals that express "historic tradition along with modern function." He set a goal for himself, which he achieved by the age of 40, to design at least one structure of all the common building types.
---
He developed early acclaim for a building plan that was never completed for a United States Embassy building in Bangkok, Thailand. His project plan blended mainstream modernist forms with historical design precedents that he had explored in Bangkok. It gained attention from Eero Saarinen who was believed to have recommended his name to the Cummins Foundation. He also received a lot of attention in the 50's for design of West Coast schools and colleges which led to his firm being commissioned for projects nationally and internationally. The firm was reorganized in 1958 as John Carl Warnecke and Associates which had its main office in San Francisco with later branches established in Washington, DC, NYC and Honolulu, Hawaii. From 1954-1962 he also worked on a number of collaborative efforts with his father under the signature of "Warnecke and Warnecke." By 1977, John Carl Warnecke and Associates was the largest architectural firm in the United States.
---
Warnecke married the former Grace Cushing in 1945, with whom he had a three sons and a daughter. His oldest son, John Carl Warnecke, Jr., died in 2003. His first marriage ended in divorce in 1961, and Warnecke married the former Grace Kennan in 1969. This second marriage also ended in divorce.
---
From 1963-1967 he was a member of the Washington DC Fine Arts commission which must approve all designs for projects in the nations capitol before construction can begin. He was a regular guest lecturer on architecture at Stanford and other universities.
---
He retired from active practice in the 1980's and developed a vineyard in California's Alexander Valley. He also maintained a Victorian home in San Francisco overlooking the San Francisco bay for many years. As he was nearing retirement, he began downsizing his firm and eventually closed it as he entered full retirement. He wrote about architecture as well as establishing the Warnecke Institute of Design, Art and Architecture, a think tank which studied the effects that worldwide trends such as global warming and resource scarcity will have on architecture. He had completed writing his memoirs shortly before he died of pancreatic cancer at his home home in Healdsburg, California, on April 17, 2010. He was survived by his second wife, his daughter, and two sons.
---
Warnecke's firm won over 100 awards for design excellence including the Arnold Brunner Prize (1957), the National Institute of Arts and Letters Prize in Architecture (1957), the Urban Land Institute Award for Excellence in Architecture (1989), and the Hawaii Chapter of the American Institute of Architects, 25 Year Award for the Hawaii State Capitol (1995). Warnecke was made a Fellow of the American Institute of Architects in 1962. His 1960 design for the McDowell School was declared a National Historic Landmark (2000). He and the firm received many awards from the national and regional chapters of the AIA.
---
Selected John Carl Warnecke Projects
1951: Mira Vista Elementary School – El Cerrito, California
1956: U.S. Embassy in Bangkok, Thailand (unbuilt)
1960: Mabel McDowell Elementary School – Columbus, Indiana
1960: Post Office and Bookstore at Stanford University – Palo Alto, California
1962: Lafayette Square (master plan) – Washington DC
1965: United States Naval Academy (master plan and several buildings) – Annapolis, Maryland
1966: J. Henry Meyer Memorial Library at Stanford University – Palo Alto, California
1967: JFK Gravesite at Arlington National Cemetery – Arlington, Virginia
1968: McHenry Library at the University of California, Santa Cruz – Santa Cruz, California
1969: Hawaii State Capitol – Honolulu, Hawaii
1969: Nathan Cummings Art Building at Stanford University – Palo Alto, California
1962: Lafayette Square (master plan) – Washington DC
1974: AT&T Long Lines Building – NYC
1975: Soviet Embassy – Washington D.C.
1977: Logan Airport South Terminal – Boston, Massachusetts
1982: Hart Senate Office Building – Washington, DC
1983: Thomas & Mack Center at the University of Nevada – Las Vegas, Nevada
1984: Sports Arena at the University of Nevada – Las Vegas, Nevada.
---
Historic Columbus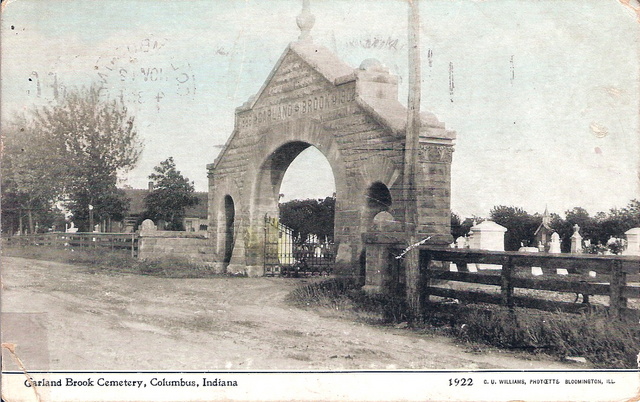 This is a postcard image from about 1912 showing the Garland Brook Cemetery which is just adjacent to the McDowell School. This gate still exists.
(photo used pending permission)
---
Links/References
City of Columbus: official City of Columbus website
Columbus Indiana Architectural Archives
Columbus Indiana Architecture Digital Archives: A small portion of the Columbus Indiana Architectural Archives available online from the IUPUI digital library
3D Models of Columbus Architecture Executed in Google SketchUp:
The Republic Newspaper – Columbus, Indiana newspaper
Bartholomew County Public Library
Historic Columbus Website – David Sechrest's tribute to Columbus History
Historic Columbus Message Board – a companion interactive forum to the David Sechrest historical website
Bartholomew County Historical Society
---

Click HERE for a Calendar of Upcoming Events in the Columbus Area.
Click HERE for information about Tours of Columbus Architecture and Design including the Miller House.
---

Ricky Berkey
Email me: rickyberkey@gmail.com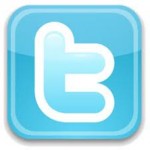 Follow me on Twitter:
---