---
(v12.14.14)
Art, Architecture and Design
This section spotlights a particular building or some other aspect of Columbus design. I welcome your comments, corrections and addendum's. Please share your experience and perceptions of these uniquely Columbus projects.

Hamilton Center Ice Arena

Built: 1958
Address: 2501 25th Street (Lincoln Park Drive)
Architect: Harry Weese (Harry Weese & Associates – Chicago)
Project Manager: Bruce Adams (Harry Weese & Associates – Chicago)
Architect of 1975 addition: William D. Koster (Koster & Associates – Cleveland, Ohio)
---
Hamilton Center (originally called Lincoln Center) is a year-round indoor ice skating facility with 17,000 square feet of ice on 2 rinks. Originally an outdoor facility, it was designed by Harry Weese and built in 1958. In 1975, the skating rinks were enclosed and expanded to a regulation size hockey rink and adjoining practice area. Skaters from beginners to competitive enjoy this top notch Columbus Parks and Recreation facility.
---
Another example of the philanthropic spirit of Columbus, the facility was a gift to the community by the Hamilton Foundation to honor B.F. Hamilton, founder of the COSCO manufacturing facility in Columbus. Now part of the Dorel Juvenile Group, COSCO orginally stood for COlumbus Specialties COmpany, manufacturers of card tables, chairs and baby car seats. Harry Weese was chosen as the architect by the Hamilton Foundation because of his imagination along with his philosophy of creating a unique architectural statement yet still fulfilling the practical needs of the client and users. The Hamilton Foundation chose an ice skating facility because there was nothing like it in this area. The climate here was never cold enough for long enough to safely freeze area ponds and lakes. Although the original rink area was outside, it utilized refrigeration equipment to ensure a smooth and safe surface. It was still only used however from November thru March.
---
The original building is meant to be reminiscent of a Swiss chalet, with rough-hewn granite boulders and glass with a very steep interior-beamed triple-peaked roof. The exterior features battered wall construction. The highlight of the interior was the circular granite fireplace surrounded by wooden benches to warm chilly skaters. It featured a skate resistant floor for ease of entry and exit for the skaters. There is a freestanding wall on the outside to allow skaters in the warming building views to the outside but to isolate them from the busy 25th Street traffic flow. Harry Weese described the building as a "Black Forest stage setting for exhilarating evenings under the stars". In its original configuration, there were two artificially frozen outdoor rinks, 1 measuring 85′ by 185′ and the other 85′ by 40′. It was possible for special occasions or events to open a partition and create 1 surface rink at 85′ by 225′, at the time one of the very largest in the country.
---
An open house was held on December 20th and 21st, 1958 with the first open skating to the public on the 22nd. Present at the open house were Clarence, Earl and William Hamilton representing the Hamilton Family Foundation. Architect Harry Weese and his wife Kitty were on skates trying out the ice on Saturday the 20th. Official dedication of the facility took place on November 17th, 1960.
---
The outdoor skating rink was enclosed and expanded in 1976 funded by a city bond issue and was driven by the need to repair the deteriorating original rinks. Architect William D. Koster of Koster & Associates designed the new addition. Despite the fact that the addition enclosing the rinks was 5 times larger than the original building, Koster repeated roof forms and architectural details using similar building materials to make the addition very compatible to the original Harry Weese design. The facility is operated and maintained by the Columbus Parks and Recreation Department.
---
It now serves as a community center and ice skating rink with adjacent tennis courts. It is also very close to the huge Lincoln Park softball complex. The new main rink is 200′ by 85′ and the studio rink is 50′ by 72″. The building contains a pro shop, skate rental area and snack bar. Besides the skating rinks, the facility can be used for a variety of community events. The original intention was to only have a skating season from October till March with the rinks drained and covered and used for other activities during the rest of the year. Eventually the rinks began to be used year round.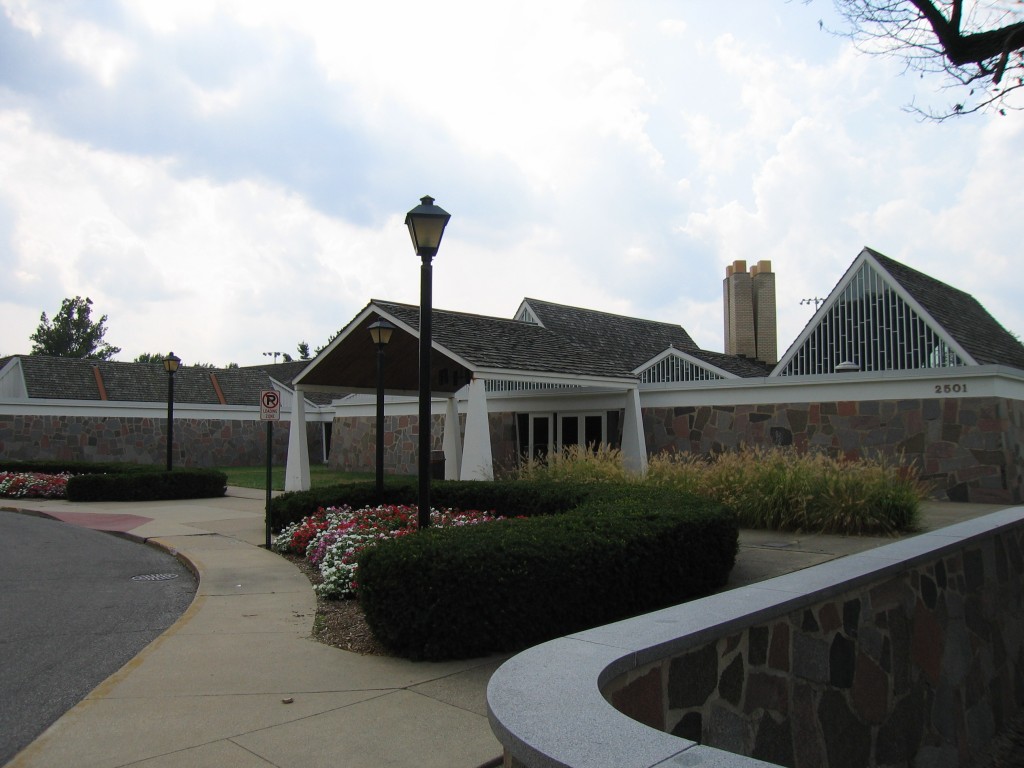 Main entrance
(photo by Ricky Berkey)
---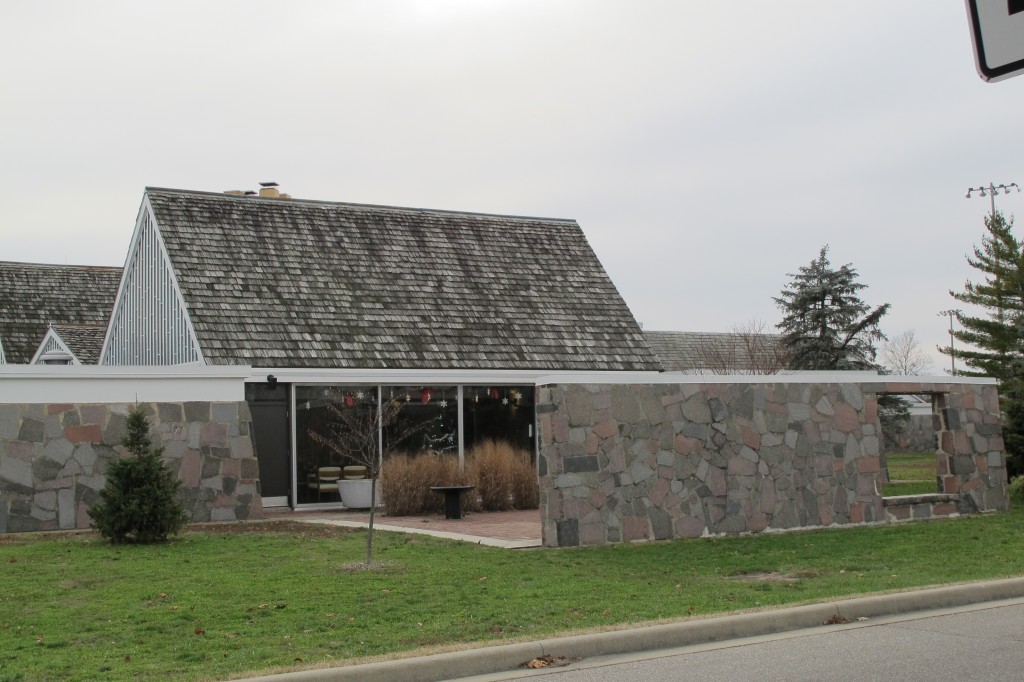 Side of building facing 25th Street, notice the freestanding wall to isolate skaters from the busy traffic flow
(photo by Ricky Berkey)
---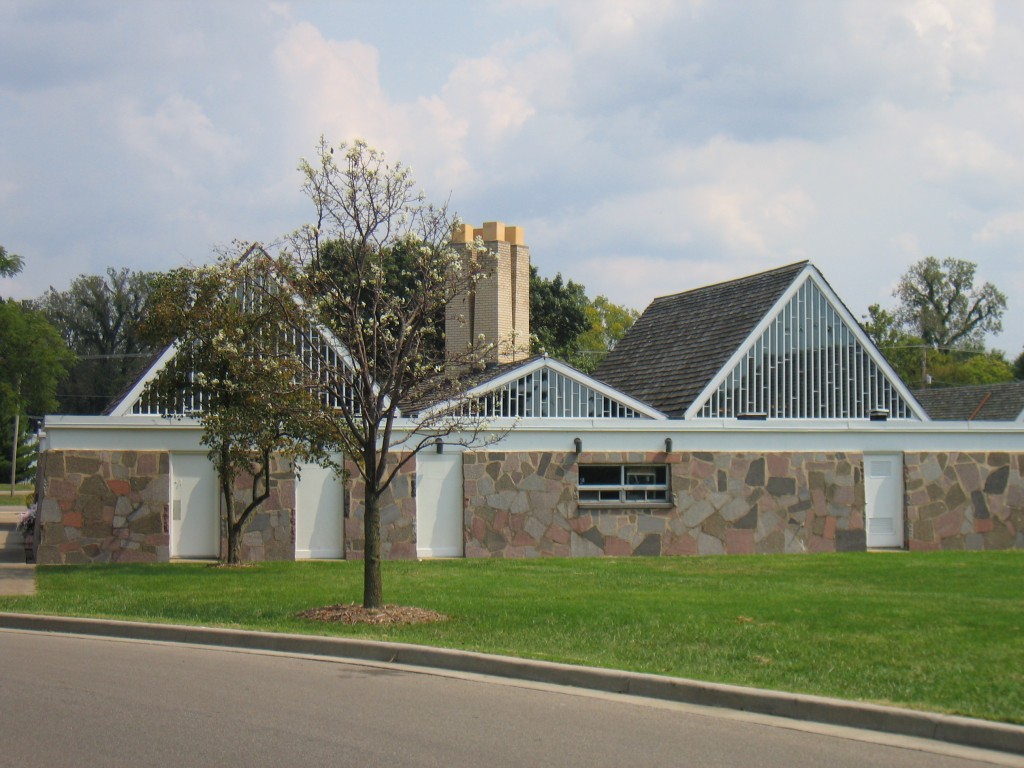 Original triple-peaked roofline by Harry Weese
(photo by Ricky Berkey)
---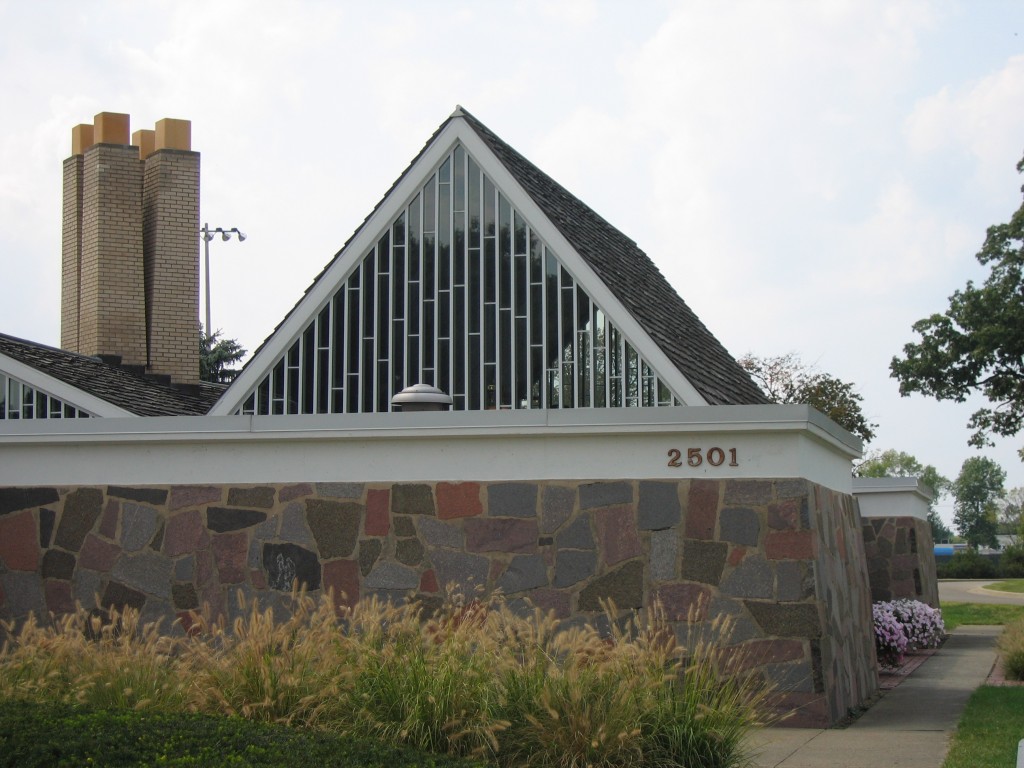 Closeup of windows in the peaked roof
(photo by Ricky Berkey)
---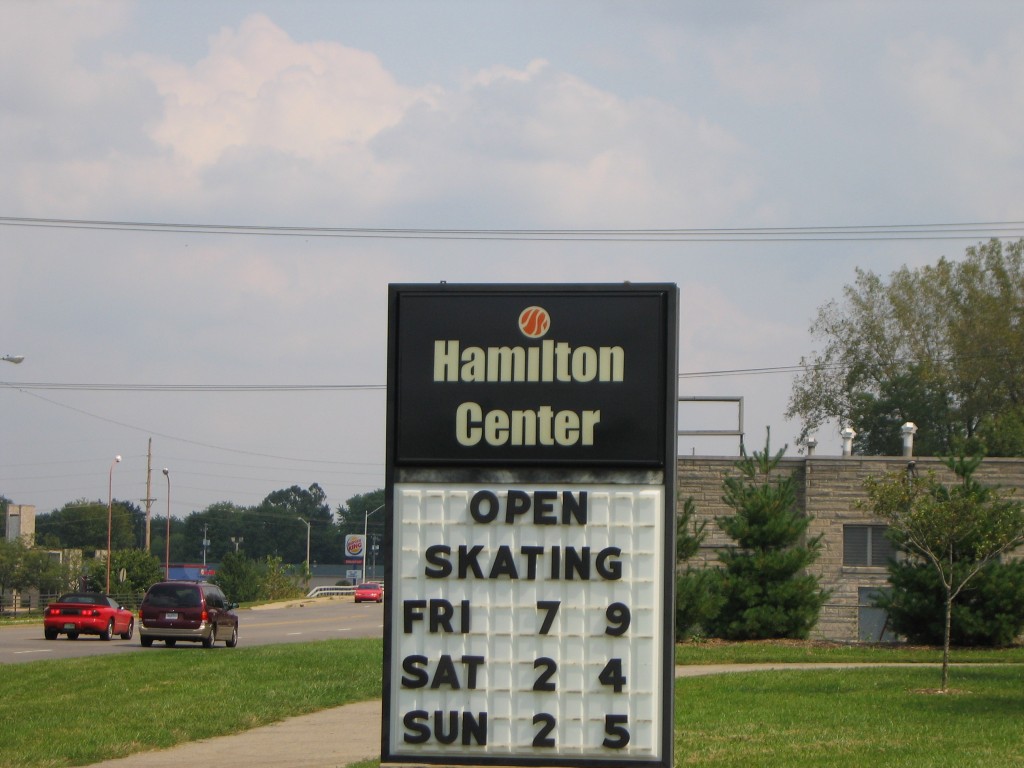 Hamilton Center sign
(photo by Ricky Berkey)
---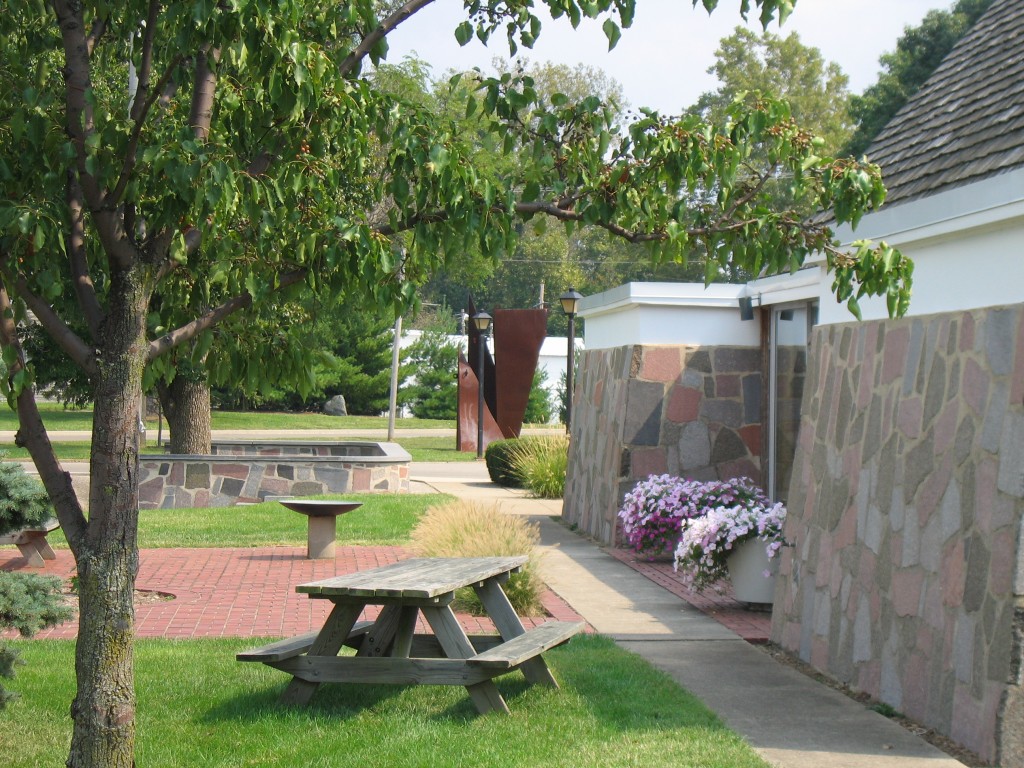 Hamilton Center
(photo by Ricky Berkey)
---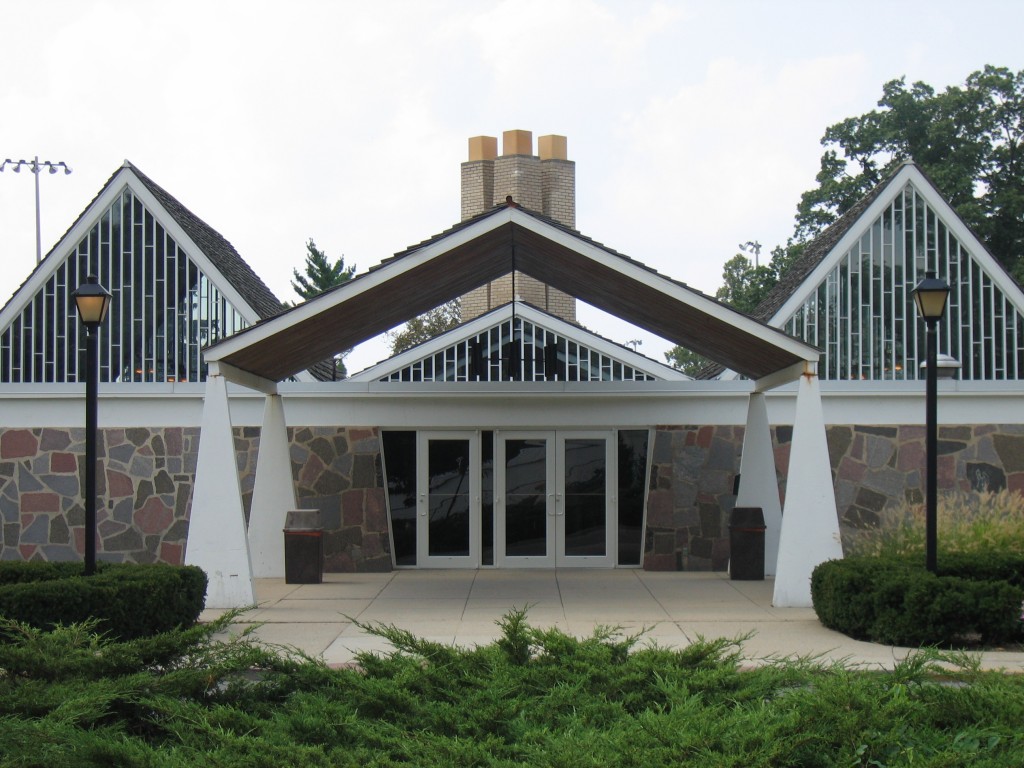 Main entrance
(photo by Ricky Berkey)
---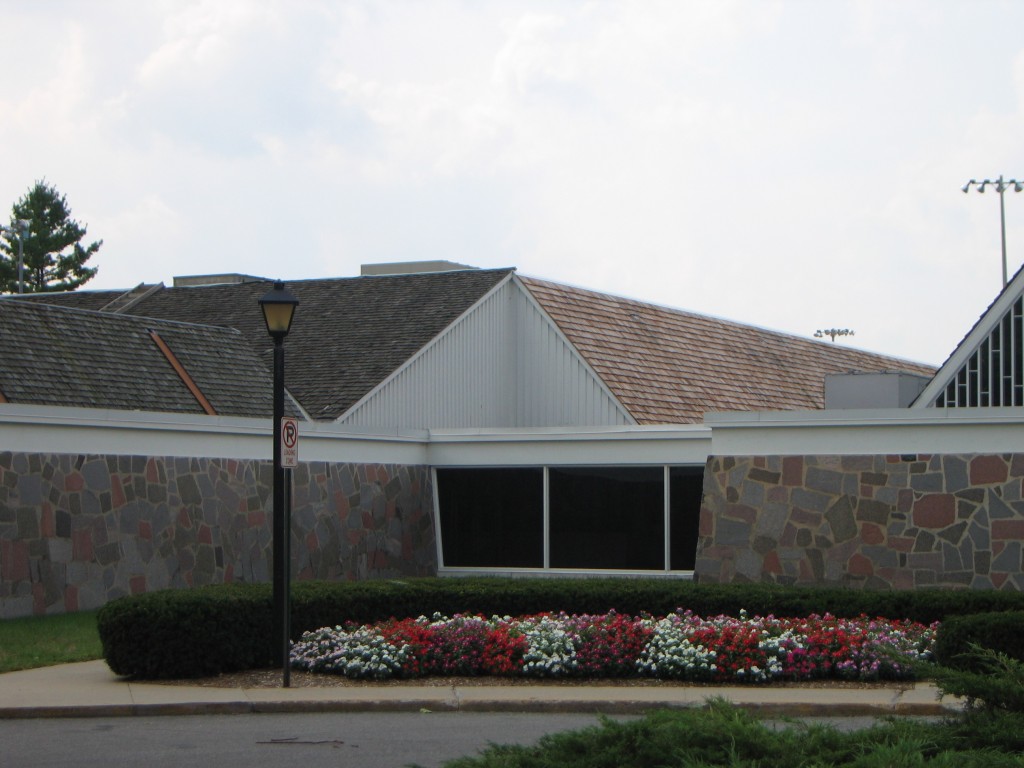 Original Harry Weese building on the right, the addition enclosing the rinks on the left
(photo by Ricky Berkey)
---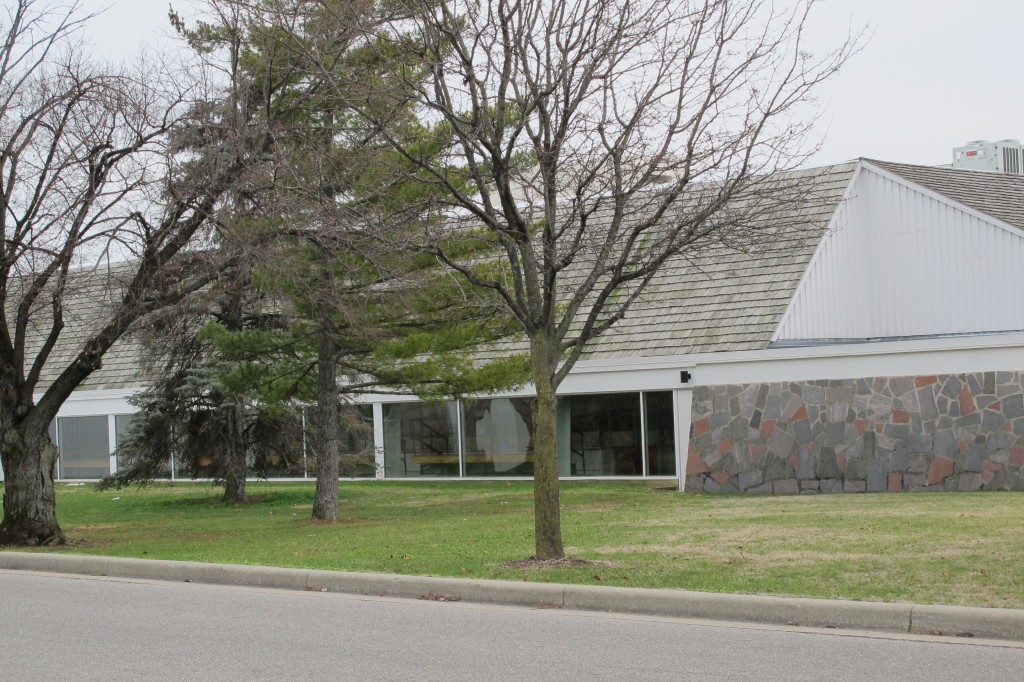 Enclosed rink
(photo by Ricky Berkey)
---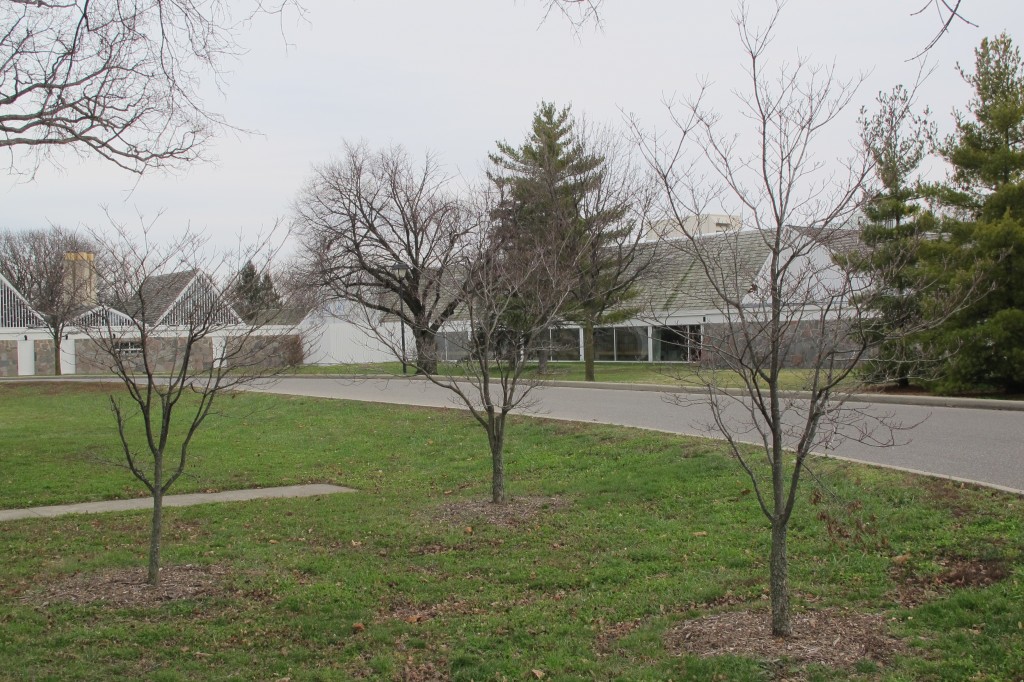 Entire facility
(photo by Ricky Berkey)
---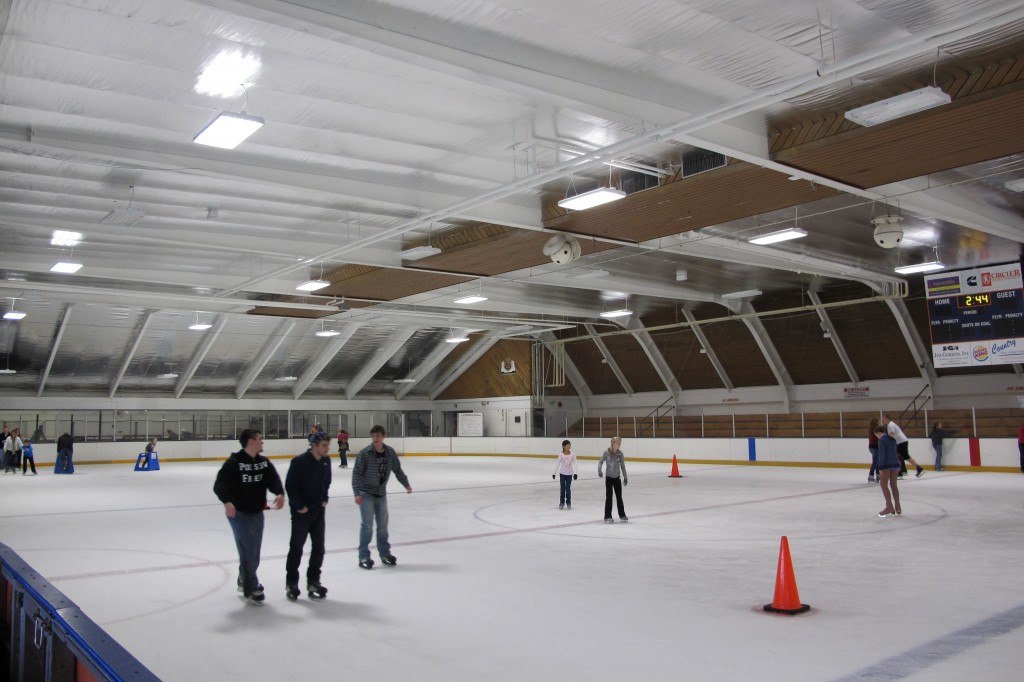 Indoor rink area
(photo by Ricky Berkey)
---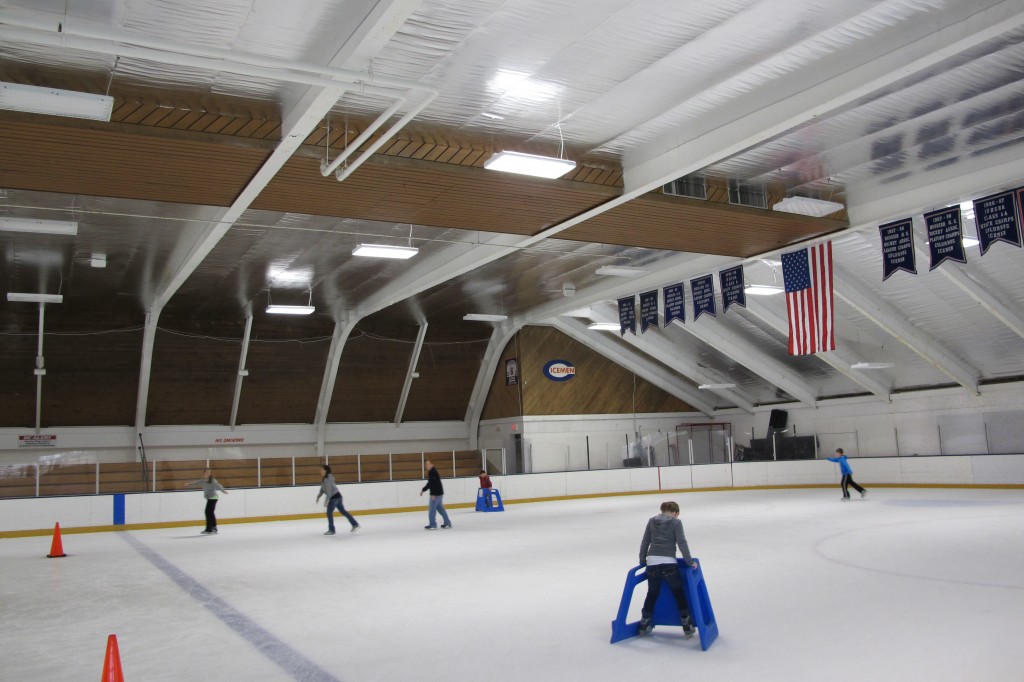 Indoor rink area
(photo by Ricky Berkey)
---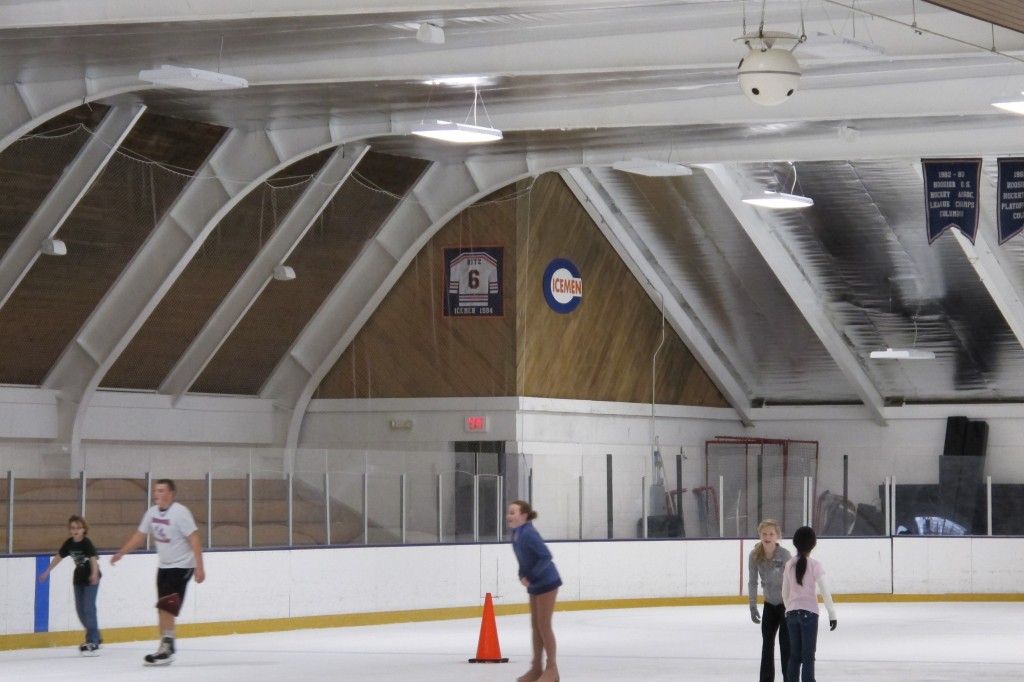 Indoor rink area
(photo by Ricky Berkey)
---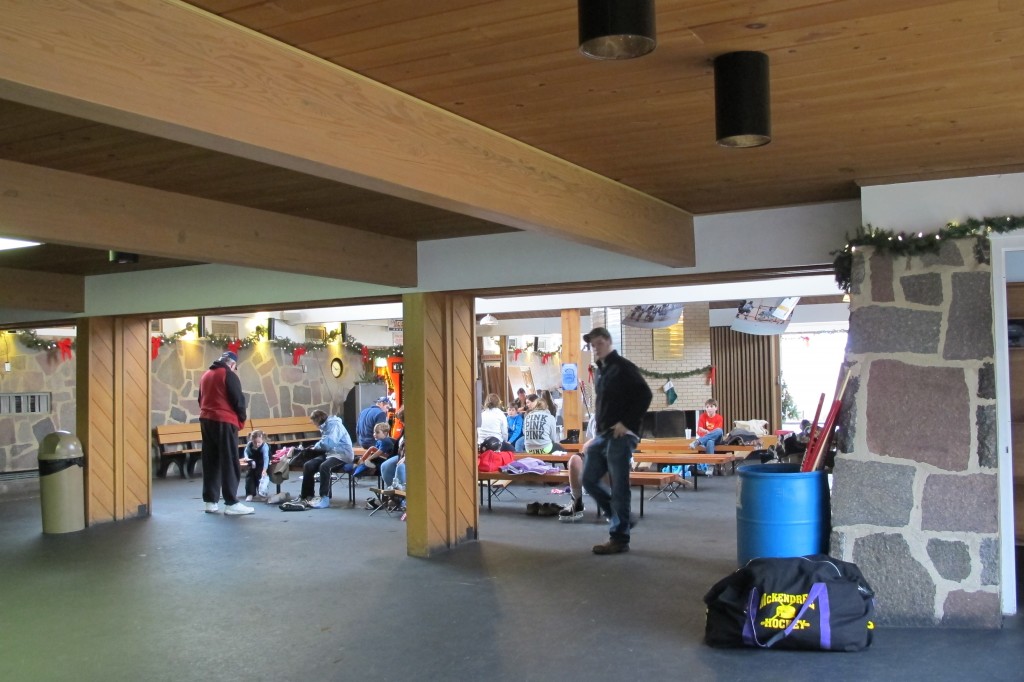 Inside the warming building
(photo by Ricky Berkey)
---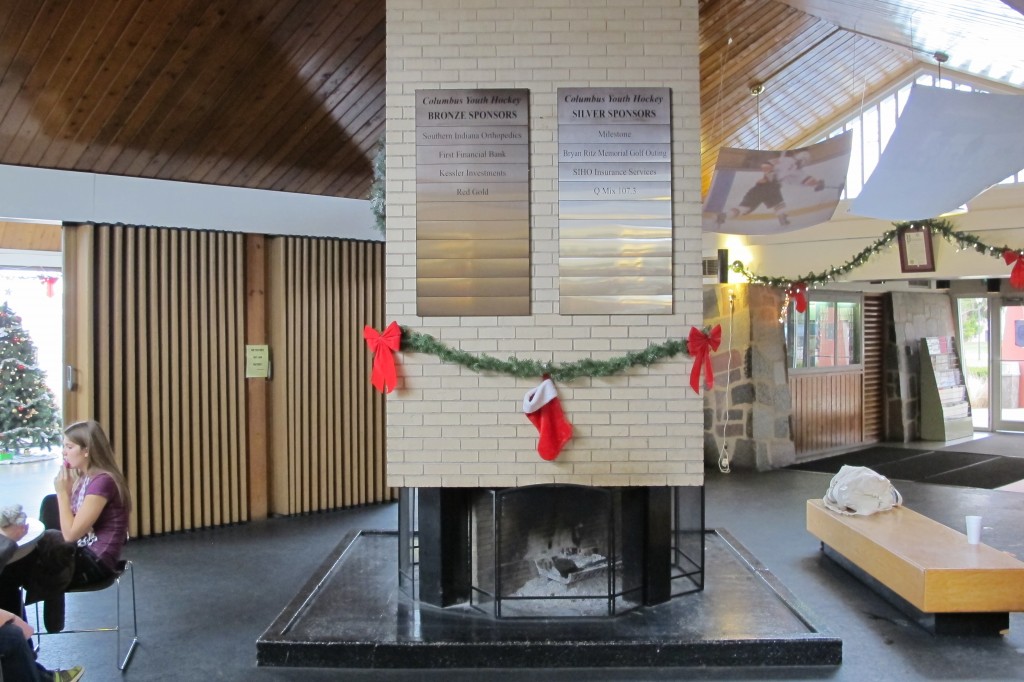 Circular fireplace
(photo by Ricky Berkey)
---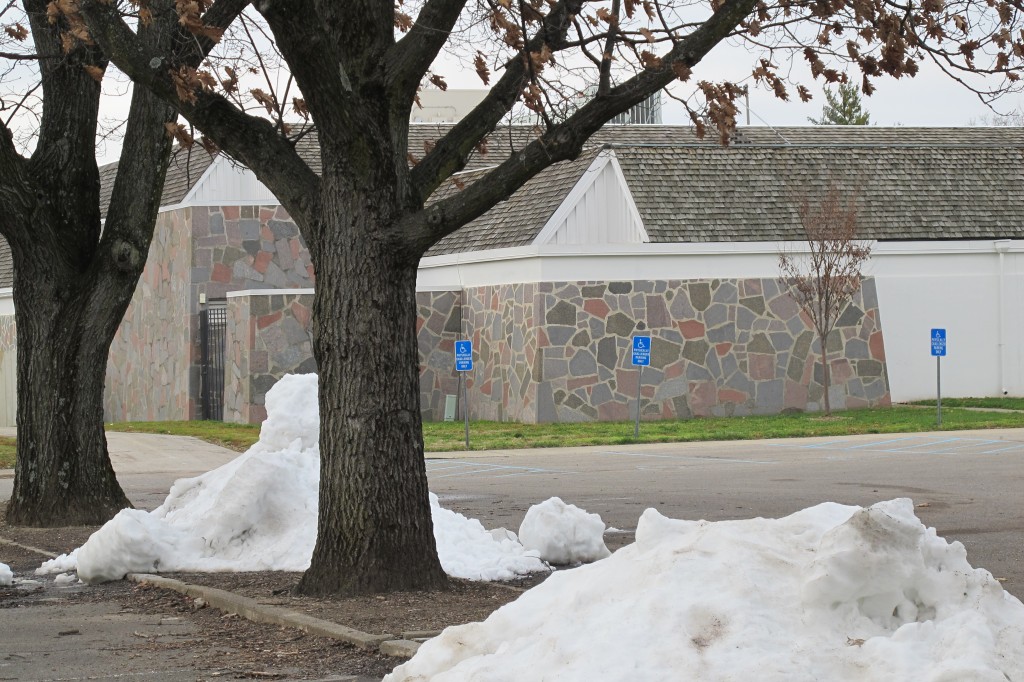 Snow dumped outside from the Zamboni ice resurfacer (this is the place to find snow in Columbus, even in July!)
(photo by Ricky Berkey)
---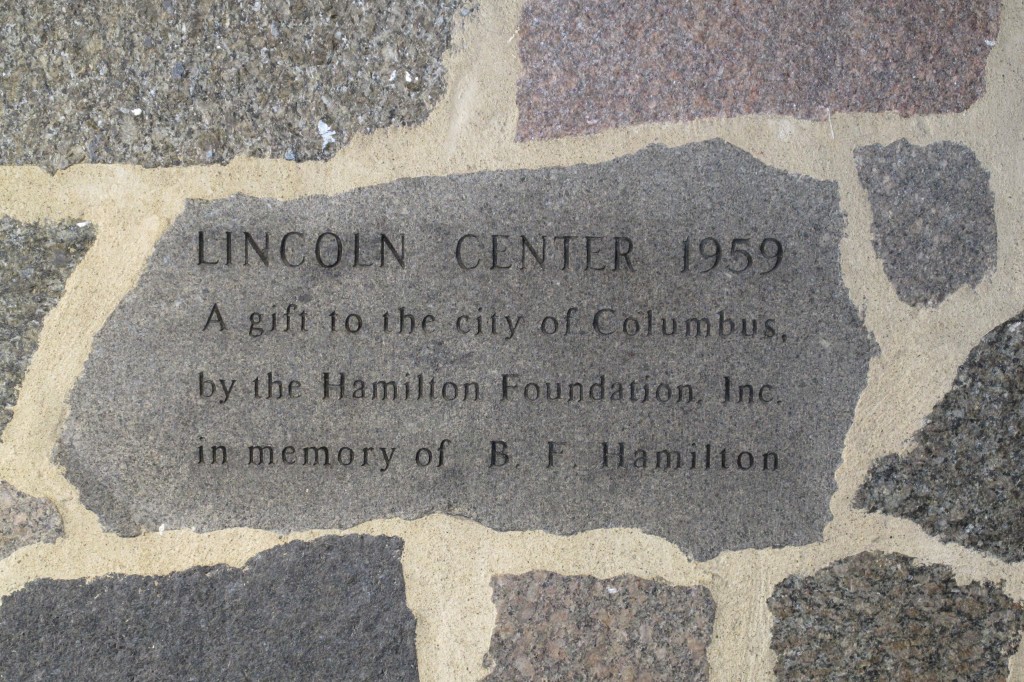 Dedication plaque
(photo by Ricky Berkey)
---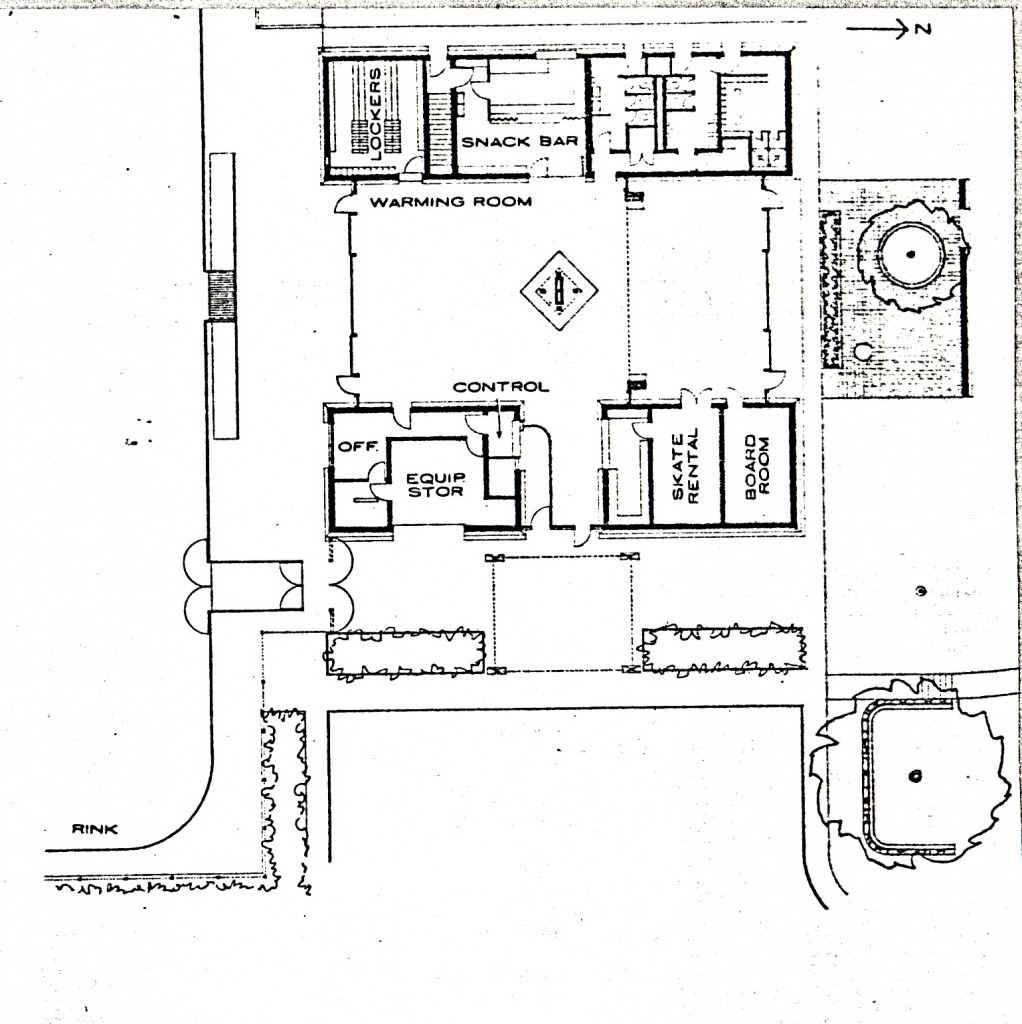 Original 1958 layout
(photo used pending permission)
---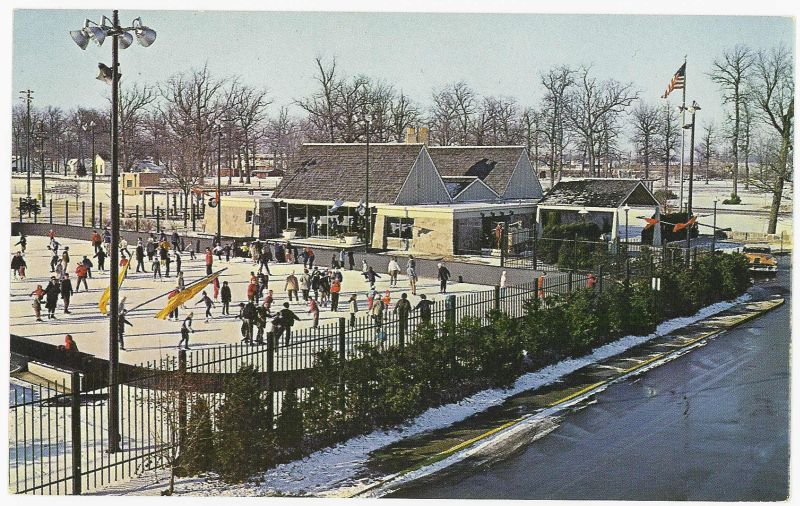 Original configuration with outside skating
(photo used pending permission)
---
The Architect
---

Harry Weese
Born June 30, 1915 in Evanston, Illinois
Died October 29, 1998
Yale University (1936-1937)
Massachusetts Institute of Technology (MIT) (1934-1938)
Cranbrook Academy (1939-1940)
Harry Weese was born in the Chicago suburbs and went on to become one of the most influential of the Chicago architects. His work predominated in Chicago, in little Columbus, Indiana and around the world. His many projects ranging from high-rises and giant urban complexes to intimate residential designs remain as a testament to his genius.
---
Harry was a student of renowned Finnish architect Alvar Aalto at MIT. He also studied city planning at the Cranbrook Academy in Bloomfield Hills, Michigan where he met and became close friends of Charles Eames and Eero Saarinen. His life was greatly influenced by his brief time at Cranbrook and his later interior design work can be seen as a result. His association with Eero Saarinen led to many projects as Saarinen referred projects to Weese that he simply didn't have time to take on. He also became a close friend of J. Irwin Miller which led to over a dozen small projects in Columbus, Indiana.
---
He was primarily considered a modernist but his work was always shaped by the needs and vision of his clients. As a result his designs were almost always unique without an identifying personal style. Weese's approach to design was problem solving – each work intended to meet a specific need and to fulfill a particular function.
---
Early on he worked for Skidmore, Owings and Merrill (SOM) but felt stifled in the world of corporate architecture and started his own much smaller firm in 1947. He also became a fierce advocate of historic preservation and city planning. He had a lifelong interest in sailing and boat-building which was often reflected in his designs especially in some of his residential projects. Harry Weese & Associates won the coveted Firm of the Year Award in 1978. In 45 years they completed over 300 commissions with perhaps an equal number of unbuilt designs.
---
His luster was tarnished in later years as his drinking and personal problems put a sad footnote on what should have been a celebrated life. After numerous stints in rehab clinics and several strokes his wife Kitty and family had him committed to the Illinois Veterans Home where he died quietly in 1998. Recently his work has come back into focus as a number of articles and a new book has been released on his life and works. Much like the recent surge of interest in Eero Saarinen, the work of Harry Weese is finally getting the critical respect and admiration that it always deserved.
---
Selected Harry Weese Projects
1957: Lillian C. Schmitt Elementary School – Columbus, Indiana
1958: United States Embassy Building – Accra, Ghana
1961: Northside Middle School – Columbus, Indiana
1963: Sterling Morton Library at the Morton Arboretum
1965: First Baptist Church – Columbus, Indiana
1966: Orchestra Hall Restoration – Chicago, Illinois
1966: IBM Building – Milwaukee, Wisconsin
1966: Tangeman House – Muskoka Lakes, Ontario, Canada
1967: Auditorium Theatre Restoration – Chicago, Illinois
1968: Seventeenth Church of Christ, Scientist – Chicago, Illinois
1969: Marcus Center for the Performing Arts – Milwaukee, Wisconsin
1969: Shadowcliff House – Ellison Bay, Wisconsin
1970: Time-Life Building: Chicago, Illinois
1970: Formica Building – Cincinnati, Ohio
1972: Arena Stage – Washington, D.C.
1973: Crown Center Hotel – Kansas City, Missouri
1975: Mercantile Bank – Kansas City, Missouri
1975: Oak Park Village Hall – Oak Park, Illinois
1975: Metropolitan Correctional Center – Chicago, Illinois
1976: Willow Street Townhouses – Chicago, Illinois
1976: Metro System – Washington D.C.
1981: Fulton House Condominium Conversion – Chicago, Illinois
1982: United States Embassy Housing – Tokyo, Japan
1984: Miami-Dade County Transit System – Dade County, Florida
1988: River Cottages – Chicago, Illinois
1988: Union Station Restoration – Washington, DC
---
Links/References
Hamilton Center Ice Arena: Columbus Parks Department
"Reconstructing Harry Weese": fascinating recent article about his life and career
"Harry Weese: A Man of Many Words and Works (1915-1998)" – a career retrospective from Inland Architect magazine.
The Architecture of Harry Weese: Robert Bruegmann and Kathleen Murphy Skolnik (recently published career retrospective)
Harry Weese Interview: part of the Chicago Architects Oral History Project
Harry Weese Houses: Kitty Baldwin Weese (This book was written by Harry's wife as a tribute for his 70th birthday – it illustrates 38 of his 82 residential designs).
City of Columbus: official City of Columbus website
Columbus Indiana Architectural Archives
Columbus Indiana Architecture Digital Archives: A small portion of the Columbus Indiana Architectural Archives available online from the IUPUI digital library
3D Models of Columbus Architecture Executed in Google SketchUp:
The Republic Newspaper – Columbus, Indiana newspaper
Bartholomew County Public Library
Historic Columbus Website – David Sechrest's tribute to Columbus History
Historic Columbus Message Board – a companion interactive forum to the David Sechrest historical website
Bartholomew County Historical Society
---

Click HERE for a Calendar of Upcoming Events in the Columbus Area.
Click HERE for information about Tours of Columbus Architecture and Design including the Miller House.
---

Ricky Berkey
Email me: rickyberkey@gmail.com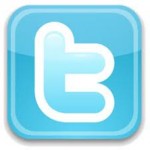 Follow me on Twitter:
---