---

Bartholomew County Memorial for Veterans

Built: 1997
Address: Courthouse Square – 2nd and Washington
Design Architects: Thompson and Rose Architects: Maryann Thompson and Charles Rose (Cambridge, Massachussetts)
Landscaping: Michael Van Valkenburgh (Cambridge, Massachussetts)
Local Architect Consultant: Nolan Bingham
Honors:
Unbuilt Architecture Design Award – Boston Society of Architects (1996)
Tucker Award of Excellence from the Building Stone Institute (1998)
---
Twenty five limestone pillars in rows of 5, each 40 feet tall and 2.5 feet square, comprise the Bartholomew County Memorial for Veterans. Outer sides of the perimeter columns are rough-hewn limestone, wider at the base than the top, meant to symbolize soldiers standing at parade rest guarding over the fallen. Surfaces on the inner pillars are smooth intended to provide a sense of inner peace. Surfaces along the outer ring of the interior columns are engraved with the names of those who gave their lives in service to the United States in wars of the 20th Century. The center columns are engraved with excerpts from selected correspondence with their loved ones as well as diary entries. Viewed externally it is a large imposing structure but within the columns lies an intimate meditative experience, a separate world which engages the viewer. Circular lights at ground level between the columns afford night viewing as well as providing a dramatic lighting of the sculpture to those passing by.
---
The Memorial was designed by Maryann Thompson and Charles Rose with landscaping executed by Michael Van Valkenburgh. Valkenburgh had prepared several previous landscaping plans for the courthouse square lawn as well as doing other landscaping projects around Columbus, most notably in Mill Race Park. Van Valkenburgh's landscaping surrounds the memorial with an open grid of flowering Chinese dogwoods and a plane of greenspace. Thompson and Rose were partners (as well as being married) at the time of the design but have since parted ways. Their individual websites are interesting in how they either share credit (or take complete credit) for designs that they have previously proclaimed as joint efforts.
---
Thompson and Rose were selected as part of a design competition. Planning started in 1994 with a committee comprised of county officials, community members and local veterans. The mission statement adopted by the committee for the memorial was: "A place to find peace and be with those who gave us peace." The Cummins Foundation paid for the design competition which invited 6 recognized architects to submit a preliminary plan for the memorial. After narrowing the field to three, the design plans and models were put on display in the Commons to solicit community opinions. Final choice of the Thompson/Rose design was selected by a design selection team comprised of architects, local veterans, governmental officials and residents. Groundbreaking was held on May 30th, 1996 (Memorial Day).
---
Although the design fees were paid by the Cummins Foundation, a major fund raising drive was mounted to pay for the materials and construction cost. Local organizations, businesses, foundations and individuals raised the necessary funds with the county commissioners providing funding to cover the landscaping.
---
A careful search was undertaken to get an accurate list of names for the memorial and then to solicit letters to represent a cross section of the veterans. Harry McCawley, an newspaper editor and columnist at the Republic took on a role as the primary researcher. Criteria for the 171 initial names were those who lost their lives during WW1, WW2, and Vietnam. Several names were added in later years for the military actions taking place afterwards.
---
In addition to the memorial the pathways leading to it from several directions were paved with bricks "adopted" by the general public to honor veterans in their families. These adopted bricks formed the "Veterans Walk of Honor" and were inscribed with names, branch of service, rank and years served. The final count for the initial pathway installation was 3851 with more added at a later point. There are now bricks in place with names of more than 6000 veterans. A covered book is maintained nearby so the public can locate their family and friends honored in the walkways.
---
This Bartholomew County Veterans Memorial was dedicated in on May 30th, 1997 (Memorial Day) to those who gave their lives in wars of the 20th Century. Although most of us still have dreams for world peace, several names have been added to this monument in this new century. As a very cynical Navy Veteran of the Vietnam era, I would have to say this memorial has moved me to tears on more than one occasion. Reading the letters engraved on the inner columns takes you to another time and place even though you are literally a few feet away from busy state highway 46.
---
There are other veterans monuments that were previously installed in the Courthouse Square. A granite memorial honoring all who served in United States Wars was installed in 1965. It once had a perpetual gas flame. A WW1 memorial was which was originally installed in another park in 1929 was moved to the courthouse lawn in 1940. Other memorials are place for WW2 and the Vietnam conflict.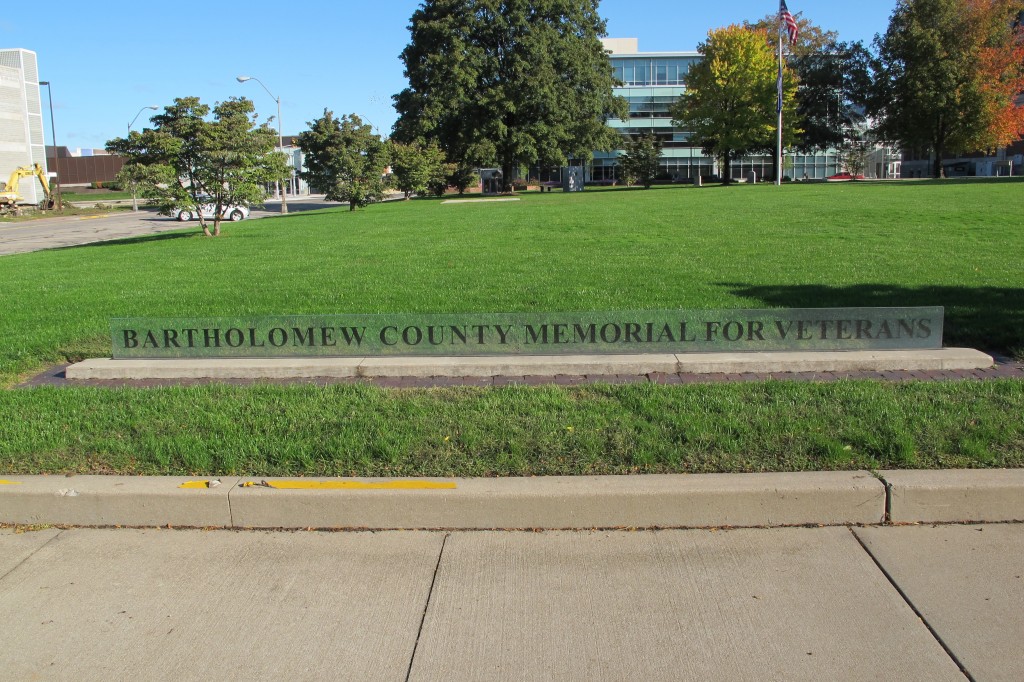 Lighted sign along the street adjacent to the monument
(photo by Ricky Berkey)
---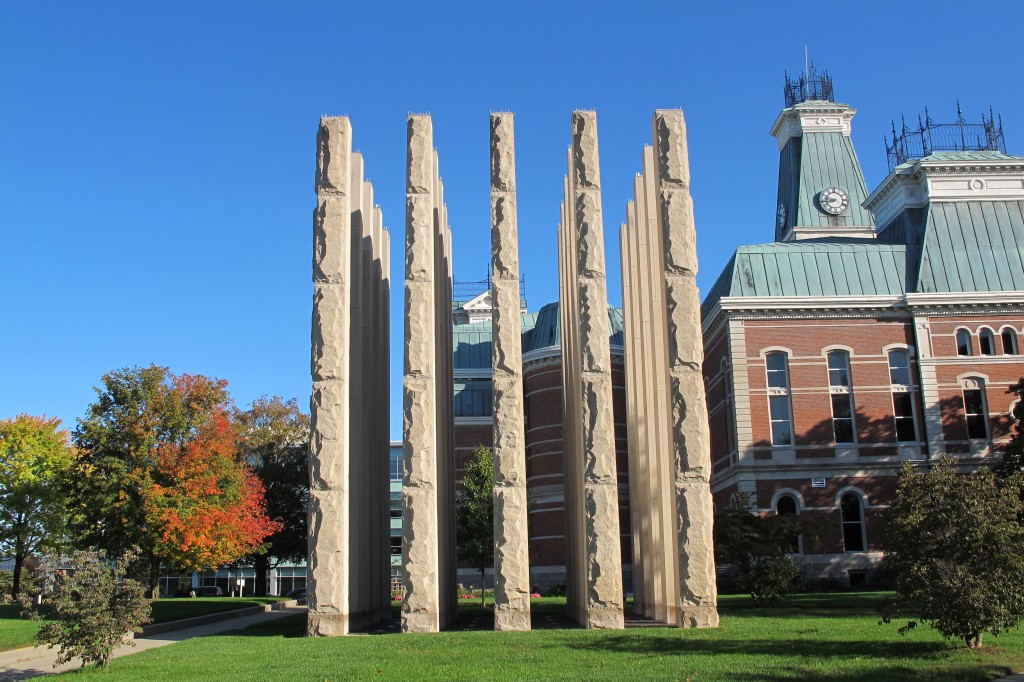 Bartholomew County Courthouse and Veterans Memorial
(photo by Ricky Berkey)
---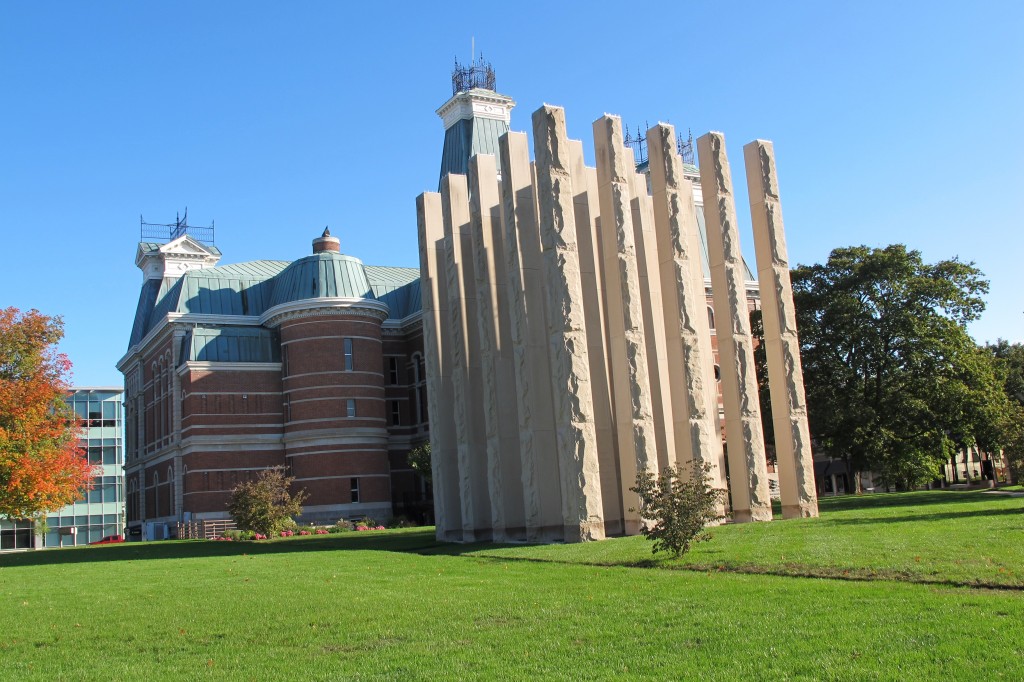 Memorial and courthouse
(photo by Ricky Berkey)
---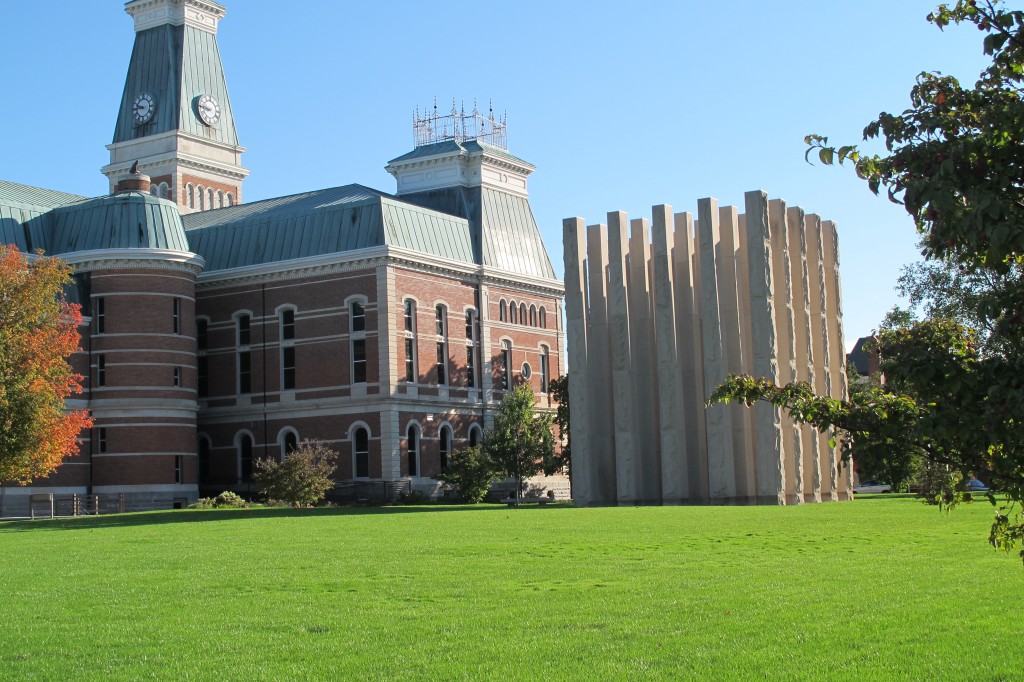 Courthouse and Memorial
(photo by Ricky Berkey)
---
25 limestone pillars
(photo by Ricky Berkey)
---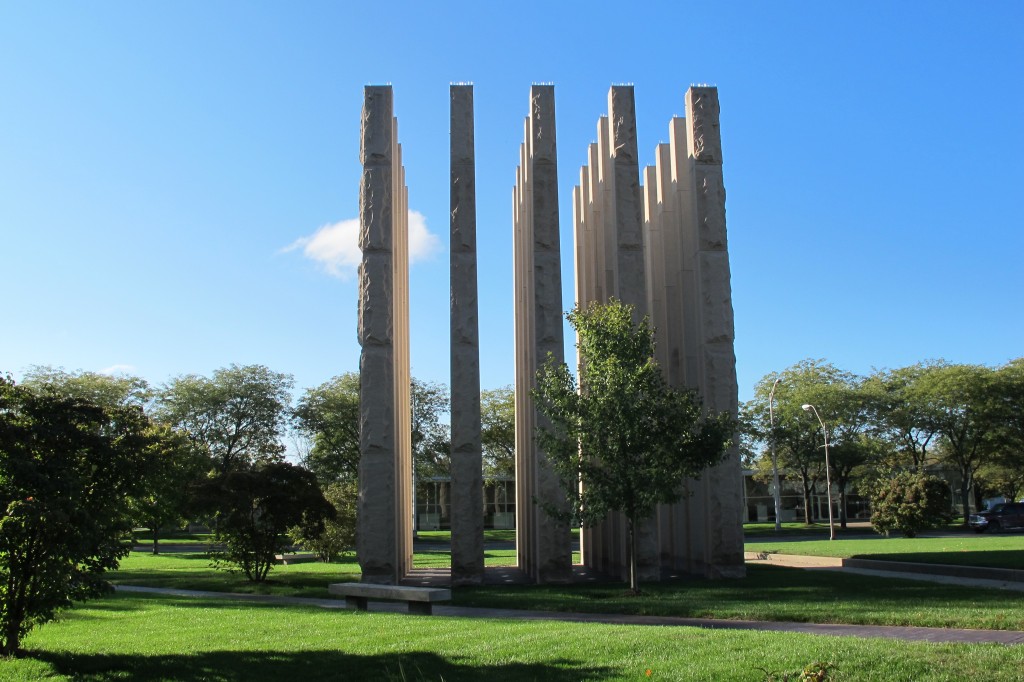 Landscaping by Michael Van Valkenburgh
(photo by Ricky Berkey)
---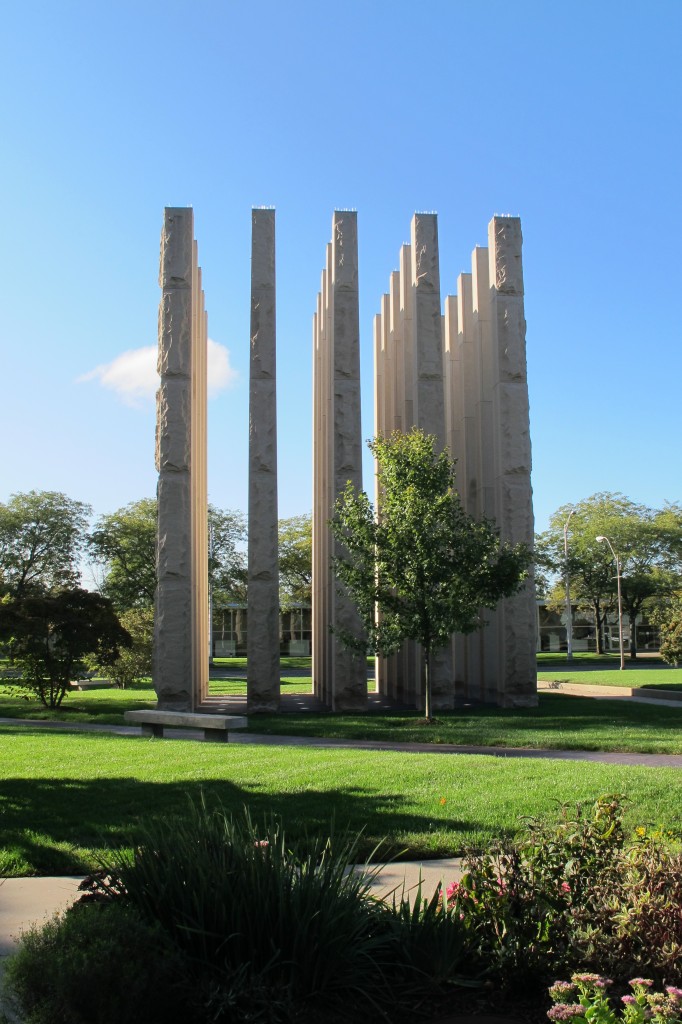 Landscaping by Michael Van Valkenburgh
(photo by Ricky Berkey)
---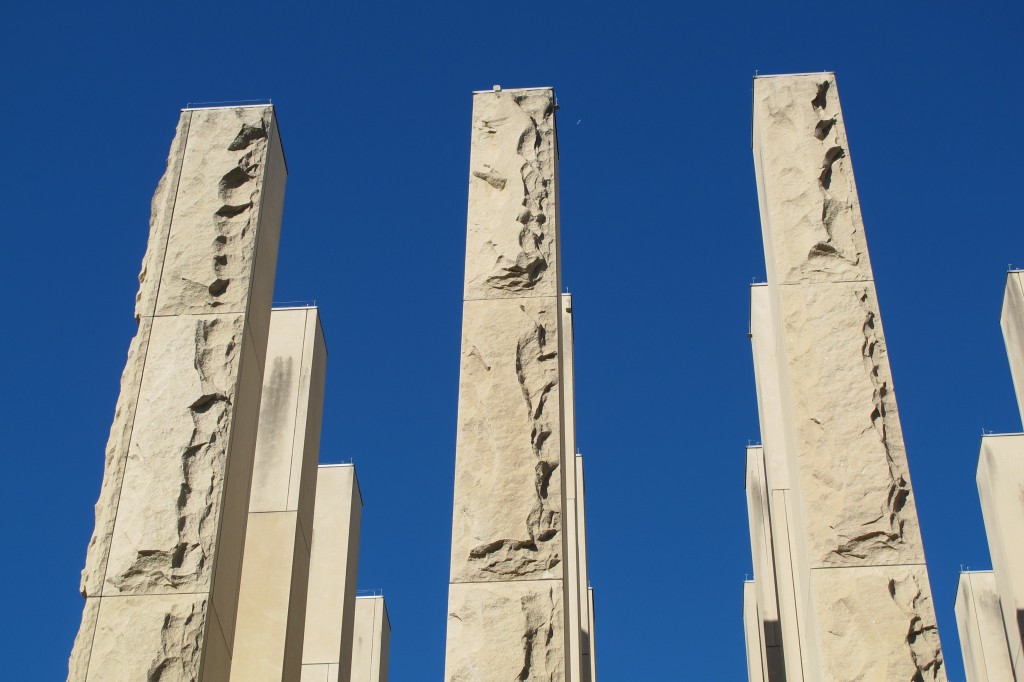 Limestone columns
(photo by Ricky Berkey)
---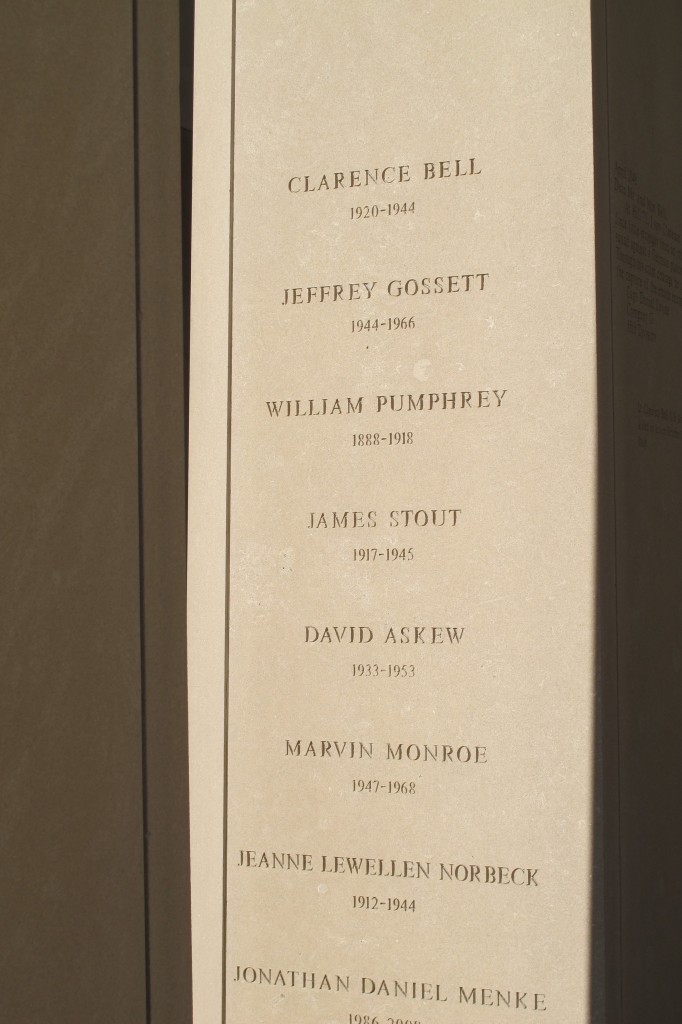 Columns engraved with names of those who lost their lives in wars of the 20th and 21st century
(photo by Ricky Berkey)
---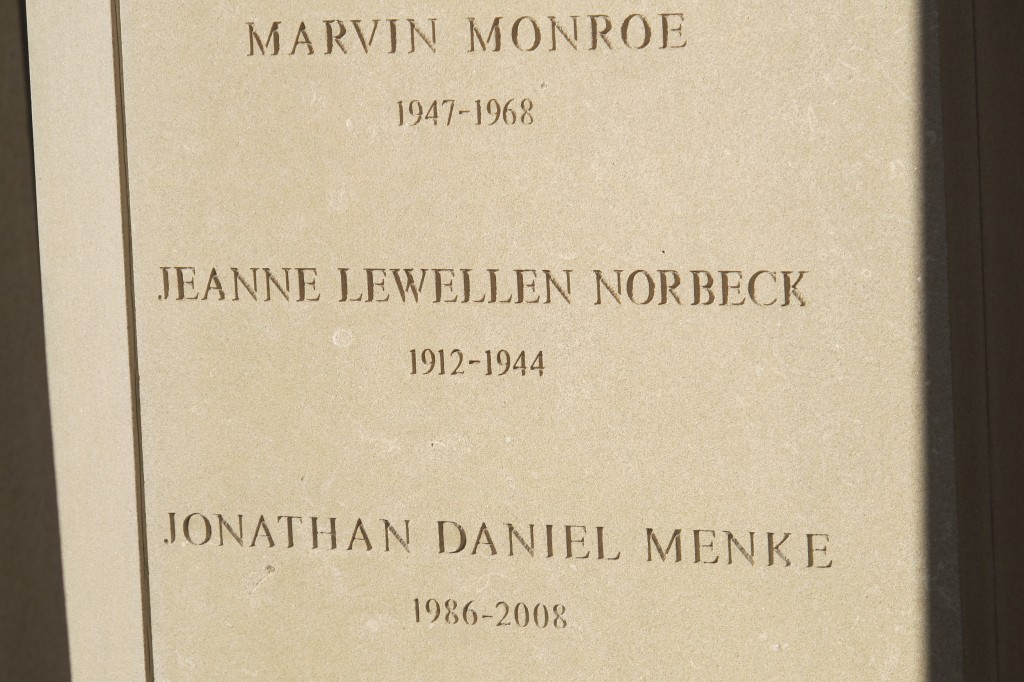 Closeup of engraved names
(photo by Ricky Berkey)
---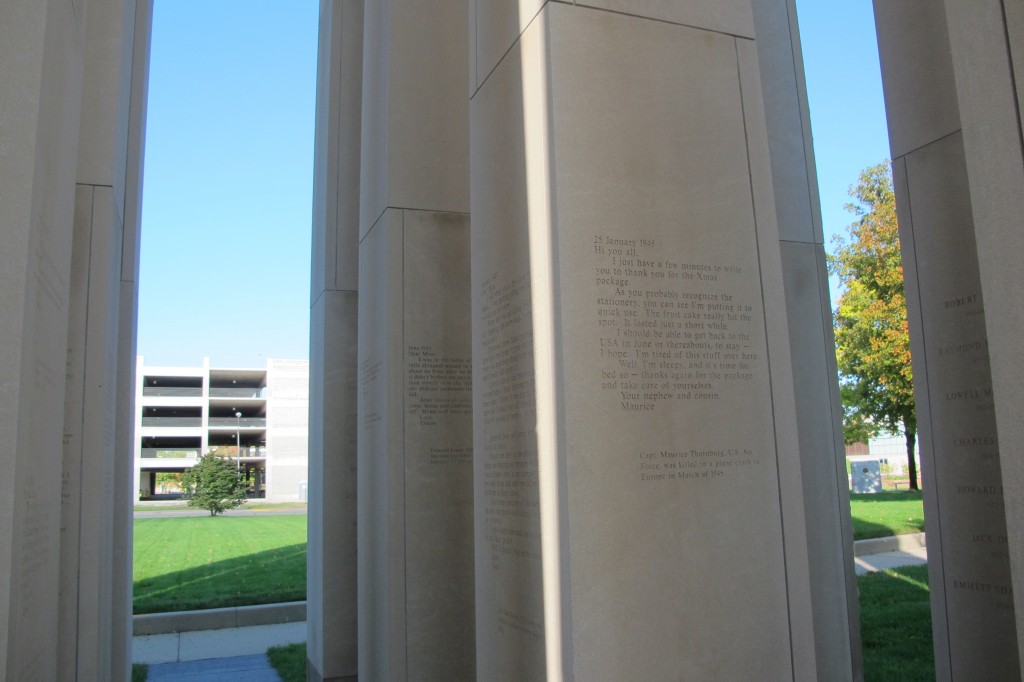 Letters from veterans engraved on the inner columns
(photo by Ricky Berkey)
---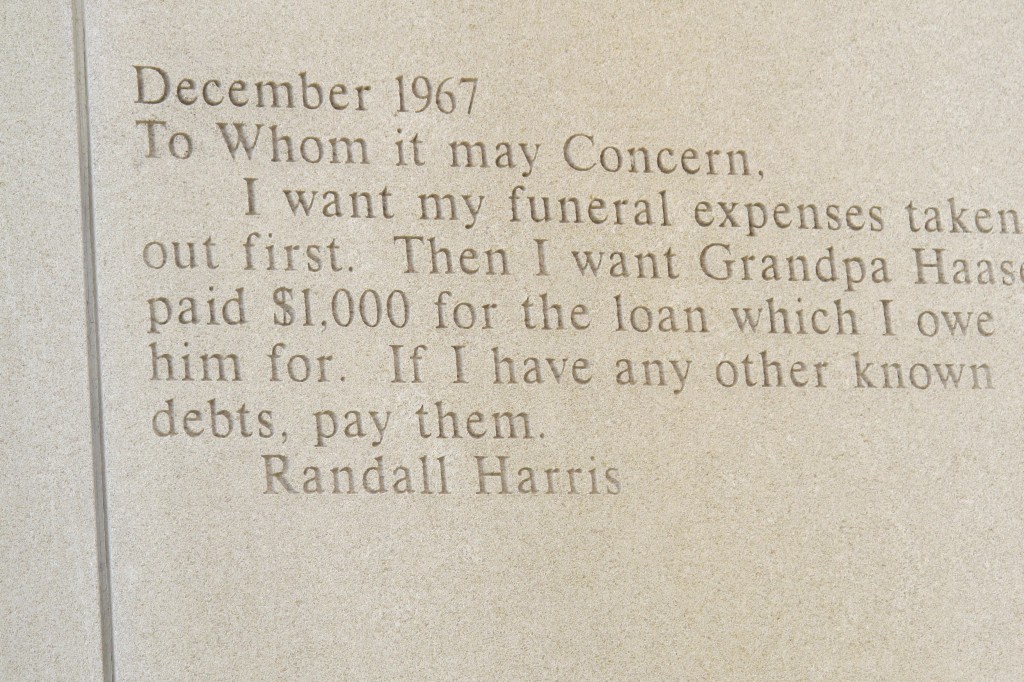 Letter from veteran
(photo by Ricky Berkey)
---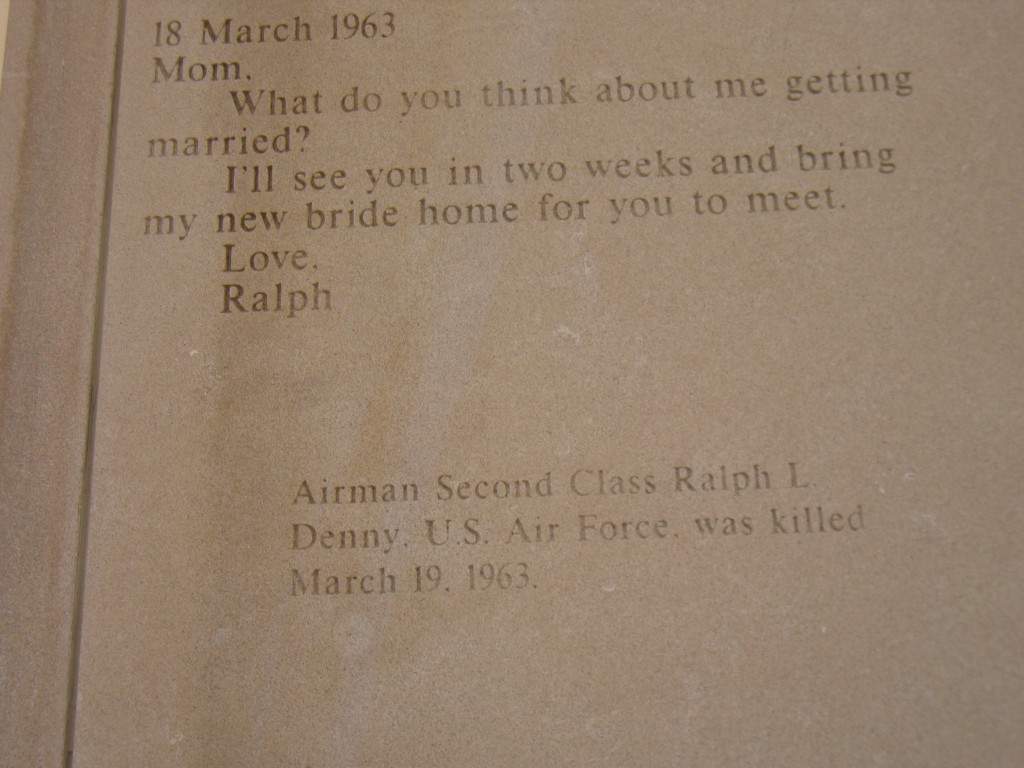 This letter makes me especially sad, he died the next day
(Photo by Ricky Berkey)
---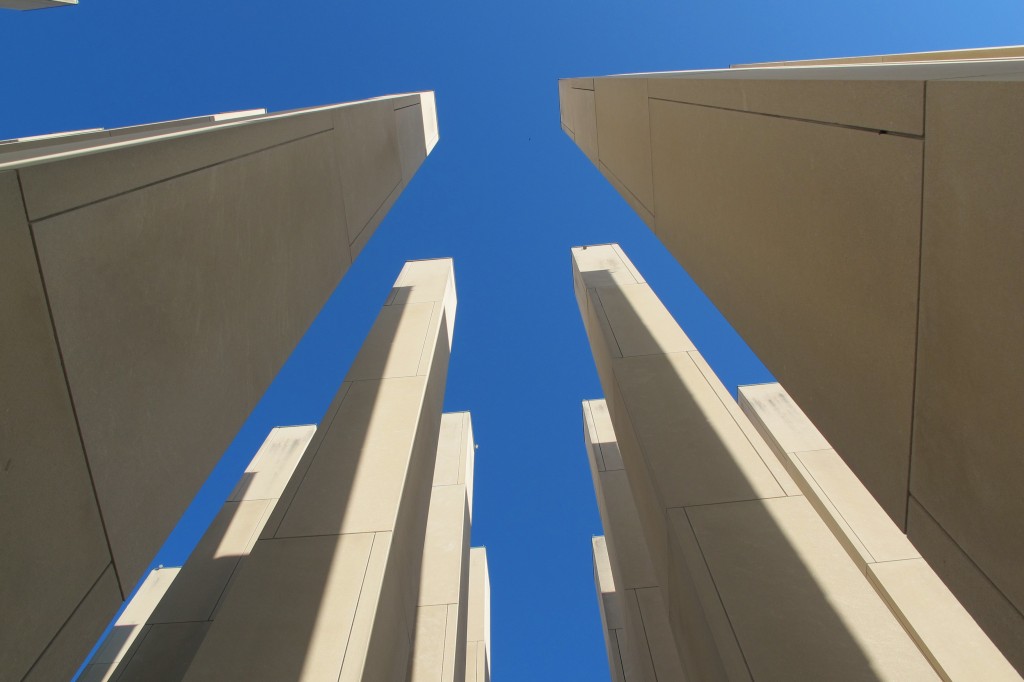 Looking up
(photo by Ricky Berkey)
---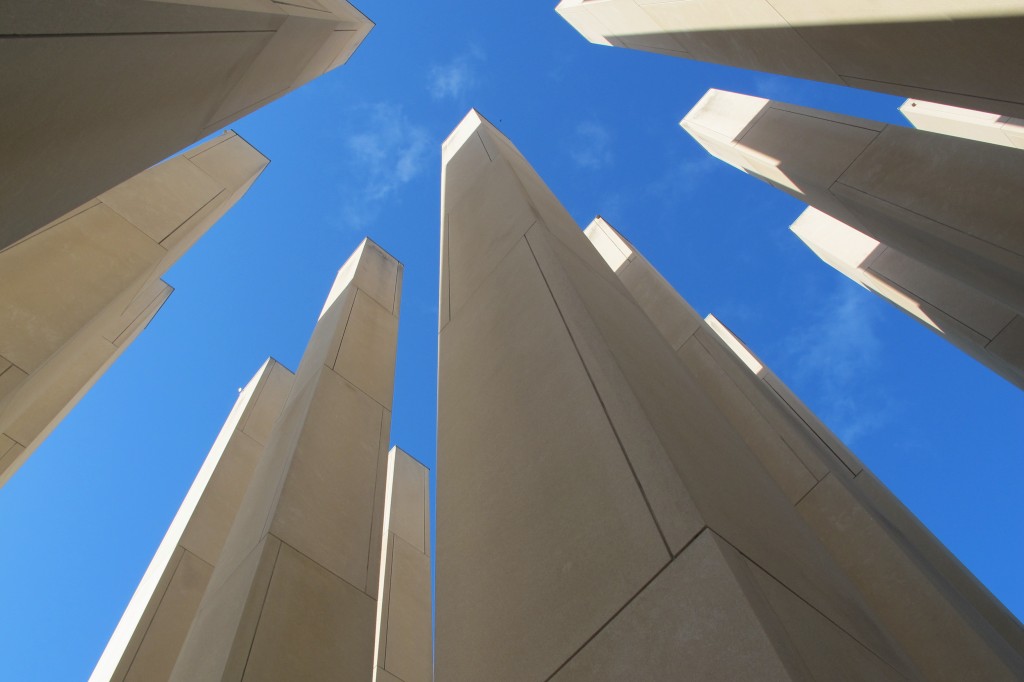 Looking up
(photo by Ricky Berkey)
---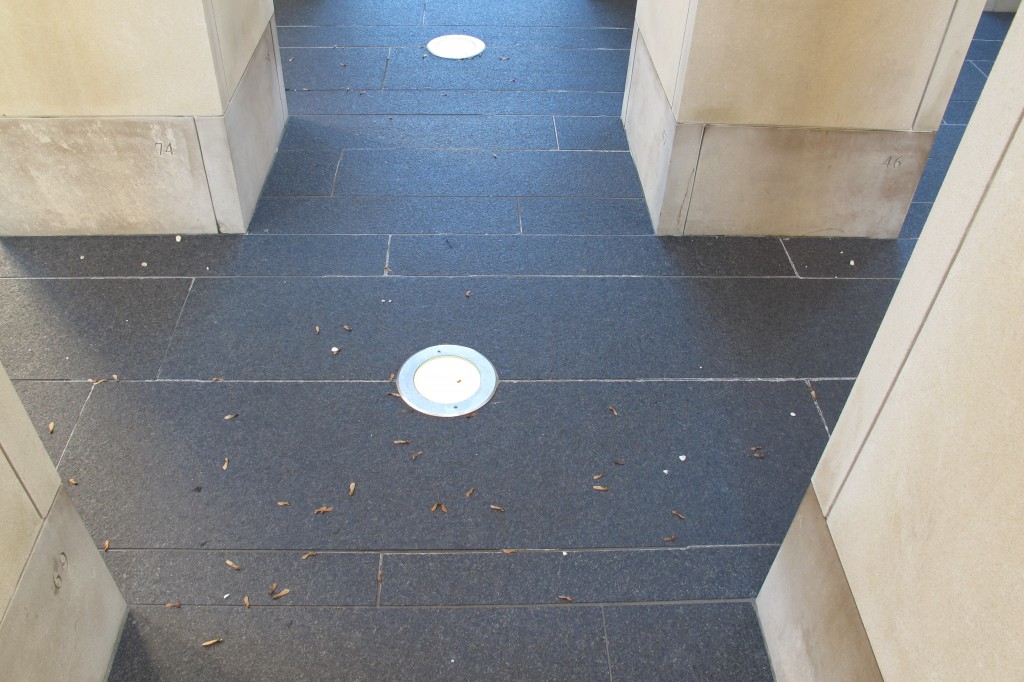 Dramatic lighting from the base
(photo by Ricky Berkey)
---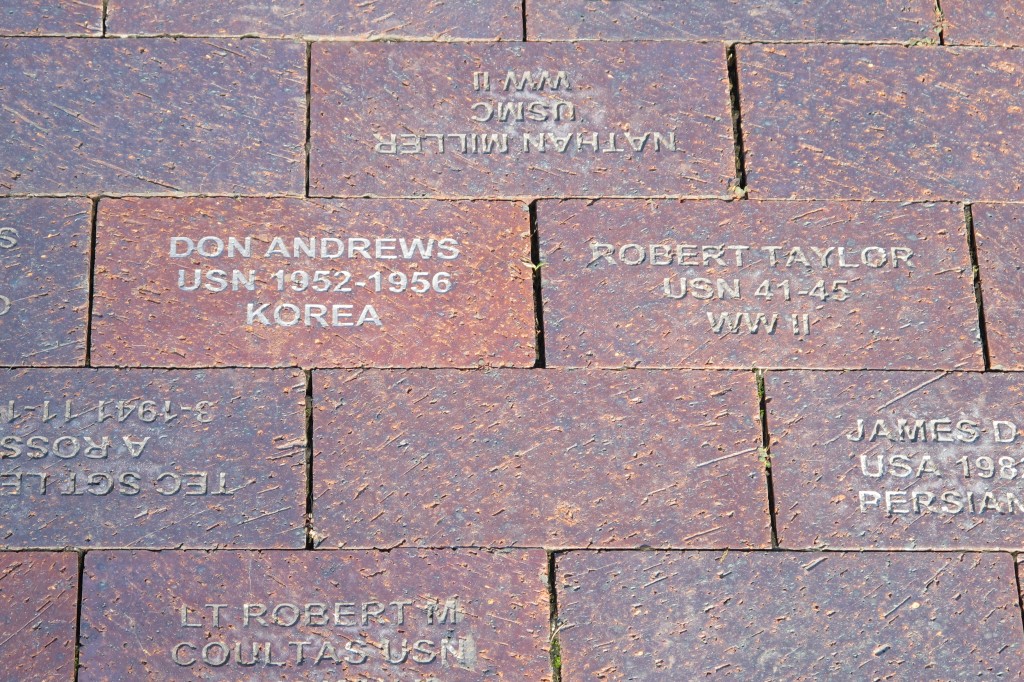 Over 6000 bricks in the pathways to the memorial "adopted" by local residents to honor veterans in their families
(photo by Ricky Berkey)
---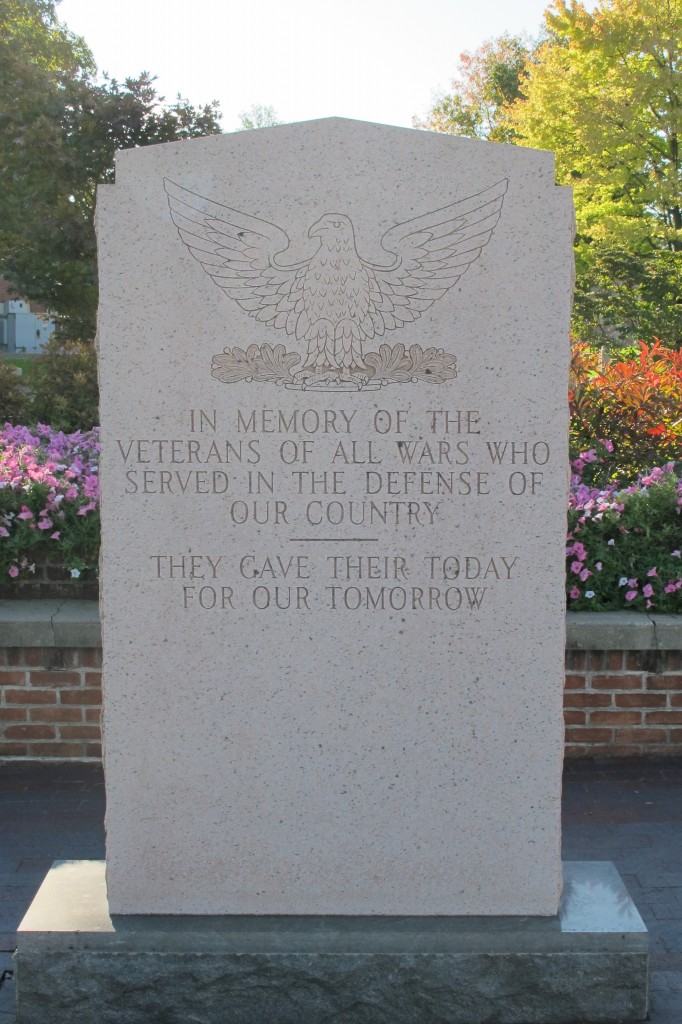 There are many other veterans monuments on the adjoining courthouse lawn
(photo by Ricky Berkey)
---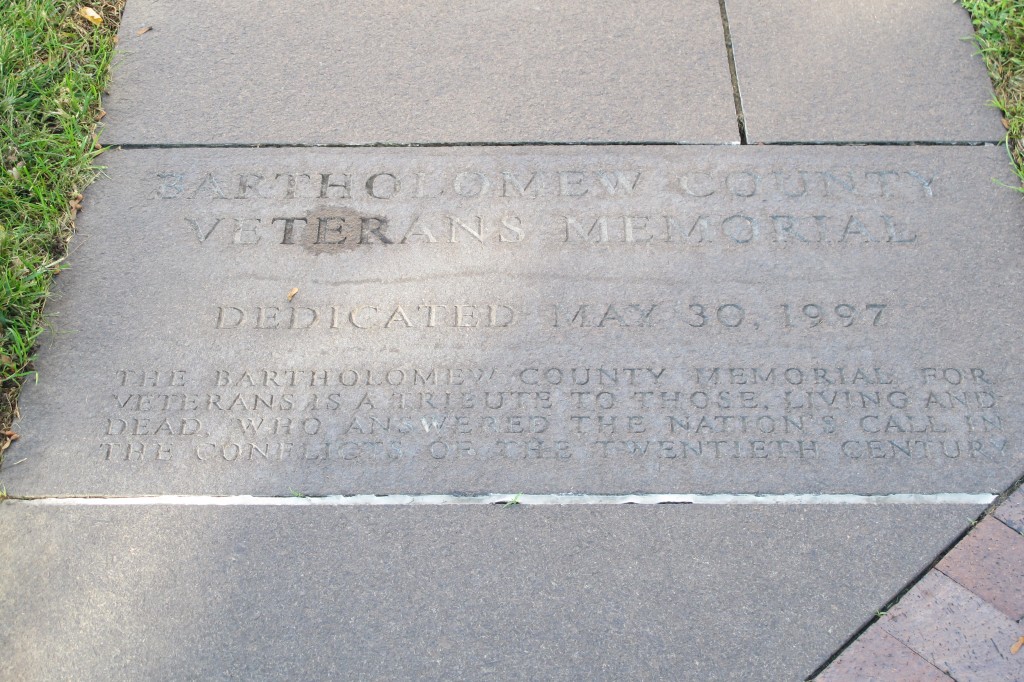 Dedication plaque
(photo by Ricky Berkey)
---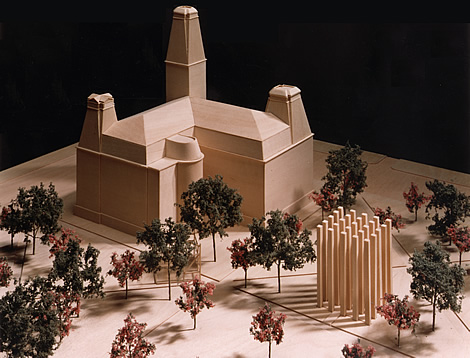 Preliminary model of the memorial
(photo used pending permission)
---
The Architects
---

Maryann Thompson

Born in Cincinnati, Ohio (1960)
Princeton University (BA in Architecture)
Harvard University Graduate School of Design (Masters in Architecture)
Harvard University Graduate School of Design (Masters in Landscape Architecture)
---
Maryann Thompson holds master's degrees in both architecture and landscape architecture from the Harvard University Graduate School of Design. She received a 1998 AIA Young Architects Award, which states that although Maryann has been "…in practice for less than a decade, she has made a significant contribution to architecture. Her work reconnects architecture with the landscape and celebrates tectonics, materials and a poetic approach to design." She has said that as a child her father very much wanted her to be an architect and would take her on trips to view significant examples. Her father had actually brought her to Columbus, Indiana on several occasions so it was especially rewarding when her and former partner Charlie Rose got a commission in Columbus.
---
Maryann Thompson Architects was founded by Maryann Thompson in October of 2000. Prior to that she was a founding partner in the firm Thompson and Rose Architects, with former partner and husband Charles Rose which they stated in 1989. Maryann Thompson Architects is a Cambridge, Massachusetts based architecture firm that offers a wide range of services to public and private clients. They specialize in sustainable architecture that is appropriate to the region and the site. Her firm has a staff of 15 coming from diverse backgrounds, including architecture, landscape architecture, green architecture, planning, interior design and the visual arts.
---
Maryann's work has received three AIA National Honor Awards and numerous AIA New England Design Honor Awards and BSA Honor Awards for Design Excellence. Her work has been published various publications. She has taught design as a visiting faculty member at MIT, RISD, UVA, Michigan and Rice and is currently a faculty member at Harvard's Graduate School of Design.
---

Charles Rose

Born in NYC (1960)
Columbia University
Princeton University (BA in Architecture)
Harvard University Graduate School of Design (Masters in Architecture)
---
Charles Rose is the founder of Charles Rose Architects and was formerly an founding partner of Thompson Rose Architects with Maryann Thompson. He has degrees from Princeton and the Harvard University Graduate School of Design. After graduation he worked with landscape architect Michael Van Valkenburgh before founding his own firm in 1989 with former partner (and wife) Maryann Thompson. Charles and Maryann received their first join commission in 1987 while still students at Harvard. He has taught at Harvard, Rice, MIT, the University of Virginia and the University of Michigan.
---
As an architect he has produced designs for academic, cultural and non-profit institutions as well as many private residences. His work has been praised for creating "warm modernist spaces that are sculptural and lyrical." He has also designed furniture.
---
Links/References
Maryann Thompson: website
Charles Rose: website
"The Making of the Bartholomew County Veterans Memorial; A Conversation with Maryann Thompson": a 2014 video interview with Maryann Thompson by Richard McCoy
City of Columbus: official City of Columbus website
Columbus Indiana Architectural Archives
Columbus Indiana Architecture Digital Archives: A small portion of the Columbus Indiana Architectural Archives available online from the IUPUI digital library
3D Models of Columbus Architecture Executed in Google SketchUp:
The Republic Newspaper – Columbus, Indiana newspaper
Bartholomew County Public Library
Historic Columbus Website – David Sechrest's tribute to Columbus History
Historic Columbus Message Board – a companion interactive forum to the David Sechrest historical website
Bartholomew County Historical Society
---

Click HERE for a Calendar of Upcoming Events in the Columbus Area.
Click HERE for information about Tours of Columbus Architecture and Design including the Miller House.
---

Ricky Berkey
Email me: rickyberkey@gmail.com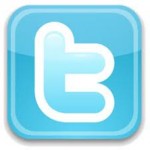 Follow me on Twitter:
---