---
(v12.12.14)
Art, Architecture and Design
This article spotlights a particular building or some other aspect of Columbus design. I welcome your comments, corrections and additions. Please share your experience and perceptions of these uniquely Columbus projects.

J. Irwin Miller

Born May 26th, 1909 in Columbus, Indiana
Taft School – Watertown, Connecticut
Yale University (1931)
Balliol College at Oxford University (1933)
Died August 16th, 2004 in Columbus, Indiana
---
Joseph Irwin Miller (1909-2004) was a legendary, yet quite humble figure in Columbus, Indiana. He was an industrialist, a banker, a philanthropist, a social activist, a deeply religious man, a patron of the arts and architecture and an inspiration to many. He was also a talented amateur violinist. Although he was active in national politics, organized religion and worked with many organizations, his heart and loyalties remained strongly with the little town that he grew up in. He will not be forgotten as we continue to tell his remarkable story to the many visitors who come to see the town that he helped gain national attention through his promotion of good design, quality workmanship and his emphasis on community involvement and cooperation.
---
Miller was born into one of the most prominent families in the history of Columbus. We often refer to the family as the Irwin-Sweeney-Miller family to honor the legacy of the earlier generations. Joseph Ireland Irwin came to town as a near penniless young man (his backstory says he had walked barefoot to Columbus to save the 30 cents train fare in his pocket and have a new pair of shoes to enter the business world in). Born into a large farm family, his interests were in business and he was advised that Columbus, Indiana was likely to become a very prosperous town. He started working in a drygoods store, was able to save his money and began making little investments on his own. Eventually he owned his own store which later became a bank as he was more trusted by many residents than the local banks. He had a large safe in his store which local residents began using for safekeeping. His brokering of loans between individuals eventually led to the start of Irwin's Bank which was the beginning of the Irwin-Union Banking Company. His son William Glanton Irwin continued the banking business as well as investing in many other businesses including real estate and starch manufacturing. Together with his father, he started the Indianapolis to Louisville portion of the famed Indiana Interurban system. W.G. Irwin started Cummins Engine Company in 1919 with family chauffeur Clessie Cummins. Clessie Cummins was a self-taught engineer and entrepreneur who perfected the diesel engine for transportation purposes although the company took years before it made a dime of profit. W.G. Irwin was a lifelong bachelor and the Irwin last name disappeared with his generation reappearing as a middle name when J. Irwin Miller was born. Miller was named in honor of Joseph Irwin Sweeney (son of Z.T. Sweeney) who had died as a young man in a 1900 swimming accident. The still grieving family was reportedly reluctant to use his first name and as a result he was normally referred to as Irwin or formally as J. Irwin.
---
J. Irwin Millers parents were Hugh Thomas (often abbreviated as Th.) Miller and Nettie Irwin Sweeney. Hugh Miller was a Butler University professor and politician who gave up teaching to become part of the family banking business. Nettie Sweeney was the daughter of J.T. Sweeney (pastor of the Tabernacle Christian Church, later renamed as First Christian Church). J. Irwin Miller had one sister, Elizabeth Clementine Miller Tangeman (1905-1996). Growing up in the Irwin House and Gardens at 5th and Lafayette, he lived with several generations of the family who filled him with respect for others, a sense of ethics and the sensibility that his great wealth brought with it great responsibilities to others. That family home which was originally built in 1864 and remodeled and expanded several times was owned by the family until 2009 when it was sold. It is now a bed and breakfast and is a remarkable opportunity to stay in one of the most historic homes in Columbus.
---
Miller was a 1931 graduate of Yale University where he graduated Phi Beta Kappa with a Liberal Arts degree majoring in Greek and Latin. He then studied Philosophy, Politics and Economics (PPE) at Balliol College, Oxford graduating with a Master degree in 1933. Upon returning to Columbus from college he joined the family business enterprises where they initially sent him to California to hone his business skills at the family-owned Purity Grocery chain. He was expected to sack groceries, stock shelves and learn the business from the ground up. After returning home to Columbus at the age of 24, he became a General Manager at Cummins Engine Company in 1934. He was Executive Vice President from 1944-1947, President from 1947-1951 and Chairman of the Board from 1951-1977. He served as a lieutenant on the USS Langley in the U.S. Navy in the South Pacific during the Second World War returning to Columbus upon the death of his uncle W.G. Irwin as the family had a crucial need for him to maintain the continuity of Cummins which was at the time performing vital war-related production. Cummins was a struggling manufacturer of diesel engines, started by the family chauffeur and friend Clessie Cummins. J. Irwin Miller turned it from a family business with 60 employees that had never turned a profit into a multinational Fortune 500 company with over 25,000 employees worldwide and $6 billion in annual sales. Even after his retirement from the company in 1977, he remained a close adviser and frequent visitor to the Columbus manufacturing facilities. Until his death he remained as an honorary chairman of Cummins and Irwin Financial.
---
Miller had an extremely enlightened view toward employee relations. Rather than fighting the unionization of the company he supported and encouraged their efforts. Cummins set new trends in worker-centered policies. He felt that the health and life of his employees was as important as maintaining the machinery that they used to build the companies products. Upon his retirement from the Cummins board, he was presented an honorary lifetime membership in the Diesel Workers Union. Out of all his many awards, it was this single award that graced the wall behind his desk in his office at 301 Washington.
---
He married Xenia Ruth Simons on February 5, 1943 in a quiet ceremony with Clessie Cummins serving as his best man. Xenia, who had came from a far less prosperous background, met Irwin at Cummins when she was across the table from him on a union negotiating team. They had 5 children, daughters: Margaret I. Miller, Catherine G. Miller and Elizabeth G.Miller and sons: Hugh Thomas Miller II and William Irwin Miller.
---
Irwin Miller was involved with the management of Cummins as well as the Irwin-Union Bank and other family business enterprises. He was the fourth generation of the family to run Irwin Financial, parent company of the now-defunct Irwin-Union Bank which fell victim to the economic turmoil of recent years. He also was head of the Irwin Management Company which took care of family investments and other financial matters. He also led the charitable arm of the family, the Irwin-Sweeney-Miller Foundation (ISMF).
---
He kept his office at a neutral site in the building at 301 Washington that had started out as the dry goods store and later the first bank of J.I. Irwin. Until just recently this building known by most of the town as simply "301" was home to the Irwin-Sweeney-Miller Foundation (ISMF). It has recently been purchased by Cummins for office space with a portion of the building to be shared with the Columbus Visitors Center. Miller's former office which boasts a custom Alexander Girard interior design has been preserved and is now open for limited public tours. Cummins continues to focus attention on Miller spending a major portion of new employee orientation describing his life which they consider the cornerstone of the companies ethics program.
---
Besides Millers business activities and philanthropic efforts in Columbus, he had other concerns on a larger level. His actions as a social activist led him far beyond his Columbus bank and engine business. Miller was instrumental in the Christian ecumenical movement which led to the forming of the National Council of Churches (NCC) and served the organization as it's first lay (non-minister) president from 1960-1963. Miller chaired the NCC commission on Religion and Race which encouraged and coordinated organized religions support for civil rights legislation. He worked with Martin Luther King on organizing and participated in the 1963 March on Washington. Although a Republican he was a close advisor to Presidents Kennedy and Johnson on legislation that led to the Civil Rights Act of 1964. Martin Luther King described Miller as the most socially enlightened businessman in the United States.
---
His social conscience was reflected in his business practices as well. He ensured that fair hiring practices were in place at Cummins long before they were mandated by law. He used his power as a large employer with new employees moving into the community to only make referrals to landlords willing to publically pledge that they would not discriminate against minorities in housing. He truly felt that business should be an instrument of social reform and change. He encouraged the city to establish policies against racial discrimination.
---
He was active in national politics, thought to be the one to persuade New York governor Nelson A. Rockefeller to run for president and in 1972 he supported New York City Mayor John Lindsay's presidential bid. Although he declined numerous pleas to run for national office himself, Esquire magazine ran a major story on his life and career with his picture on their October 1967 cover with the headline: "This man ought to be president of the United States."
---
He actively supported efforts to overturn apartheid in South Africa and was a friend and advisor to Nelson Mandela. As an early anti-apartheid activist, Miller shut down the Cummins plant in South Africa and he was an advisor to Congress which led to legislation imposing economic sanctions on the country. Miller has been described as one of the most socially responsible businessmen in corporate history. He legacy in business ethics remain as a major guidepost to socially conscious corporations.
---
He served on boards of many organizations and supported the arts and social causes his entire life. Miller was a long-time trustee and financial supporter of the Christian Theological Seminary in Indianapolis. He was given 21 honorary degrees from universities including Yale, Princeton, Columbia, Dartmouth and Notre Dame. His awards were numerous.
---
Although he was raised as a Christian (in a Disciples of Christ congregation), Miller studied and analyzed the worlds religions before making a conscious decision to become a Christian. He was fond of the Christian notion of loving your neighbor as yourself. Later when the downtown Tabernacle Church of Christ (First Christian) changed doctrine and became an independent church, Miller became one of the founders of the North Christian Church which was designed by his friend Eero Saarinen.
---
It has been estimated that Miller, his wife Xenia and Miller's sister, the late Clementine Tangeman donated nearly half of their net worth to charity during the course of their lives. He had often remarked that he had been taught from an early age that great wealth carries even greater social responsibility. Miller was honored by the city in 1984 with a 75th birthday celebration in Mill Race Park attended by over 5,000 people. The celebration also honored his wife Xenia and sister Clementine Tangeman for their unparalleled contributions to Columbus. Although Cummins is no longer controlled by the family, in 1989 Cummins avoided a hostile takeover by a competitor when Miller and his sister bought $65 million in Cummins stock at above market prices to thwart the bid which likely would have cost many jobs in Columbus.
---
Often during his life he made decisions that defied conventional ways of thinking and took stands that were unpopular with his peers in the business world and with the local community as well. In the 30's he supported unionism at Cummins, he was ahead of nearly everyone on civil rights issues and he ended Cummins involvement in the South African engine market due to apartheid. In an extremely unpopular local decision he was a strong supporter of Cummins in their plan to extend company benefits to same-sex domestic partners, one of the first corporations to do this. He believed that these controversial decisions were an important witness of his faith and his concern for social justice. Although he was generally a moderate Republican on most issues, he wound up on Nixon's enemies list likely due to to his opposition to the Vietnam war. His Christian principles taught him that the most important service to others is service to those who are not like yourself. He urged his friends and associates to always think about the long term consequences of their actions. Throughout his life and career he was constantly guided by a simple principle – do the right thing. In almost any situation, he would conclude that we as a community and a nation could do better. He encouraged community discussion and cooperation between competing factions.
---
In 1954, he established the Cummins Foundation which put a share of Cummins profits into a foundation to fund charitable work in Columbus and elsewhere. In 1957 the Architecture Program was started as a part of the Foundation to pay the architect design fees for new school buildings in Columbus. Later the offer was extended to other public buildings (fire stations, governmental buildings etc.) as well leading to Columbus being perhaps the only small town in the world with such a high concentration of significant architecture designed by world class architects. In 1991 the American Institute of Architects (AIA) declared Columbus America's sixth most important city in terms of quality of design and architecture. That commitment to excellence in design led to other individuals, organizations and companies in Columbus to also follow the lead established by J. Irwin Miller. Early in his career, Miller outlined a personal vision to improve the quality of life in Columbus. His vision encompassed many activities in Columbus including education, the arts, architecture and human rights.
---
In addition to his genuine desire to improve his home town, perhaps his ulterior motive was the need to attract talented, highly educated employees to the Cummins corporate headquarters and technical research center. Despite the fact that Columbus was less than an hour from Indianapolis it was often perceived as an isolated outpost. Miller felt that a quality educational system in fresh innovative surroundings would be a lure for young families who might otherwise be reluctant to relocate here.
---
After growing up in the Irwin Family House and Gardens at 608 5th Street, he lived with his wife and young family in a house on 19th Street directly behind the Q.G. Noblitt house. While there he began to plan his dream home: a mid-century modern masterpiece just a few blocks away designed by the incredible combination of Eero Saarinen, Dan Kiley and Alexander Girard. That home was declared a National Historic Landmark in 2001 and was donated by the family to the Indianapolis Museum Art (IMA) after the death of Mr. and Mrs. Miller. It is now open for daily tours led by the Columbus Visitors Center. The family still owns the beloved Miller vacation home on their compound at Lake Rosseau in the Muskoka region of Ontario, Canada that was also designed by Eero Saarinen. The Irwin/Sweeney/Miller family had been vacationing in Muskoka since 1886.
---
Xenia Miller was a partner with her husband in many of their endeavors and was an important community leader in her own right. At the time of her death, Mrs. Miller was the president of the Irwin-Sweeney-Miller Foundation, the charitable arm of the family. She had served as a director of Irwin Management Company as well as the Tipton Lakes Company, developers of the Tipton Lakes community on the west side of Columbus.
---
She was a self-taught authority on art and was responsible for many of the choices in the Miller's personal art collection. She was a life member and trustee-at-large of the Indianapolis Museum of Art (IMA). She was instrumental in establishing the Columbus branch gallery of the IMA. She was also actively involved in the planning for the Columbus Visitors Center and its expansion. She was on the boards of many foundations and organizations. Mrs. Miller was behind a number of historic preservation and restoration projects in Columbus, believing that the emphasis on modern architecture was causing many fine historical properties to be neglected.
---
J. Irwin Miller, the industrialist whose patronage turned Columbus, Indiana into a showcase for modern architecture pioneering public-private partnerships, died on Monday August 16th, 2004 at his home in Columbus at the age of 95. He had just recently returned from an extended family gathering in their Canadian vacation complex. Xenia Miller continued to live in their family home and died on February 19, 2008. They are survived by their 5 children: Margaret, Catherine, Elizabeth, Hugh and William as well as 10 grandchildren. Mr. and Mrs. Miller are buried in the Irwin family section of the historic Columbus City Cemetery adjacent to Donner Park.
---
After the death of Irwin and Xenia, the family held an auction of the Millers extraordinary art collection including works by Monet, Picasso, Matisse and Henry Moore. The auction set records for a private art collection, nearly all of which was on display in their home. The Miller home itself designed by Eero Saarinen was donated by the family to the Indianapolis Museum of Art (IMA) and is now open for daily tours led by community volunteers from the Columbus Visitors Center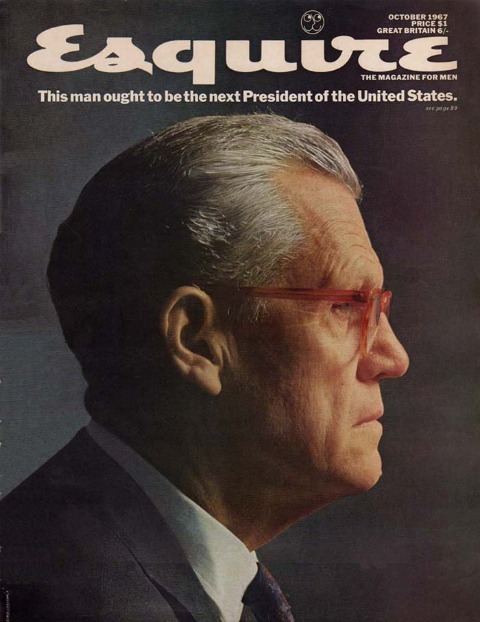 Cover of Esquire magazine, October 1967
(photo used pending permission)
---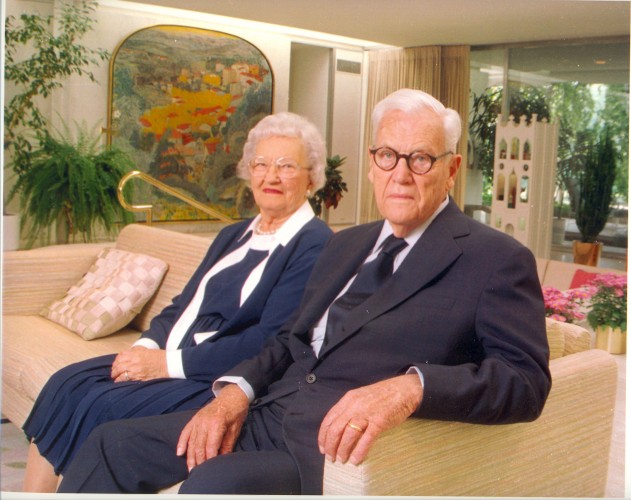 J. Irwin and Xenia Miller
(photo used pending permission)
---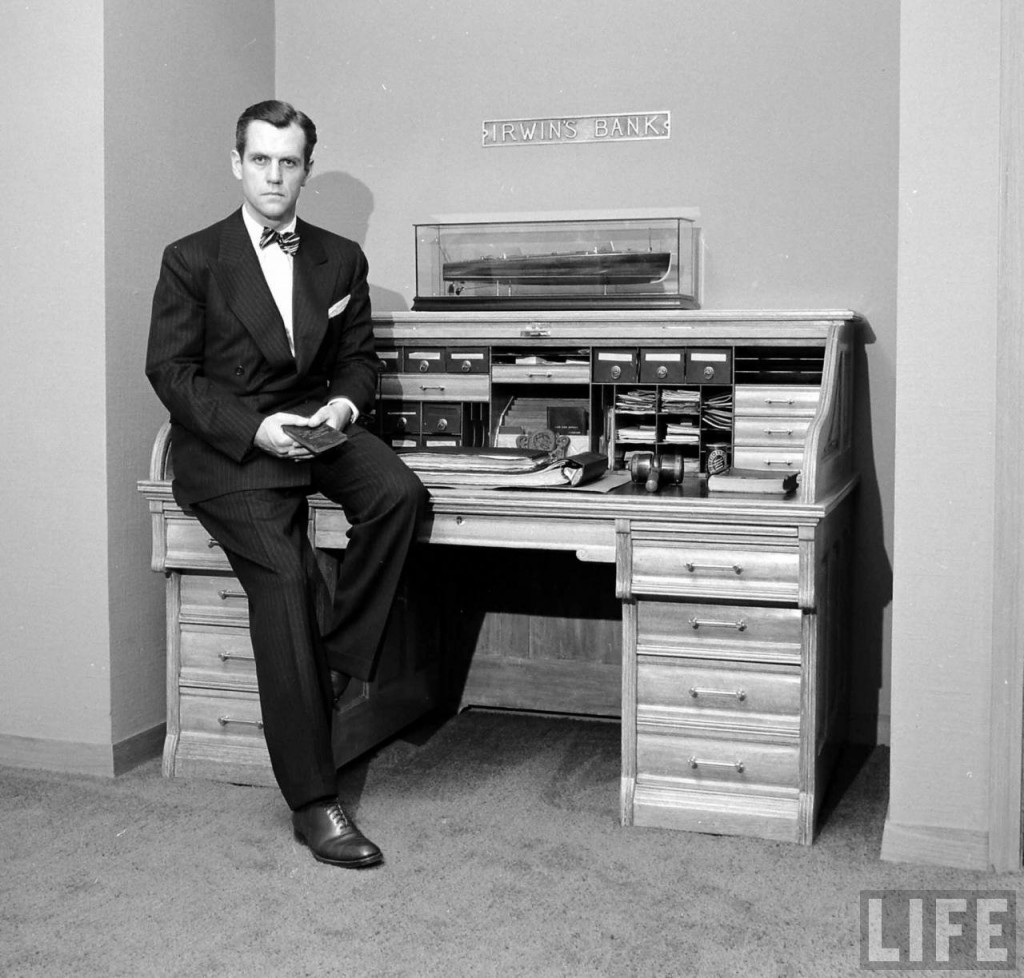 J.Irwin Miller with J.I. Irwin's original desk.
Date taken: January 1950
Photographer: Francis Miller
From the LIFE magazine archive:
(This photo was taken from the Google hosted LIFE Photos Archive. Used pending permission – LIFE photos are for personal use only).
---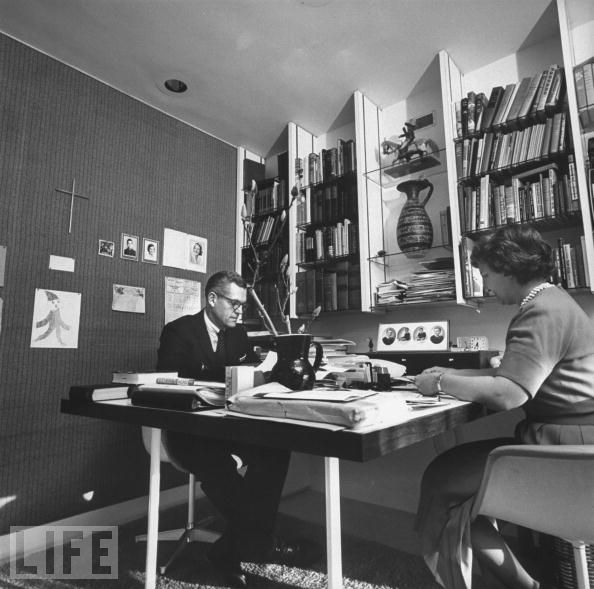 J. Irwin and Xenia Miller in the office adjacent to their bedroom in the Miller House.
Date taken: 1961
Photographer: Frank Scherschel
From the LIFE magazine archive:
(This photo was taken from the LIFE Photos Archive. Used pending permission – LIFE photos are for personal use only).
---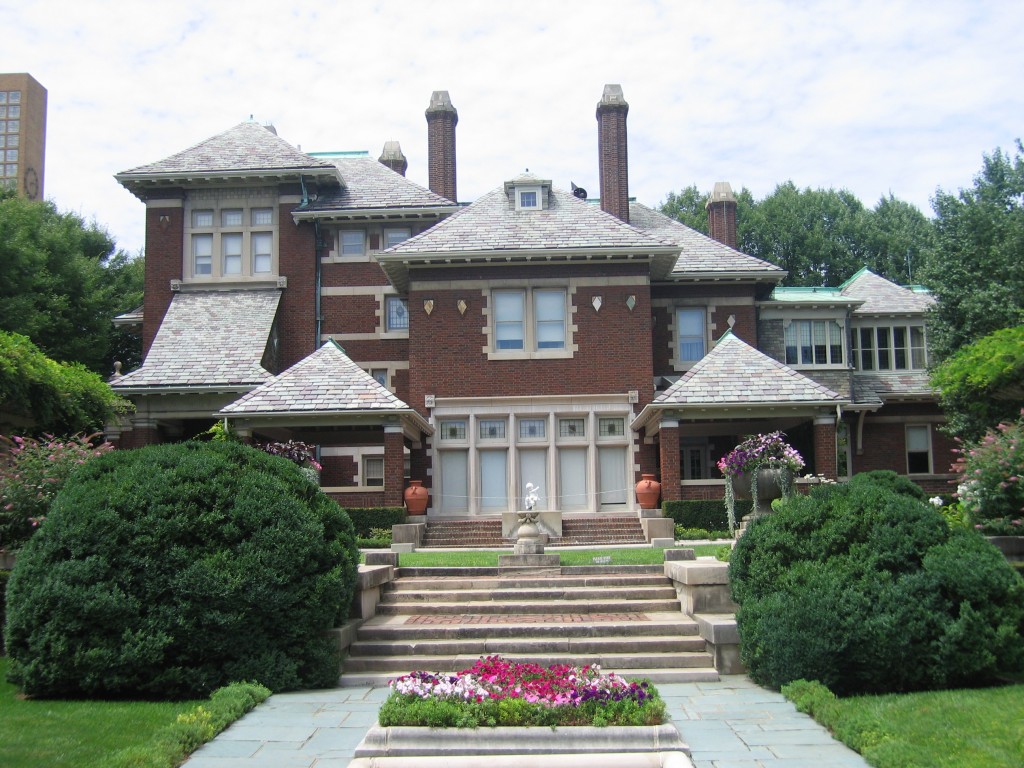 The Irwin House and Gardens – birthplace and childhood home of J. Irwin Miller – now open as a bed and breakfast.
(photo by Ricky Berkey)
---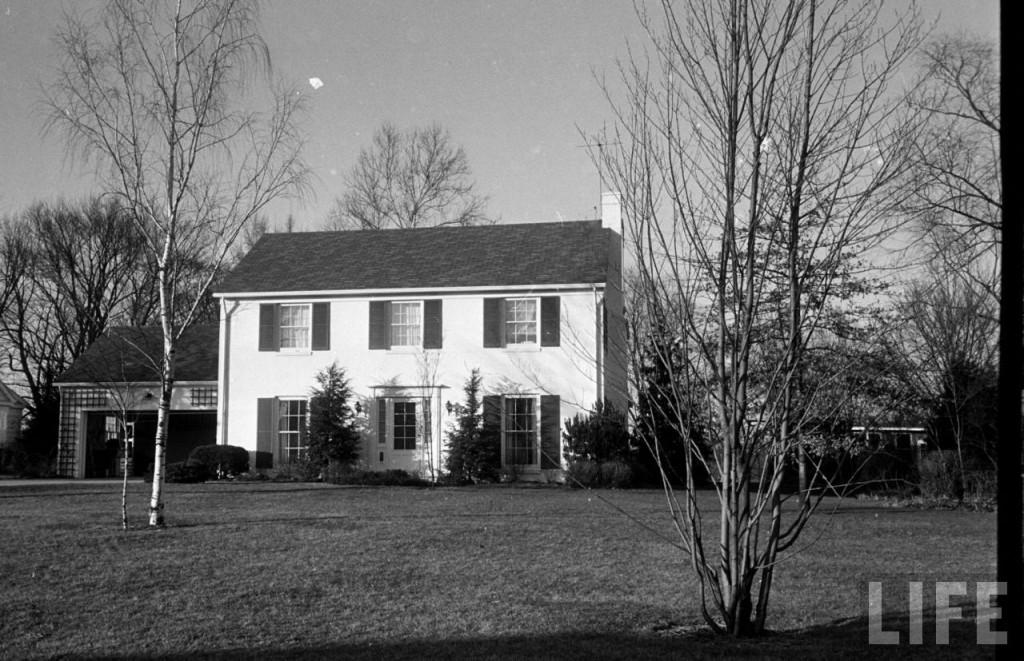 J. Irwins Millers family home prior to moving into their Saarinen designed home a few blocks away.
Date taken: January 1950
Photographer: Francis Miller
From the LIFE magazine archive:
(This photo was taken from the Google hosted LIFE Photos Archive. Used pending permission – LIFE photos are for personal use only).
---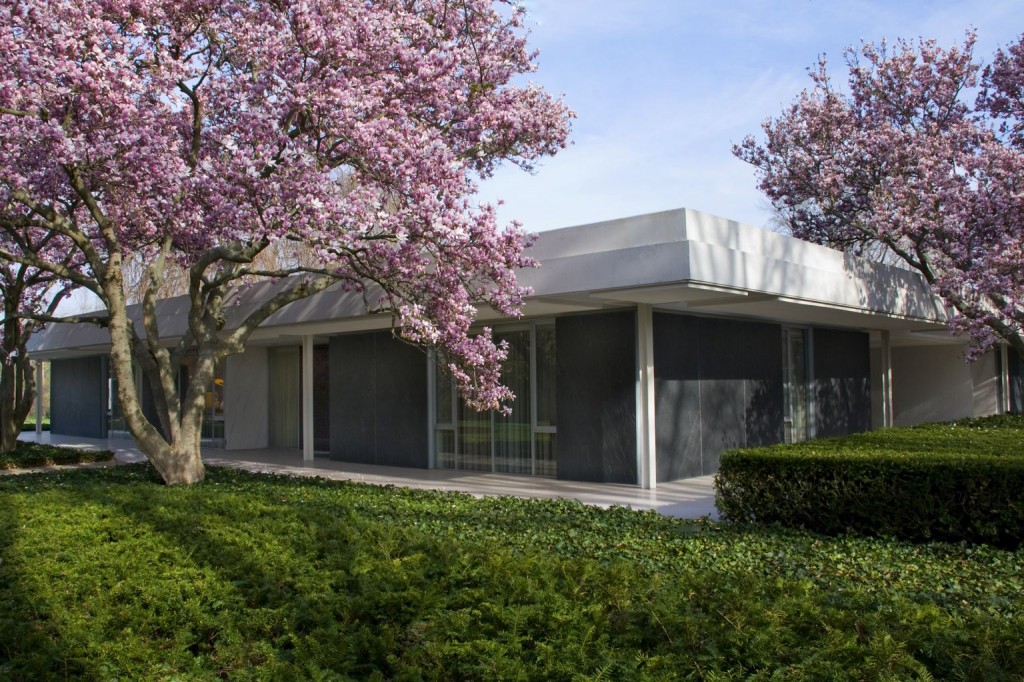 The Miller House designed by Eero Saarinen – the Miller's family home from 1957 till their passing, now open for tours.
(photo from the IMA – used pending permission)
---
Quotations from J. Irwin Miller
"Business chief executive officers and their boards succumb to the pressures of the financial markets and their fears of takeovers and pour out their energies to produce quarterly earnings – at the expense of building their companies for the long term."
"I think most of us sense that it is a responsibility of the humanities to try to help better the conduct of human beings in their lives and manifold professional activities."
"I would be a poorer person if the only things I knew were what I had found out for myself."
"The calling of the humanities is to make us truly human in the best sense of the word."
"The decline of manners, the cynical pursuit without shame or restraint of personal advantage and of money characterizes our times, not without exceptions, of course, but more than we ought to be comfortable with."
"The most important service to others is service to those who are not like yourself."
"We are afraid to face the hard questions. We are willing to tackle drugs, crime, and public education only if it doesn't cost us any new taxes."
"Of all the things we can 'leave to you,' money seems to us to be the least important," he wrote in a July 5, 1996, letter to his children, signed "J.I.M. (a.k.a. Pop)."
"We have not lived and worked primarily to maximize your inheritance any more than our ancestors lived and worked to maximize our inheritance," Miller wrote in a 1996 letter to his children that outlined his estate plan. "We have worked and lived to make a constructive contribution to our community, church, and nation."
"We understand the fact that we must give a machine the best care and the best treatment if we are to receive from it the best work. We have sometimes shied away from the similar fact that we must give a person the best care and the best treatment if we are to receive from him the best work".
"…we would like to see this community come to be not the cheapest community in America, but the very best community of it's size in the country. We would like to see it become the city in which the smartest, the ablest, the best young families would like to live…a community which will offer their children the best education available anywhere…a community whose citizens are themselves well-paid and who will not tolerate poverty for others, or slums in their midst."
"Nothing is more expensive than mediocrity."
"Work very hard to learn. Never play it safe. Take the big risk."
"Only you in your conscience know whether each of your works is the best you can truly do. The only judge of success is yourself at its most honest."
---
Links/References
The Inn at Irwin Gardens: The Historic Irwin House and Gardens, now open as a Bed and Breakfast.
City of Columbus: official City of Columbus website
Columbus Indiana Architectural Archives
Columbus Indiana Architecture Digital Archives: A small portion of the Columbus Indiana Architectural Archives available online from the IUPUI digital library
3D Models of Columbus Architecture Executed in Google SketchUp:
The Republic Newspaper – Columbus, Indiana newspaper
Bartholomew County Public Library
Historic Columbus Website – David Sechrest's tribute to Columbus History
Historic Columbus Message Board – a companion interactive forum to the David Sechrest historical website
Bartholomew County Historical Society
---

Click HERE for a Calendar of Upcoming Events in the Columbus Area.
Click HERE for information about Tours of Columbus Architecture and Design including the Miller House.
---

Ricky Berkey
Email me: rickyberkey@gmail.com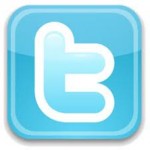 Follow me on Twitter:
---