---
v12.07.14
Art, Architecture and Design
This article spotlights a particular building or some other aspect of Columbus design. I welcome your comments, corrections and additions. Please share your experience and perceptions of these uniquely Columbus projects.

Mill Race Center
Built: 2011
Design Architect: William L. Rawn (William Rawn Associates, Architects Inc. – Boston, Massachusetts)
Principal Design Architect: Douglas C. Johnston
Project Architect of Record: William A. Browne Jr. (RATIO Architects, Inc)
Architect of Transportation Center: William Burd
Construction Project Manager: Taylor Brothers, Inc.
---
Mill Race Center is the new Senior Citizens Center in Columbus. Like many such centers around the country, the word "Senior" is gradually being eliminated from the vocabulary as we recognize the changing needs of the 50 plus generation. Many are working much longer prior to retirement, many work part-time well into their retirement years and nearly all are much more active than ever before. No longer are we looking at this phase of our lives as a time of decline. The "baby boomers" (my generation) are particularly reluctant to accept the fact that they are getting older. They are however seeking out new opportunities for social activities, travel, volunteerism, recreation and fitness activities. As a result senior citizens organizations are gradually shifting to the term "active adults" as a better descriptor for this population. Hence, our new "Mill Race Center for Active Adults".
---
Our first senior citizens center in Bartholomew County was founded in 1956 and was the first such center in the state of Indiana. It is the only nationally accredited senior center in Indiana. As this segment of our population has grown, the need for a larger and more flexible facility grew increasingly. Our new Mill Race Center is a 24,700 square foot facility located in the northeast corner of Mill Race Park just adjacent to the downtown area. After a long planning and fund-raising process and many compromises over sites and design we have emerged with a very flexible and useful center offering a diverse range of services and activities. Executive Director Bob Pittman has been waiting so long to complete this project that he now eligible to be a member himself!
---
Senior Services of Bartholomew county has partnered with a variety of other organizations to develop a state of the art facility and to also spread out the costs of operation. Facility partners include the City of Columbus, Columbus Regional Hospital, Ivy Tech, IUPUC, Elwood Staffing, Aging and Community Services and the Just Friends Adult Day Care Services. The site was developed by relocating several nearby roads to connect a small isolated parcel of property with another area available within the park. At the same time they were able to leverage some federal funding to build an adjacent transit center for the city bus system as well as possible future intercity transportation services.
---
The gently curving brick building is positioned to maximize natural lighting as well as provide superb views into the beautiful natural surroundings of Mill Race Park. The building as we see it was a definite compromise as the estimated costs grew over the original budget and fundraising was slower than anticipated. A number of desired amenities had to be cut and the building is considerably smaller than originally envisioned. The architects did establish a site plan with additional room to the south for potential future expansion. Regrettably as well, it was decided to scale back many of the environmental sustainability features such as a "green roof" that were originally envisioned. The bricks used were from Iowa and were specially made 4 inches longer than normal bricks to emphasize the horizontality of the building. The design architects took great care in selecting a brick/mortar color mix that fit well into the surroundings. The same brick was used on the adjacent transit center. The grey metal siding on some parts of the building is made of recycled material. The lawn area facing the park was meant to be an outdoor gathering space connecting the building to the park.
---
The main lobby and central corridor provide easy access to all parts of the building. The circular reception desk and adjacent coffee bar in the main lobby are constructed from engraved glass bricks that were sold during the fund raising process. A small seating area in the lobby provides a space to read, enjoy conversation with friends and enjoy the view of the park.
---
The multipurpose room is an extremely flexible 4000 square foot space that can be easily subdivided into 3 nearly soundproof areas. As a performance space with stage area and baby grand piano it can seat 375 in chairs or 250 at banquet tables. The spaces will be used for concerts, meetings, fitness classes, dancing, card playing, culinary classes and much more. The adjacent commercial grade kitchen can be used for serving meals and snacks and can also be used by catering firms for special events.
---
A state of the art fitness area and rehabilitation center is operated in conjunction with Columbus Regional Hospital. The workout area looks directly into the park through large windows providing a stunning view. The Just Friends adult day care area provides a daytime getaway and support services for older adults with physical and cognitive disabilities. Other parts of the building include a classroom area, arts room, woodworking shop and computer lab. The equipment in the woodworking shop has power tools donated by Ray and Jane Frede.
---
The building was completed and occupied on February 17th, 2011 with its dedication ceremony on April 17th, 2011. Architects William Rawn, Doug Johnston and Bill Browne were in attendance at the grand opening. Now that the building is finished and the river waters in the park have made one of their annual spillovers and flooded the park, it is hopeful that the Mill Race Center will in fact be the best vantage point to view the flood and not submerged in the middle of it!
Main Entrance Area showing Columbus bicycle racks…..(photo by Ricky Berkey)
---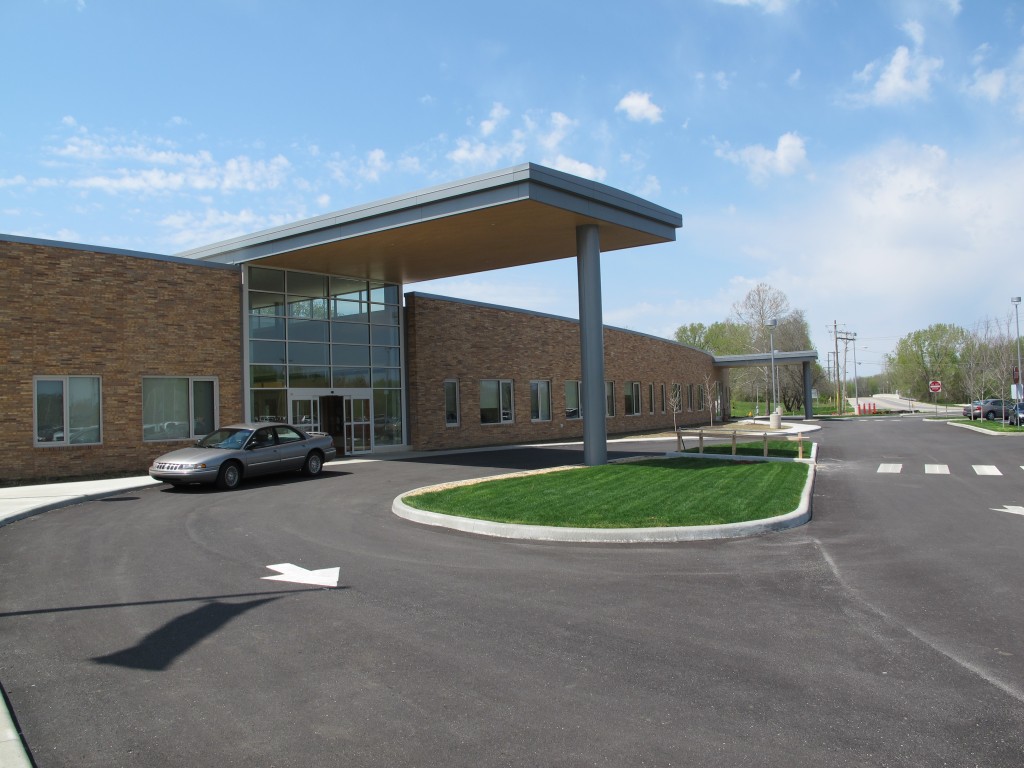 Main entrance from parking lot…..(photo by Ricky Berkey)
---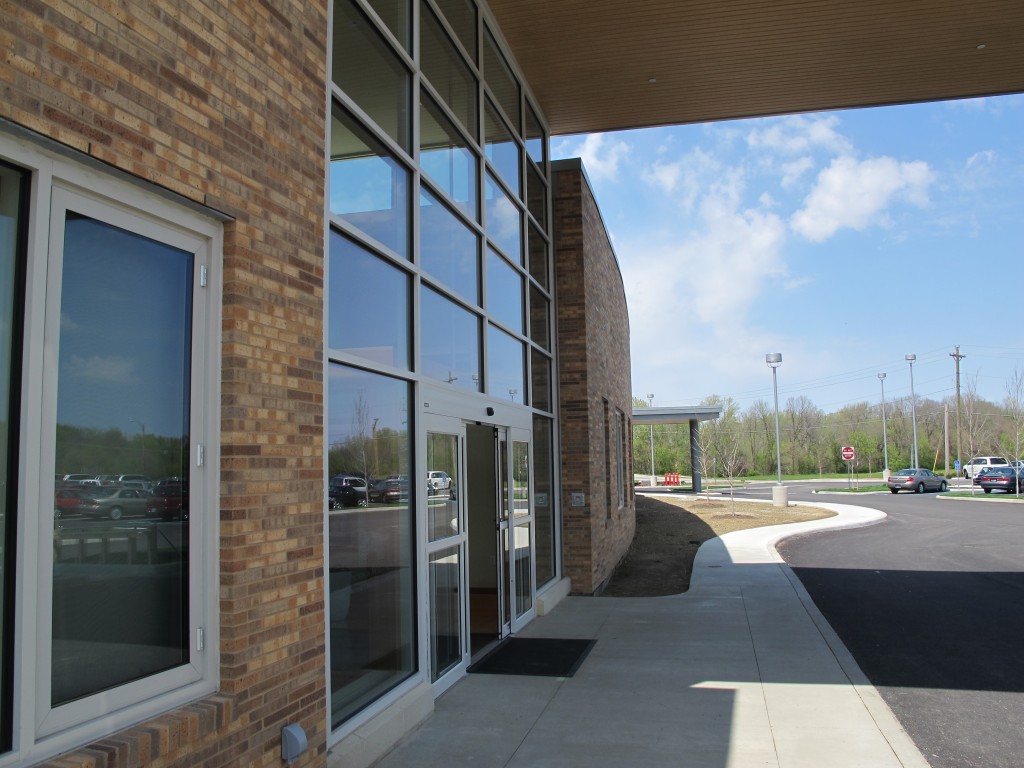 Main entrance showing closeup of brick color mix…..(photo by Ricky Berkey)
---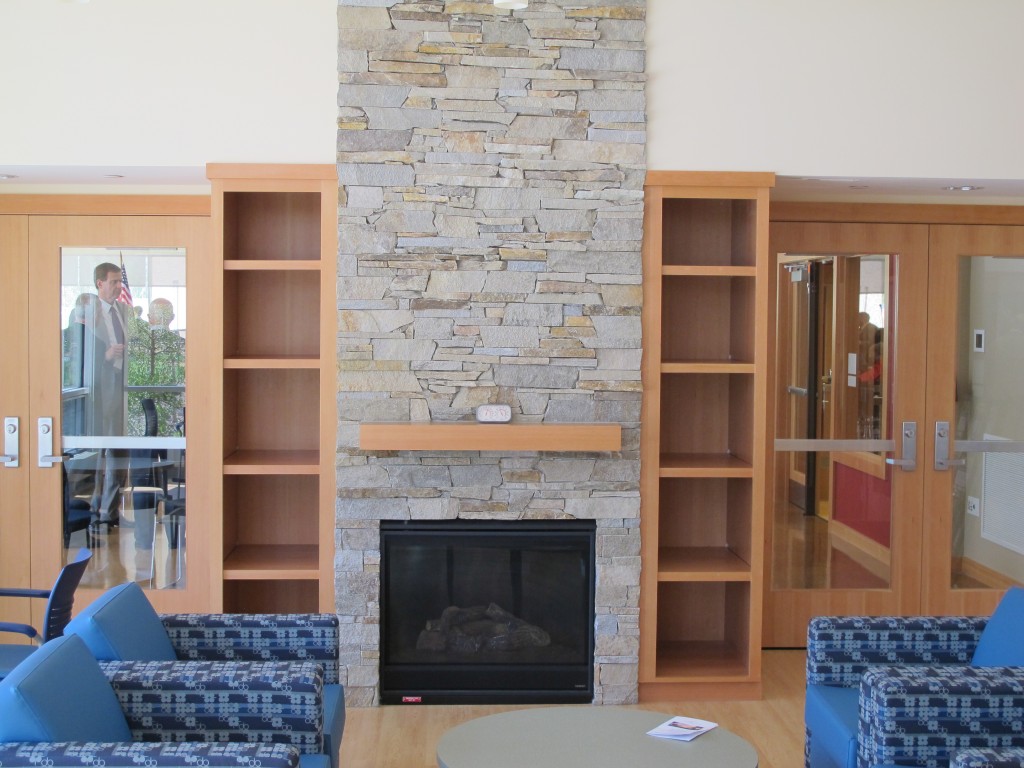 Sitting area in the lobby, note the very tall architect William Rawn through the door…..(photo by Ricky Berkey)
---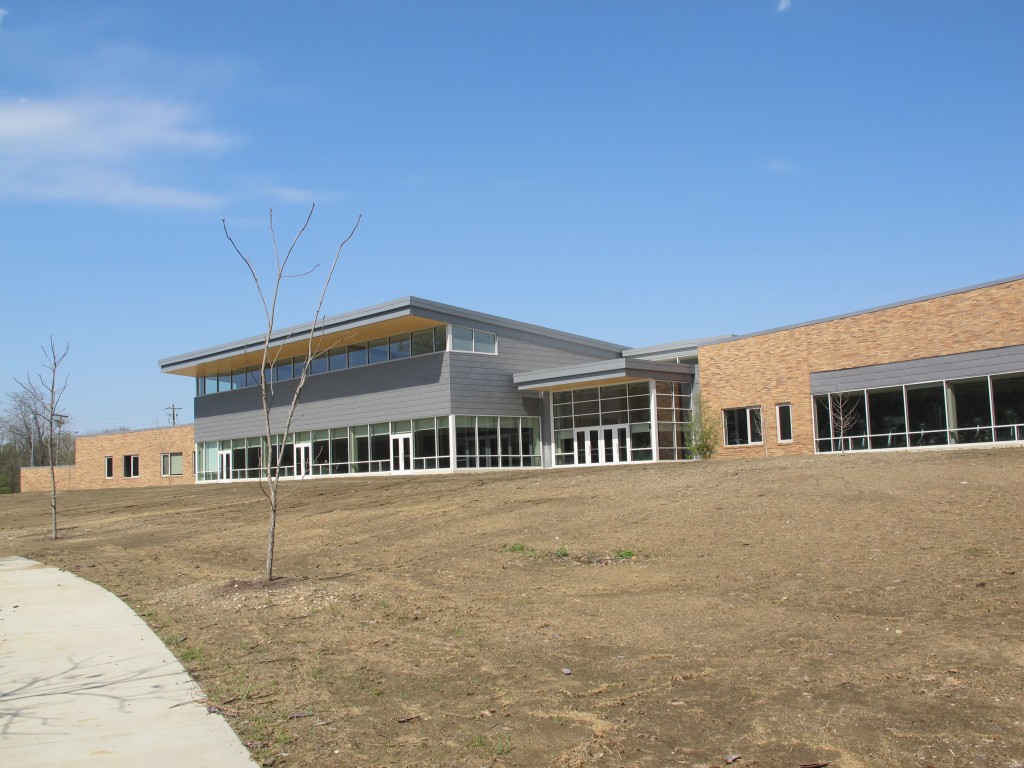 Side of the building facing into the park, landscaping not yet in place…..(photo by Ricky Berkey)
---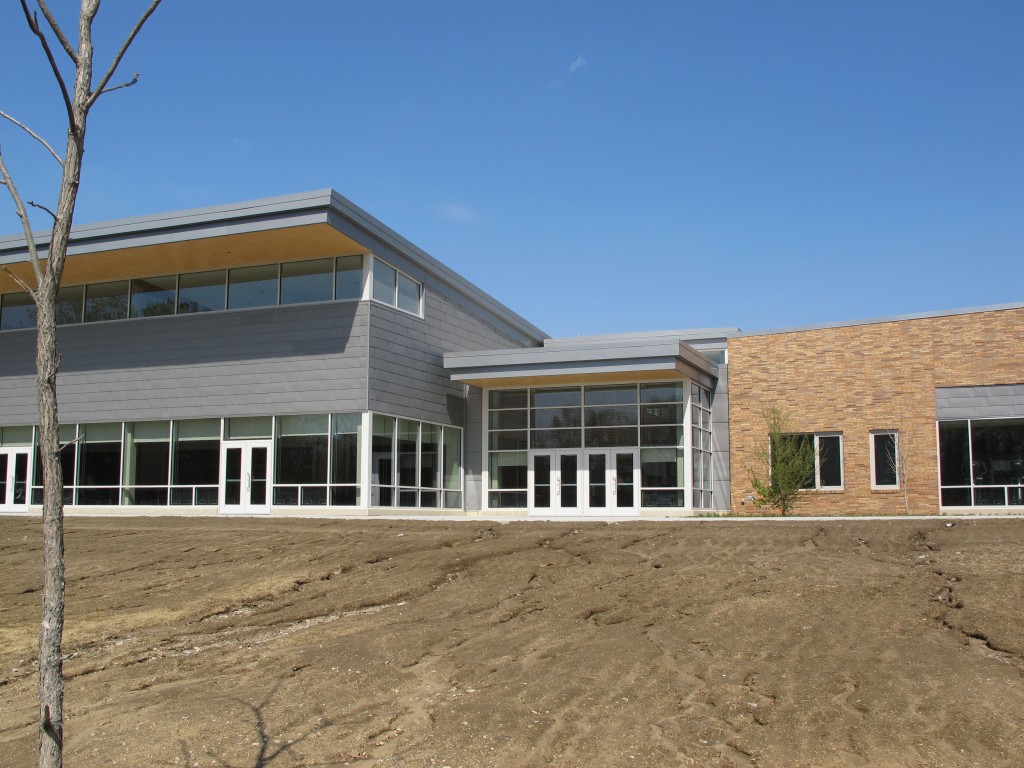 Side of building facing into park, landscaping not yet in place…..(photo by Ricky Berkey)
---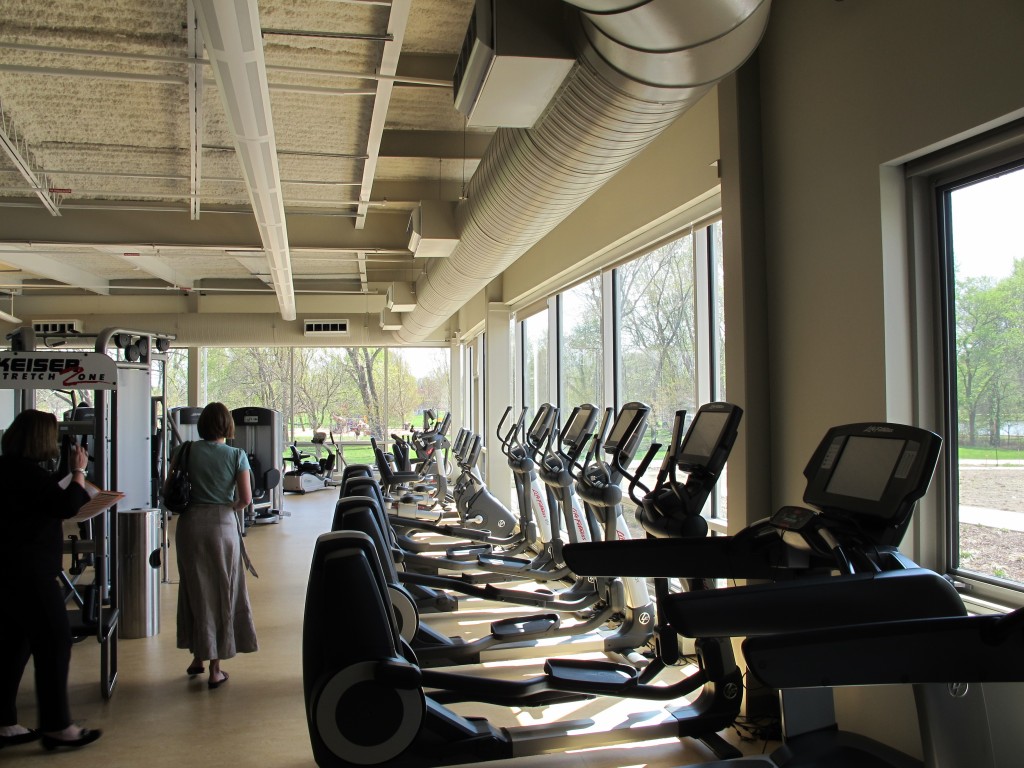 Fitness center facing out into the park…..(photo by Ricky Berkey)
---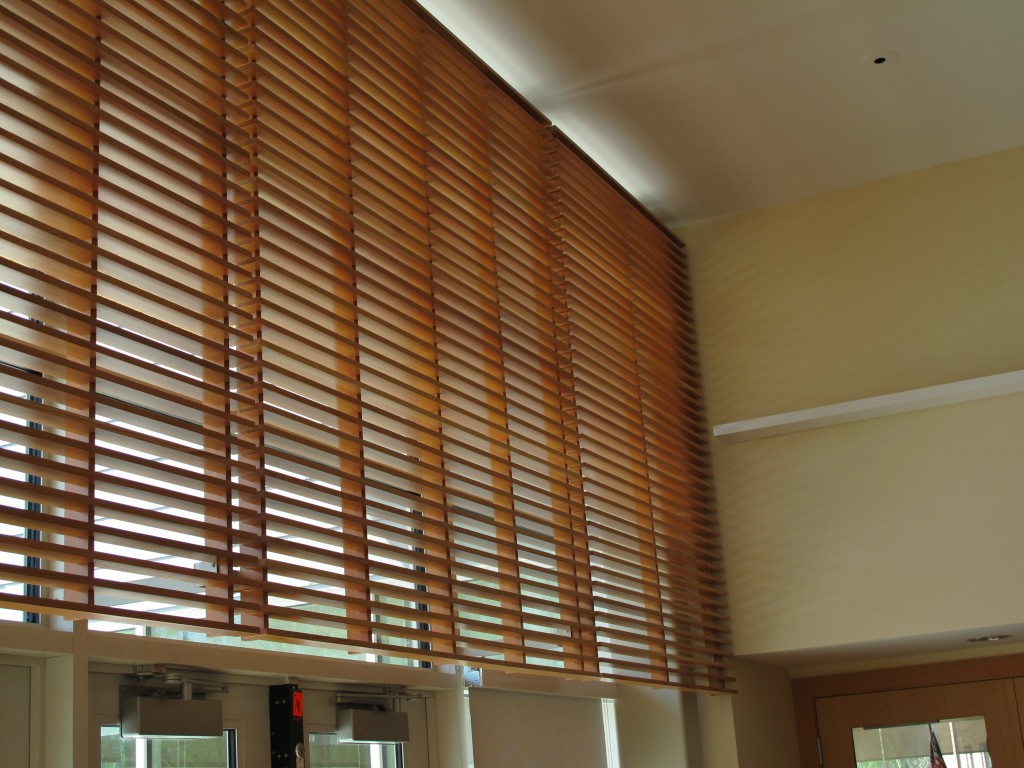 Warm woods used throughout the interior…..(photo by Ricky Berkey)
---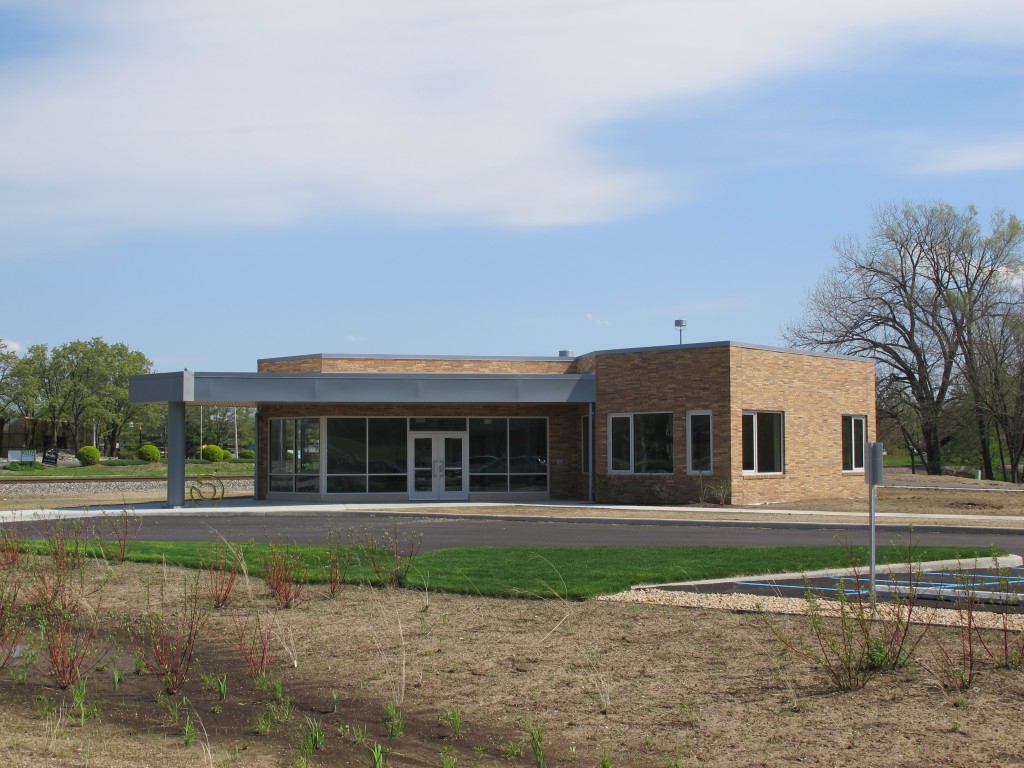 Transit transfer station adjacent to Mill Race Center…..(photo by Ricky Berkey)
---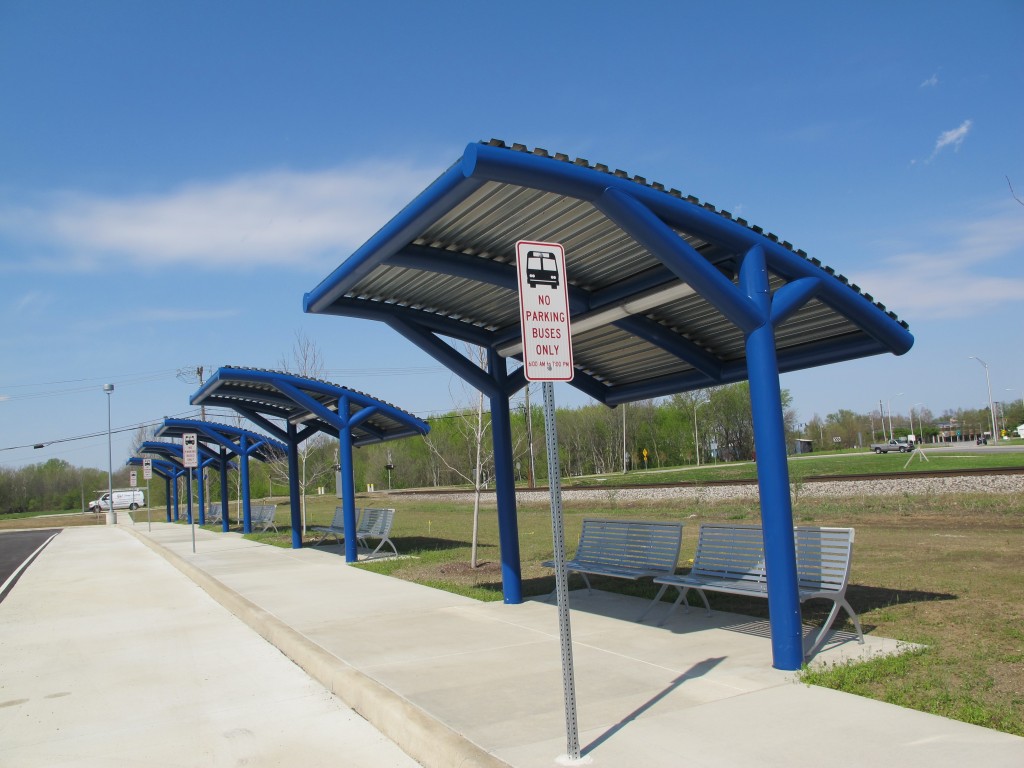 Bus stops at the transit station…..(photo by Ricky Berkey)
---
---
The Architects
---

William L. Rawn

Born in Berkeley, California
Yale University (1965)
Harvard Law School (1969)
Massachusetts Institute of Architecture (MIT) (1979)
---
As a child William Rawn was a dreamer, an artist and potential architect. From an early age he enjoyed sketching and imagining buildings as well as entire cities. His father however persuaded him to pursue a more stable career. He studied political science at Yale and went on to the Harvard Law School. Upon graduation, he became an attorney in Washington, D.C. for two years. He also served as an assistant Chancellor at the University of Massachusetts.
---
His heart was not in law however and he ended up entering the architecture program at MIT. His first job in architecture was with Davis Brody & Associates in New York and he then started his own firm in Boston in 1983. He was initially a one man office. His very first project on his own was a residence designed for a friend. Rawn got a lot of attention due to a book called "House" that was written by Tracy Kidder as a blow by blow account of the convoluted design and building process for that project. His firm now employs over 50 people.
---
Rawn's firm has designed a wide range of projects: civic and public buildings, university projects and cultural facilities. He is known for closely listening to his clients on multiple occasions prior to actually starting the design process. He guides the stakeholders into revealing the most important needs of the project without trying to dazzle them with preliminary designs. His buildings incorporate natural light whenever possible and are increasingly green designs that are LEED certified.
Selected Rawn Projects
1994: Seiji Ozawa Concert Hall at Tanglewood – Lenox, Massachusetts
1998: Fire Station #6: Columbus, Indiana
2009: Cambridge Public Library – Cambridge, Massachusetts
2010: W Hotel – Boston, Massachusetts
2011: Mill Race Center – Columbus, Indiana
---

Douglas C. Johnston

Washington University – St. Louis, Missouri (1983)
Harvard University (1987)
As a Principal of William Rawn Associates, Architects, Inc. of Boston, Doug Johnston has acted as a planner or as a principal in charge of design on many William Rawn projects. He also has a role in the overall management of the firm. His academic work began at Washington University in St. Louis followed by a graduate degree from Harvard. He joined the firm in 1986.
---
Historic Columbus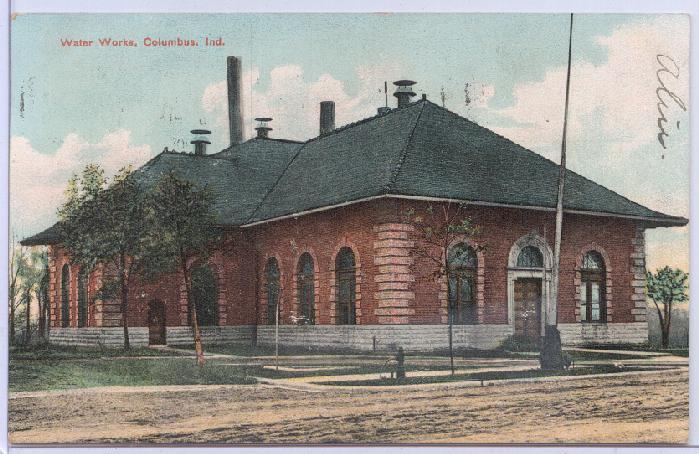 This is the 1901 pumping station/power house that was renovated in 1976 as the senior center. It was designed by Harrison Albright who was also the architect of the West Baden Springs Hotel.
---
Links/References
"House" by Tracy Kidder – a compelling story about the process of building a custom house in Massachusetts from conception to completion (William Rawn was the architect)
City of Columbus: official City of Columbus website
Columbus Indiana Architectural Archives
Columbus Indiana Architecture Digital Archives: A small portion of the Columbus Indiana Architectural Archives available online from the IUPUI digital library
3D Models of Columbus Architecture Executed in Google SketchUp:
The Republic Newspaper – Columbus, Indiana newspaper
Bartholomew County Public Library
Historic Columbus Website – David Sechrest's tribute to Columbus History
Historic Columbus Message Board – a companion interactive forum to the David Sechrest historical website
Bartholomew County Historical Society
---

Click HERE for a Calendar of Upcoming Events in the Columbus Area.
Click HERE for information about Tours of Columbus Architecture and Design including the Miller House.
---

Ricky Berkey
Email me: rickyberkey@gmail.com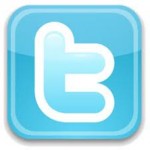 Follow me on Twitter:
---