---
(v12.08.14)
Art, Architecture and Design
This article spotlights a particular building or some other aspect of aspect of Columbus design. I welcome your comments, corrections and additions. Please share your experience and perceptions of these uniquely Columbus projects.

Lillian C. Schmitt Elementary School
Built: 1957, additions made in 1991
Architect: Harry Weese, Chicago
Architect of 1991 addition: Leers Weinzapfel Associates, Boston (Andrea Leers, Jane Weinzapfel)
---
This was the first building constructed under the Cummins architecture program. The Baby Boom was in full swing, with 1957 producing more Boomers than any other year. The need for new schools in Columbus was a growing concern. J. Irwin Miller as the CEO of Cummins Engine Co. made an offer to the school board to pay the architects design fees for a new school with an architect chosen by the school board from a list provided by Cummins. The Lillian Schmitt Elementary School launched what would become the Cummins Foundation Architecture Program. The school was completed in 1957 and led the way for many more schools and public buildings to have their design fees paid by the Cummins Foundation.
---
Original – This school (like most of our elementary schools) was named for a beloved community educator, Miss Lillian C. Schmitt who taught in the Columbus school system for 43 years. The original 1957 building consisted of a kindergarten area and 12 classrooms designed by Harry Weese in close collaboration with Brewster (Bruce) Adams. In the center of the structure was a hexagonal multi-purpose room. Weese kept the building low to the ground much like the houses in the surrounding neighborhood so as not to overwhelm the children in their introduction to school. The building is a natural blend of brick, glass and wood with a peaked roofline on each classroom designed to resemble a little house. The building construction consisted of a heavy timber frame with load bearing concrete and brick walls. The original intent was for each classroom to open directly to the outside play area so the children could remain in their protected domain throughout the day.
---
Addition – The 1991 addition was designed by a female led (Andrea Leers and Jane Weinzapfel) architecture firm. They were challenged to triple the classroom space on a site 1/3 the size of the original. At the same time, they were also designing the addition to the nearby Harry Weese designed Northside Middle School. Their dilemma was to design additions for two notable and publicly admired buildings which were very close together without creating a carnival of 4 distinct styles. Their solution was an architectural expression which meditates between the two. Flat-roofed pavilions echo the paired classrooms of the original. The red steel theme complements other 90's projects such as Mill Race Park and the Front Door Project at the gateway to the city. The design was quite controversial in the community because of the significant difference between the new addition and the beloved original. A failed school bond issue in 2000 proposed (but never got into a design phase) to somehow remodel the addition for a more seamless blend. Leers, Weinzapfel & Associates were 2007 recipients of the Architecture Firm of the Year Award given by the American Institute of Architects (AIA).
---
I personally love this school building and I especially like the addition (unlike many Columbus residents and my fellow tour guides). The transitions between the old and the new are subtle but effective and seeing the other Leers Weinzapfel/Harry Weese combo just down the street makes it even more so. We will take a look at that school in another article. Your comments are welcome.
---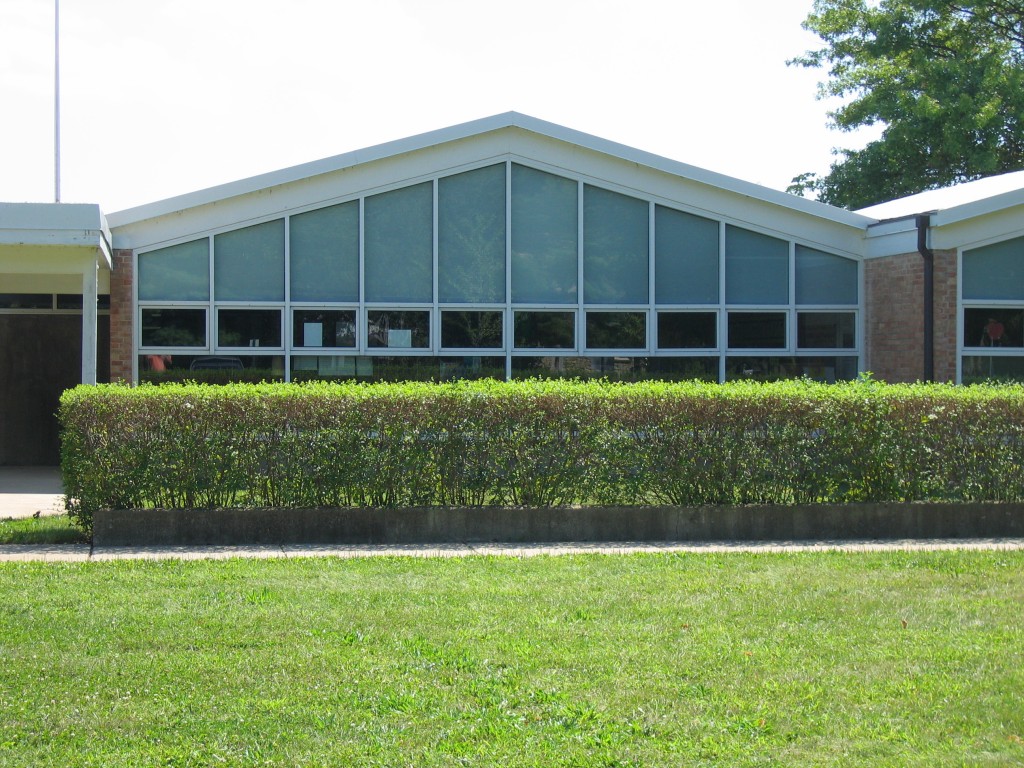 Original Harry Weese design (photo by Ricky Berkey)
---
Original Harry Weese design (photo by Ricky Berkey)
---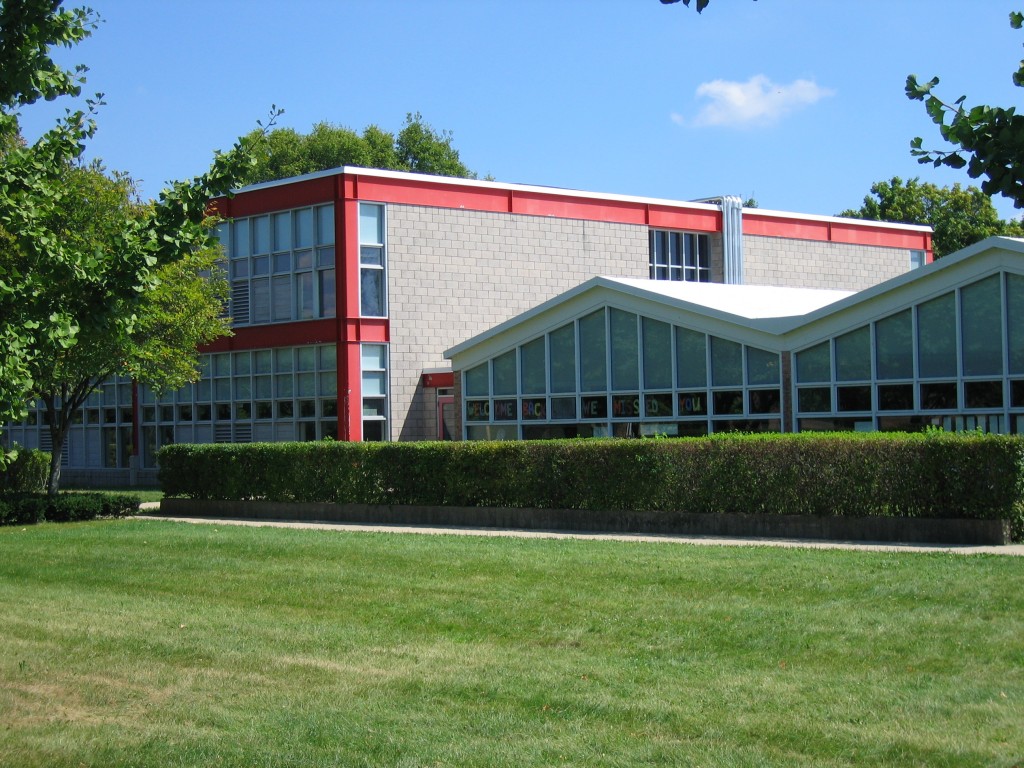 Leers & Weinzapfel addition on left (photo by Ricky Berkey)
---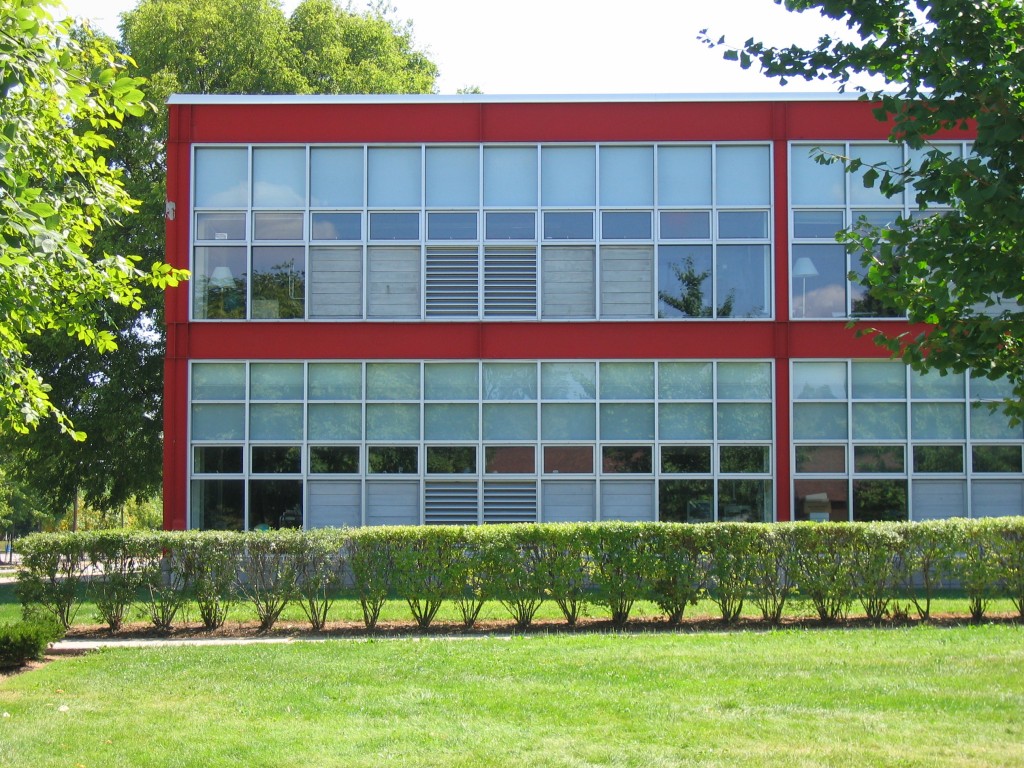 Leers & Weinzapfel addition (photo by Ricky Berkey)
---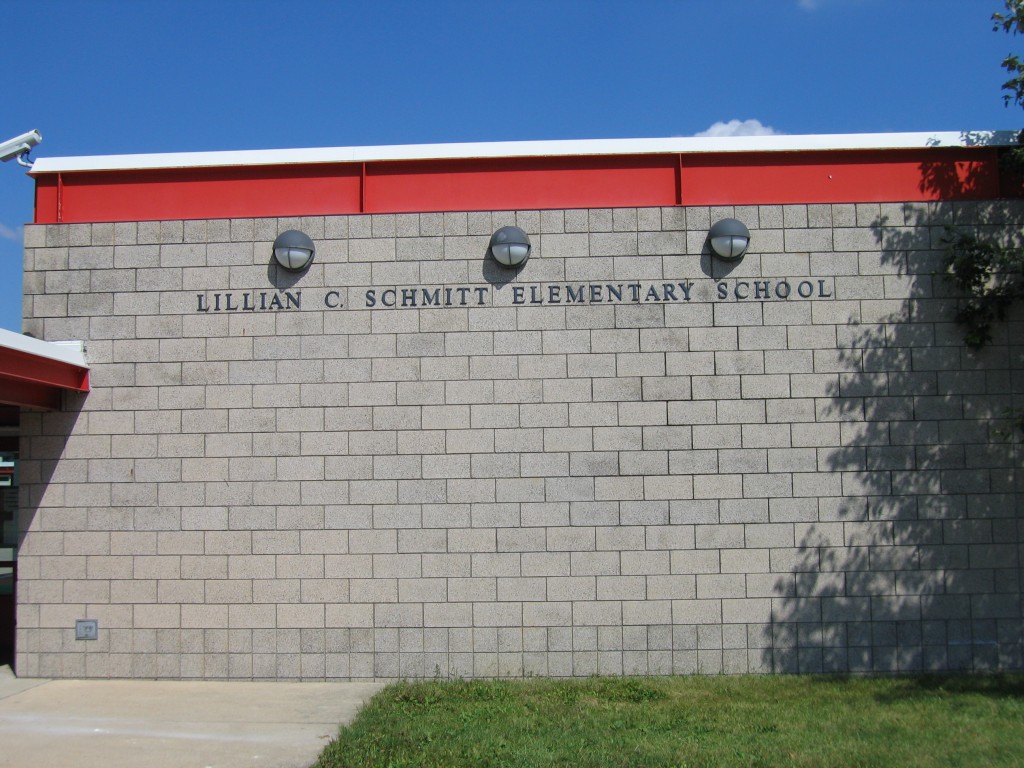 Leers & Weinzapfel addition (photo by Ricky Berkey)
---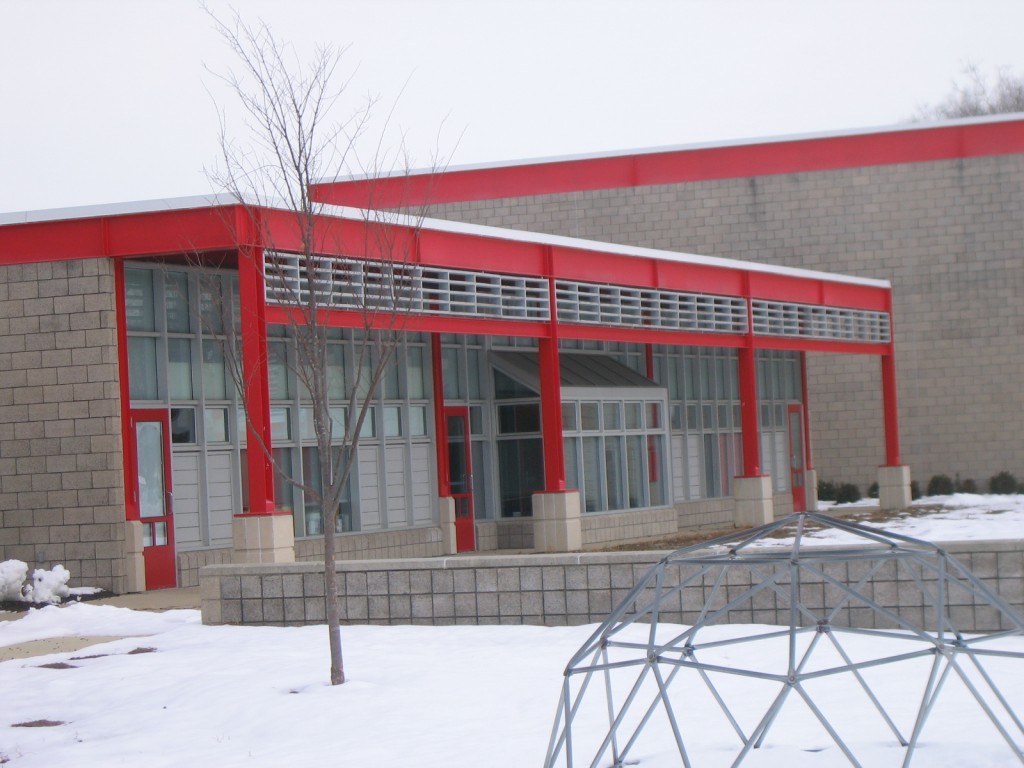 Leers & Weinzapfel addition (photo by Ricky Berkey)
---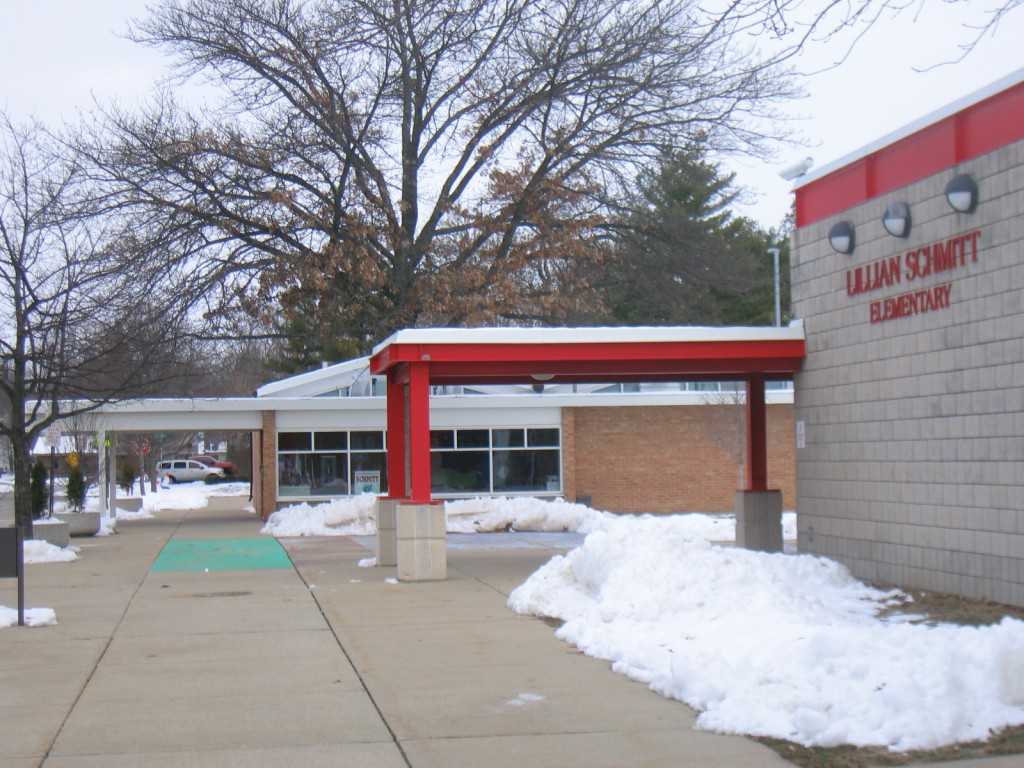 Harry Weese building in the background (photo by Ricky Berkey)
---
The Architects
---

Harry Weese
Born June 30, 1915 in Evanston, Illinois
Died October 29, 1998
Yale University (1936-1937)
Massachusetts Institute of Technology (MIT) (1934-1938)
Cranbrook Academy (1939-1940)
---
Harry Weese was born in the Chicago suburbs and went on to become one of the most influential of the Chicago architects. His work predominated in Chicago, in little Columbus Indiana and around the world. His many projects ranging from high-rises and giant urban complexes to intimate residential designs remain as a testament to his genius.
---
Harry was a student of renowned Finnish architect Alvar Aalto at MIT. He also studied city planning at the Cranbrook Academy in Bloomfield Hills, Michigan where he met and became close friends of Charles Eames and Eero Saarinen. His life was greatly influenced by his brief time at Cranbrook and his later interior design work can be seen as a result. His association with Eero Saarinen led to many projects as Saarinen referred projects to Weese that he simply didn't have time to take on. He also became a close friend of J. Irwin Miller which led to over a dozen small projects in Columbus, Indiana.
---
He was primarily considered a modernist but his work was always shaped by the needs and vision of his clients. As a result his designs were almost always unique without an identifying personal style. Early on he worked for Skidmore, Owings and Merrill (SOM) but felt stifled in the world of corporate architecture and started his own much smaller firm in 1947. He also became a fierce advocate of historic preservation and city planning. He had a lifelong interest in sailing and boat-building which was often reflected in his designs especially in some of his residential projects.
---
His luster was tarnished in later years as his drinking and personal problems put a sad footnote on what should have been a celebrated life. After numerous stints in rehab clinics and several strokes his wife Kitty and family had him committed to the Illinois Veterans Home where he died quietly in 1998. Recently his work has come back into focus as a number of articles and a new book has been released on his life and works. Much like the recent surge of interest in Eero Saarinen, the work of Harry Weese is finally getting the critical respect and admiration that it always deserved.
---
Brewster (Bruce) Adams
---
Bruce Adams originally worked with Harry Weese at SOM and later was part of Harry Weese and Associates in its early years. After leaving the office of Harry Weese, he spent a number of years working with Eero Saarinen. He was a tenured professor at Yale and established his own architecture practice in New Haven, Connecticut.
---
In Columbus he worked with Harry Weese on the original design of Lillian C. Schmitt Elementary. He designed the clubhouse at the Par 3 golfcourse in 1972 and worked on the original conversion of the John Storey house into the Columbus Visitors Center in 1973.
---

Andrea P. Leers
Wellesley College – 1964
University of Pennsylvania -1966
---
Andrea Leers is a partner in the Boston-based firm Leers Weinzapfel Associates which she formed with Jane Weinzapfel in 1982. She studied art history at Wellesley College and received an advanced degree in architecture at the University of Pennsylvania which at the time was led by renowned architect Louis Kahn.
---
She is currently a professor and administrator at Harvard specializing in teaching urban design. She has also taught at Yale, the University of Pennsylvania and the Tokyo Department of Architecture.
---

Jane Weinzapfel
---
Jane Weinapfel was born and raised in Tuscon, Arizona and received her degree in architecture from the University of Arizona. She moved to the Boston area after graduation and began her career as an architect. She started her own independent firm in 1980 and joined Andrea Leers in 1982 forming Leers Weinzapfel Associates in Boston.
---
She has taught at the University of Massachusetts (MIT) and has served on many Boston area committees and commissions specializing in urban infrastructure and transportation. She has maintained a close affiliation with the University of Arizona in several capacities.
---

Leers Weinzapfel Associates
received the Firm of the Year award in 2007 from the American Institute of Architects (AIA). In the beginning the struggling firm took on a number of very utilitarian projects such as power plants and maintenance facilities and ended up giving the resulting buildings an unexpected sense of style. As their reputation grew they were able to gain numerous commissions, many of them in academic settings which seemed especially appropriate for their design style. They have also specialized in governmental buildings such as courthouses. Their firm has embraced the new technology of architecture and almost all plans and documents are computer based.
---
I'm wondering how the archivists are planning to deal with the lack of paper trails in today's world. All those fascinating bits of paper: scribbled notes and drawings, letters between client and architect and so forth that together tell the story of an architect and his work are seldom in a form that can be documented. Even those fascinating models constructed to show the architects vision are few and far between today.
---
Links/References
Harry Weese: fascinating recent article about his life and career
Harry Weese: recently published book, a career retrospective
Harry Weese Interview: part of the Chicago Architects Oral History Project
Harry Weese Houses: (out of print book by Kitty Baldwin Weese)
Leers Weinzapfel Associates: official website
Upcoming Book on the Architecture of Leers Weinzapfel Associates
City of Columbus: official City of Columbus website
Columbus Indiana Architectural Archives
Columbus Indiana Architecture Digital Archives: A small portion of the Columbus Indiana Architectural Archives available online from the IUPUI digital library
3D Models of Columbus Architecture Executed in Google SketchUp:
The Republic Newspaper – Columbus, Indiana newspaper
Bartholomew County Public Library
Historic Columbus Website – David Sechrest's tribute to Columbus History
Historic Columbus Message Board – a companion interactive forum to the David Sechrest historical website
Bartholomew County Historical Society
---

Click HERE for a Calendar of Upcoming Events in the Columbus Area.
Click HERE for information about Tours of Columbus Architecture and Design including the Miller House.
---

Ricky Berkey
Email me: rickyberkey@gmail.com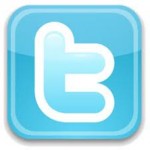 Follow me on Twitter:
---